Here is a collection of ten useful jQuery plugins of 2009 you can't miss. If you have other interesting plugins to share, please leave a comment. Thanks!
jQuery Before/After
This plug-in shows the difference between two images simply dragging a slider over the two images which are sandwiched with one on top of the other. The final effect is really nice and easy to implement.
Take a look at this plug-in here. For the demos here.
Sunday Morning
Sunday Morning is a jQuery plugin which allows site-owner to offer their visitors some easy and fancy ways to translate their content in more then 30 languages.
jQTouch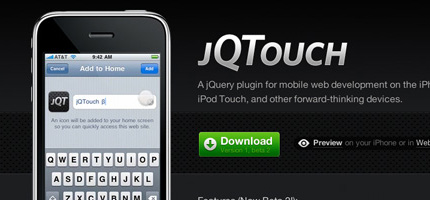 jQTouch is a jQuery plugin for mobile web development on the iPhone, iPod Touch, and other forward-thinking devices. Absolutely to have if you are a mobile developer.
CJ Image Video Previewer
CJ Image Video Previewer is meant to mimic the video preview boxes you see on many Video sites. It displays a block that contains an image thumbnail and when the user moves their cursor of the box, it dynamically loads and then displays a group of images in sequence. Kind of like a flip-book. This is an excellent way to provide an preview of the video, without the user actually downloading the video file.
Autosave
Autosave is a flexible autosave plugin for jQuery. If yo want to autosave a form use this simple code:
$("form#myForm").autosave();.
MapBox
The jQuery MapBox plugin is for creating relatively small scale, zoomable, draggable maps with multiple layers of content. This framework could be applied to games, development plans, or any layout that could benefit from being able to zoom in and pan to get a better view.
Ajax Upload
AJAX Upload allows you to easily upload multiple files without refreshing the page and use any element to show file selection window. AJAX Upload doesn't pollute the global namespace, so it's compatible with jQuery, Prototypejs, Mootools, and other JavaScript libraries.
Infinite Scroll
Infinite Scroll has been called autopagerize, unpaginate, endless pages. But essentially it is pre-fetching content from a subsequent page and adding it directly to the user's current page. This plugin aims to progressively enhance your page. Your navigation/pagination elements should be present in the HTML for non-js users, but the plugin will utilize those links to build out a more rich browsing experience (with this plug-in you can implement easily a DZone.com-like navigation experience).
jQuery Tools
jQuery Tools isn't a plug-in but is a collection of the most important user-interface components for today's websites (tabs, tooltips, overlay, drag-and-drop, exposé, scrollable, …).
jQuery lightBox
jQuery lightBox is probably one of the most popular an easy to implement jQuery light-box. This plugin is simple, elegant, unobtrusive, no need extra markup and is used to overlay images on the current page through the power and flexibility of jQuery's selector.