Being able to record videos from a computer screen is extremely useful for bloggers who want to create video content. Not only is it the perfect way to record and produce how-to guides and tutorials, but you can also record Skype interviews, demonstrations and other types of content. I have never been a huge video person in the past, as I prefer content. But I am trying to challenge myself this year and dive into some video! This includes screen recordings and even some YouTube. Today I want to do a quick overview of Movavi's screen capture for Mac tool.
Movavi Screen Capture for Mac
First off, if you haven't heard of them before, Movavi has actually been around since 2004. It was a small startup by three enthusiasts and has now grown into an international business with over 100 employees. They sell all types of photo, video, and editing software for both Mac and PC. Their headquarters is in Saint Louis, Missouri, USA.

I normally cover PC software, but today it will be Macs! For bloggers on Macs who want to produce such content, Movavi Screen Capture for Mac tool will prove to be an invaluable tool. Because of how easy and intuitive it is, recording videos will be a piece of cake – and it will even provide a built-in video editor that can be used to tweak and improve videos so that they look professional.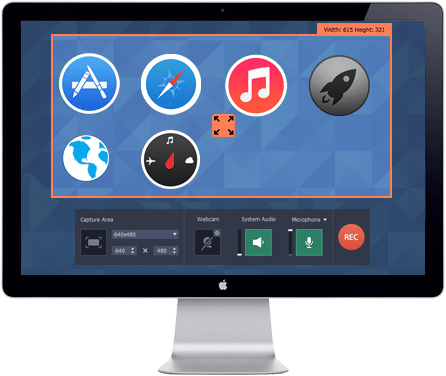 Features
As mentioned, Movavi Screen Capture Studio's features extend to both recordings as well as editing videos. Some these standout, such as its capability to:
Easily define the area of your screen that you want to record by drawing a frame with the mouse cursor and adjusting it or using the presets in the list.
Control all the recording parameters including the audio source, sound levels, frame rate, and whether or not to record keystrokes and mouse actions.
Schedule the recording in advance to automatically start and stop at a certain time, or use the timer to stop it after a particular duration.

Grab screenshots at any point

during the recording.
Enhance the video quality with a single click or fix common issues such as blurry, shaky or interlaced video footage.
Split the video into segments to get rid of unwanted parts or

rearrange its sequence

.
Add audio tracks to include background music or a voiceover.
Insert stylish animated transitions between scenes in the video.
Apply special effects and filters to alter the visual appearance of your video.
Utilize the built-in presets to

automatically select the optimal video format

and settings for various devices and platforms.
That is just a selection of the features in Movavi Screen Capture Studio for Mac, but it should suffice to provide you with an idea of what to expect. In a nutshell, it has everything you need to produce professional-quality videos.
Price
You can grab the software for a one-time $49.95. If you do a lot of video stuff, this is a pretty good price. It's even available in 14 different languages. They also frequently push out new updates as well! This is a sign of a well supported product that will be around for a long time. Check out their changelog.
How to Configure Movavi Screen Capture for Mac
When you want to create content for blogging, you'll want to set up Movavi Screen Capture Studio for Mac to record screen on Mac. That can be done quite easily by following these steps:
Step 1
Download Movavi Screen Capture Studio for Mac and install it. They have a windows version as well, and a free trial! So you can easily try it before you buy it.
Step 2
Click and drag the mouse cursor to draw a frame over the area that you want to record, then reposition and adjust it so that it fits (alternatively you can select a preset in the list under "Capture Area"').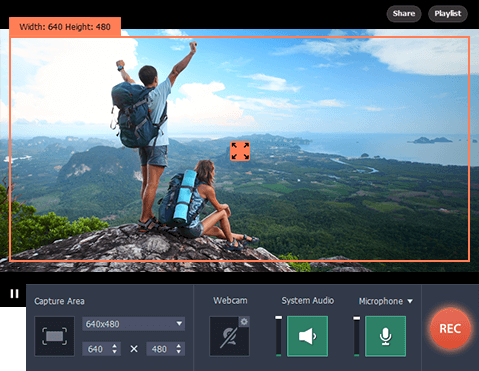 Step 3
Select whether you want to record the system audio or audio from your microphone (or both) by making sure the appropriate icon is highlighted. Adjust the sound levels with the sliders that are right beside the icons.
Step 4
Click 'REC' when you are ready to start recording and it will commence after a 5-second delay.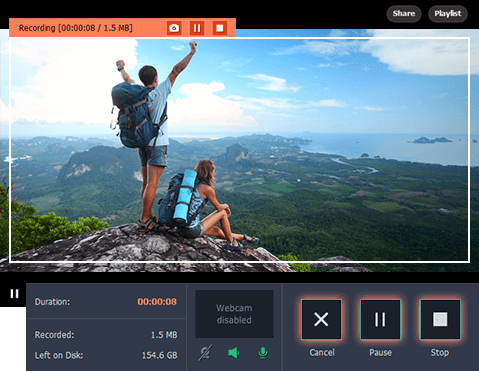 Step 5
Click 'Stop' when the recording is done.
Step 6
Click 'Save As' to save your video immediately, or click 'Edit Video' to launch the editor.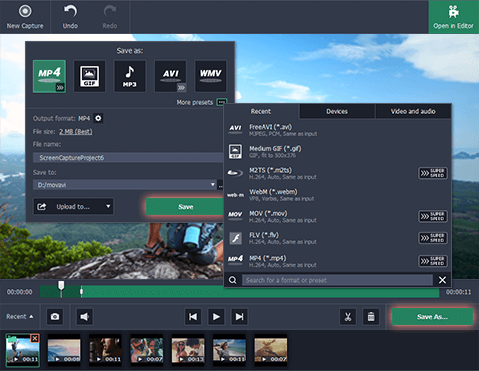 And that's it! You'll have your video up on your blog in no time. Of course, if you want it to look professional then you should also make use of the editing features and process the video by trimming out unwanted parts, merging clips together, improving its quality and fixing any issues.
Once you're done processing the video you can then focus on using the other features in Movavi Screen Capture Studio for Mac to give it some flair. That includes special effects, animated transitions, captions, background music, or anything else you think it might need to make it stand out.
Because of how easy it is to record videos and produce content with Movavi Screen Capture Studio for Mac, you should have no problem coming up with some great videos to use as content on your blog. As you can see you won't need any prior experience or special skills to use it, and even a complete beginner will be able to pick it up in no time and start churning out videos.
Grab Movavi Screen Capture for Mac
Summary
Considering how much video viewership has grown in recent years as well as how effective it has proven to be as blog content, Movavi Screen Capture Studio for Mac could be your ticket to cash in on that trend. If nothing else it is certainly worth trying it out and putting it through the paces to see if it's a good fit.
After you tried Movavi's tool yet? I would love to hear what you think. As I dive into more video creation this year, it's a fun process to try new tools.