Google Authorship
[alert-note]Authorship markup is no longer supported in web search. To learn about what markup you can use to improve search results, visit
rich snippets
.[/alert-note]
There are a couple ways now to add Google authorship to your website or blog.
Add Google Authorship with an email address on your domain
https://plus.google.com/authorship
Add Google Authorship with the rel=author tag
Social Media Examiner has a great in depth article on how to do this: http://www.socialmediaexaminer.com/google-author-tags/
You are also supposed to be able to use the rel=publisher to show your company's logo from your Google+ page instead of your profile.
But how can you test it to make sure it is working? Just searching for your articles in Google isn't always a good test.  A great tool that is sometimes overlooked is the Structured Data Testing Tool. While it isn't 100% accurate for what shows in SERPs, it does help in testing. It is an additional tool available within Google Webmaster Tools. Test your authorship by following the steps below.
Step 1
Go to the Structured Data Testing Tool within Google Webmaster Tools. It can be found under the Additional Tools section.

Step 2
Input the name of your domain or the page/post URL you are wanting to test and hit "Preview."

Step 3
It will then show you a preview and you can see if your authorship or publisher tag is working. See example of results below.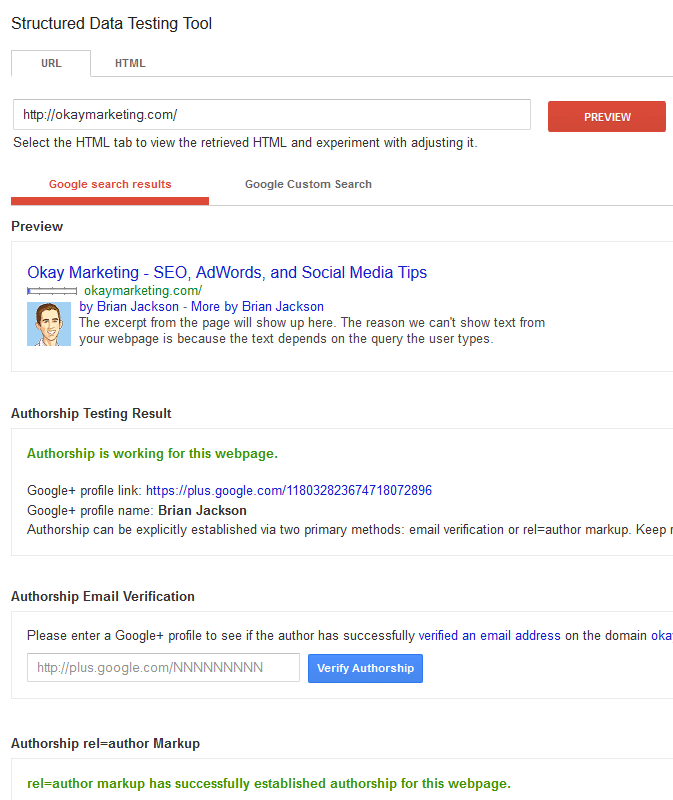 It will also show you if the publisher markup is verified as well. However, I don't advise trying to use rel=publisher as a lot of people have issues with this. http://www.authorsure.com/202/your-logo-in-google-search-results-using-relpublisher.
As always feel free to leave your comments below!