Follow this tutorial below on how to quickly enable a CDN in WordPress. Most people will configure their CDN with a caching plugin such as WordPress Cache Enabler, WP Rocket, WP Super Cache, or W3 Total Cache. However, if you are running on a managed WordPress host such as Kinsta, WP Engine, or Pagely you might not want a full blown caching plugin just to enable your CDN.
WordPress CDN Plugin – Deploy a CDN in Minutes
This is where the free lightweight CDN Enabler WordPress plugin from KeyCDN comes into play. Note: You don't have to be using KeyCDN to take advantage of this plugin. It will work with any CDN provider.
Step 1
In your WordPress dashboard click into "Plugins" and then into "Add New."

Step 2
Search for "cdn enabler." It should be the first one that comes up. Then click on the "Install Now" button. (verify that it says By KeyCDN) underneath the description.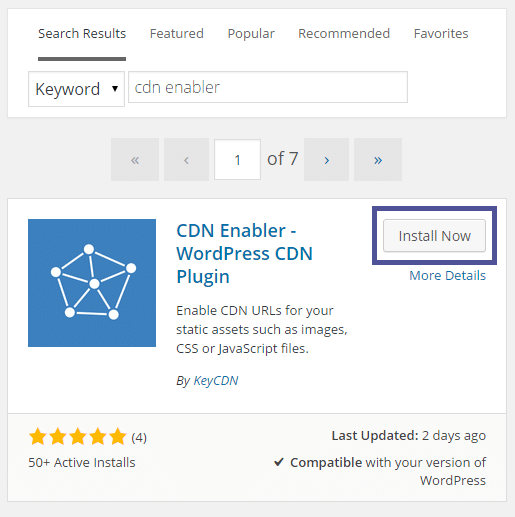 Step 3
Click on "Activate Plugin."

Step 4
Click into "Settings" and then on "CDN Enabler."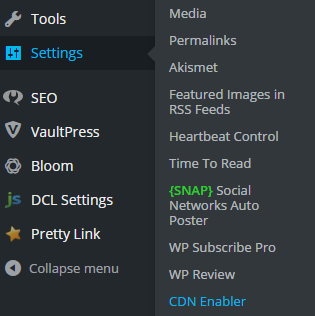 Step 5
Now you have to input your information on the CDN Enabler settings page and click on the "Save Changes" button.
CDN URL
Input your CDN's URL. If you are using a CNAME then enter that path. If you aren't using a CNAME it might look longer:
KeyCDN Example without CNAME: wpseer-xxxx.kxcdn.com
MaxCDN Example without CNAME: wpseer.brianjackson.netdna-cdn.com
Included Directories
By default it will already have the "wp-content" and "wp-includes" folders setup. This will work fine, no need to change anything.
Excluded Extensions and Directories
By default it will have ".php" setup. I also include .xml so that I can throw my sitemap file down in my footer. You can also exclude directories. This can be especially useful if you are running WooCommerce or EDD, as you might want to exclude digital download files from the CDN.
Relative Path
Relative paths are enabled by default. No need to change this.
CDN HTTPS
If you are running a SSL cert on your CDN then you will want to enable HTTPS.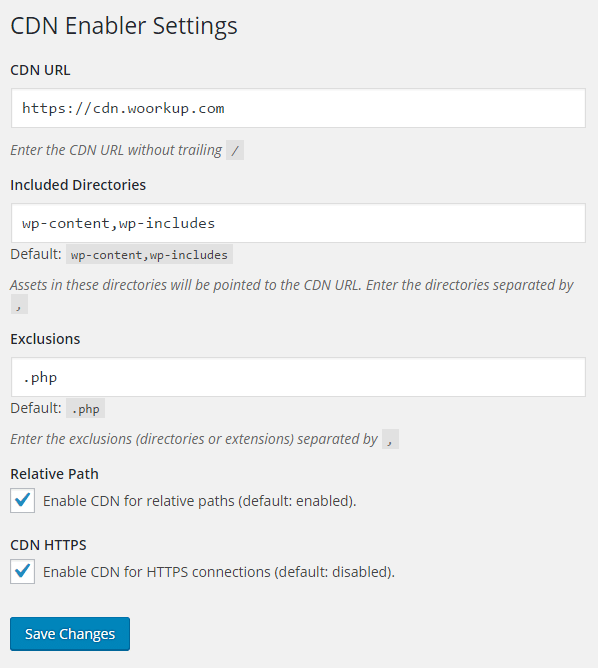 Additional Features
https://www.youtube.com/watch?v=6GDXcEBiP90
And that's it! CDN Enabler is by far the best WordPress CDN Plugin. It is super lightweight, free and is supported by great developers that keep up with updates and fix bugs when they arise. If this tutorial was helpful please let me know below.