Add Account to MCC in AdWords
Google AdWord's My Client Center, also know as MCC, is a powerful tool for large advertisers and third parties, that allows you to manage multiple AdWords accounts quickly and easily from a single location. I can't even tell you how many times I bounce between my accounts and my client's accounts during the day and so this saves me a ton of time.
Follow the steps below on how to add additional AdWords accounts to MCC.
Step 1
First you will need to find out the Customer ID # of your client, or if you have access to their AdWords account go and retrieve it. To find the Customer ID simply login to their AdWords account and it appears in the top right hand corner. Jot this down as you will need it for the next step.

Step 2
Now login to Google's My Client Center or MCC here: https://adwords.google.com/select/Login And on the dashboard click on "Link existing accounts."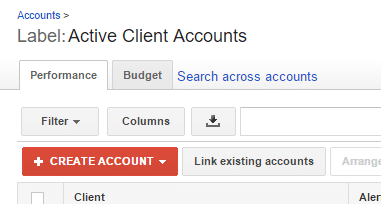 Step 3
Then enter in your client's Customer ID and click on "Continue."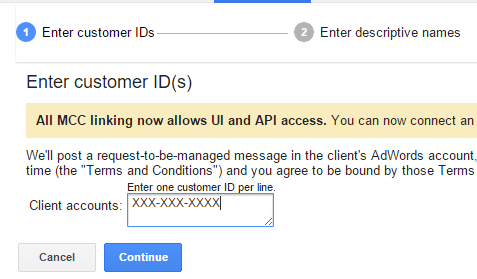 Step 4
Then enter the name of your client as you want it to appear in MCC.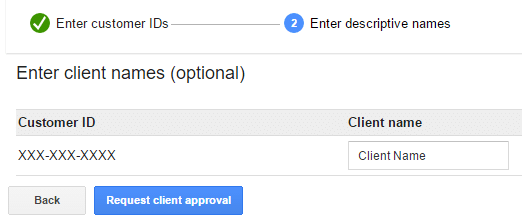 Step 5
Now log back into the client's AdWords account and on the top right hand side click on the gear and into "Account settings". If you don't have access to their AdWords account you can simply instruct them on how to do the rest of the steps for you.

Step 6
On the left hand side click into "Account access."

Step 7
Under the Client Managers section you should see a request awaiting approval. Click on "Accept request."

You will have a TOS warning you have to click OK on and then you will that your updates have been saved.

Step 8
Now back in your MCC account you will need to refresh the page for the new account to show up.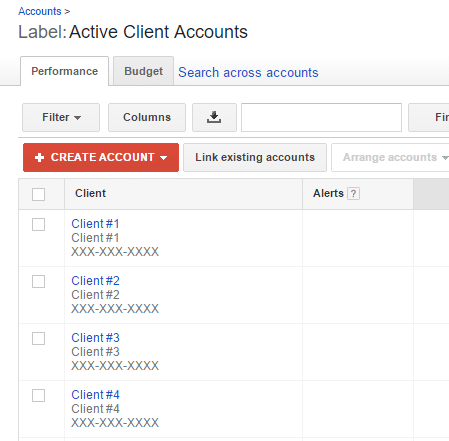 And that's it! You have now added an AdWords account to MCC. As always feel free to leave your comments below.