People are always asking me about what I would advise when it comes to SEO. So below is a list I'm compiling of all my SEO tips and tricks in one easy-to-find place. It contains over a decade of hard lessons I've had to learn the hard way on how to build long-sustaining traffic. Hopefully, you will find some applicable ones you can start implementing right away.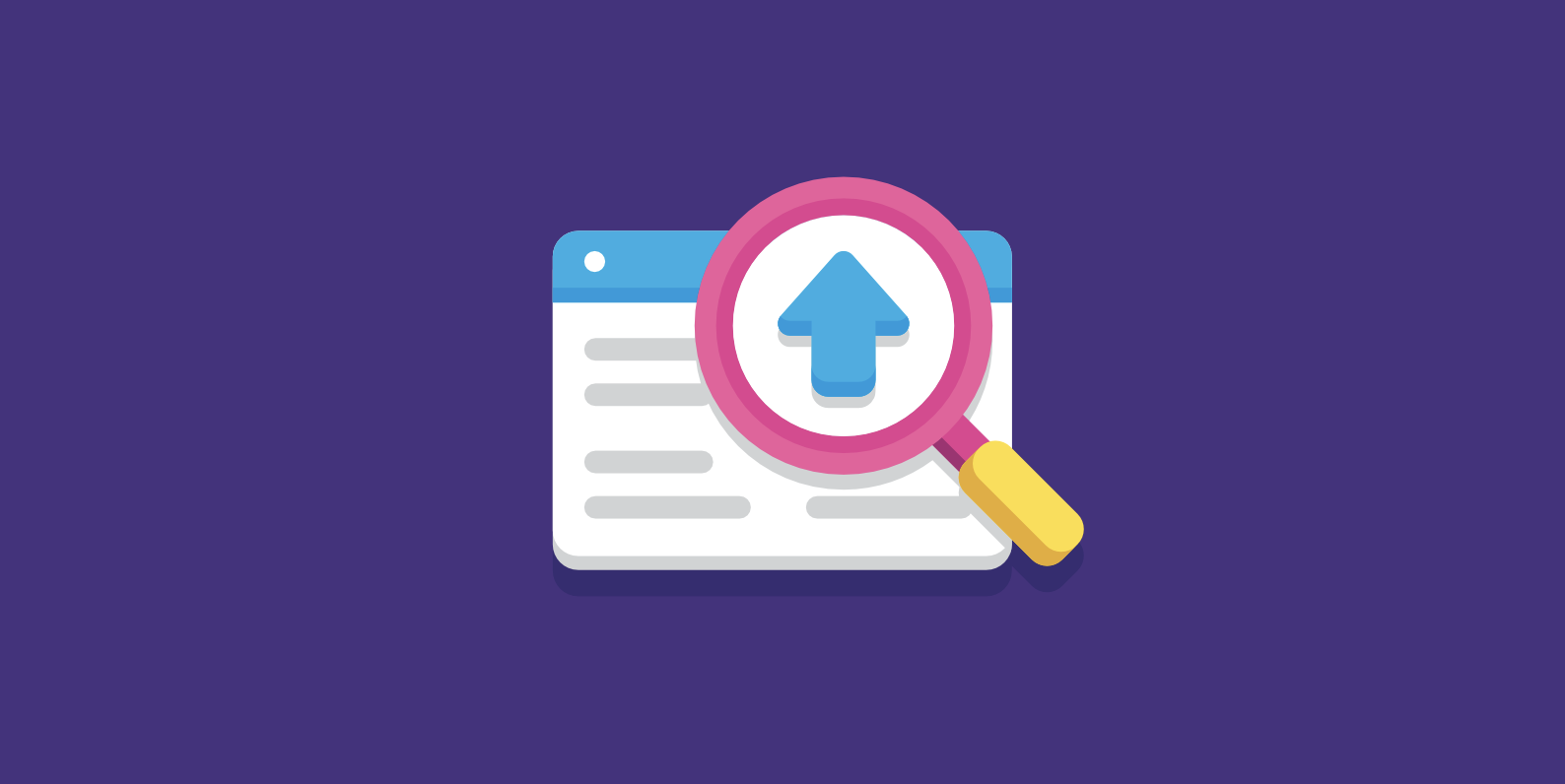 What's my SEO background? Well, to start, I've written over 5,000 blog posts and have helped scale sites organically from zero to 1+ million visitors per month. The best way to learn SEO is from experience. I've been crafting content and blogging since the days of dial-up. 😄
Make sure to bookmark this as I will be continually adding to it.
Basics and best practices
Most of this post will revolve around unique SEO techniques that I've done of the years. However, it's always good to start off with a brief overview of the basics and best practices as a reminder.
Regardless of your SEO strategy, here is a list of the basic things you should already be doing:
Always use short URLs. I recommend using the "Post name" permalink structure in WordPress. This means no categories, dates, etc. in the slug.
Add alt tags to your images.
Name your images with SEO in mind before uploading them to WordPress. Example: seo-tips.jpg Images drive a lot more traffic to your website than you might think.
Add captions to images in your content. This can be a great way to sneak in a few more targeted and or descriptive keywords without overdoing it.
Always use hyphens to separate words in slugs, image file names, etc. This is so Google will crawl them properly.
Using header tags (H1, H2, H3, etc.) with proper hierarchy.
Monitor your site in Google Search Console for any malware or security issues.
Create a good title and meta description. Meta descriptions are not used as part of Google's ranking algorithm, but they are a way to increase your CTR.
Ensure your site is using proper schema markup. This code is used by search engines to help better identify your content. It's typically added by themes, SEO plugins, or more robust schema markup specific plugins. Use Google's Rich Results Test tool.
Be smart, do keyword research
I'm curious how many of you can honestly say that you do any keyword research before writing a lengthy blog post? If the answer is no, you might be wasting a lot of time. You could be putting in a lot of effort and seeing no returns. Keyword research can be very quick and is essential to dominating both your SEO and content marketing goals.
Some might say that keywords are dead, and that's far from the truth. You should always write for the user, but be smart about it. Take keyword research and data into consideration. Google is, after all, still just an algorithm. And I guarantee you your competitors know this.
Importance of your title and keyword focus
The title of your post is more important than you probably realize. Think about it for a second. Typically you'll use your title in the slug of your post, in phrases throughout your content, image file names, in alt text, etc. That's why it's so important to focus on the right keyword, and or title, from the beginning.
Let's take a simple example. Say I was going to write an article about "twitter marketing tips." According to Ahrefs, this search term has 200 global searches per month and is rated a hard difficulty.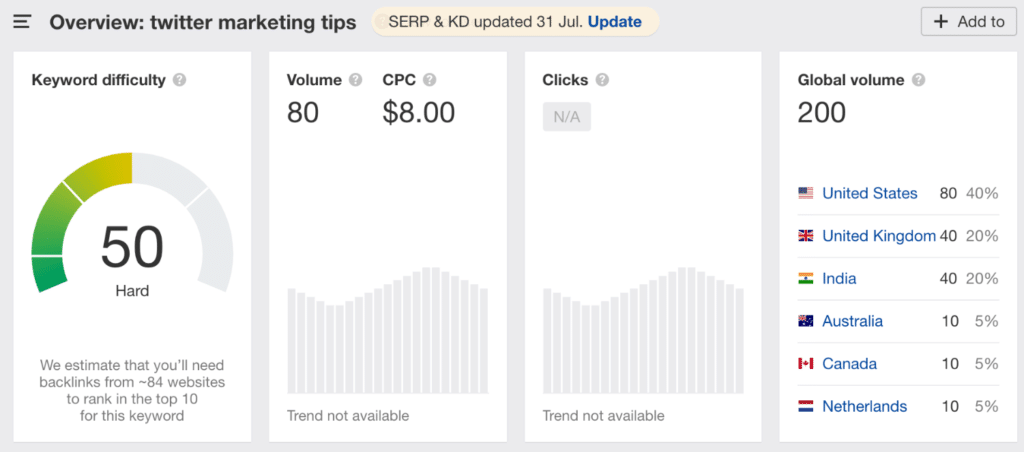 If you simply change up the last word slightly to "twitter marketing strategy," you now have a much bigger pool of searches, at 800 per month. And the difficulty is slightly less.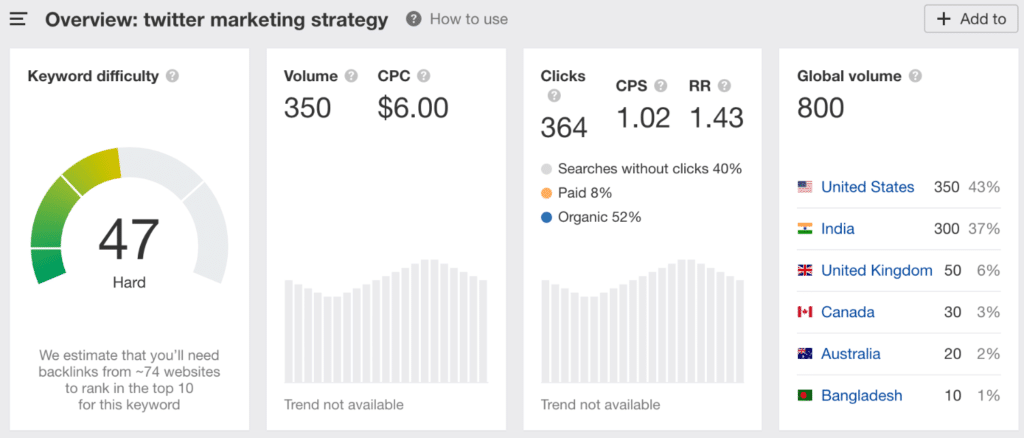 Just doing a few minutes of research can drastically change the long-term outcome of how your content will rank in SERPs. Imagine you do this for 500 blog posts. Over time it starts to add up and snowball. This was one of the things I did while I was doing marketing at Kinsta. And as you can see below, it works, plain and simple.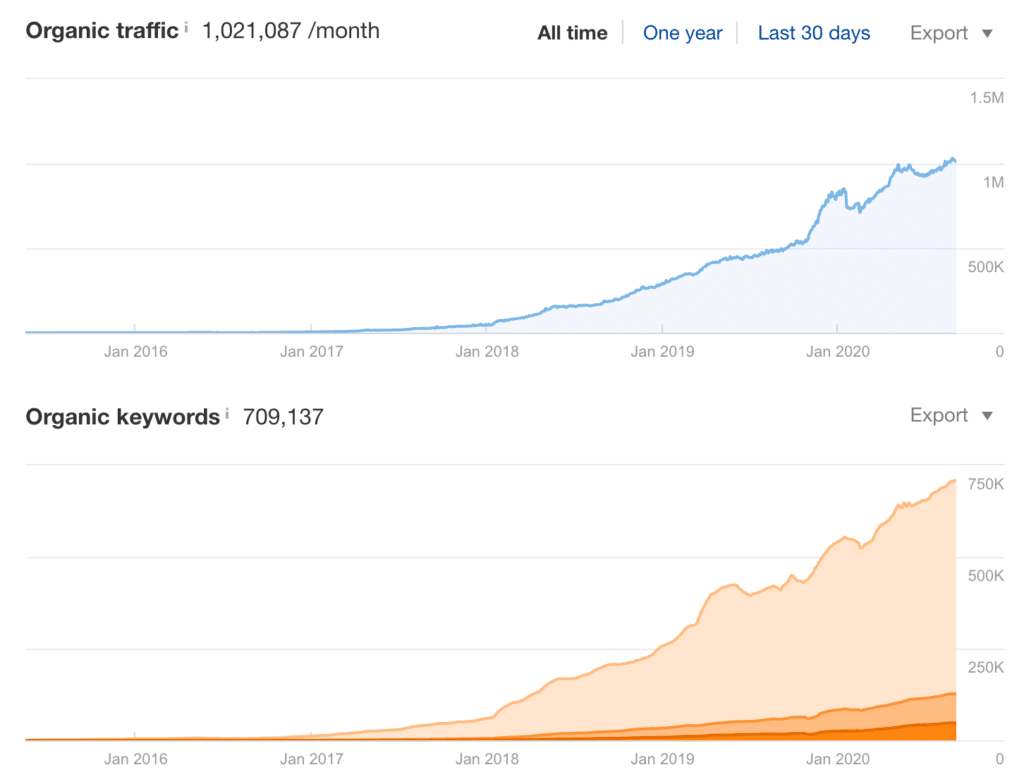 There are a couple of different tools I use when I'm researching new blog post ideas. Check out my favorite keyword research tools.
Updating internal links on a 301 redirect
Whenever you need to redirect a page or post somewhere else, it's common practice in SEO to add a 301 redirect. What I don't see a lot of people doing is actually then following up on that by updating all of the internal backlinks attached to the original URL. Why is this important?
Performance: 301 redirects are actually pretty bad when it comes to performance. I've seen some redirects add half a second load time before. You can't fix this for external sites, but if you don't update your internal links this will create an additional request/load every time someone clicks that old link.
Link Juice: 301 redirects should hopefully pass all of their internal awesomeness (sometimes referred to as link juice), but if you want to be certain, you should update the link.
How do you find all of the internal backlinks on a URL? I recommend using Ahrefs. They have a handy feature called "Internal backlinks." You can then click through the posts or pages that have the old link and update them to point to the new location.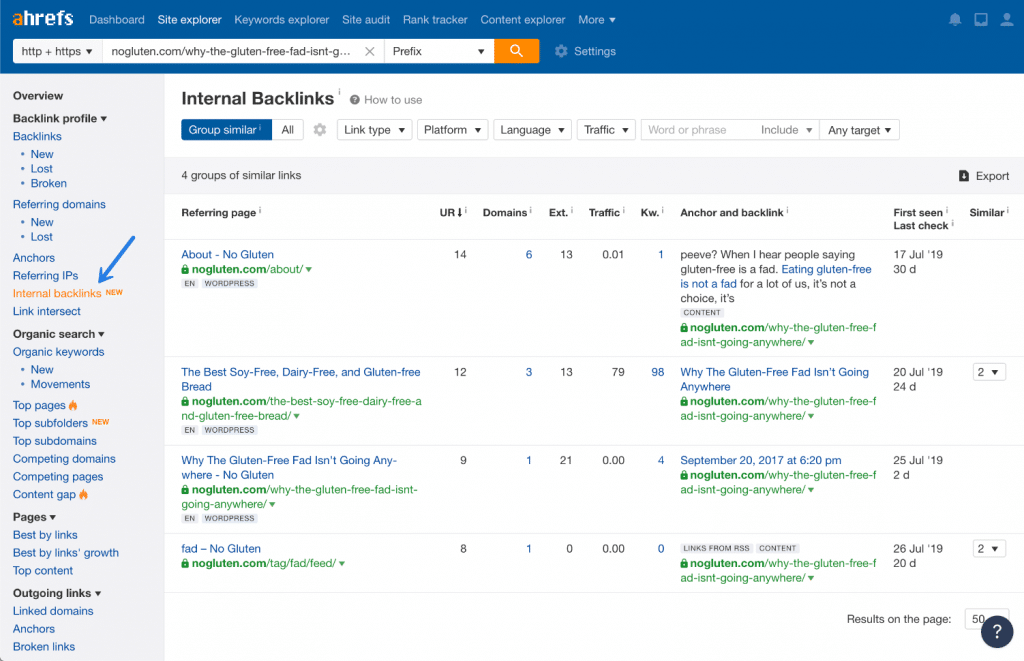 Taking advantage of comments
Comments are great for SEO. Why? Because they are free user-generated content for your site. I don't see a lot of bloggers taking advantage of this. However, you want to approach this in the right way.
First, if you are using WordPress, under "Settings → Discussion" make sure you enable "Comment must be manually approved."

Second, using a plugin like Akismet (or another security plugin) to block and catch spam automatically is a must.
Once you have the moderation and spam taken care of, it's important to go through and take time to approve the good comments and actually respond to them. For comments like "Thanks" or "That is awesome," you can delete them. Many are just trying to sneak in a link and they aren't adding anything useful to your content or the conversation.
Don't be afraid to force recrawl updated content
The frequency at which Google crawls your content will vary per website. But if you spend a lot of time updating old content as I do, then it's OK to force recrawl something right away. Both Google and Bing provide easy tools to do this to ensure you are seeing results as fast as possible.
Don't abuse this feature. I only use this for content rewrites and articles where I have typically updated 600 or more words.
Force recrawl content in Google Search Console
In Google Search Console (GSC), simply input the URL you want to crawl into the Inspect field at the top. Then click on "Request Indexing."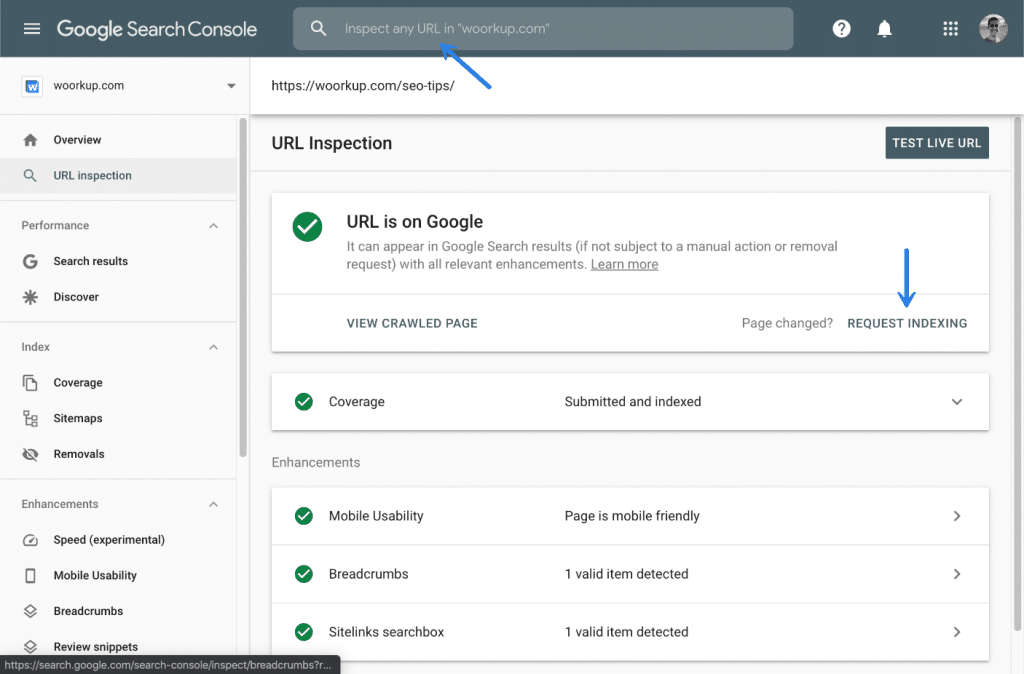 Force recrawl content in Bing Webmaster Tools
In Bing Webmaster Tools, click on "Configure My Site → "Submit URLs." Input the URL you want to crawl and click on "Submit."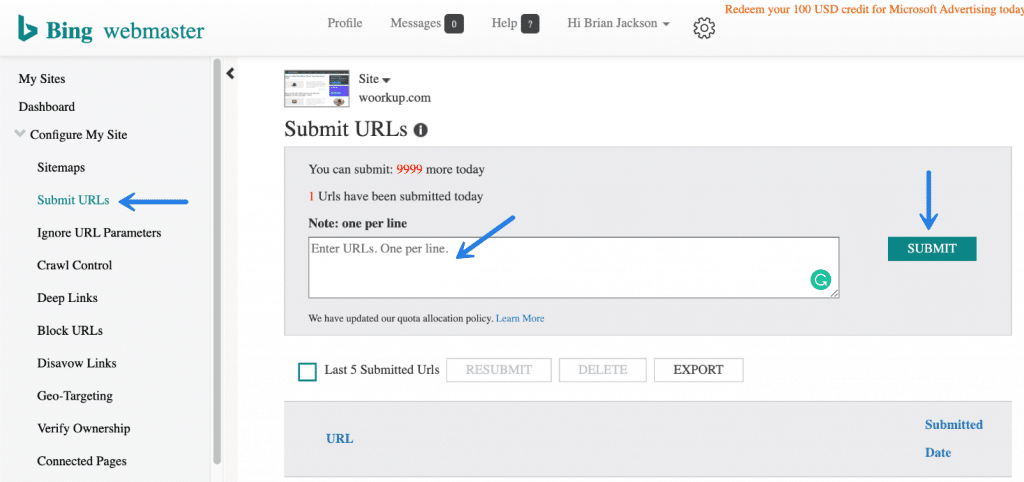 People stealing your images can be a good thing
This might not happen until you have a lot of content, but trust me, it will eventually. It's just a matter of time. And this is people just outright copying your images and using them on their sites without proper attribution.
Instead of telling them to take it down, I simply ask that they add a link back as a source. Read my whole process. This is one of the easiest ways to get backlinks as most people don't even realize this is actually illegal and will add a link for you right away. It's also what I would call a very "natural backlink" because Google will simply see it as attribution.
So you can steal my images, just know that you'll probably be hearing from me at some point in time.
It's OK to delete content
I see so many SEOs afraid to delete content. Don't be. If you have old or outdated content, get rid of it. However, there are a few things you should consider in your deletion workflow:
If the article is important or something you must keep, then update the content. You can then recrawl the content.
Another option is to merge the content with another article. You probably spent time or money investing in the content, so if you can use all or even some of it somewhere else, merge or move it.
Before deleting content, check with a tool like Ahrefs to see if it's currently ranking for keywords and what backlinks might be attached. If there is something you don't want to lose, you can add a 301 redirect to similar or better content on your site.
Here's what happened on woorkup after I deleted over 30 blog posts, merged some content, and added a few redirects. That's right; we saw a huge increase.

GSC performance reports are your friend
If you have your website hooked up to Google Search Console, you'll get a performance report every month in your email. These contain really valuable insights into what is working well on your site. Use this data! Many of us don't have time to poke around in GSC, so use this as an excuse to do that.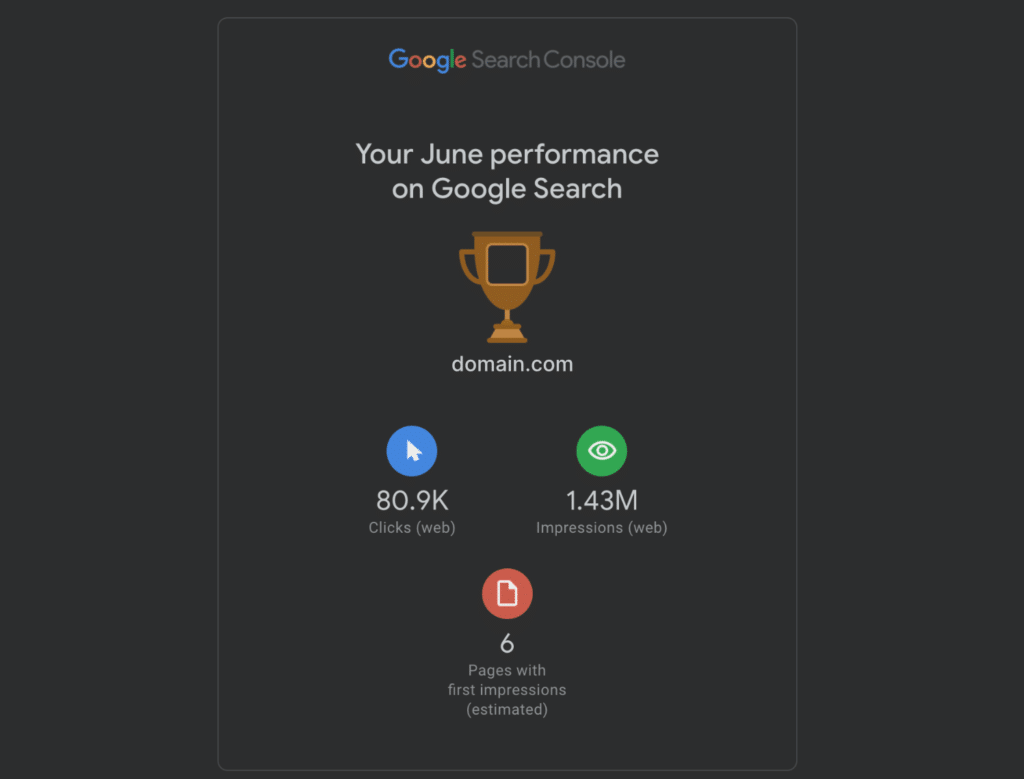 In the performance report Google gives you the following:
Your content achievements (top growing pages).
Top performing pages.
How people found you (top growing queries).
Top performing queries
Top Audience data by device, country, and search type.
I like to see what is doing well and then revisit each of these and see if there is a way I can further improve on the content. Or even just sharing them on social again helps. It's the old, build upon what is already working well trick.
Stop using broken link checker plugins
Fixing both internal and external broken links is important for SEO and for the user experience. For your website to be successful, you must keep it tuned like a well-oiled machine. This means fixing links when they break. The last thing a visitor wants to see on your website is a big 404 error.
But please don't use WordPress plugins to fix broken links. Most of these can bring your site to a crawl. Site speed and SEO go hand in hand. Here are two alternatives I always recommend:
Use an external tool or service like Ahrefs to find broken links. However, it's also important to note that the Ahrefs bot crawling your site can also take up server resources (even though it's minimal). So don't have it crawl every week. I recommend doing an audit once a month or every 6 months.
Use third-party software like Screaming Frog. You can quickly scan your site and after that, there is no additional load. All the remaining data crunching and manipulation is done on your local computer.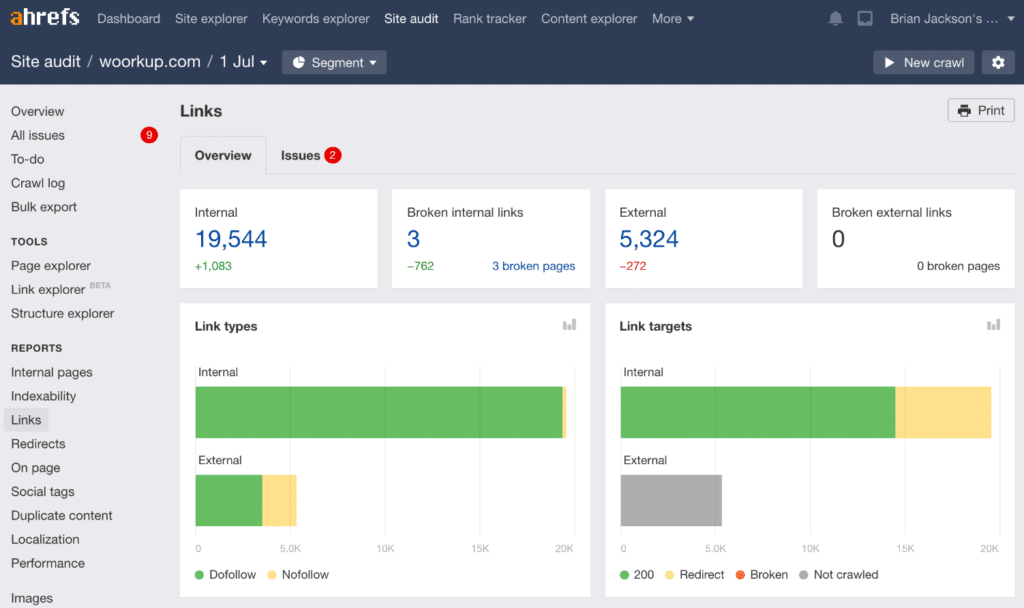 Ahrefs enables you to easily see both broken internal links and broken external links.
Cleaning up negative SEO attack
A negative SEO attack is when someone intentionally damages your SEO, usually to benefit themselves. Usually, the more popular your site is, the more at risk you are. They are somewhat rare, but they do happen, trust me. I've been through a few, and it can be stressful when you're solely in charge of SEO.
Not checking your backlink profile is like running a car on no oil. One day you're doomed. 💣
Click to Post
For example, on one site I was working on, someone had managed to hack the site. They inserted some PHP spamming "viagra" everywhere. They also managed to hack a network of other sites, 204 domains to be exact, all with "viagra" terms in the anchor text against my domain. We are talking thousands of backlinks created overnight.
It's important to try and keep your backlink profile as clean as possible. Negative SEO attacks can cause Google to penalize your site, even if it wasn't entirely your fault or something you did. Thankfully, there are some quick and easy ways to clean it up.
You should collect all your backlinks in one place to filter out the spammy links from the good ones. I recommend using a tool like Ahrefs, which I'll use in the example below. If you need a cheaper alternative, SiteProfiler also works great. These tools make it easy to export things to a spreadsheet/text file and create a disavow file for Google. A disavow file tells Google which links should be completely ignored. If you need a free solution, Google Search Console also lets you see your backlinks.
Ahrefs actually lets you build the disavow file right within their tool. You can select the backlink or domain and click the "Disavow URLs" or "Disavow Domains" button. If the entire domain is spammy, it's quicker just to disavow the entire domain.

You then need to create your disavow file (.txt) containing all of the disavowed URLs and or domains. In Ahrefs, you can export this with a single click. If you're not using Ahrefs, can create this file manually and paste in your disavowed URLs. If you need to disavow an entire domain, Google requires that you have "domain:" prefixed to each URL. In Excel or Google Sheets, you can use the following formula to quickly add this to all the domains.
=CONCATENATE("domain:",A1)
Once you have your disavow file (.txt) built, you can submit it via Google's Disavow Tool.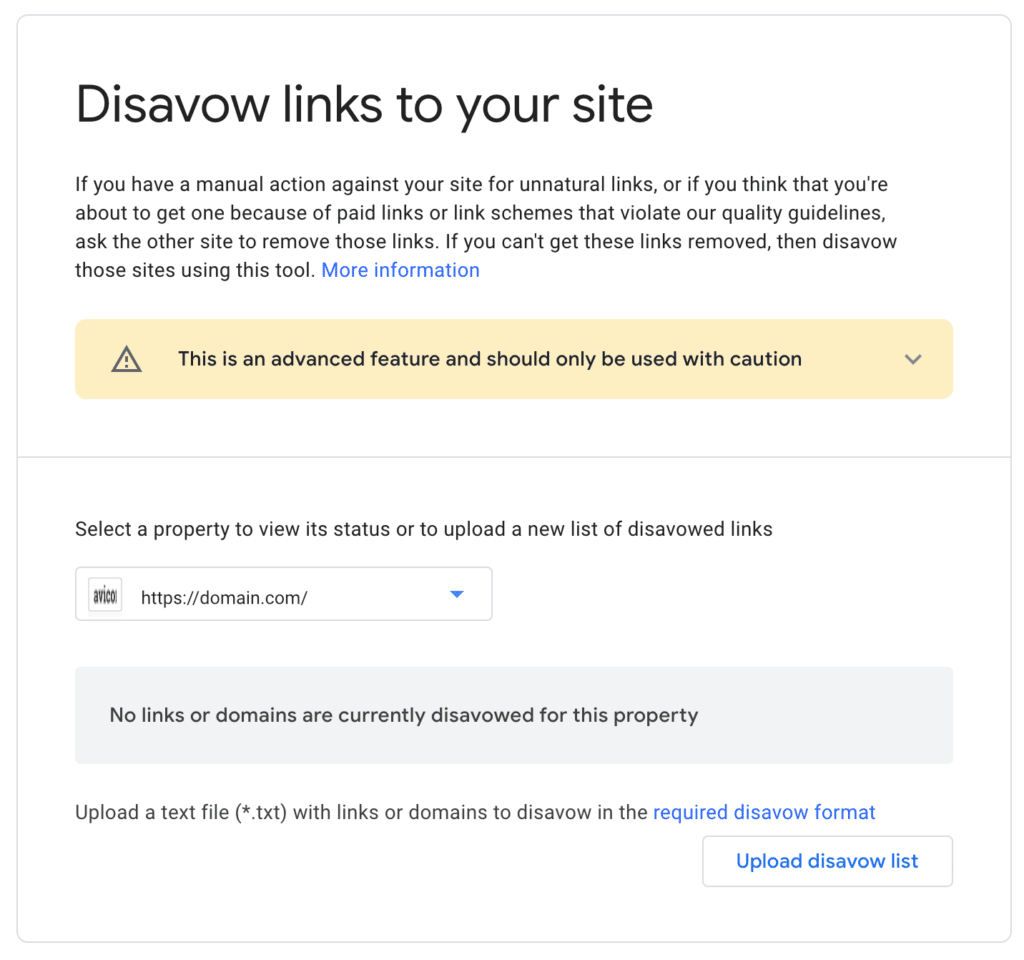 Clean up backlinks
An alternative to simply disavowing links and or domains would be to reach out to the third-party sites with the spammy backlinks and ask them to take them down. I recommend doing this because you should fix the root issue. Disavowing things simply ignores the issue.
However, the problem is that most people don't have the time to reach out to sites, especially if you're dealing with hundreds or thousands of links. But that's where the rmoov tool comes in. rmoov handles the automation of contacting webmasters to remove links. It does what would take you hundreds of hours to do on your own.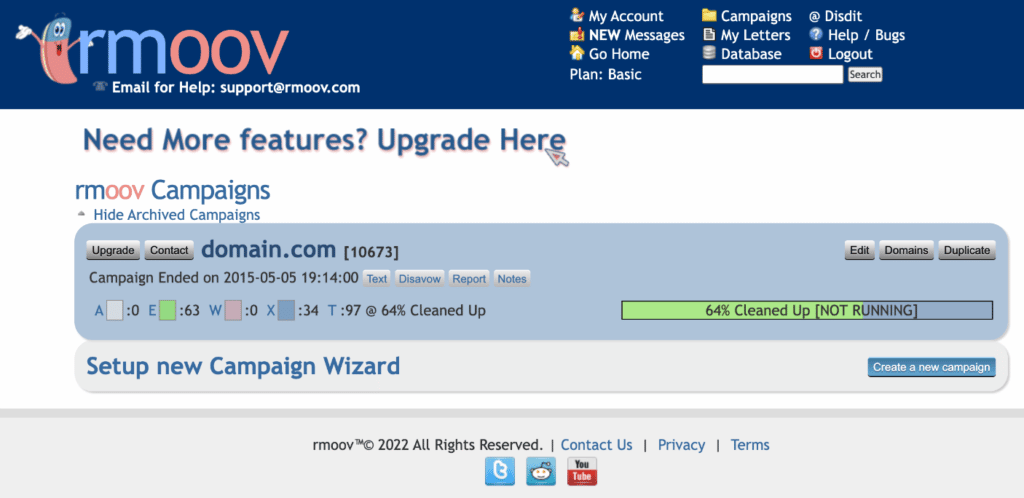 Here are the basic steps.
Step 1
Gather up all of the spammy backlinks in a list.
Step 2
Create a new campaign over at rmoov.
Step 3
Set up your outgoing email settings in rmoov.
Step 4
Paste in the URLs from your list.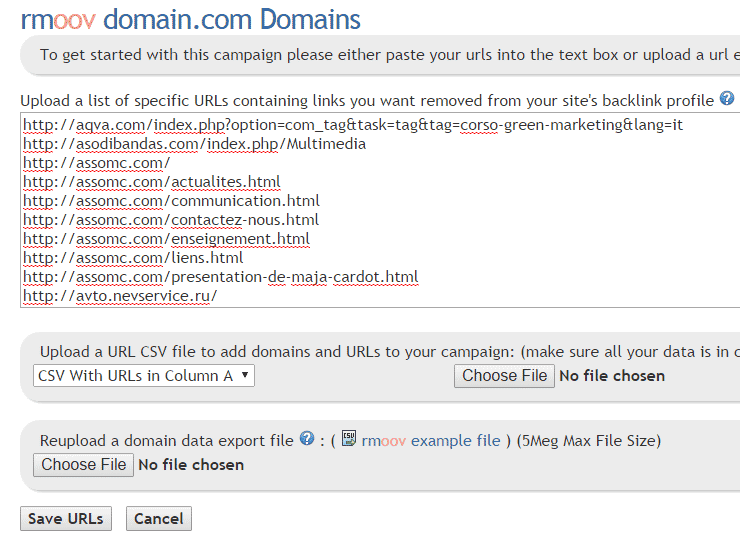 rmoov will then try to pull contact information for each domain. They pull from two separate sources: DomainTool's whois records and their own private database that they have compiled over the years.
Step 5
After all the lookups have finished, you will want to go through and click on the ones with the red "No Whois" button. This means it couldn't find a record, or their whois is private. What you can do is then browse to their website and see if you can pull other information. You can click on the "No Whois" button and add information. rmoov will not start sending emails until all of these have been fixed.
Typically when I've used the tool, only about 15% of the campaign doesn't find contact information. So you can add it manually on the domain editor page.
Step 6
Next, you can launch your campaign. After running it for a few weeks, hopefully, you should have cleaned up most of the bad backlinks. If not, you can always go to the dashboard and click on the "Disavow" button, which will create a disavow report. I recommend waiting until your rmoov campaign has finished because it will automatically update the report with only the remaining domains that you couldn't fix or contact.
You might be surprised how well this works. Webmasters whose sites have been hacked are usually shocked and grateful that you let them know they have a problem.
Get organized with an SEO Trello board
Get your writing, content, and SEO organized with a Trello board. Here is just a quick example of how I have my board set up. I have the following columns (left to right):
Backlog: Where to throw new content ideas.
To Do: Decided to move forward.
Pillar Posts: Long-form posts the site is built around and always improving. This post is a good example.
In Progress: What you're working on.
Waiting/Hold: Something holding it up, or scheduled to publish.
Done: Published and live.

I then use the Custom Fields Power-Up to create the following "text" attributes that automatically show on each card:
#1 Keyword
#1 Search Volume
#1 KW Difficulty
#2 Keyword
#2 Search Volume
#2 KW Difficulty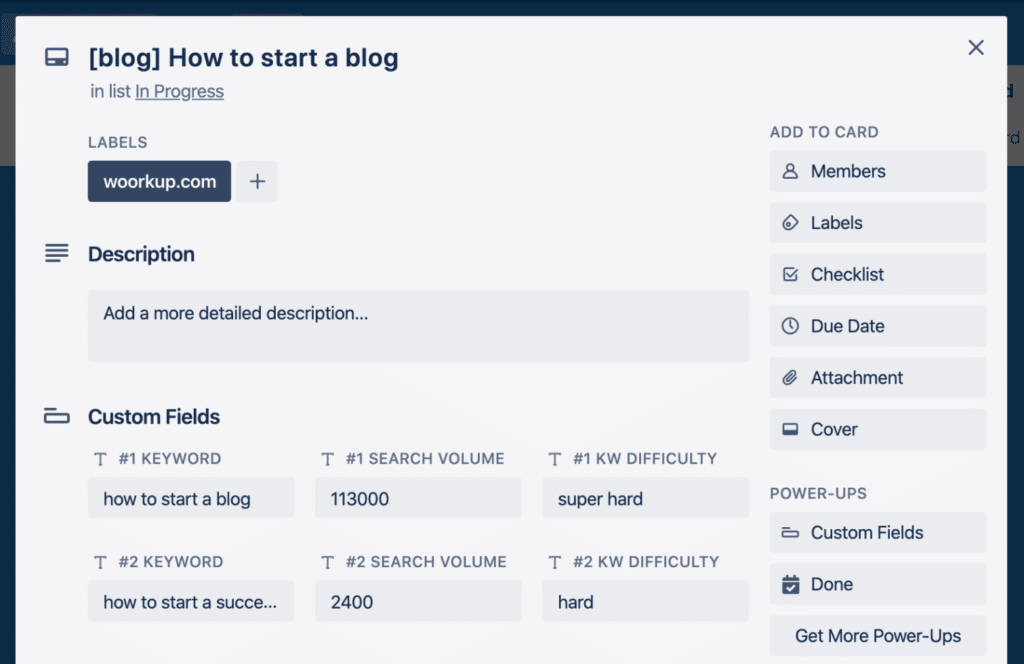 I use Ahrefs to grab all of my keyword data. If you need a cheaper alternative, KWFinder is the next best thing. You can uncheck the option to show the custom field attributes on the front of your cards. This is helpful once you get a lot of Trello cards.
I also hook up the Butler Power-Up to automatically archive cards in the "Done" column after they've been there for 15 days. The reason I recommend doing this is that Trello can start to slow down if you get too many active cards. Archived cards are never deleted and are always available in search.

Things you shouldn't waste your time doing
Here is a short list of things you shouldn't waste your time doing when it comes to SEO, or is no longer relevant.
Updating or tweaking your WordPress ping list. Under "Settings → Writing" there is a section called Update Services. In the good ole days, it sometimes made sense to add a longer ping list. This is no longer needed.
Adding a link to your sitemap file in the footer of your website. Google is smart enough these days and crawls your sitemaps just fine. Adding this to your site's footer does nothing.
Don't spam individuals or companies for link exchanges. This is rude, shady, and downright a waste of time. Check out this whopper of a conversation I had with a blogger.
Don't waste time commenting on blogs just trying to get a backlink. Many times these will be nofollow, or your comment will simply be marked as spam. Also, a lot of sites remove the WordPress author comment link and website field due to spam.
A custom CDN URL is no longer needed. You might still want one for branding purposes, but for SEO, Google knows how to recognize and index images just fine from a random URL given to you by your CDN provider.
Never use a private blog network (PBN). These are only a shortcut that will no doubt get you penalized later.
Keyword stuffing does more harm than good. Write for the user and write naturally.
If you're doing local SEO, don't waste time submitting to all the directory sites under the sun. Most of them won't help you at all. The only ones worth your time are Google, Bing, and perhaps Yelp profiles.
Your Alexa score isn't as important as you might think. It's fine to use it as a general indication of how you're doing, but don't rely entirely on it. The reason is that most of the rankings are based on the data it collects from those who have the Alexa toolbar installed. I recommend using other tools like GSC, Analytics, Ahrefs (domain rating), etc.
Stop worrying about your IP address. A shared IP address is completely fine, and many Fortune 500 companies use them. Google has confirmed that a unique IP address won't help your ranking.
When building a disavow file, you don't need to include any nofollow links, as these are redundant (source).
Backlinks aren't as important as you might think. If you only have so much time, spend it first on creating quality content. I've built many successful businesses from SEO without ever spending time building backlinks. If you have great content, they will come.
Summary
I'm hoping this list of SEO tips is helpful. If you have any SEO questions, feel free to drop them in the comments below and I'll try to answer them.