There is an awesome new plugin on the block, and it is the Disqus Conditional Load WordPress Plugin. Tired of having Disqus load 10+ HTTP requests every time someone hits your post? I love Disqus mainly because it cuts out 99% of spam so I can focus on other things, however I got sick and tired of seeing all those HTTP requests slowing down my pages. The Disqus Conditional Load plugin fixes all of that.
[alert-note]
I reduced my page load speed by over half a second + decreased my HTTP requests by more than 10!
[/alert-note]
What does this plugin do? Basically it allows you to still use the Disqus you love, but you have more options. You can have it load when they scroll down or on click. I prefer the on click method because not everyone will want to comment and so I want my pages to load as fast as possible. (update: I am now using the on scroll method)
There are two versions of the plugin, a free version and a pro version. It seamlessly integrates using the Disqus API and syncing with WordPress comments.
DCL Free Plugin Features:
You can grab the free version of the plugin here: https://wordpress.org/plugins/disqus-conditional-load/
Support for importing existing comments.
You can use SHORTCODE to load disqus where ever on the page.
Prevent auto load of Disqus Comments.
Choose how to load Disqus comments (on click, on scroll, normal).
Ability to disable even count.js script.
Hide button after comment loads.
Show custom message on before loading Disqus
Customize button label.
Ability to disable lazy load.
Auto-sync (backup) of comments with Disqus and WordPress database
Basic Forum Support
Disable comments using default WordPress option.
Free to use with lifetime updates.
In each version of the plugin you can access the settings under the "JS Disqus Settings" on the right hand side of your WordPress dashboard.

DCL Plugin Dashboard
If you purchase the pro version you have additional options. See them below.
DCL Settings
For loading Disqus you have four options of how to load it.
Scroll Start
On Click
On Scroll (this is the one I prefer and use)
Normal
You can then also change how to load it on mobile.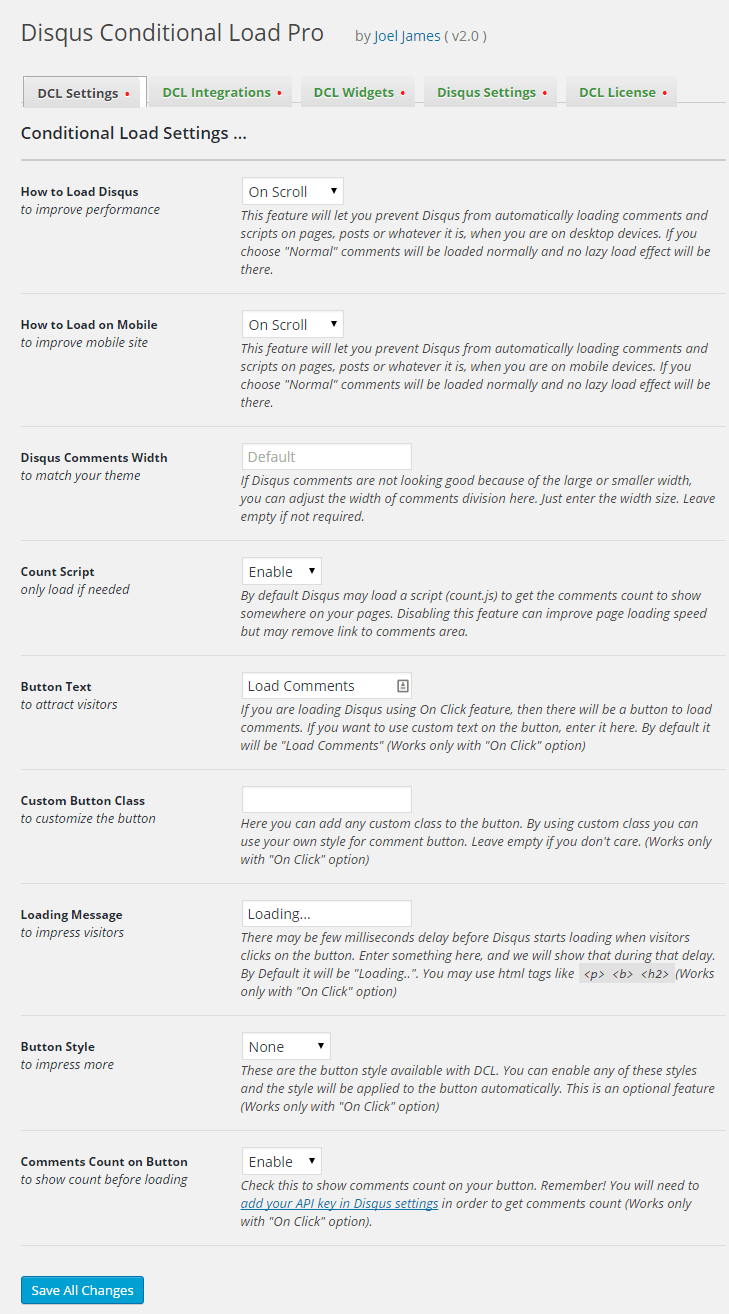 DCL Integrations
James as added support for Woocommerce and also EDD support.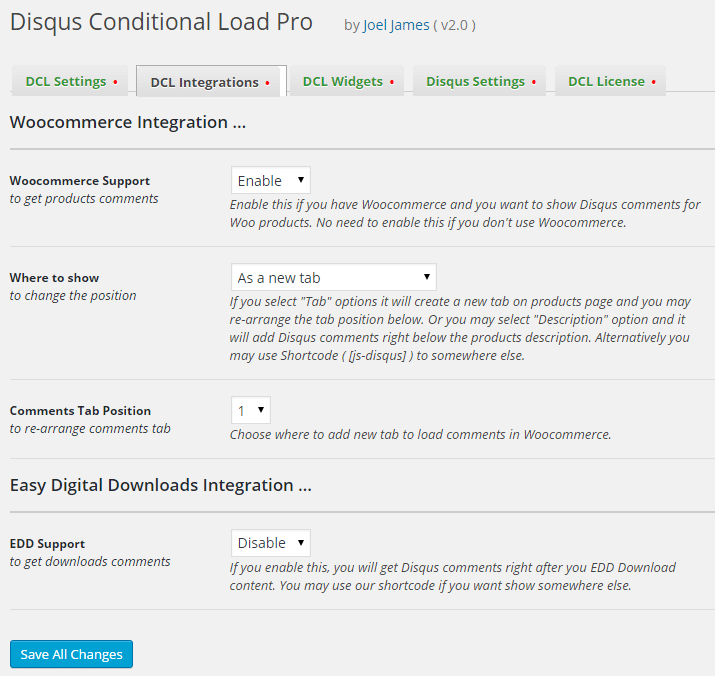 DCL Widgets
You can also have a widget to show your disqus comments.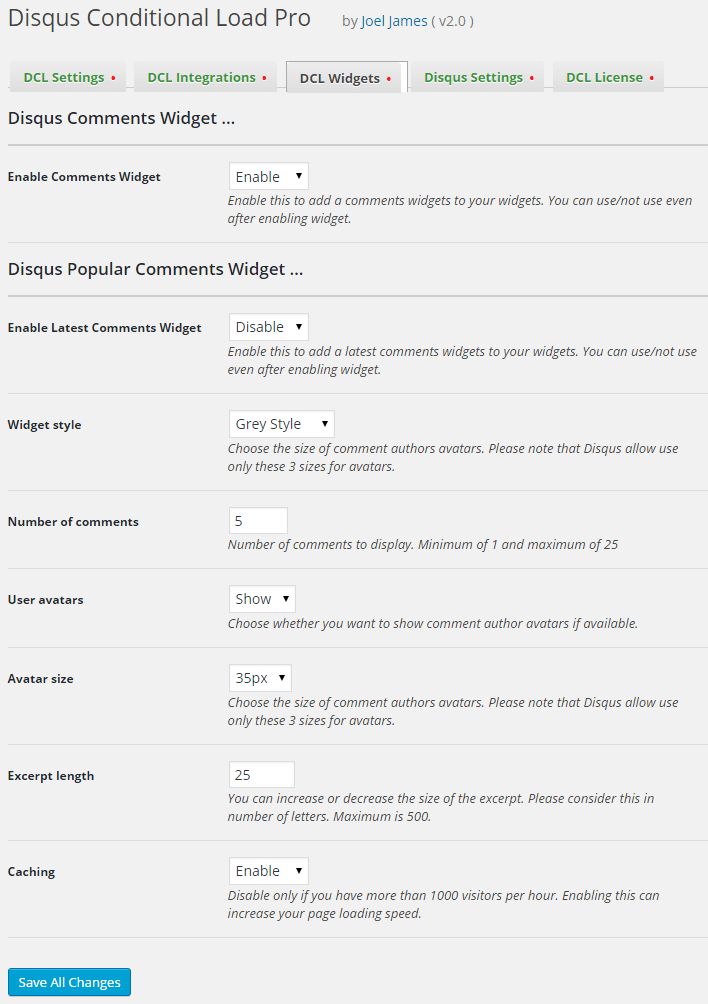 Disqus Settings
You can then also access the normal disqus setting screen for syncing, setup, etc.

DCL License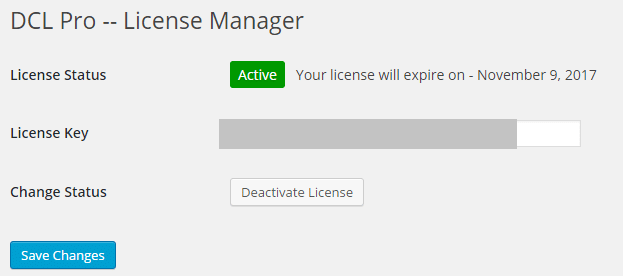 On Click Disqus
If you happened to set it up as "On Click" you can see my example below. It puts a button at the bottom of your posts so that the scripts don't load until the button is clicked. You can then give your button a custom class if you want to style it.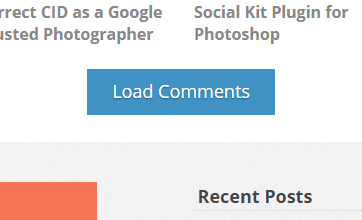 DCL Pro Plugin Features:
You can grab the pro version of the plugin here: https://dclwp.com He has three different licenses available ranging from $20 – $80.
Scroll Start and On Click
Woocommerce and EDD Support
Change options on Desktop vs Mobile
Includes Disqus Widgets
Inbuilt Buttons
Comment Counts on Buttons
Direct Support via Email
Already Included Disqus Features:
Threaded comments and replies
Notifications and reply by email
Subscribe and RSS options
Aggregated comments and social mentions
Powerful moderation and admin tools
Full spam filtering, blacklists and whitelists
Support for Disqus community widgets
Connected with a large discussion community
Increased exposure and readership
[alert-note]
The developer of this plugin, James is awesome. Amazing support and pro-active on updates.
[/alert-note]
I highly recommend you give the free version of this plugin a try. If you are already using Disqus this is a seamless transition and you have nothing to lose and only speed to gain! Also if you have videos on your site make sure to checkout my other review on the Lazy Load for Videos WordPress Plugin.
As always feel free to leave your comments below.
[wp-review]