When it comes to web performance, DNS is the backbone of your site. If you have a slow DNS provider then you could have slow DNS lookup times. I finally got some time to dive into some DNS testing and what I discovered was that my current free DNS provider was horrible! Check out my DNS Made Easy review below and find out why I migrated all my DNS records to them.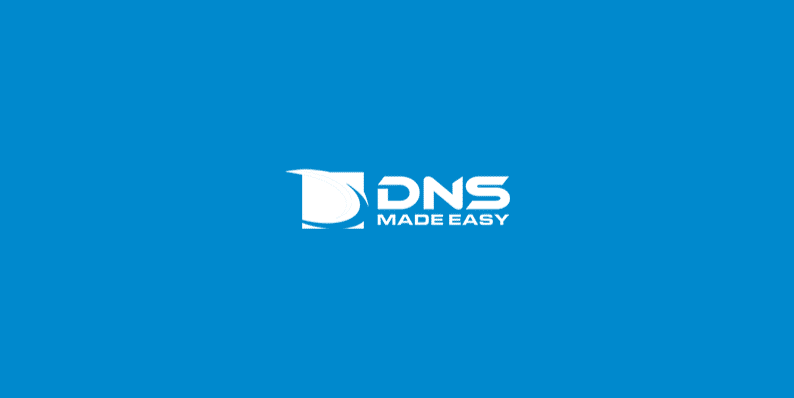 Update 2021: Since writing this review, I have moved all of my sites to Cloudflare DNS, which is much faster. See everything that I use in my post on how to speed up WordPress.
The move to a premium DNS provider
First off let me make something clear, a fast DNS provider won't necessarily show up in all your speed tests. In fact, most ISPs will cache DNS provider records in order to serve your content faster. However, DNS queries are still being made on a regular basis, so having a fast and reliable DNS provider is very important. It is the backbone of the internet. I didn't realize just how important slow mine was until I did some testing.
I use NameCheap for all my domains and love them! I have used them for over 6 years and never had any problems. To make things easier I was simply using the free DNS that they provided. Little did I know that the free DNS from NameCheap is pretty crappy. Nothing against NameCheap, it is free after all! But I decided to do some research into more DNS providers out there. Here is a good list of free DNS providers. However, with free you usually have limitations or they might be a little slower. Cloudflare is probably the fastest free DNS provider out there, but I wanted the best.
Dedicated DNS hosting providers tend to have faster and more reliable infrastructure, designed from the ground up for hosting DNS query traffic and nothing else.
DNS speed test comparisons
There are two good websites that provide DNS speed test comparisons; SolveDNS and DNSPerf. Here is a DNS speed test from April from SolveDNS. They measure from Europe, Asia, and North America (Los Angeles, Dallas, New York, San Francisco, London, Amsterdam, and Singapore). The report displays the DNS speed from all seven cities, including an average. As we can see DNS Made Easy was sitting in 1st place as the fastest DNS provider. If you look back a couple of months ago they were in about third place. So it seems they have been doing some major work to improve their speeds.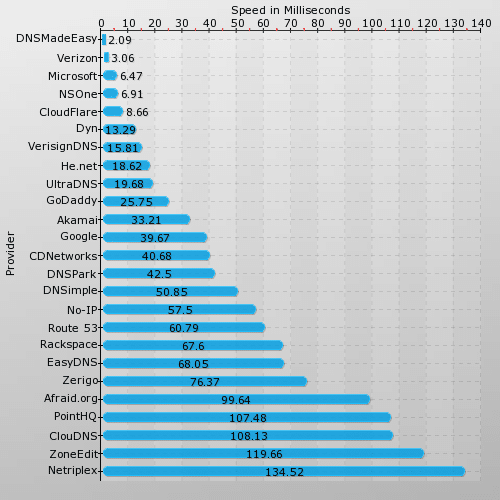 Now if we take a look at a worldwide DNS speed test from DNSPerf, we can see that DNS Made Easy is 4th. Now, we have to take this with a grain of salt because the last time DNSPerf was updated was back in September 2015. According to SolveDNS, they have climbed the ladder somewhat since then.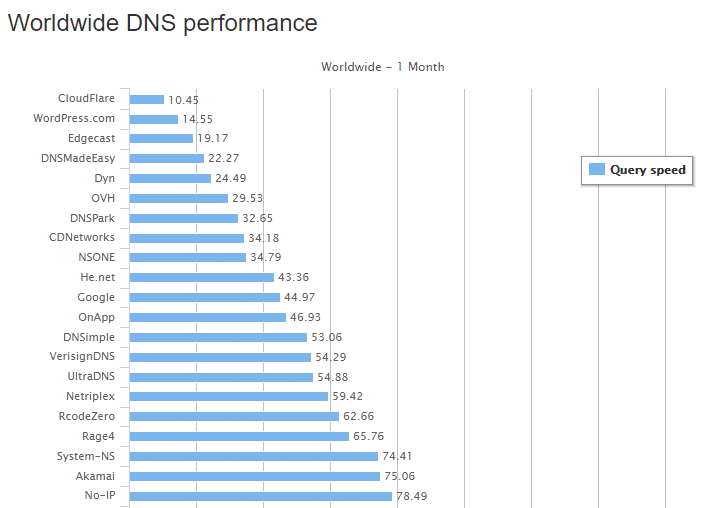 Now if we take a look at the North America DNS performance, DNS Made Easy is 2nd. Since they are were 1st on SolveDNS, and 2nd on DNSPerf in North America, which is where a majority of my traffic is, I decided to start testing with DNS Made Easy first. Edgecast is way too expensive and WordPress.com can't be used with self-hosted sites, so it made sense to start there.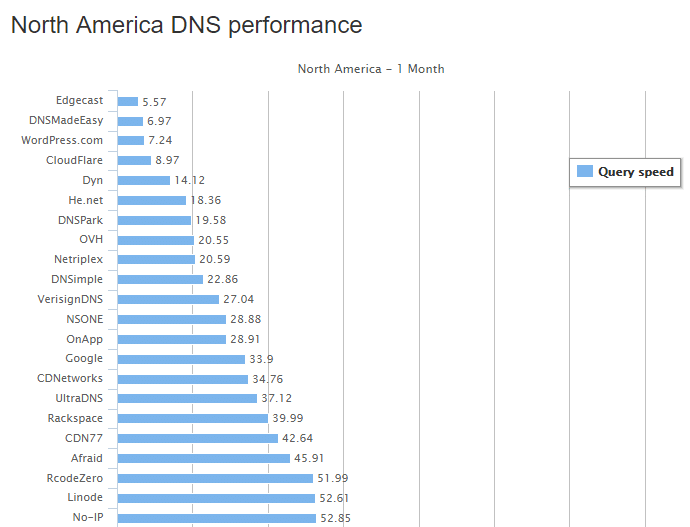 I wanted to do my own tests because I never rely on 3rd party data. I want to see the results for myself. So here are the results after comparing four different DNS providers:
Tools I used to test DNS speeds include the following:
Basic NameCheap DNS
First I tested with the free version of NameCheap's DNS which is included with every domain. This is what I have been using for years, unfortunately.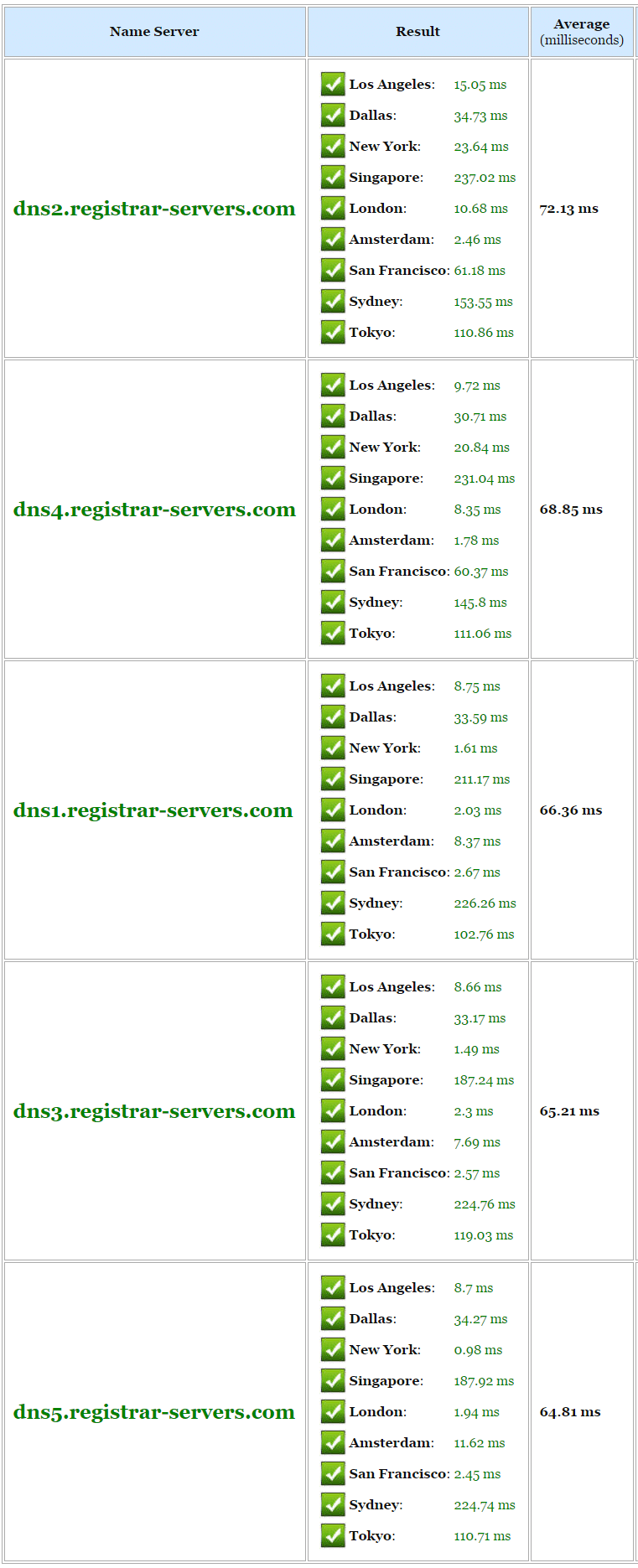 Here is another test using Neustar's tool.

Here is another test using KeyCDN's webperf tool.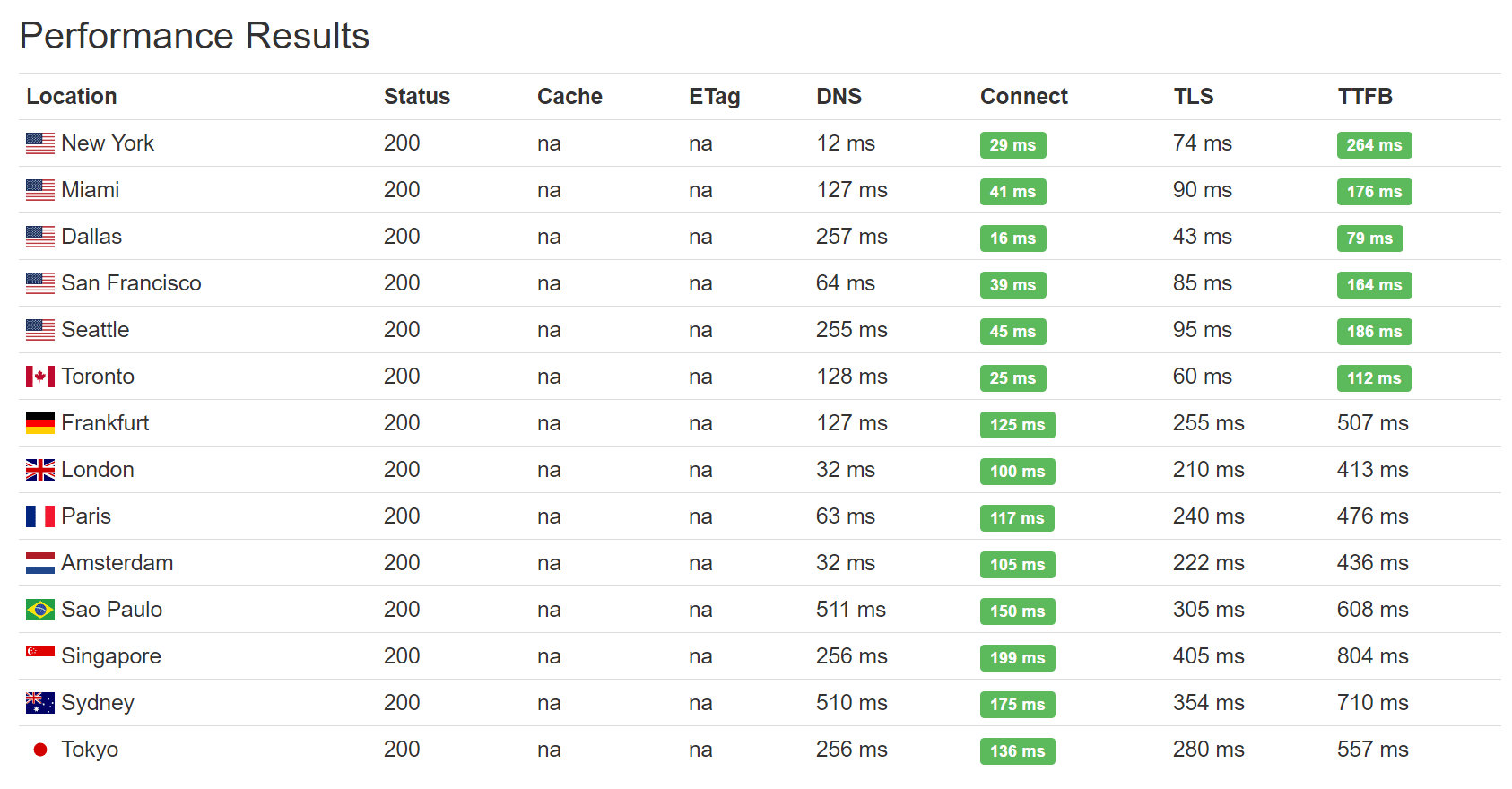 As you can see those speeds aren't that great. I also tested NameCheap's premium DNS and it was horrible, barely any better than the basic NameCheap DNS. It is powered by VerisignDNS and you can see from the comparison sites that it ranks pretty low.
Cloudflare DNS
I then tested CloudFlare's DNS because free is always good. As you can see from the tests this is much better! So I knew I was on the right track.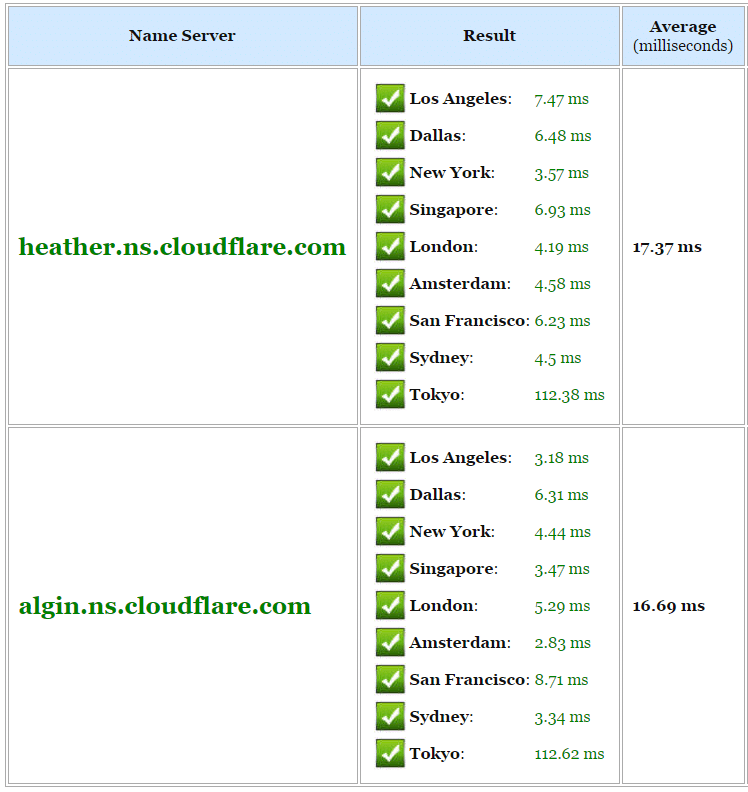 Here is another test using Neustar's tool.

DNS Made Easy
Last I tested DNS Made Easy. I was curious to see how it compared to CloudFlare's 50+ POPs. Even though it is free, CloudFlare is known for having a very large infrastructure. And check out the results! My mind was kind of blown. And if you compare DNS Made Easy to NameCheap's free DNS which is what I have been using, it is night and day. The clear winner here is DNS Made Easy.

Here is another test using Neustar's tool.

Here is another test using KeyCDN's webperf tool.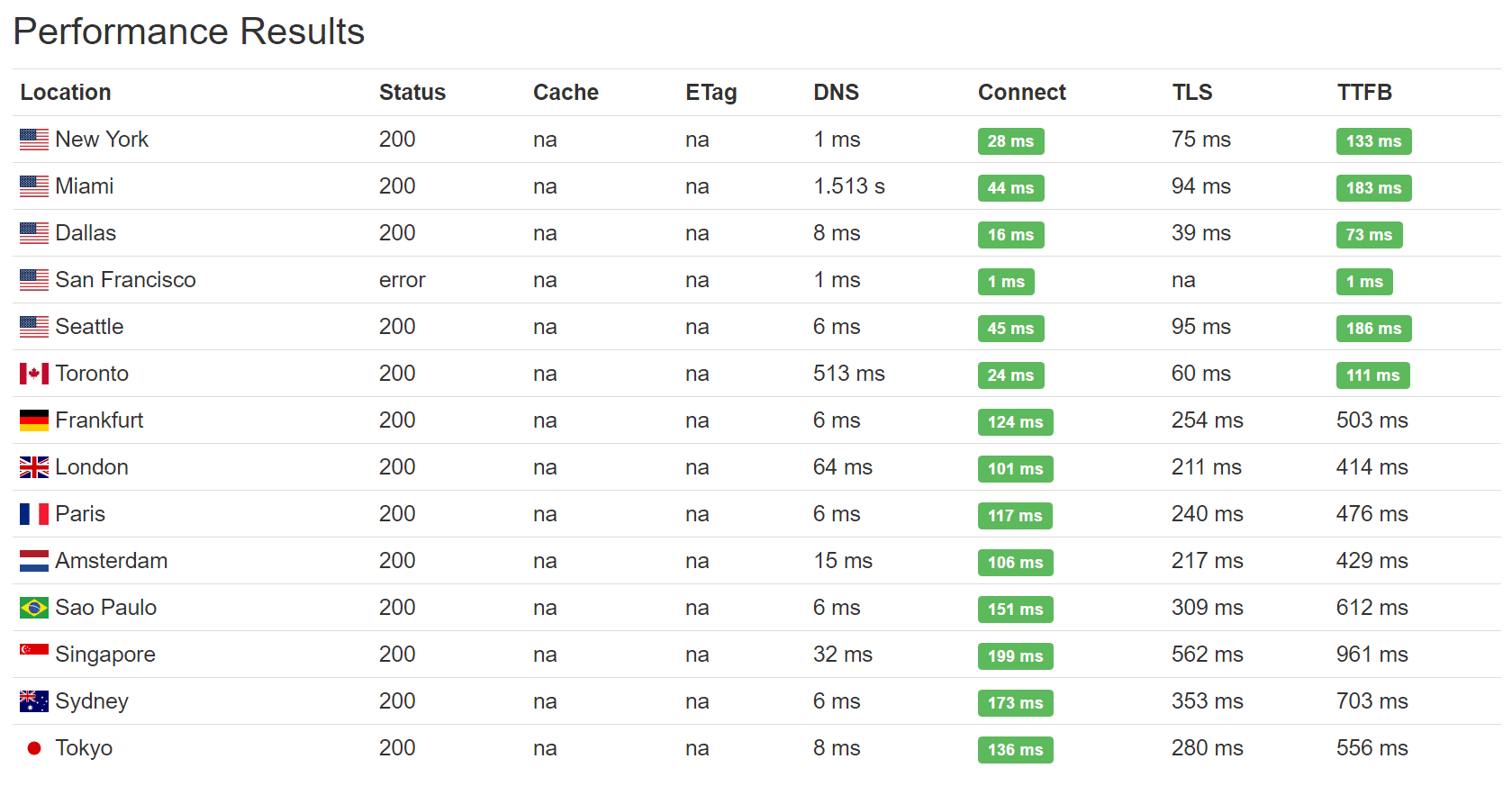 As you can see from the tests above, DNS Made Easy pretty much blows NameCheap's free DNS out of the water. But what you can expect? It's free after all. I don't think some people realize though just how bad it is. Here is a quick summary of the results from each tool.
The data doesn't lie! Now, will the average user notice a difference? Probably not, but I definitely will. And remember, when it comes to performance, it is all about tackling it from every level. You should look at DNS lookup times, TTFB, the speed of your server, every HTTP request, it all adds up. Once you start making this a habit, you'll end up with a blazing fast WordPress site!
DNS Made Easy review
DNS Made Easy has been providing DNS services since 2002, over 14 years. So they definitely know what they are doing. They currently manage over 800,000 domains, and work with very large clients such as DuckDuckGo, Under Armour, Tumblr, eHarmony, Hyundai, KissMetrics, Source Forge, Sega, and the BBB .
They operate an IP Anycast+ network with 16 POPs around the world in the following locations:
Seattle
San Jose
Los Angeles
Chicago
Dallas
New York
Washington, DC
Miami
London
Amsterdam
Frankfurt
Hong Kong
Japan
Singapore
Sydney
So you are probably wondering now just how much they cost. Well, the great news is that they are very affordable! They have three plans available, and for most the small business plan will work just fine. This costs $29.95 per year and includes 10 domains, 400 records, and 5 million queries per month. If you need more their business plan starts at $59.95 per year, and they also have higher priced corporate plans. If you are curious, I am using the small business plan.
Another great feature they have is two-factor authentication. This was a must have for me. I have two-factor authentication enabled at NameCheap because there is nothing more important to me than my domains! The last thing you want is someone redirecting your DNS records somewhere else and hijacking your website. Two-factor authentication is included with every plan.
Here is a screenshot of their dashboard. It might not be the most well-designed dashboard I have seen, but who cares if it does everything I need and is fast.
They also have great reporting.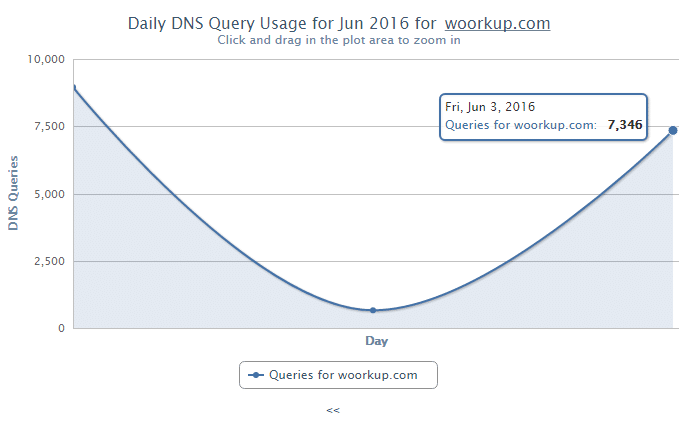 How to migrate DNS to DNS Made Easy
Migrating my DNS only took a few minutes. Here are the steps I followed.
Step 1
I added DNS records to DNS Made Easy control panel.
A record to point to webhost
[optional] CNAME for "cdn" to point to my CDN provider, KeyCDN.
[optional] MX records to setup my free email forwarding.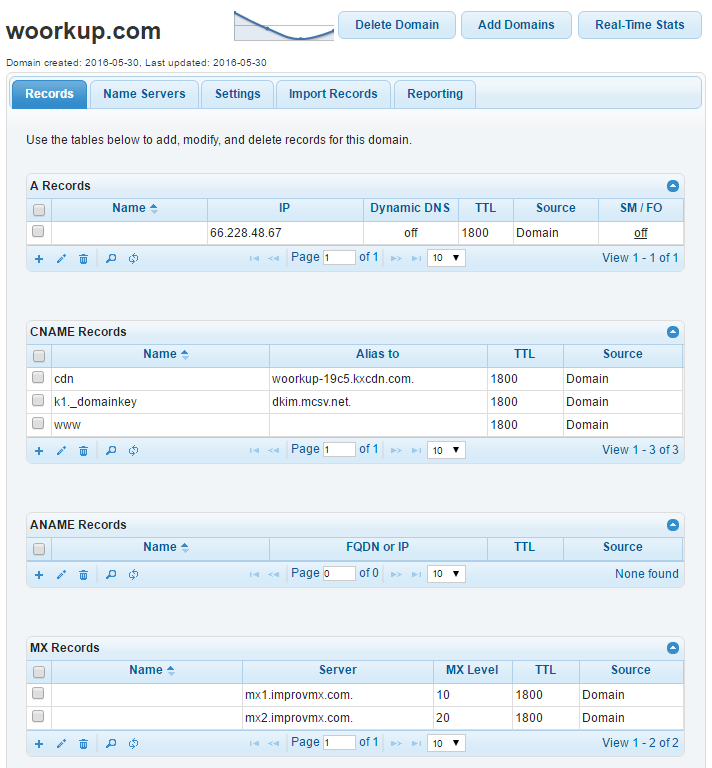 Step 2
Then I pointed my DNS in NameCheap dashboard to DNS Made Easy so they could handle my DNS.

And that's it! It will take a couple of hours to propagate, but you shouldn't experience any downtime.
Summary
All in all, I have been very impressed with DNS Made Easy. They have a 30-day free trial so feel free to give them a try. If you are simply wanting a good free DNS provider, then Cloudflare is probably a good solution. If you want the fastest DNS provider, then DNS Made Easy is definitely worth checking out. Here are some other features they offer I have yet to try out.
Secondary DNS
Real-time Analytics
Automatic Failover (requires additional setup)
Global Traffic Director (Geo-targeting)
Round Robin load balancing
Vanity DNS
Was this DNS Made Easy review helpful? If so, feel free to leave me a comment below. I love chatting about web performance.