Around a year ago I published a review about Dollar Photo Club and how great their service was. It really was, an amazing service at an incredible price. I used it every single day. Unfortunately as of April 15, 2016, Dollar Photo Club has shut its doors after being acquired by Adobe Stock.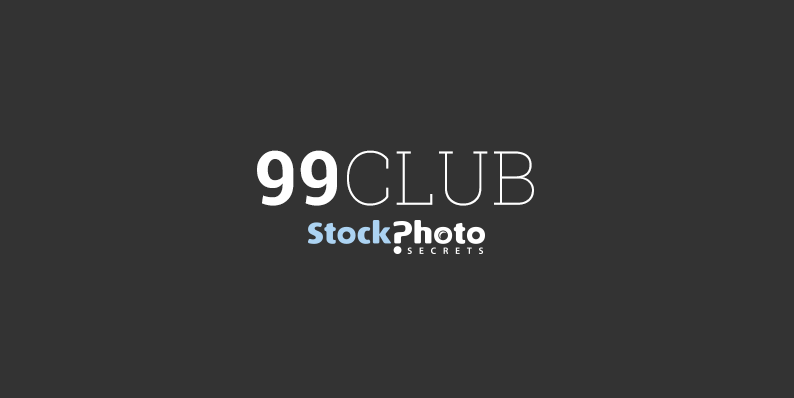 While Adobe Stock has an amazing database of photos, it also costs $29.99/mo which gives you 10 photos. That comes out to $2.99 a photo. That is 3x what I was already paying at Dollar Photo Club. 
So I set out to find the best alternative, and after comparing a couple, I finally landed upon the 99club by Stock Photo Secrets. And let me show you why it is the best Dollar Photo Club alternative, and actually even better!
99club Features
Stock Photo Secrets' 99club gives its members 200 XXL images (any size) downloads for just $99, which lets you pick any stock photo, vector, and premium font from any collection. Additional images are then just $0.99.
So let's say I am going to need 500 over the next year. 200 images for $99 = $0.49 per photo. And then $0.99 per the additional 300. My total for 500 images over the year would be $396.00. This is actually cheaper than Dollar Photo Club. 
But wait, it gets better! If you buy a lot of images like me, you can buy additional images in packs of 100 for only $69.00 or $0.69 per photo.
So in the end, I am getting my 500 images for a total of $306 or $0.61 per photo!
And if you use 200 images or less you can get by at only $0.49 per photo.
High Res Photos, Vectors & Fonts (no Videos)
Royalty Free License
Use the images FOREVER
New auto-renew feature: secure the low price deal for as long as the offer exists
Images can be used in commercial projects, on blogs, websites, and social media.
Small, Medium, or XXL image sizes
The XXL size lets you confidently print at A3 size at 300dpi, or 6 x 6 at 72dpi, and all of the vector files can be downloaded in EPS format.
Image Library
Stock Photo Secrets has a database of over 4 million images, with 80,000 new images being uploaded every month. Below are just a few examples.
Here is a quick search I did for "Sunsets" in their database. As you can see, it returned 56,464 results! In the search settings you can change the thumbnail size, how many to display per page, previews, and safe search on or off.
The search filter lets you change orientation, number of people, age, gender, composition, and view point. And don't forget, there are also vectors, fonts, and videos.
And here is a search I did for "green vectors."
99club Licensing Options & Usage
Many stock photo agencies require special attribution and watermarks with the photographer's name within the stock image. 99club, however, does not. Another great thing about the 99club is that once you've downloaded an image, you can use it forever without much restriction. Feel free to go crazy on your Facebook pages, Twitter, you name it.
FAQs
Here are some questions and answers I have gotten from people asking about this new awesome stock photo service.
1. What happens after 1 year, can you get the same deal?
They have an auto-renew feature that allows you to secure the low price deal forever. Your 99club subscription automatically gets renewed on the scheduled renewal date. Renewal will always be at the same price of your initial subscription. You don't need to worry about price increases: you will always pay $99 a year for 200 XXL images. And you can cancel your subscription at any time.
2. What happens when you use all the 200 images before the year ends?
You can buy additional images at only $0.99 per image or buy a bigger upgrade bulk package for even cheaper.
3. Can you still use the images after your 99Club account has expired?
Yes you can use them forever according to their license.
4. Will they close like Dollar Photo Club?
I have personally chatted with the owner of 99Club and he has assured me that they have no intentions to close anytime soon. The will be around for a long time.
Support
Besides having super cheap high quality photos, their support is great too! I love companies that use Intercom because I can immediately get any additional questions that I have answered or confirmed. I had a nice little chat with Amos over at Stock Photo Secrets and he was a great help.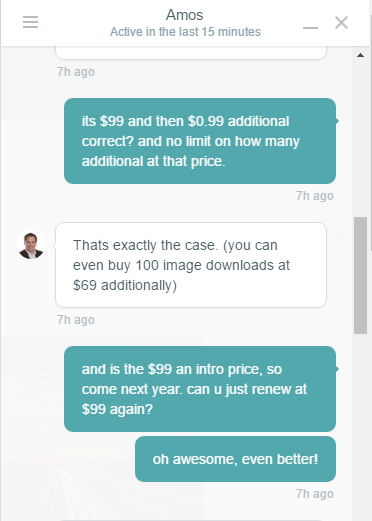 Best Dollar Photo Club Alternative?
Not only is this the best Dollar Photo Club alternative, it's even cheaper if you buy your images in packs! I highly recommend trying out Stock Photo Secrets's 99club.
I would love to hear your thoughts and comments below as always!