Increase Positive Online Reviews
There is a brand new tool on the market and it is one you don't want to miss. If you are a local business or do anything online and are looking for a better way to increase your online reviews and or reputation then GetFiveStars is a tool you definitely want to try!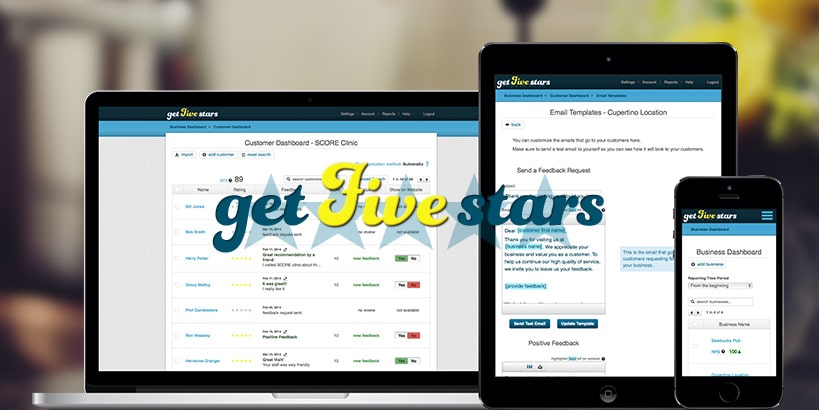 [alert-note]After implementing GetFiveStars
my client received 49 reviews within 2 weeks
; spread out over Facebook, Google+, and their website.[/alert-note]
And guess what? I setup everything in one afternoon and haven't touched it since! It has been the easiest review platform I have used to date, and I've used quite a few. Before I dive into the product, let me get one thing straight. This tool doesn't push reviews out to fake profiles, that is against the rules folks! What it does is builds an automated system and funnel that makes it super easy and convenient for your customers to give you the reviews.
GetFiveStars Main Features
Automated Collection of Feedback & Reviews (Yelp, Facebook, Google+, CitySearch, Twitter, Bing, many more.)
Share Testimonials and Reviews
Monitor Online Reviews (Intercept negative feedback before it shows up on other platforms)
Designed for Mobile and Tablet
Customizable Templates & Settings
WordPress Plugin to Display Reviews on Your Website
White-label Version & Pricing for Marketing Agencies
15 Day Free Trial
Diving into GetFiveStars
They offer a free 15 day trial that includes all features, free email support and no calls from the sales team (they don't even have one). So you really have nothing to lose.
Business Dashboard
GetFiveStars makes it super easy to manage multiple businesses and clients. They even offer a white-label option to resell the service to others. You can see below I have three clients setup (names have been removed and scores changed for security purposes).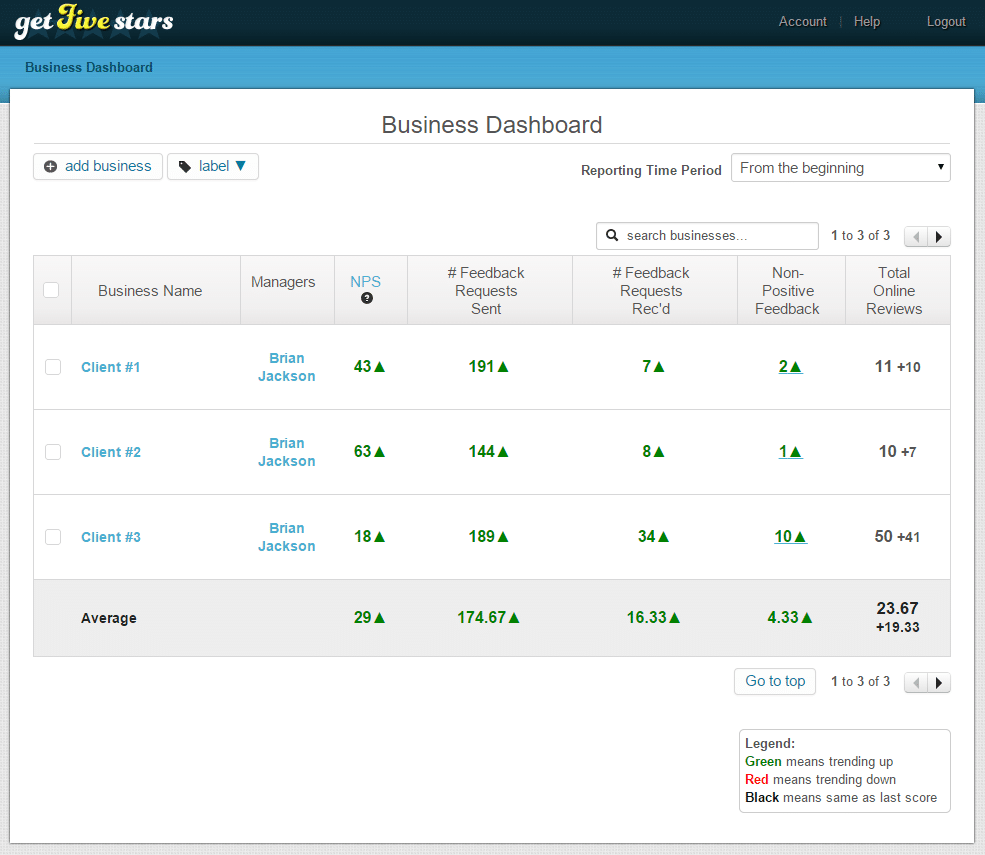 Pricing
They offer a multi-business discount. So the more clients you have the cheaper it gets. It really is an awesome agency tool!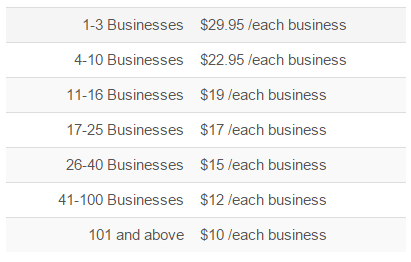 Online Review Links Settings
When you first setup your business you will want to configure all of the settings, the first is the online review links. This is where you setup all the sites you want to get reviews on.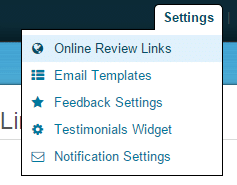 They have a cool feature called "Auto load profiles" which will scan the internet and try to pull any sites where it detects that you have a profile already setup. When I was doing this it auto detected usually 1-3 profiles each time which was great because it saved me some time from copying and pasting links. You can then add the rest of your review sites below and connect it to your FB page.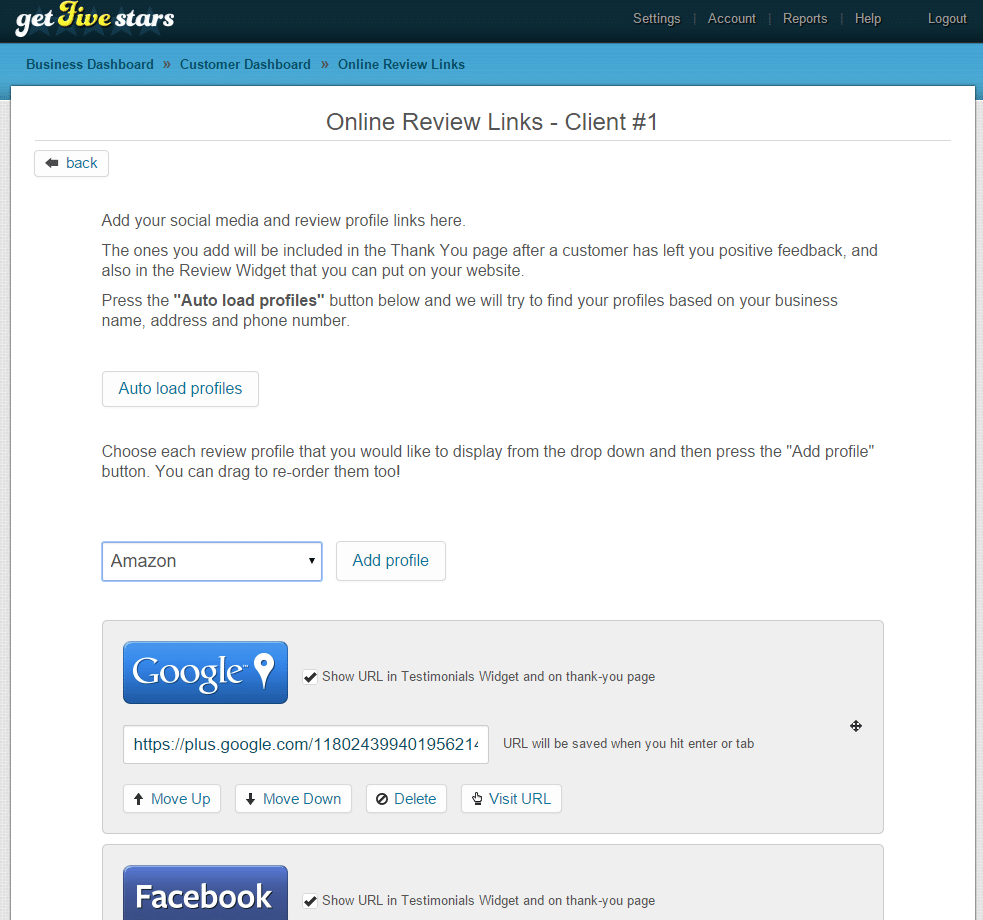 [one_half]
They offer the following profiles:
Amazon
Angies List
Apartment Ratings
Avvo
BBB – Better Business Bureau
Bed and Breakfast.com
Bing
Caring.com
Cars.com
Custom Link 1
Custom Link 2
DealerRater.com
dexknows
Edmunds
Etsy
Foursquare
Glassdoor.com
Google+ Local
HealthGrades
HomeAdvisor
HomeStars
Houzz
Insider Pages
Kudzu
Lawyer RatingZ
Local.com
[/one_half]
[one_half_last]
Manta.com
Merchant Circle
N49.ca
OpenTable
RateMDs.com
RealSelf
Senior Advisor.com
Senior Homes.com
SuperPages.com
Taucher.net
TheBestofUnitedKingdom
Thumbtack
TripAdvisor
TrueLocal.au
Trulia
Trustpilot
Twitter
Urbanspoon
Viewpoints
Vitals
WalletHub
Weblocal.ca
Yahoo Local
YellowPages.ca
YellowPages.com
Zagat.com
Zillow[/one_half_last]
Email Templates Settings
The second thing you will want to configure is your Email Templates.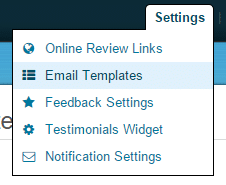 I suggest spending a few minutes and come up with some good wording for your emails. They have four emails that go out automatically. Each one you can custom and you can use the tags to automatically pull data which is nice because you can copy these templates easily between other clients. I created all of my email templates one time and copied them for the rest. You can easily change the FROM email address, add your logo, and add a picture that appears in the body.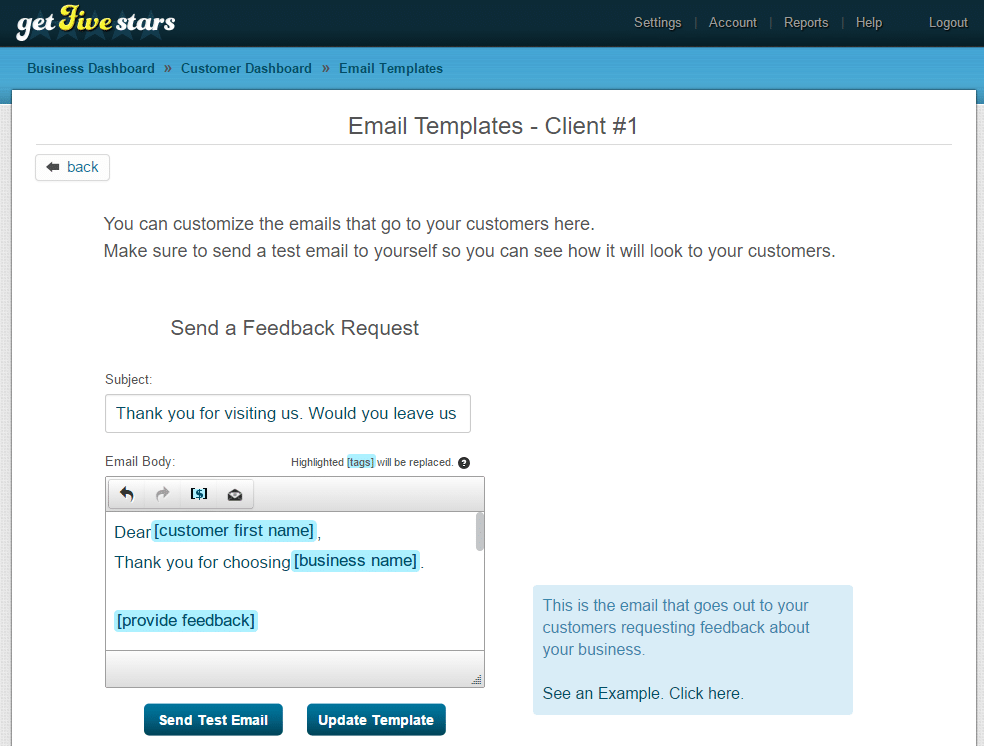 1st Email – Feedback Request
The first email is the Feedback Request email. Here is an example.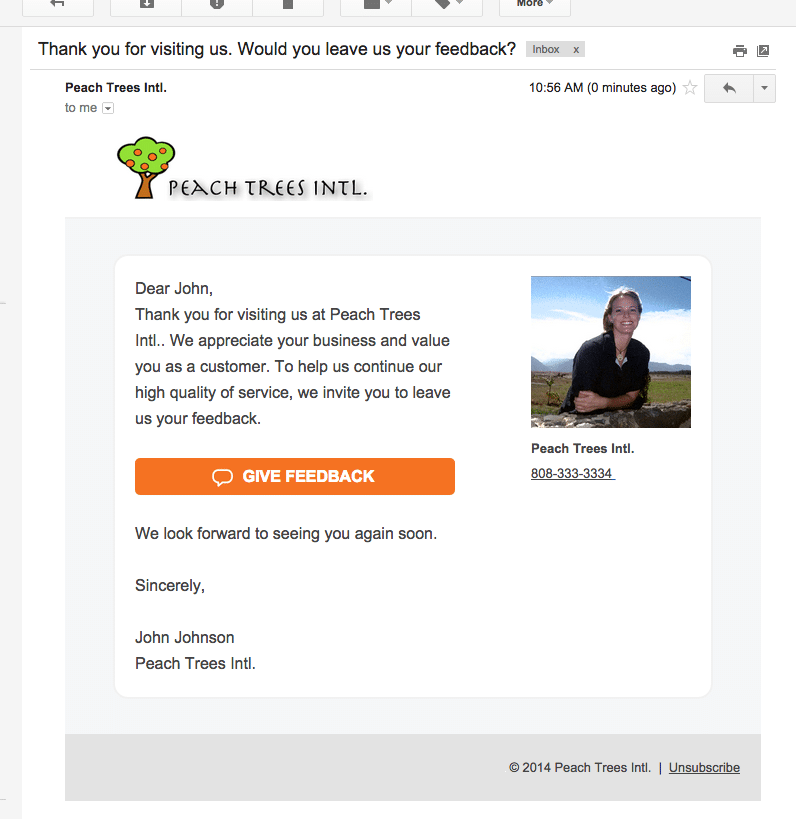 2nd Email – Positive Feedback Thank You
The second email is one that sends a thank you when your customer leaves positive feedback. Here is an example.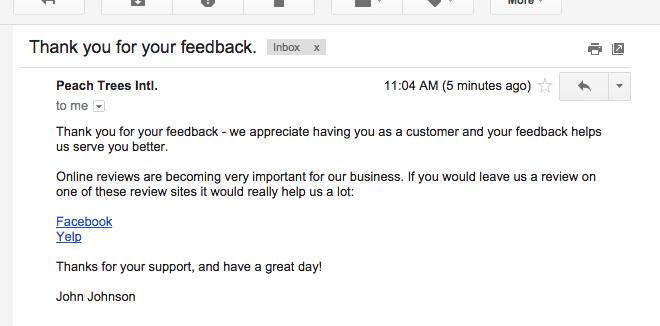 3rd Email – Negative Feedback
The third email is one that sends a different message when someone leaves negative feedback. Here is an example.
4th Email – Feedback Request Reminder
The fourth email is one that sends out a reminder after three days if they don't respond to the original feedback request email. I'm very glad that GetFiveStars added this as sometimes people forget and need that extra reminder.
Feedback Settings
The third thing you will want to configure is your Feedback Settings.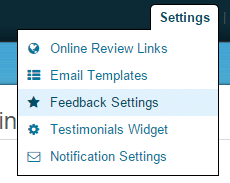 There are a multitude of things you can change in here, such as:
Including links to reviews sites
Ask for rating only
Auto Approve Feedback (this is an awesome feature as you can automatically have it show up on your site without having to manually approve it)
Positive Feedback Page Threshold
You can also change your CTA at the top and the banner that appears at the top.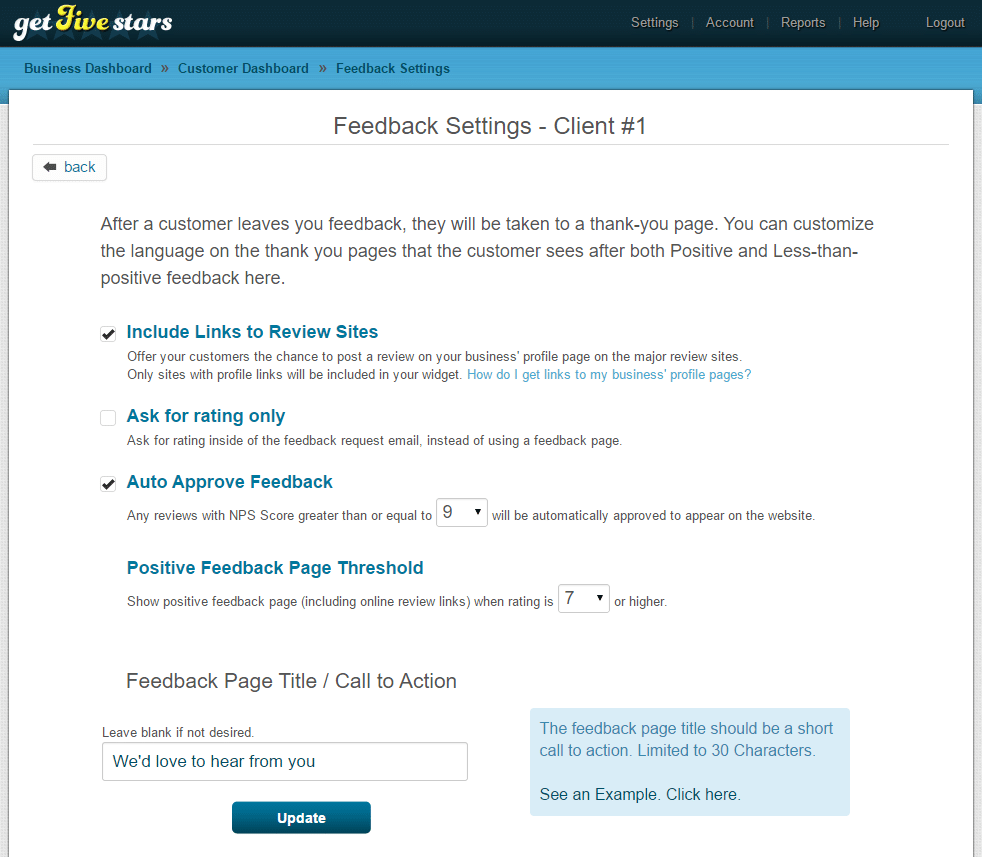 You can then change the messaging and look of your positive feedback page and the negative feedback page.
Positive Feedback Page
Here is an example of the positive feedback page that shows afters someone leaves positive feedback.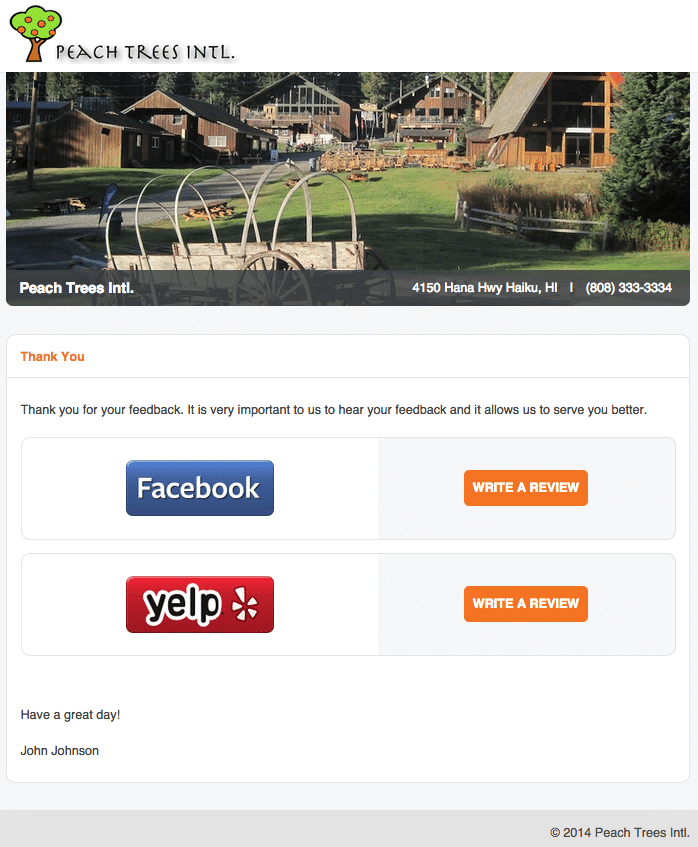 Negative Feedback Page
Here is an example of the negative feedback page that shows afters someone leaves negative feedback.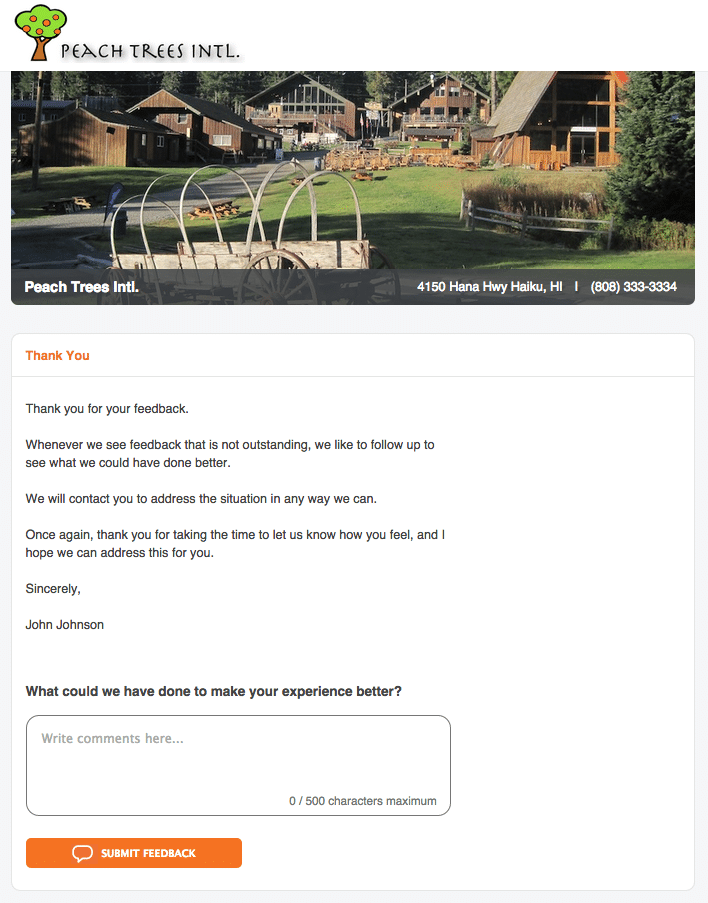 Unique Feedback URL
The "Feedback URL" is unique to your business and can be added to websites, email signatures, email newsletters, existing survey forms as well as printed media, invoices, bills, tabs, receipts, business cards, QR codes, SMS etc – and does not require you to know the customers email or name. There is a unique feedback URL generated per client. This can be very useful in case you already have emails being generated from your CMS or Sales database.
Testimonials Widget Settings
The fourth thing you will want to configure is your Testimonials Widget Settings.
GetFiveStars has an awesome WordPress widget which is also responsive and it looks awesome. You can let them leave feedback directly on your site, link to the review sites, include Facebook Like and Google Plus buttons, and change up the color schemes.
You can either use the WordPress plugin or there is also a snippet of code you can copy.
Here is an example of how it can look with the widget. The reviews will automatically populate without you having to do anything. It also uses Schema Markup which was very important to me. This way your review page will show stars in SERPs.
Notification Settings
The fifth thing you will want to configure is the notification settings. You can setup who you want to get the emails and which types of notifications that you want to receive. You can send to multiple people and you can also send performance reports. Schema markup used correctly has been shown to drastically increase your CTR.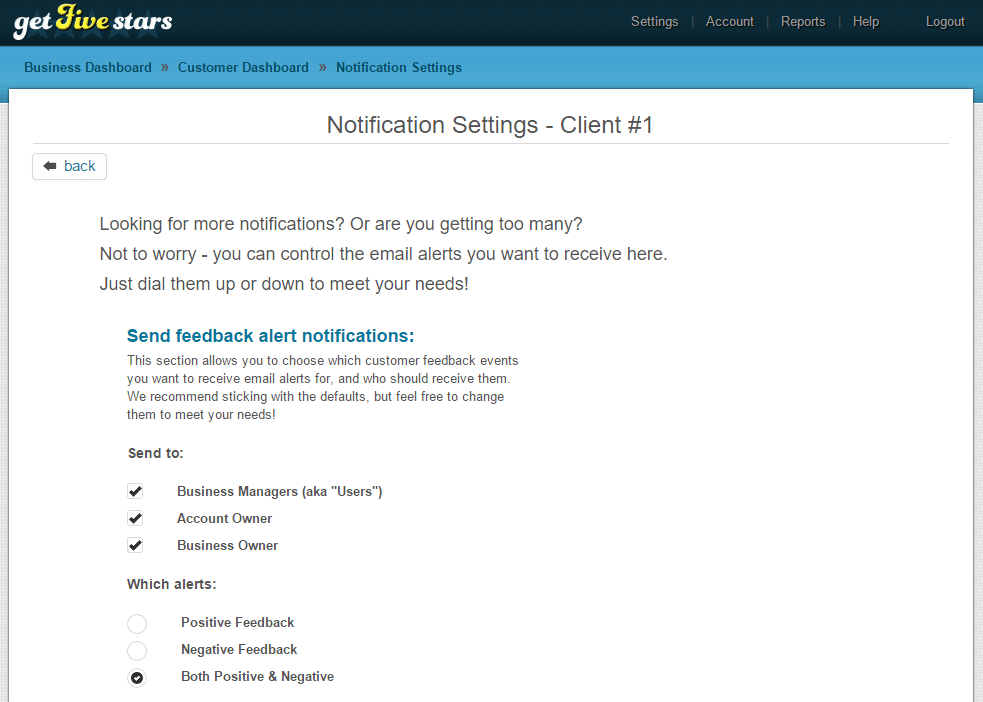 Account Settings
Then there are the account settings.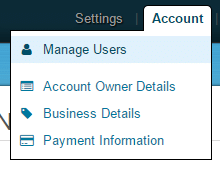 You can add/remove users and give them access to the clients you want them to have. For example, if you are selling this as a service you could give your client access to only their dashboard. Again this works great for agencies. You can also modify the account owner details, business details and payment information. The account settings can all be changed separately for each client.
Reports
The reporting feature of GetFiveStars is awesome. You can see a great overview of how each client is doing without having to spend a lot of time analyzing the data. This can also be an impressive thing to automatically send to your clients.
There are three reports:
Performance Report
Customer Feedback Report
Online Review Monitor Report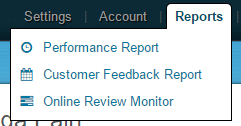 Performance Report
The performance report shows you a gauge of how well you are doing. It uses the NPS system for scoring. You can see the number of feedback requests sent, the open rate, and how many online reviews you have across your review sites. You can also see how many negative reviews have been intercepted.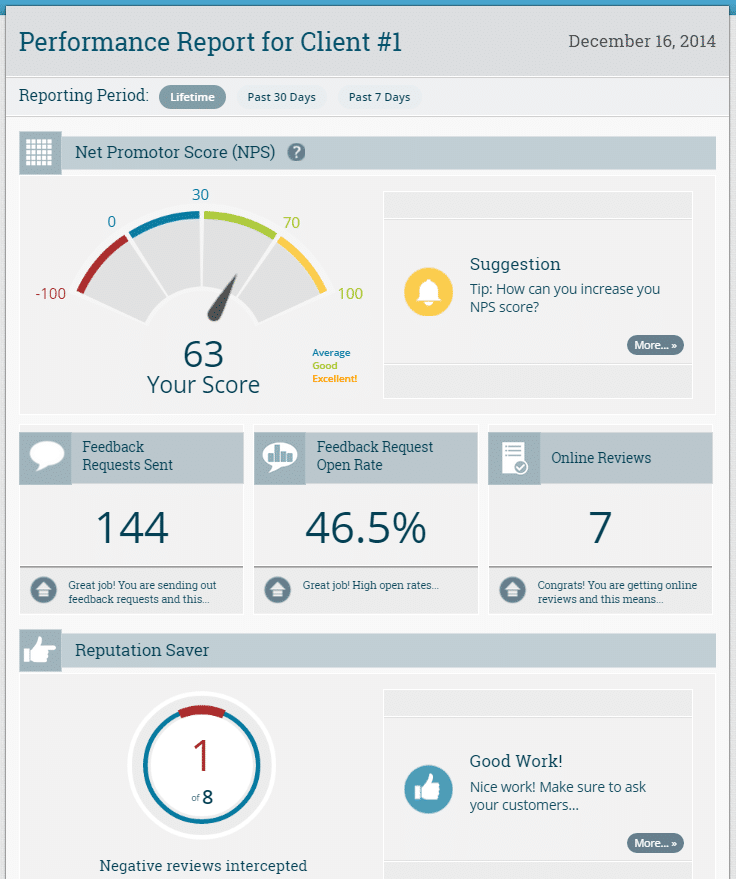 Customer Feedback Report
The customer feedback report allows you to see a quick overview of all your statistics and the growth per year.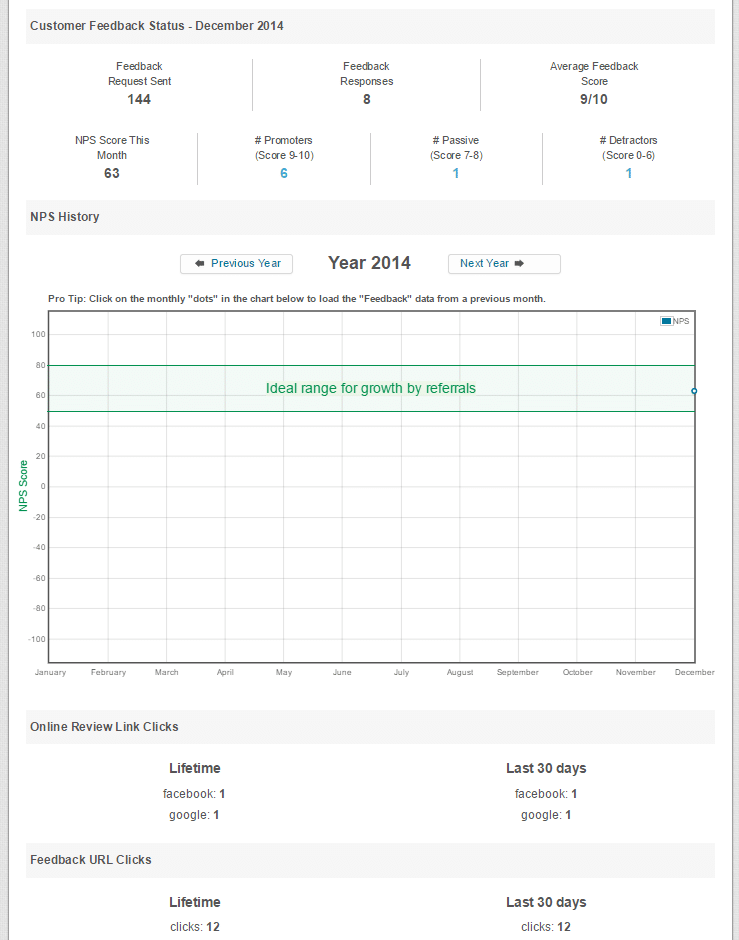 Review Monitor Report
The review monitor report shows you a graph with how the reviews are split across which network.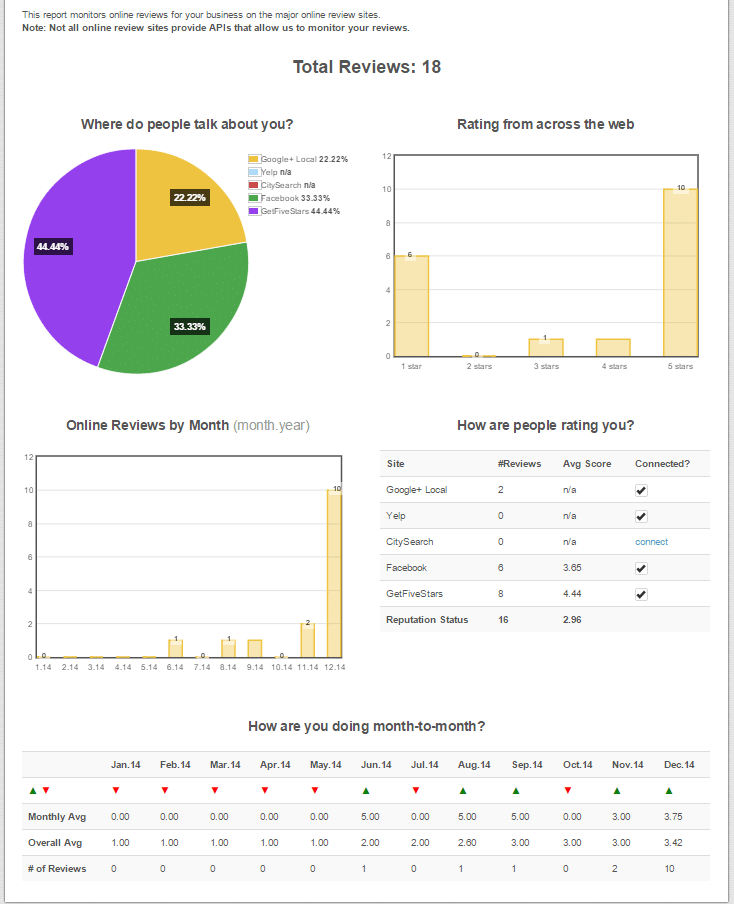 Summary
GetFiveStars is an amazing tool and the creator of it, Don Campbell, really understands what local businesses as well as agencies are wanting when it comes to a good review system. After 3 days of using it I cancelled my previous review tool and moved all my clients over to the new one. There is also awesome documentation available here: http://userguide.getfivestars.com/ (most of the tutorials even include video walkthroughs).
CallRail also made a great mention of GetFiveStars too in their review: GetFiveStars Cleans Up Messy Process for Business Owners
[alert-note]
I highly recommend giving the trial a run through over at GetFiveStars.com.
[/alert-note]
As always let me know what you think below!
[wp-review]