LifterLMS is a WordPress plugin that helps you build and sell your own online courses. LifterLMS is not just your run-of-the-mill WordPress online course plugin, it is a complete system, a learning management system for WordPress. LifterLMS is advertised as a fully-functional and easy to use solution for building and selling your own courses on your WordPress website.
According to the developers, what sets their plugin apart is how it solves the four problems that education entrepreneurs and e-teachers have;
LMS is easy to use.
ENGAGEMENT with their students based off of their actions and stages.
The ability to take and manage MEMBERSHIP, and have it integrated.
The ability to do E-commerce and have it integrated.
LifterLMS is the only learning management system that does all those 4 things together. This means with LifterLMS, you do not have to install 10 other plugins, this plugin is usable "out of the box".
In this LifterLMS review, we will install the plugin, examine the features and try creating our own online course with the LifterLMS WordPress plugin.
LifterLMS – Under The Hood
LifterLMS has a very clean dashboard.
General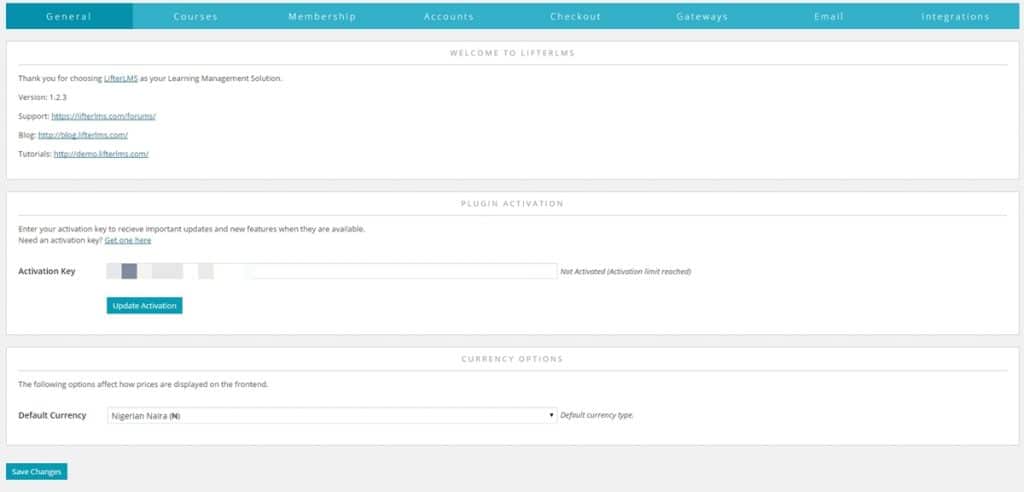 Under the general tab, you can activate the plugin by entering the activation key, you also have the option of selecting different currencies.
Courses
Under the courses tab, you can select a page for your courses. The plugin creates this for you when you get started if you want, you can also control how many courses to select per page.
Membership
Under the membership tab, you can select the membership page and restrict the site by already created membership levels.
Accounts
The account tab enables you customize the user account experience. You can select the account access page and edit the slugs for different actions in the user account.
You can enable user registration on the login page, allow students to use their email address for their username and other very useful options.
Checkout
The checkout tab enables you to select a checkout page.
Gateways
You can enable Paypal, and allow it show in a sandbox mode. It is already integrated, you just have to fill in the form with your API Username, Password and Signature.
Email
The email tab helps you manage your email settings; specify a sender's email address, name, email footer text and a header image.
Integration
Under the integration tab, you can enable BuddyPress and Woocommerce, both of which are well integrated into the plugin.
LifterLMS Features
LifterLMS comes packed with a lot of features. We can't list them all without promoting the plugin, we will just list some of them.
Sidebars
LifterLMS enables you to use custom sidebars for your course or membership levels.
Gamification
The learning management system allows you award badges to students based on lesson and course completion.
Membership
LifterLMS enables you to create member levels, add a price, offer a discount, set the discounted price period, set billing period, billing cycle and even billing frequency for recurring payments.
Student Profiles
LifterLMS student profiles are set so that students are never logged into the WordPress backend. They can view courses in-progress, certificates, and achievements.
Analytics
We need a system to track everything. LifterLMS enables you to track orders received & you can easily issue refunds.
CoMobile Responsive Coupons
LifterLMS enables you create coupons, price coupons or percentage coupons, you can also set an expiry date for the coupon created. Mobile responsiveness is now a Google search ranking signal. Thankfully, LifterLMS is fully responsive across all devices.
If this review on LifterLMS was helpful, please let us know below in the comments!