The Logitech G613 Wireless Mechanical Gaming Keyboard has been at the center of my desk for the last two years. It's not a perfect keyboard by any means, but it's also exactly what I was looking for and I still haven't found anything better.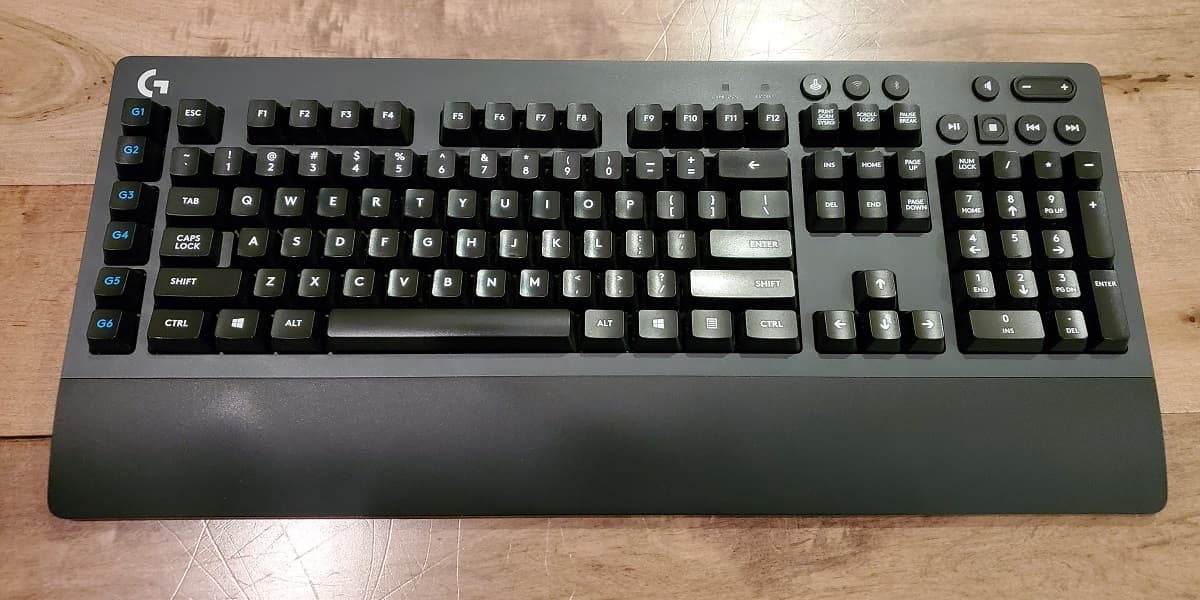 There aren't that many decent quality mechanical keyboards on the market with reliable wireless performance. There are even less that you don't also have to charge up once a week. That's essentially the pitch for Logitech's G613. It's been around for a while, but they are still selling it among their lineup of mechanical keyboards.
It might not be the sleekest of the bunch, and it's definitely not the smallest. The keycaps are only ok and it doesn't have RGB lighting for the gamers out there. But the unique blend of mechanical switches, great wireless technology, and amazing battery life puts the G613 in a league of its own.
The unique blend of mechanical switches, great wireless technology, and amazing battery life puts the G613 in a league of its own. @logitech
Click to Tweet
Design
The Logitech G613 might not be the most premium keyboard on the market, but for a full-size mechanical keyboard, I don't mind the look. There also aren't many options if you are looking for a full-size mechanical keyboard with reliable wireless connectivity and media keys.
Build Quality
The G613 feels very well constructed. It's an all-plastic build, so it's not the most expensive feeling housing for a keyboard that I've tried. But it does have some heft to it, weighing around 1,460 grams with the batteries in.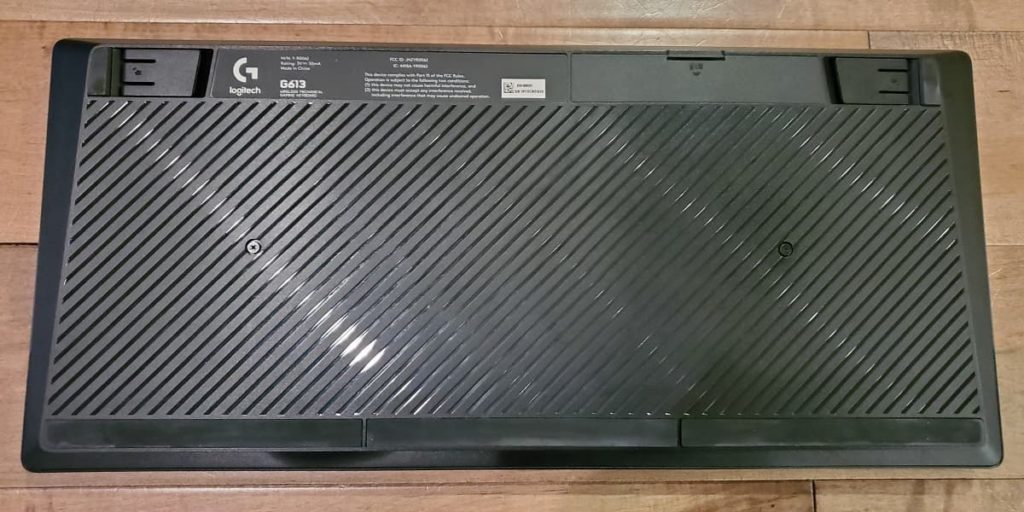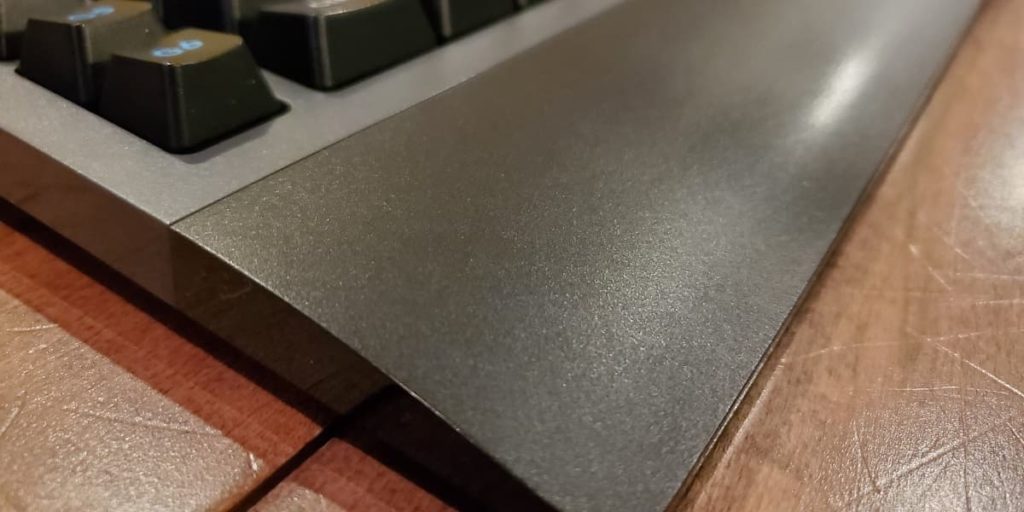 There's also zero flex to the body of the keyboard. The wrist rest is also made of plastic and is permanently attached to the keyboard. This might a dealbreaker for some, and I would much prefer this to be detachable, but it's comfortable.
I guess the benefit here is that it doesn't move one bit and the bottom of the keyboard is one full piece of plastic instead of being split between the keyboard and the wrist rest.
There are two small rubber pads in the back corners on the bottom of the keyboard. The front has three long rubber strips spanning the whole length of the base. The G613 stays in place very well. It's easy to move if you have the space on your desk, but it doesn't slide around while typing at all.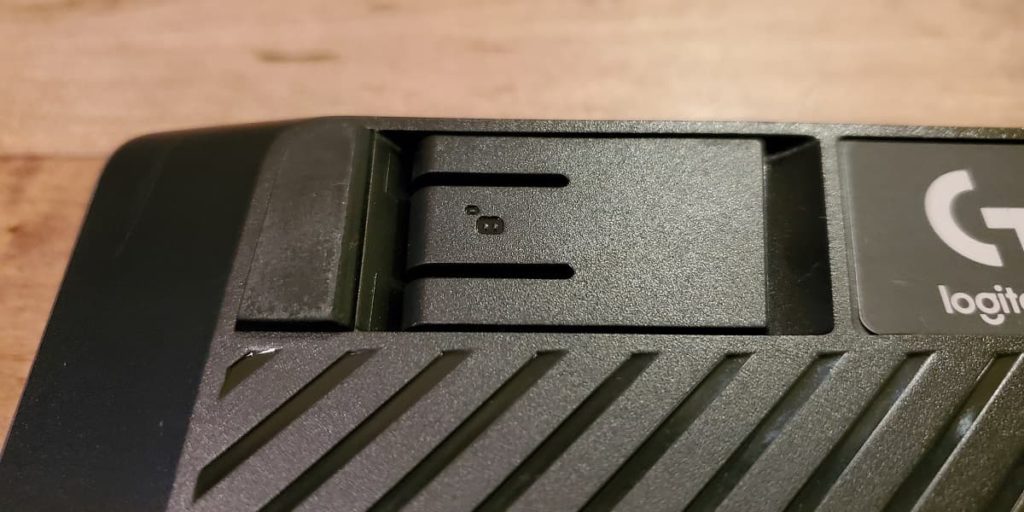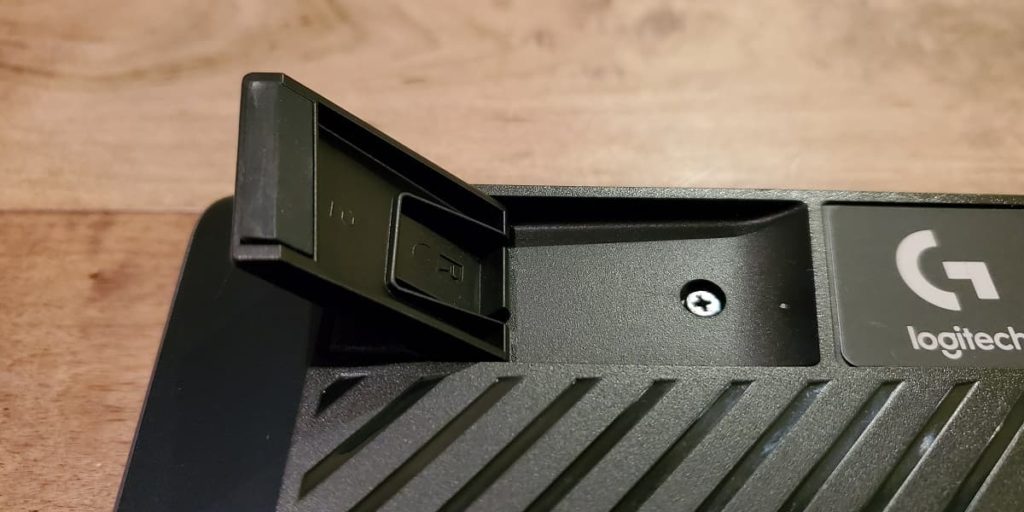 There are also two flip-out angled feet tucked into the back of the base. These also have rubber pads and can be used if you want a steeper incline. There is already a slight incline by default without the feet, and this is the way I use it.
The keys themselves have minimal rattle and the casing is carved out nice and tight around the keys. The actual keycap material feels pretty cheap. The letters and symbols also look like they are using stickers on top of the keycaps instead of being set in.
However, after two years of daily use, I haven't had an issue with any of the key symbols coming off or fading.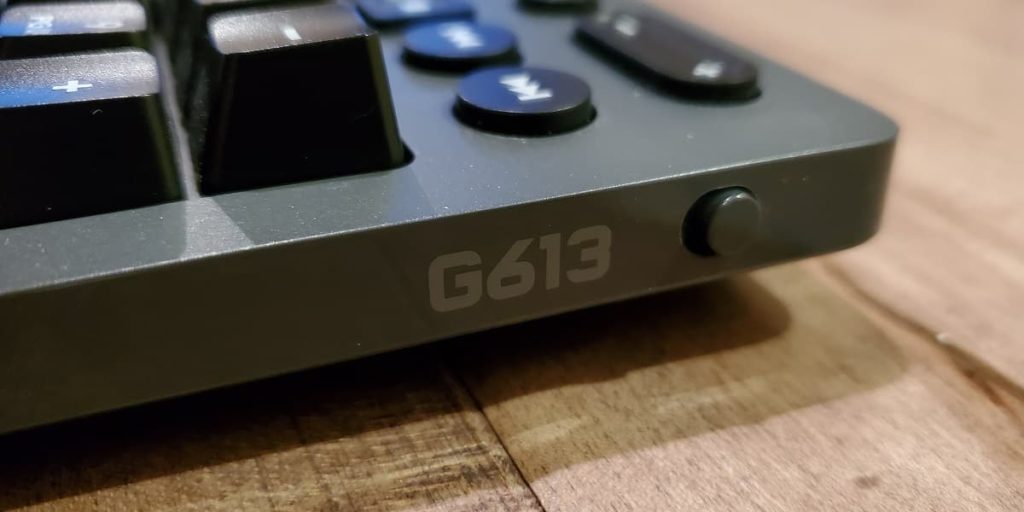 Style
There's a lot I like about the overall look of the G613, but there are also some things I wish they had done differently.
The colors are excellent! I really like the two-tone look with the slate grey base and black keys and wrist rest. It looks very nice and pairs perfectly with Logitech's G603 wireless mouse which I also use.
It's a full-size keyboard so that is inherently going to make it take up a rather large footprint on your desk. There is a column of programmable G keys on the left side which extends it even further. It's 478 millimeters long, so you'll need some room.
I wish Logitech would make a TKL (tenkeyless) version of this keyboard. I've never been one to use the Numpad and I don't make use of the G keys either. They do have a TKL version of their flagship G915 keyboard, but I'll explain later why I haven't wanted to upgrade.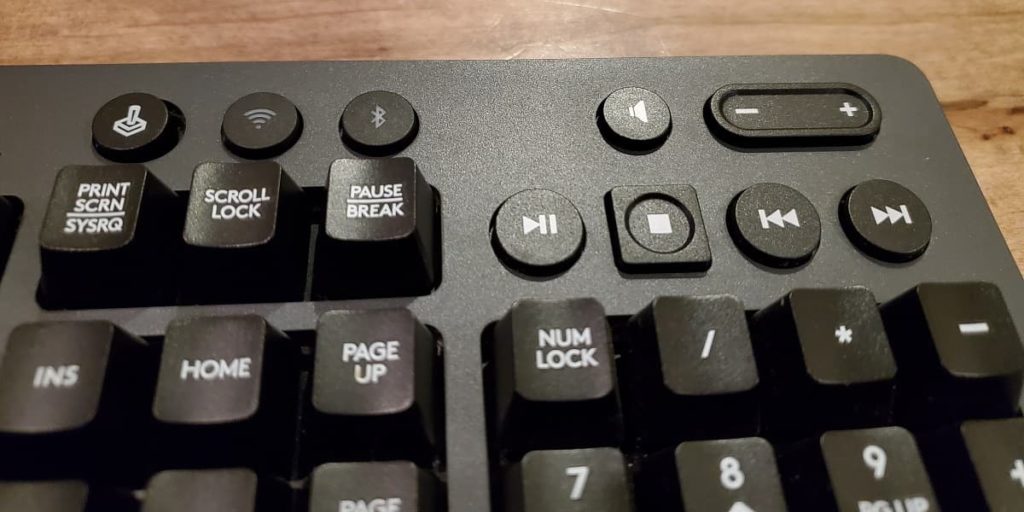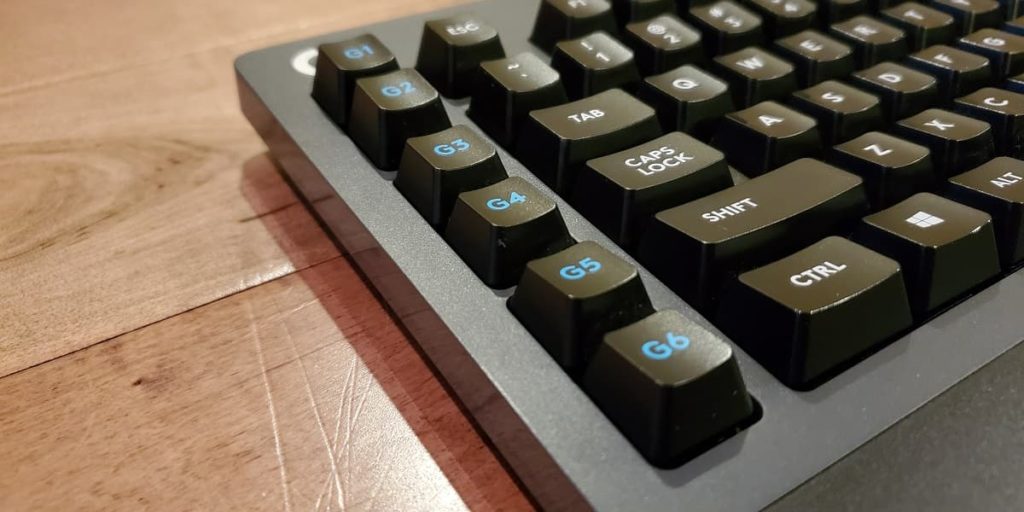 Extras
The G613 has a full array of dedicated media keys up top. These are something that I really don't like living without, especially on my primary workstation. The buttons are nice and clicky and they work every time. There's also no delay when adjusting the volume in Windows.
Right next to those are some buttons to toggle between wireless and Bluetooth along with Logitech's game mode switch. By default, toggling game mode on will disable the Windows key to prevent you from accidentally switching out of your game. You can also adjust the disables in Logitech's software.
There is one more switch on the side of the keyboard case which toggles the power on and off. I've never used this and to be honest, I forgot this was even there.
There is no backlighting on the G613, but I haven't found myself missing that feature here. The printed symbols on the keycaps are a pure white which contrasts nicely with the black keycaps making it easy to see in most lighting conditions.
Technology
Logitech's brand has been built partially on some of the technologies that they have brought to their different peripherals. The G613 keyboard is packed with features that make it very versatile and ready for pretty much any situation. Provided you have enough room for its rather large footprint.
Connectivity
To start, you get Logitech's own lightspeed wireless technology built-in which connects to the included USB receiver that you plug into your computer. Their pitch for lightspeed is that it achieves wired-like performance, and I'd have to agree. They even give you an extension cable for the receiver, but I haven't needed to use it.
Even after two solid years of use, I've never experienced a single wireless connection issue. It just works. There is also no delay when you start typing after having been away from your computer for awhile. This is an issue I have had with various Bluetooth keyboards and my Windows machines.
I don't even keep a wired keyboard in the house anymore. That's how good the connectivity is.
If you do need Bluetooth, it has that too! You can simply press a button to toggle between wireless and Bluetooth and connect to a mobile phone or a device that may not have a USB port for the wireless receiver. I still wouldn't suggest using this over lightspeed wireless if that's an option, but it's nice to have in a pinch.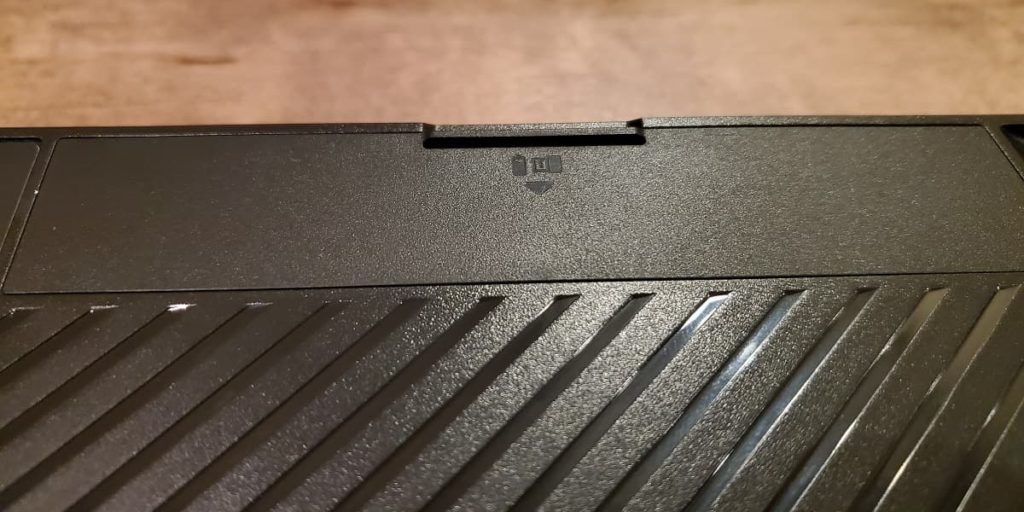 Battery Life
The battery life is also another stand out feature of the G613. Logitech claims that the keyboard will last 18 months on two AA batteries. Let that sink in for a minute.
For some perspective, I have been using this keyboard at my primary computer for over two years and I have only changed the batteries once. Sure, you do have to give up backlighting for that to even be possible, but for many people, I think it might be a worthy trade-off.
This was the main reason I picked up this keyboard in the first place. As far as I'm aware, there are still no wireless mechanical keyboards with this kind of battery life on the market.
Software
Logitech uses their G Hub software to manage all of their peripherals in one place. I've used a few different types of device management software from various companies and G Hub is my personal preference.
It's very stable, updated frequently, and gives you great control over certain features when you need it. For the G613, you'll be able to check on the battery life, configure your G keys, and change what is disabled when you toggle on game mode.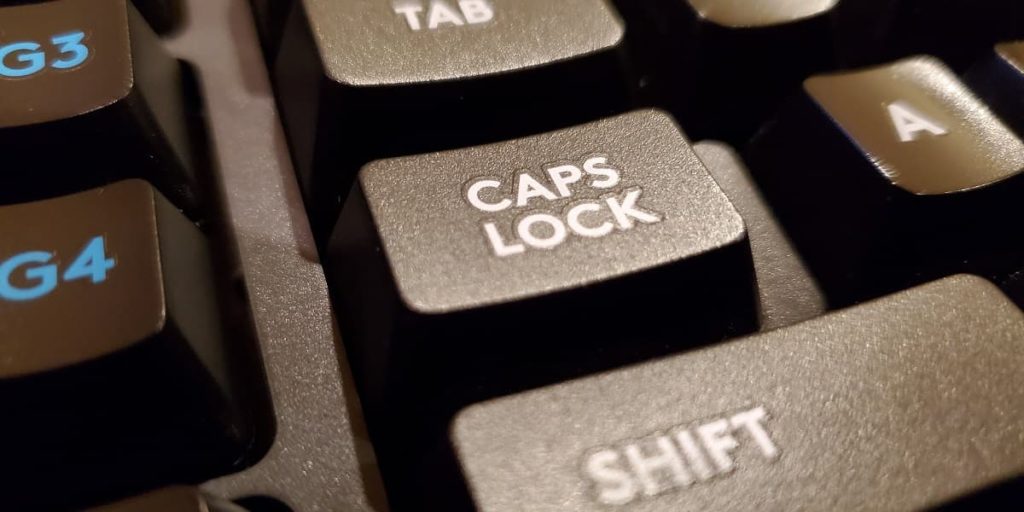 Experience
I've tried a few times to replace my G613 with something smaller, with a more premium feel, and better quality keycaps. And yet here I am, two years later, and I still can't seem to give up this keyboard.
The keyboard comes packed with Logitech's Romer-G tactile mechanical switches. I'm not an expert here, but they feel alright. I do usually prefer tactile switches and I quickly got comfortable typing on these. They feel a little mushier than I would like, but it's not a bad switch.
The keycaps are my main complaint with this keyboard. They pick up oils easily, the symbols are just stuck on, and the keycaps themselves just feel a bit cheap. They aren't terrible, but I wish Logitech would have put some more effort in here.
The switches and keycaps are also not standard style so that means you can't simply swap out the keycaps for something else. You are pretty much stuck with what you get out of the box here.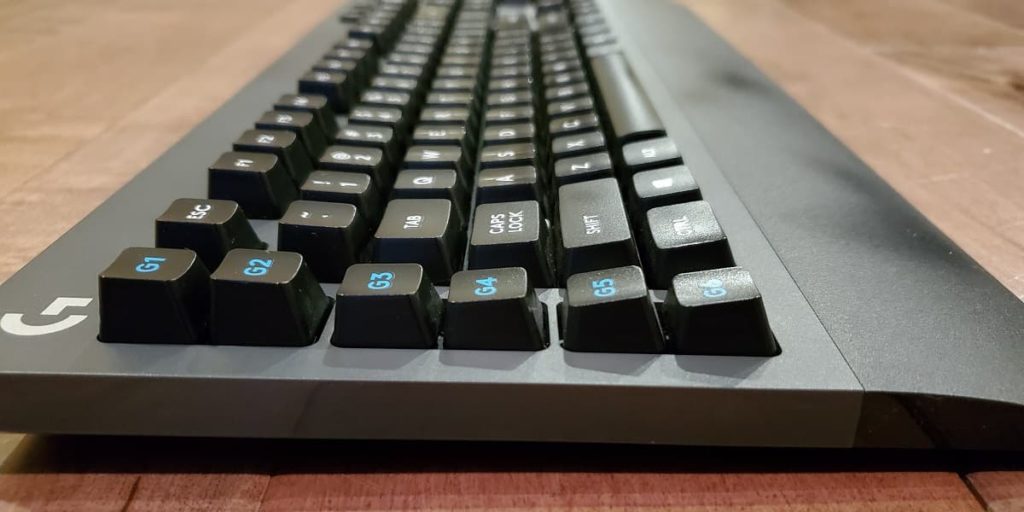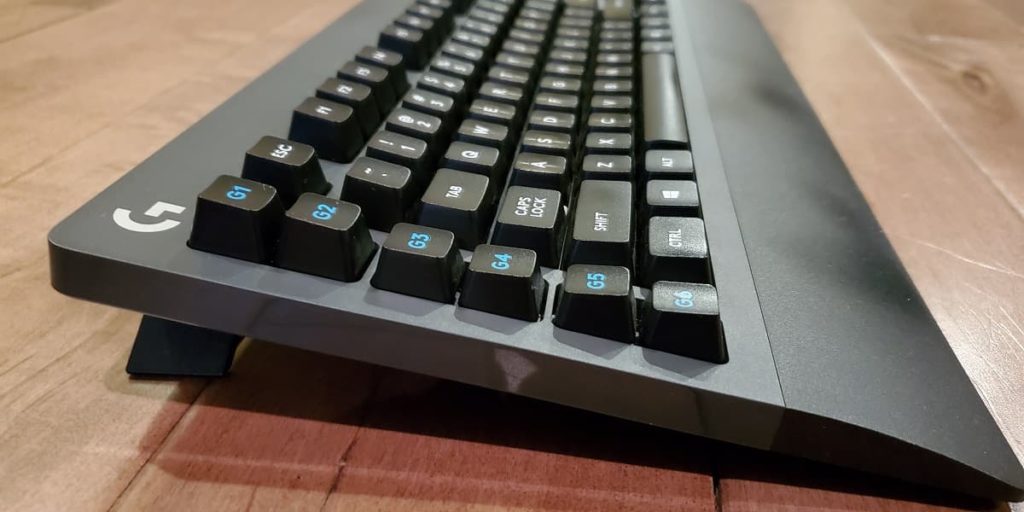 G915
You may have also seen Logitech's even more premium wireless keyboard offering, the G915. This is essentially a souped-up version of the G613, but with low profile switches, RGB lighting, and metal casing instead of plastic.
To top things off, they recently came out with a TKL version of the G915 but kept the media keys up across the top.
This sounded like a dream come true until I went and tested it out in the store. I just don't like the low profile switches as much. The media keys are also now made of a rubbery material and are very mushy. The volume control is now a digital spinner which has a little delay and the charging cable is still using micro-USB instead of USB-C.
That's just too many drawbacks for the $230 price they are asking for the TKL version of the G915. Maybe I'll wait for the next iteration.
Pros
Outstanding wireless connection.

Sturdy build quality and clean look.
Amazing 18 month battery life.
Romer-G tactile switches.
Cons
Poor quality keycaps.
Wrist rest not detachable.
No TKL option.
No backlighting.
Summary
The Logitech G613 wireless mechanical gaming keyboard has been out for over three years now. As far as I'm concerned, it still has yet to be beaten in a few key areas.
View the Logitech G613 on Amazon
My hope is that Logitech will continue to iterate on both the G613 and the G915 to provide some more options for mechanical keyboards with a quality wireless connection.
My wishlist would include hot-swappable switches with standard shape stems to allow for swapping the keycaps. Other companies like Razer are doing this and even selling their own keycap sets, so I don't see why Logitech can't provide some more options here.
That being said, I will continue to use the G613 as my primary keyboard for its excellent wireless connection, fantastic battery life, quick access media keys, and passable typing experience.
At the original retail price of $150, I'd be hesitant to recommend this keyboard since it is lacking in a few areas. However, I consistently see this being offered for around half of that, and in that case, it's pretty great.