When implemented properly, email marketing becomes a powerful lead generation tool for businesses. According to HubSpot, the ROI of email marketing is a staggering 4300%. This is why small businesses should invest in a good, reliable email marketing service provider (ESP).
SendPulse is a perfect email marketing platform for small businesses because of its affordability and functionality. It is one of the few ESPs in the market that provide multiple channels of communication with your audience, including bulk email, bulk SMS messages and web push notifications. You can use any combination of these to engage your subscribers and nurture your email list.
SendPulse also uses unique AI functionality which is designed to and otherwise optimize the processes involved in communication with your subscribers. It was among the 3 finalists of The Next Web SCALE program of 2016 and was recognized as one of the best startups of 2016 by The Next Web. Check out this SendPulse review below.
Pricing and Plans
SendPulse has a variety of pricing plans to choose from: a free plan, list-based plans and pay-as-you-go plans, and the VIP plan if you have more than 1 million subscribers. The free plan allows you to send 15,000 emails/month to up to 2500 subscribers. This is an excellent option for small businesses to get started with email marketing.
If the free plan is not enough for you, you'll have to go for one of the paid plans. Some of them are listed below so that you can get an idea of how affordable the service is:
List-Based Plans
2500 subscribers – $9.85/month
3000 subscribers – $29/month
4000 subscribers – $32/month
5000 subscribers – $35/month
10000 subscribers – $53/month
25000 subscribers – $108/month
To put it into perspective, MailChimp costs $30/month for 2500 subscribers and $150/month for 25,000 subscribers. SendPulse is definitely a lot cheaper! In fact, that is one reason I migrated away from MailChimp, it simply became too expensive.
Pay-as-you-go Plans
If you don't send a lot of emails on a regular basis then the prepaid email packages give you the option to pay for only the number of emails you need to send.
10000 emails – $32
25000 emails – $70
50000 emails – $125
100000 emails – $212
250000 emails – $440
500000 emails – $812
Getting Started with SendPulse
To get started simply sign up for a free plan and log into your account. You will be presented with the following options: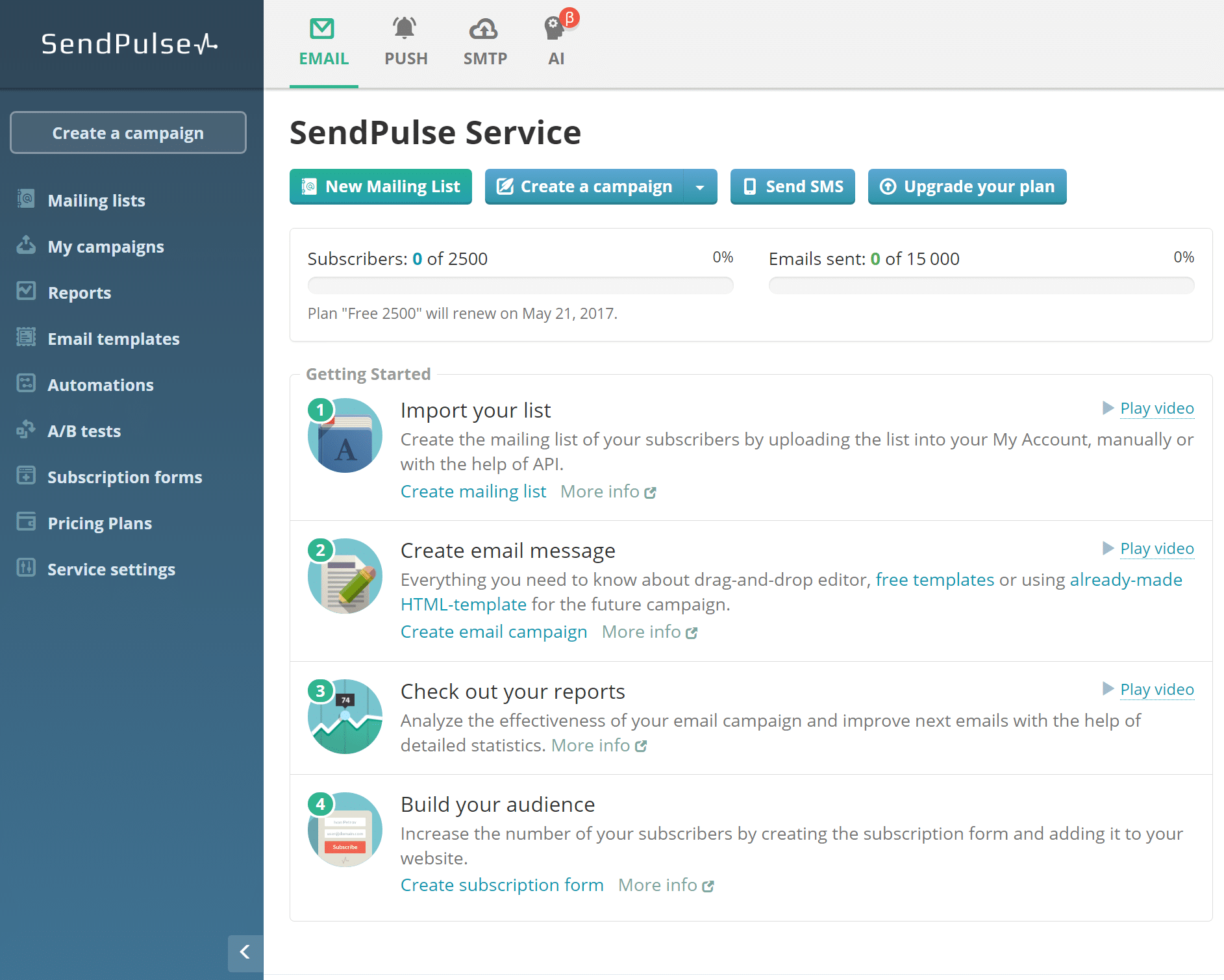 If you already have an email list elsewhere, you can import it to SendPulse.
If you want to start building a list from scratch you can design a subscription form and add it to your website. With SendPulse you can easily create responsive subscription forms that look great on any screen size and fit your website's design. Intuitive drag and drop form builder makes the process fast and easy.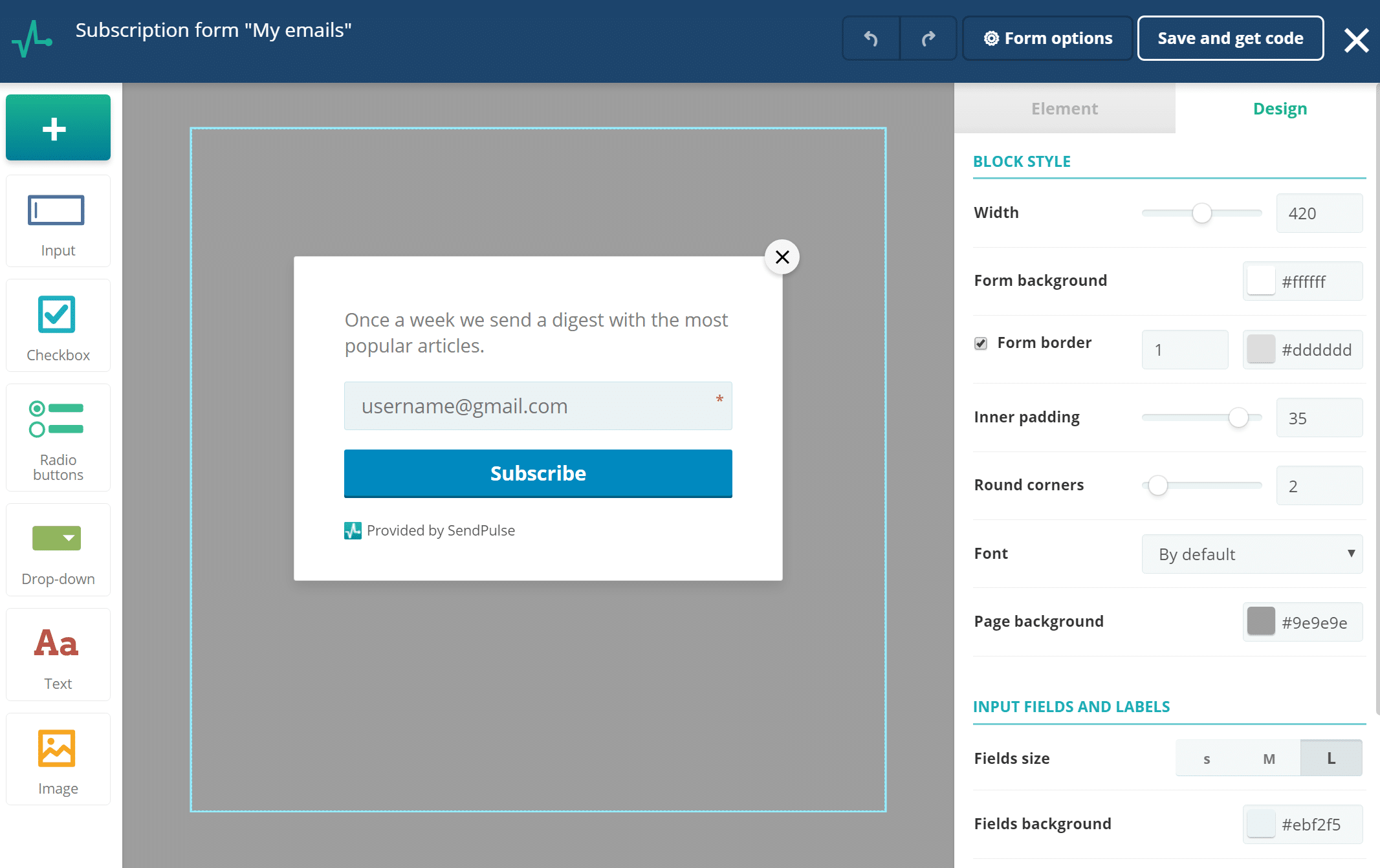 Once the subscription form is embedded into your website you can start collecting subscribers' personal information and building your email list.
Sending Email
SendPulse offers both text-based and HTML email templates. You get to choose from a variety of pre-designed responsive email templates and layouts or you can easily design your own with the drag and drop email template editor. The email templates are organized into categories, some of which are tailored to specific industries such as E-commerce, Education, Travel, etc.
Unless you're proficient with HTML, I'd advise you to use any of SendPulse's pre-designed email templates to save time and effort. Below is a sample of email templates that you'd be using with SendPulse: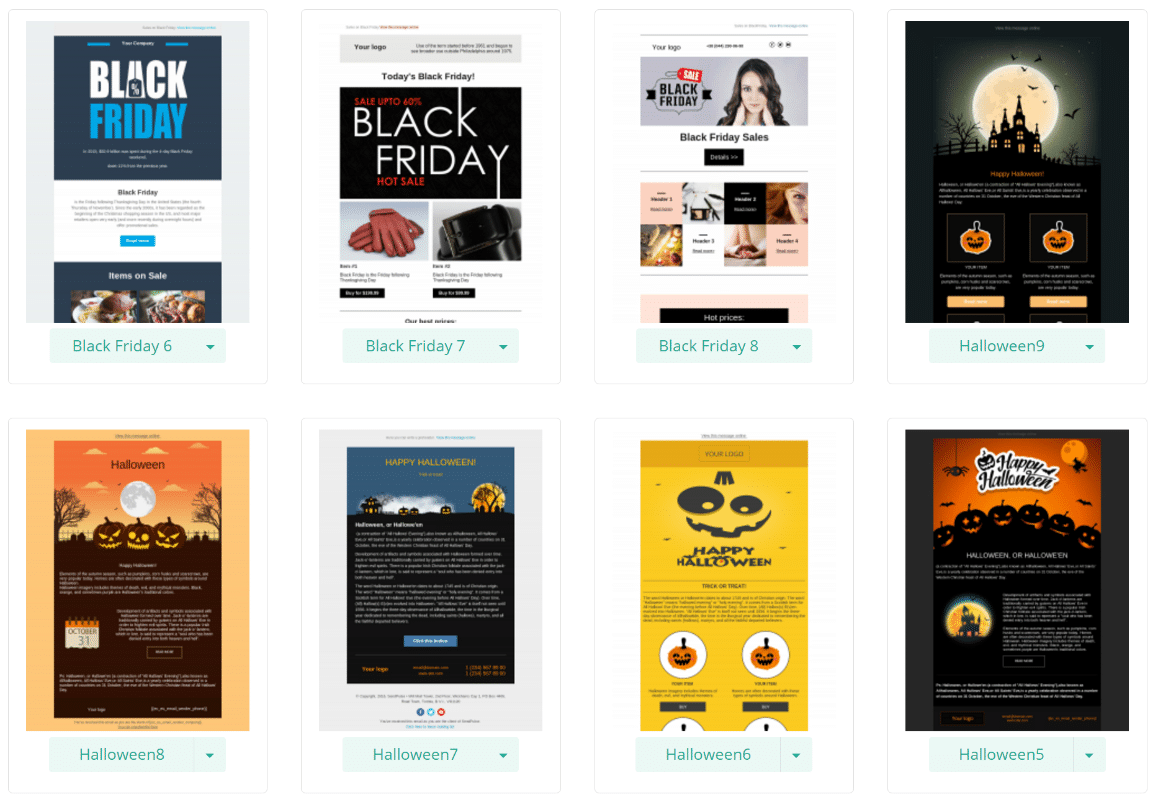 Autoresponders
Email automation is one of the most effective ways to engage and nurture your email list. With SendPulse, you can easily setup email automation for your website using 3 types of autoresponders:
A series of emails after user subscribes to your blog.
Sending an automated email on (also before or after) the date set in a variable, for example, on recipient's birthday.
A triggered automated email which is sent after a certain condition is met, like subscriber opened an email, clicked a link, etc.
To set that up you will need to click "Create an autoresponder", fill in the email subject, select (or create) an email template, and fill it with the text. You can also add triggered messages to this chain. The triggers include: the first (previous) email being opened / not being opened, a click on the link, etc.
A/B Tests
To improve the results of your email campaigns, SendPulse also has extensive A/B testing options available. You can choose parameters for comparison, either opens or clickthroughs. This is then the criteria that will determine the winner. Each test can be segmented into different percentages and then additional options can be applied for the final mailing.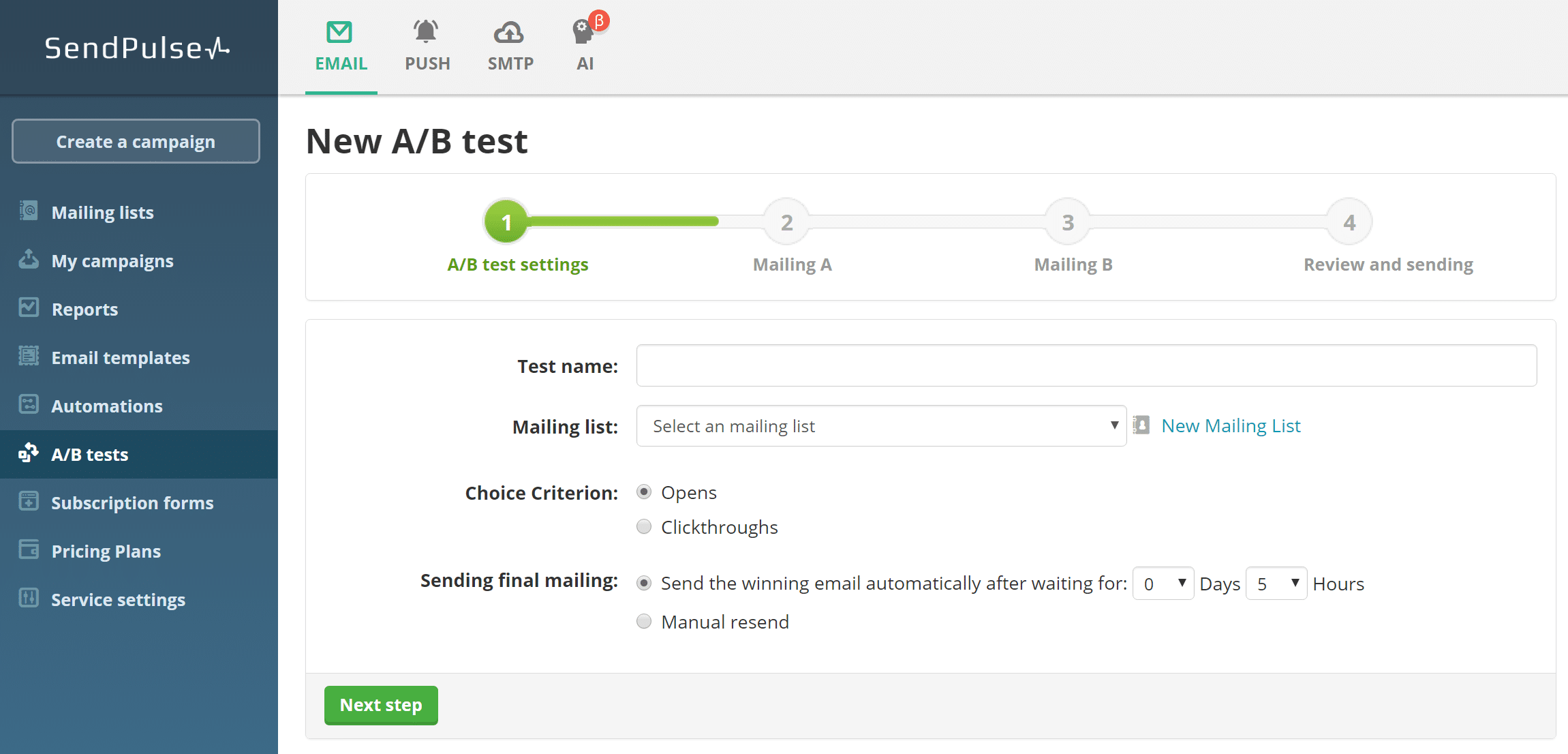 Web Push
As mentioned earlier, SendPulse is one of the few ESPs in the market to offer both bulk SMS messages sending and web push notifications in addition to bulk email.
The free web push service (yes, with SendPulse it's totally free, forever!) allows you to create and send personalized messages to your subscribers – they will see those messages on their devices even if they're not currently on your website. Notifications can also be pre-made and sent automatically whenever some automation rule you've set up is triggered. This is a great way to increase traffic to your site as well as attract unique visitors and boost the overall engagement.
Adding web push notifications to a website using SendPulse is simple:
On the top menu bar, click on 'Push' and then click 'Add new website'
Next, enter the URL of your website. It's recommended that you have an SSL certificate aka HTTPS enabled on your website.
And then just follow the instructions on the screen to enable push notifications on your website.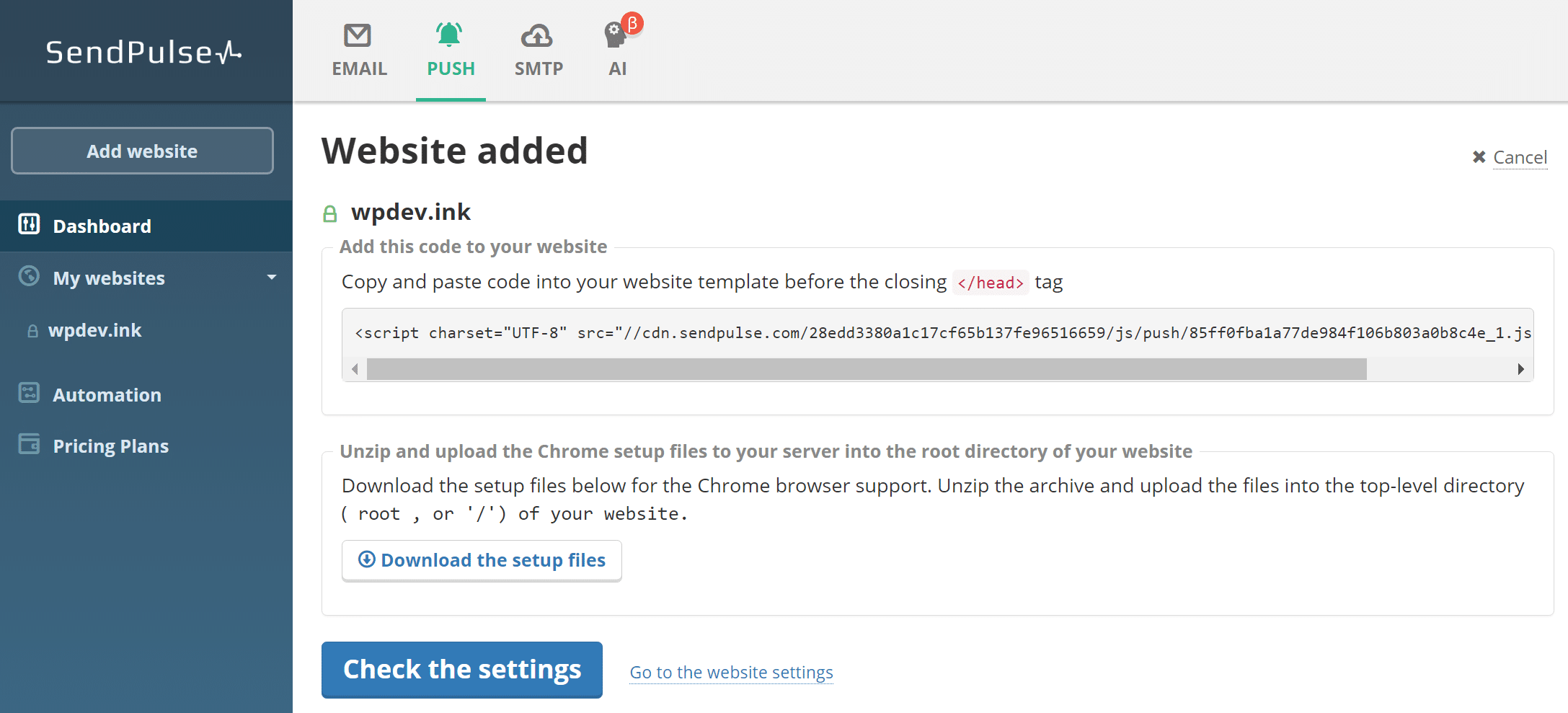 Email Analytics
To ensure that your investment in email marketing isn't just resource wasting it's crucial to track your email campaigns' performance. By tracking metrics such as open rate, click rate, unsubscribe rate, etc. you get to understand the efficacy of your email marketing.
SendPulse offers detailed analytics reports which show the following stats:
Open Rate and Click Rate
Click chart
Geographic stats
Statistics by device
Error statistics
SendPulse also offers the 'send emails to unreads' feature through its analytics dashboard (as shown in the image below). Usage statistics show that this feature can easily increase the initial campaign's open rate by as much as 30-50%.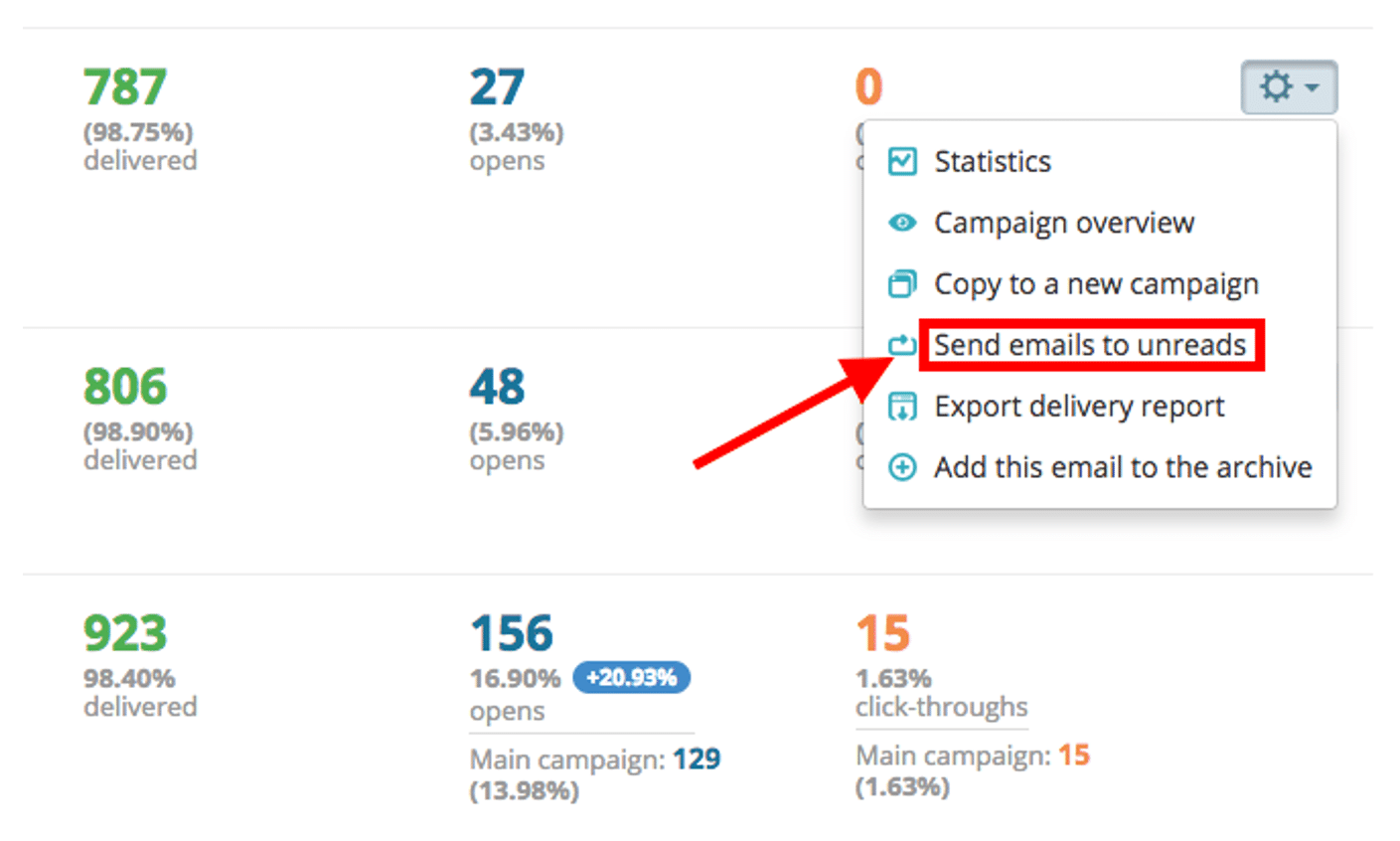 Customer Service
SendPulse provides 24/7 support via phone and chat to help you with any issues that you may have with the product. In addition to that, you can also check out the following resources to hone your email marketing skills and get more out of the product:
Summary
If you're running a small business and looking for an affordable, easy to use and reliable email marketing solution with a host of great features, check out SendPulse – it's free to try. If this SendPulse review was helpful, let us know below in the comments!