Did your search engine traffic suddenly drop or perhaps you're about to purchase a domain name? It's always wise to check if the domain name or URL has been blacklisted or de-indexed by Google.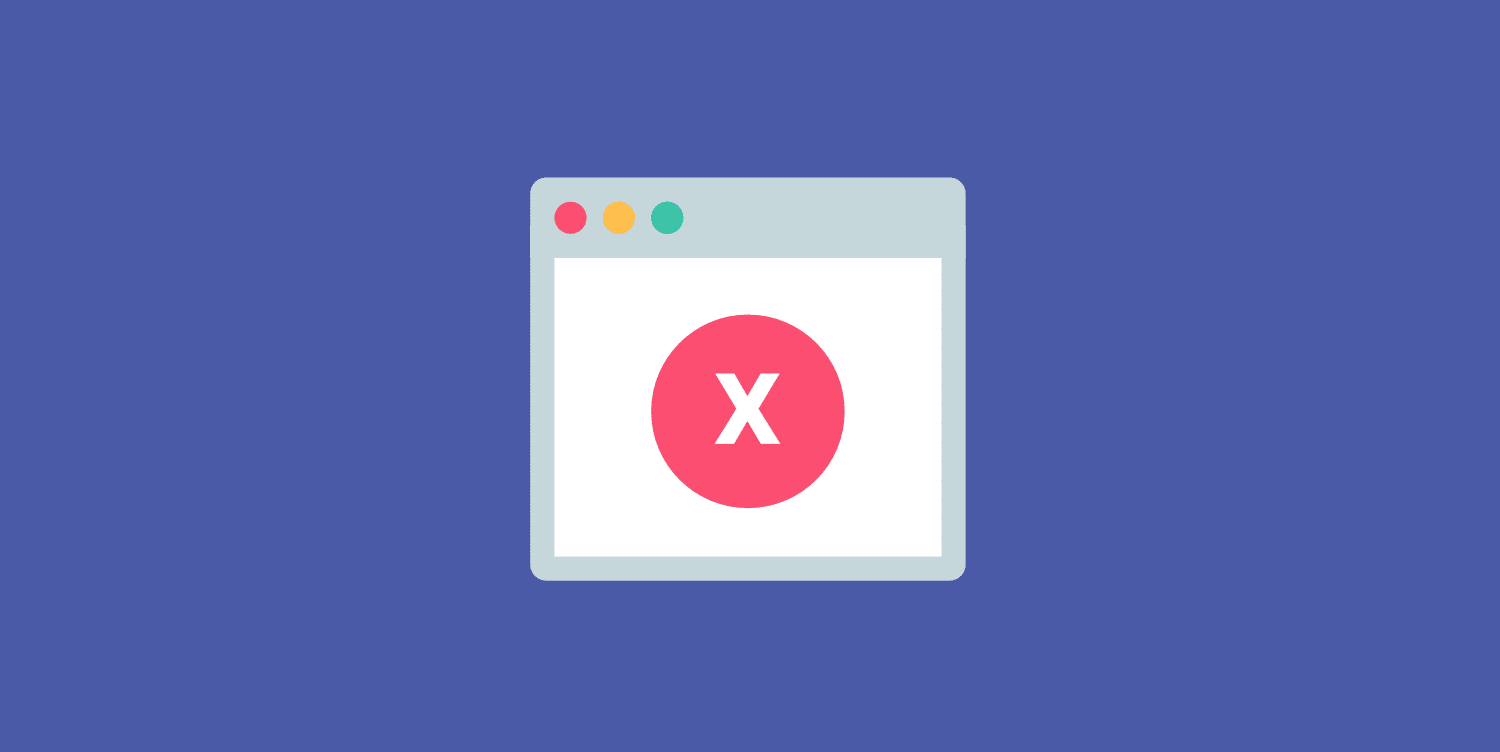 However, it's important to remember, there are several other reasons your website traffic could be dropping rapidly. But it never hurts to check if your pages are still being indexed by Google.
How to check if you're on Google's URL blacklist
Check out these different methods you can use to check to see if a domain or URL is blacklisted or de-indexed by Google. It's also possible for individual pages and or posts to simply not rank. The entire site is not always impacted. However, this can make troubleshooting issues even harder.
Manually check to see if you're blacklisted
Simply perform a search in Google with the following parameter: site:domainname.com

As you can see above, there are 527 indexed pages in Google for our woorkup blog. If no results are returned and your pages have already been indexed by Google previously, then there is a pretty good chance that the website has been removed from their index.
If you use this method to check for a new domain, you probably won't get any result, as there are no posts or pages for Google to index yet.
Tools to check if you're blacklisted or penalized
There are some handy online tools you can use to check if your WordPress site is blacklisted or penalized. The first is FE's Website Penalty Indicator tool. This helps you see your traffic overlaid with algorithm updates.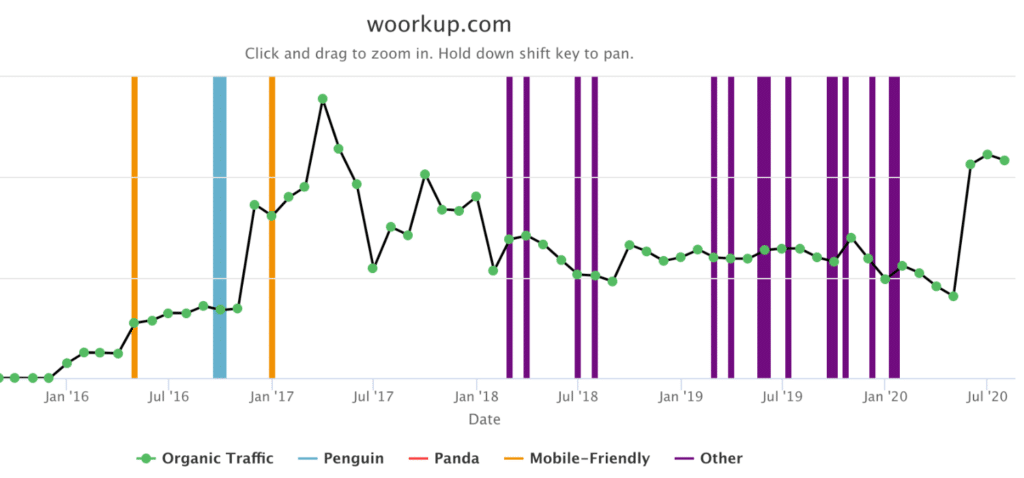 Another similiar tool is Barracuda Digital's Panguin Tool.
The best way to keep track of changes or get more information on your domain is to use the tools created by Google. In this, Google Search Console should be your go-to tool!
Google Search Console shows you the number of indexed pages, backlinks to your site, search queries, site health, 404 not found pages, server errors and a ton of other useful information. Submitting a sitemap to Google with frequent posting can help you get your posts and pages indexed faster. In fact, if you just created a new piece of content, you can manually crawl it in the tool to get it indexed right away.
Check Google Transparency Directory
Perhaps you have some copyrighted content? You can check Google's Transparency Report to see if a website is blacklisted due to a Copyright or DMCA claim.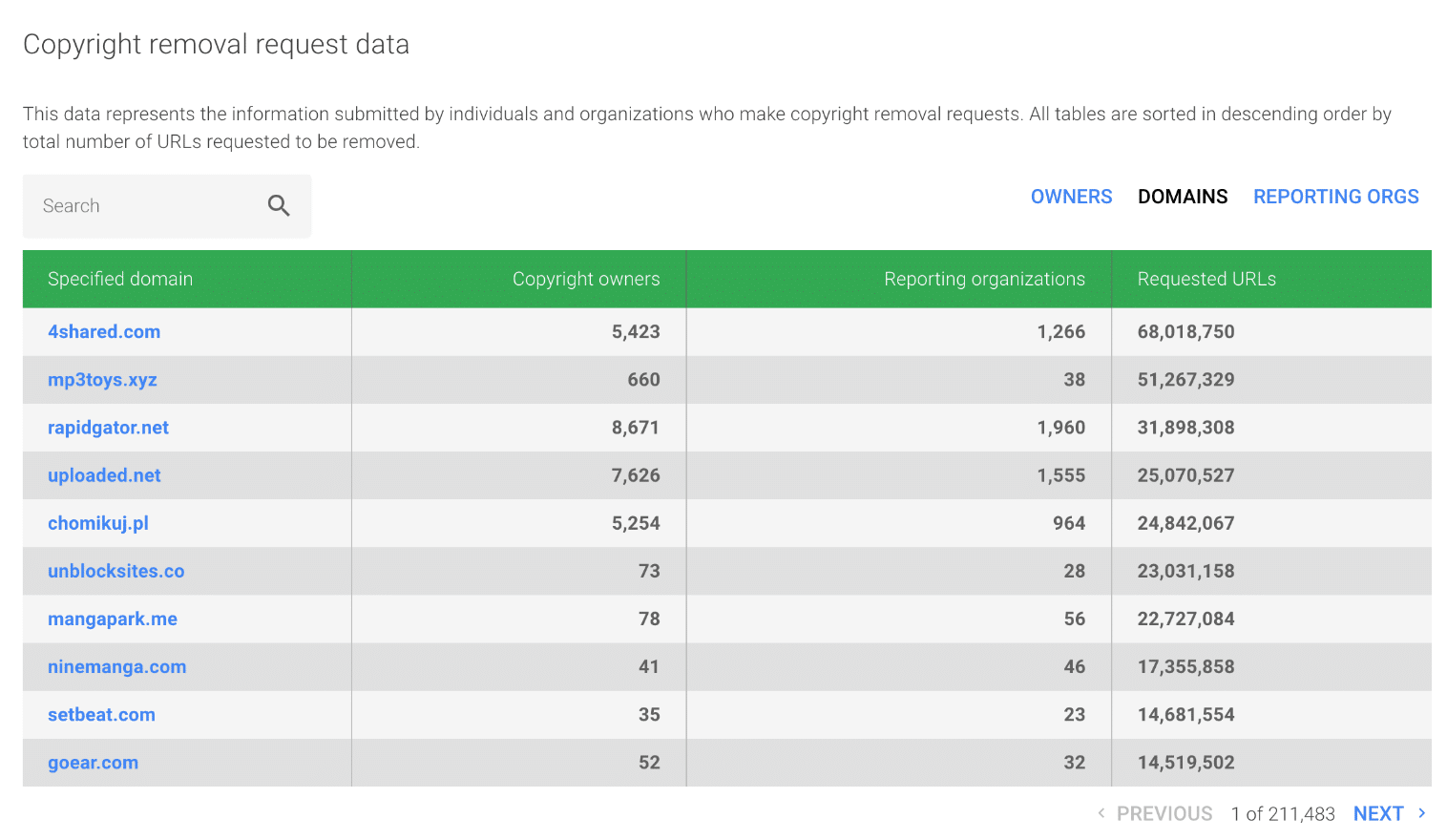 You can also use Google's Safe Browsing Site Status tool.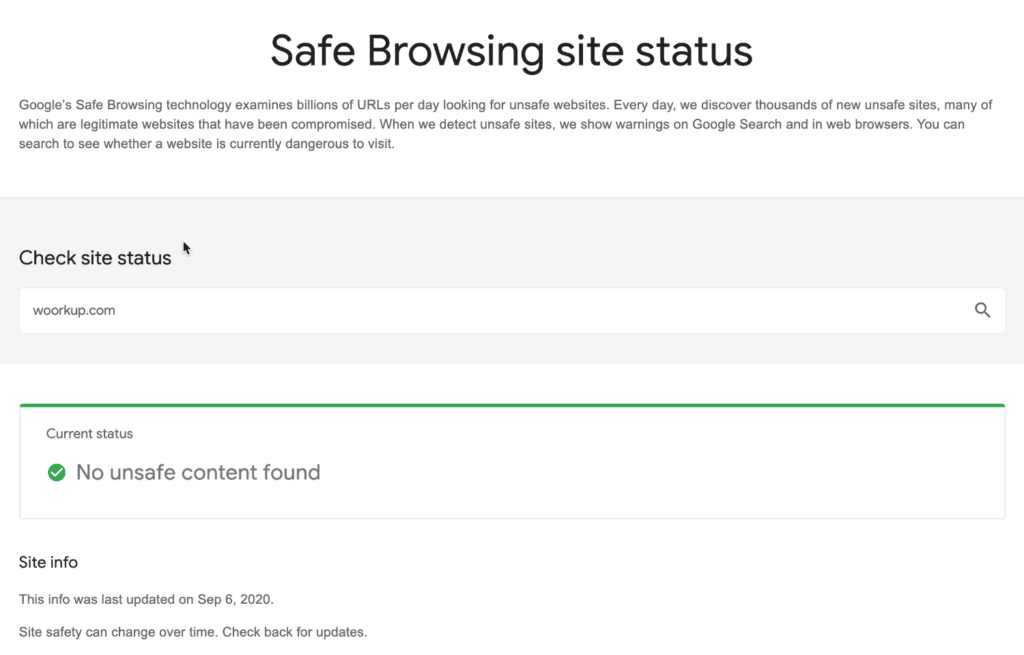 Common reasons for a URL being blacklisted
Violating Google Terms of service is the fastest way to get your pages de-indexed. Check out some of the common reasons we've seen below.
Are you buying links?
Google frowns at any form of paid link or unnatural linking, if you have been doing this it's better you stop before you get caught. Trust me, I used to do this way back in my early days of SEO and I wound up losing everything. If you've already purchased links, go disavow them right away.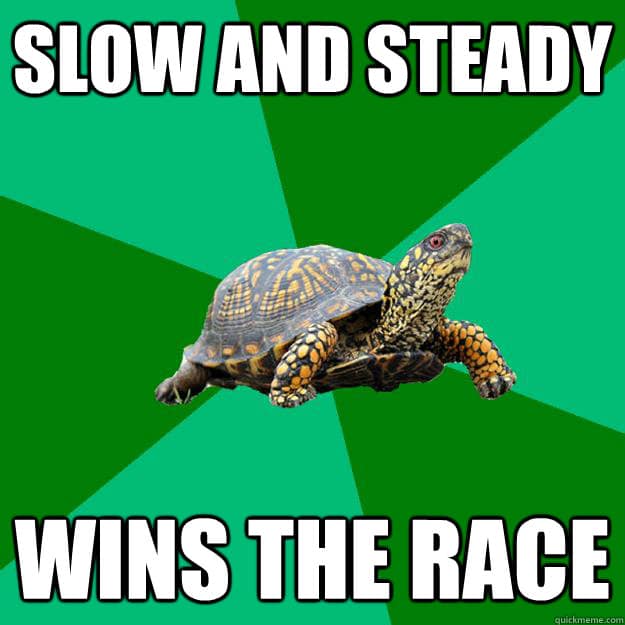 Copyright violation
Rule of the internet: Never copy anything you didn't create!
Copyright violation is frowned upon by Google, hence you hear Google promoting the use of original content. Copyright violation is a surefire way of getting your pages de-indexed from Google. This can also report in other people filing DMCA complaints against your website. People steal our images all the time.
Masking keywords
Hiding keywords or phrases with the background color technique is just wrong and Google already knows about this technique. This could easily translate to your pages disappearing from Google search.
Linking to external spammy or malicious pages
Google and Bing hate spam. Always check the external pages you're linking to. You don't want to be sending your readers to malicious pages.
Your site is hacked
Once you have been infected with malware, you're on a ticking clock. This is one reason you should register your site with Google Search Console. If they detect malware on your site, they will email you, generally with the location and sometimes files that are causing the issue. The email subject line will read "Hacked content detected on https://domain/."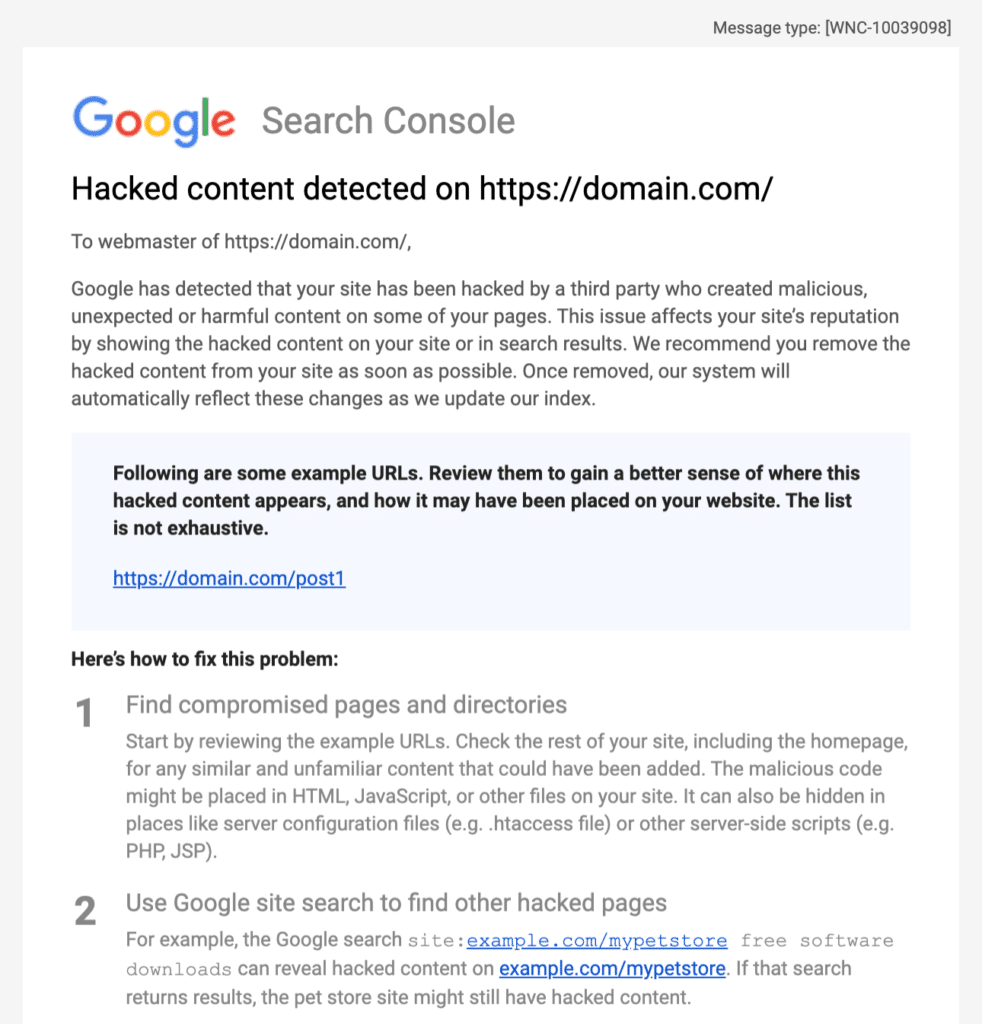 This is why you should use a WordPress host like Kinsta who offers free hack fixes.
These are just some of the ways you could get banned, blacklisted, de-indexed by Google. Always make sure you read and understand Google's terms and keep yourself updated on their algorithm changes. Penguin, Panda, Hummingbird, these are all algorithm changes you should read about as they could be responsible for your rapid drop in traffic.
Summary
Have any questions? I've had sites and individual URLs that have been blacklisted in the past and have always been able to resolve the issue. I'm happy to answer any questions you might have below in the comments.