We all know the importance of a good email signature! In fact, this can be a good and yet very effective and subtle way to market. We have had many people ask us this question and so I thought I would write up a quick post on it. It is how to use an image or picture in your email signature when using the Outlook Web App with Office 365. This is very easy to do, you just have to know how to do it the right way. Follow the steps below. This should also work with Outlook.com.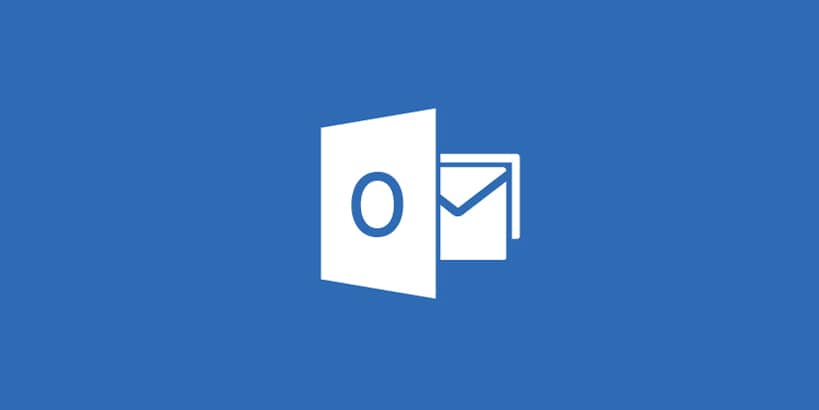 Note: This doesn't appear to work in most versions of Google Chrome. I highly recommend using Internet Explorer to set this up, or if you are on a Mac Firefox should work.
Step 1

First we are going to go sign into the Outlook web app at http://outlook.office365.com

Step 2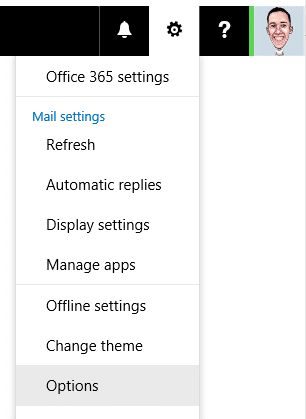 Next we will click on the gear in the upper right hand corner and click into "Options."

Step 3
Then click into "Mail > Layout > Email Signature."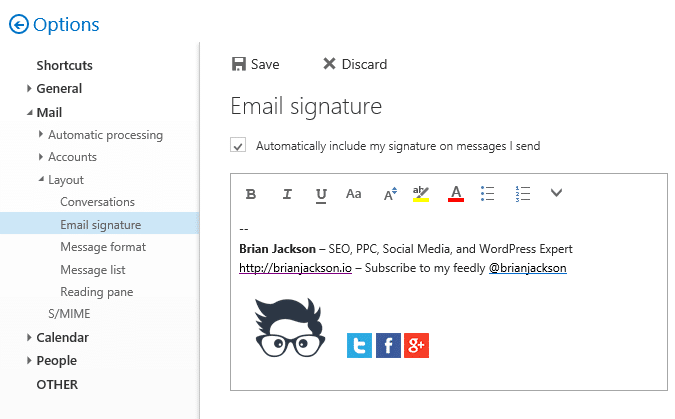 Step 4
Ok, and so here is the part where 85% of people mess up. You need to have that image hosted online somewhere. A lot of people just copy and paste their image into the signature block and while it might appear like it works… most likely when you send it out the receiver is going to get a big blank square with a red "X" in it. This is because the temporary link breaks. You need to have your image hosted online somewhere. I always just upload the image I want to my web server. If you don't have access to a web server you can always upload it to a free image hosting site such as TinyPic. Once you know where the image is, you will need to browse to the hosted location URL. If you use TinyPic, they will give you the URL. If it is on your web server I advise just right clicking on it if you are in Firefox and selecting "view image." URL example: https://woorkup.com/wp-content/uploads/2016/03/logo.png. Then right click on the image and select "Copy." When this goes into your clipboard it is also going to capture the web server path.
Step 5
Now simply go back to the email signature block and hit paste (CTRL+V). You can then construct the rest of your signature. Then simply hit "Save" and you are all done and you shouldn't have any problems with your image/picture becoming a broken/dead link. Also, if you construct your signature first in Microsoft Word, it should still work to paste into the email signature block as long as you pasted the image into word from the web server URL.
[alert-note]
Note:
If you are on a Mac some people have reported the above not working. You might need to drag and drop the image instead of copying/pasting.[/alert-note]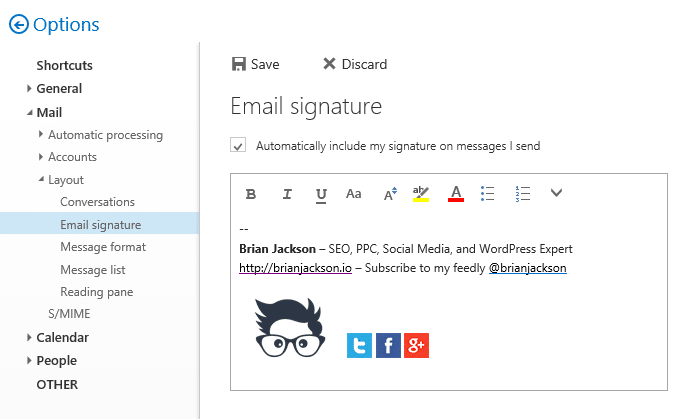 Video
Here is a video as well if you are more of a visual person.
As always feel free to leave your comments below.