It doesn't matter what type of site you run, whether it is a blog or a business, they all require different types of website policies. Common ones are privacy policies, terms of service, disclaimers, and refund policies.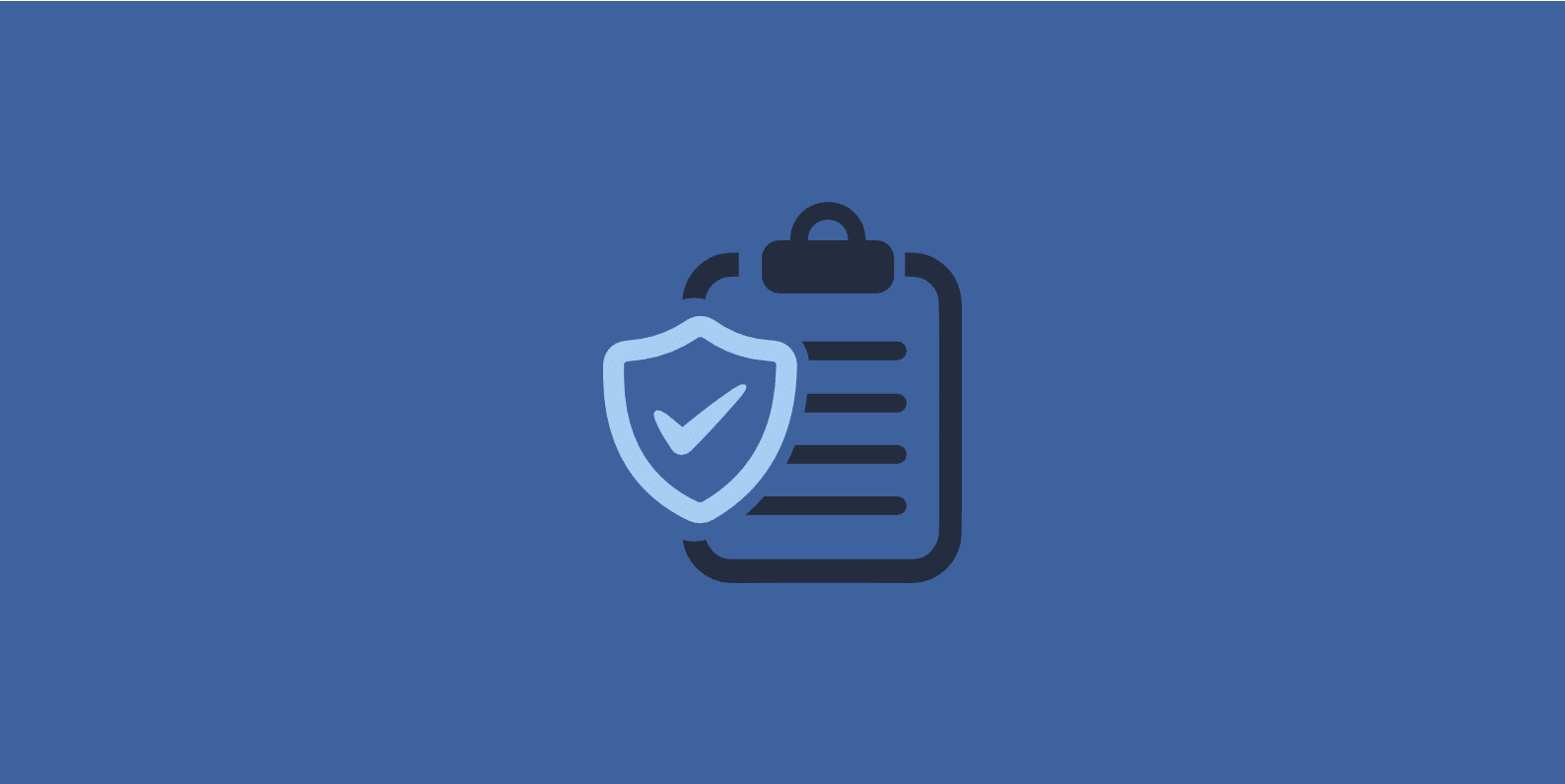 Quite frankly, it is hard to write one of these yourself because they contain a lot of terminologies that you probably aren't familiar with. And that is why today I am going to share with you a new online service I have been using, and that is WebsitePolicies. They provide a quick and easy way to get these mandatory policies in just a few minutes.
What Website Policies Do You Need?
Before we dive into how to generate your website policies, it is first important to understand what the differences are and which ones you might need or want to add to your site.
Privacy Policy
A privacy policy is a statement that discloses in which ways your websites gathers, uses, and manages a visitor's data. It fulfills a legal requirement to protect a customer or client's privacy. A lot of countries in fact have privacy laws that do make it mandatory. It is highly recommended that you add a privacy policy to every website you operate. I have one on this website, you can see it in the footer. I have named it "legal," because this in fact contains my privacy policy along with my affiliate disclaimer.
Terms of Service Policy
Terms of service (also known as terms of use, terms and conditions, or TOS) are the rules by which one must agree to abide in order to use a service. A very common place where you have probably seen a TOS is with web hosting providers. They protect themselves with a TOS in case a customer tries to take advantage of them. It is not required by law, but it protects both the user and the business. It is also important to note that this is a legally binding agreement.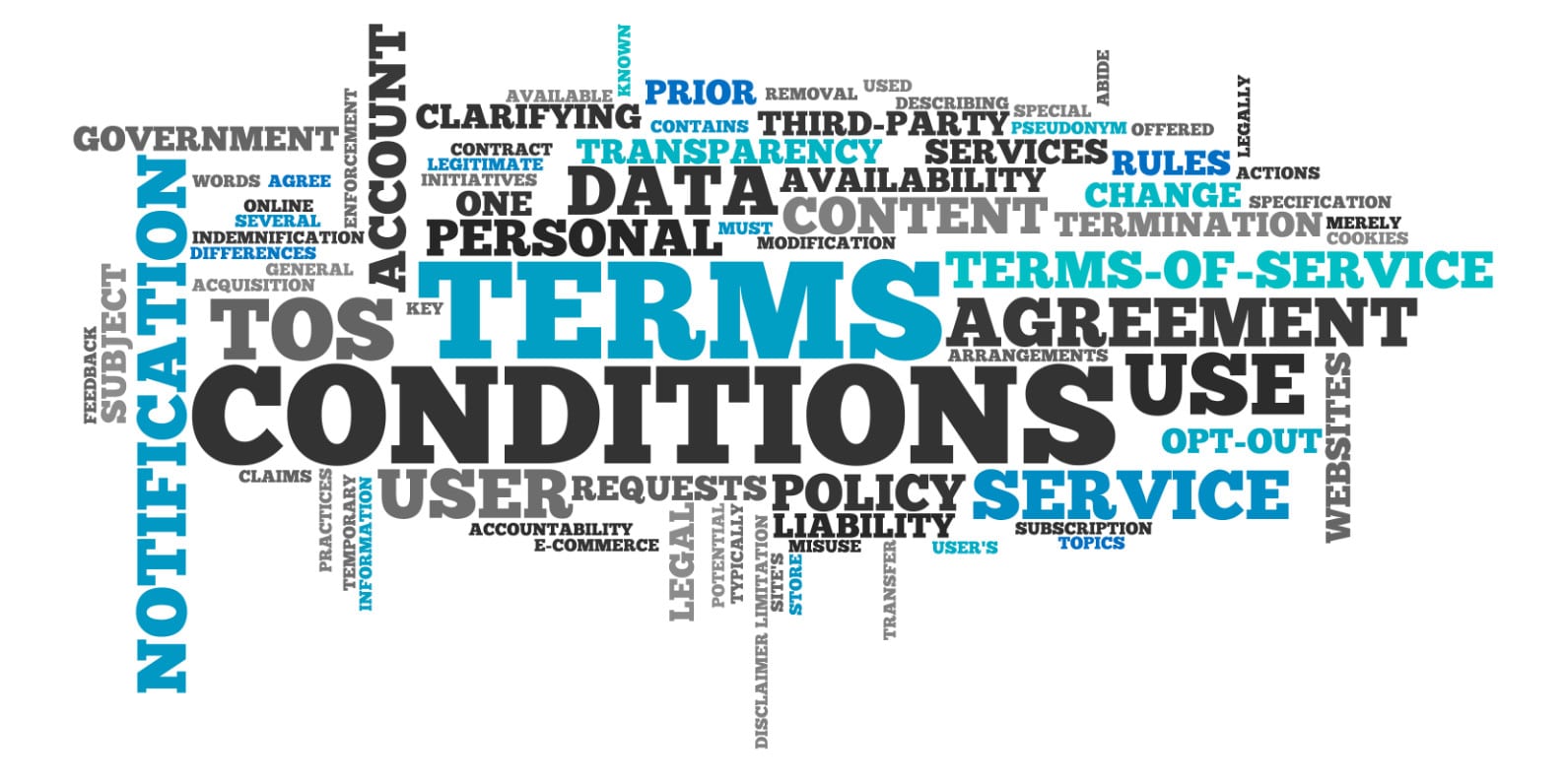 Blog Disclaimer
A disclaimer is used to inform visitors that the owner is not responsible for any advice given. This limits their liability. You are protected by freedom of speech online, but I always recommend adding one for controversial topics and or niches just to protect yourself from getting sued. Here is an example of a short disclaimer for a health blog.
The information on this blog is not intended to be and should not be interpreted as medical advice or a diagnosis of any health or fitness problem, condition or disease; or a recommendation for a specific test, doctor, care provider, procedure, treatment plan, product, or course of action. Consult your physician before making any changes to your diet or exercise program.
A disclaimer also applies to affiliate programs. For example, I have an Amazon Affiliate disclaimer, which is required if you are part of their program. This is taken directly from the Amazon Associates affiliate agreement.
You must clearly state the following on your Site or any other location where Amazon may authorize your display of Content: "We are a participant in the Amazon Services LLC Associates Program, an affiliate advertising program designed to provide a means for us to earn fees by linking to Amazon.com and affiliated sites."
People have been known to get booted from the program if they don't properly use disclaimers.
Refund Policy
A refund policy, of course, is not required, but highly recommended if you are selling a product or service. Again, this helps protect your business and establishes trust. If you have a free refund policy this could even boost sales for you as people will feel more comfortable purchasing if they know they have a way out. A refund policy generally outlines what a customer must do if they want to return a product or exchange it.
Generate Them Fast With WebsitePolicies.com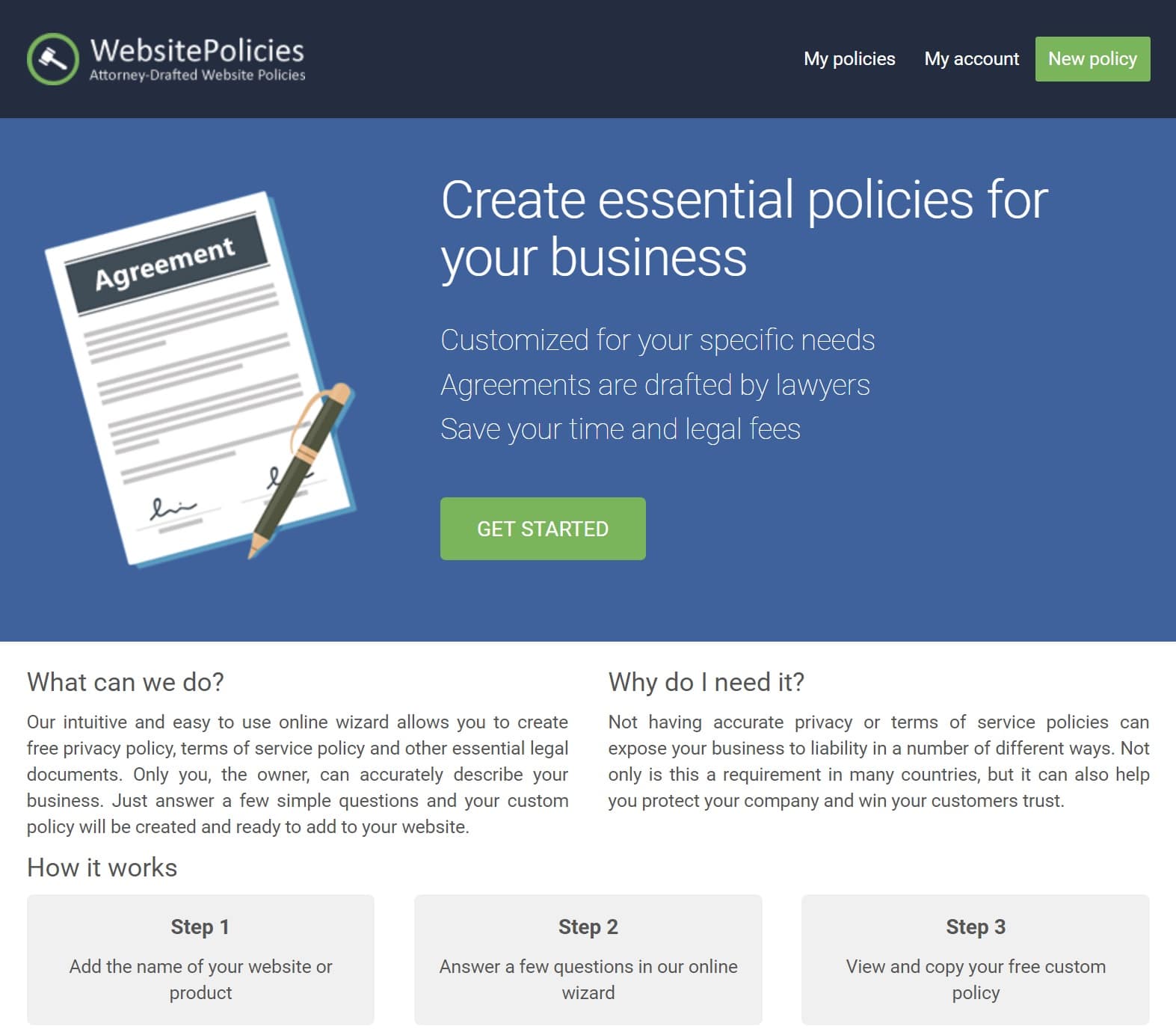 Now that you know a little more about the different policies, it is time to start generating them! This is where the service from WebsitePolicies comes in super handy. They allow you to generate the following in just three easy steps:
Some benefits of using their service are that you can customize each for your specific needs. The agreements are actually drafted by lawyers, and you can save a ton of money. It is completely free to use for personal use and only a one-time $14.95 fee for business use. The business service includes additional legal information that is required.
A couple of things I really liked about WebsitePolicies is that their website looks beautiful, there is no clutter, and there are no advertisements.
There are a lot of other free policy generators online, if you don't believe me just google "privacy policy generator". But almost all of them are hideous and just trying to make a quick buck off of AdSense. That's not the case here so kudos to the owners!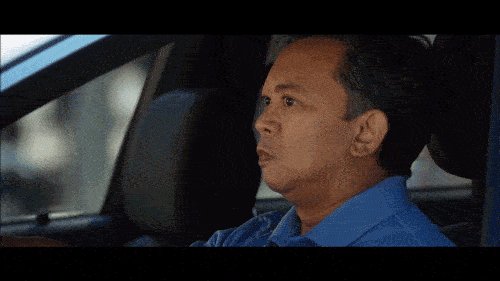 Generate a Free Privacy Policy
I am going to walk you through generating a free privacy policy with WebsitePolicies, just to show you how simple it really is! Remember, this is one policy that every single website should have.
Step 1
Head over to websitepolicies.com and click on "Get Started."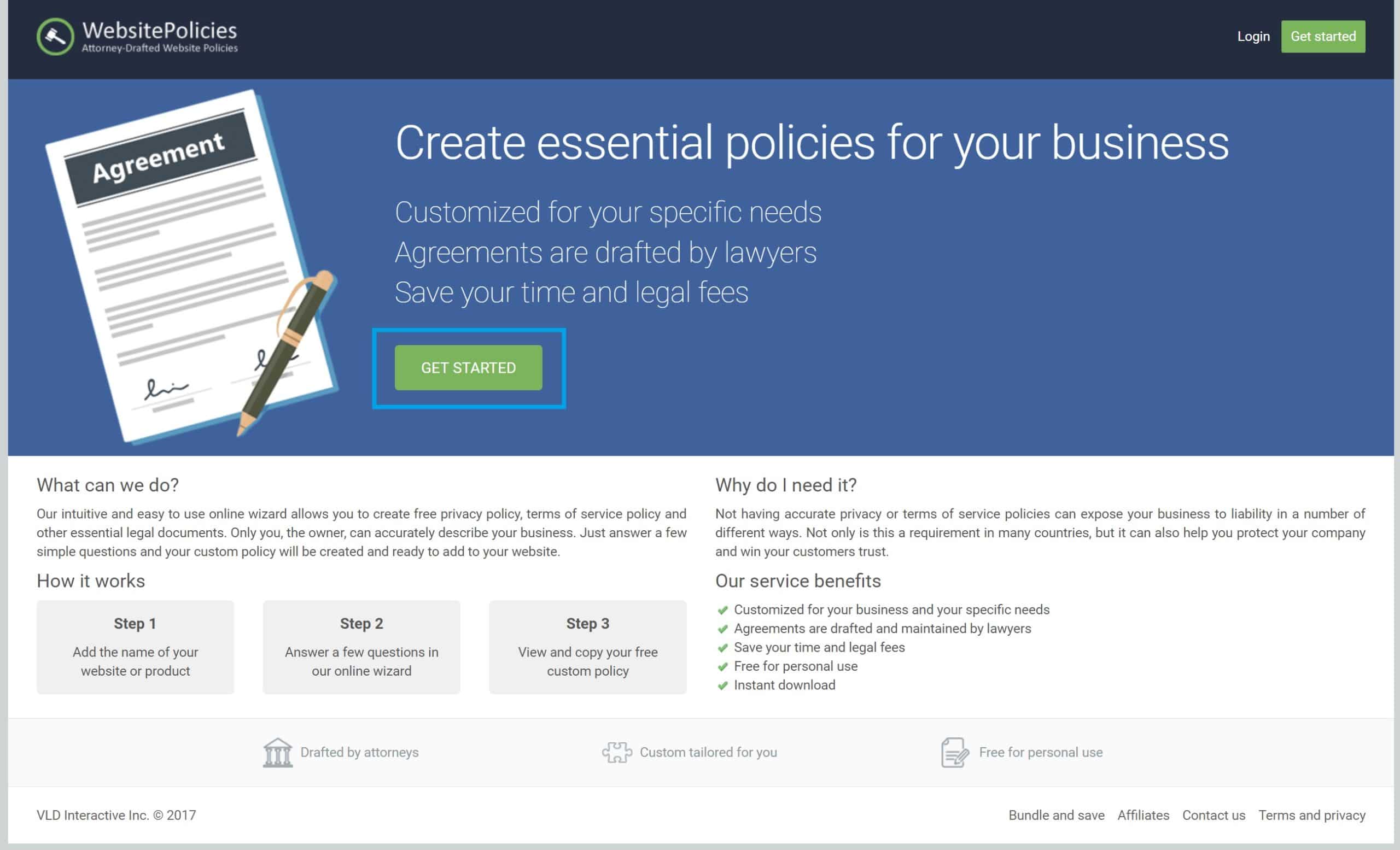 Step 2
Click on "Create privacy policy."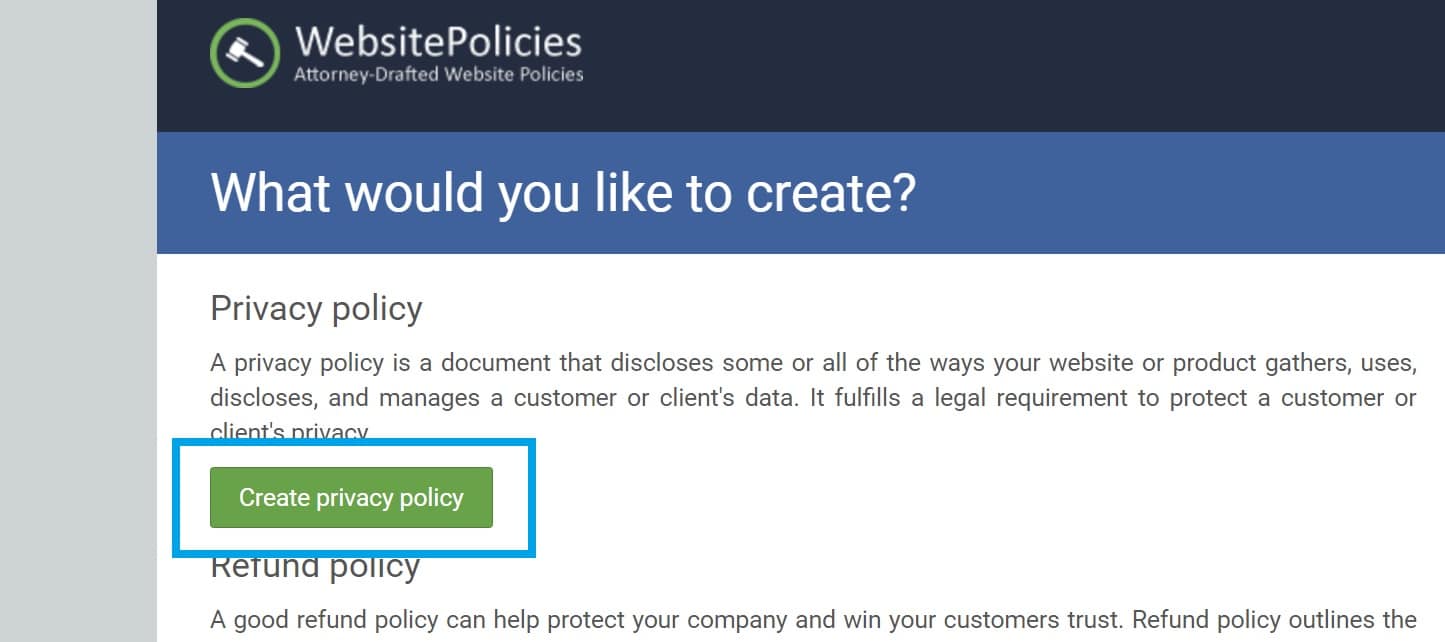 Step 3
It will prompt you for your location. Then enter in your URL. In this example, I am generating a privacy policy for my personal site. Input the site's name and choose whether or not it is for commercial or personal use. Then click "Next."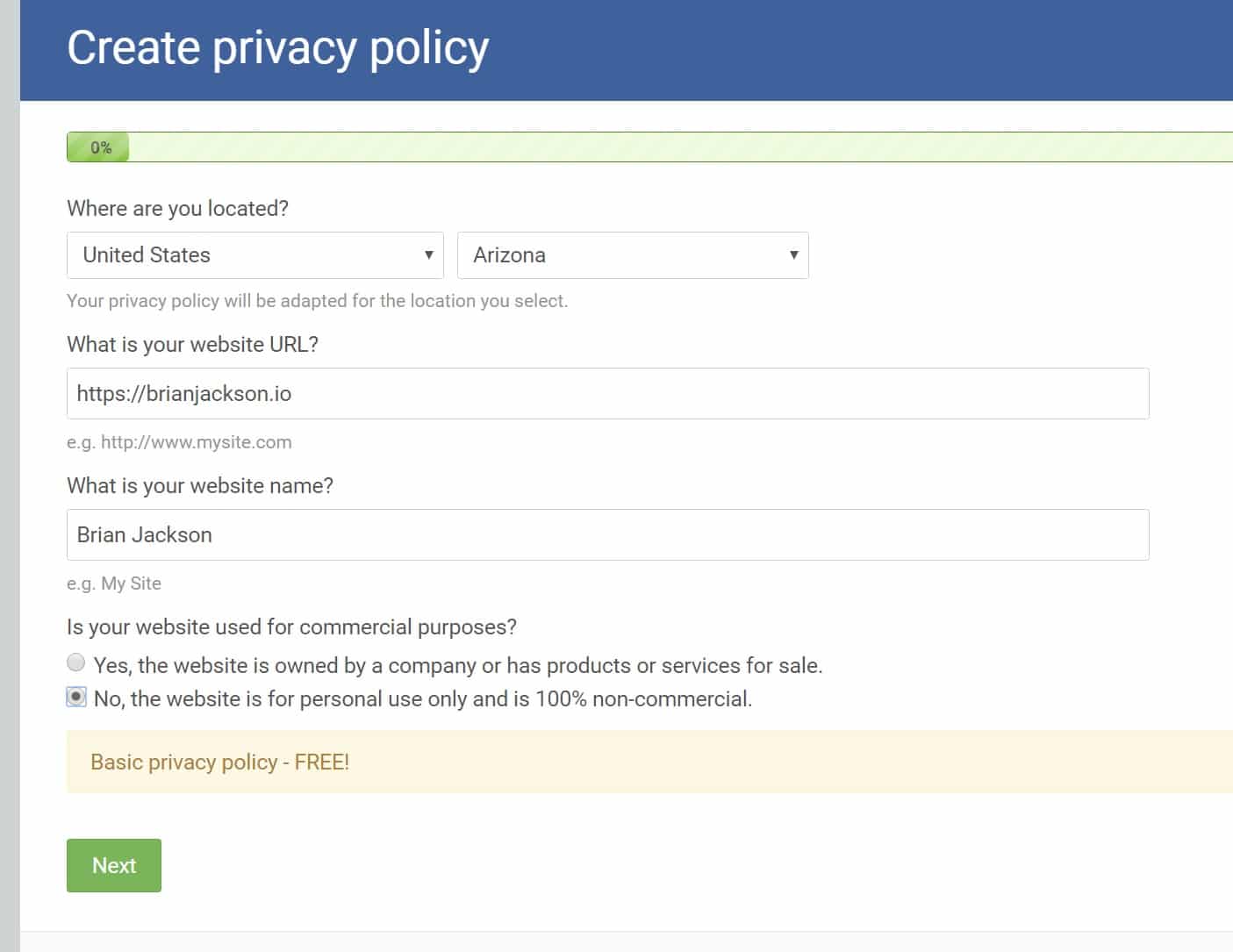 Note: If you select commercial above instead, it includes additional disclosures that cover advertising, marketing, processing payments and other topics not covered by the basic free policy. It has a one-time fee of $14.95 and features the following:
Suitable for commercial websites and businesses
One time payment and instant download
Automatic notifications on updates
Lifetime access to all your policies
Step 4
It will then prompt you with a series of questions. Some of these below will change dynamically based upon what your answer is. This is just an example of what I am using on my personal site. Once you have filled it out click "Next."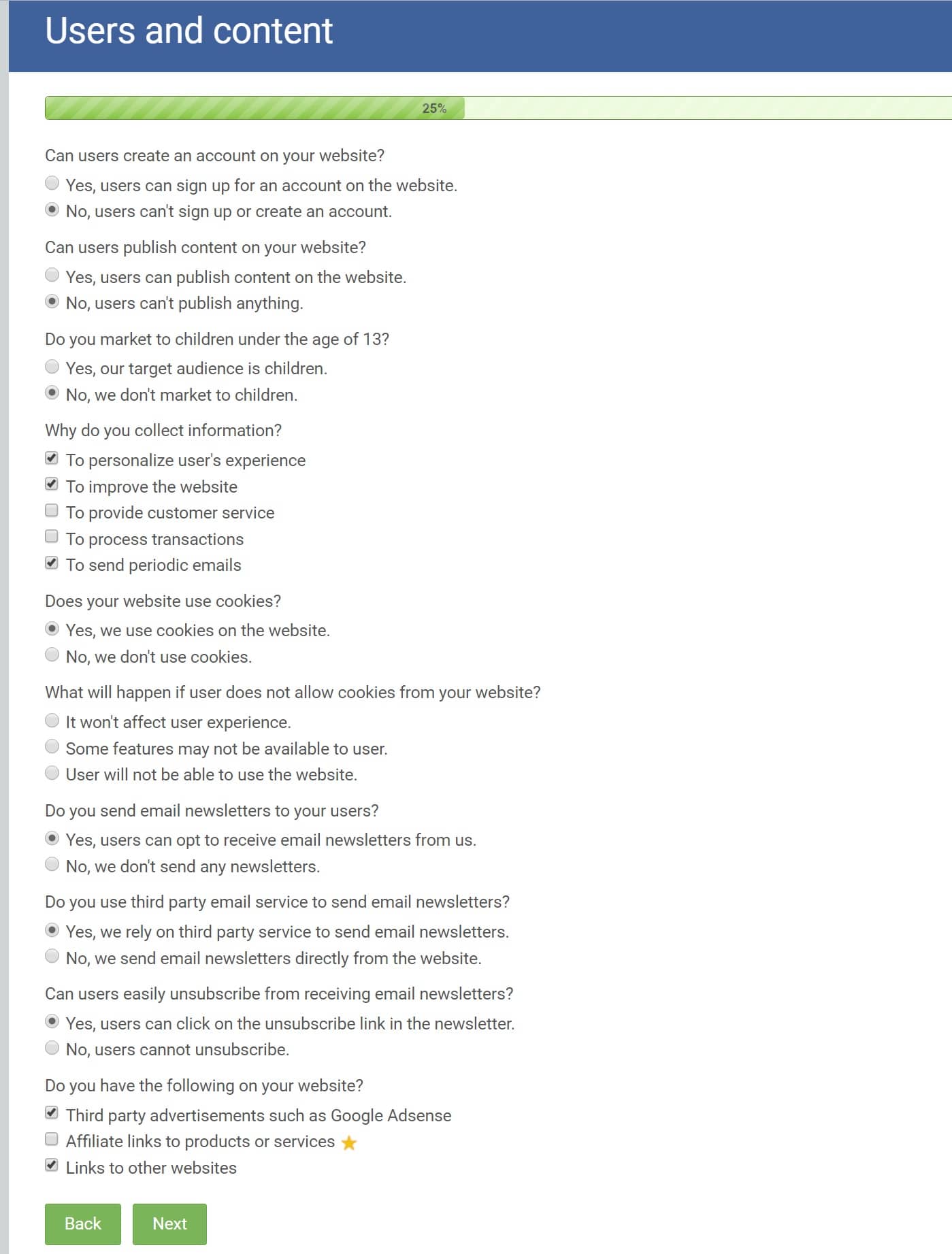 Note: That star you see above designates something that is only available in the premium privacy policy. If you have affiliate links then most likely your site is actually commercial or generating income.
Step 5
It will then ask you if you sell any products and services. Again, this would require a commercial privacy policy. Click "Next."

Step 6
You're almost done, it then lets you choose how you want to disclose and update your visitors. Then click "Next."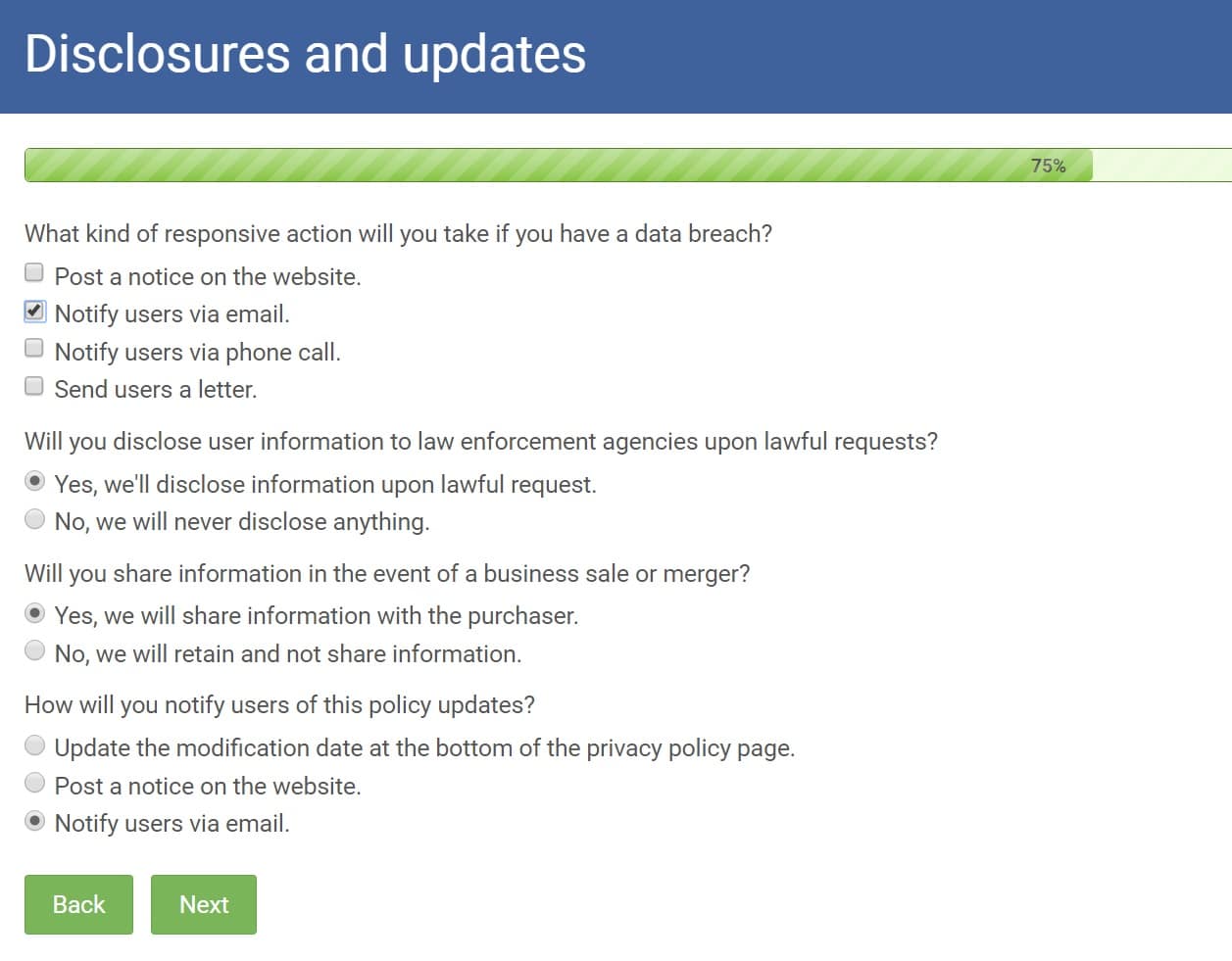 Step 7
And finally, input your email address, agree to the terms (ironically), and it will email you a password to create your account so you can access your free privacy policy online.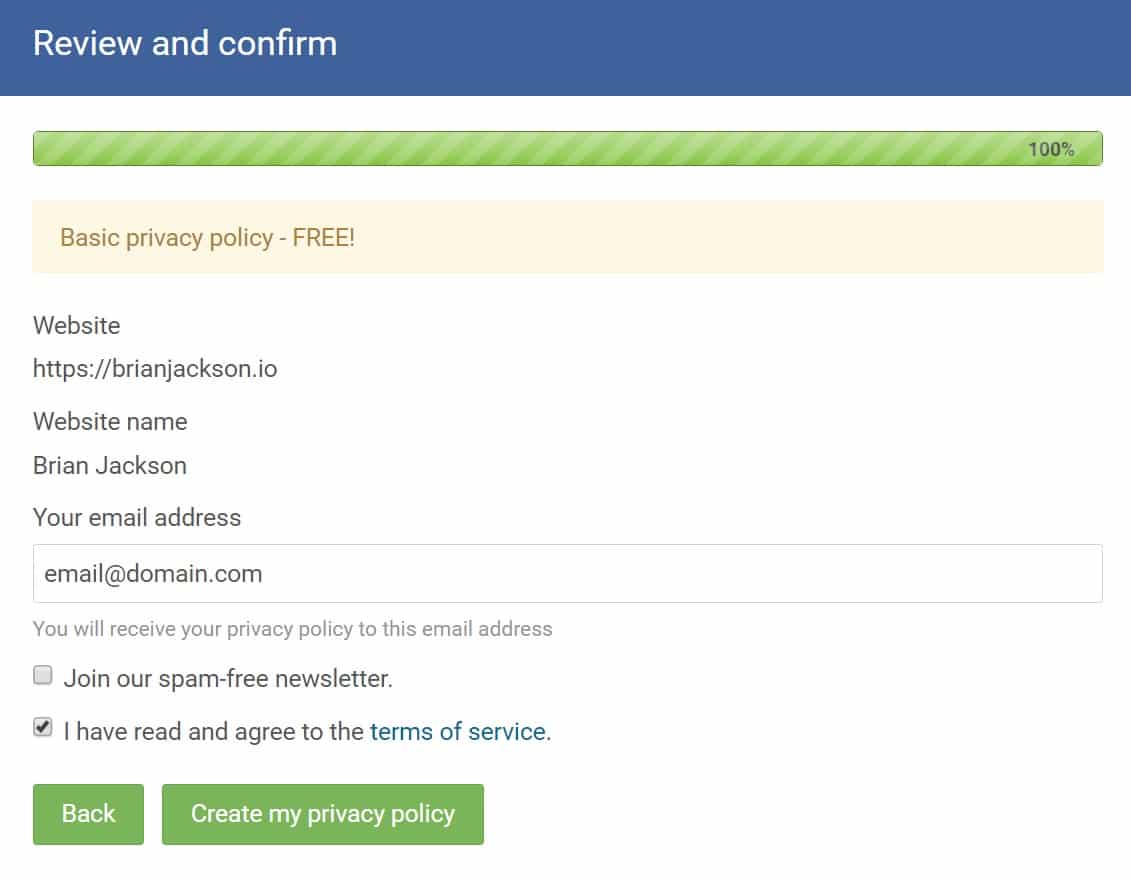 Step 8
Click the link in your email and you will now be on the dashboard. You can generate policies on all of your websites and it will store them in your account. This is another benefit over that of other free generators out there.

Step 9
You can click into your policy, view it, and grab the HTML code for it. You can then simply paste this right into your website. In my case it is WordPress, so it was a simple copy/paste across. If you are curious, mine came out to 1,210 words for the entire thing. So that is one reason why I would recommend using a service like this. You are bound to miss something important if you try to do this yourself.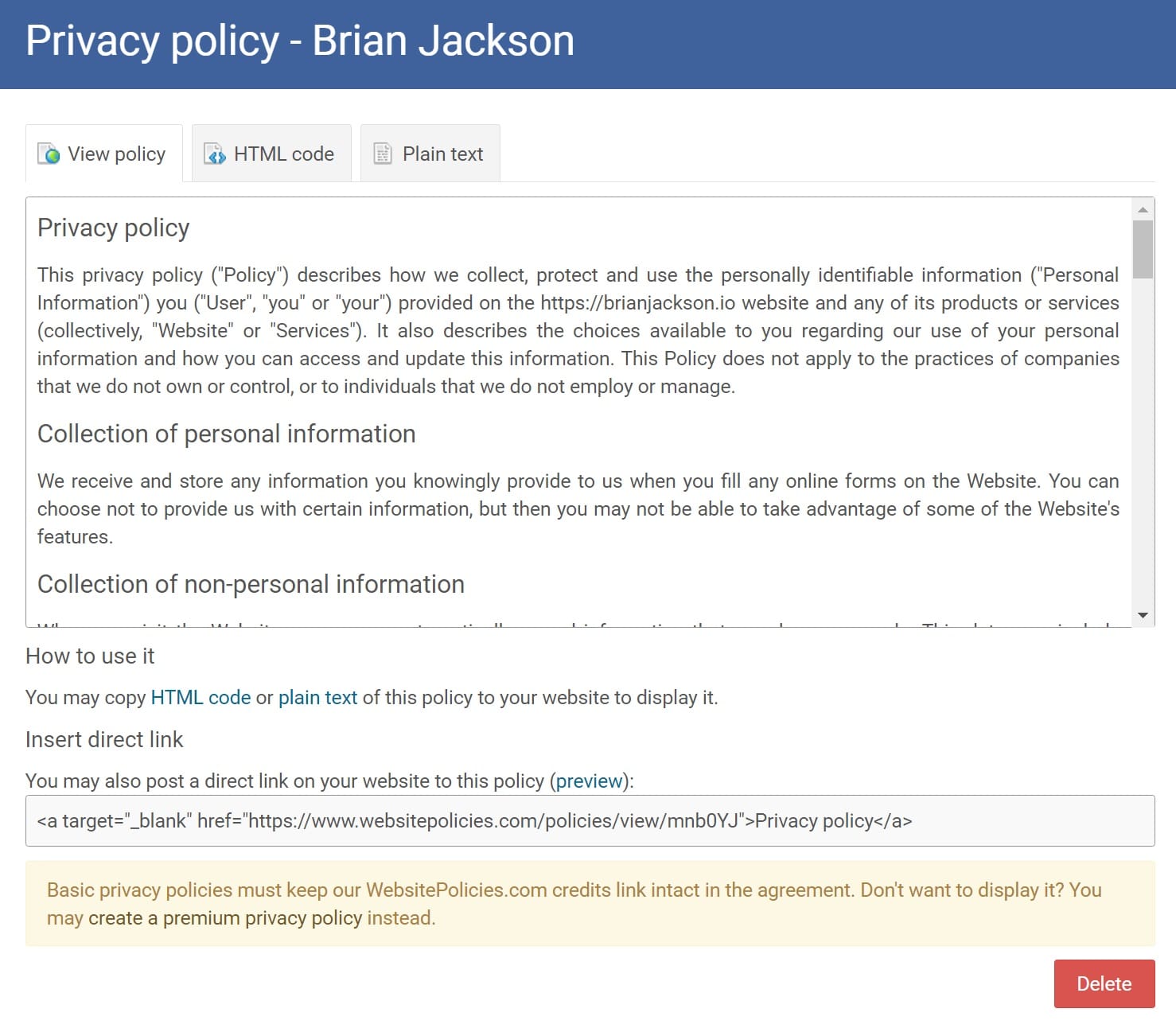 And that's it! You now know how to quickly and easily generate website policies. You should have no excuses now. If you are needing to generate multiple commercial policies, they also have a bundle and save deal in which you can get 25% off.
Hopefully this post on how to create website policies was helpful. If so, let me know below!