If you've chosen WooCommerce to power your online store, you're in good company. This powerful (and free) WordPress plugin is behind 30% of all online stores on the web. E-commerce brands like WooCommerce because it integrates with WordPress, an equally popular platform, and it's incredibly easy to use—again, just like WordPress.
If you've set up your WooCommerce store, you already know it's easy to use. But setting up your online store is just step one. Now you're onto the hard part—optimizing your store to actually sell your products.
If you're wondering how to do that, you've come to the right place. Below we'll review the top five ways to boost your WooCommerce store's conversions, and the top WooCommerce plugins that will get you there.
Power up Your WooCommerce Store with These 5 Methods
When it comes to selling online, there are five key areas that can make a big difference in your success.
Let's review each of these and how you can apply them to your WooCommerce store.
1. Email Marketing
The average shopping cart abandonment rate is just under 70%. At a minimum, the email marketing program for an online store should include abandoned cart emails.
As painful as it is to e-commerce store owners, people abandon their shopping carts for a variety of reasons. The shipping cost may have surprised them, they want to see if they can find a cheaper product elsewhere, or they had to run off to an appointment.
Fortunately, you have an opportunity to recover these customers.
Abandoned cart emails boast a crazy high open rate of 44.1%, and a third of the people who click on those emails end up buying. Even better, if you're timely with your email sends, 72% of those customers will make a purchase within 24 hours of leaving your site!
But for you to reach them in time, you need to have an automated email program in place—that collects emails through a popup form and/or at check out, integrates with your cart, and triggers an abandonment email to be sent whenever a person exits.
Best WooCommerce Plugins for Email Marketing
Both MailChimp and AWeber, two of the leading email marketing services, integrate with WooCommerce. With either of these, you can set up automated emails (including an abandoned cart email), design email templates that match the branding of your WooCommerce store, view analytics for your email performance, and much, much more.
MailChimp uses advanced learning technology to discover the preferences of your customers, based on their previous purchase history. Then, the software creates personalized suggestions so they can buy even more from your store! We love MailChimp's analytics because it doesn't just show you clicks and opens; it also shows you revenue—down to the individual product item: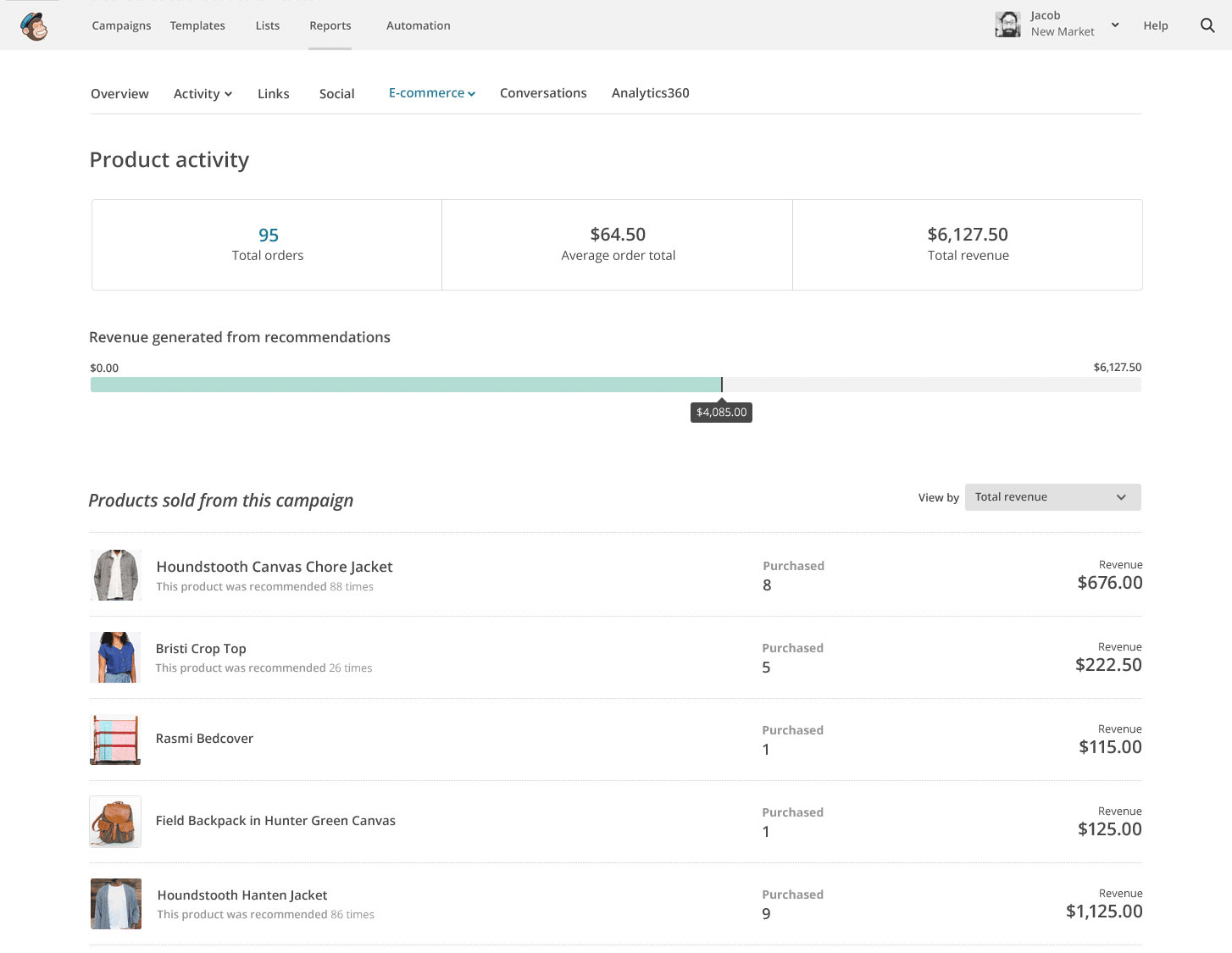 The Jilt plugin focuses on abandoned cart emails specifically. Once installed and configured, runs in the background of your site—automatically capturing what people have in their carts, and sending them a reminder when they leave your site. Another great alternative to check out is Conversio.

Jilt recovered orders

With the Follow-Ups extension, you can create drip campaigns that incorporate both email and social media. You can tweet customers a thank you after they purchase, or email them asking them for a review of your product.
Want to do more with your email marketing? Grow your list with these top WordPress lead generation plugins.
2. Customer Service
Nearly half of consumers agree: having live chat is one of the most important features a website can have today.
Customers like live chat because it's easy, it's fun, and it makes them feel supported by the company. Your online store isn't just there to sell them products; you're there to help them buy the right product.
By implementing live chat on your website, your customers will be more likely to purchase, more likely to spend more, and more likely to come back for additional purchases, increasing their lifetime value.
There's one hitch, though: Unless you have a massive budget and customer service team, it's extremely difficult to be available 24/7 and respond immediately.
This is where a WooCommerce chatbot plugin comes in.
Chatbots leverage AI technology so they can understand customer queries and respond in real time. By preprogramming common FAQ your customers have, your chatbot can resolve their issue before they ever need to speak to a live person. Plus, you can personalize your chatbot with a name and a photo, making it feel like a friendly customer support rep.
Best WooCommerce Plugins for Chatbots and Live Chat
The ideal approach for an e-commerce site incorporates both live chat and chatbots. This way, you can respond to consumers directly whenever you or your team are available, but you can use chatbots to fill in the gap when you're not around.
3. User Experience
User experience (UX) refers to the experience a user has with your WooCommerce store. How easy is it for them to find the products they want, add them to their cart, and breeze through the checkout process? Beyond being easy, is it fun for them to browse and shop?
If shoppers don't enjoy browsing your WooCommerce store, they're going to leave and shop somewhere else.
Whether this is your first e-commerce store or your tenth, you're likely committing at least one of these common UX mistakes:
Not having product filters. Over 40% of e-commerce sites don't have product filters on their top pages, despite their ability to improve conversions by 76%. Customers increasingly want a personalized online shopping experience. They want to "choose their own adventure" by narrowing in on the specific items they want. Providing them with filters is a straightforward way for them to do so. Filters allow them to browse and purchase quickly, resulting in a satisfying overall shopping experience.
Not highlighting top products. Featured products call attention to your best-selling products (or the products you want to be top-selling). Featuring your top products accomplishes two things. First, it builds trust, as shoppers see that others are purchasing products from you. It also builds FOMO: if these products are so popular, perhaps they should check them out, too.
Not offering a wishlist. You may want shoppers to buy immediately upon arriving at your WooCommerce store, but many people prefer to browse first, and save their items to purchase later. With a wishlist, customers can do exactly that. In a study of 50 online stores, conversion rates improved by 19% on average after implementing wishlists.
If you recognize some of these mistakes with your own store, there's good news: One firm found that fixing minor UX issues (such as confusing navigation, suboptimal button placement, and lack of product filtering) can lift conversion rates by 75%.
Best WooCommerce Plugins for Shopper Experience
Not everyone is a web design expert, so UX mistakes happen all the time. Fortunately, many WooCommerce plugins come with web design best practices built-in, so you can simply install and start enjoying more sales.
The WooCommerce Products Filter is a free plugin that lets you customize which filters to show on your product category pages, and define the options within each filter itself (such as price ranges and color options).

WooCommerce product filters

Out of the box, WooCommerce offers the ability to feature products. To make a product a Featured product, simply check off the "This is a featured product" box on the Product Page.
If you want to go a step further and display your featured products in a special gallery, download the WooSlider plugin and WooSlider Product Slideshow extension.
To get started with basic wishlists, the free WooCommerce Wishlist plugin is more than sufficient for many new stores. It's a free plugin that installs wishlist functionality on your WooCommerce store. You can customize buttons for people to transfer items to their cart, or to share on different social media channels—boosting your brand awareness and hopefully inviting more shoppers to your store. Alternately, you can pay for the WooCommerce Wishlists extension which includes advanced functionality, analytics, and more customization options.
4. Coupons
If you want customers to buy more, while earning their loyalty in the process, coupons are an effective tool for doing so.
77% of mobile shoppers spend more than they originally planned when they use coupons, and two-thirds of millennials are willing to switch brands if they're offered a compelling discount. Coupons help your WooCommerce store in other ways, too: the #1 reason consumers follow brands on social media is to get coupons and promotions.
It's no surprise you see so many online stores offering coupons. You can use coupons to:
Thank new email subscribers with a welcome discount
Lure back cart abandoners with a limited-time discount
Reward loyal customers with a discount on their favorite product category
Attract new shoppers with seasonal sales
Provide exclusive discounts for your social media followers
Incentive higher cart totals with a $25 off for $250-type coupon
And that's just getting started.
Coupons are especially useful if you're planning to get into affiliate or influencer marketing. You can provide influencers with an unique URL, tied to a discount, that they share with their fans. This helps you keep track of which influencers are driving the most sales for your WooCommerce store.
Best WooCommerce Plugins for Coupons
WooCommerce comes with coupons built-in (just navigate to WooCommerce > Coupons), but you can uplevel the coupon strategy for your e-commerce store with any of the following extensions.
5. Social Proof
Have you ever visited a restaurant because you read about it on Yelp? Or checked out an online store after you saw your favorite influencer wearing one of their t-shirts?
That's social proof in action.
Social proof refers to the phenomenon where we copy the actions of others to liked and accepted by society. It's not just powerful because it leans into our social herd mentality. It's powerful because consumers inherently trust other consumers—not brands.
One study found that people trust product reviews from peers 12 times more than the product descriptions a brand owner writes for their e-commerce site. That trust translates into conversions: reviews provide an 18% uplift in sales.
While product reviews are the form of social proof that comes to mind, they're not the only option you have at your disposal.
You can also share testimonials from well-known customers or influencers on your landing pages. You can embed tweets from happy customers, or Instagram photos of them posing with your product. For your top-selling items, share counters of how many people have purchased it, or automatically post real-time popup alerts whenever someone buys the product a visitor is currently looking at.
Best WooCommerce Plugins for Social Proof
There are plenty of WooCommerce plugins, along with out-of-the-box WooCommerce functionality, that helps you showcase social proof throughout your online store.
Summary
As you can see, there are a variety of ways you can improve your WooCommerce store to boost conversions. These plugins make it easy.
Once you start to see more conversions, you can invest that extra revenue into more marketing tools for your store. Until then, start with the tips above. They're the tactics that are most likely to move the needle for your store.
Michael Quoc, CEO of Dealspotr, oversees the social shopping community and influencer marketing platform that connects e-commerce businesses with influencers to run promotional campaigns at minimal cost. Dealspotr's unique value is a focus on exclusive deals and discount codes. Here, influencers share compelling discounts to increase shopper interest and conversions.