If you own or run a business, then you know the importance of investing in a good tool to keep track of everything. Myself, I have two LLCs I juggle things between, so it can get downright messy in a heartbeat if I don't stay on top of incoming payments, outgoing invoices, cash flow, etc. Especially when it comes time to the tax man calling for his dues.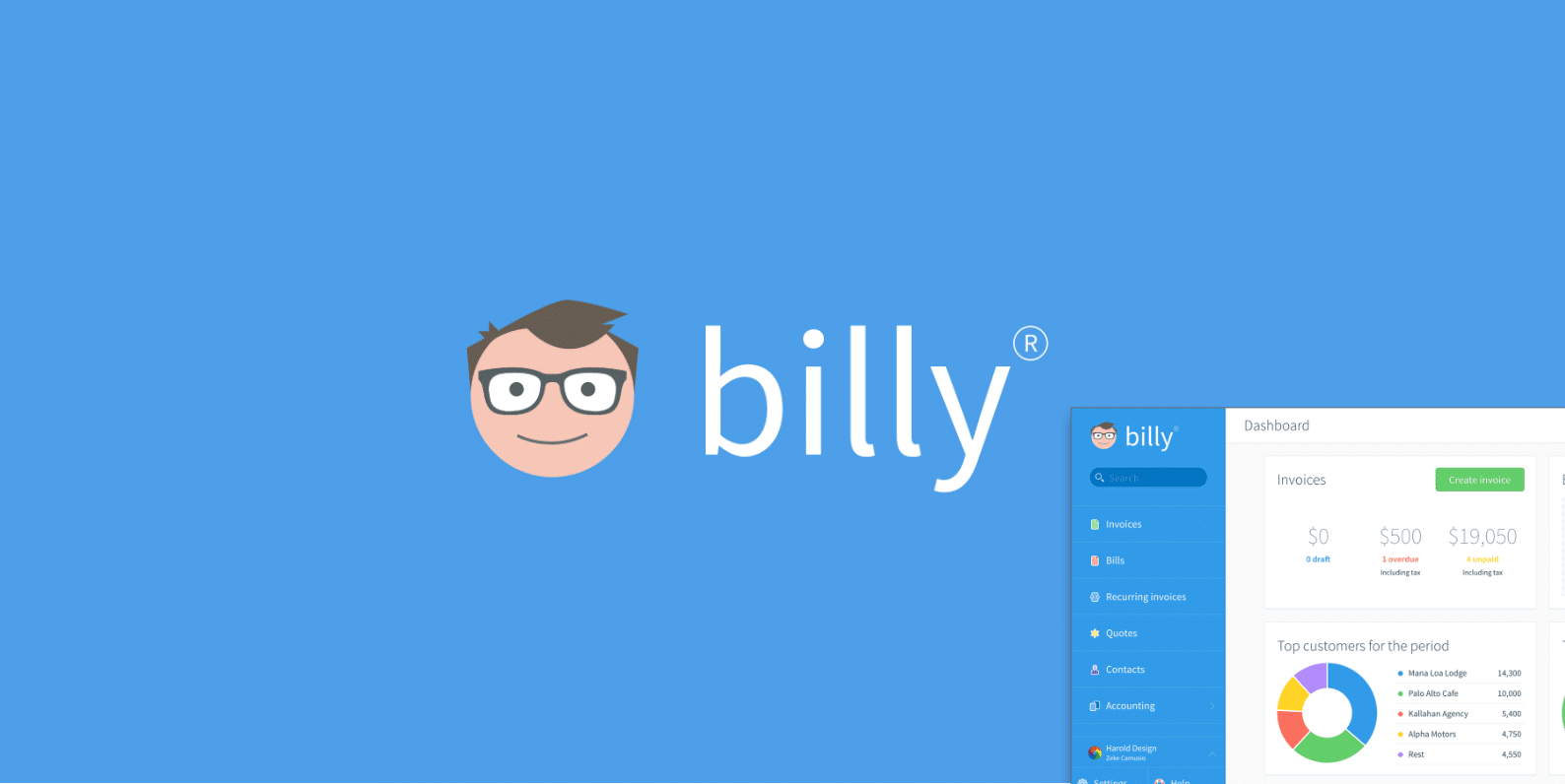 Today I'm going to be reviewing a handy little tool called Billy, which is online accounting software for freelancers, small businesses, and busy entrepreneurs. And after having used it for a while, I can tell you it is the perfect QuickBooks alternative!
Update: As of June 2019, Billy is now Sunrise.
Billy Review – The QuickBooks Alternative You've Been Missing
I have nothing against QuickBooks, but having used it a couple times in the past I can honestly say that it makes things harder than they should be. I'm sure some of you out there would agree with me. For larger or medium-sized companies it might work great, but what about those of us who know nothing about accounting and frankly don't want to know, we need something that just gets the job done with a few easy clicks and is not a hassle to manage.
I also tried Freshbooks a couple years back, and while I'm sure it's better than it used to be, I always found it to be too simple. Or rather didn't have everything I needed. So that is where Billy comes in.
Billy was created by Toke Kruse and Sebastian Seilund, two entrepreneurs from Denmark. They too were frustrated with existing tools on the market like QuickBooks and set out to create something better. They launched Billy in 2013 and after dominating the Danish market they soon expanded in 2015, releasing Billy globally in English.
Billy now has 23 employees and is used by over 50,000 users. They've been featured in TechCrunch, KillerStartups, and even Lifehack. Billy has received multiple awards and have a 4.1 out of 5-star rating on G2 Crowd with over 160 reviews. Capterra even rates them #4 out of the top 20 for most user-friendly accounting software. They are also #3 for most affordable. But we'll get into pricing further below.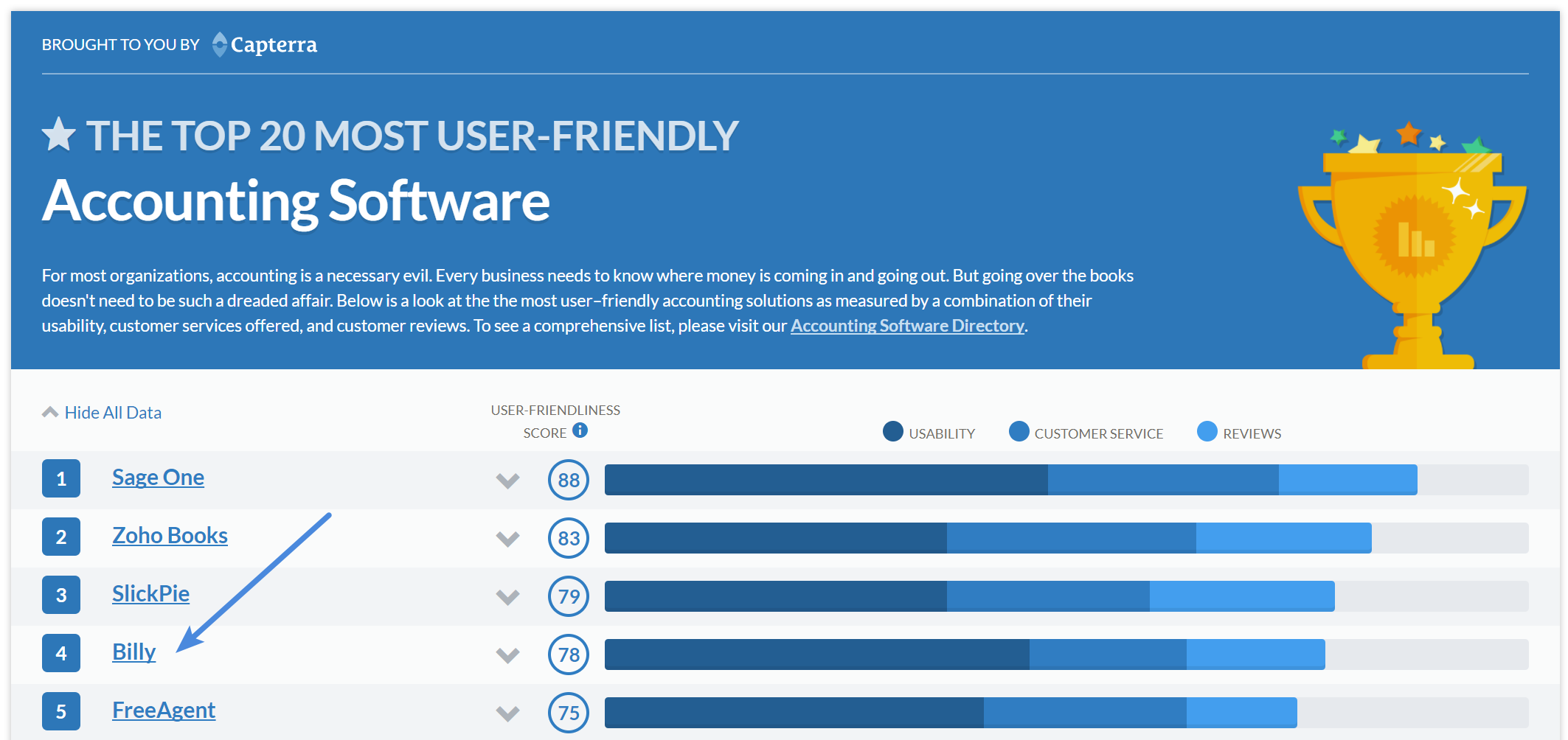 Plain and simple, Billy is doing something right and people are liking it! Accounting is always one area where everybody cringes when they hear it… so it's nice to see new companies trying to revolutionize the space.
Billy Pricing
First off, it's important to note that you can try Billy 100% free for 14 days (no credit card required). If you don't like it, your trial will just cancel. It's that easy! So they do make it pretty simple to get up and going. They have three different plans: Start, Standard, and Premium.
| Starter $11/mo | Standard $15/mo | Premium $19/mo |
| --- | --- | --- |
| Unlimited invoices | Unlimited invoices | Unlimited invoices |
| Unlimited invoices | Unlimited invoices | Unlimited invoices |
| Unlimited customers | Unlimited customers | Unlimited customers |
| Unlimited contacts | Unlimited contacts | Unlimited contacts |
| Sync 9,000+ banks | Sync 9,000+ banks | Sync 9,000+ banks |
| Import receipts | Import receipts | Import receipts |
| Customizable business reports | Customizable business reports | Customizable business reports |
| Multi-currency | Multi-currency | Multi-currency |
| Double-entry accounting | Double-entry accounting | Double-entry accounting |
| | Recurring invoices | Recurring invoices |
| | Create estimates | Create estimates |
| | | Get paid by CC |
As you can see, the pricing is probably one reason why Billy is so popular! If you do a comparison of QuickBooks Online, after their entry discounts, the closest plan to Billy's premium versions costs $35/month. So even Billy's most expensive option is saving you a lot of money.
Billy Setup
I went through the basic account setup process for Billy and was done in under 5 minutes. Very easy! See the steps below.
Step 1
When you first sign up for Billy it will have you set up some basic information for your invoices, such as adding your logo, business information, etc.
Step 2
Most of you like me will probably be needing to accept payments. After all, that is one of the most important parts of the invoice for me. So they walk you through connecting your Stripe account. Note: They are also actively working on a PayPal business integration as well. And Braintree is coming after that.
Step 3
They then let you add your bank account. The setup is very similar to how apps like Mint.com work.
Step 4
And finally, they let you invite coworkers or your accountant. This is actually a very important feature for me. I work with an accountant which in the long term saves me money. My accountant helps reconcile my books each month and run payroll. Having quick access to a program like this will make your accountant love you! It's much better than sharing a Google Excel sheet.
And that's it. Pretty easy right? You're now ready to start adding data and creating invoices. I was also pleasantly surprised with the messaging from Billy's Intercom messaging system. Lifes too short and everybody needs a good laugh. The message from Billy's CEO (Joshua Waldman) with an animated GIF of Austin Powers put a smile on my face.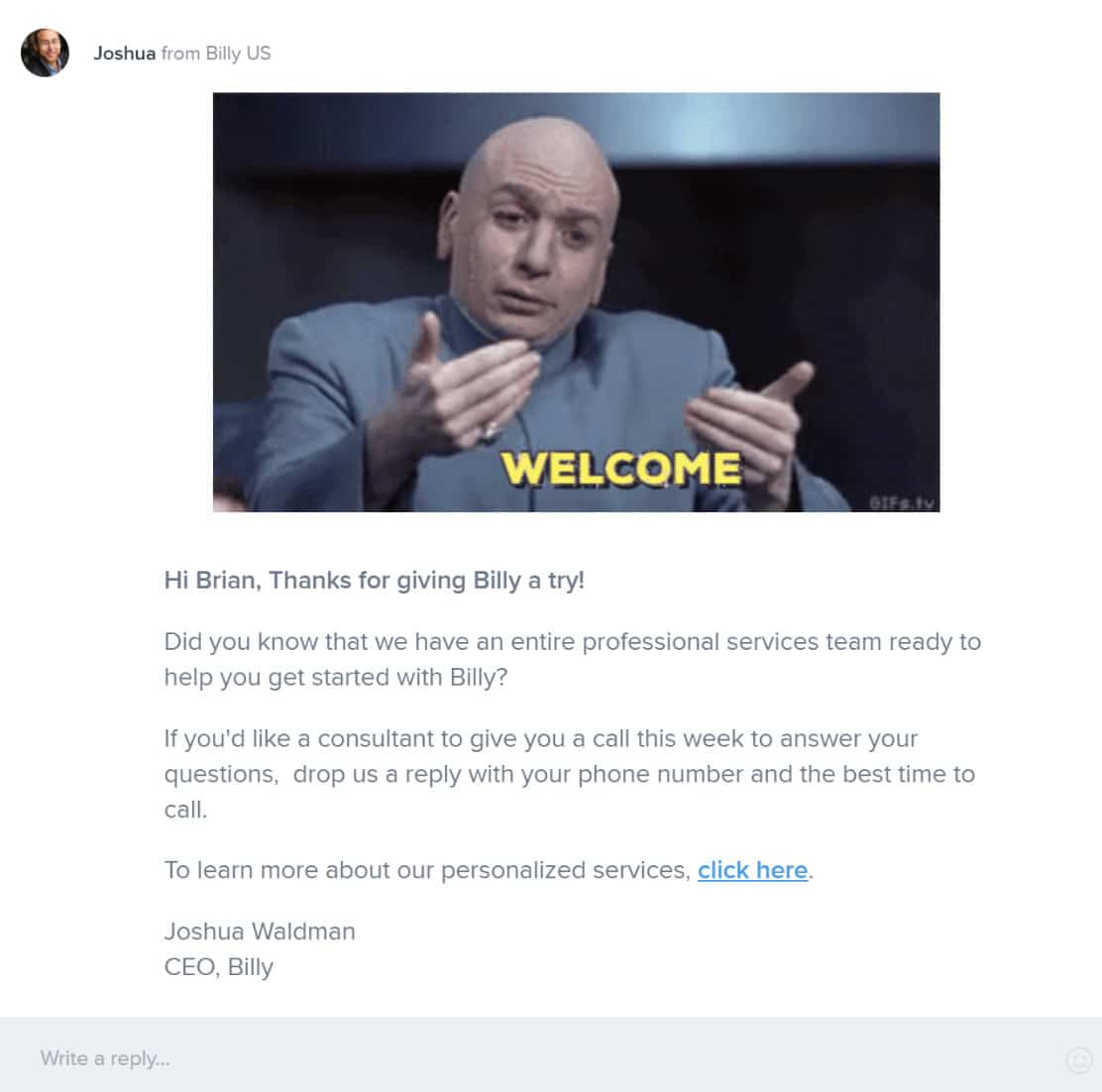 There are all sorts of things you can change in the Billy settings screen. Here are just some examples.
App Settings: Change default payment terms, VAT, sequential numbering, invoice numbers, language, default payment accounts, show order numbers on invoices, etc.
Templates: Create different templates for different types of invoices.
Payment methods: Let your customers know what payment methods you accept, such as checks, bank wires, and credit cards.
Receipt Capture tools: Use the Chrome extension, mobile apps (iOS or Android), or email images and PDF to a special Billy email address.
Tax settings: Change fiscal year start and end dates, quarterly sales tax, etc.
Users: Manage additional users with access to Billy, such as your secretary or tax account.
Products: Add/edit/delete products you can easily select on invoices to bill to your clients.
Sales tax rate: Rule sets are used on invoices to determine the correct tax rate based on a variety of factors.
Notification settings: Change default settings for notifications on tasks created, completed, invoices paid, customer signs a quote, email delivery failed, etc.
Theme: And for fun, you can change the theme to some pre-designed color schemes.
Billy Features
Now for the fun part! Now let's dive into some of the many features of Billy. When I say Billy is easy to use, don't get me wrong, it's still packed full of everything you need. It can easily be a QuickBooks alternative for many of us. Check out this quick comparison of Billy vs QuickBooks online.
"Billy combines the double-entry features of Xero or Quickbooks with the ease-of-use of Freshbooks." — Billy
You can also check out their product roadmap if you're curious about what features they are currently working on. I'm always happy to see companies publish their roadmaps as it can help streamline support.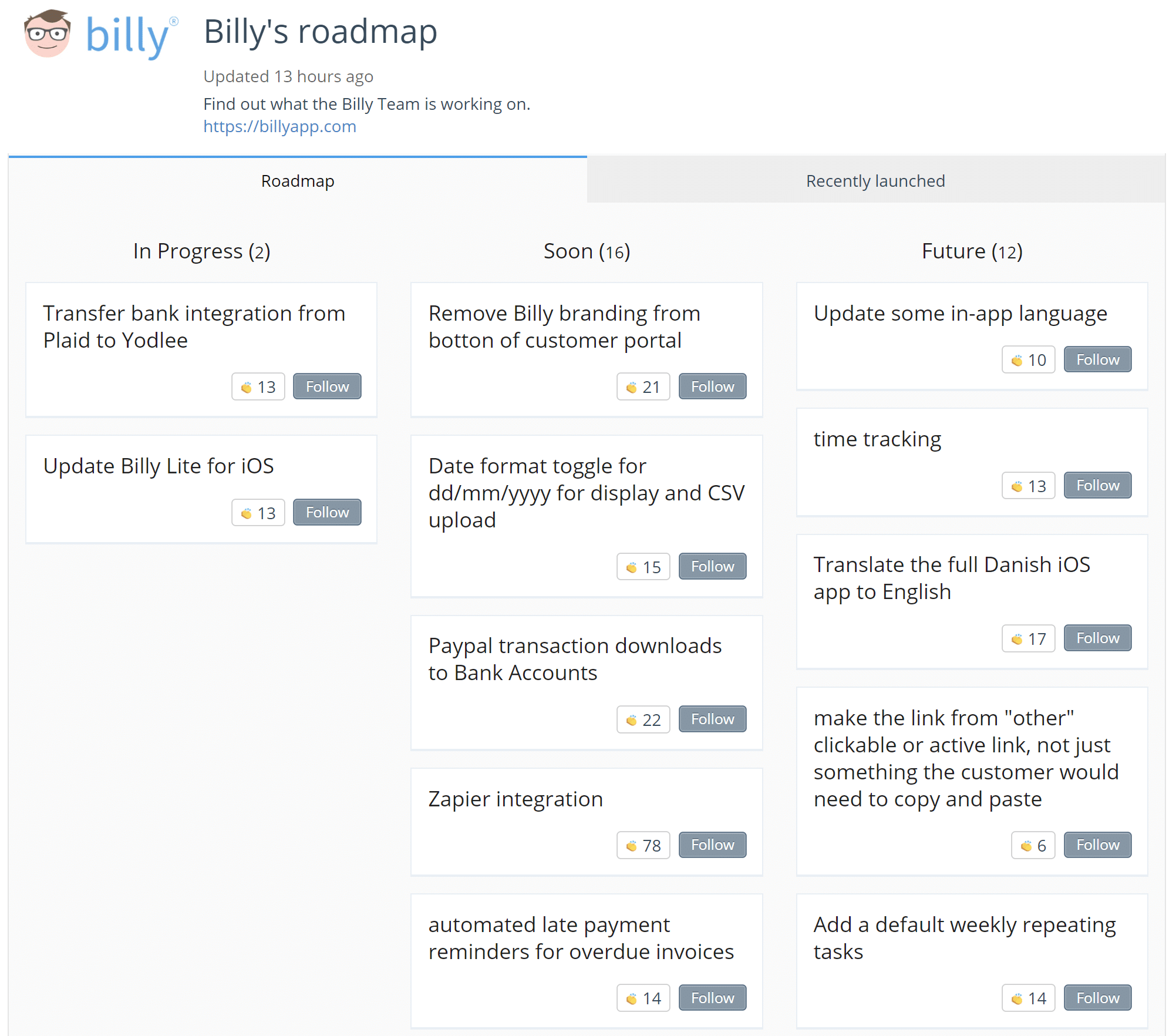 Security
Because Billy is online based, which is great, one of the most important things is security. You can be rest assured as Billy protects your data with 256-bit SSL encryption and backs it up to multiple data centers around the globe. And of course, you can always export your data at any time as well.
Invoicing
Creating invoices in Billy is super easy! And the template editor is awesome. You can quickly make it match your brand. Here are just a couple of things you can change:
Font family, size, and color
Header font family, size, color, and weight
Primary and secondary border colors
Margins (top, right, bottom, left)
Logo, logo alignment
Background color and background image
Language
You can also set up recurring invoices and have them automatically go out every day, week, month or year. The following actions are also customizable:
Create invoice + email customer
Create invoice only
Create draft invoice
You can easily add discounts to invoices in the form of percentages or $ amounts.

And of course, they let you do all the extra fine details with the invoices such as adding sales tax, excluding sales tax, changing the currency, etc. Billy actually handles multiple currencies and automatically calculates exchange rates. You can also send quotes and estimates, which I won't go over as they work very similar to invoicing.
When a customer or client gets an invoice, they can pay with Stripe right from the invoice. They can also save it as a PDF and print it.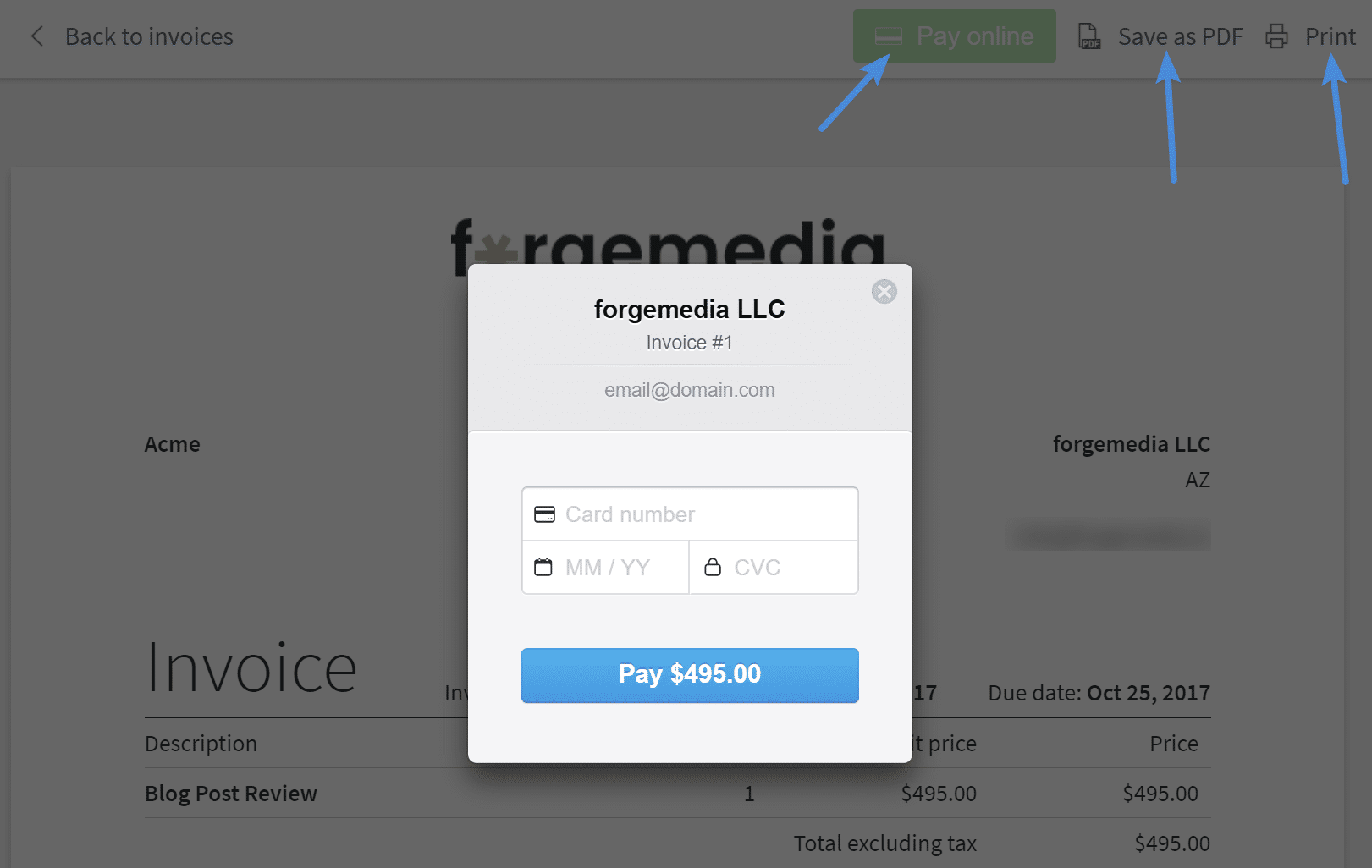 The interactions of the client with the invoice is all logged in your dashboard. This is actually pretty cool. You can see when it was created, sent, viewed, paid, etc.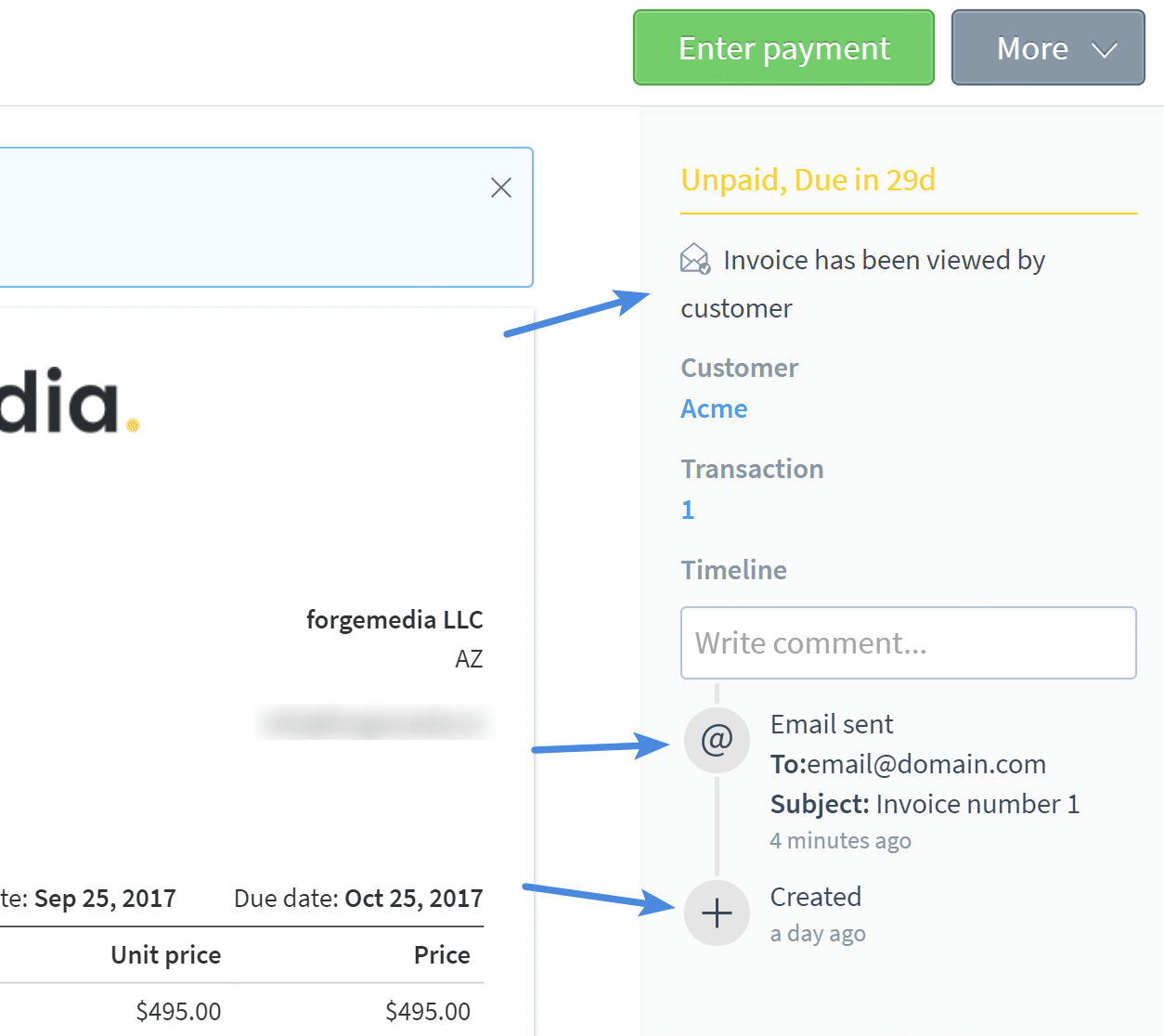 Spot Who Isn't Paying on Time
The invoices dashboard allows you to easily see who hasn't paid and how much money you're still waiting on to come in.
Payment Methods
The following payment methods can be used to accept payments with Billy:
Credit cards via Stripe integration
PayPal business (coming soon)
Braintree (coming soon)
Bank transfer
Cash
Check
You can also select custom payment terms for each client, such as Net 30 for Brian and Net 15 for Bob. As well as different payment methods for each client.
Bill anytime, anywhere
Billy has mobile apps, for both iOS and Android, so you can send bills to your clients while on the go.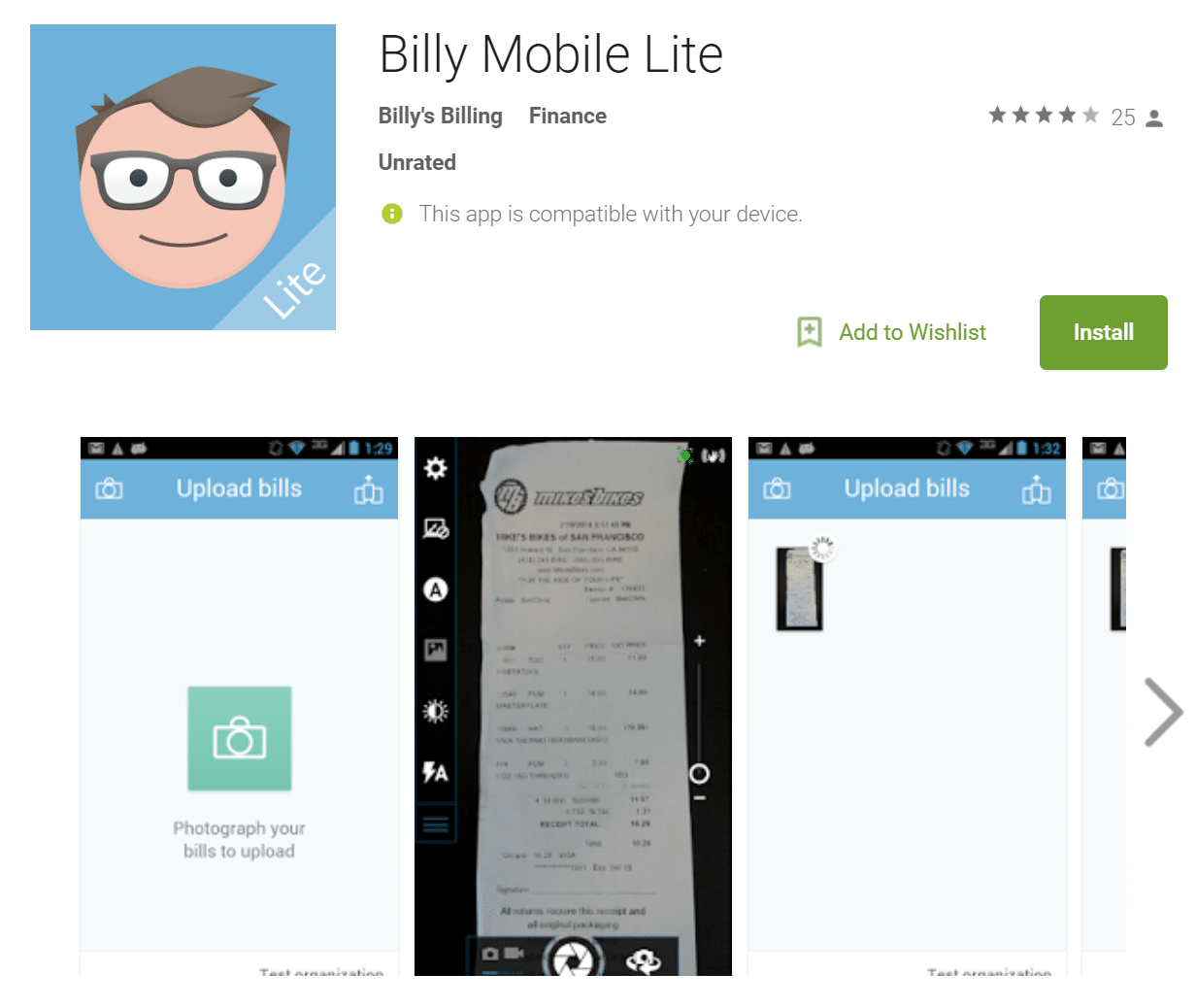 Keeping Track of Your Finances
I won't go too deep into the accounting side of things as it has all the typical features you need to keep track of your books, etc.
Linking Billy with your bank accounts lets you import and categorize all your expenses automatically. Think of it just like Mint.com. You can claim tax deductions with ease.
Import your expenses from your credit card statements and Billy can match them to your bills and invoices automatically. How cool is that?
Billy has all the "boring" yet definitely mandatory features you need to run a business, such as profit and loss statements, balance sheets, chart of accounts, trial balance, tax summaries, customer statements, and accounts receivable, etc.
You can even capture receipts with a click of the button with the Billy Receipt Capture Chrome extension.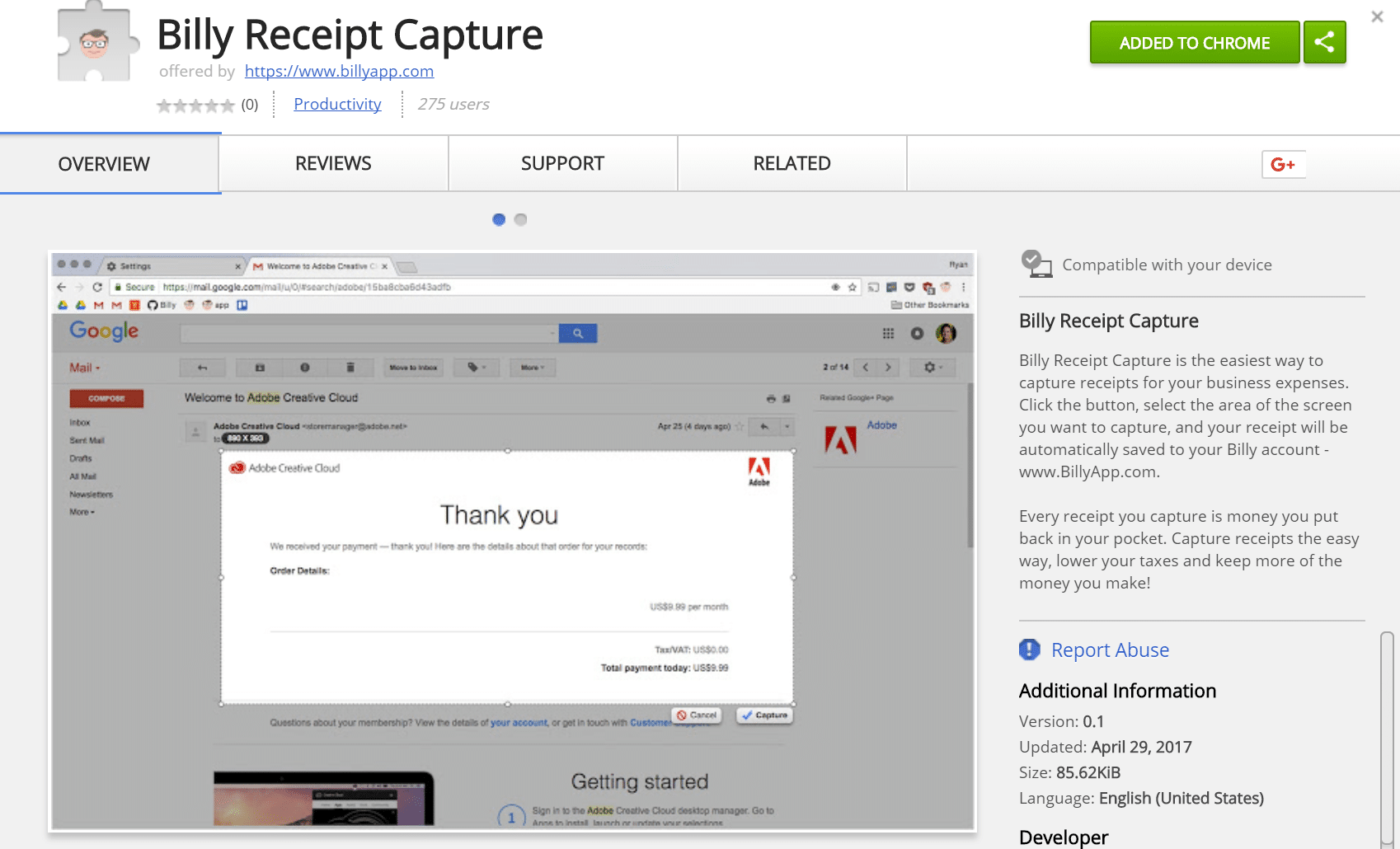 One of the great things with Billy is it makes tax season a breeze. Just invite your accountant, give them access to your journal entries and reports and you don't have to worry about a thing.
Billy Support
I haven't really needed to interact with Billy's support, but they have over 125 documents written up in their help center to assist those of you self-learners. And best of all, their support team is powered by Intercom, meaning you can reach out to them 24×7 via the icon at the bottom of your screen.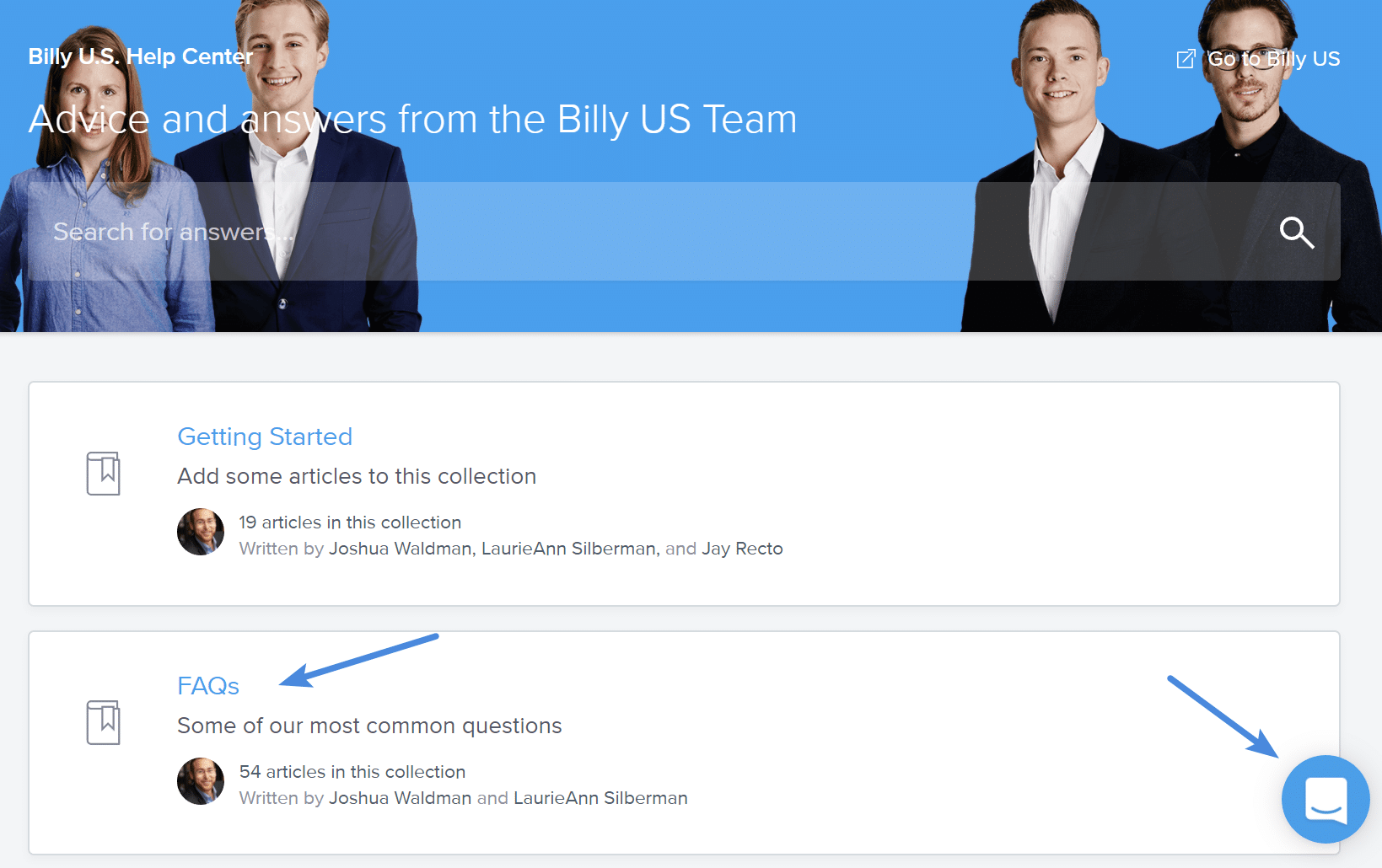 Summary
As you can see Billy is a fresh approach to a user-friendly accounting software for those that are tired of the old alternatives. I was pleasantly surprised with how easy it was to setup and navigate. And who doesn't love the name? Now you can tell your coworkers and friends… "Oh ya, I use Billy." It's a conversation starter in itself.
Whether you're looking for a Freshbooks or QuickBooks alternative, or perhaps you're just looking for something easy to use with your first business. I highly recommend Billy. And if you look at their roadmap, they have a lot of great features coming down the pipe. Remember, they have a free, no-credit card required trial, so you have nothing to lose!
Do any of you already use Billy? If so, I would love to hear your thoughts below.