I'm a big fan of DNS Made Easy, and it's what I use for all of my sites. However, I also recommend Cloudflare DNS for those that need a free solution that is fast and has great uptime. It's definitely much better than simply using your domain registrar's DNS. Check out these quick steps below on how to use Cloudflare DNS without the CDN or web application firewall (WAF).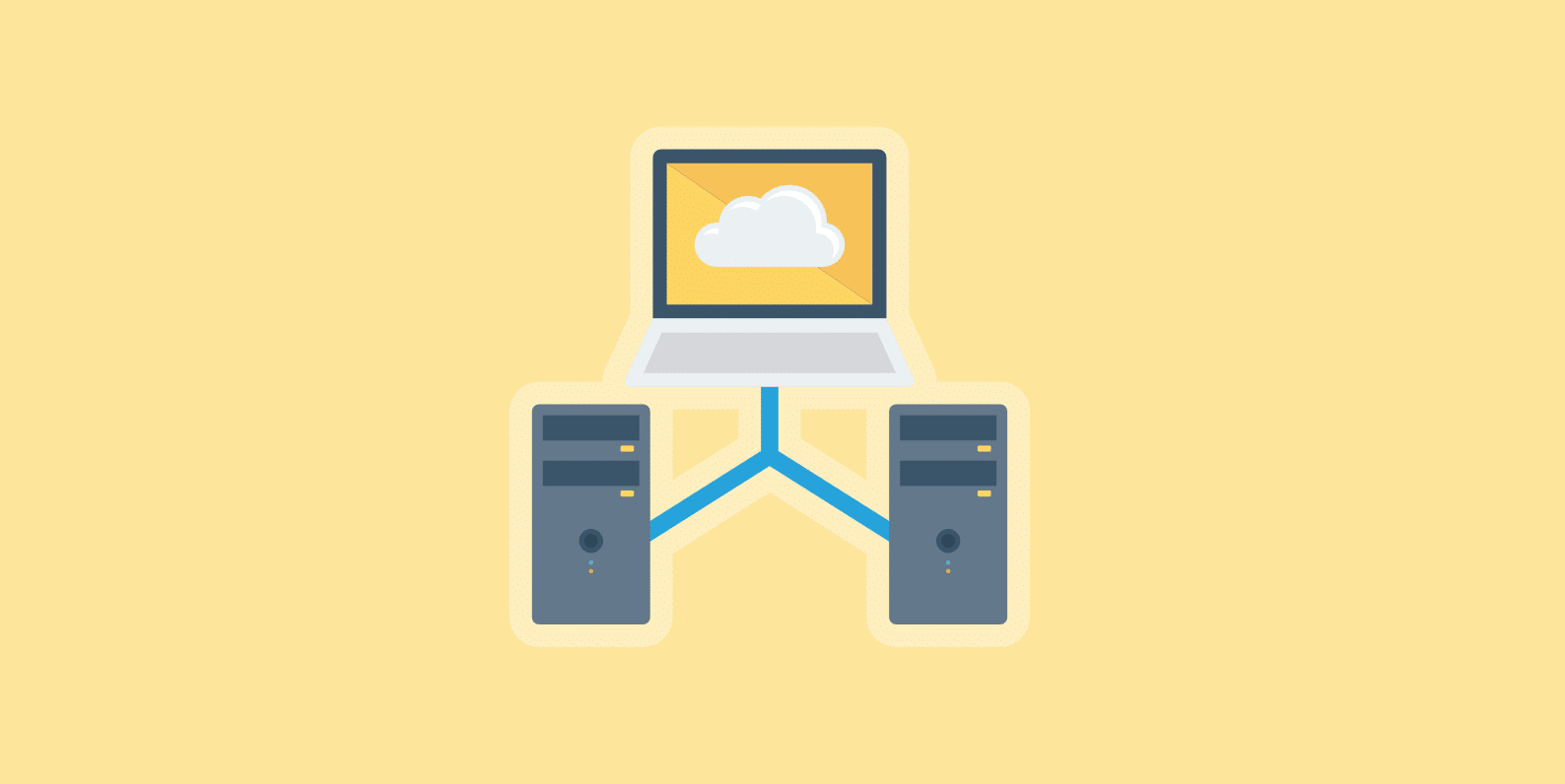 Why only use Cloudflare DNS?
You might be wondering why you wouldn't want to also use Cloudfare's CDN as well? Well, in my personal experience they have a much higher time to first byte (TTFB), and therefore I prefer to use a 3rd-party CDN provider like KeyCDN. Their TTFB is simply higher because they are a full proxy service. This is to be expected because they are adding another layer before people hit your origin server. Note: The full web application firewall (WAF) is only on their paid plans. Check out our post on Cloudflare vs KeyCDN.
In some cases, their performance enhancements can make up for their TTFB, but not for those that are serious about optimization. You could also go with full page caching, but this has its own downfalls, as you'll have to have workarounds for dynamic parts of your site. This can be especially complex and frustrating to setup for WordPress e-commerce sites. Reports have also shown that Cloudflare's new Argo service can also help decrease your TTFB. But it isn't free.
So you always have the option of using only Cloudflare's DNS which is completely free.
Step 1
The first thing to do is add your site at Cloudflare. Click on "Add Site" and then on "Scan DNS Records."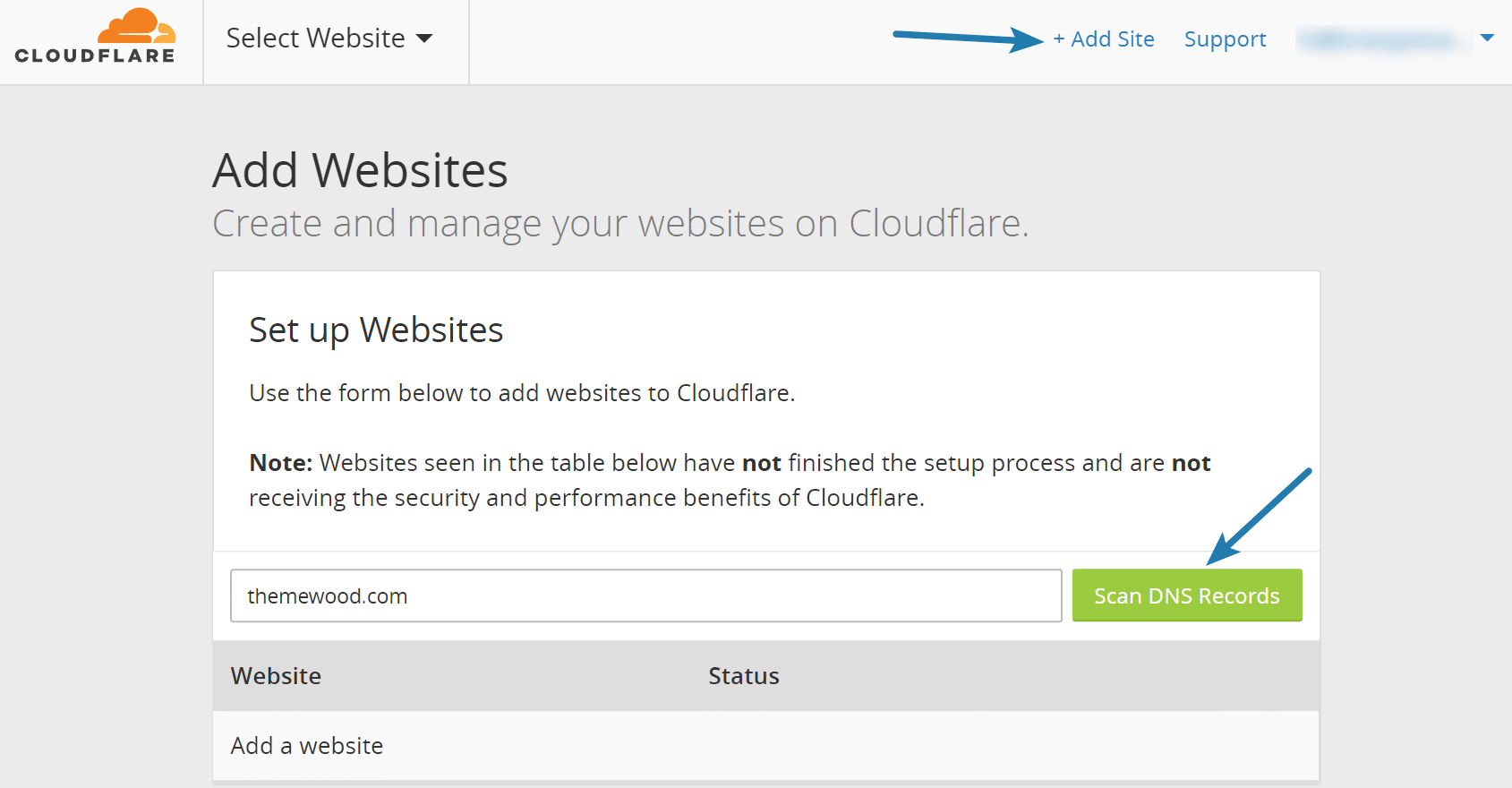 Step 2
Scan for your DNS records. If it doesn't detect anything you can add them. The important part here is that you want your A record and optional AAAA records to be marked with the gray cloud. This ensures that the traffic bypasses Cloudflare's network.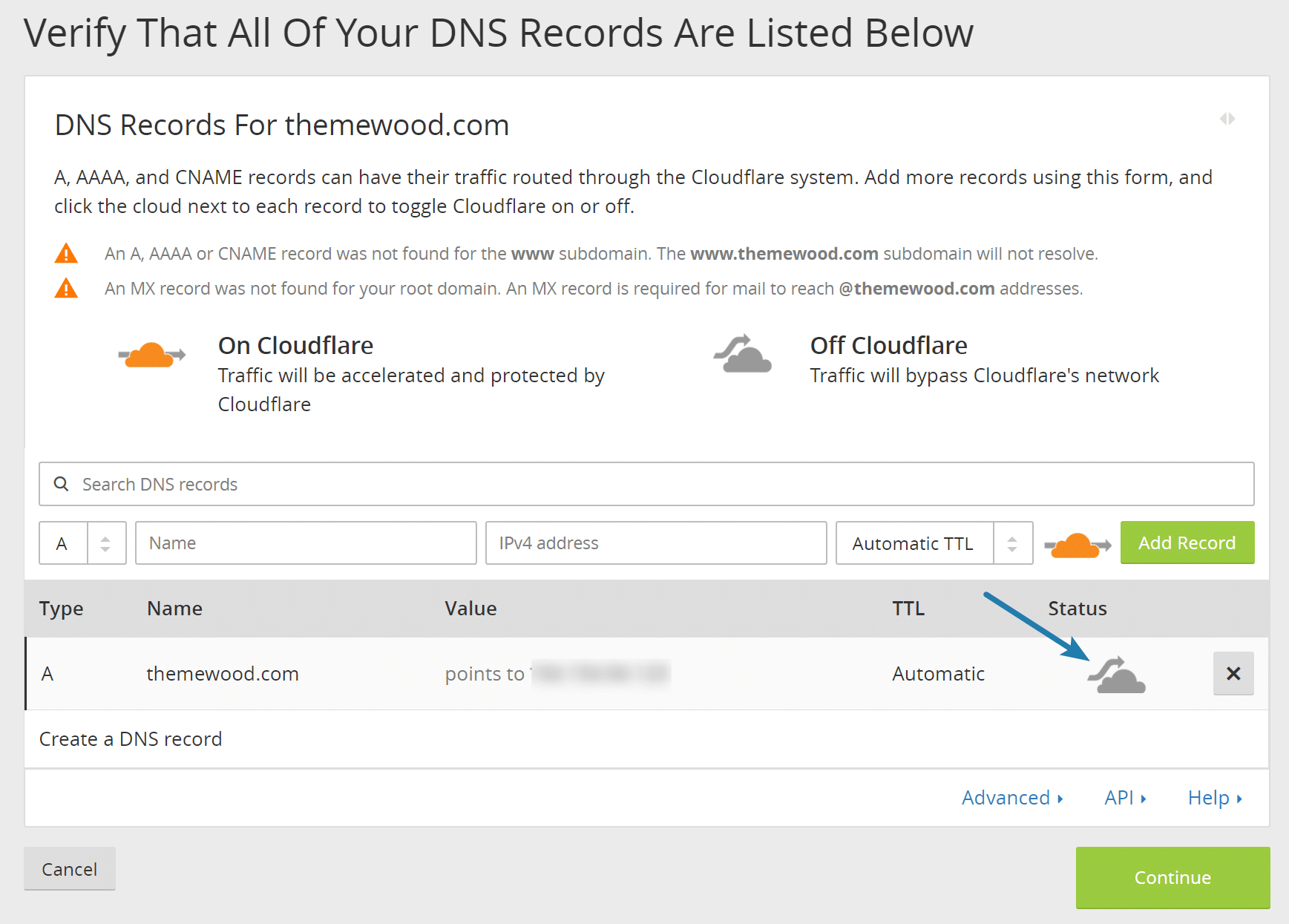 For basic setups, I would also recommend adding a CNAME for www that points to your main domain.

Step 3
Select the free Cloudflare plan and click "Continue."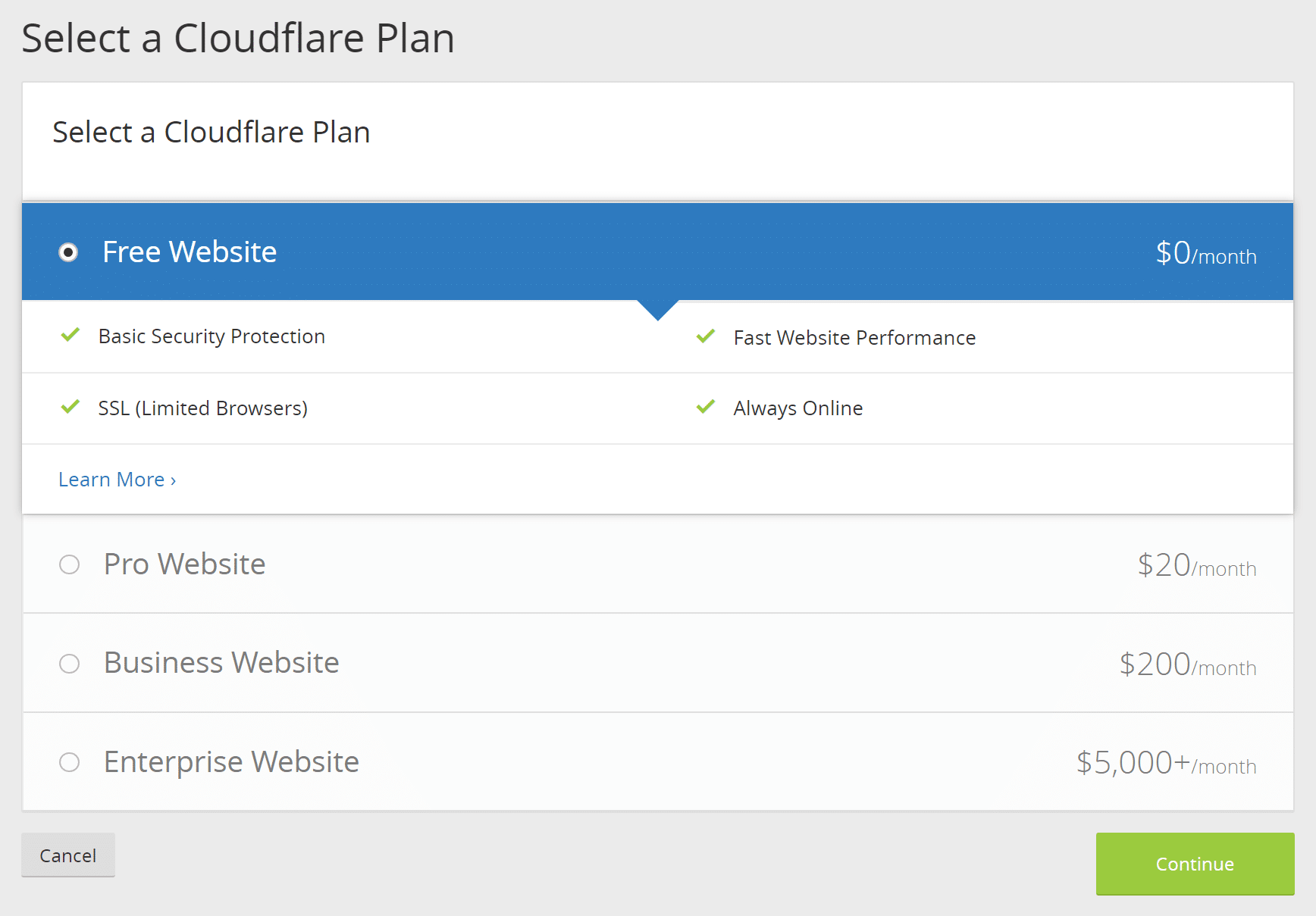 Step 4
You will then need to point your current nameservers with your domain registrar to Cloudflare. Note: From this point forward you will manage all of your DNS records with Cloudflare. This includes MX records, CNAMEs, etc.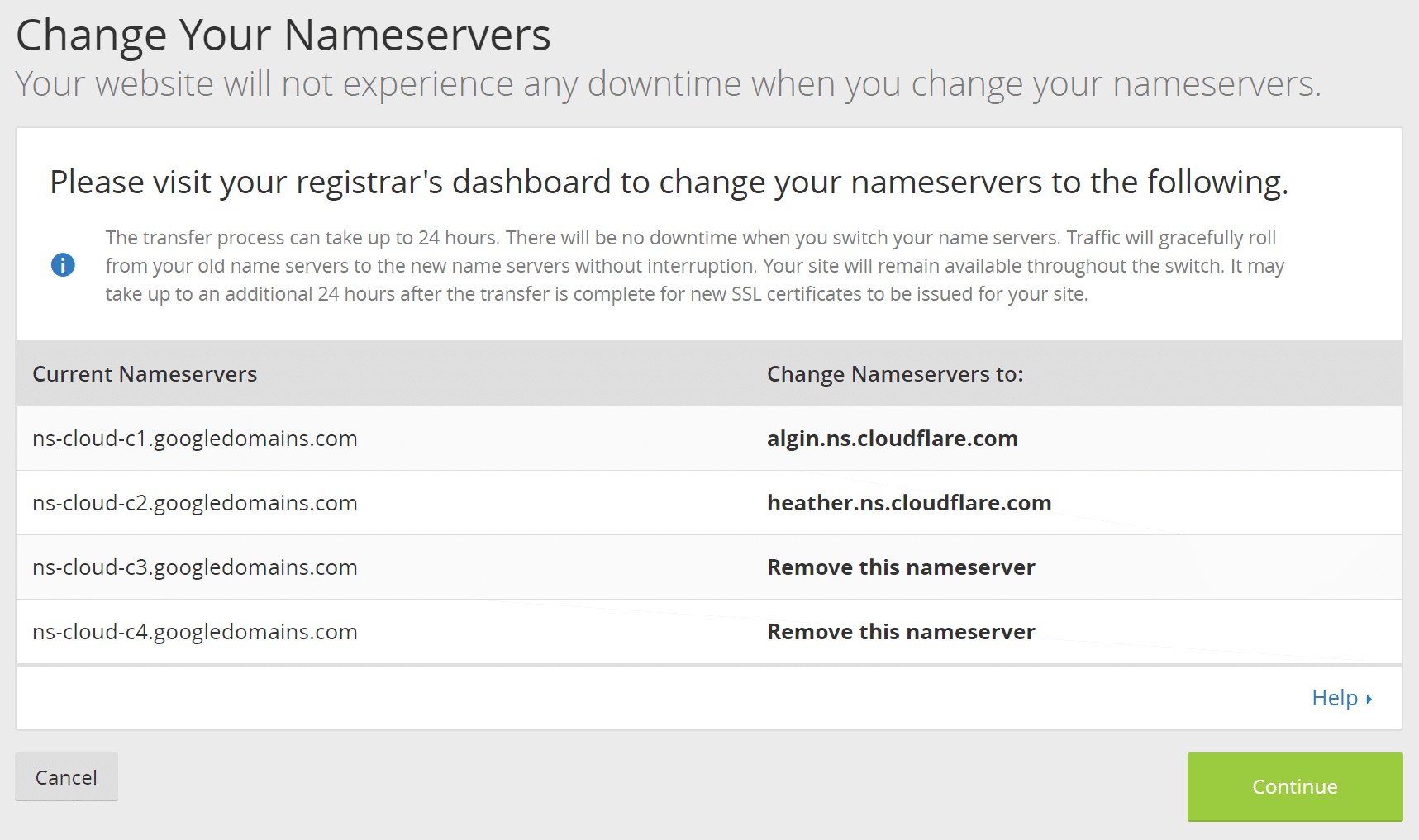 Step 5 (optional)
Go to the "Overview" tab, scroll down and on the bottom click the link "Pause Cloudflare on Site." This will ensure that only DNS is being routed by Cloudflare, nothing else. This is optional because if you have all of your DNS records already marked with a gray cloud, then you won't be using Cloudflare's network features.

Pausing Cloudflare stops traffic from passing through our network, making your origin server IP address visible. Also, Cloudflare's security and protection features become disabled. As an alternative, consider Development Mode to bypass caching while preserving security and protection.
And that's it! You are now only using Cloudflare DNS without their CDN or firewall functionality.
Summary
As you can see, using only Cloudflare's DNS service is super easy. What are your thoughts? Who do you prefer or use for your DNS provider? Let me know below in the comments.