A lot of us manage multiple email accounts, and I personally like routing everything to one place, so I don't have to bounce between different providers or tabs all day long. This is a list of the best solutions for an email forwarding service, including what I use for my business.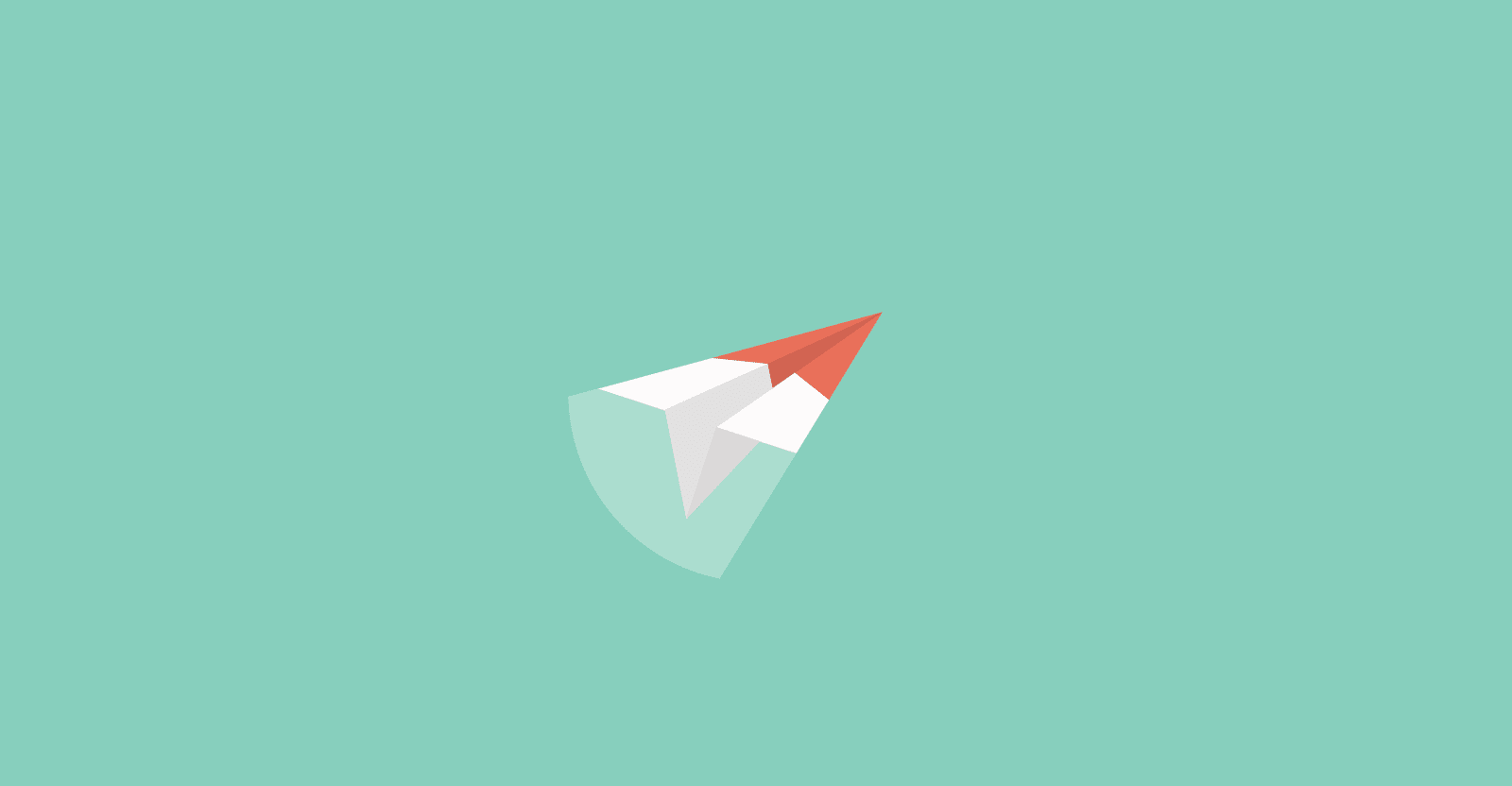 1. Forward Email
Type: Free (open source) and premium.
If you're looking for a reputable solution for forwarding email, check out Forward Email. It's a free, encrypted, and completely open-source solution that was launched in 2017. No logs or emails are stored, and it's powered by Cloudflare's privacy-first consumer DNS service.
The code is open to the public on Github (fully transparent), so you don't have to worry about any personal or secret data collection happening! It currently has 7 global servers with over 25,000 active users.
Forward Email is pretty simple to set up, you add a few DNS records, and you're done. Here are just a few of the amazing features included for free:
Unlimited custom domain names
Unlimited email addresses and aliases
Unlimited disposable email addresses
Phishing, executable, and virus protection
Catch-all email addresses and multiple recipients per email address
"Send mail as" with Gmail, Outlook, and Yahoo
Custom port forwarding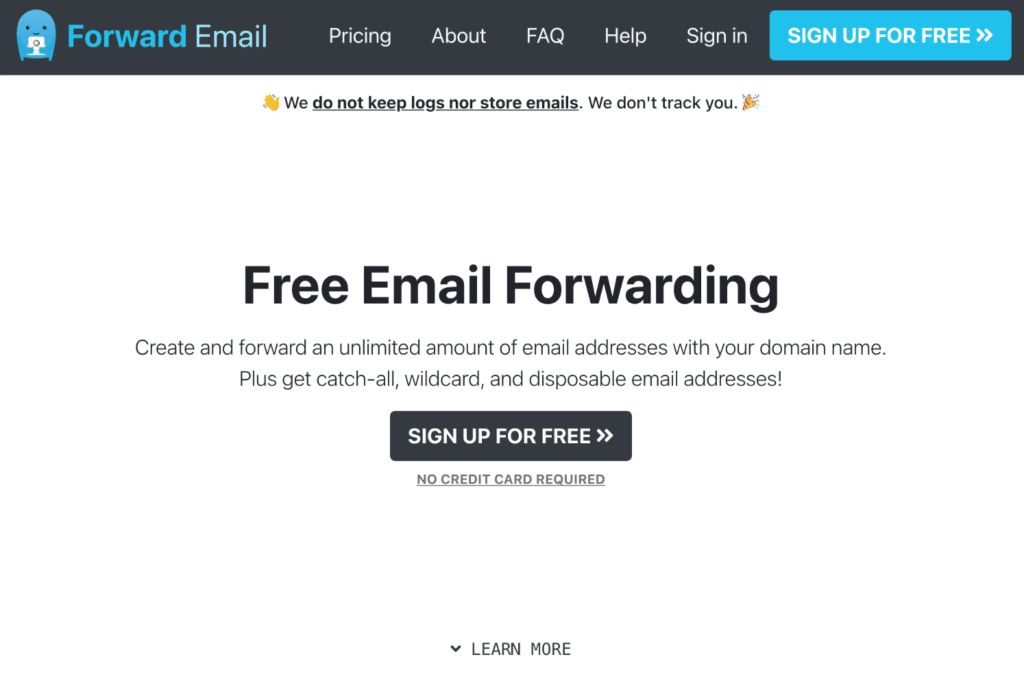 Paid plans are also offered for "Enhanced Privacy Protection," whereas the email alias configuration is hidden from the public. Another nice feature in the paid plan is the ability to disable spam filtering options altogether, allowing Gmail's spam filter to decide.
I can also say that Forward Email is the only one that hasn't raised its prices on its paid plan over the years. They have stuck to their mission and promise! The developer of the project is also very active.
2. Mailgun
Type: Premium.
If you use a transactional email service provider such as Mailgun, they also have the ability to set up mail forwarding and routing rules. This is a great solution and can be set up relatively quickly.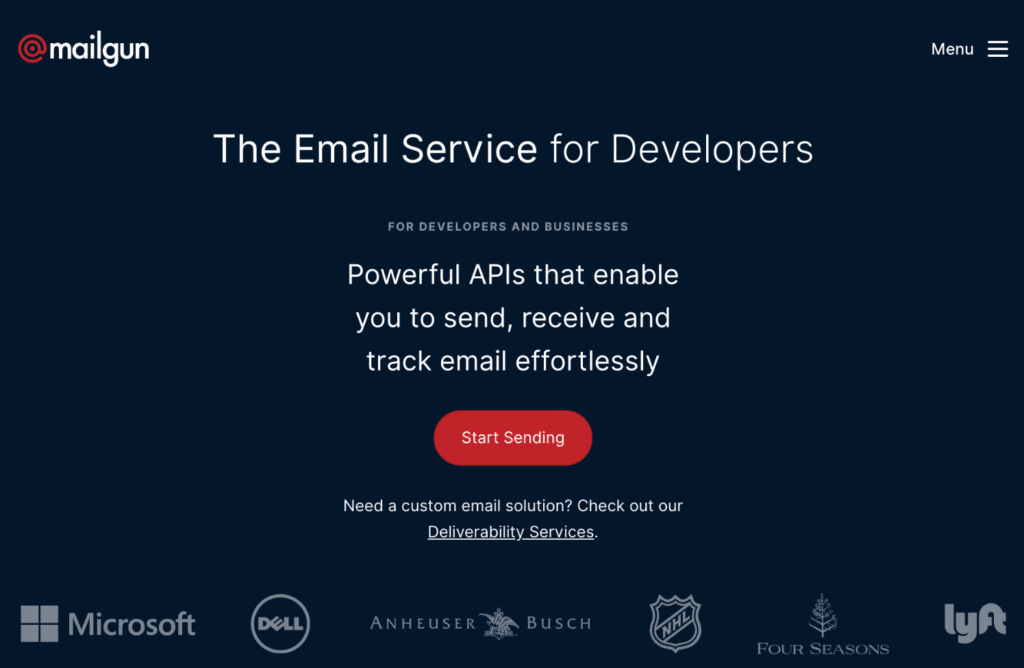 For example, say you have an email coming into user@brand2.com. You can then forward all mail from that address to user@brand.com with a simple click. Essentially you can set up all your domains in Mailgun and configure any routing you want.
As of February 2020, Mailgun no longer offers a free plan, and the email routing/receiving is only available in the Foundation plan or higher (starting at $35/month).
With that being said, if you send a lot of transactional emails, Mailgun is still worth the price, in my opinion. They have, by far, the best control panel that is also really easy to understand. I have yet to find a provider that has the same inbound routing capabilities. Mailgun is what I use for emails on all my sites.
3. Cloudflare
Type: Free.
Cloudflare has launched its new email routing service (currently in private beta). It's completely free for domains you have on Cloudflare. You can add custom addresses for your domain and route incoming emails to your preferred mailbox. You can enable a catch-all address and add destination addresses.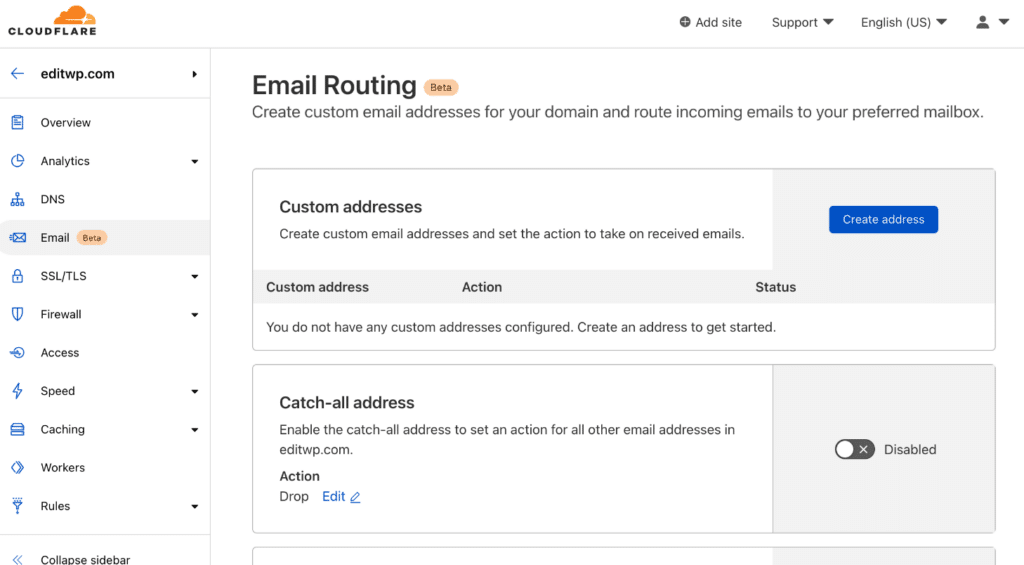 The one drawback to Cloudflare's email routing is that it doesn't support sending or replying from your Cloudflare domain.
4. Pobox
Type: Premium.
Pobox is by far my favorite premium email forwarding service if that's all you need. $34 a year, and you can create as many aliases as you want on all of your domains and then forward the emails to your primary email account.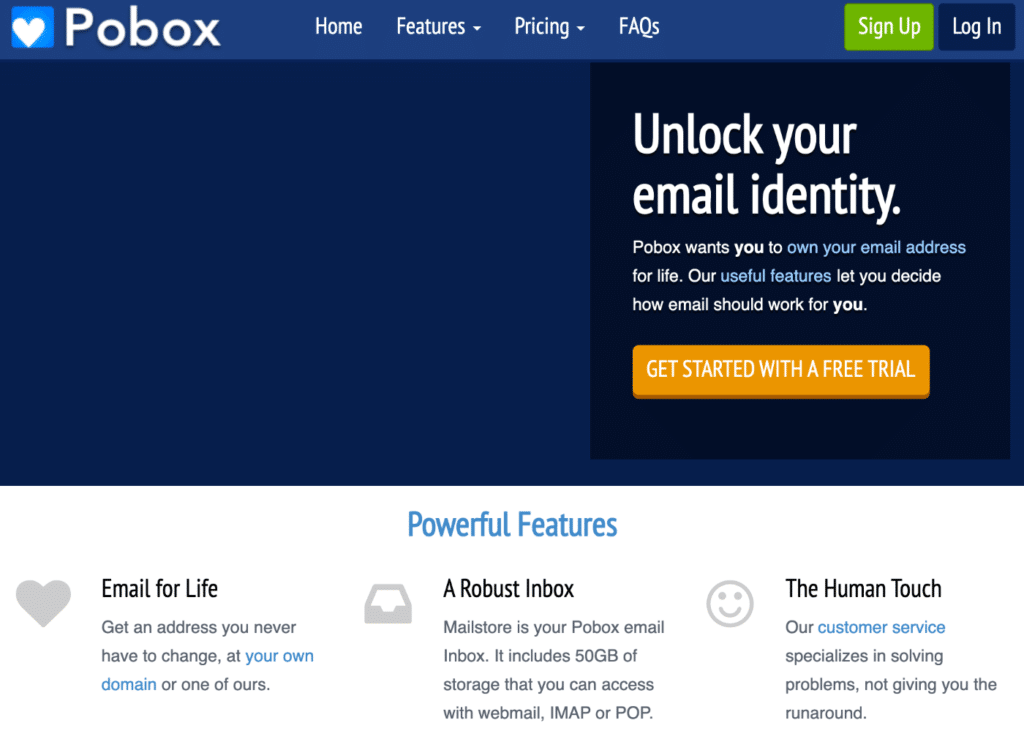 5. ForwardMX
Type: Premium.
ForwardMX is a great reliable solution. Their plans start at $60 a year for up to 25 domains. This includes 5 domain aliases. You can forward an unlimited number of emails. This is perfect for small businesses that just need to move all their forwarding rules to one place.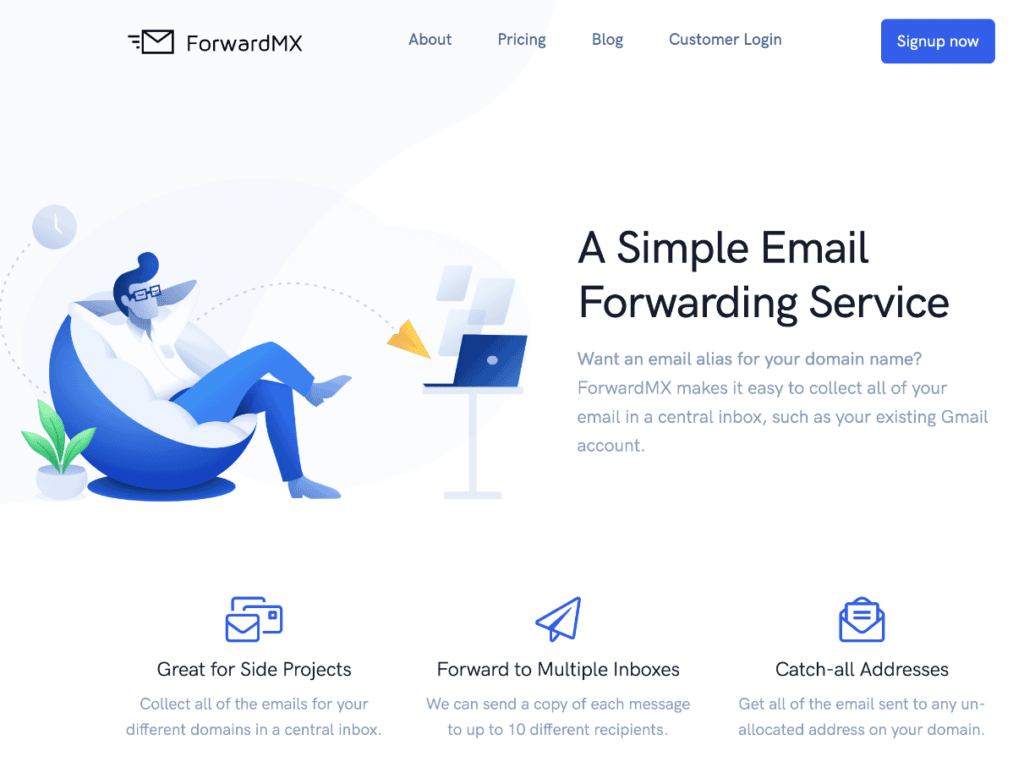 6. Mailtie
Mailtie is from the developers of Safenote, of which I'm a huge fan. It's completely free, and you can have unlimited aliases, catch-alls, multiple recipients, wildcards, and auto-responses. One thing to keep in mind, though, is that your DNS record will contain the destination address.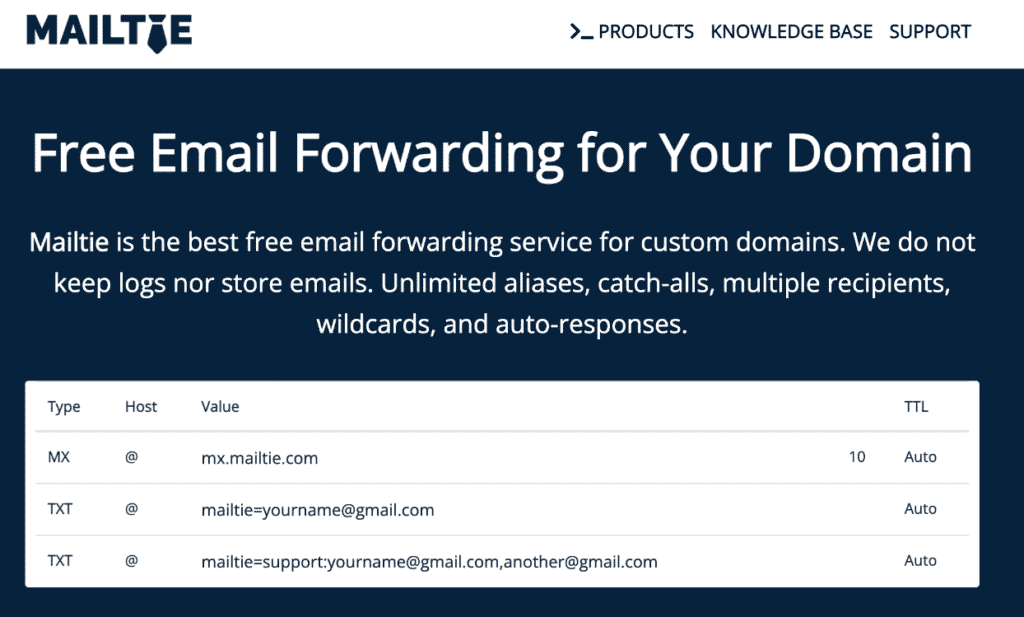 You can't send emails from Mailtie, but you could add an alias to Gmail.
7. ImprovMX
Type: Free and premium.
ImprovMX is free for up to 1 domain (max 25 aliases/domain) and great for smaller projects. Simply point your MX records and forwarding everything from one domain to any email address you want.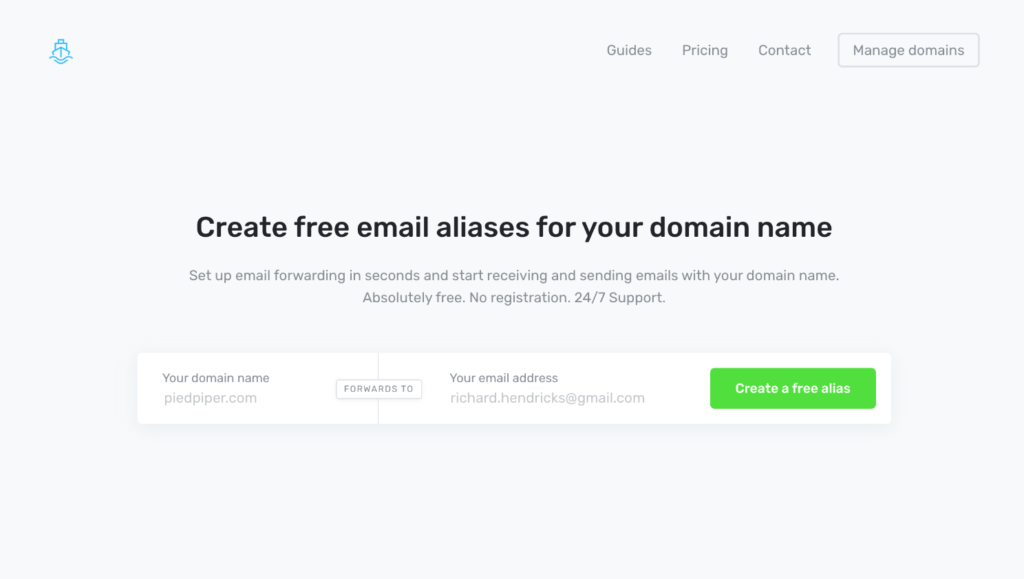 8. @EmailForward.mx
Type: Premium.
@EmailForward.mx is a cheap premium service that you can use to set up email forwarding and start receiving emails with your domain name. Their single domain plan starts at around $21 a year. One interesting feature it does have is two-factor authentication. This is great a little additional security.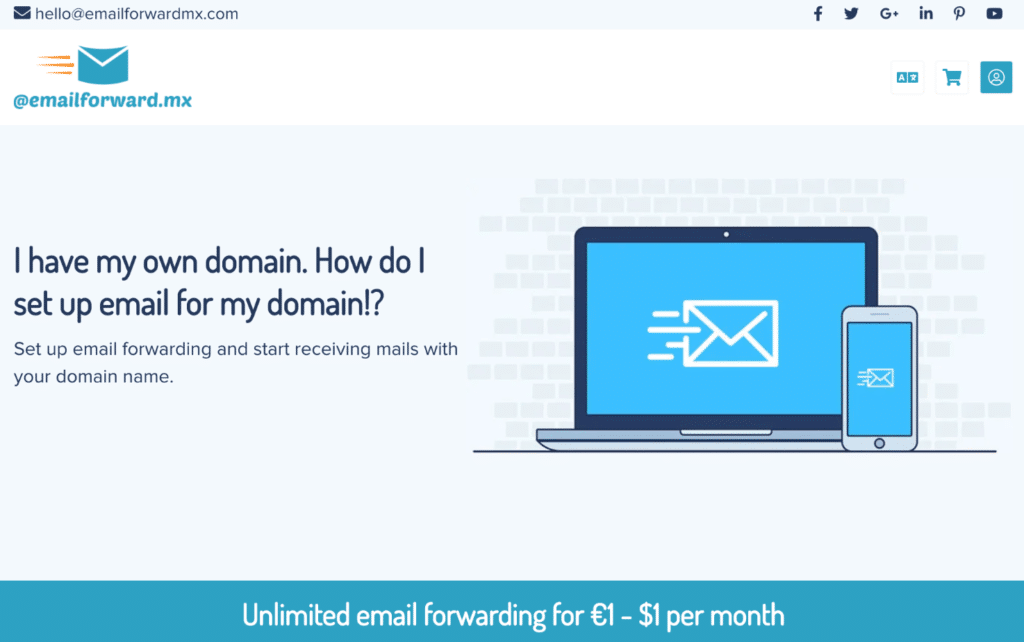 9. SimpleLogin
Type: Free and premium.
SimpleLogin makes it easy to create email aliases that mask your real email and still redirect all emails to your main inbox. You can use email aliases to register to any service online, and they can be deactivated in one click. The software is open-source and available for all devices.
In addition, SimpleLogin allows you to add PGP keys to your alias, send emails from it, and has an integration with HaveIBeenPwned to notify you as soon as your email alias gets in a data breach. You can then proceed and deactivate it with one click.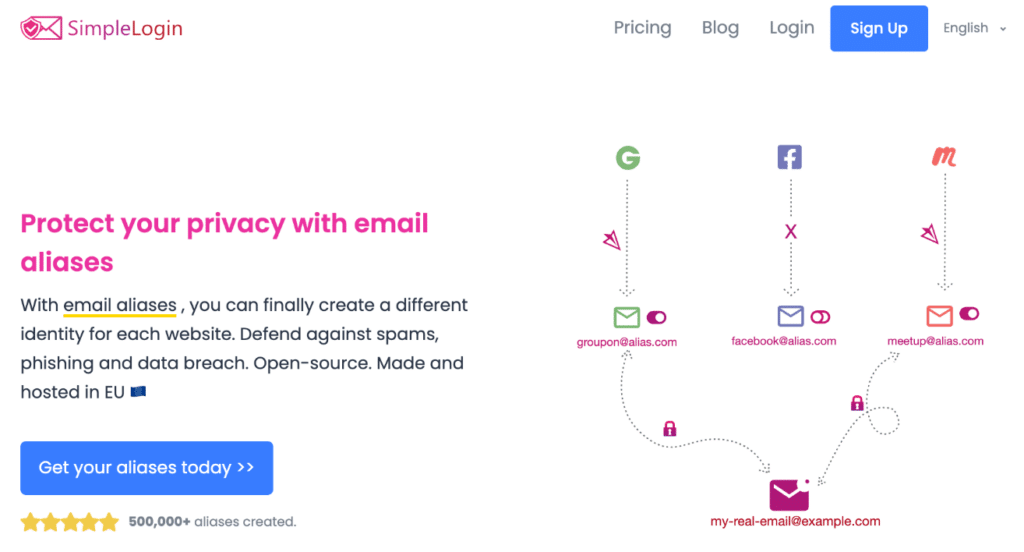 You can add unlimited custom domains. Aliases can be shared and access can be controlled on a granular level. The only thing you need is a real email inbox, everything else can be masked and forwarded with SimpleLogin's aliases.
Definitely one worth checking out! There is a free version and the premium version is $30/year.
Summary
Hopefully one of the above solutions works for you. I'm personally a big fan of Mailgun and Pobox. There are definitely other great SMTP solutions that do email forwarding, such as SendGrid, SparkPost, etc. But some of these can get quite complicated, and if you're just needing to forward emails, one of the above solutions is quick and easy.
Any other good email forwarding services that we missed? Feel free to mention them below.