If you are already running Facebook ads or boosting posts, then this is a quick little trick on how to get extra page likes for free and is generally more cost effective than running a followers/page like campaigns. It's super simple and only requires a lot of clicking. Think of it as a bonus to your already targeted FB ad campaigns.
Facebook Advertising Tip – Extra Page Likes
Now, I have to give full credit to Matthew Barby, head of growth and SEO over at Hubspot, on this one. I do Facebook advertising all the time, but for some reason, this little trick never occurred to me. I never subscribe to email newsletters, but his is one out of probably 5 that I actually read. He shared this trick in an email. I encourage you to go over to his blog right now and subscribe.
Typically when it comes to Facebook advertising to get likes you run a "Page Likes" campaign. But this can be quite expensive if you want higher quality likes. And how much is a like really worth anymore? I can show you how to get $0.01 likes to your Facebook page from cheap countries, but this does nothing for you from an ROI perspective.
It is much better to run a post engagement campaign, especially if you have custom audiences from your website. When you produce quality content on your website, here are a few recommendations when it comes to get huge reach and cost effective page engagements.
Use a Facebook pixel on your website to collect everyone that hits your site into a custom audience
Take advantage of lookalike audiences to further extend your reach from the data within your Facebook pixel.

Facebook lookalike audiences

Target engagement campaigns against your pixel audience and lookalike audiences. This will result in super cheap engagements and large reach. Yes, some might result in some people that already know about you clicking on them, but at a fraction of the price it is totally worth it. This is also mixing in remarketing, which you should be doing. Did you know that on average only 5% visitors convert the first time? Check out my post on 5 reasons why you should be remarketing.
Look at your Google Analytics conversion data and demographics to see where your customers are converting from. This will give you a good gauge of which countries are worth money to you. You have to be very careful when it comes to country targeting within your pixel audience. For example, I can target just India. I already know that this will result in $0.01 engagements, which is awesome. But I can tell you from experience that this also results in no sales and almost no clicks… just a bunch of likes (which is also considered an engagement).
Don't boost posts directly from your Facebook wall. This will skew your stats if you are trying to keep track of everything from Google Analytics. You should create separate posts and then boost them directly from the ads editor. This way you can use specific UTM parameters for each boosted post and it won't mix with organic FB wall traffic.
Tip to Get Extra Like
Ok, and now for the advertising tip you have been waiting for to get extra Facebook page likes for free, or rather within your already existing boosting budget.
Step 1
When you boost a post/run an engagement campaign your post will start to get reactions, likes, shares, etc. Click on the reactions on your post.

Step 2
This will open up a window in which you can then see each person that has engaged with your post. There is then an "Invite" button next to each name. Simply click down the list.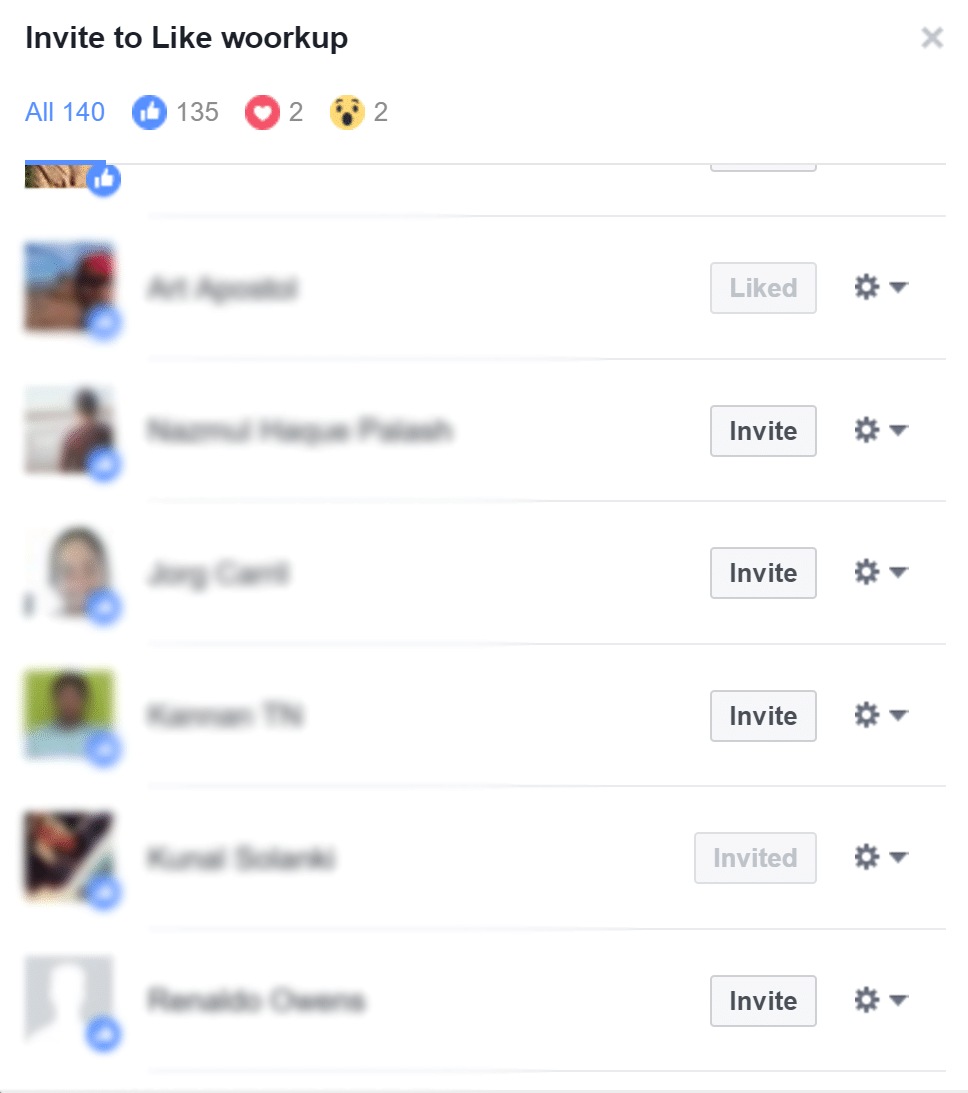 And that's it! You now have a way to get a bunch of extra page likes for free. It is recommended that you invite them as close as possible to when they originally engaged with your post, this way they are more likely to accept. Also, I wouldn't recommend inviting people that have given your post a negative reaction, just focus on the positive.
This strategy works very well and sometimes I have gotten 30-50+ page likes per day just by going through engagements on already boosted posts.
Summary
What do you think? Have you tried this little tip yet to get more page likes? Skip running page like campaigns and boost your quality content. This way you can get traffic to your website, more eyes on your brand, and also take advantage of getting as many likes as possible.
I would love to hear if you have any other Facebook advertising tips.