This is a little SEO trick I do with all my sites and it allows me to get my website on Google within 24 hours or less. I have also seen this literally work within minutes! This is great for new blog posts and new pages that you spend many long hours writing. And this is not a hidden secret or anything. In fact, I blogged about this very topic last year on my good friend Kevin Muldoon's blog: "How to Get Your Content Indexed Faster in Google and Bing." This even works with low authority and new sites.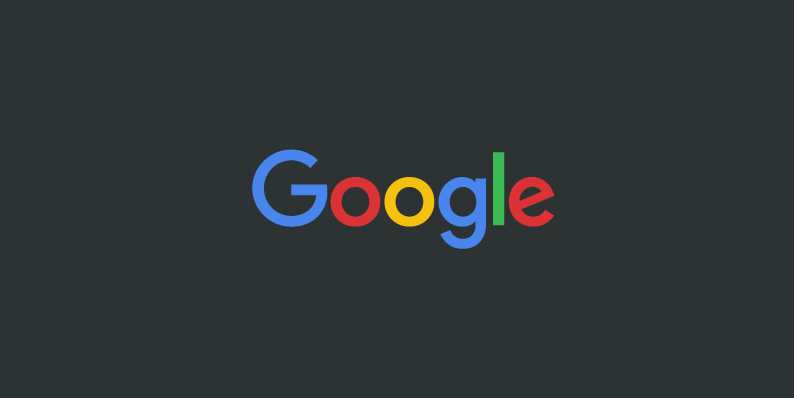 See my example below of how I hit first page of Google in under 16 minutes!
How to Get Website on Google and Bing Fast
The question I get asked all the time, "How to Get Website on Google." There are a hundreds of factors that influence whether the page or post of your site will show up on Google. But the one trick I have been doing for years now always gets me in SERPs amazingly fast, even within minutes sometimes. It is such a simple process that feels a little silly even sharing it with you, but nobody I talk to does this so I think it is time for a reminder. And that is using the free "Fetch as Google" feature in Google Search Console and also the "Submit URLs" feature in Bing Webmaster Tools. Yes this strategy even works for Bing!
Note: This process is totally within Google's and Bing's guidelines and they even advise people to take advantage of these tools. Whenever I write a new page or post I immediately follow these steps below for faster indexing in SERPs. You might think this doesn't work for new sites, but I've personally seen it work on one of my new sites with 0 DA and no backlinks. The amount of competition for what you are posting will affect this, but not much. Getting to SERPs, no matter what the ranking is your first step. Then work on improving it over time.
Fetch as Google
Step 1
First login to Google Search Console. This is assuming you have already submitted your website to Google Search Console.
Step 2
Click into your claimed website and on the left-hand side click into "Crawl" and "Fetch as Google."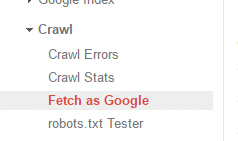 Step 3
Input the URL or your blog post or page. You can even fetch your homepage, just leave it empty. Then click "Fetch."

Step 4
Then click on "Submit to index" next to the URL you just fetched.

Step 5
Select "Crawl only this URL" and click on "Go." Note: You can only do this 500 times per month. But this tool is not for abusing their system. If you are doing more than that, well you are crazy.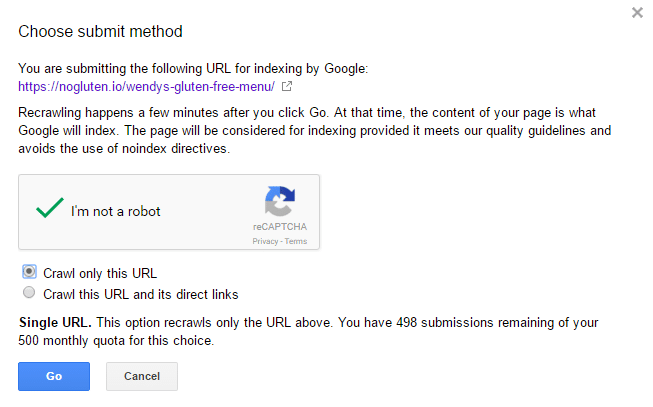 And that's it! Your URL has now been submitted to Google for indexing.

Submit URLs to Bing
Step 1
For Bing it is a very similiar process. First login to Bing Webmaster Tools. This is assuming you have already submitted your website to Bing Webmaster Tools.
Step 2
Under your site click into "Dashboard" and "Submit URLs."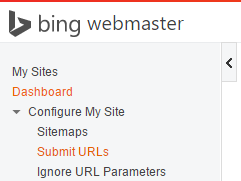 Step 3
Input your URL and click on "Submit." Note: You can only do this 50 times per month, 10 max per day. Again, these tools are not to be used for abusing this system.

And that's it! Your URL has now been submitted to Bing for indexing.

Page One of Google in 16 Minutes
The example blog post you see above was an article I just wrote today and actually submitted it using the method above a few minutes ago, while writing this tutorial. I tested it in incognito mode in Google Chrome. As you can see below in the SERP listing, this was published only 16 minutes ago! So my brand new post is almost instantly indexed in SERPs.

I hit first page of Google for a keyword with 880 monthly search volume in 16 minutes. Not bad!

Note: Again the time and positions will vary based on how competitive your niche is, your keyword, topic, etc. But this strategy will turbocharge your efforts no matter what you are publishing! If you are curious I am using AccuRanker to track my keywords in SERPs. I am no longer using SerpBook. I will be publishing a review soon about why I switched.
You can also individually check your URLs to see if they are indexed in Google by using the site: parameter. The same works for Bing as well.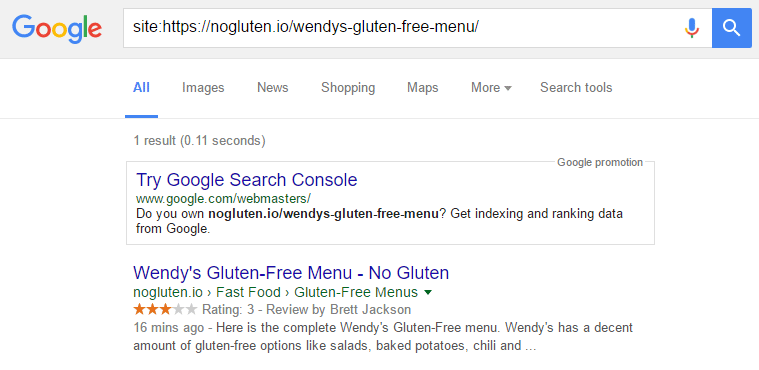 If this little tutorial on "How to Get Website on Google" was helpful, please let me know below. I love chatting with you guys and would be interested to know how the tips above work out for you!