I have been using Iconfinder for over four years now, and I can personally tell you that it has made my life so much easier! If you don't have time to design, I highly recommend checking out the mind-blowing icon sets that Iconfinder has to offer.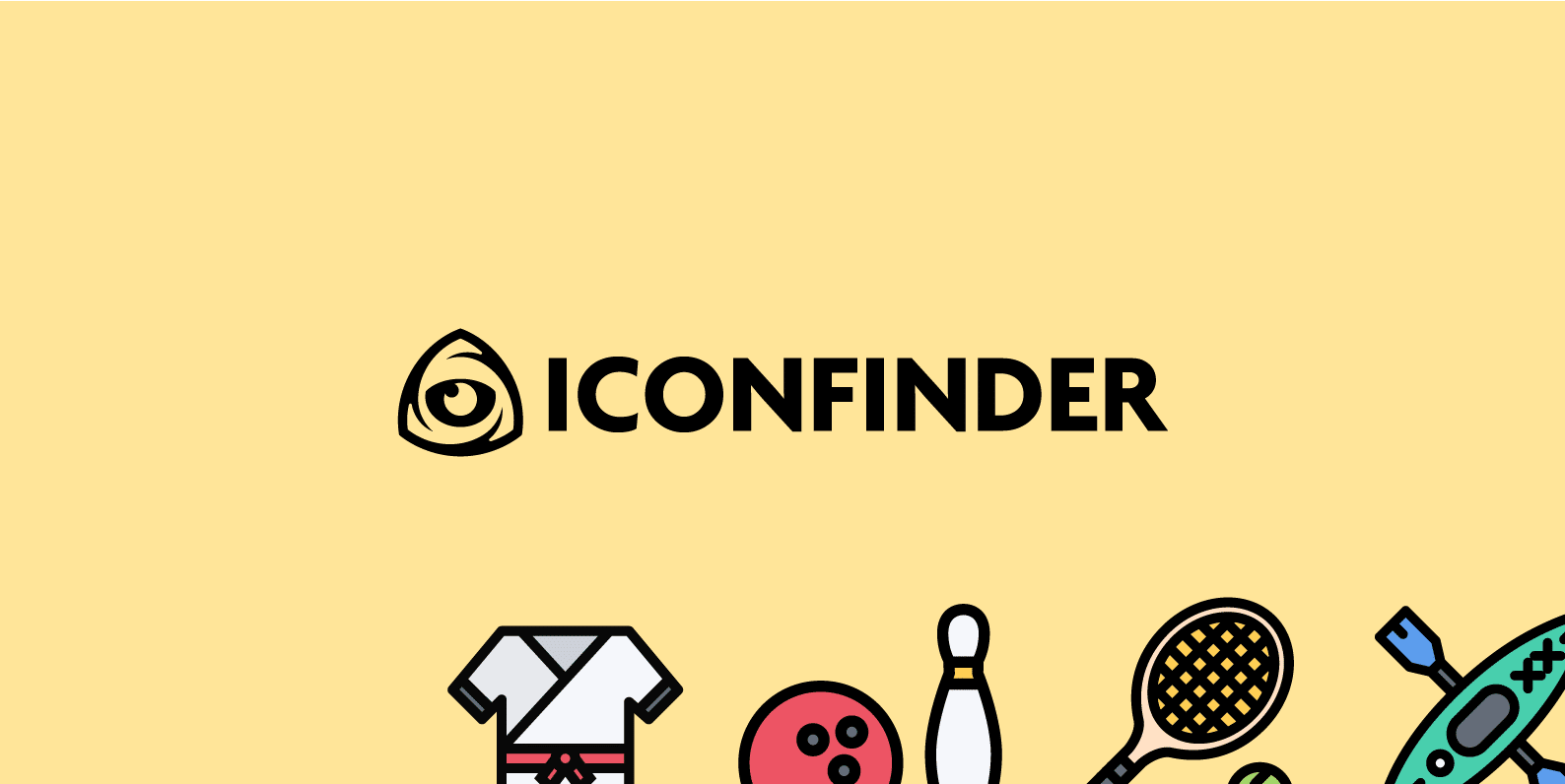 In my opinion, they offer the best quality and most extensive library on the web. Check out my in-depth review of Iconfinder below.
Iconfinder – The Best Icon Sets on the Web
So there are two different types of graphics I use on websites I run. For this website (woorkup.com), I exclusively use Iconfinder. Now, remember, these are icons and SVGs, not photos. For one of my other sites, I use 99club as it has photos. Photos and icons are two very different things.
Iconfinder is run by a small but awesome team in Copenhagen, Denmark. Why does it always seem like the coolest companies are not in the United States? As of writing this, Iconfinder has a library of over 4.2 million icons and 25,000+ icon sets! And it seems like they are continually adding new icons as this number keeps going up.
Icon Categories
They have 59+ categories for just about everything you can think of.
Abstract
Agriculture, farming, & gardening
Animals
Arrows
Avatars & smileys
Business & finance
Christmas
Clothes & accessories
Computer & hardware
Culture & communities
Desktop apps
Easter
Ecology & environmentalism
Education & science
Electronics & appliances
Events & Entertainment
Fall
Family & home
Files & folders
Flags
Food & drinks
Furniture & home decorations
Gaming & gambling
Halloween
Health, Beauty, & Fashion
Healthcare & medical
Holidays
Interior & buildings
iOS7 optimized
Maps & navigation
Military & law enforcement
Mixed
Mobile apps
Music & multimedia
Nature & outdoors
Network & communications
Photography & graphic design
Real Estate
Recreation & hobbies
Religion & philosophy
Romance
Seasons
Security
SEO & web
Shipping, Delivery, & Fulfillment
Shopping & e-commerce
Signs & symbols
Social media
Sports & awards
Spring
Summer
Tools & construction
Touch gestures
Toys & childhood
Transportation
Travel & hotels
UI
Weather
Winter
Icon Search
Here is an example of their search. Whenever I need something, I just type it in and hit search. In this example below, I am searching for a "money bag." Because who doesn't love a bag of money?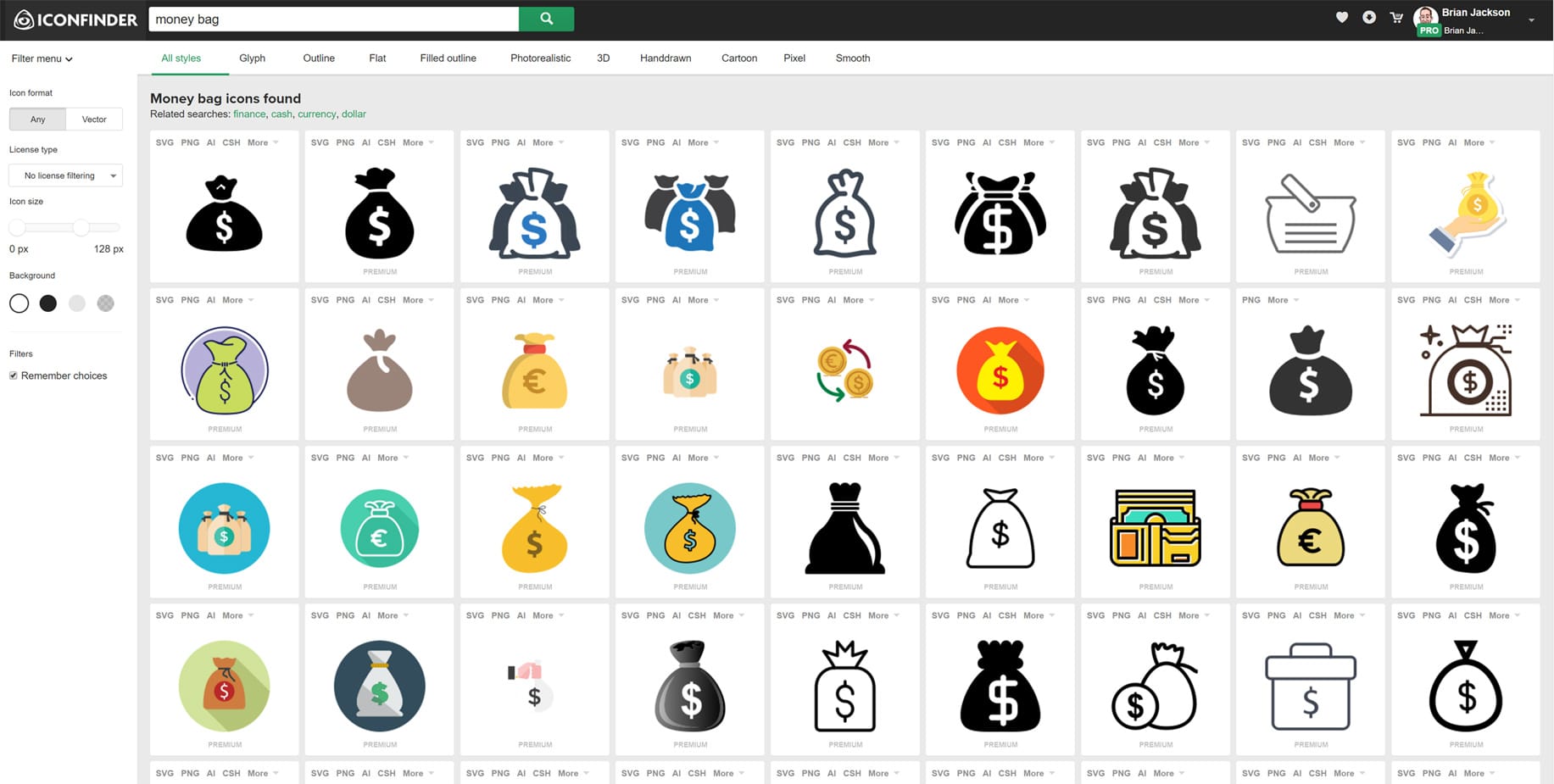 Across the top, you can filter the icons by styles. Glphy, Outline, Flat, Filled outline, photorealistic, 3D, hand-drawn, cartoon, pixel, and smooth. I am personally a fan of "Flat."

On the left-hand side, you can choose from the icon format, the license type, size, and background.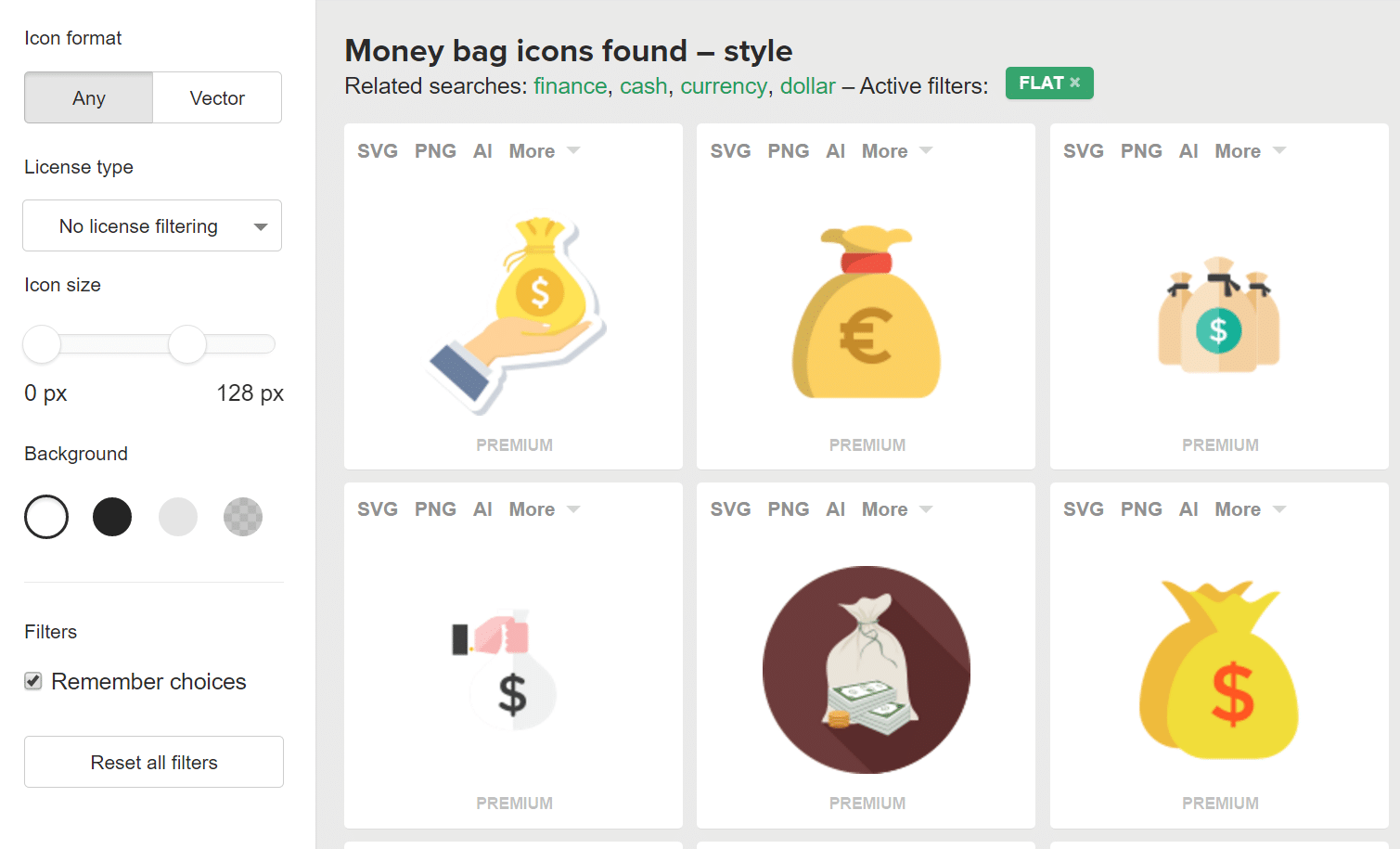 If you click into an icon, you can more easily see all your size and download options. I always download the SVG versions because I can quickly drop them into Illustrator and scale them to any size I need without worrying about pixelization.
If the icon belongs to an icon set, which most do, you can see similar icons below it. This is nice if you have a specific theme for a blog post or featured image as all the icons in a set usually have the same feel and design.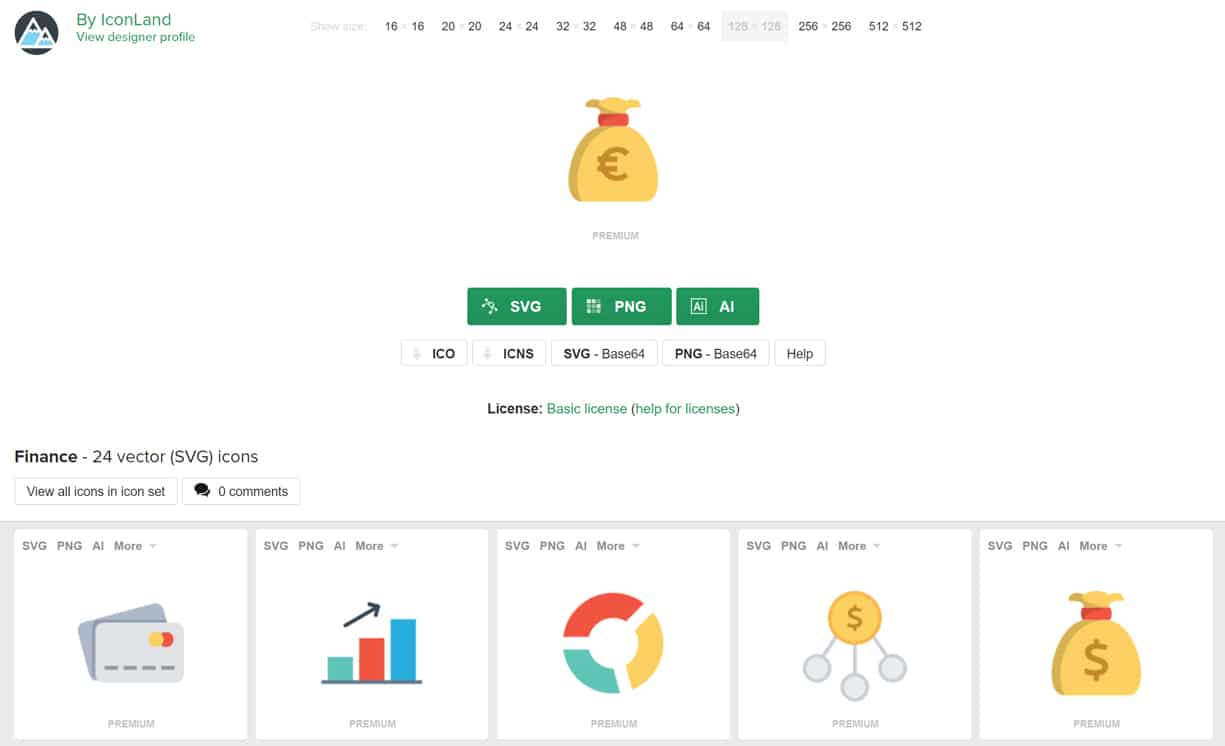 Icon Licensing
Iconfinder has both free icons and premium icons if you are a member. If you are using their free icons, ensure you read the licensing terms beneath each icon. All premium icons are protected by the same standard basic license.
What You Can Do
For any personal, commercial, editorial or client purpose
In an altered, cropped or otherwise modified or manipulated way
They can be used in:
Printed Material
Advertisements
Packaging
Presentations
Video
On-line content
Computer games
Multimedia projects
Smartphone and desktop apps – both free and paid.
What You Can't Do
You can't resell the icons
Icons cannot be resold as part of mass distributed digital products
Icons cannot be used on merchandise for sale
Icons cannot be used as logos
Pricing
So you are probably now wondering how much it costs. I definitely wouldn't say it is super cheap. But you have to ask yourself how much is your time worth?
For someone like me, I am writing all day long, and the last thing I want to do is spend time designing. That and I am not good at design lol. So I choose to pay a little more and speed up the design process. Iconfinder allows me to do that. They currently offer three plans:
Micro – $9/month
10 downloads
Roll-over unused downloads
If you pay annually, you can save 16% (this brings it down to $90 a year).
Starter – $19/month
50 downloads
Roll-over unused downloads
Up to 5 members
If you pay annually, you can save 16% (this brings it down to $190 a year).
Unlimited – $49/month
No limit on the number of downloads.
Up to 25 members
If you pay annually, you can save 16% (this brings it down to $490 a year).
I use the Starter plan because I publish quite a bit of content. Here is a screenshot of just a part of my account history. As you can see, other than the weekend I pretty much am downloading icons every single day. So for the amount of time Iconfinder saves me it is well worth the $190 a year.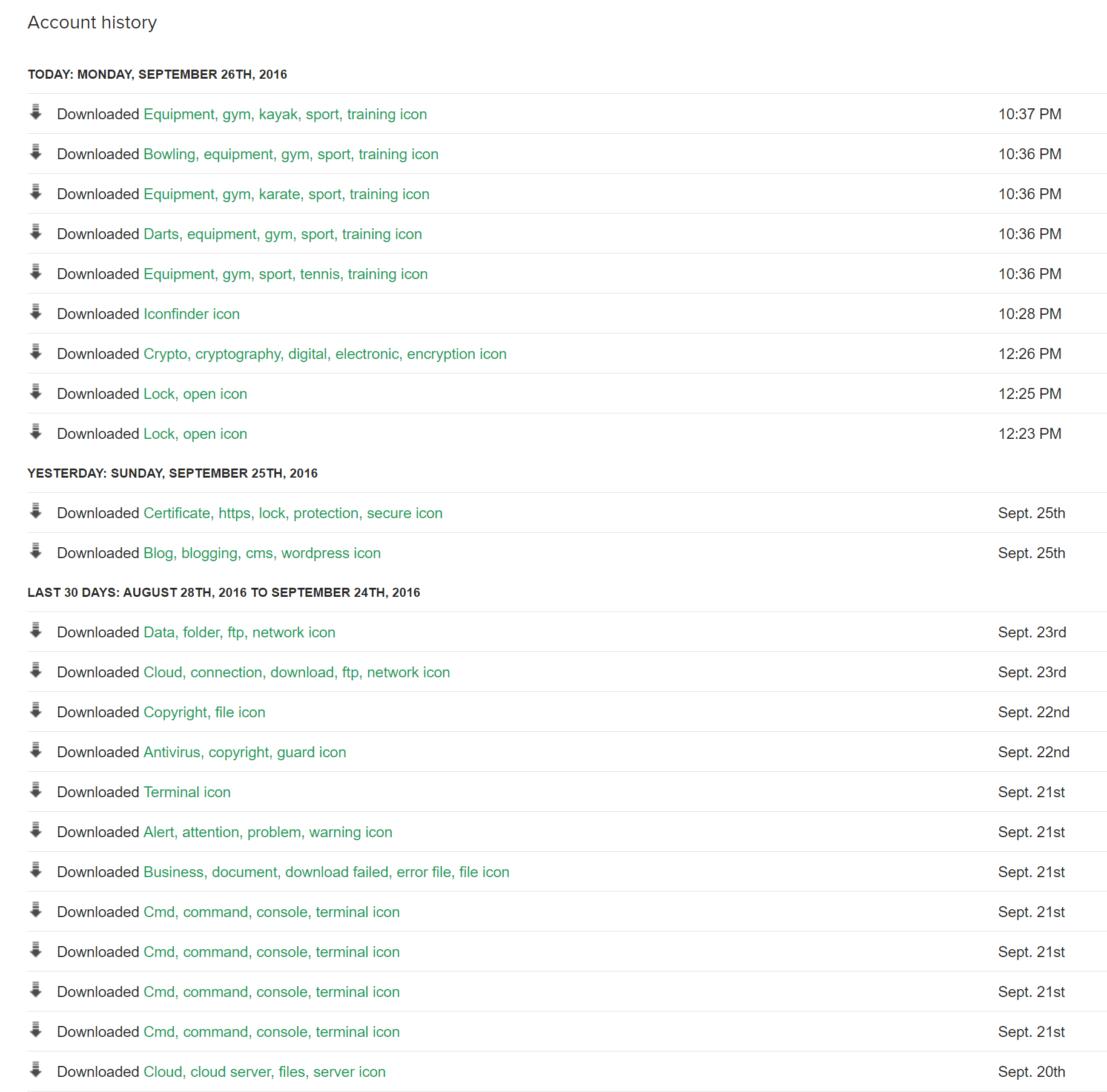 Quality
Out of everything that Iconfinder has to offer, the thing I appreciate the most is the level of quality they provide in all of their icon sets. It is refreshing for a change not to see junk mixed within their library.
All in all, I can say I am very impressed with Iconfinder and will most likely be using them for years to come. They keep adding to their library, and I can honestly say they help contribute to the overall look of each blog post I publish.
If this review on Iconfinder and their awesome icon sets was helpful, please let me know below. Or perhaps you use a different service, if so, I would love to hear about it!