The Jaybird Vista wireless earbuds released back in 2019, but they are still positioned as the flagship in Jaybird's lineup of products. It just so happens that I was looking for a pair of wireless earbuds around that same time to replace my old wired Vmoda buds that will seemingly never give up and die.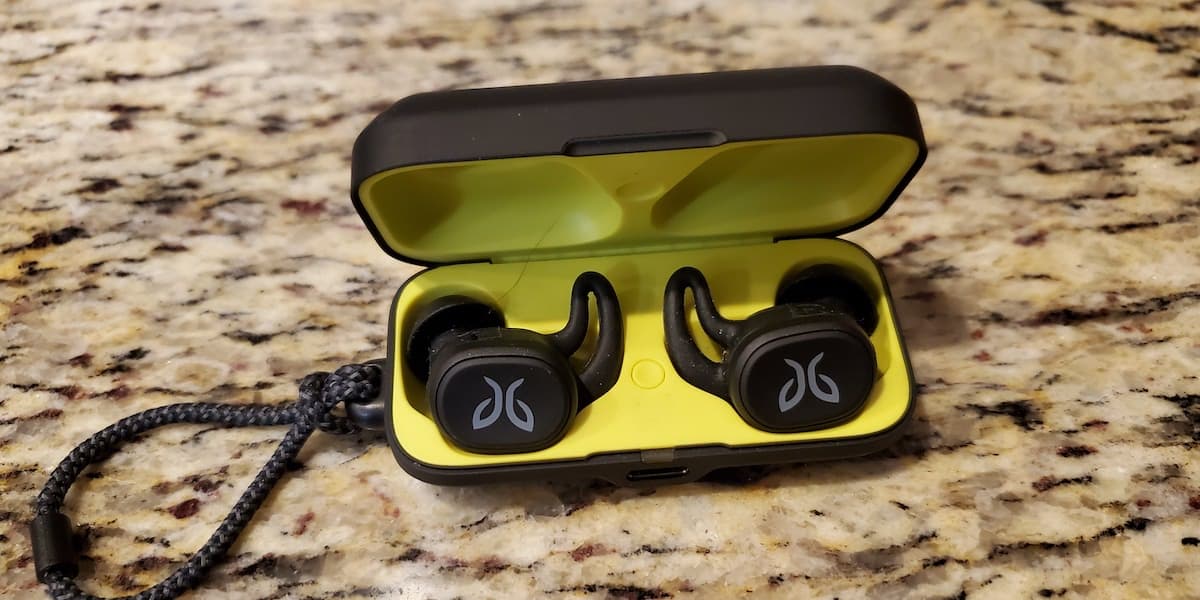 My primary use cases for earbuds have been when I'm working out in the yard or exercising. It's nice to have something that I don't have to worry about sweating on or getting dropped every once in a while. Going fully wireless was my main goal, but I also needed something that could hold up to some abuse.
After a lot of research and trying a few different products, I settled on the latest offering from Jaybird and have been extremely happy with them. The Jaybird Vista wireless earbuds might not be packing all of the latest technology anymore, but they nail the basics and absolutely excel as an active headphone that can go with you anywhere.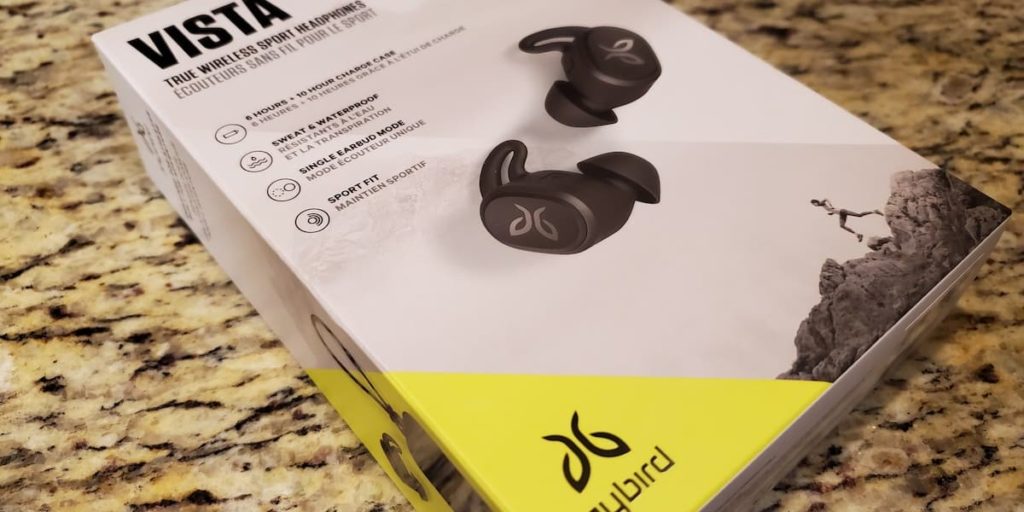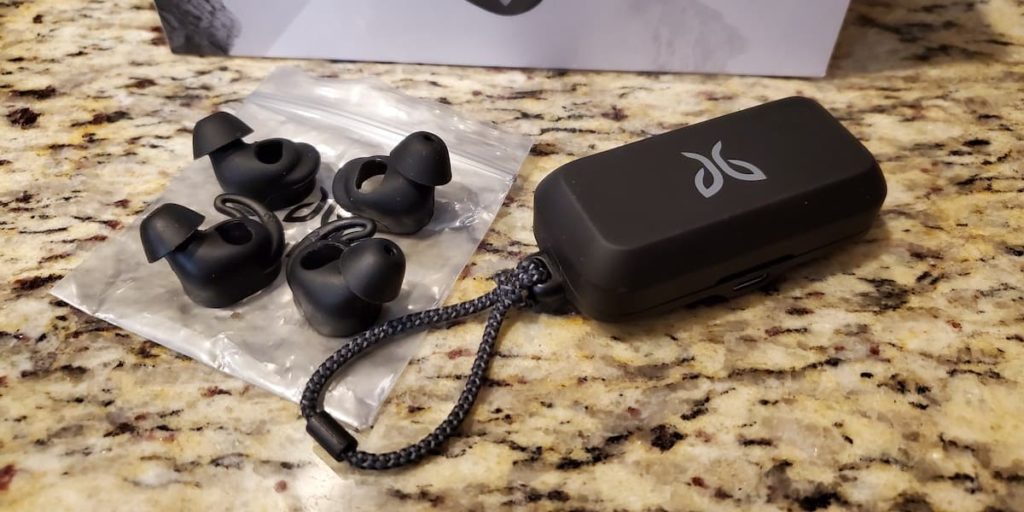 What's in the box
The Jaybird Vista earbuds come in some pretty basic but nice looking packaging. In the box, you'll find the two earbuds placed neatly inside the included charging case. You get two additional sets of different sized tips for the earbuds. You also get a super short USB-A to USB-C cable to charge the case. I wish the cable was longer, but that seems like the trend now with most wireless headphones.
The earbuds come in 3 different colors, black, nimbus gray, and mineral blue depending on where you buy them. At launch, they were only offering black, so that's what I have, but I really like the look of the gray ones. The charging case is colored to match and I do like how on the black model they went with a contrasting lime green for the interior.
They are ready to pair up with your device right out of the box, and you can download the Jaybird app for further customization and functionality, but more on that later.
Design
I rarely find a product that I just love the look of all around and don't have any complaints about, but the Jaybird Vista earbuds deliver for me in style. The look was the main thing that caught my attention in the first place, as I didn't have any prior experience with Jaybird products which are marketed primarily towards athletes.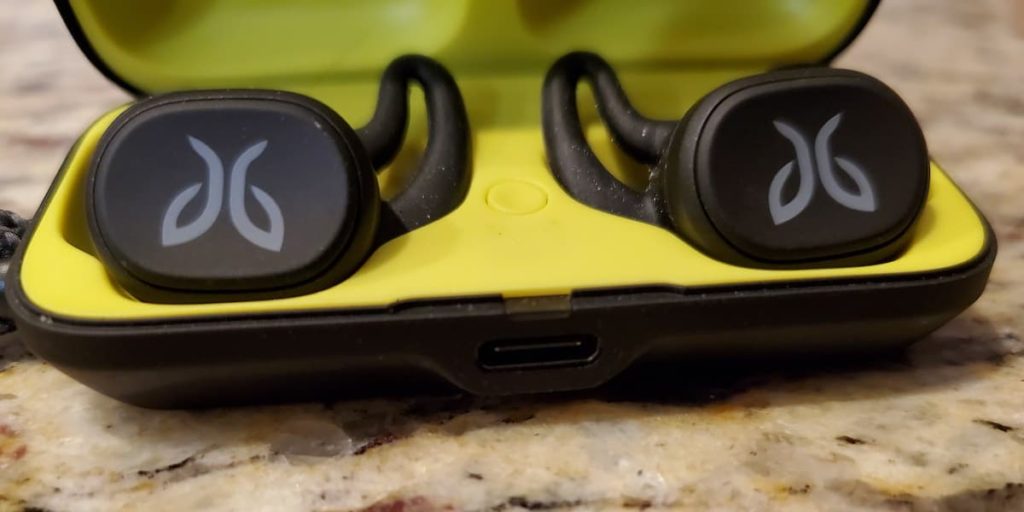 Build quality
The Vistas are built to withstand a lot of abuse, and everything about them feels tough and rugged. The earbuds themselves are waterproof, dustproof, and sweatproof with an IPX7 certification. They are also certified with MIL-STD810G for shock and drop resistance.
They achieve this while still allowing you to swap out different tips for whatever size fits your ears the best. Instead of just a separate tip that goes around the end of the driver, you actually swap the entire rubber housing around the earbud which includes different sized earbuds and wingtip styles all in one piece.
It was a little weird the first time I took them off, as it does require a bit of pressure, but you get the hang of it quickly once you see it disassembled. I started with the default rubber tips that are their medium size but eventually moved over to the large ones. All three sizes actually fit alright for my ears, but the large buds with the bigger wingtips definitely feel more secure, especially when moving around a lot or exercising.
I'm not much of an athlete, but I could see a lot of people appreciating how well built these are and how well they stay in your ears. I use them out in the yard, when exercising, and when doing other chores around the house. With the large tips, I never have to worry about them falling out or getting loose.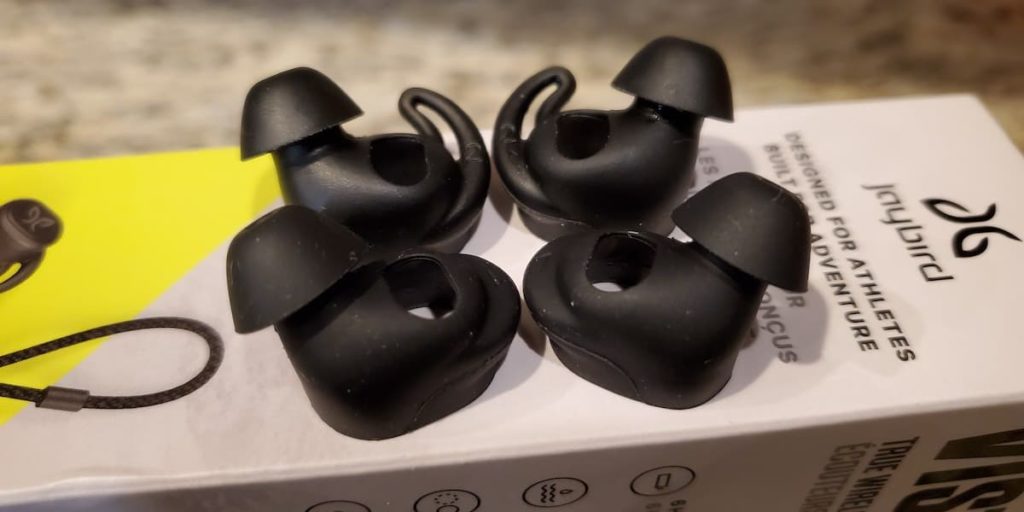 They create a very tight seal in your ear canal which I know not everyone is a fan of. For me personally, it took some getting used to, but I can't stand earbuds that feel like they might fall out of your ears when you're moving around. Even using something like the Powerbeats Pro which securely wrap around your entire ear, they still don't feel as secure to me because the actual earbud doesn't seal as tightly.
I did have some fatigue at first when I wasn't used to the passive seal inside my ear canal, but that has mostly gone away for me and I can easily wear these for hours now and forget that they are in my ears.
The charging case is also a highlight and feels very well designed. It has a soft-touch coating on the outside that feels nice and smooth and it flips open easily and has a satisfying click when closing. There's also a short rope looped through on the side so you can easily hang these from your keys or clip them to your bag. The whole package is also very compact and lightweight.
The case is kept shut with a pretty strong magnet so you don't need to worry about it coming open on its own. There are some more magnets on the inside to keep each earbud in place as well and they do a great job. I've never fumbled trying to put the earbuds back in their case when I'm done.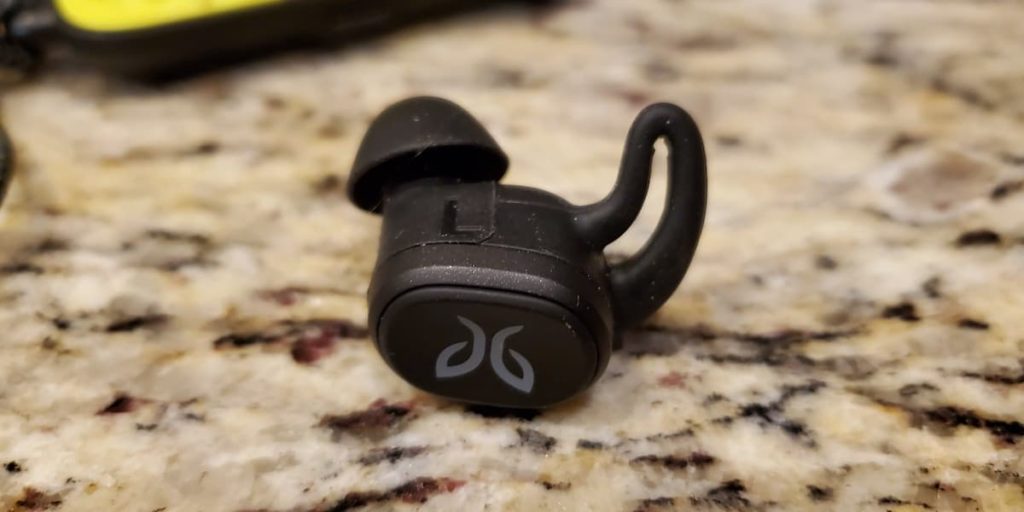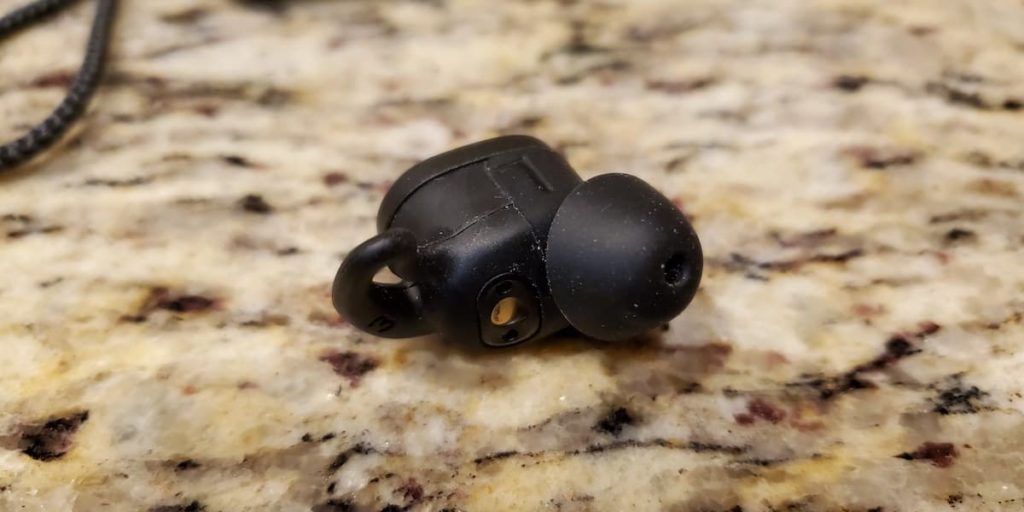 Sound
The Jaybird Vista are using 6mm drivers and have a very tight sound. I'm not an audio expert, but I've listened to a wide variety of music with these earbuds and they are always clear and vibrant. They don't have the strongest low end of all the headphones I own, but for some lightweight earbuds, they do have some nice punchy bass.
I also listen to audiobook and podcast type content a lot when I'm doing work around the house. These earbuds are great for that as well, and the dialog is always clean. The passive isolation goes a long way with silencing any background noise so you can easily hear whatever you're listening to.
If that's not enough, they also get pretty loud and I've never had any distortion even at high volumes. I wouldn't choose these over some nice over-ear headphones like my Sony XM4s if I'm working in the office, but for something more mobile that I'm not afraid to get dirty, these sound really good.
Technology
While I don't think there are any functional features unique to the Jaybird Vista earbuds, they get the important stuff right.
Connection
They use Bluetooth 5.0 to connect to your devices and the connection quality has been amazing overall. When I purchased these, I was still using an original Google Pixel that had an older version of Bluetooth. I did initially have some issues with long-range stability. I eventually upgraded to a newer Samsung phone with the latest Bluetooth version and now I can go practically anywhere in the house with a constant connection.
There's no noticeable lag when watching video content on any of my devices, and that is what Jaybird claims. The Vistas can only be connected to one device at a time, but they do pair up very quickly. If you need to pair them with a new device, you can simply press and hold the button inside the charging case which puts them in pairing mode.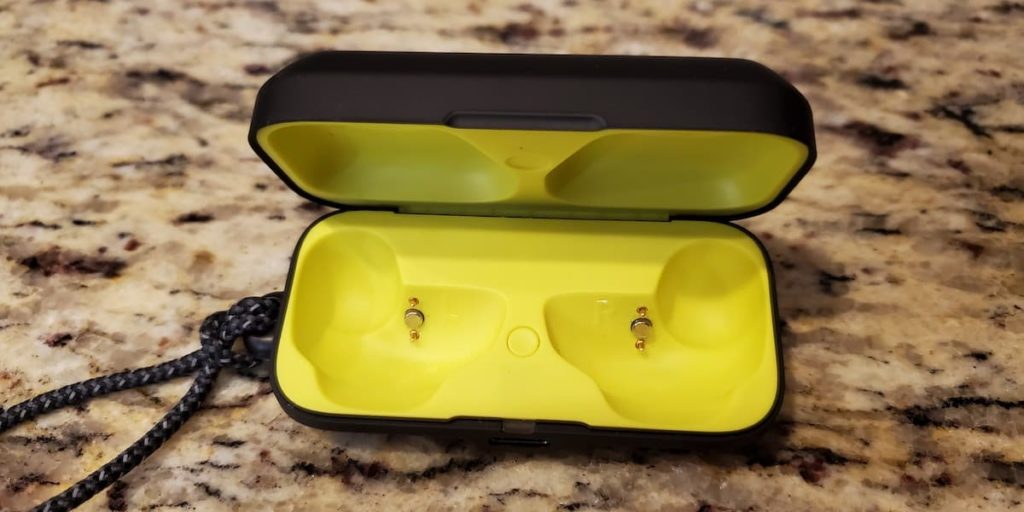 Battery life
The battery life has been really good. Jaybird claims 6 hours on a full charge which in my case is usually pretty accurate. The case can hold 10 more hours worth of power which seems a little low to me, but it is a very small form factor.
The earbuds can be used independently while the other is in the charging case, so if you are needing to stretch things as long as possible, you could technically get up to 32 hours total swapping between earbuds. You can also quickly get an hour of playback from a 5-minute charge.
There is no active noise cancellation on the Jaybird Vista like you'll find on some of the more recent premium earbuds. However, the passive sound isolation does a good job, and having ANC built-in would eat into the battery life a bit.
Microphone and controls
The microphone is passable and I've used it for outside phone calls a number of times. I've never had any problems with anyone hearing me or vice versa. The quality isn't the best, but it's reliable enough to take a call without needing to take them out of your ears.
The controls are my biggest complaint with Jaybird Vista. They come in the form of the entire outside face of each earbud which functions as a physical button that can be pressed to trigger different commands.
No other earbuds have hit that sweet spot of rugged build quality and compact style quite like these. @jaybirdsport
Click to Tweet
The problem is that because these are earbuds that are designed to be tightly sealed inside your ear canal, pressing firmly on the outside of them pushes them deeper into your ear which is very unpleasant. I found myself trying to grip them with one hand and press the button with the other which is not a great experience.
I'm not one to really use that many controls on my earbuds or headphones anyway, so I just avoid them. They do work ok if you're so inclined, it's just a bit uncomfortable to use.
Jaybird app
You can download the Jaybird app on iOS and Android to customize the functionality of your Vista earbuds. Connecting everything was really simple and the latest firmware update applied without any problems.
From here you can swap between a few different functions for the physical button controls. You can also allow the app to use your phone's location services to attempt to track the last known location of the earbuds. You can also check the battery life and adjust the voice prompts you hear related to certain notifications.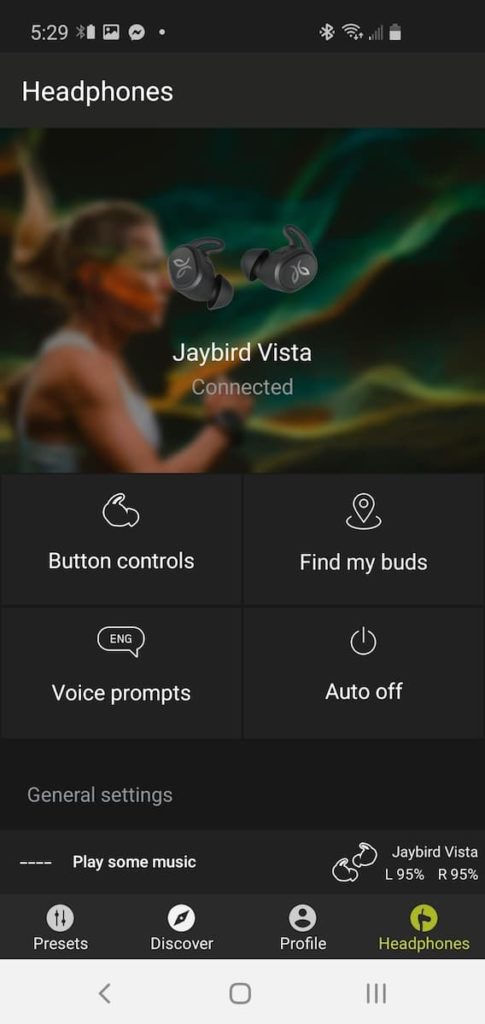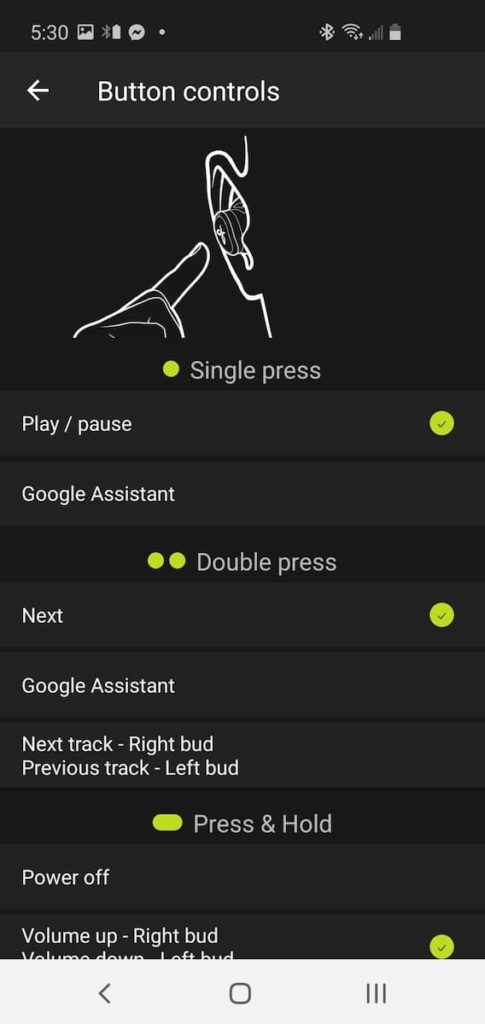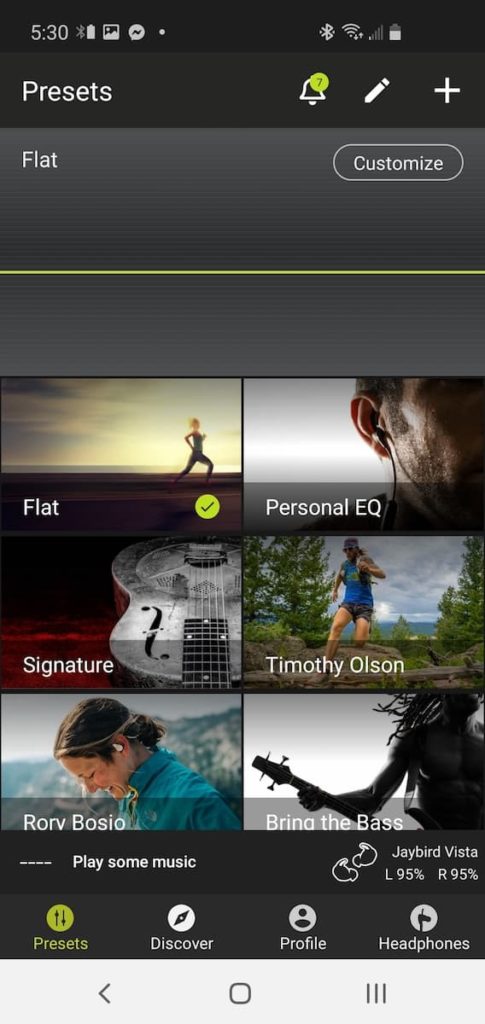 Customizing the sound profile of the earbuds is also a big part of the app. There are a number of built-in EQ presets you can choose from. You can also adjust the EQ profile for any of the existing presets or start fresh and create your own. I haven't messed much with this, but it's nice to have for those who want to dial things in to their personal preference.
Pros
Strong sweat and weather-resistant build.
Very compact and portable.
6-hour battery life.
Clear and vibrant sound.
Cons
Charging case battery life on the lower end.
Terrible button controls.
Summary
The Jaybird Vista wireless earbuds are still one of my favorite items to use around the house and bring with me if I need a compact pair of earbuds to use outside on the go. They fit great and don't fall out, they block outside noise and sound great, and they can withstand sweat, rain, and getting knocked around with whatever I'm doing.
View the Jaybird Vistas on Amazon
It would be nice to see Jaybird iterate on the success of these active focused earbuds with some improved controls and a better calling experience. I also wouldn't say no to a bit bigger battery in the charging case.
If anyone came to me looking for a reliable pair of wireless earbuds built for an active lifestyle, I'd point them to the Jaybird Vista. There are newer products that might pack some more of the latest technology and do some things better, but no other earbuds have hit that sweet spot of rugged build quality and compact style quite like these.