The Sony WH-1000XM4s are a great pair of lightweight, noise-canceling headphones. They retail at the price of $350 which is going to be hard to swallow for some, but once you've used them, it's hard not to love them. The excellent battery life, premium feel, and well-rounded sound are just a few of the things that make these my current daily headphones for use in the office.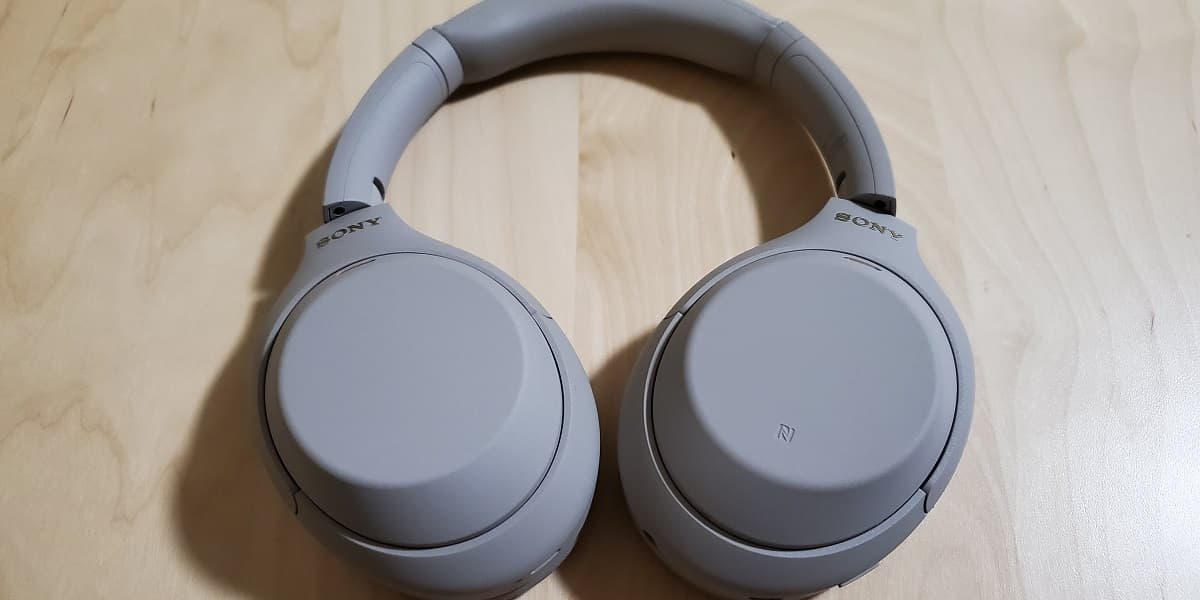 What's in the box
In the box, you'll find the XM4s along with a few accessories packed neatly inside the included carrying case. The headphones fold right above each ear cup, so the case is nice and compact and is lined with a soft, felt-like material. It's fairly rigid on the outside for protection and makes it easy to toss it in my bag and not worry about things getting smashed.
You get the headphones, carrying case, a headphone cable which can be used for listening without Bluetooth or even when the headphones are turned off, an airline adapter, and a 6-inch USB-A to USB-C cable for charging. That last one can be a bit annoying depending on where you need to charge these up, but luckily I already had a few other much longer cables so I quickly swapped that out.
The case and headphone cable are also color-matched to the headphones themselves depending on what ones you choose. They come in black, blue (if you're shopping at Best Buy), and silver. The silver looks more like beige in a lot of the images I've seen at different online storefronts, but in person, they are more of a matte gray. They are also the ones that I went with. All of them have gold-colored accents on the logo, the microphones, and the case zipper.
There's a net carrying pouch on the outside, but for some reason, they put this on the bottom of the case and the headphones only go in one way due to the sewed in divider. So that makes the pouch a lot less useful since it will always be face down when setting the case anywhere. Someone wasn't thinking that one through, but it still might be nice for some people.
Along with the traditional paperwork, there's also a card letting you know where to go to download the Sony Headphones Connect app. This is required to access a lot of the features of the headphones, but more on that later.
Design
The Sony XM4s both look and feel very premium and I don't think anyone would be disappointed in that department. I haven't used their previous XM3s, but from what I understand, the differences both in sound and design are subtle with minor improvements across the board.
These are the lightest pair of over-ear headphones that I've ever tried, but that doesn't detract from them feeling very solid and well built. They have a soft-touch material on the outside which feels great and a very matte finish so they don't show any fingerprints at least on the silver variant I have.
They have very soft padding in the leatherette style ear cups and headband and have been extremely comfortable. The first pressure point for me after a long session is on the headband and I still sometimes will need to take a short break or to readjust after 3 to 4 hours. I am usually getting up and stretching more often than that anyway, and I've worn these consistently through the entire workday many times without much fatigue.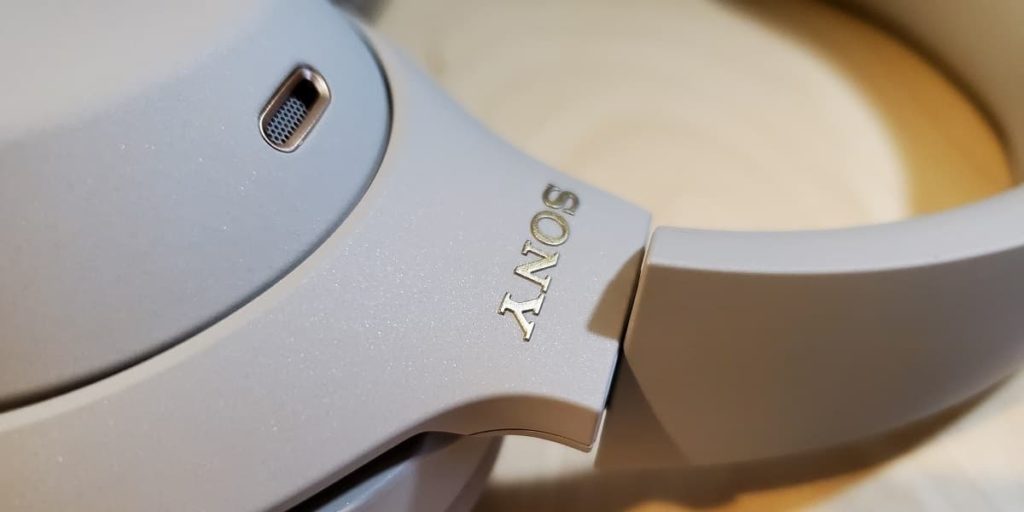 The headphones have a hinge on each side that allows both ear cups to fold in towards the headband to fit into the compact case. The hinges also swivel from side to side which adds some comfort but also allows you to lay the ear cups completely flat when resting the headphones on your neck or on a desk which is a nice feature. That may seem trivial but I definitely miss it on the pairs of headphones I have that can't lay flat.
The ear cups themselves also each have a hinge that allows them to rock in and out slightly which is supposed to add to the comfort as well since they can form to the shape of your head and alleviate pressure.
The only caveat to this design is that due to these hinges being almost fully upright when on my head, the slight rocking back and forth can sometimes lead to the noise of the plastic ear cup touching the plastic of the headphone frame. This is a minor gripe and it's also usually not audible when listening to music.
All in all, the premium design and excellent build quality of the XM4s leaves little to be desired.
Sound
If I could pick a few words to describe how the Sony XM4s sound, it would be well-balanced and vibrant! I don't consider myself an audiophile and have never had an endless amount of different products to test, but I have owned and tried a variety of headphones over the years. One thing is for sure, the XM4s are really fun to listen to.
One comparison I can make is to the Surface Headphones 2 which I tried out earlier in the year and when it comes to sound quality, they don't come close to what Sony is offering. I've been able to pick out a lot of little details in a variety of music that I simply can't hear in the other pairs I have around the house. Nothing feels overpowering, but you still get a good amount of punchy bass which some might find a bit too much but that is what I prefer.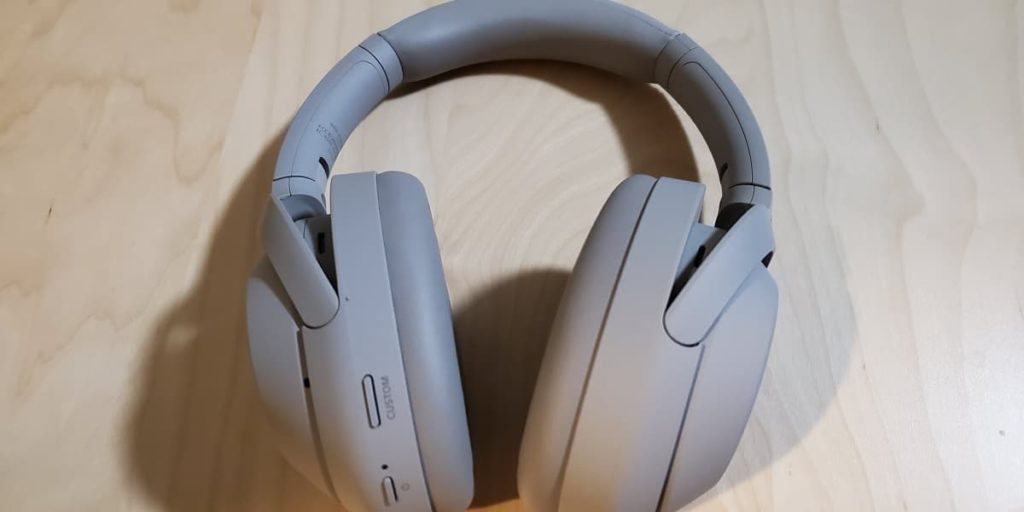 When it comes to audio codecs, they support SBC, AAC, and Sony's own LDAC. AptX support is missing here which might be a deal-breaker for some. Also, if you are going to be connecting the headphones to multiple devices simultaneously, you can't have LDAC enabled at the same time. For my ears, I can't tell much of a difference listening to a variety of music streaming through Spotify, and I also prefer to be connected to multiple devices.
In the app, you can customize the sound a bit to your liking. Sony offers a plethora of custom equalizer presets and two custom ones so that you can adjust the balance two whatever you prefer. They also have a toggle for a technology they call DSEE Extreme which is essentially an upscaler for compressed music files. I couldn't tell much of a difference here either, so I've left this turned off.
The XM4s sound great and are a joy to listen to.
Technology
Noise cancellation is the primary category for the Sony XM4s and is also the reason for the relatively high price tag, so it helps that they do an excellent job in that area. The technology Sony has on offer here is outstanding and I've been amazed at how much sound these headphones can block out.
I use them in my home office and even the loudest engine noises from our neighbor's trucks going by are non-existent. I've also spent a few afternoons sitting outside a Starbucks and they make it easy to pretty much turn off the world and get some work done.
You still hear some more high-frequency sounds and voices aren't completely blocked out either, but you'll only notice any of this if you don't have any music playing. Compared to the Surface Headphones 2 that I've also tried, this noise cancellation is in another league. Albeit at a higher price tag.
Battery Life
Battery life is always a sticking point for me personally and I really don't want to have to worry about it on the devices I use every day. Sony claims 30 hours of playback and they aren't lying. You can also get 5 hours of playback after just a 10-minute charge. You can monitor the battery from the app, but since I've had these, I haven't had to worry one bit. I use them almost every day and usually only charge them once a week which is great in my book.
My one complaint here is that you can't actually use the headphones while you are charging them. But with 30 real hours of playback time, maybe it's just time to take a short break at that point.
Bluetooth Connection
The XM4s use Bluetooth 5.0 to pair wirelessly to your devices and they also have multipoint connection so you can easily have them connected to two of your devices at the same time. In practice, this actually has worked really well.
I jump between my desktop PC, MacBook Pro, and an Android phone, and having my headphones connected to my phone and computer at the same time is very convenient. You can easily answer a phone call and everything switches over automatically and back again when you're done. When you want to switch devices, all you have to do is pause the audio on one device and start playing on the other. It does take a few seconds to actually come through the headphones after switching, but it's very reliable which is the most important part.
I've also found that I never have to re-pair the headphones when shuffling a different device in for another. I just click connect and it works straight away. This may be Bluetooth 5.0 at work here, but I've been frustrated with having to do this with some of my older devices when going between my desktop and laptop.
The connection has also been solid and the only stutters I've experienced have been when I'm across the entire house through multiple walls or out in the garage after leaving my phone in the office. Nothing to worry about here.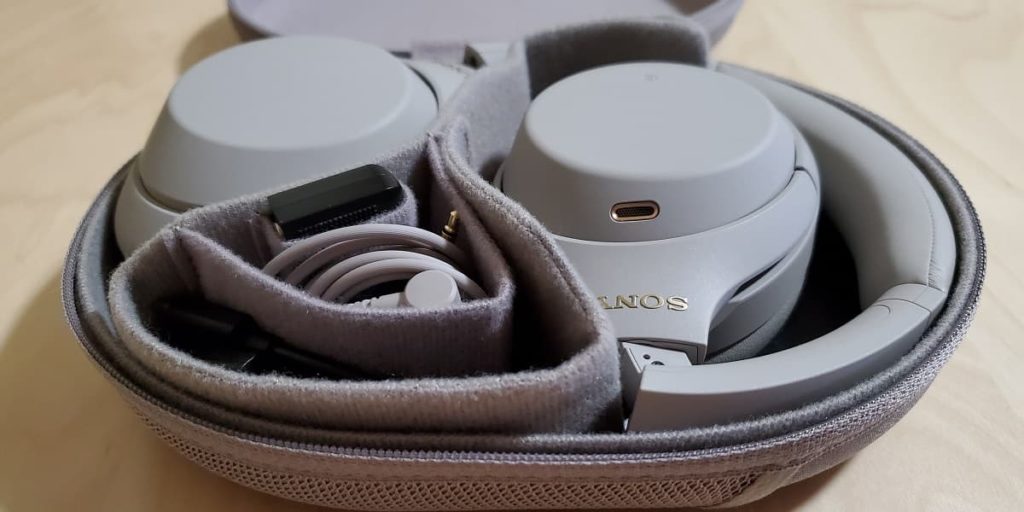 Controls
Controlling the XM4s has been mostly pain-free with only some minor adjustments. The left earcup has a physical power button that is also used to put the headphones in pairing mode. Right next to that is a button labeled CUSTOM which by default cycles between noise cancellation modes and triggers the optimizer with a long press. This button can also be configured to trigger a virtual assistant in the app. I've mostly just left this button alone, but both of them are placed well and are nice and clicky.
The outside of the right ear cup is where most of the magic happens. It supports a variety of touch controls, double-tap to play/pause, swipe up and down for volume, and swipe forward and backward to change tracks. The gestures took a little bit of getting used to for me to be able to reliably get it right every time, but after a couple of weeks, I have no issues.
Covering the entire ear cup with your hand also temporarily disables noise cancellation, lowers the volume on your music, and amplifies outside noise. This allows you to easily have a quick conversation with someone without taking the headphones off. This actually works really well except for that to the other person you just look like someone with headphones on that doesn't know what to do with their right hand. After explaining it to my wife, it works just fine.
Sony has also touted a speak to chat feature which essentially does the same thing but is automatically triggered by your voice. In theory, this sounds useful, but in reality, I turned it off immediately after a few false triggers. I'm much happier either covering the ear cup or taking the headphones off to have a conversation. They also pause whatever you're listening to automatically when you take them off of your head and resume when you put them back on.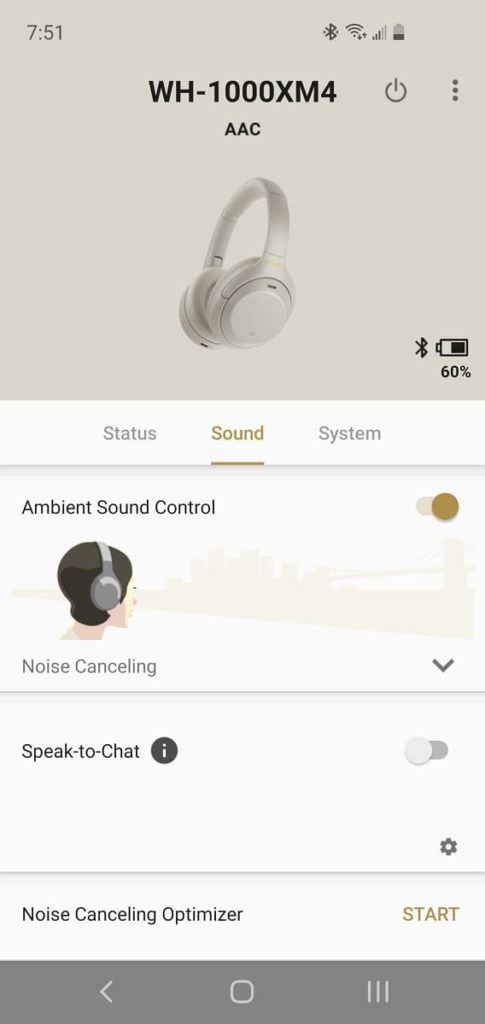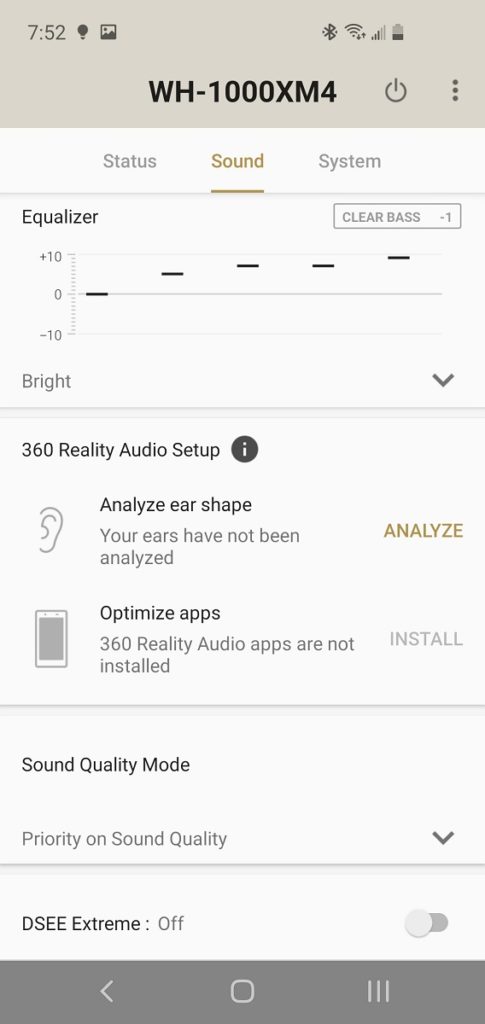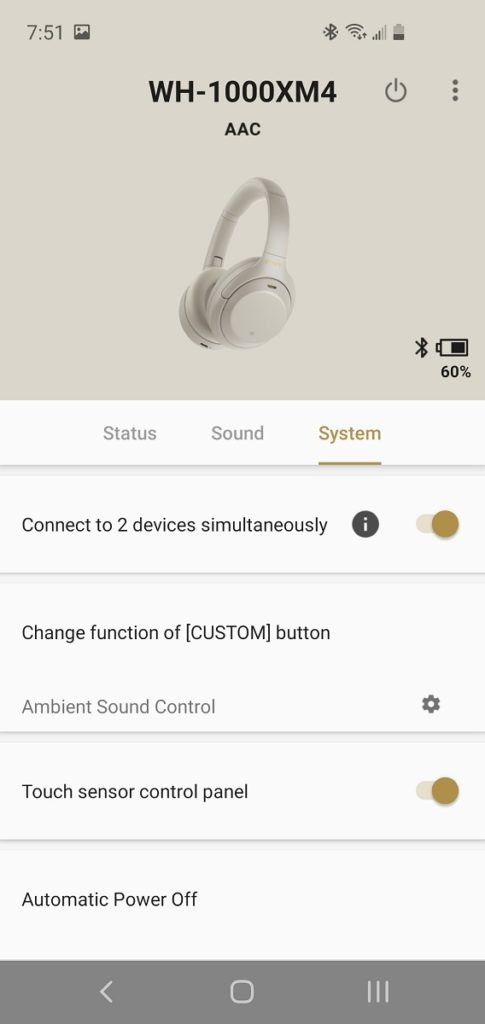 There are a few other random toggles in the app as well, but I've mentioned the majority of things that would be useful to the average person and all of the things I personally use after spending some time with them. And for those of you who can't stand gesture controls and smart features, you can easily disable pretty much everything I've talked about in the app and just control your media from your connected device instead.
A brief note on the app as well. It's nothing special but has performed just fine and I have had zero issues connecting, switching devices, changing controls, and updating the firmware.
Pros
Great 30 hour battery life.
Excellent noise cancellation.
Solid bluetooth 5.0 connection with multipoint.
Very light and comfortable.
Compact and easily transportable with included case.
Cons
Can't listen and charge at the same time.
Case carrying pouch on the bottom.
Occasional noise from ear cups touching the frame.
Awful name.
Summary
I had the chance to try these earlier in the year shortly after they came out and loved them but wasn't sure if I wanted to spend $350 on a single pair of headphones at the time. I managed to pick these up for $278 which they have been discounted to over the holidays. I just hadn't found anything that was as compact, stylish, and fun to listen to as the XM4s.
If you're looking to spend this much money on a pair of noise-canceling headphones, you probably already know what features are important to you and are just looking for a quality product. The Sony XM4s do not disappoint in any area.
They are well built, sound great, and look good, all while providing the best noise cancellation I have ever experienced. There are a few quirks and adjustments I could see them making to a future version, but all very minor or personal preference.
If you have the money to spend and are on the fence about these, I'd recommend trying them out.