I will be completely honest, I have never been a huge fan of syndicating content. After all, I spend hundreds of hours writing my content. Why would I want to gamble on it ranking on a 3rd party site over my own blog?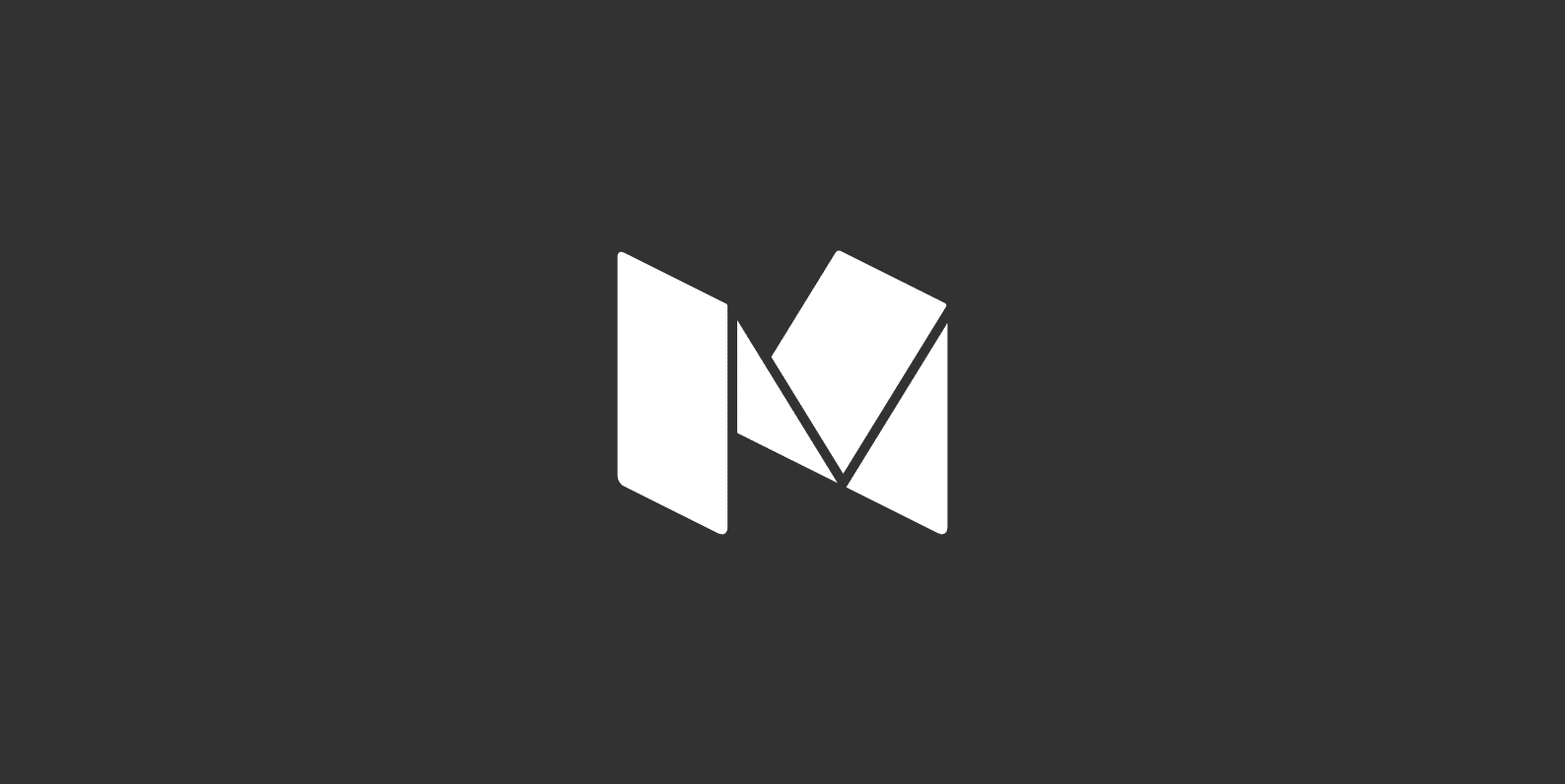 The big problem with a lot of sites where you can cross-publish your content is they don't support the use of the rel="canonical" tag. However, Medium does. Follow this tutorial on proper Medium SEO and how to syndicate your content to them with the rel="canonical" tag. You can then sleep at night knowing your original content is safe.
What is the rel="canonical" Tag?
There are a couple different uses for the rel="canonical" tag. But the one we care about is how it affects syndication. According to Google:
If you syndicate your content for publication on other domains, you want to consolidate page ranking to your preferred URL. To address these issues, we recommend you define a canonical URL for content (or equivalent content) available through multiple URLs.
So put it simply, if you want to follow Google's best practices as far as it pertains to SEO, you need to use the canonical tag when you are syndicating content. To read more in-depth about this, check out Yoast's awesome rel=canonical ultimate guide.
Medium
For those of you who might not know, Medium is a publishing platform. It is very simplistic, elegant, and aimed at individuals and companies that simply want an easy way to get their message out there.
"Medium is a vibrant network of thinkers who care about the world and making it better –  through their craft, their stories, and their ideas. More than a network of thinkers, though, Medium is a network of thought. Connecting people together increases their knowledge and capabilities. Connecting ideas together increases their value, as well…" — Ev Williams, Founder of Medium
How To Syndicate Content to Medium With the rel="canonical" Tag
I keep up with pretty much every major SEO trend there is. And I read a lot of SEO related blogs and sites such as Moz, Search Engine Roundtable, Search Engine Journal, etc. However, somehow I missed the fact that Medium added the ability to use rel="canonical" tags. This was done late 2015. Ironically my buddy Tom over at Kinsta pointed it out to me today.
There are actually four different options you have when it comes to getting your content on Medium using the rel="canonical" tag correctly.
Option 1: Publishing via Medium's WordPress Plugin
Medium actually now has a WordPress plugin which will publish posts automatically to your Medium profile. However, I don't use this option myself. I use option 2. The reason is because it will only post new posts that you write. There is no option to post an existing blog post. For me, I wanted to go back and syndicate some old ones first. Moving forward I might switch back to this method, we will see.
Note: Any modifications you make to a post after you have sent the post to Medium will not be reflected on Medium. To setup the plugin you can go into your WordPress profile and input your integration token which can be grabbed from your Medium settings page. You can also enable the default cross-link status and also the public status, licensing, etc.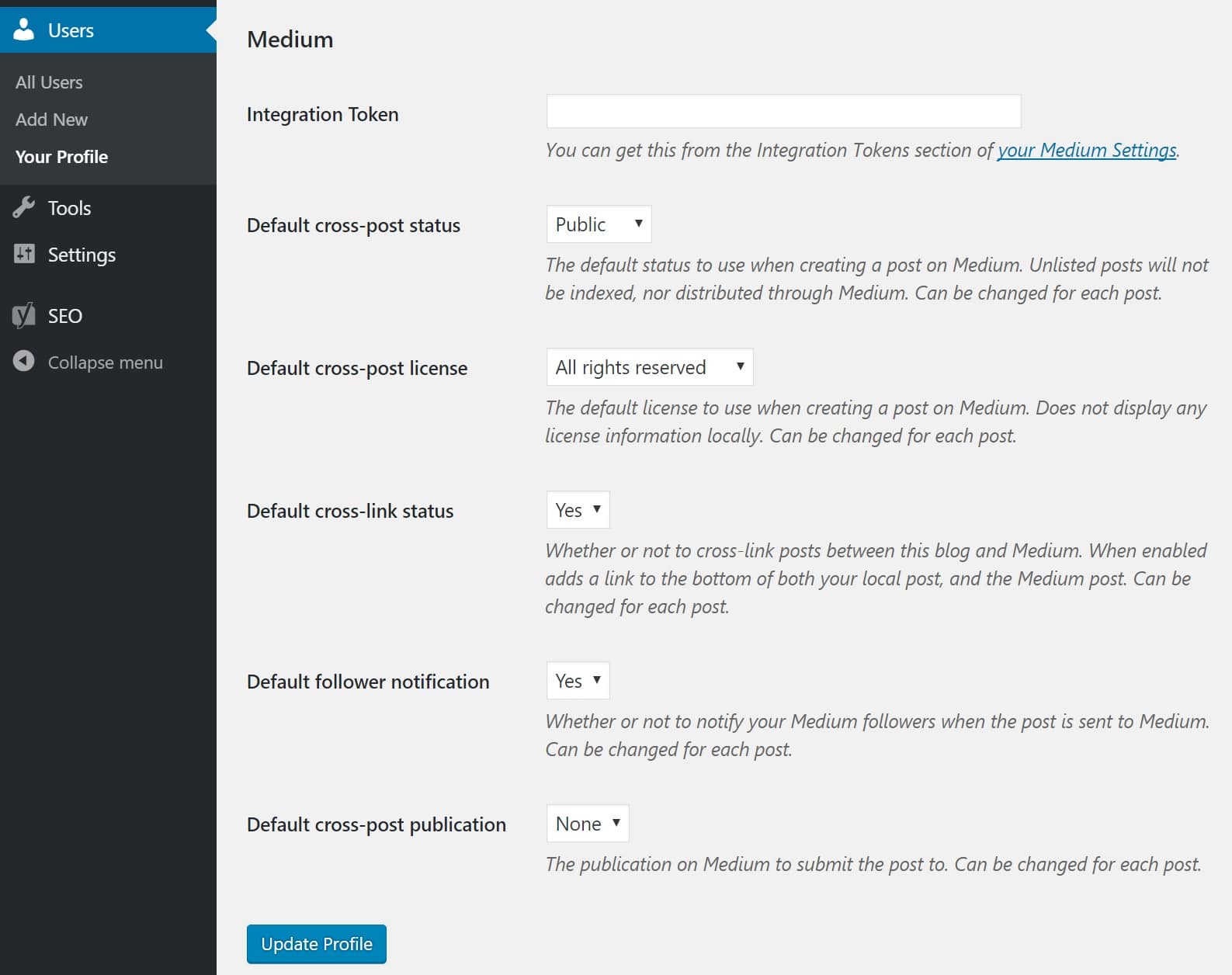 Option 2: Using Medium's "Import Story" Feature
The second option you have is to use Medium's import feature. This is what I am actually using. Follow the steps below.
Step 1
Head over to https://medium.com/p/import and input the URL of the post you want to import. Then click on "Import." And remember, even though it adds a rel="canonical" tag now, to comply with Medium's TOS you should only import content that you own.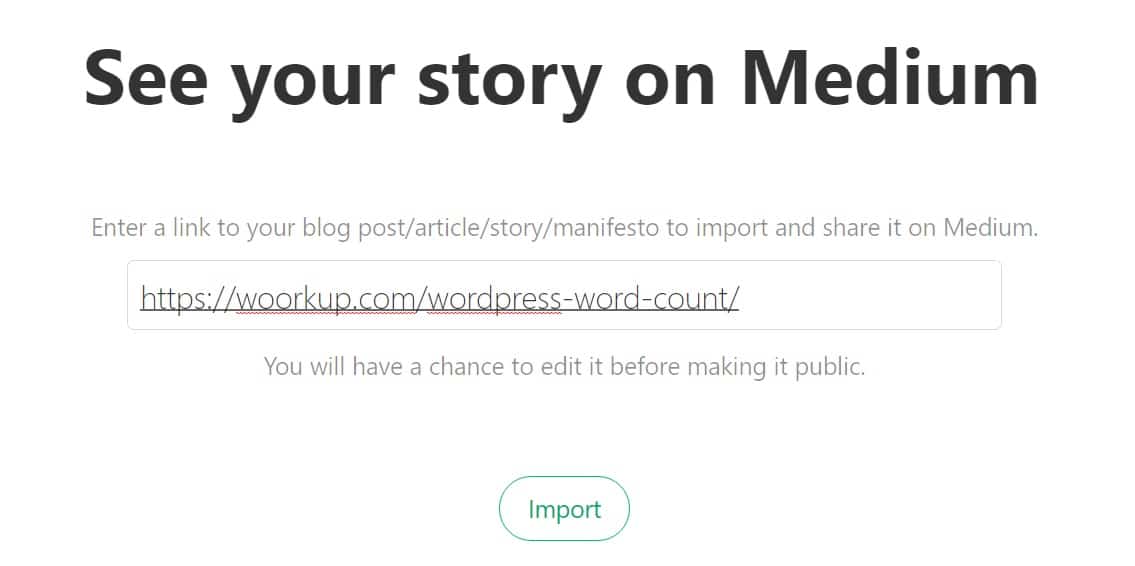 Step 2
The one downfall to this approach is that the formatting can sometimes be a little off and it doesn't import your pictures. So you have to save them out really quick and upload them manually. Also, it is important to note that it uses your original publish date on the Medium post, not the imported or last updated date. So if you import a blog post from 2 years ago, it is going to say 2014 on Medium.
You can see that I edit my header formatting and a couple other tweaks.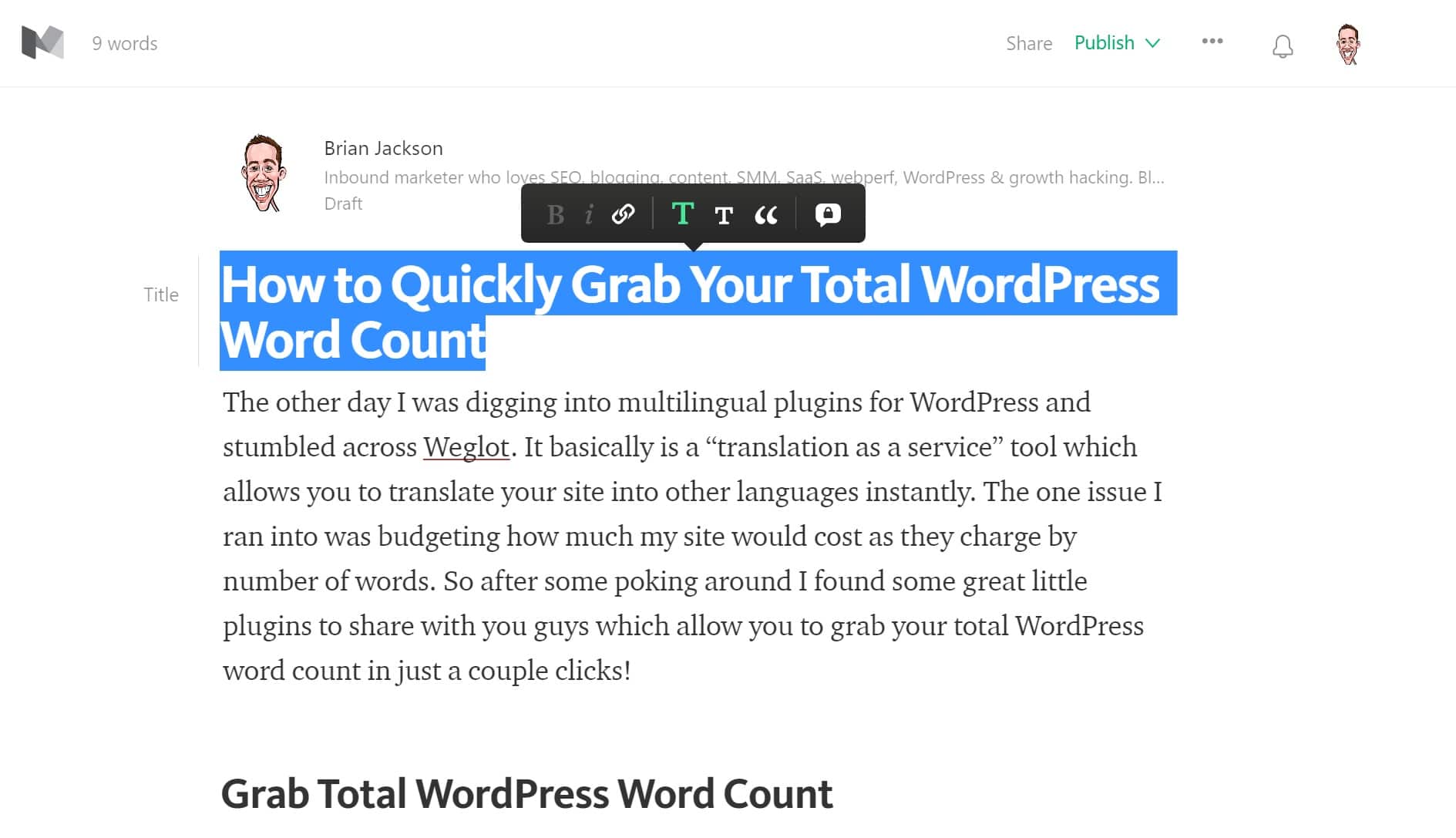 Step 3
In the top right you will want to edit the Subtitle and Description by changing it to "Custom." I usually use a variation of what I have set as my meta description for the WordPress post.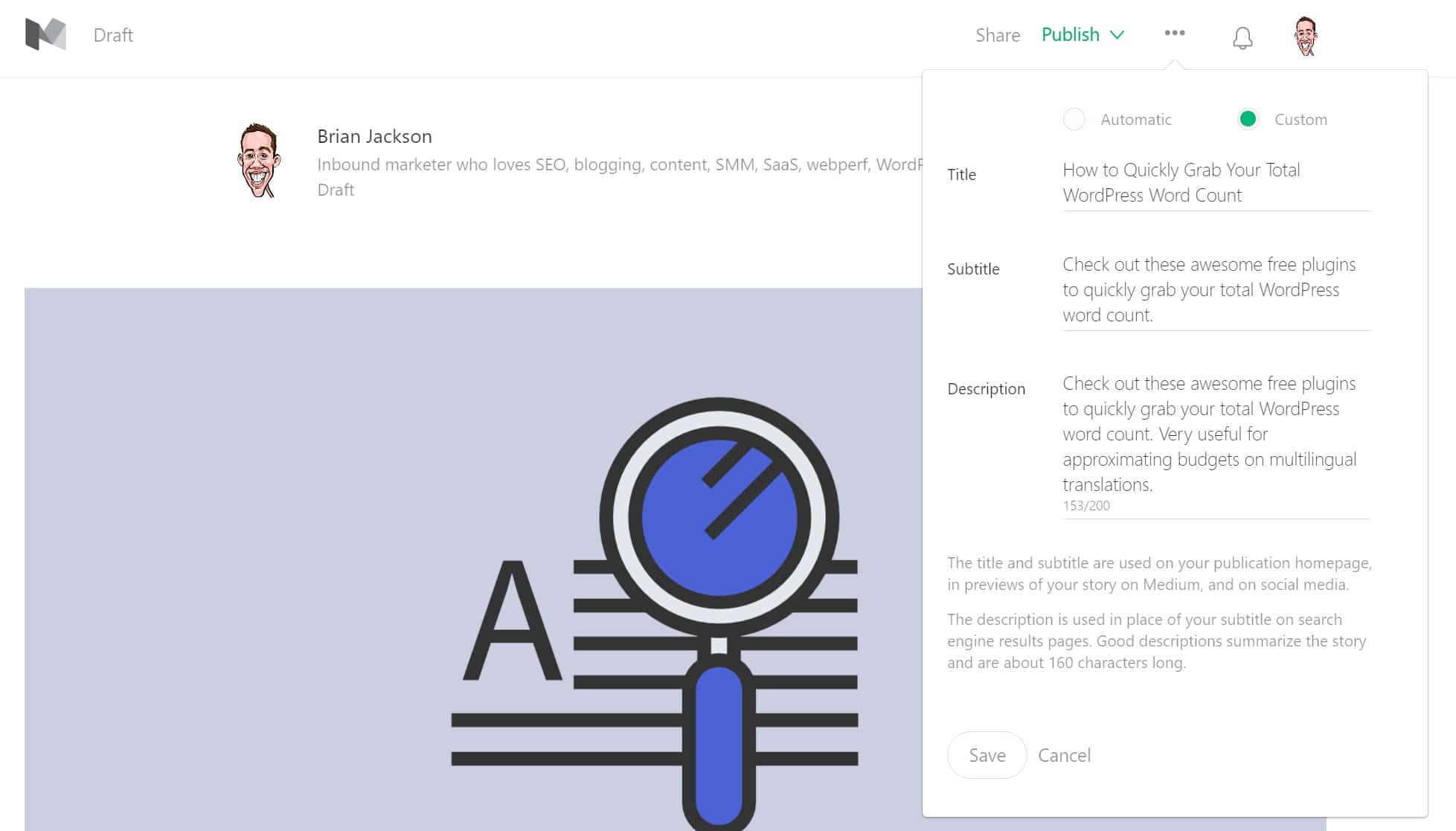 Step 4
You will then want to customize the link to create a shorter slug which is better for SEO purposes and sharing. Note: You can't change the link/URL after publishing.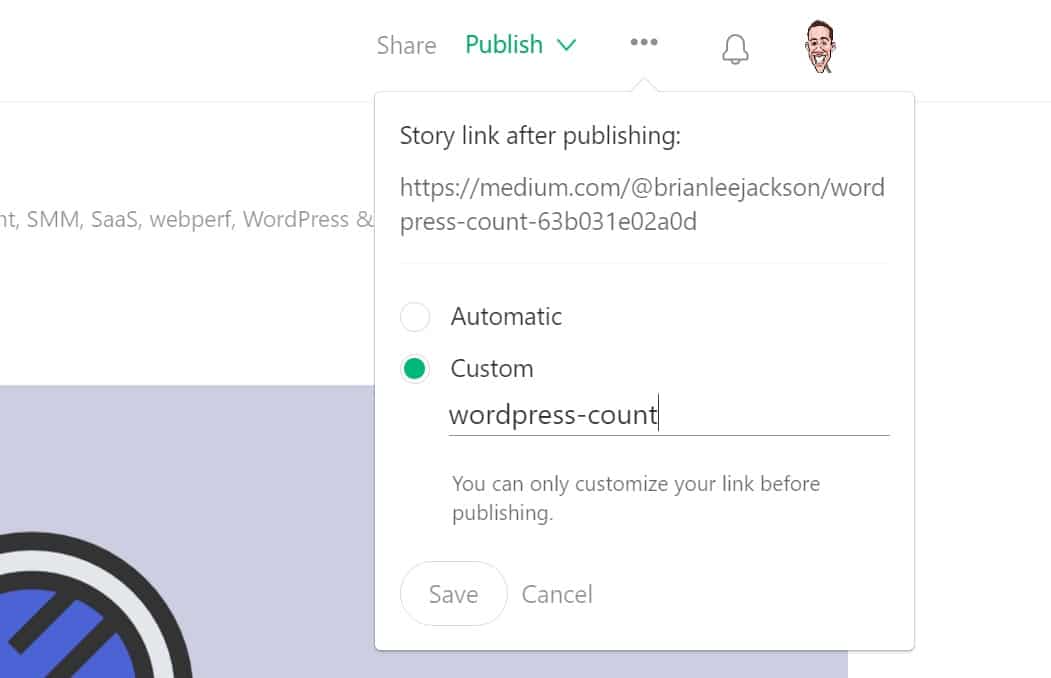 Step 5
You can then publish your post. It will ask you to add tags, which I recommend utilizing. Then click on "Publish." You can see my final post on Medium that I used for this example: https://medium.com/@brianleejackson/wordpress-count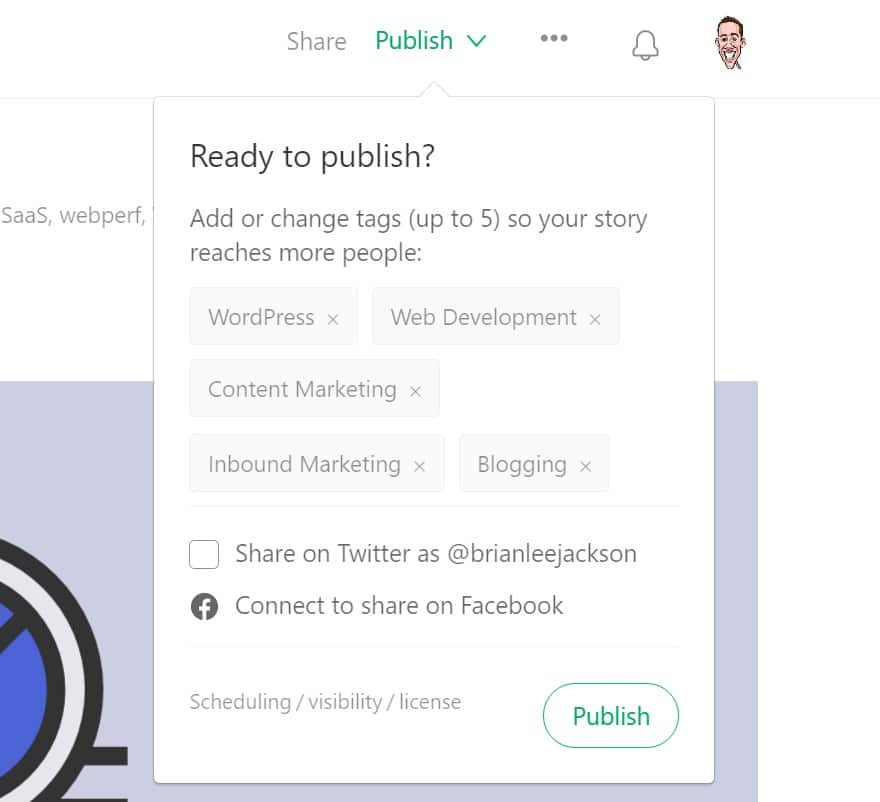 If we look at the post, we can see that it is indeed adding the rel="canonical" tag.

Option 3: RSS to Medium Publishing via IFTTT
You can also automate the process by using RSS to Medium publishing with IFTTT.
Visit the Medium Channel on IFTTT and click Connect.
Visit the RSS-to-Medium recipe and click the gray Advanced Settings link underneath the blue Add button.
Paste your feed URL where it says Paste a Feed URL here.
Click the blue Add button.
And that's it! New posts from your RSS feed are then sent to the Drafts status on your Medium account. This method checks for updates every 15 minutes. See more in-depth details about this method on Saul's blog post.
Make sure to check out my other awesome IFTTT recipes:
Option 4: Publishing via Medium's Developer API
And if you are a little more advanced you can take advantage of Medium's publishing API which will also use the rel="canonical" tag.
Summary
Now you can syndicate your content over to Medium the correct way. I am going to start dabbling with Medium SEO a little more myself and start growing a following on there as well. I always follow back, so follow me on Medium @brianleejackson and I will reciprocate. As always, if this post was helpful, please let me know below!