There is a new super powerful Twitter automation tool I have been using it for over a year now. They don't have an affiliate program so I am literally writing this because I love the product so much. I almost thought about keeping it a secret, but I want you guys to see the same awesome results I have! The new tool I am talking about is Narrow. And believe me, I am not a fan of social automation unless it is producing high-quality results, and this one does. Check out my in-depth Narrow review below.
Narrow Review – Twitter Automation Tool
Narrow is a Twitter automation tool which helps you build a high quality targeted audience. It was created and co-founded by Jerad Maplethorpe, a developer from Minneapolis, Minnesota (previously a dev at LeadPages). The tool was also co-founded by the amazing Sujan Patel, which if you aren't following yet you should be. He is involved in some amazing marketing tools like Content Marketer and Quuu which I will be doing reviews on in the future.

How Narrow Works
So you are probably wondering how Narrow works exactly. Basically you enter the hashtags and keywords of interests that you have, or for your business and then Narrow will start auto following people and auto liking tweets based on that hashtag data. This is not a spam tool, it is all about building an audience within your niche of people that are interested in what you are selling and or posting. It is about increasing engagement with a relevant audience.
Narrow Pricing

There are three different account types in Narrow, and the only difference is the amount of Twitter accounts you can add. I love this method of pricing because it means you get all the features, no matter what tier you are on.
Basic: $19 / month – supports 1 Twitter account
Pro: $49 / month – supports 3 Twitter accounts
Business: $99 / month – supports 10 accounts
Narrow Dashboard
Jerad just recently re-designed the entire dashboard and it looks awesome! I have been with Narrow since beta so I have seen it go through a lot of changes, all great ones. When you first login you can select which account you want to see and you will see the data based on the keywords you have on your account. As you can see I have gained 99 followers in the past 7 days. Not bad for not doing any work. That is around 420 new followers per month. In fact, the first 7 days I had it running I gained 322 followers! Now I also tweet out content too so you have to keep that in mind with the data. You can see which keywords are converting better and how many followers that keywords has produced.
Add Keywords
You can add keywords and target both tweets and bios. So for example, you might want to target "growth hacking" for tweets, but target "growth hacker" to target profiles. When you go to add a keyword Narrow will show you a sample audience and then you can approve it.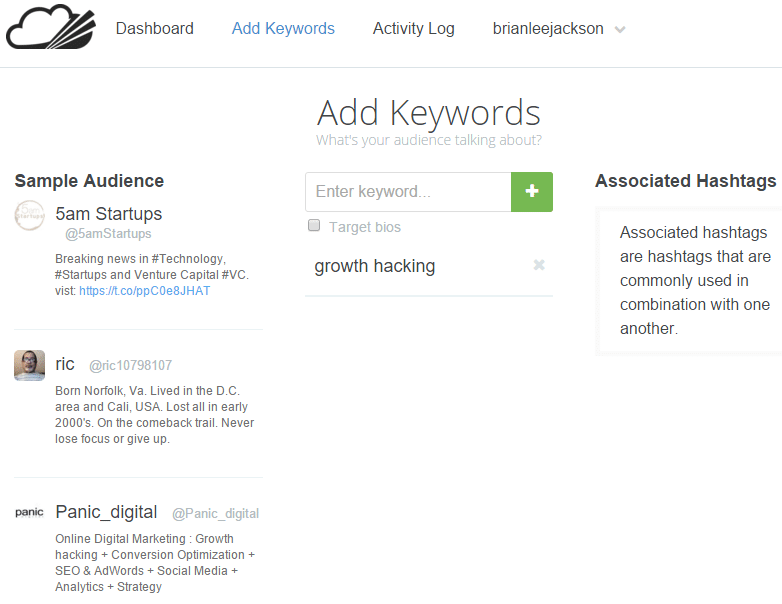 Exclude Keywords
And of course you can exclude keywords and blacklist accounts as well. For example, if you're targeting users who love "social media automation" but you're attracting a lot of bot tools, you could exclude terms like, "twitter bots", "twitter proxy" to hopefully improve the quality and see only those with useful information about social media automation.

Activity Log
There is also an activity log you can click into and view new follows, new liked tweets, and also you have the ability to blacklist a person. Perhaps you don't want to follow that person, so you can blacklist them and prevent Narrow from interacting with them in the future.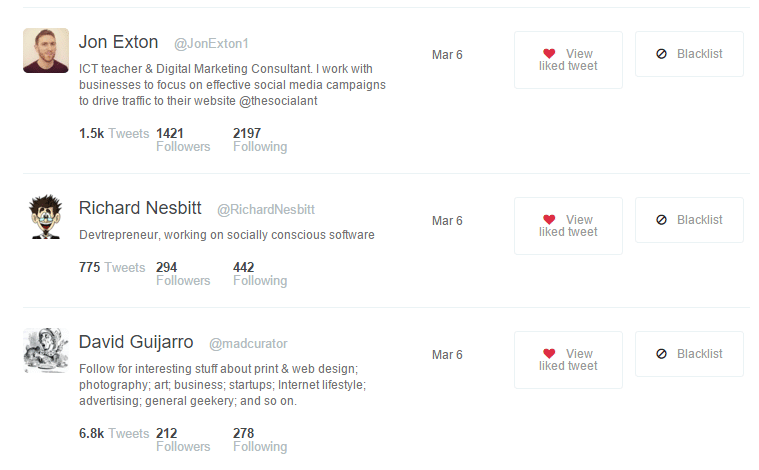 Narrow Settings
You can also disable any part of the Twitter automation per each account under Narrow settings. Also, Narrow has a cleanup feature. Basically it unfollows those who haven't followed back after more than 24 hours. I love this feature, why follow other people if they aren't going to help share your awesome content? It also unlikes tweets. Both of these features only apply to automations done by Narrow, not things you have done on your own.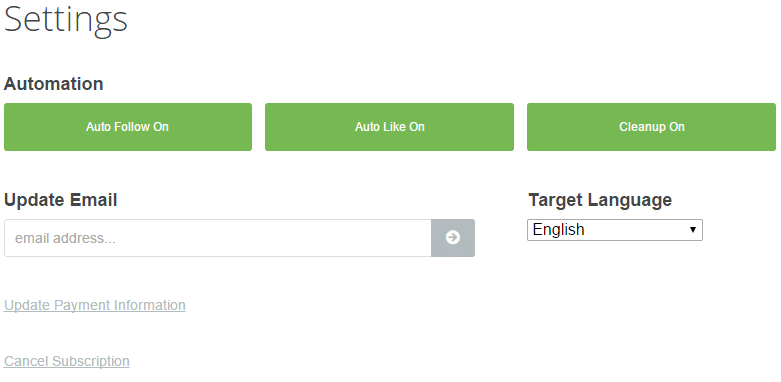 Personal Thoughts on Narrow
I have been using Narrow on a couple Twitter accounts now over the past 6+ months and all I can say is it is an integral part of my social media strategy on Twitter going forward. I never want to live without it. Anything that saves me time is a no brainer. Here is a snapshot from my Twitter analytics on @brianleejackson.
And here is a snapshot of Twitter referral traffic from Google Analytics for woorkup.com.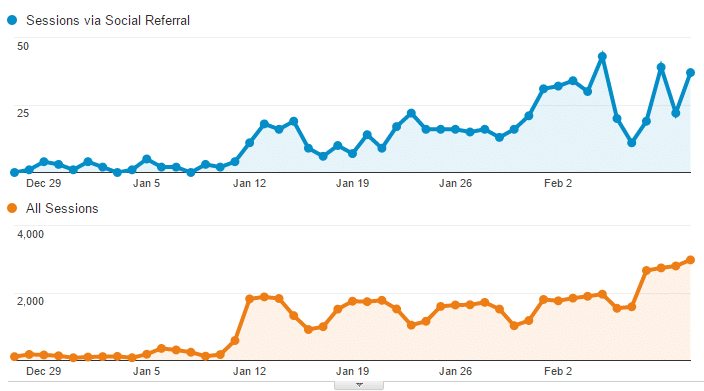 And not only has it increased my traffic from Twitter and affiliate sales (conversions), I have also gained a ton of guest blog post opportunities and made new connections with people I never would have before. I guarantee after running Narrow for even a week or two you will start seeing more interactions than ever before. I got people starting to reach out to me over Twitter which was awesome. Simply put, if you follow people in the right niche, over time this opens up a lot of new doors! And remember, it is all automated. Just set it up and let it run. It's awesome for startups, marketers, small businesses, bloggers, you name it. It can be used in any niche. Narrow also has a 7-day free trial with no credit card required. Give it a try and watch your numbers soar.
If this Narrow review was helpful, please let me know below. I would love hear your thoughts on it, especially after you start seeing results. If you have questions about Narrow you can also join the Narrow FB group, of which I am a member.