Social media is growing faster than we can even keep up, which isn't necessarily a good thing. We've seen some of the worst of humanity come through during the pandemic and the election. Clickbaity titles and thumbnails have grown to an outrageously annoying high, not to mention all the bots. It can be beneficial and even entertaining to use platforms like Twitter and Facebook, but there is always a healthy balance you have to keep.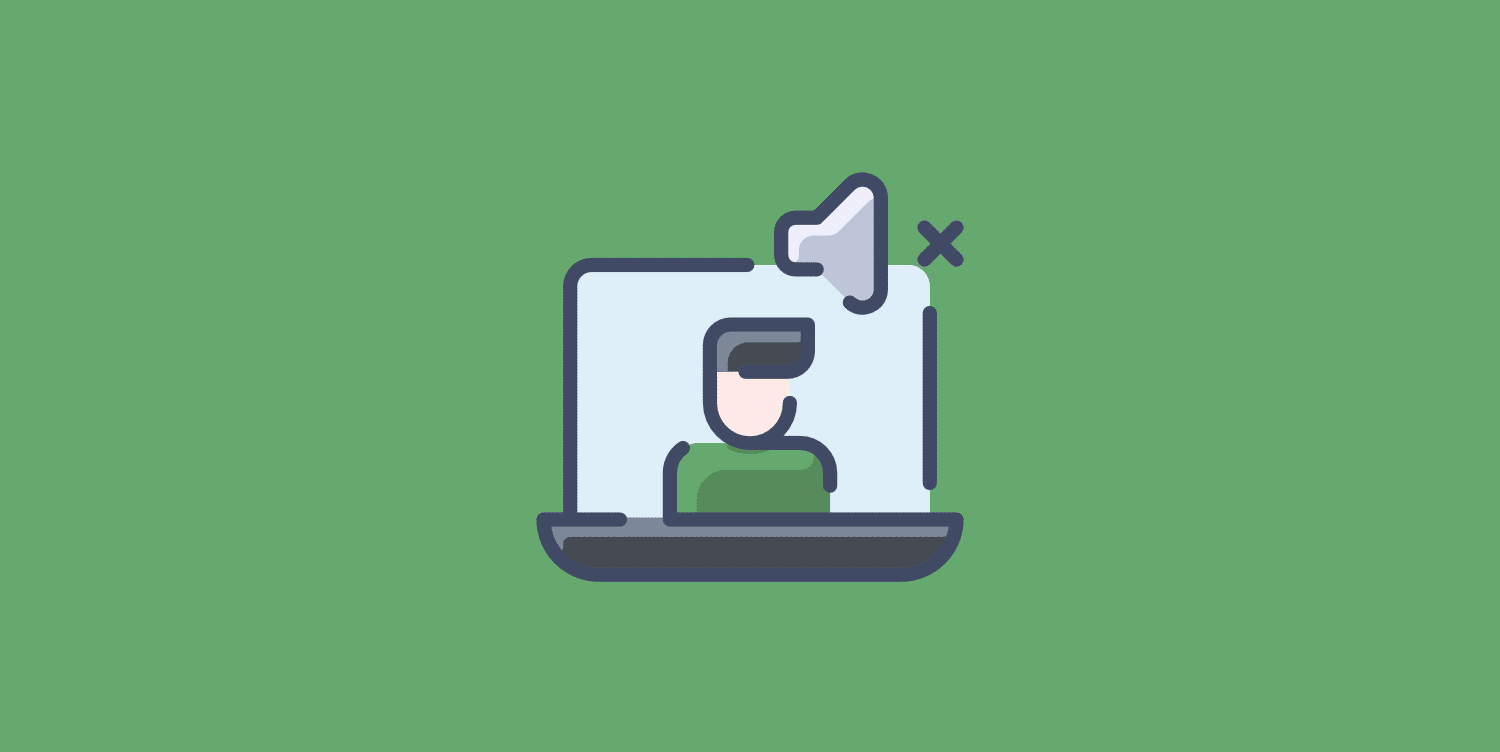 Today I want to share a few quick tricks I use to stay sane and productive amongst all of the social media distractions. Some of the ways I use social media might surprise you, as my approach can be very one-sided at times. But I do it for my mental health, and of course, so I can get work done.
UnDistracted Chrome extension
The free UnDistracted Chrome extension is fantastic, and I've been using it for years. The extension helps hide all the distracting sections on social media sites like Twitter, Facebook, LinkedIn, etc. You can also block entire sites for a period of time. I use social media for work, so I like to leave them accessible but remove all the distractions and clutter (typically all the clickbaity titles, what's trending, news boxes, etc.).
My Twitter settings
On Twitter, I have the following settings toggled on:
Hide Timeline
Hide Trends
Hide Who to follow
Hide Topics to follow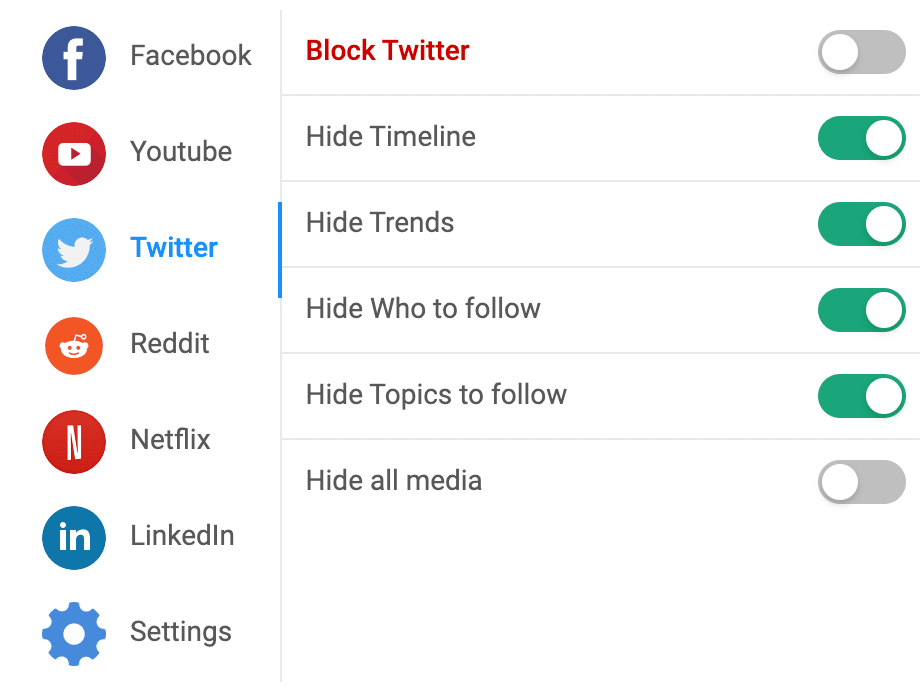 The above settings result in my Twitter looking like this. As you can probably guess, I mainly use Twitter just to compose my tweets.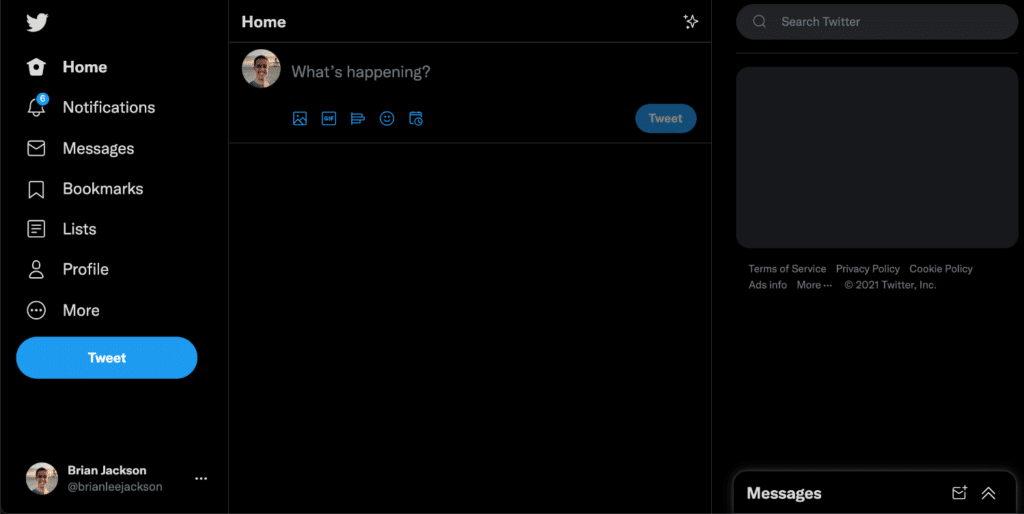 I then use TweetDeck to respond to customers, comments, and direct messages. I'll dive into how I follow others on Twitter further below.
My Facebook settings
On Facebook, I have the following settings toggled on:
Hide Feed
Hide Watch Feed
Hide Marketplace
Hide Stories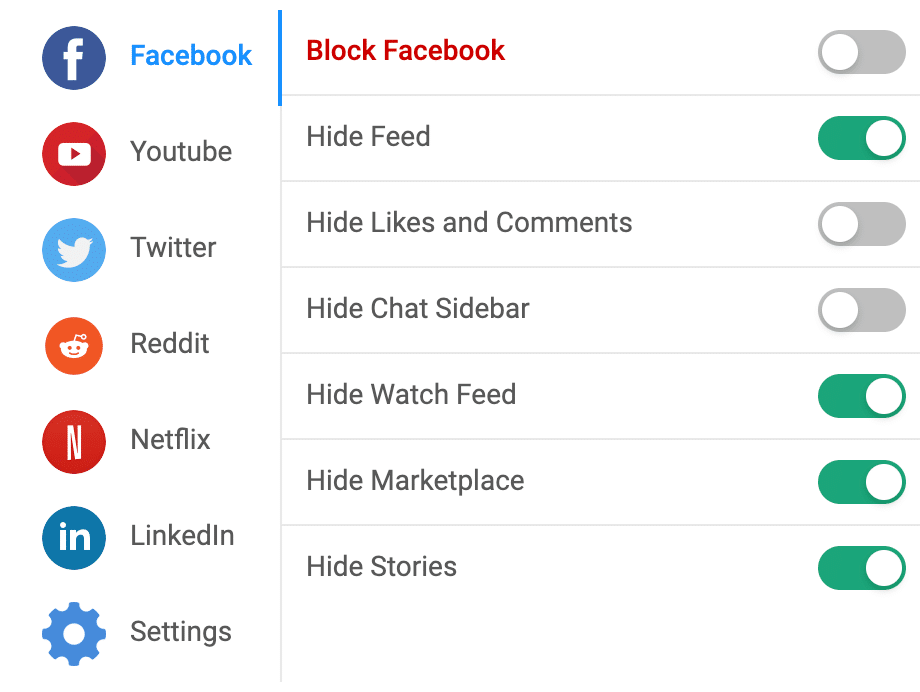 The above settings result in my Facebook looking like this.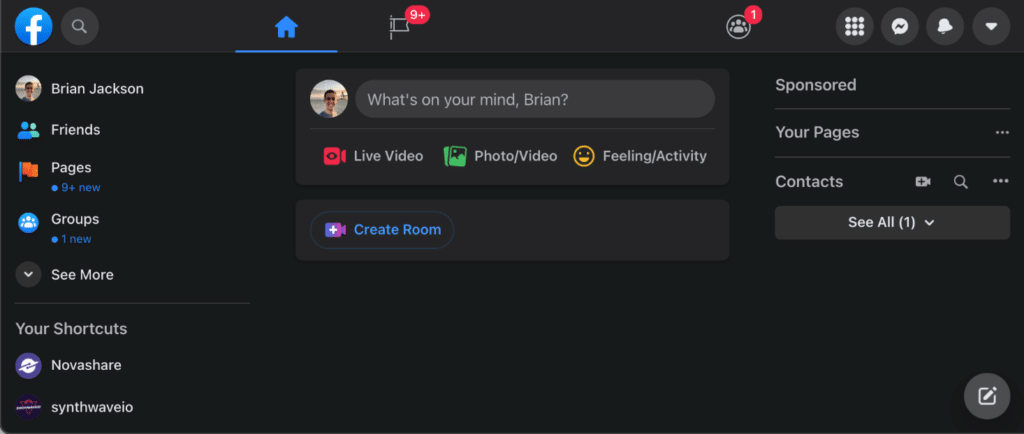 My LinkedIn settings
On LinkedIn, I have the following settings toggled on:
Hide Feed
Hide Messaging popup
Hide LinkedIn News
The above settings result in my LinkedIn looking like this.

My YouTube settings
On YouTube, I have the following settings toggled on:
Hide Breaking News
Hide Comments
Hide Up Next Suggestions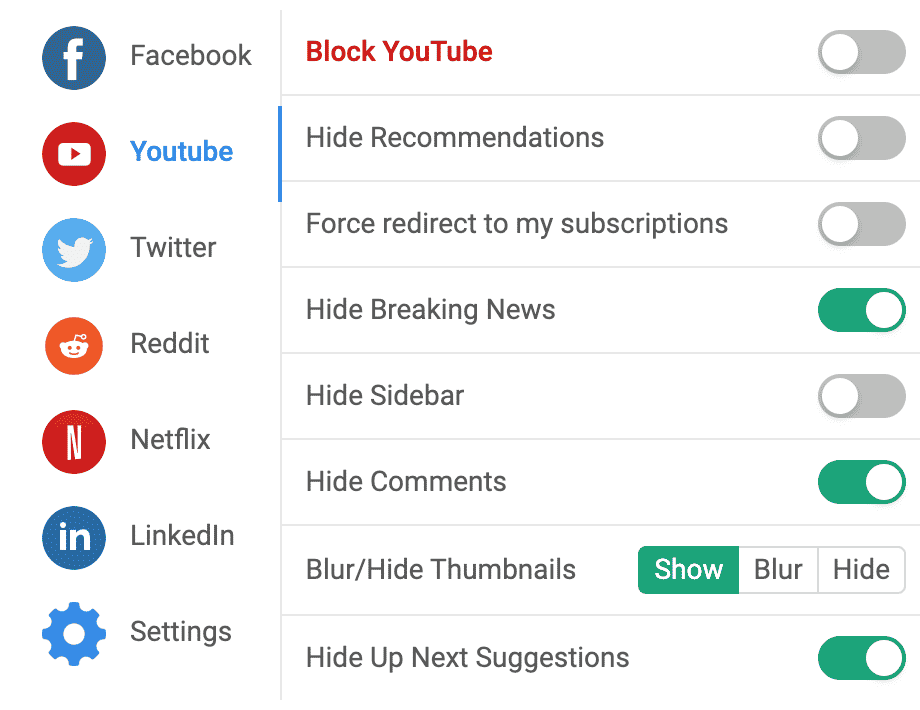 Comments on YouTube tend to be very toxic, so I just prefer never to see them.
There are a few instances on Facebook and LinkedIn where I might have to temporarily turn off a filter. To do this, I just hit "Pause for 5 minutes" in the extension.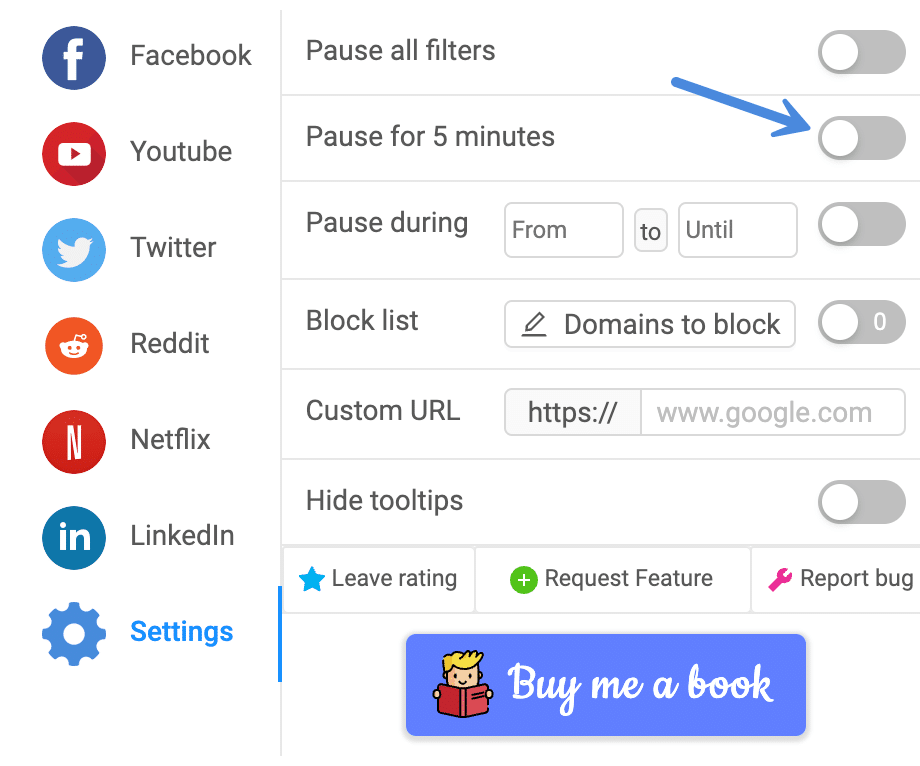 Some of you might be thinking that this is a very one-sided approach to social media. And it is. But I've found it works well for me. I don't see what's trending; I don't see news or any of the other junk that goes along with social media.
I'm also only a member of two Facebook groups. I've found many times that Facebook groups are just a waste of time. Or they can be toxic. I realize they are beneficial for some. But I'd rather answer a question or ticket with a person one-on-one instead of dragging out a conversation for days (which usually happens in Facebook groups).
Now don't get me wrong. I love interacting with folks on social media. If you've ever reached out to me, you'll know that I always respond!
uBlock Origin Chrome extension
Another Chrome extension I use is uBlock Origin. This is by far one of the best ad blockers available, both in terms of usability and performance. Some adblockers use an insane amount of memory and CPU; uBlock Origin does not.
One reason I use it is to block ads that show up everywhere (sidebars, headers, etc.). But one of the things I love the most is its ability to block YouTube ads. I enjoy watching a video on crypto from time to time, so not seeing any ads makes it much more enjoyable. I haven't seen a YouTube ad for years. And if I like a video, I'll try to share it on social media to help the content creator still.
Feedly
Another tool I use extensively is Feedly. It's a powerful way to aggregate and read everything from newsletters, tweets, Reddit threads, etc. And the best part is, you can do it without all the noise. There is a free version, but I use the Pro+ plan, and it's worth every penny. The web UI and mobile app are both very polished.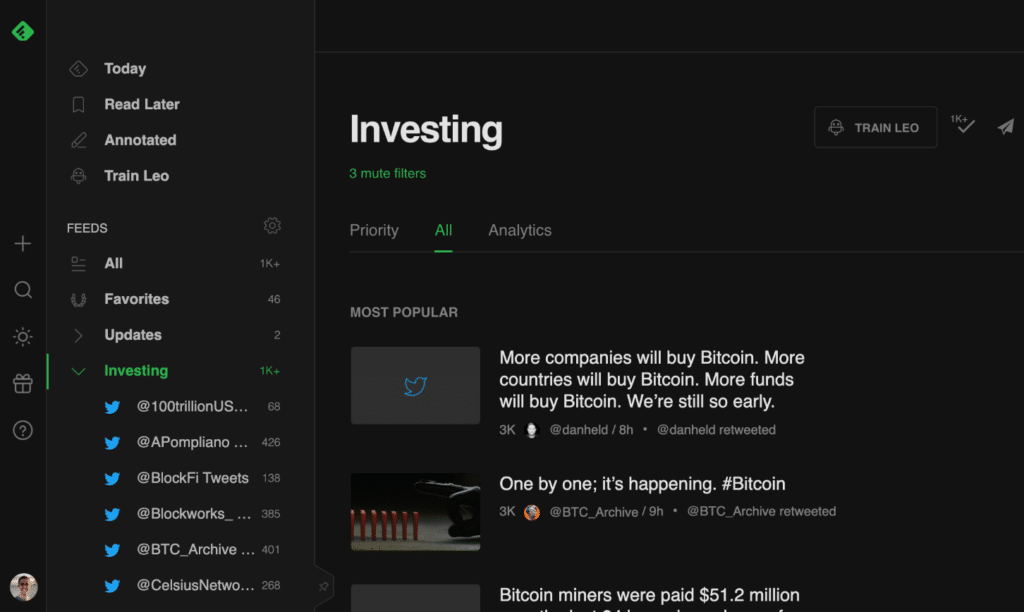 Here are just a few of the many things I use it for:
Subscribe to all my email newsletters. It generates a unique email address so you can sign up for a newsletter, and then it ports it into Feedly for reading. This way, I keep my Gmail inbox clear!
Follow Twitter accounts.
Follow Reddit boards.
Have a separate category for RSS feeds to follow changelogs of tools and software I use.
Port in new synthwave music releases from MusicButler feeds and Bandcamp.
Everything is categorized. For example, I have categories for investing, WordPress, tech, Mac, music, gaming, blogging, marketing, SEO, social media, blogging, and more.
Another feature I love in Feedly is the ability to train "Leo." This is what they call their bot that runs all different types of automation within your Feedly account.
For example, many crypto folks also talk about vaccines and mandates because the crowd is very anti-government. And I don't want to hear any of that. So I add filters that automatically mute these tweets, so I never see them. This way, I only see the content I want and silence all the controversial or depressing topics.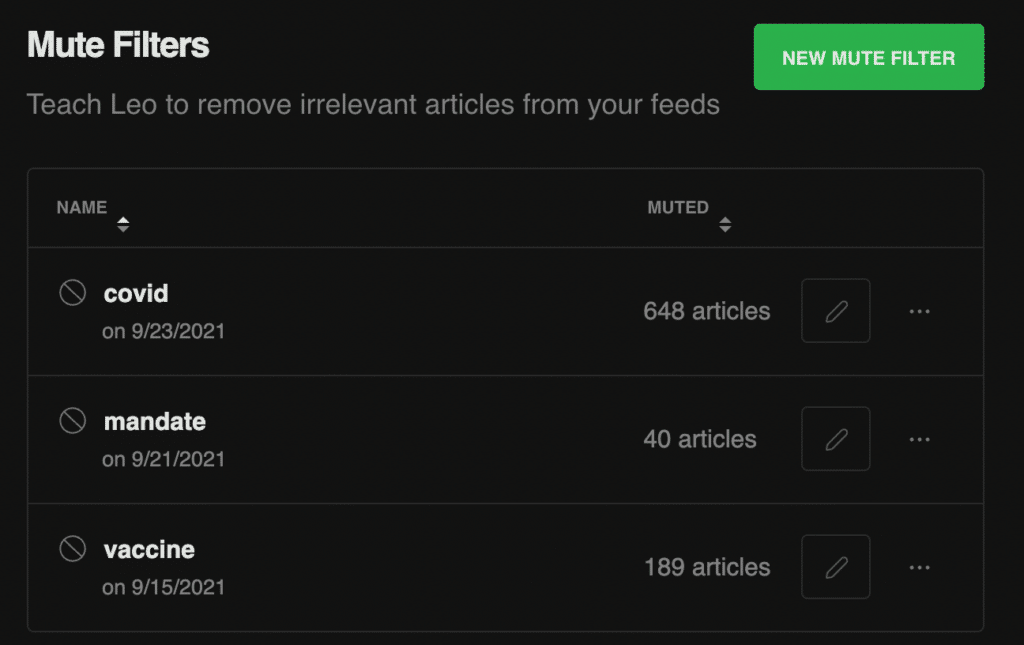 Leo does all sorts of stuff. Such as deduplication, so I never see the same article if multiple blogs picked up the same story. It also lets you prioritize keywords and set up web alerts. This is great for tracking brand name mentions across the web.
Feedly is the perfect way to keep up with all of my reading, content from people I'm following, newsletters, etc. It helps me eliminate all the clutter and noise (no ads). Pair that with the Leo bot; it actually gets smarter the more you use it.
My phone is off limits
That's right; I don't have any social media apps on my phone. I believe there is a time and place for these types of apps, and I prefer not to have the distraction, especially when I'm out and about running errands or taking a break from work. That means I never have to worry about push notifications either.
The one exception is that I do have the Feedly app installed. This means I can still do all of my reading, just no interacting. If I do stumble across something worth sharing, I bookmark it for later when I'm back at my desk.
Summary
Those are just a few quick tricks I use to stay away from all the social media distractions. It allows me to be more productive and focus primarily on marketing my business. It also helps with my mental health. It's OK to keep up with current events, but I think everyone can agree that over the last couple of years, sometimes you just need a break.
Are there any tricks you use to lockdown or silence social media distractions? I would love to hear them!