Some of you have asked what tools I use to share on social media, and I've kept it pretty hush until now. The tool I've been using for the past year is out of beta and is now really polished. I'm super excited to share it with you, and that is SmarterQueue. It's the best Edgar alternative out there, and frankly, a Buffer killer.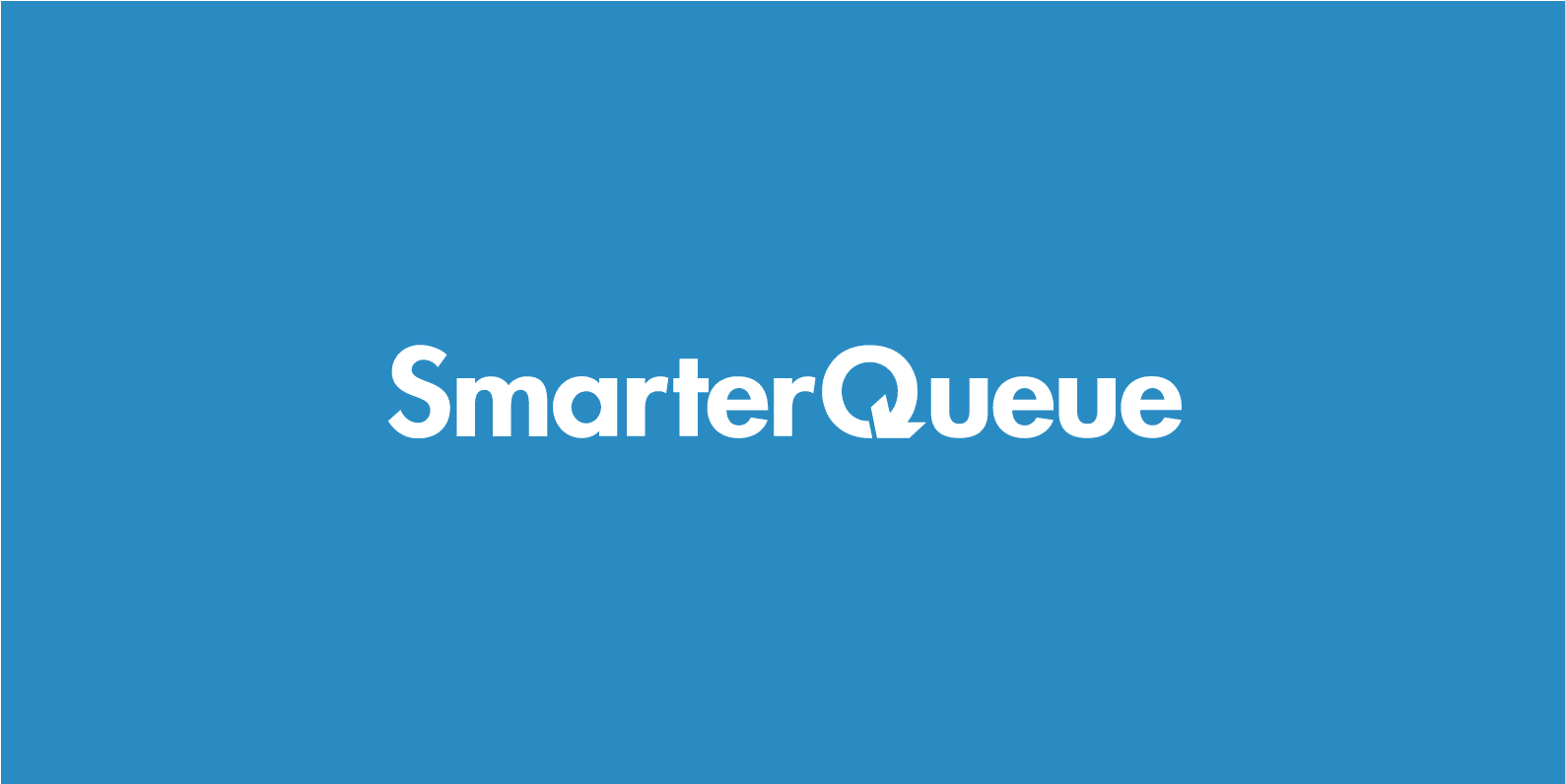 Don't get me wrong, I love Buffer, always will. But I needed something to save me more time. The problem with Buffer is that the queue eventually runs out, with SmarterQueue, it keeps rotating your posts forever on social media! Check out my SmarterQueue review below to start dominating sharing on Twitter, Facebook, and LinkedIn.
SmarterQueue is the bomb and it saves me over 8 hours per week!
SmarterQueue review
A while back a tool called Edgar was released which I was super excited about. The reason? Because it works on a queue that never gets empty. This is exactly what I needed as a content marketer. For me, I don't personally like spending hours on social media. I see return and investment on my writing, so whenever I sit down at the computer I want to be writing, it's as simple as that.
I used Edgar for a little bit and was pretty happy with it, despite it being a little clunky. But anything compared to Buffer is going to seem a little bit off, the team at Buffer did an amazing job on their UI and it is super fast. I have also always hated the Hootsuite UI.
A couple of years ago, the developer and founder of SmarterQueue reached out to me and told me about this new tool. At first, I was not that interested, a lot of tools fall short of my high expectations. But one weekend I finally decided to fire it up and have been using it ever since. I immediately canceled my Buffer account and my Edgar account. I knew I had found the tool for me going forward.
Goodbye Hootsuite, so long Buffer, cya Edgar.
Mad props to Claude
I don't normally do this but I first want to give a big thumbs up to Claude, the developer. I have chatted with him on Skype for many hours ever since starting the beta. I have made suggestions, and he has implemented everything I requested.
By the end of this review, you will realize just how smart this guy really is. It's like he took everything you ever wanted for social sharing and integrated it all into one tool. The amount of options in SmarterQueue is mind-blowing. Anyone that makes my life easier gets a big thumbs up in my book.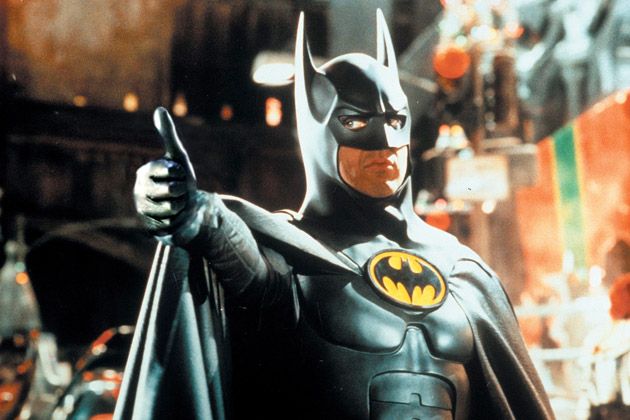 How SmarterQueue works
Ok now that I have got all the praise out of the way, it is time to dive into the features of SmarterQueue. There is so much that I won't be able to cover everything in this review but I will do the best I can.
So basically how SmarterQueue works is that it adds your posts that you want to share to categorized queues, each with their own schedule. You can then recycle your evergreen content and let them keep posting. The more posts you have the better, as this will keep rotating through your queue. I have a little over 500 posts queued up and I also use it to share third-party content as well. Here is a screenshot of my current queue and the dashboard in SmarterQueue.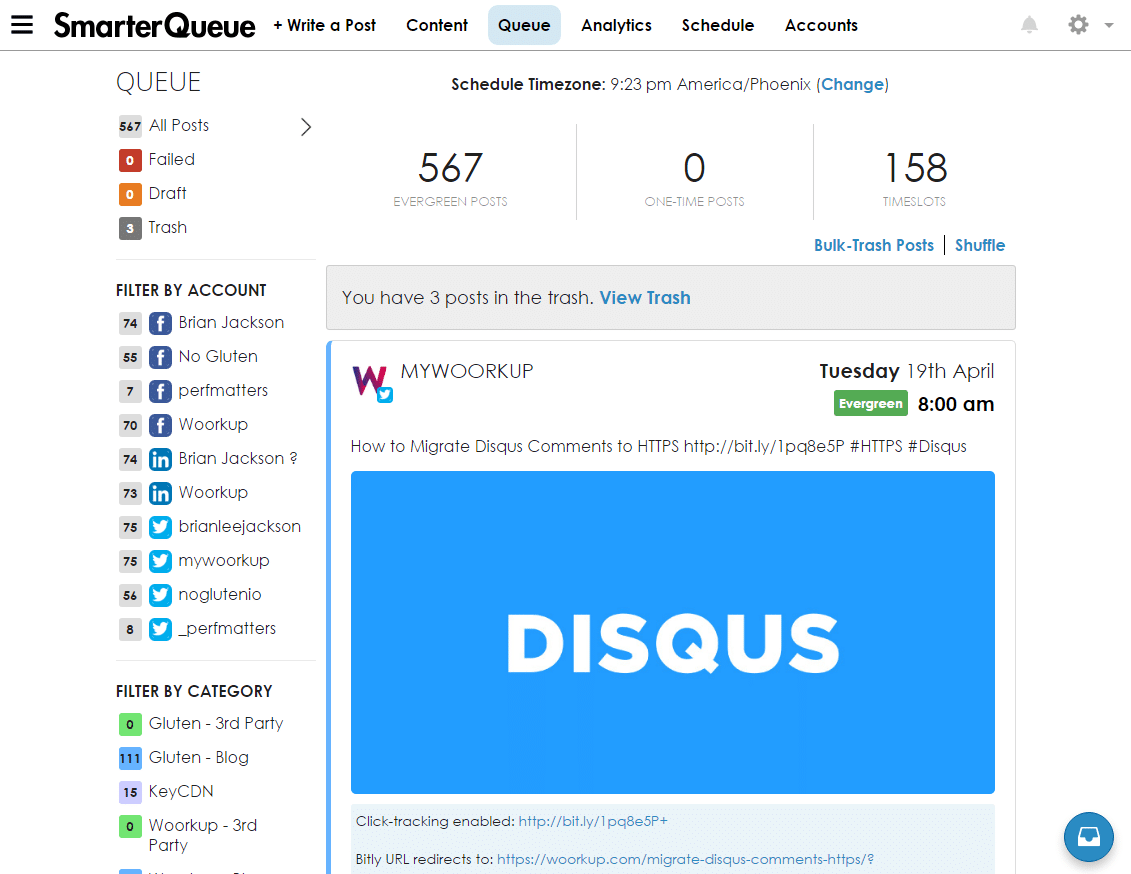 Again, this means that I queue my blog posts up once and I never have to touch it again! That is the time-saving magic of this tool.
Writing a post
To write a post you simply click "Write a Post" at the top or there is also a bookmarklet that you can add to your bookmarks bar for easy sharing. I use this all the time. When you're on a post or page you want to share, simply click the bookmarklet. You can then choose your category.
I separate my categories by my blog posts and then by 3rd party content. As I want my blog posts to keep rotating and I treat them as evergreen content. In the 3rd party category I only want to share it once. You can see below there is an option to "Post Once" or "Re-Queue after Posting."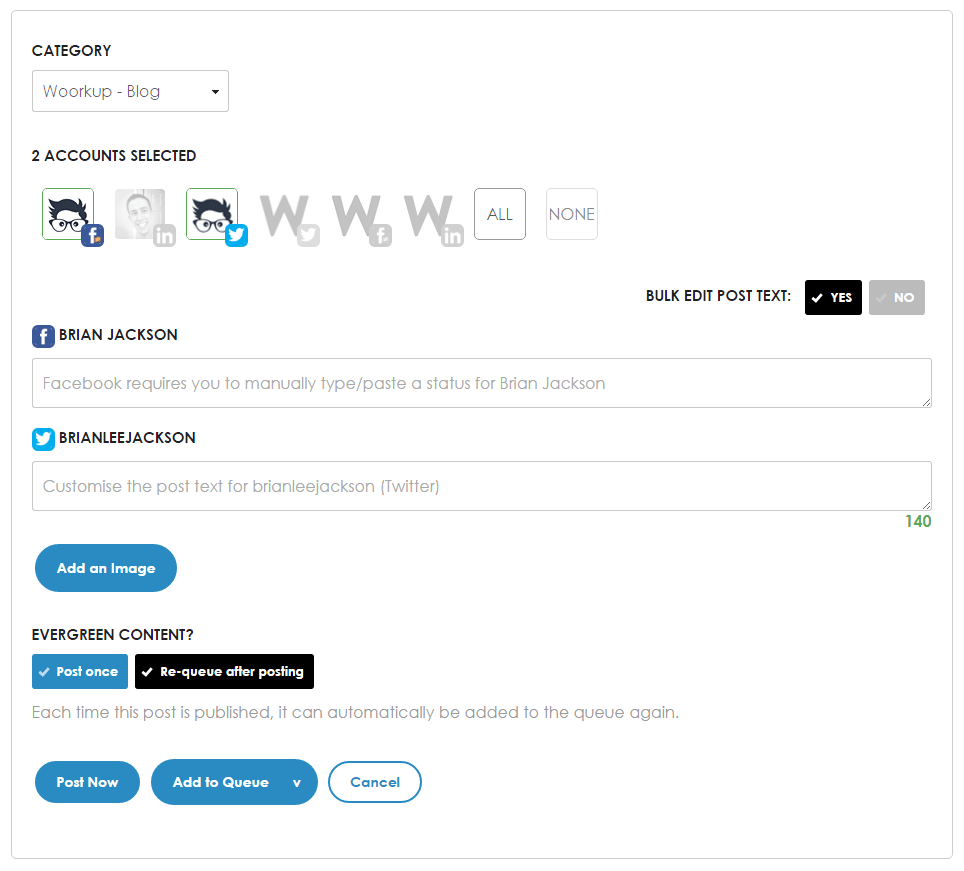 You then have Queue options. You can "Post Now" or "Add to Queue." Under the add to queue option, you can select "Post Next," "Schedule Post," or "Save as Draft."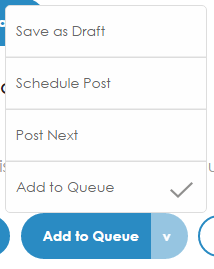 The tool also pulls in all your OG tags automatically. So it pulls up your Facebook image preview beautifully. And you can even edit this part!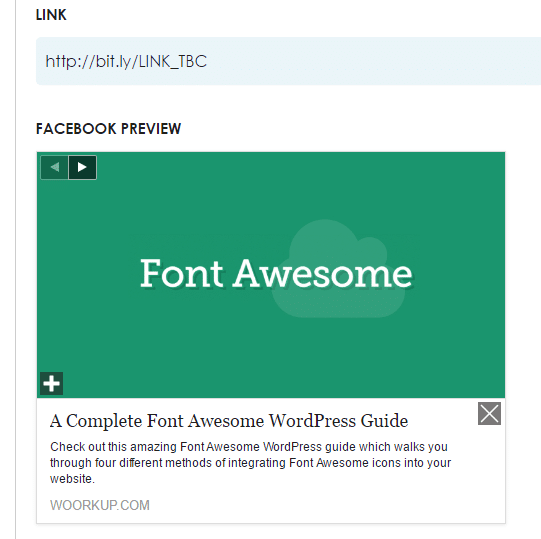 And as you can see above too it has URL shortening with bit.ly that you can use. This is great for analytics. And don't forget about Twitter! He automatically scans your post and you can choose to show a full image in your Tweet or not.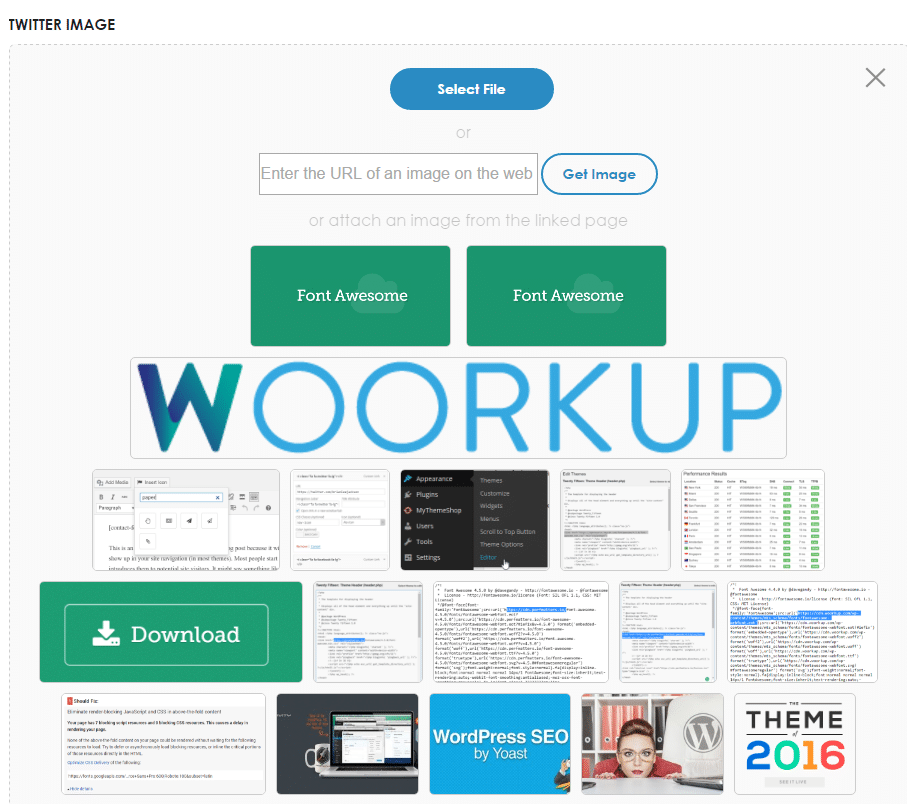 Categories
Here is a screenshot of my categories page. Before you get started I urge you to take a few moments and think about how you want to set it up. For me, it makes sense to separate my posts from 3rd party content. But there are pretty much an unlimited amount of ways you could set it up.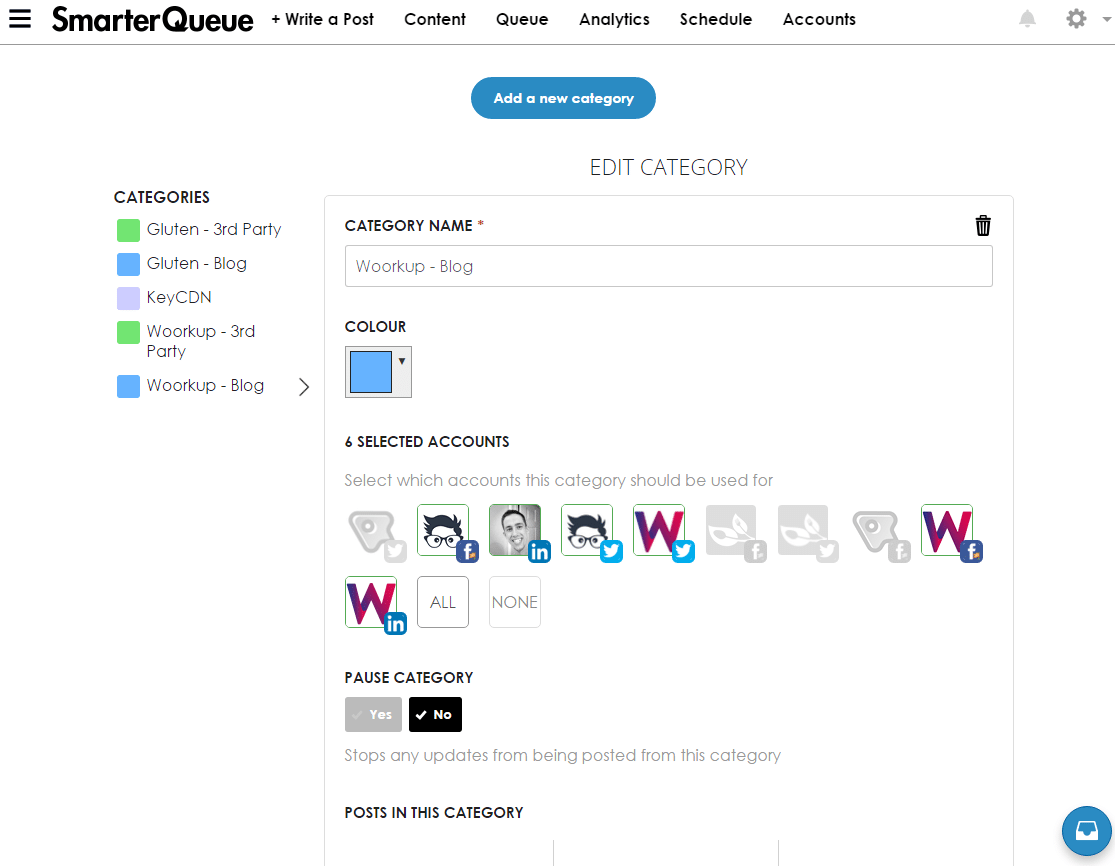 Schedule
Under the schedule page, you can set up when you want your posts to be shared out. This page can be a little intimidating at first, even I was like woah! But there is so much power behind this page it is awesome.
You can schedule each of your posts per category for when you want them to go out. Perhaps you want your blog post to go out at 8 am and then 3rd party content to go out at noon. You can do that! No more manual scheduling or dealing with spreadsheets. Once you set this up you never have to touch it again.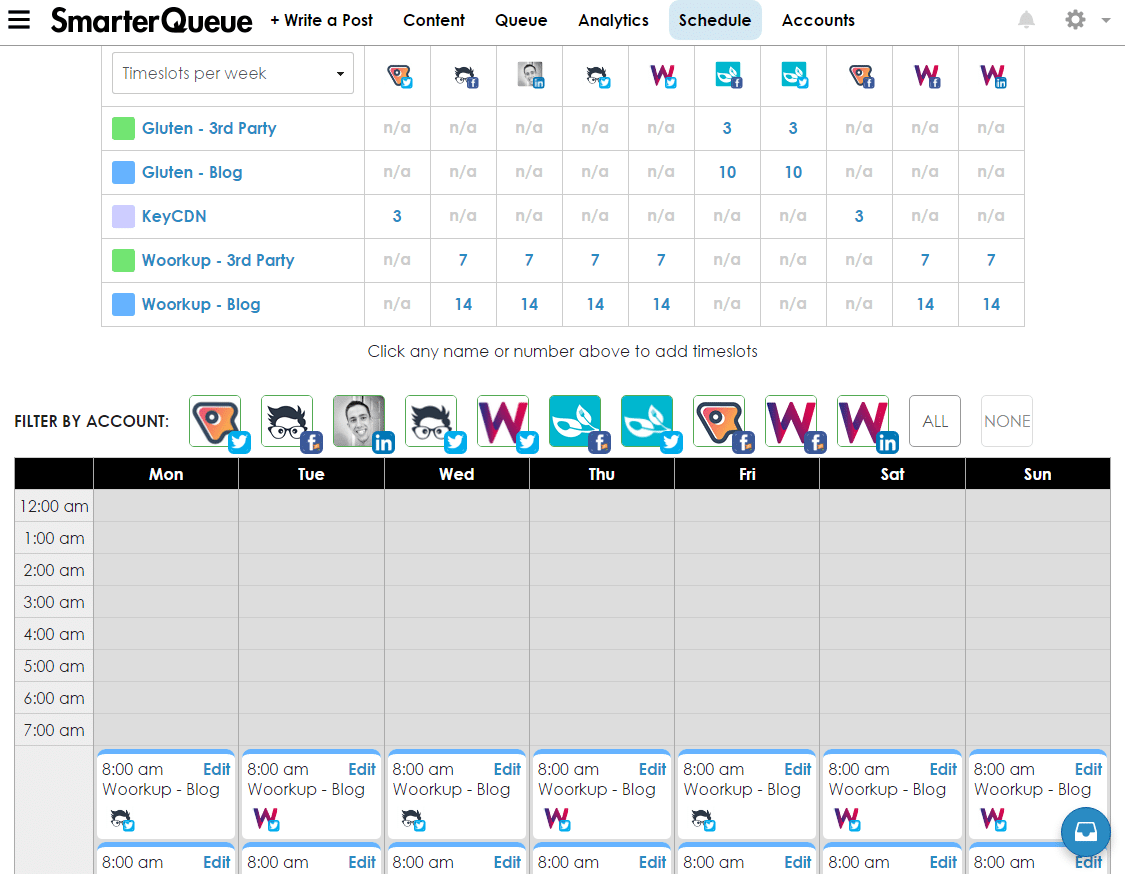 Analytics
Under the Analytics page, you can easily see your most likes, most shares, least likes, least shares, etc. This allows you to easily see what is working and make sure it is in your queue.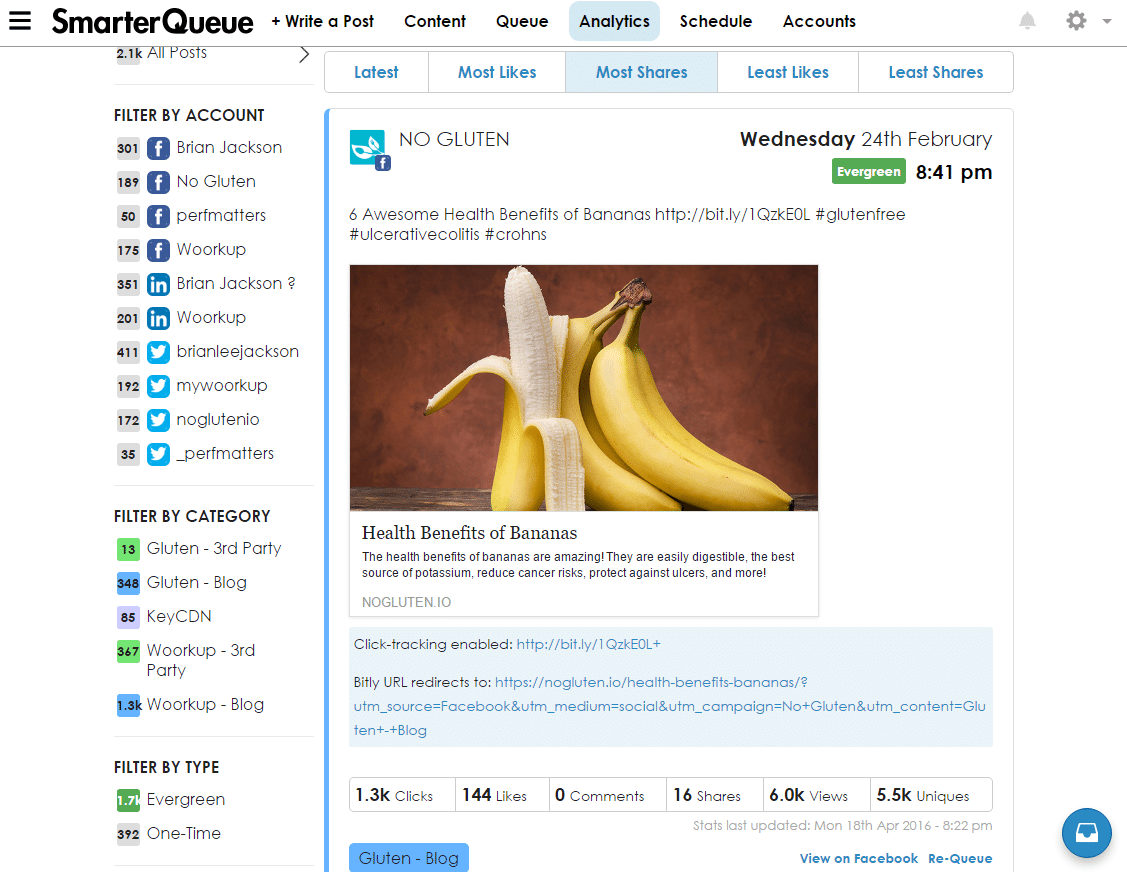 SmarterQueue also has a Twitter analysis tool in which you can analyze any account you want. Yes, you can even use this on your competitors! And check out the amazing data below, it is unbelievable. I can see from this data that my tweets get 2.1x more RTs when they have an image and 1.7x more likes with an image.

Content
So re-sharing your evergreen posts is great, but you also need to share 3rd party content. I usually share 80% third party content and 20% of my content. Thankfully Claude thought of this when building the tool as well. And actually I had some feedback into this part of the tool. 😄
He has made it so easy to add sources, RSS feeds, Twitter accounts, Facebook accounts, and yes, even Feedly! With this tool you can even ditch your Feedly account simply queue up content right from within SmarterQueue. It's amazing. Have a favorite person on Twitter you love to follow? Add them as a source and queue up their content.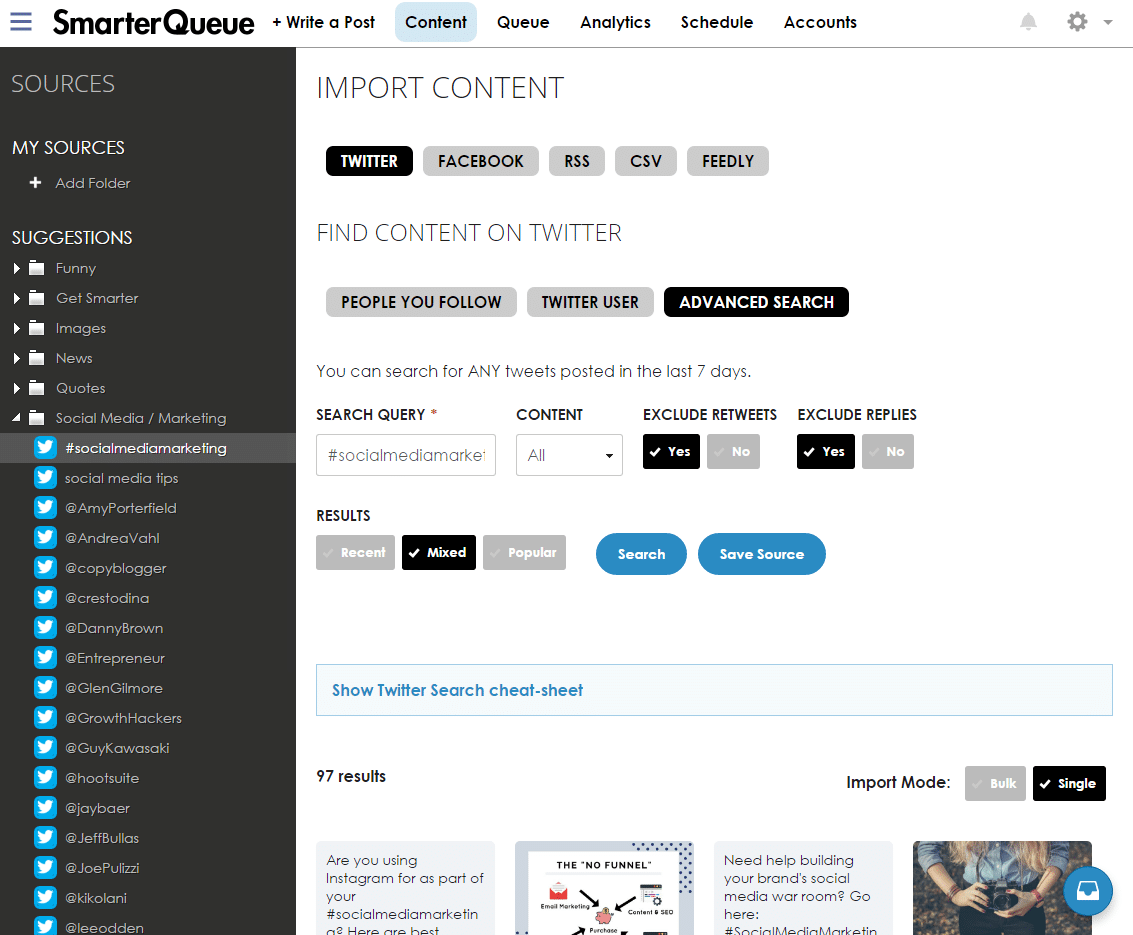 Settings
Are you falling in love yet? Let's take a look at some of the universal settings you can configure in SmarterQueue. You can change your timezone, time format, image sizes, default evergreen settings, pause queues, and you can even add attribution automatically to imported tweets!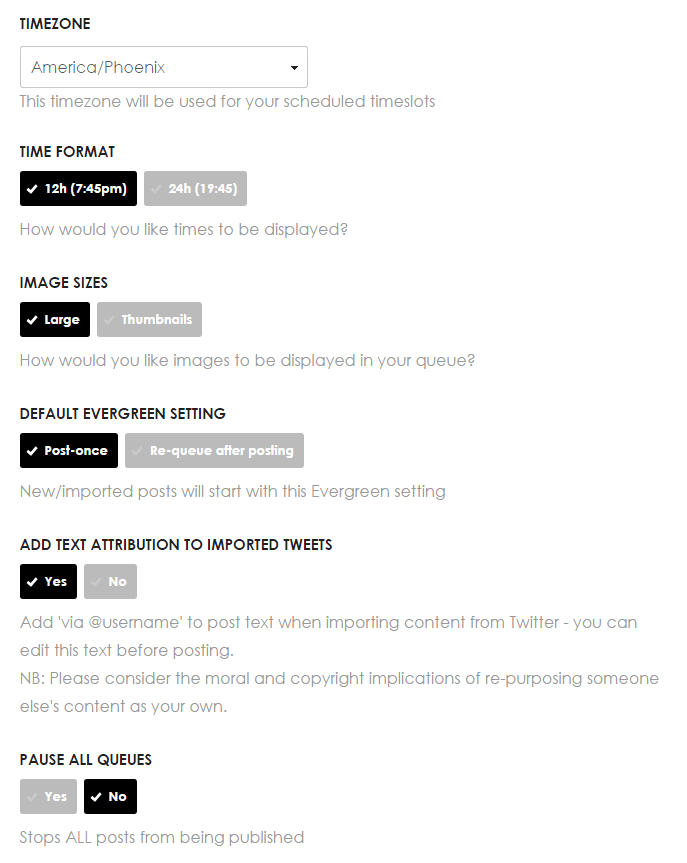 Email preferences
Under email preferences you can choose to get weekly stats, and notifications if your queue runs out of posts or if one fails for some reason.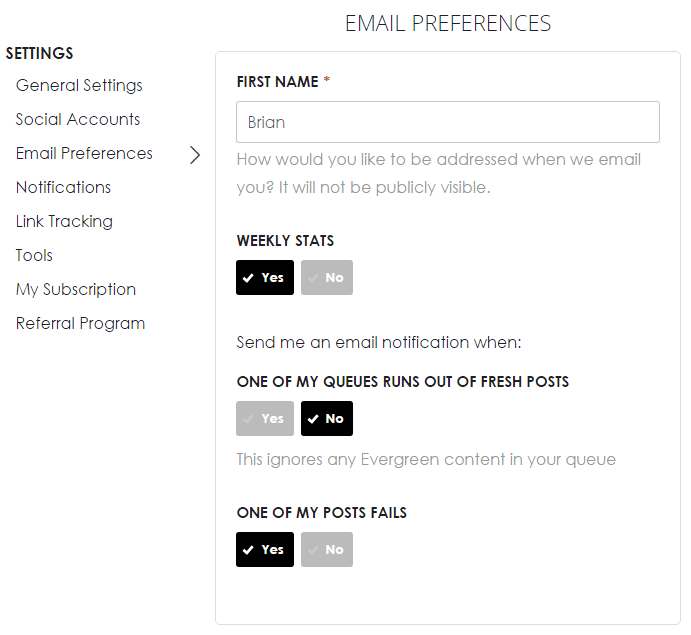 Link tracking
Besides being able to hook your account up to your bit.ly account for tracking clicks, there are some other amazing link tracking options that no tool has ever had before!
You can remove existing Google analytics UTM parameters if you want. And you can also customize the template for your UTM parameters. These are some pretty badass features. If you do any marketing and work with Analytics on a regular basis this is like icing on the cake.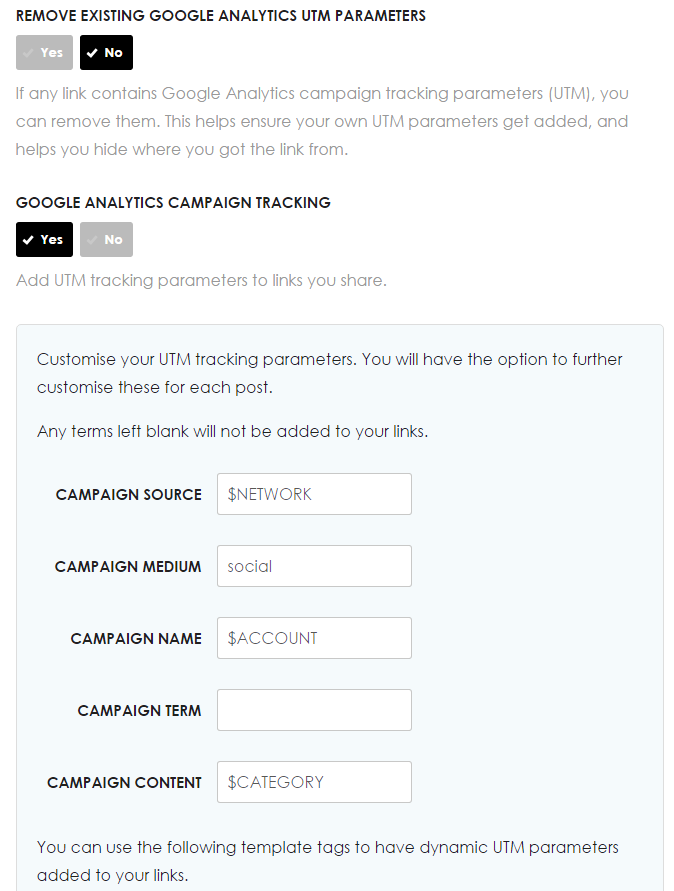 Social networks
SmarterQueue currently supports the following networks for posting.
Twitter profiles
Facebook pages, profiles, and groups
LinkedIn pages and profiles
Instagram via the iOS app
Pricing
There are three plans currently; a Solo, Business, and Corporate. It is all pay-as-you-go so you can cancel at any time. There is also a 14-day free trial. But if you sign up with my link you can extend that to a 30-day free trial.
Solo Plan
$19.99/month (Only $0.67 a day)
4 social accounts
20 daily posts/account
This is much cheaper than Edgar, which starts at $79/month.
Business Plan
$39.99/month (Only $1.33/day)
10 social accounts
40 daily posts/account
Corporate Plan
$79.99/month (Only $2.67/day)
25 social accounts
Unlimited daily posts/account
Custom Plan
Start with the base solo plan and add only what you need.
And you can contact Claude if you need a bigger account. You can also pay annually and save up to 15%. Registered charities, non-profits, academic institutions, and students all get 50% off any plan.
Summary
My new workflow: Write a blog post, add to SmarterQueue, and reap the benefits forever.
Hopefully this SmarterQueue review was helpful. Like I said this tool is just about to come out of beta and I can guarantee you it is going to revolutionize the social media sharing space. It is going to have these other companies scrambling. Sign up now to get notified when it launches! This is one tool you can't afford to miss.
If you spend time writing amazing content, you should be re-sharing it. If you aren't you are simply losing out on a lot of traffic. Have any thoughts? Please share them below.