Transfer Ownership in Google Analytics
If you have arrived here you probably just sold a website or your moving clients around and are needing to transfer the complete ownership and or admin rights of your Google Analytic's account to someone else. Most likely the way your Google Analytics account is structured is you have a bunch of web properties under one gmail account. If this is how your account is structured, unfortunately you will not be able to transfer ownership to someone else. This has been very frustrating for us and many other internet marketers.
[alert-note]Update: As of September 2016, you can now
transfer Google Analytics accounts
.[/alert-note]
You can of course add someone with rights to view your Google Analytics web property. To do that, follow these steps. And see our best recommendation for the problem above below.
Step 1
Click "Admin" at the very top and then click into "User Management."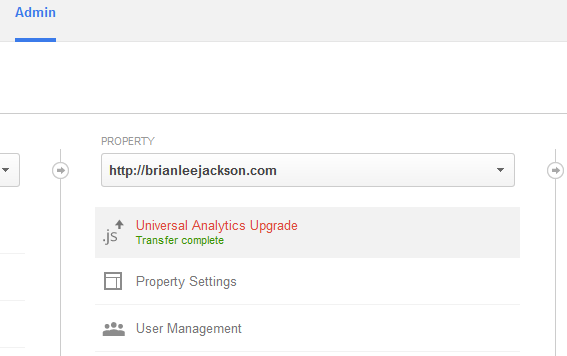 Step 2
Then on the right, under the "Add permissions for:" simply add the gmail address of the person you are wanting to give access to and the rights you want them to have. And that's it! Your done.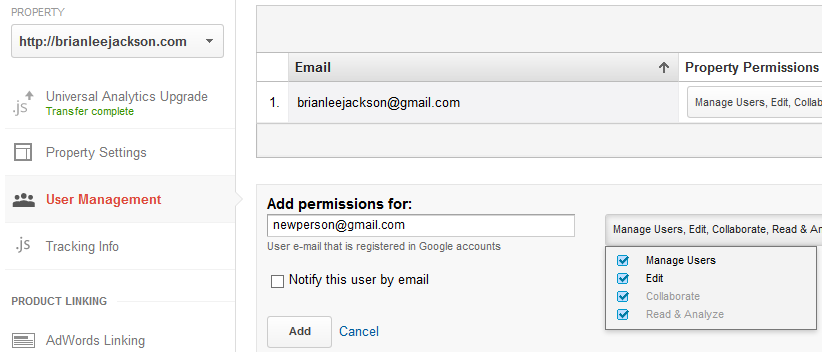 You would think by checking every permission the person could simply go in and then delete you from the account. However that is not how it works. The original account (gmail account) that setup the Google Analytics account still has full admin rights.
[alert-note]
Unfortunately the best recommendation we have found so far is to give full access to new owner and tell them to create a new Account/Property/Profile in their own Google Analytics account and hookup their own analytics code for the website
. This way it will start collecting data under their account. They will still be able to access the old historical data as well under the other property, but after times goes by they don't have to worry about the original person with admin rights possibly deleting or removing them from the account.[/alert-note]
How Should I Setup Permissions on my Google Analytics Account?
If you are just setting up an account, I highly recommend you simply create a new gmail account for that website. Every client we work with, we setup a new gmail for the client and the Google Analytics account is setup on that gmail account. We then give access to view it to ourselves. This way though if you ever lose the client, have to let them go, need to transfer rights, you can simply remove yourself (or they can) from the Google Analytics account. Creating a separate gmail account is also recommended if you are creating google+ profiles, google maps, etc…
Please share your comments below. Or if you have figured out a way to fix the problem above please let us know!