I am a huge fan of simplicity and tools that just simply work. Off the top of my head I can name a couple; Slack, SEMrush, Accuranker, Trello, Narrow, etc. With most tools, I can usually tell within a matter of minutes if it is going to suit my needs or not. I was recently comparing some website uptime monitoring tools to better monitor my sites, and stumbled across a hidden gem, and that is updown.io.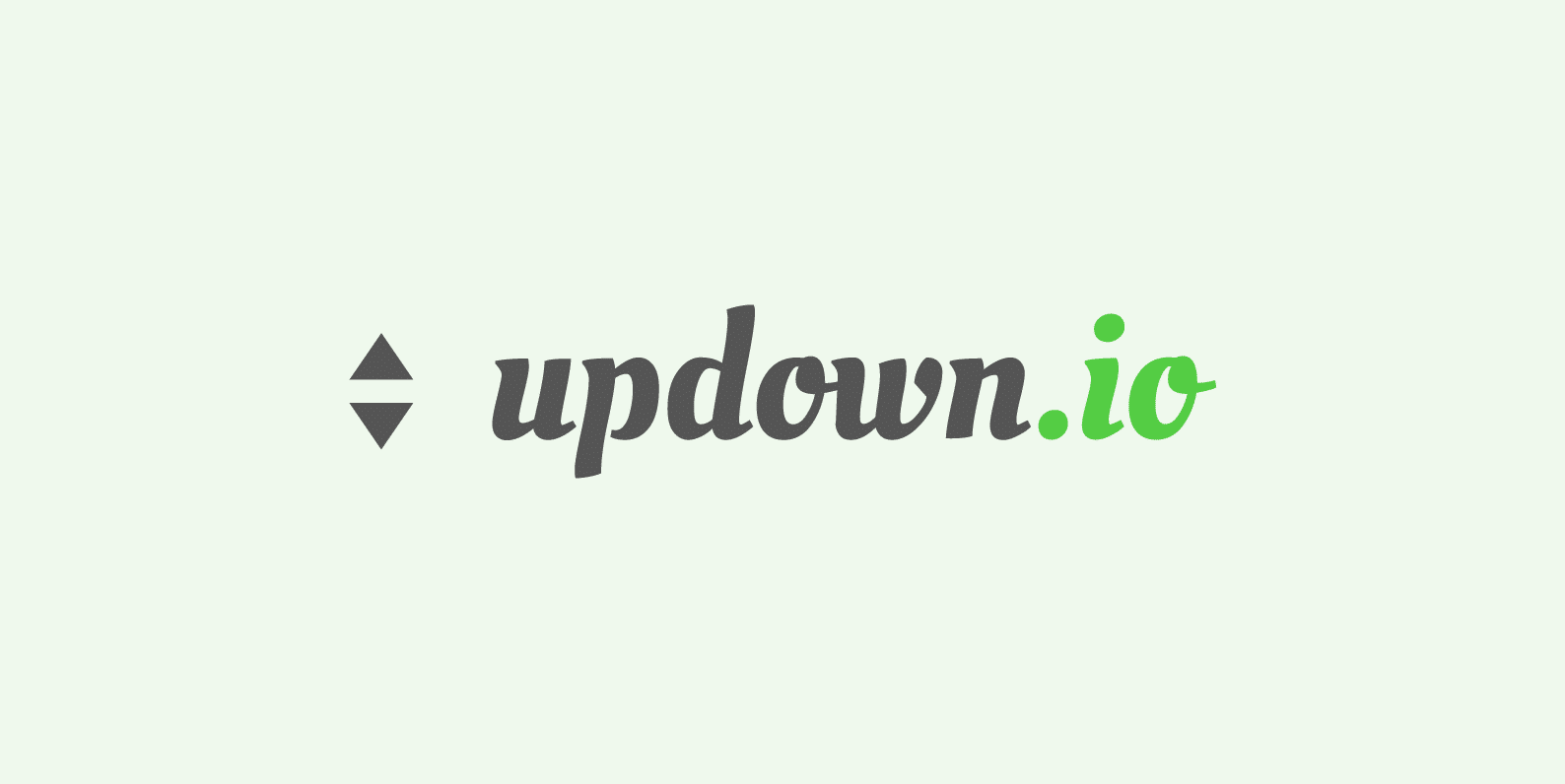 In this post, I am going to dive into updown.io and all the features it has to offer.
There is no affiliate program for updown.io, I simply love their service!
Uptime Monitoring from updown.io
So this might surprise some of you, but when I was looking for an uptime monitoring tool for my sites, I didn't want all the bells and whistles. I just wanted something simple that was fast, works reliably, and was cheap. I looked at both free and paid solutions. I tried about 15 different services and the first time I logged into updown.io, I knew this was the tool I was looking for.
On their about page there is an explanation from the developer why he created the service. Here it is.
Another monitoring website?

Yes, there were a few existing alternatives but I was looking for a service really simple, cheap and nice looking. I couldn't find any, that's why I decided to build one the way I want. If you think something's missing, don't hesitate to leave your idea with the "feedback" button at the bottom.
Right after reading that I was like, "thank you!" And the developer/creator, Adrien Jarthon, doesn't disappoint. First off, the updown.io website is just clean and simple. There are no bells and whistles, because none are needed.
Updown.io Features
First, let's explore some of the features:
Oauth login with one click
Check intervals: 30 seconds, 1 minute, 2 minutes, 5 minutes, 10 minutes (I personally use the 10-minute checks as that is good enough for me)
Slack integration alerts (yay, a must in 2016. I have tons of automated private slack channels for all types of automation)
Alerts also can be sent to email or SMS
Payments via bitcoin, PayPal, or Stripe (credit cards)
Downtimes are confirmed from multiple locations before alerting you. This way you can avoid any false positives. There are currently 4 monitoring nodes in San Franciso, US, Montreal Canada, Gravelines, France, and Singapore, Singapore.
Has an API with great documentation. I don't use this, but always great to see.
Receive alerts of an expiring SSL certificate. I didn't really need this, but it's a nice little bonus!
Automatic renewal of credits (a must-have for any uptime monitoring tool)
Beautiful Reports
The reports from updown.io have to be the best I have ever seen anywhere. You can see an example below in the screenshot or on updown.io's public status page.
You even have the option to make your own individual checks private or public. You can also use a CNAME and point your DNS to allow for a status page on your domain.

Pricing
So you are probably wondering now just how much this costs. Well, it is dirt cheap! When you first signup you get a free 100,000 credits. I currently have 7 different websites being monitored in my account, each at a 10-minute interval.
Of the free 100,000 credits, as you can see, I still have over 80,000 left and it lets you know how long they will last with your current setup. Really cool! Never seen an approximation based on the current setup before. As you can see my credits are going to last me a little over 2 months.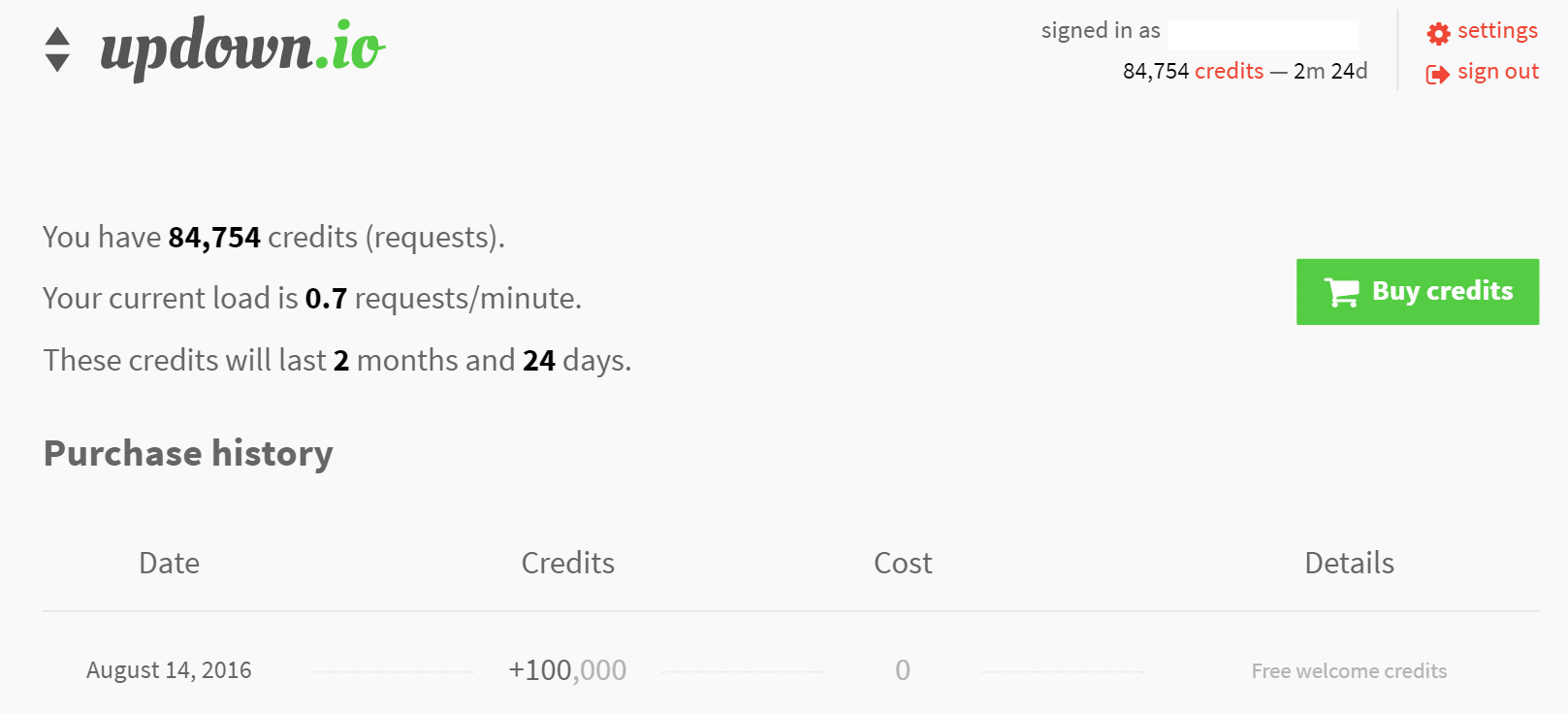 But what about when I need to buy more? Well, as you can see below, I can buy a 200,000 credit pack for 5 Euros, or in my currency, it is $5.50. So with my current setup, 7 websites being monitored, I can pay $5 for 6 months. Or rather $10 a year. Talk about awesome!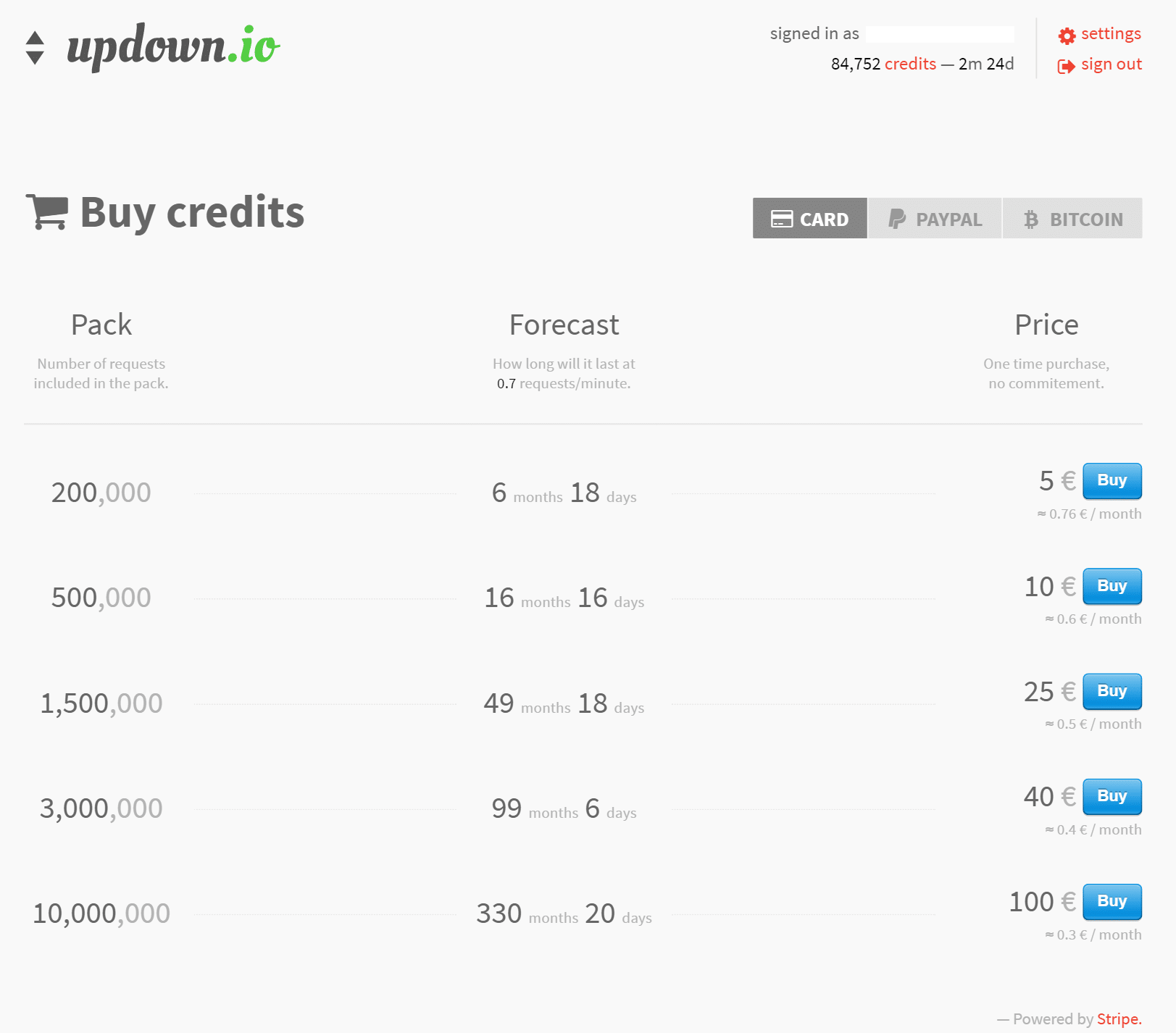 updown.io Dashboard
Now for the fun part! Below you can see the updown.io dashboard. I have blocked out my domains obviously for personal reasons. Although some of you might recognize some of my favicons hehe.
You can change the following options for each check:
HTTP, HTTPS, ICMP, TCP
You can assign an alias
You can have it search for particular data
Interval uptime monitoring check times of 30 seconds, 1 minute, 2 minutes, 5 minutes, 10 minutes (again, I am not that aggressive, I just want a notification if a site is down for more than 10 minutes)
You can change the Apdex T, also known as satisfactory response time. Intervals 0.125 sec, 0.25 sec, 0.5 sec, 1.0 sec, and 2.0 sec. (I am using the 0.25 sec)
And you can pick from the 4 different locations. It doesn't cost any extra to have all of them enabled, so I am using all 4.
You can customize the HTTP headers, user-agent, accept strings, connection values, accept-language, and also add a custom header value

updown.io Weekly Email Report
You can also enable or disable the weekly report which hits your inbox every Monday at 10 am. This is one email I actually do subscribe to. It's nice to just have a quick glance each week at any downtime on my sites.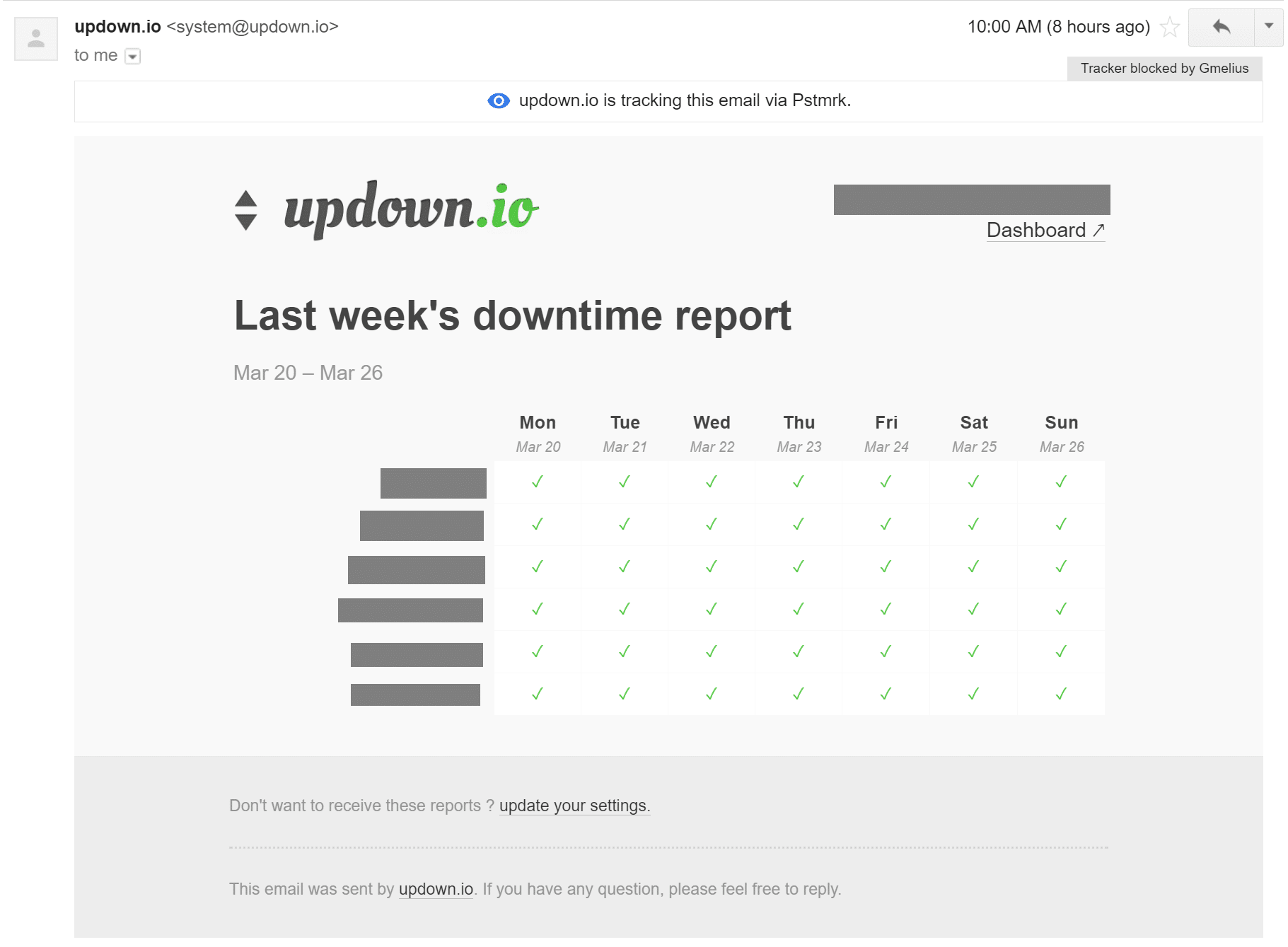 Additional Settings
Some additional settings available under your account include:
Ability to CC additional email addresses for alerts
Change the header name that is displayed in emails
Add a phone number for SMS alerts (Each SMS costs 7500 credits, or approximately $0.11)
Enable/Disable Apdex alerts. Be alerted (by email) when your website's Apdex drops more than 0.3 in 1 hour.
Support
I have not had to use support yet. That should tell you one thing. The best support is the support you don't have to use. However, I did put a request in on the updown.io uservoice forum and they responded within 2 hours. So pretty good experience so far.
Summary
All in all, I fell in love with updown.io. It is simple, it looks beautiful, and it works great. For about $10 a year to monitor all my sites, I couldn't ask for more. I am excited to see where updown.io heads in the future. This is definitely one service you want to check out! Everyone should use uptime monitoring, especially if your websites are earning you money.
Grab Free 100,000 credits from updown.io
Was this uptime monitoring review on updown.io helpful? If so, let me know below. If you give it a try, I would love to hear your feedback.