If I had to pick one thing from my entire workstation that I've used the longest, the Logitech MX518 definitely takes the cake. I purchased my first MX518 gaming mouse back in 2007 and have been using it ever since. I started with the original and am now using the Legendary reborn model. The weight, simplicity, and comfort are out of this world! I've tried switching to different mice, and nothing else ever stuck or felt the same.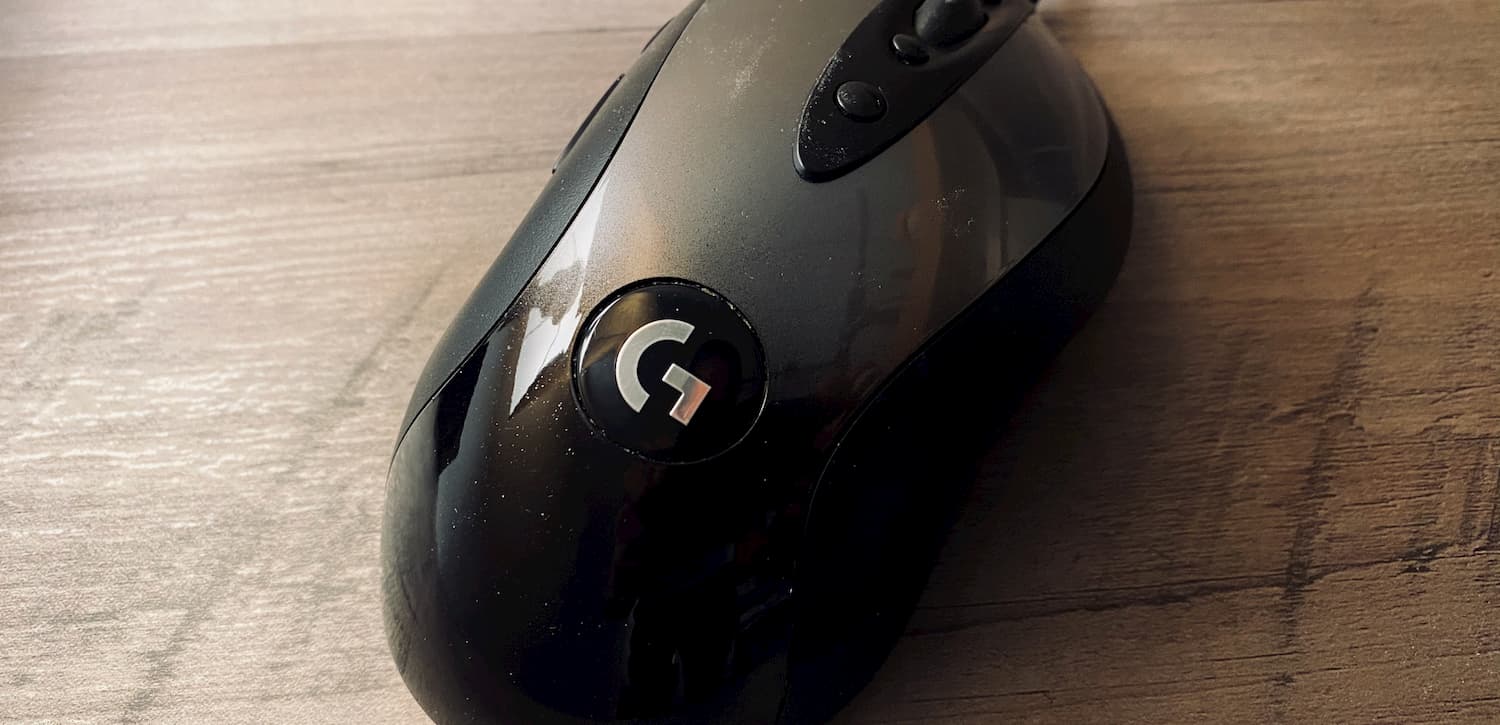 In my Logitech MX518 review, I'll be diving into some of its key features and why I highly recommend it, both for professional and gaming use. It's just an all-around amazing mouse that checks all the boxes.
I've used the Logitech MX518 mouse for 13+ years (original + Legendary). It's a mouse that gets better with age, and one I'll probably go to my grave with! 🖱️ @logitech
Click to Tweet
History of the Logitech MX518
The original Logitech MX518 (M/N: M-BS81A) was released back in 2005. Over the next decade, it became probably one of the best and most popular gaming mouse of all time. If you want some stats, the original version sold a whopping 16.4 million units!
I definitely contributed to some of those sales (see my Amazon orders below). I've purchased 5+ of them over the past 13 years.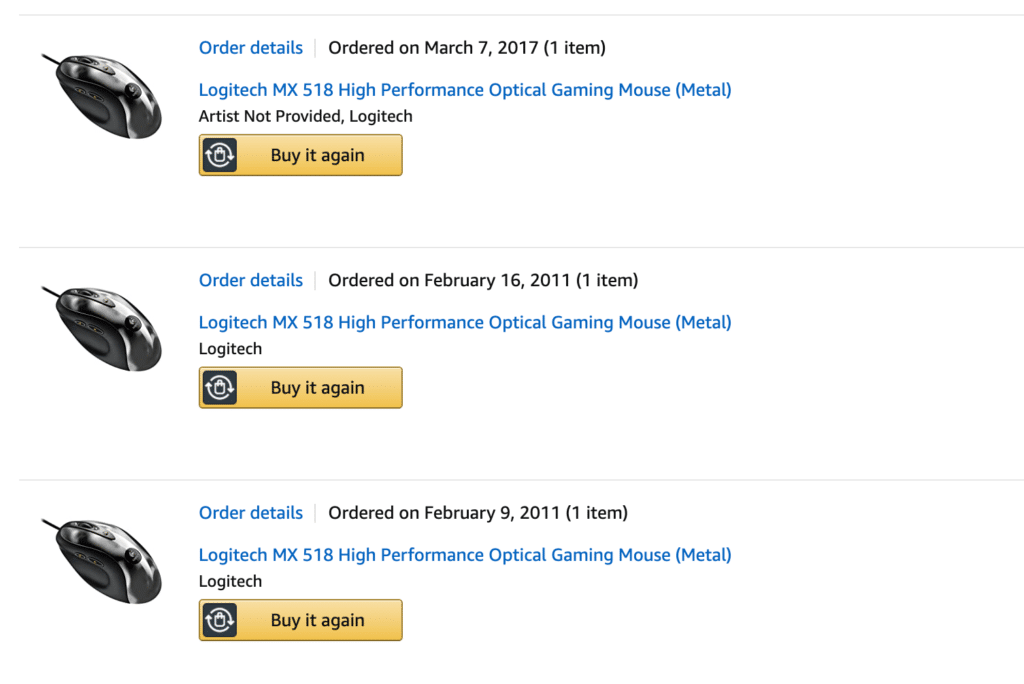 One issue I did run into a couple of years ago was that the mouse wasn't keeping up anymore in terms of speed. The main reason being that the original MX518 had a top DPI of 1800. DPI stands for dots per linear inch, and basically, it's the measurement of how fast you can move the mouse cursors. As technology and software have gotten faster, the 1800 DPI was starting to feel really slow.
I tried moving to a few different mouses:
Logitech G603
Logitech M310
Logitech M590 (I actually use this for my MacBook when traveling)
I'm not a fan of those robot looking mice. They just aren't very comfortable for me. As you might be able to tell, I was trying to move to a wireless/Bluetooth setup. Fewer wires are cleaner in my opinion.
But thankfully due to its great success, Logitech re-released the MX518 (AKA Legendary) in 2018 with a refreshed appearance and new internal hardware. I can tell you one thing, this made a lot of people very happy, including myself. I immediately purchased it again and haven't gone back since. I'm using it to craft this very review.
Build
Everything about the MX518 screams precision. It's a mouse that has been perfected over time by both working professionals and gamers. It's like a fine wine that keeps getting better with age.
Quality
I actually still have my original MX518 from 2007. After 13+ years, it still works great. It's just not very useful due to the outdated DPI. But in terms of manufacturing, I'm not sure how you can get any better build quality than that! The time speaks for itself, and in my opinion, Logitech has done a fantastic job.
The click itself on the mouse is just loud enough to be heard so you know when you're applying feedback. The scroll wheel is very smooth without rivets. I can't stand a mouse where the scroll wheel feels like it has different sections in it you pass or that's bumpy on your finger. It should always be one uniform smooth scroll with a quiet ticking sound.
Comfort
Comfort is one of the most important things to me when it comes to choosing a mouse. I work from home and make my living on the computer. So it's safe to say that I spend a lot of time in front of a screen during the week. I also have giant hands, so finding something that fits right is rather hard.
In the past, I've had issues with RSI. It got so bad to the point where I even had Carpal Tunnel surgery on my hand when I was in college. The Logitech MX518 mouse has been a huge win for me, and I can contribute a lot of my online success to it throughout the years. Whenever I've tried moving to a different mouse I would get pain in my hand. I'm convinced the Logitech MX518 just fits my hand perfectly. Probably due to using it for over a decade.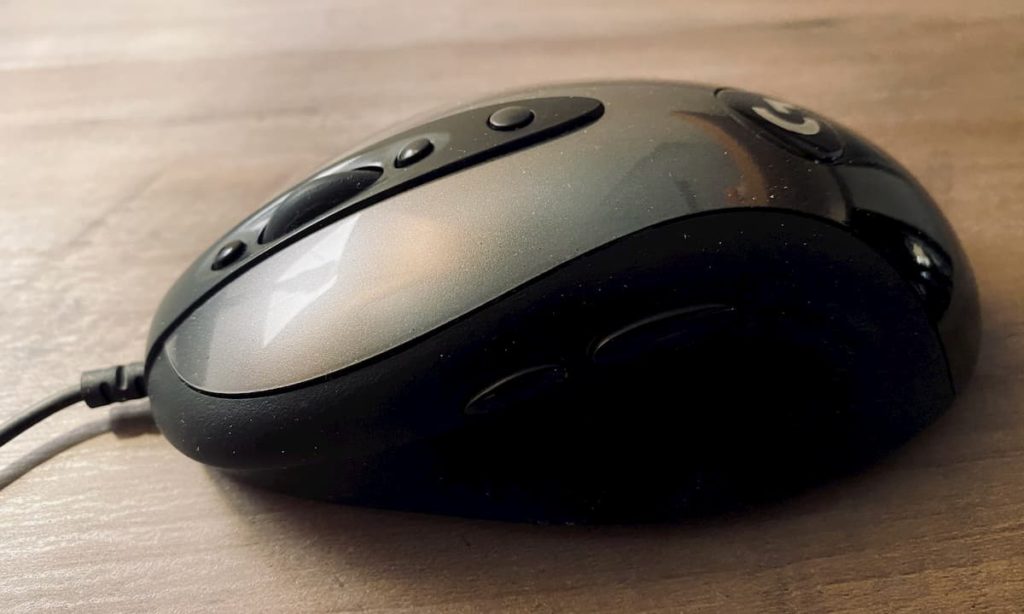 Another great thing about this mouse is the weight. Not a lot of people mention this, but when you have a mouse that's too heavy, it can easily cause strain. This mouse is just right at 3.6 ounces or 0.225 pounds. Gamers also typically prefer lighter mice. The lighter the better.
I can't stress how important it is for your health to find a mouse that fits and feels right in your hand over extended periods of time. If your current mouse doesn't feel right, then try another one. For me, the MX518 has and always will be the solution.
Design
The design of the Logitech MX518 wired mouse has always been great. With the original version, they were going for a more "Metal" brushed aluminum look and feel. The refreshed 2018 version (M/N: MU0053) looks even better as they moved to a new design and color scheme they call "Nightfall."
They replaced the original leather sides with textured plastic. This was a pet peeve of mine due to sweat accumulating after prolong use. The textured plastic doesn't have this problem, and it still achieves the same sleek look.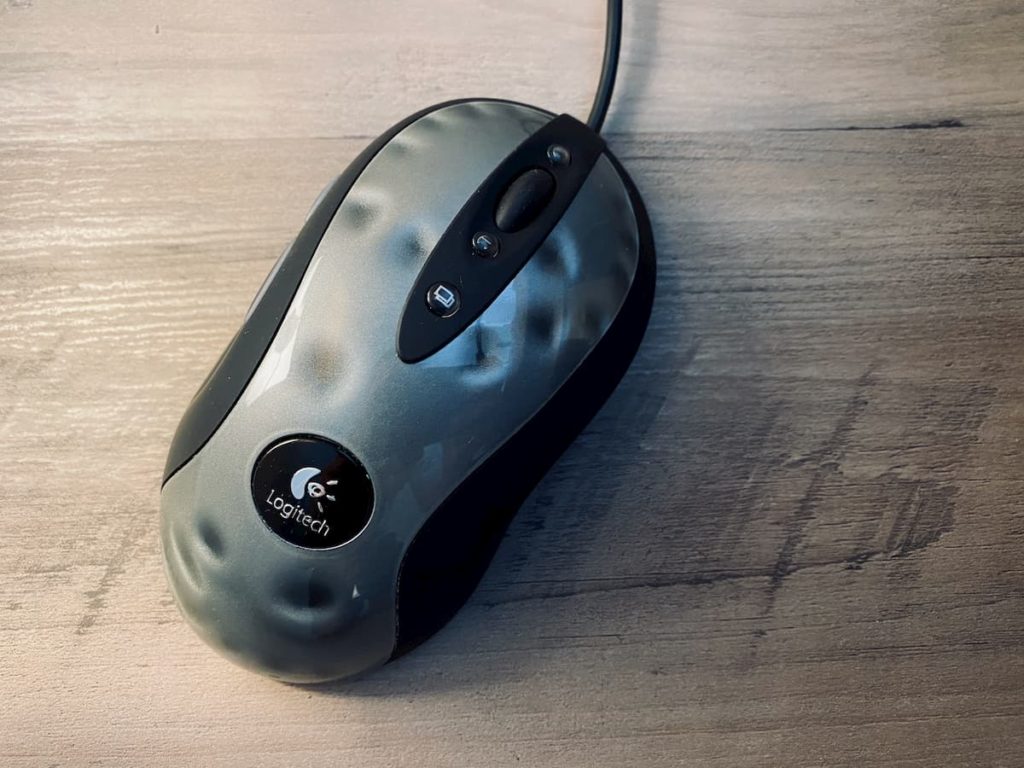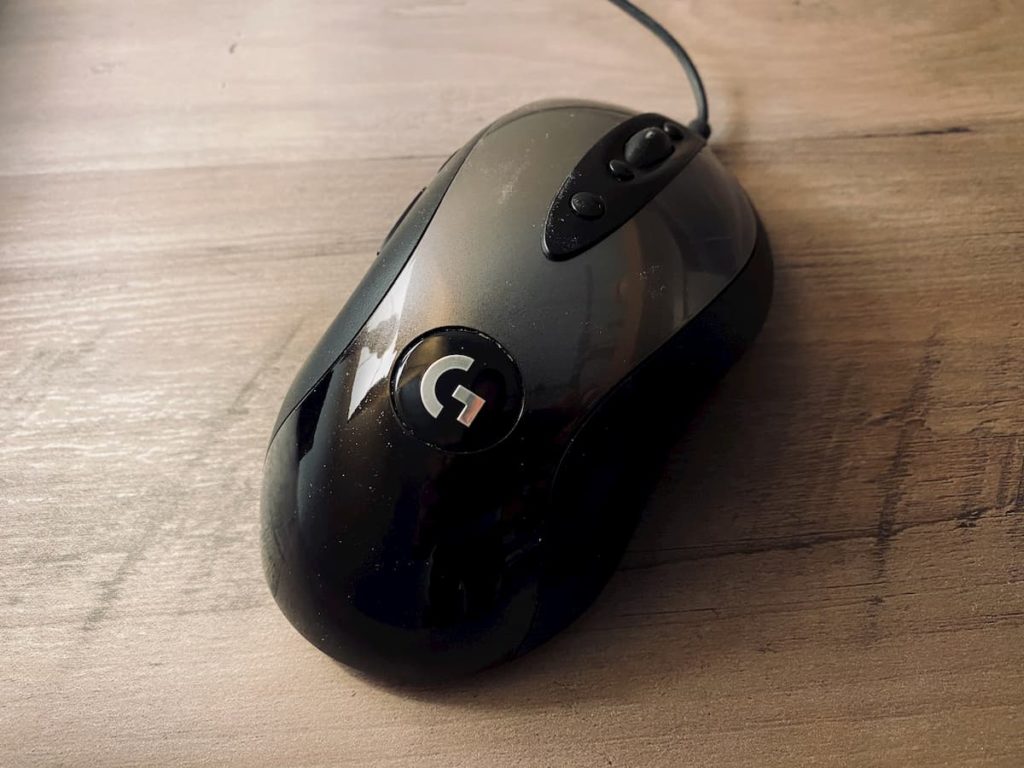 Logitech also replaced the logo with the new "G" branding that they moved to in 2015. They also changed a few of the button placements. The side buttons also are a lot easier to click than the original version.
The one problem I do have with the mouse is that it gets dirty very easily! Fingerprints and what I call "hand funk" accumulate very fast if you're using the mouse on a daily basis. Be prepared to clean it now and then. However, this problem occurs with a lot of mice.
Technology
The technology in the Logitech MX518 Legendary is awesome! It boasts a 32-bit ARM processor with a screaming fast 1ms report rate. This means your buttons will respond immediately when you click them.
It features a 16K HERO sensor which has a 100 – 16,000 DPI range and a max speed of 400 IPS. Compare this to the old version which maxed out at 1,800 DPI. The Legendary version is equipped for the most intense gaming sessions.
It's a wired USB mouse with a 7 ft cable that also has on-board memory to save different profiles (gaming vs. work). I do wish there was a wireless or Bluetooth version of this exact model, but they would most likely have to tweak the weight or size, and then it probably wouldn't be as good. But perhaps we'll see one down the road.
If you're curious, I use the mouse on a wood surface without a mousepad and have never had any tracking problems.
Software
You can download the Logitech G Hub software (around 118 MB) to extend the functionality of the MX518 mouse. It works on both Windows or Mac. However, I use a Mac and my personal experience is that the Logitech software doesn't always work as well as the Windows version. Unless you're going to program the buttons, I don't even recommend installing it.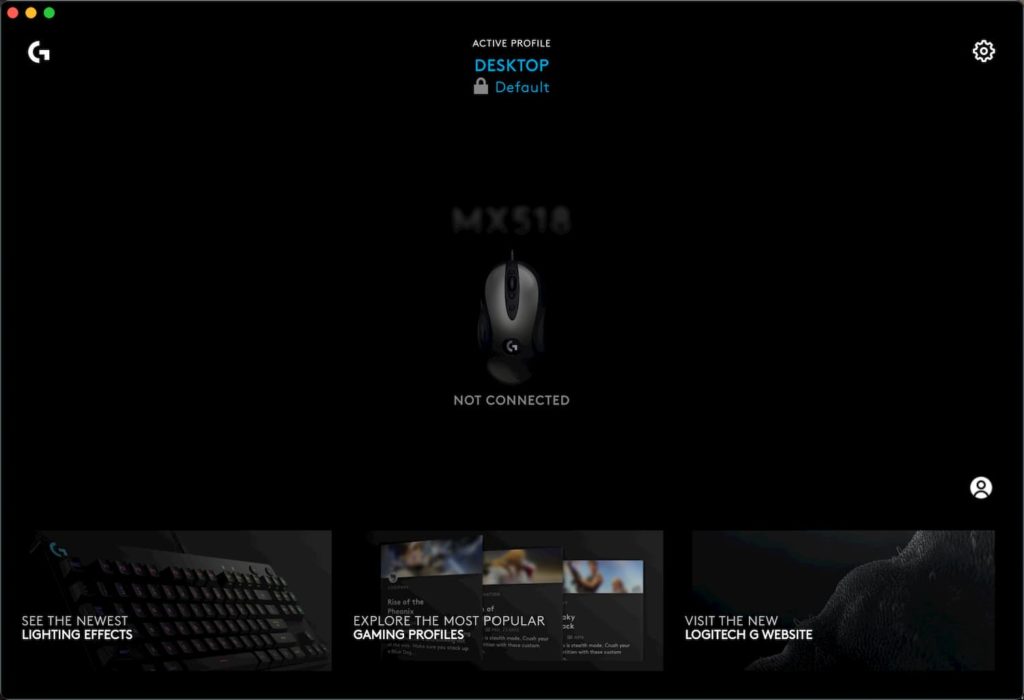 G Hub lets you program the 8 customizable buttons on the mouse. You can set your favorite macros and commands, as well as save different profiles. G Hub not only works for mouses but if you have any other Logitech products like headsets or speakers, it can also tap into those.
If you choose not to install G Hub, the buttons on the mouse will still work. For example, out of the box, the two left buttons on the mouse will go forward and back in your web browser. The buttons above and below the scroll wheel control the DPI presets (slow to fast).
Pros
Modern design that looks sleek.
Very light and very comfortable.
High 16,000 DPI which is great for gaming and work.
Great focus on simplicity, and still having a few button options.
Smooth tracking on surfaces without mousepad.
Reliable with high build-quality.
Cons
It's wired. I would love to see a Bluetooth version without adding too much weight.
Gets dirty very easy (fingerprints and what I call "hand funk").
Summary
If you're looking for a solid mouse that will last you while, whether it's for gaming or work, I highly recommend considering the Logitech MX518. You can pick one up on Amazon for around $39.00. Brand new, it comes with a 2-year warranty from Logitech.
View the Logitech MX518 on Amazon
If you have any questions regarding the Logitech MX518 mouse, feel free to drop them below in the comments, and I'll do my best to answer them. I've used the mouse for over a decade. So you could say I have a little experience with it.