I've always been a fan of the Apple Mac mini. I think most users focused on productivity, like the idea of a small form factor workstation. It's makes everything affordable and easy.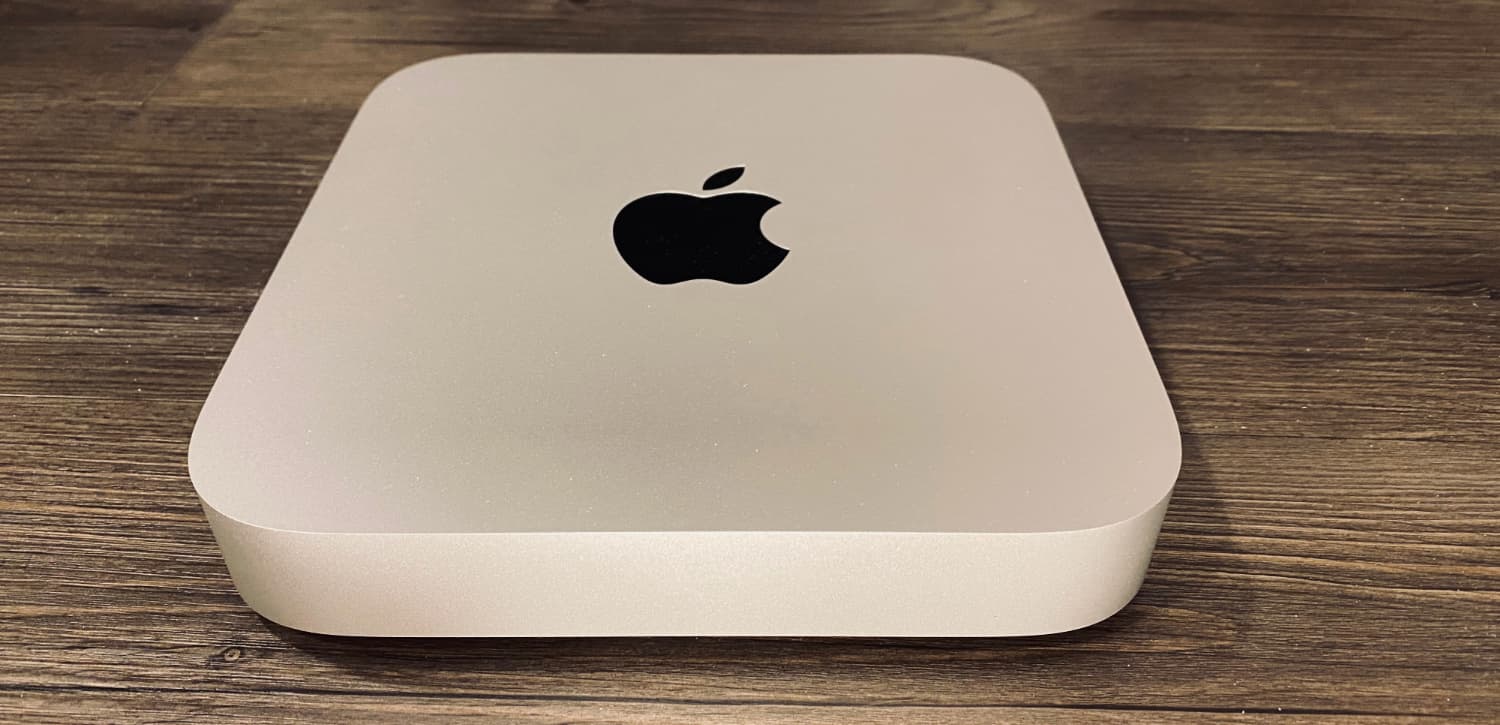 From personal experience, previous versions of the Mac mini haven't been that powerful. I've tried moving to it multiple times, and it always ended up in a return. That is until now! Take a look at my review of the Apple Mac mini M1 (2020 version).
Why the Mac mini
Apple released the first Mac mini in 2005. Steve Jobs touted it as the "cheapest, most affordable Mac ever."
I'll admit it; I've only been using Macs for the past couple of years. I made the switch from PC (Windows) to Mac after 20 years of working in IT. However, ever since then, I've fallen in love with Apple and just the pure beauty and simplicity of its products. Even in my Microsoft days, I always thought the build quality of Apple products was far superior.
If you're building a PC, especially a small form factor, there are many possibilities and brands to choose from. Honestly, if you're crunched for time, this just makes things exhausting. The beauty of Apple is that you usually only have one or two choices, and it's always high-quality. Living in the Apple ecosystem makes life easier.
Some people might view this as a negative, but it depends on what your objectives are. I don't game on a PC or Mac; that's what my Xbox is for. So for me, a workstation is all about productivity. And the Mac mini is an excellent choice for developers, bloggers, designers, and even casual video editors.
What's in the box
Apple is all about minimalism. In the retail box itself, you get the Mac mini, the power cord, and a small booklet. The box that the retail box ships basically holds it in suspension so that you don't have to worry about it getting damaged, even with it coming all the way from China.
The only option they offer for a color right now is silver. I wish they had a space gray option as they did with previous generations, but perhaps we'll see that down the line again.
The Mac mini itself ways 2.6 pounds. It measures 1.4 x 7.7 x 7.7 inches. It's very compact and easy to put in any place on your desk or below it. I've thought about even mounting mine underneath the back of my desk, so it's completely out of sight.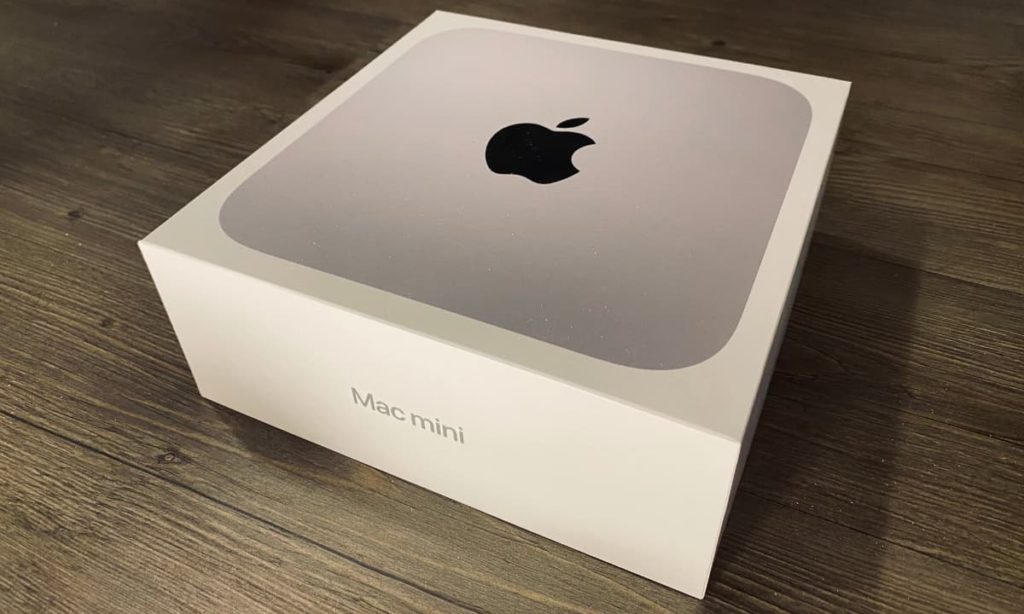 Performance and benchmarks of M1
For those of you aren't familiar, Apple has been moving to their new Apple Silicon chip, away from Intel chips. In the Mac mini, it's the M1 version. How is this different? Well, basically, it's the ARM processor and graphics all in one. While this might sound bad, they outdid themselves, and it's quite revolutionary.
The chips aren't brand new; they are essentially the iPad chips now being used for their computers (Mac mini, MacBook, and soon the iMac). The awesome thing about moving to ARM-based processors is that it means you can run iOS apps on macOS (universal apps). Microsoft tried to do something similar when the Windows phone was out, but it pretty much failed.
The one downfall is that apps have to be optimized for Apple Silicon. However, that doesn't mean apps won't necessarily run. To put it simply, apps that aren't optimized should work via Rosetta 2 (Apple's translation process). In reality, this means the app might launch slowly for the first time while it's translated over. There isn't a single app that hasn't run for me.
There's also a nifty little website called Is Apple silicon ready? you can use to check on your favorite apps. You can also see if an app is Apple or Intel in the activity monitor.
Here's just a quick list of some of my favorite Mac apps already optimized for Apple Silicon:
Chrome
Slack
Affinity Designer
1Password
Bear
According to Apple, the M1 chip boasts up to:
3.9x faster video processing
7.1x faster image processing
3.5x faster CPU performance
Less power consumption
While some of that might just seem like Apple marketing lingo and fake stats, I have to admit you really do feel the difference with the M1 chips. While I haven't done my own benchmarks, I can tell you the Mac mini M1 is bloody fast! I'm very OCD when it comes to lag or jerkiness with moving windows, etc.
I actually had a hard time trying to slow this machine down. Most of the time, my Mac mini hovers around 70-80% idle. And this is with 50+ Chrome tabs open, Spotify, Slack, Skype, Affinity Designer, Sublime, Forklift, Trello, Bear, 1Password, Snagit, etc., all running. The Mac mini M1 is a beast! I also had no issues running Windows 10 ARM in Parallels.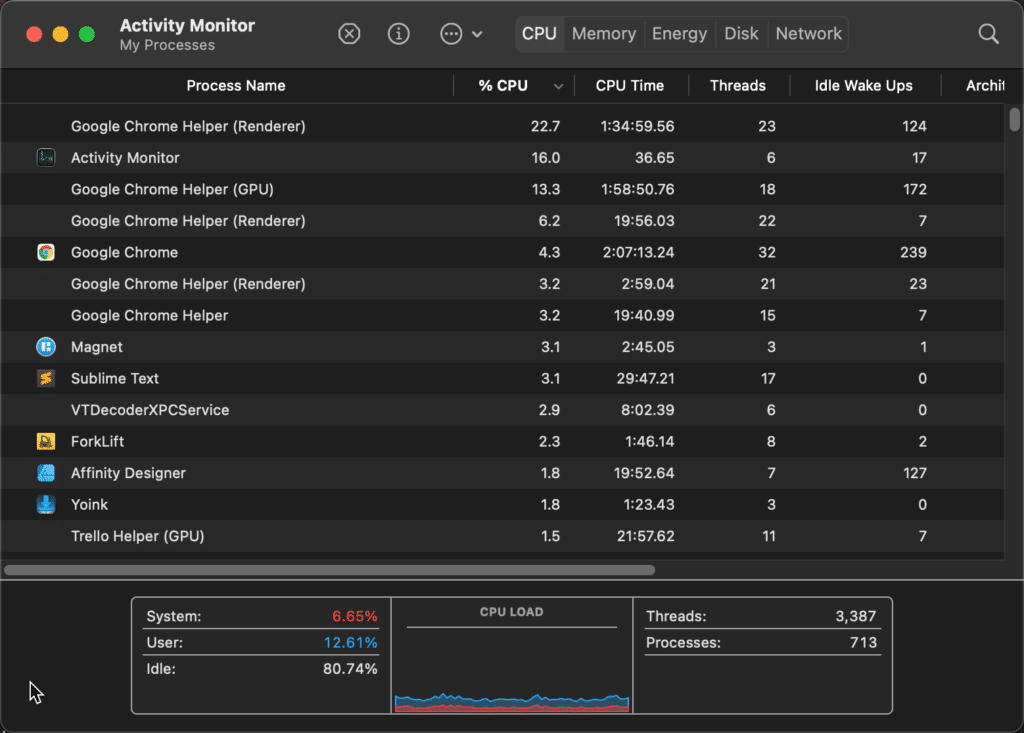 If you're curious about how the benchmarks stack up against the previous Mac minis, check out the data from Geekbench Browser. The Apple M1 chip is miles ahead of the previous Intel Core i7 in the last 2018 Mac mini.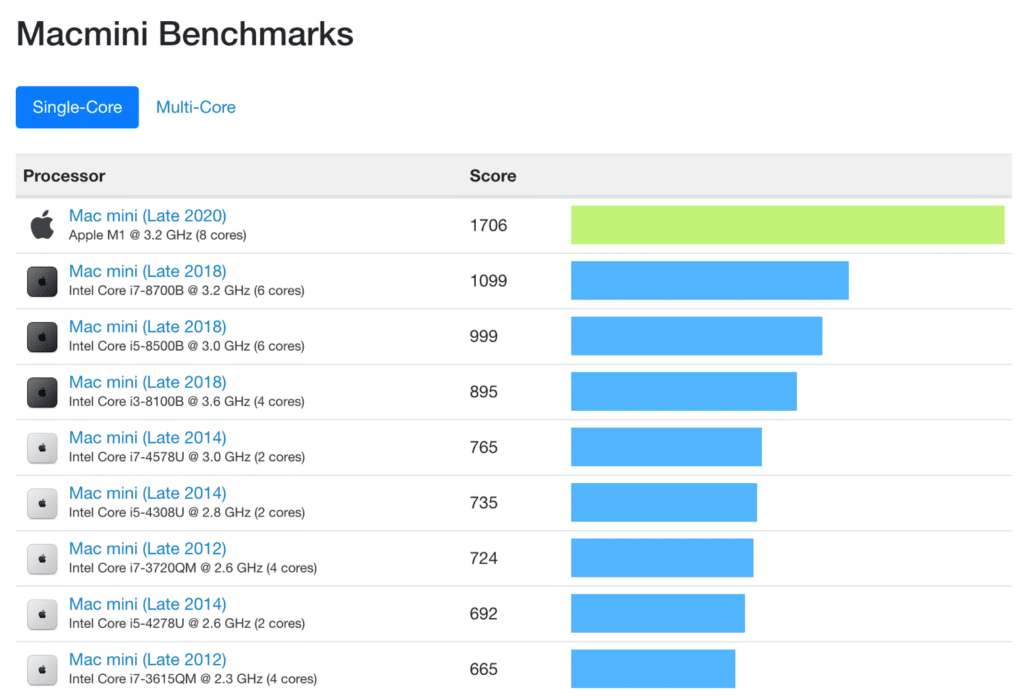 What's even more insane is if you look at the single-core benchmarks versus the MacBook Pro and iMac. I was previously using a 27-inch 2019 iMac, and the Mac mini is faster. In regard to multi-core, it's right behind Apple's most powerful machines. It really does feel like magic when you're using it. Erik Engheim has a great article that dives into all the technical reasons why Apple's M1 chip is so fast.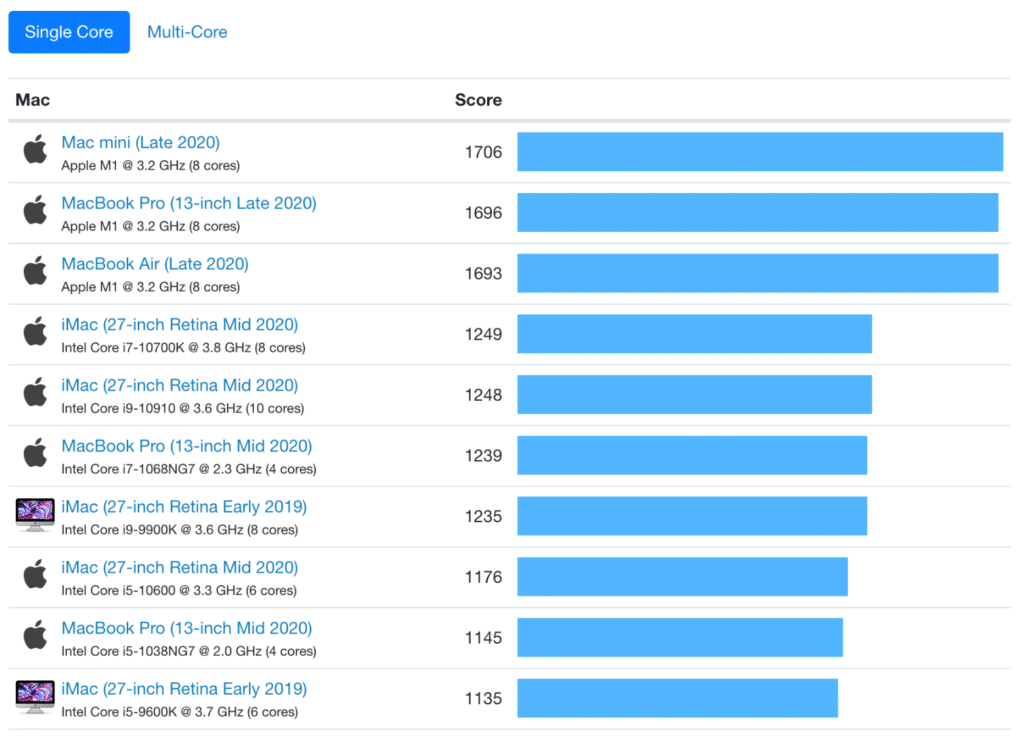 I previously purchased the 2018 Mac mini and had returned it due to it not being powerful enough to power my LG UltraFine 5k monitor. Part of this was also I think due to the GPU (no dedicated GPU) just struggling with the 5K resolution. However, the M1 Mac Mini works beautifully with it.
If you're curious, the reason I use the LG Ultrafine 5K monitor is that it's the closest thing that exists to the iMac screen. Yes, the iMac screen made it hard for me to enjoy any other monitor now. The LG is 27″ and boasts a whopping 500 nits for brightness. It also works with dimming on the Magic Keyboard. Aside from the casing, it really does feel almost like the same display.
Another benefit of Apple moving to their own chips is that they got rid of the Intel middleman. This was slowing them down in terms of innovation. And it shows with the new M1 Macs. It also means we'll probably start to see slightly lower pricing. Having full control over all the hardware gives Apple a huge competitive advantage.
Tech specs and options
The Mac mini features the following specs and configuration options:
CPU
8-core CPU with 4 performance cores and 4 efficiency cores
8-core GPU
16-core Neural Engine
Memory
I chose 16 GB since this is my primary workstation. However, you almost have to completely forget your previous comparisons of how much RAM you think you need. That is because with the M1 chip it shares memory, they call it "unified memory."
According to Apple:
This single pool of high-bandwidth, low-latency memory allows apps to share data between the CPU, GPU, and Neural Engine efficiently — so everything you do is fast and fluid.
After having used the Mac mini for a while now, most casual users would probably be fine with 8 GB. If you're curious, my brother actually has the Mac mini M1 with only 8 GB of RAM and has been completely fine.
Storage
256 GB SSD (configurable up to 2 TB)
I chose 256 GB since most of my storage is simply composed of documents, and they're in the cloud. Most of my work is on the web.
Connections and Ports
The Mac mini M1 has the following ports:
Power
10/100/1000BASE-T Gigabit Ethernet
2x Thunderbolt ports (USB 4)
2x USB A ports
HDMI 2.0
3.5 mm headphone jack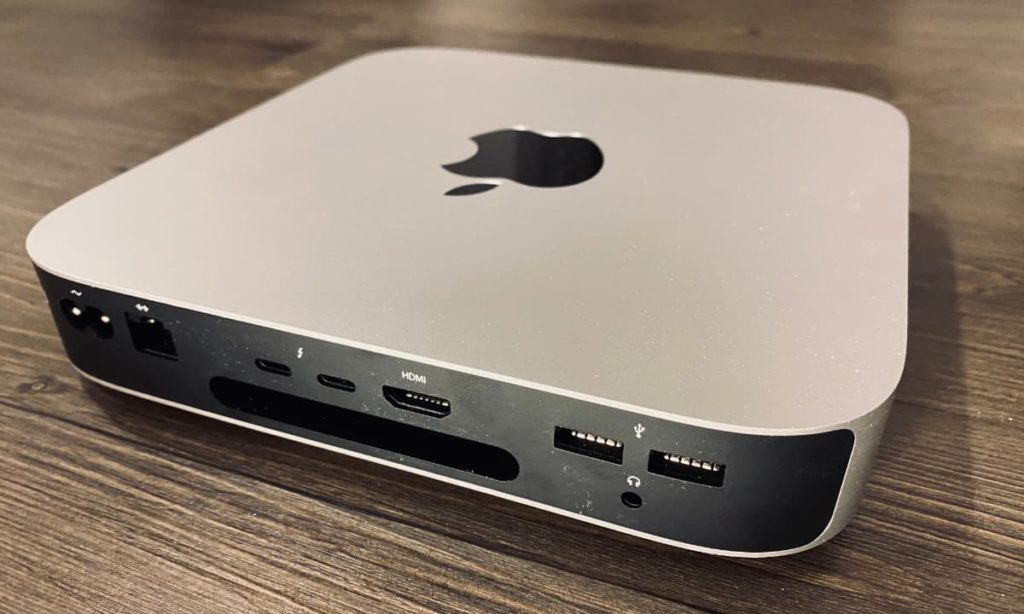 It also features Wi-Fi 6 (EEE 802.11a/b/g/n/ac compatible). I use my Mac mini over Wi-Fi and have never had any issues with connectivity.
It also features Bluetooth 5.0 wireless technology. Some users on social media and YouTube have reported issues with Bluetooth connectivity. However, I haven't experienced any problems. Most of my devices are Apple brand though, so perhaps that plays into it. I use the Apple Magic Keyboard and AirPods.
It can power one display with up to 6K resolution at 60Hz connected via Thunderbolt and one display with up to 4K resolution at 60Hz connected via HDMI 2.0. That is one of the negatives in my opinion. You can't power two Thunderbolt monitors simultaneously. If you want a second monitor you'll need to run one over Thunderbolt and one over HDMI.
Noise
Another gripe I had with the previous Intel-based Mac minis was that you could hear the fan noise. This is something that really annoys me, and it's one of the many reasons why I ended up returning it.
I'm excited to say I've never once heard the fan on the Mac mini M1! I've streamed 4K video, and everything you can imagine. I'm thrilled with how quiet it is.
Cost
The base Mac mini model starts at $699.00, which I think really does encompass Steve Job's original vision of creating the most affordable Mac ever. Not to toot Apple's horn more, but I think he would be proud of what Apple has accomplished with the M1 chip in terms of performance.
The model I ordered with 16 GB came to a total of $899.00. Previously I had an 27″ iMac, so this is just a win all around. iMacs are not cheap by any means.
Pros
The new M1 chip is insanely fast! It's very hard to slow down the machine.
It can power a 5K display with ease. 6K if you want to splurge for the XDR display.
Bluetooth and Wi-Fi are fast and work without any issues.
Very affordable, especially if you're comparing performance to that of iMac Pro or Mac Pro.
Have never heard fans spin up ever.
Cons
Can't power two Thunderbolt monitors simultaneously.
I miss the space gray option. Only available in silver.
Summary
I'm really excited about the future of the new Apple Silicon chips, both in regard to performance and price. I've replaced my crazy expensive iMac with a Mac mini and haven't regretted it for a second. It's blazing fast, blissfully quiet, and I haven't experienced a single issue since first turning it on. Mac Big Sur runs beautifully on it.
If you have any questions regarding the Apple Mac mini M1, feel free to drop them below in the comments, and I'll do my best to answer them.