I'm excited because today I got to check out the new weForms WordPress contact form plugin. Not only was I surprised by how easy it was to use, but it was mind-blowingly fast. You probably don't think about how fast something usually works in the WordPress admin area, but you can feel the difference with this plugin! Check out my weForms review below as I take it for a spin, along with the many integrations it includes.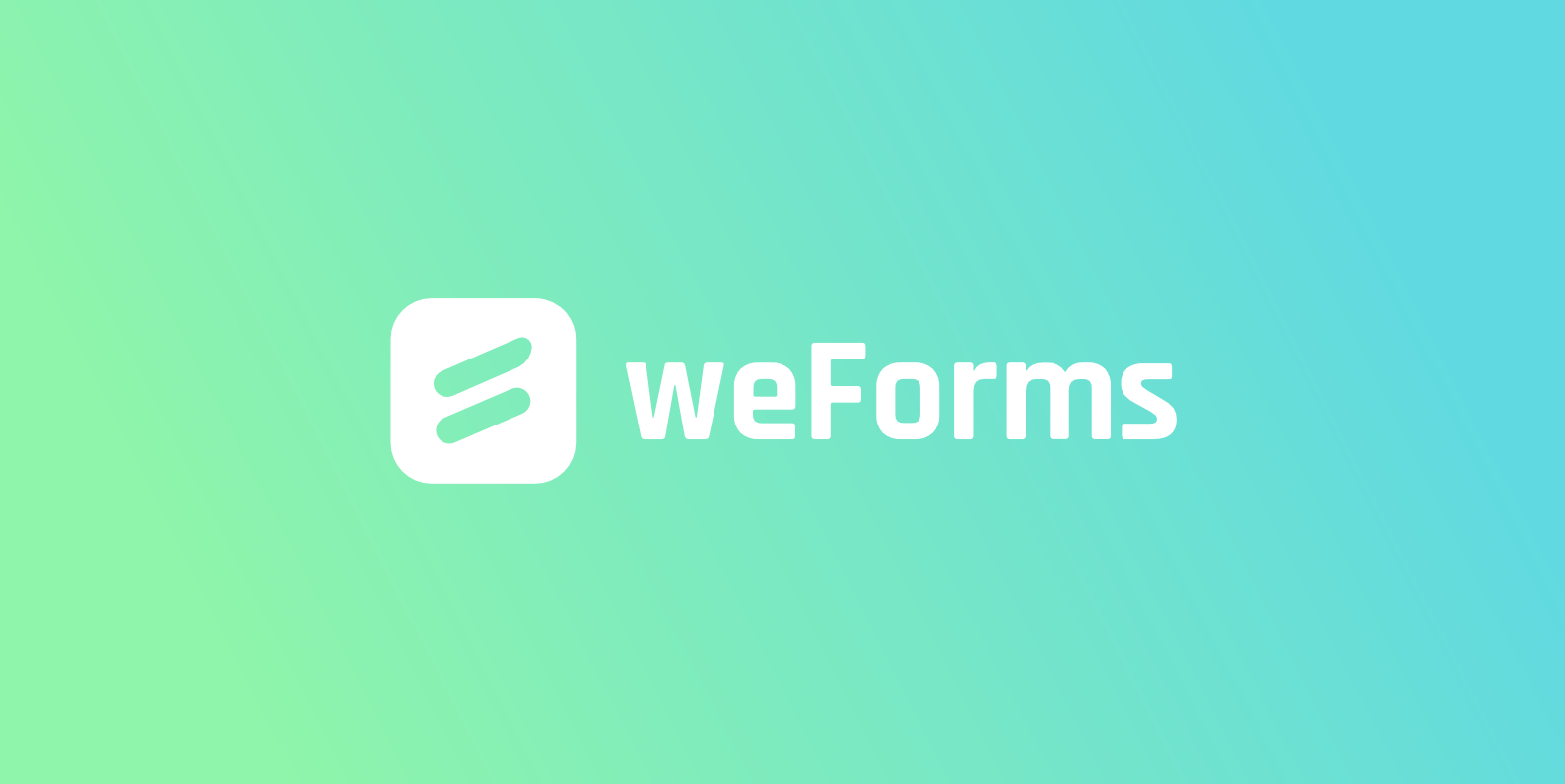 About the Developer – weDevs
First off, I always like to take a look at the developer of a plugin. There's nothing worse or more annoying than finding an awesome new plugin and then it going belly up 6 months later because the developer just vanished. Most of you have probably had this experience. This, in fact, happened recently with the popular free Postman plugin, which had over 100,000 active installs. The developer moved on to other things, which is totally fine, but left its users stranded, along with an unpatched security vulnerability.
Fortunately, with the weForms plugin, it has two major advantages. First of all, there are both free and premium versions of it. Sometimes people don't like this, but as a developer of WordPress plugins myself, I can tell you that when there is a paid version, developers tend to stick around. Nobody can live off of doing work for free. A lot of the great free plugins on the repository are simply side hobbies for a lot of WordPress developers. So a premium plugin, or at least one that has both options, is definitely an advantage!

And second, the developers of the plugin is weDevs. They launched in 2012, are a team of 35, and have 50+ plugins they currently work on. According to their site, their free plugins have had over 650,000 downloads and they've worked with 20,000+ customers. So rest assured, this plugin isn't going anywhere anytime soon. In fact, I have interacted with a couple members of their team in my work with Kinsta, and they are a very friendly and WordPress community-driven group. Almost all of their plugins are on the repository with a free version as well.
While their weForms plugin is one of their newest, they're probably best known for these:
Dokan Multivendor
WP Project Manager Pro
WP User Frontend Pro
WP ERP
weForms Review and Features
Now let's take a quick look at some of the primary features in the weForms contact form plugin. It's definitely jam-packed full of integrations and functionality.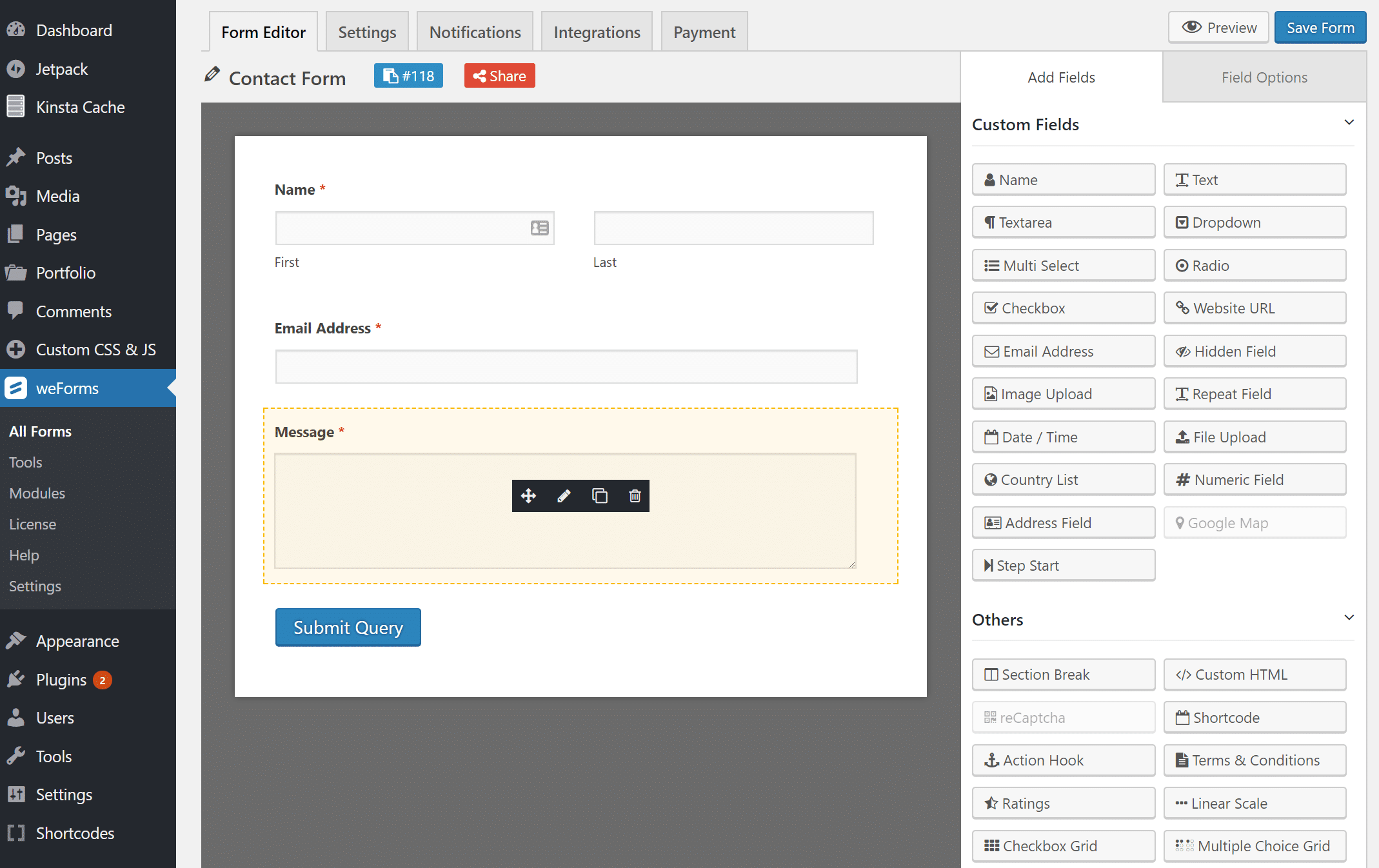 The forms are fully responsive, meaning they will look and work beautifully on any device.
weForms has built-in integration with reCaptcha from Google. One of the best! This means your forms are automatically protected against bots, scripts, and spammers.
Features a live drag and drop builder. I have to say, it is the fastest and smoothest form builder I have used to date in the WordPress admin. This also includes live AJAX preview, so there is no hassling with saving and reloading the page over and over.
Over 23 different field types!
Form templates let you quickly create new forms in a flash.
Tons of integrations and the ability to sync new leads with providers such as MailChimp, MailPoet, AWeber, etc.
Easily create multi-step forms. Some have seen a multi-step approach increase conversions by up to 300%!
Quickly create multiple customized notifications & templates with hooks on each form with advanced mail forwarding.
Ability to set form entry restrictions and expire times.
Redirect to custom URL or page. Makes it easy to track conversions in Analytics.
Higher plans include conditional logic and geolocate contact information.
View submission details, attached files, export form entries to CSV, edit & delete entries, download as PDF, and much more.
Note: I chatted with their development team recently as well, and a MailerLite integration is coming soon! I know some you use this, as do I for my newsletters. However, I don't currently hookup my forms to newsletter software, so this isn't a huge deal. But it would be cool to eventually build an optin widget without the need for an additional plugin.
Great Documentation
They also have a great documentation section, which I always appreciate. First of all, as a writer, I know how much time and effort goes into creating this. But as a user, it saves me so much time because generally if I can find the answer to something in the docs, it means I never even need to open a support ticket or waste time on emails back and forth. Their documentation section is well organized, clean, and there's pretty much a tutorial on how to do everything.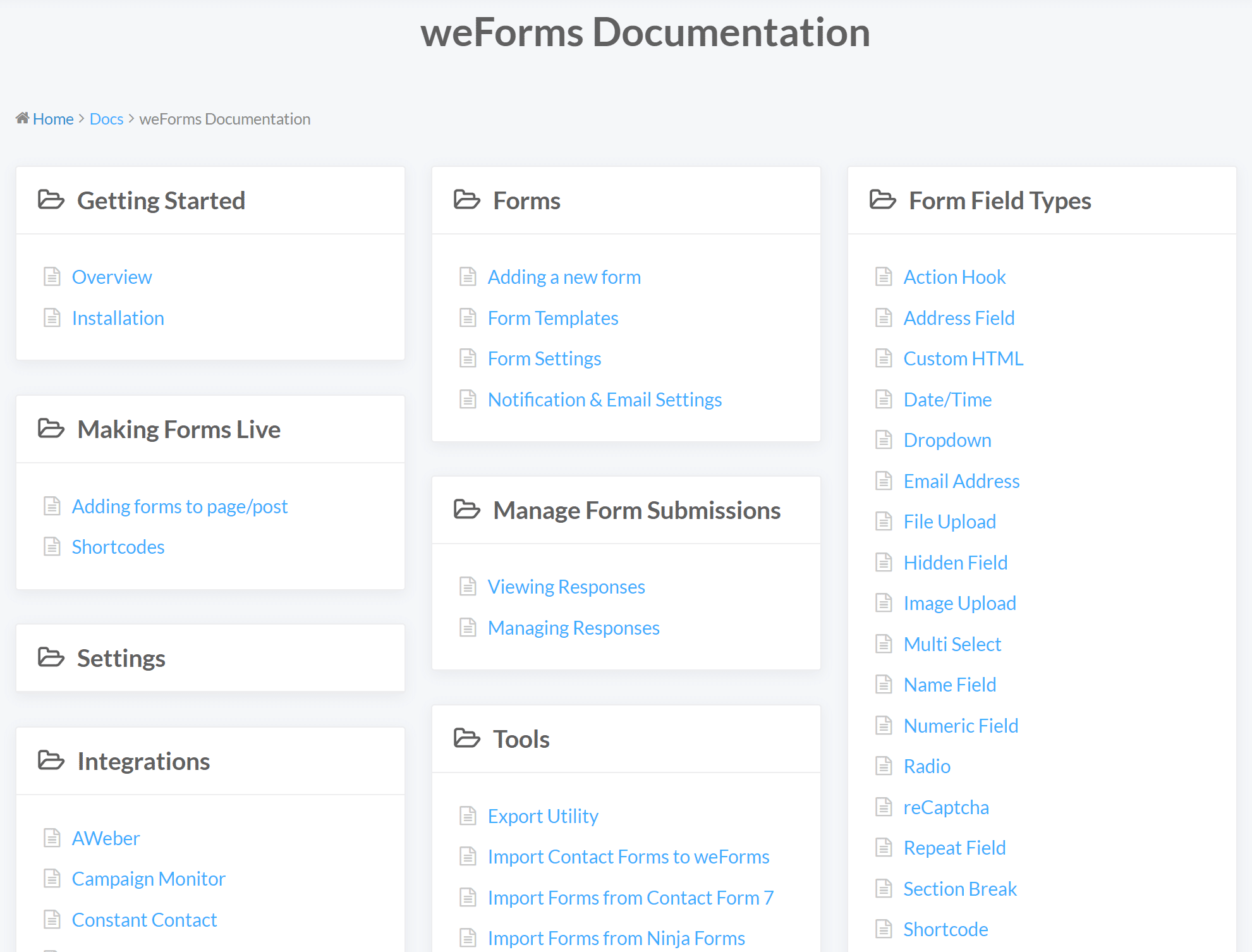 Pricing
Of course, you're probably wondering now just how much all of this costs. Well, weForms has five different plans, one of which is free. While the free version doesn't have all the bells and whistles, you can easily use it to create an unlimited amount of forms, get notifications, and take advantage of their amazing drag & drop builder.
Another huge advantage in their free version if you are comparing to another popular contact form plugin like WPForms, is that weForms lets you see the email submission data! WPForms actually charges for this. It's really handy to be able to see the received forms inside the WordPress admin.
And right now, you can actually get the personal license for free! All you need to do is fill out this request form.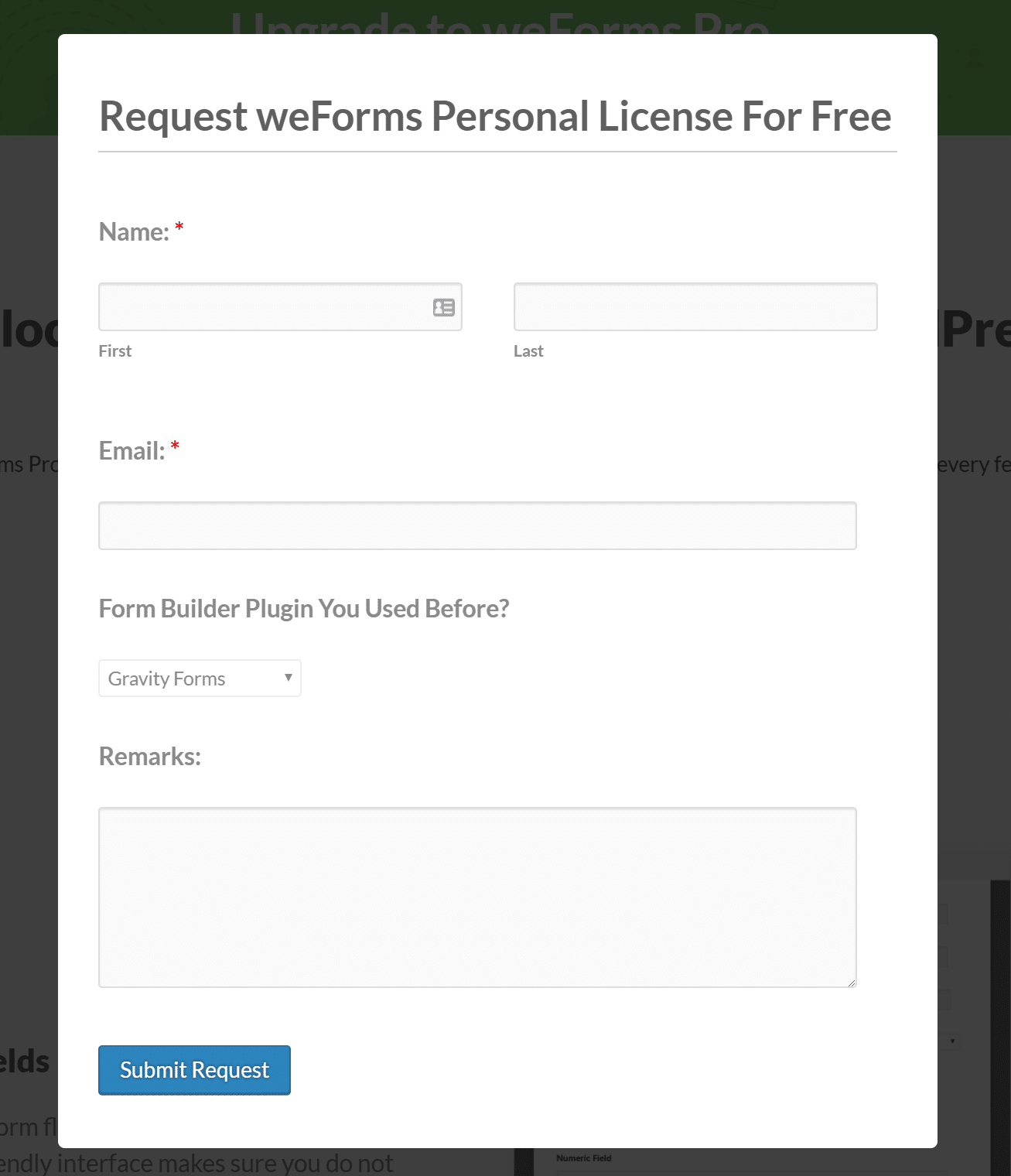 Here are the differences in the plans below.
| Free | Personal | Professional | Business | Developer |
| --- | --- | --- | --- | --- |
| Always free | $39/year | $79/year | $149/year | $399/year |
| Unlimited Forms | Everything in Free + | Everything in Personal + | Everything in Professional + | Everything in Business + |
| Drag & Drop | Advanced Fields | Email List | PDF Forms | 50 Site License |
| Submission Data | Conditional Logic | Google Analytics | AWeber Integration | Priority Support |
| HTML Email | Multi-Step Form | PayPal | Zapier Integration | |
| MailPoet & Slack | File Uploader | Stripe | Zoho | |
| Anti Spam | 1 Premium Module | Quiz | SalesForce | |
| WordPress.org Support | 1 Site License | Calculation | Hubspot | |
| | Ticket Support | 9 Premium Modules | SMS Notification | |
| | | 3 Site License | 22 Premium Modules | |
| | | Ticket Support | 10 Site License | |
| | | | Ticket Support | |
How to Setup weForms in WordPress
Now let's dive into setting up weForms on your WordPress site. I'm going to walk you through creating a simple contact form, as that is probably what most of you are looking for. It's super easy and very user-friendly! Note: I'm using the Business license in this example. Follow the steps below to get started.
Step 1
If you are just now learning about weForms, you'll probably want to just download and install the free version from the repository to start testing right away on your site.
You can also search for it within your WordPress dashboard under "Plugins > Add New."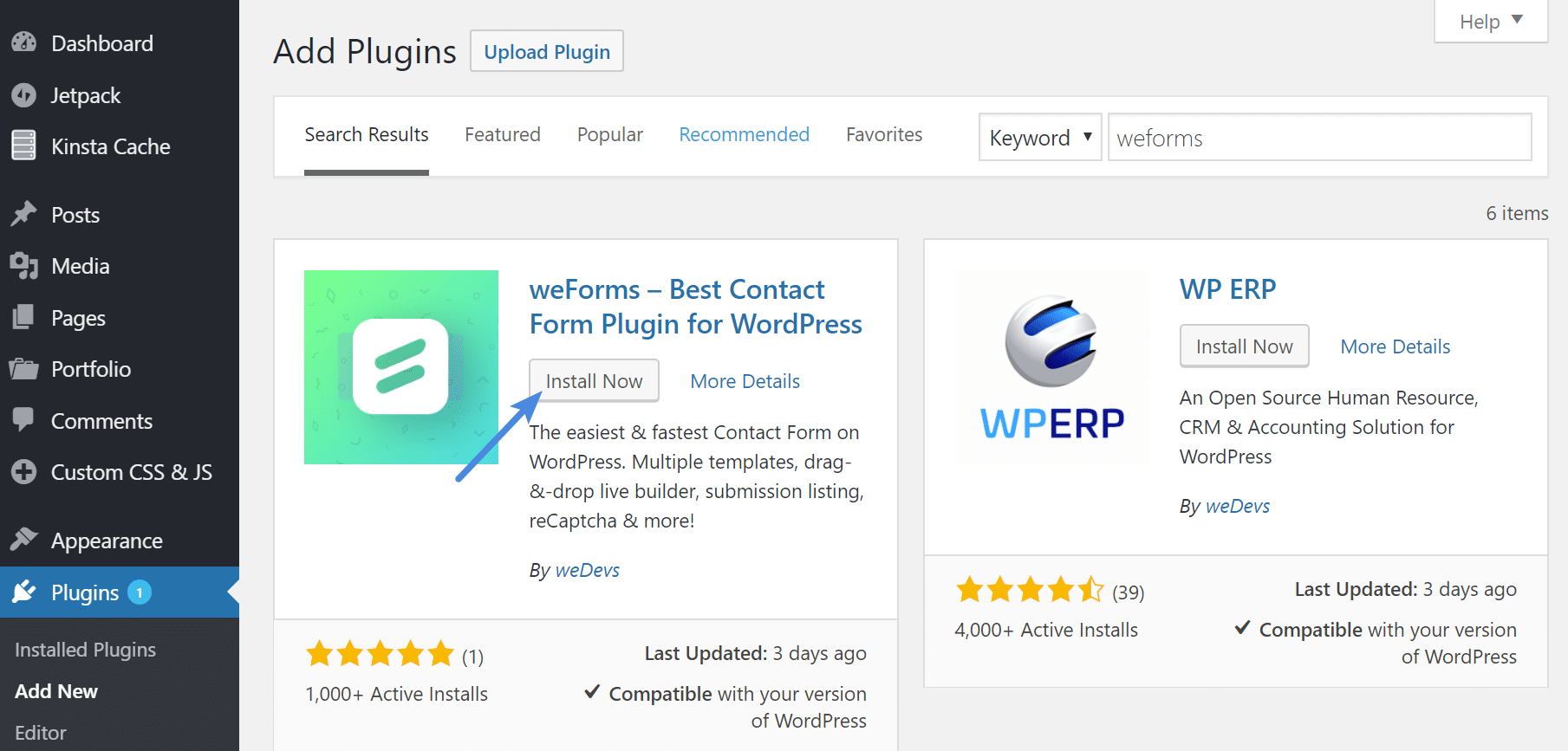 It currently has over 1,000 active installs with a 5-star rating. Another thing I also wanted to point out is, check out their changelog! You can tell a lot from a developers changelog. I screenshotted just a portion of it for you below. These developers aren't messing around.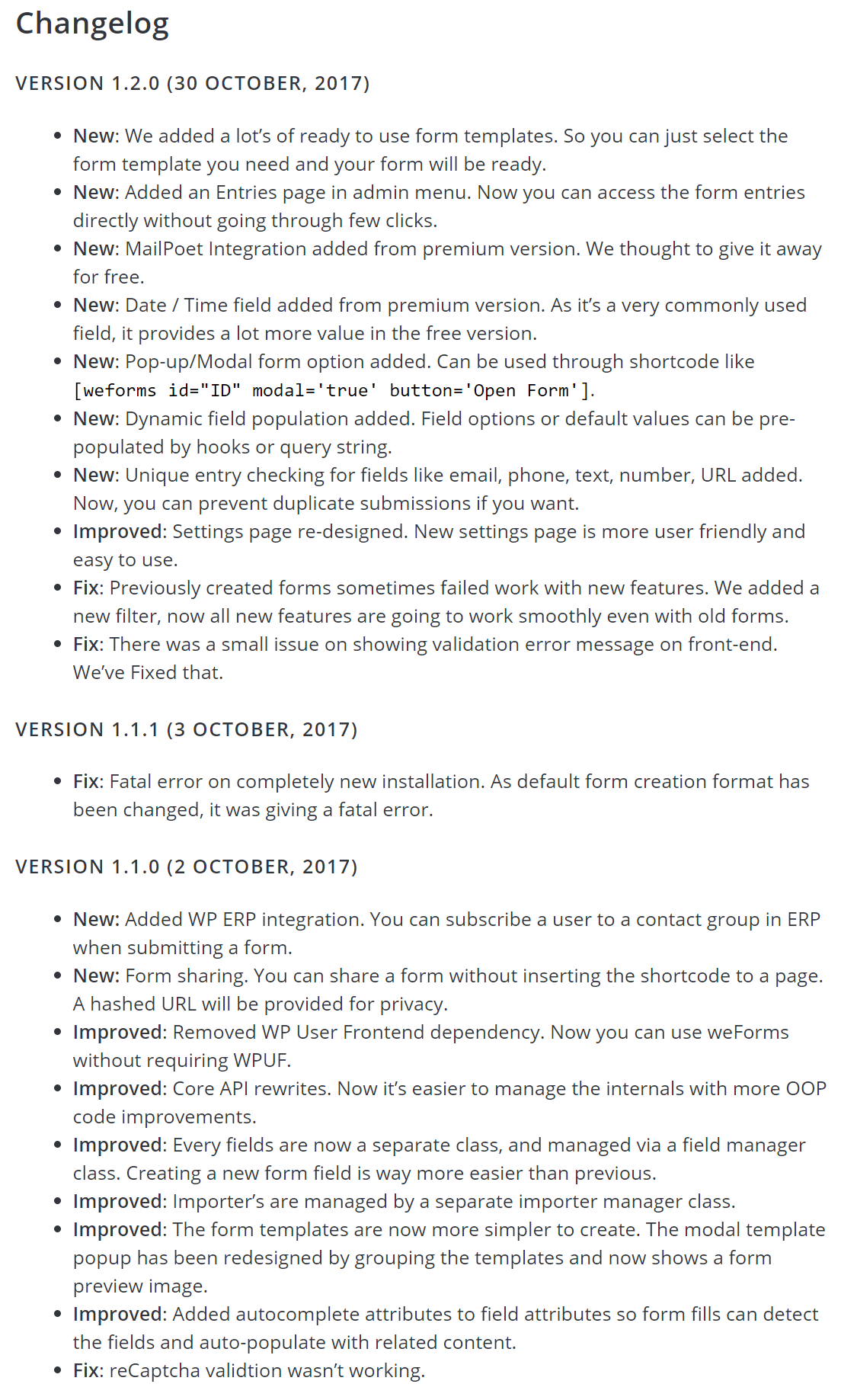 Note: If you purchase a license for weForms, this is treated like a lot of freemium plugins on the repository. You will need to install the add-on plugin to enable the premium features.

Step 2
After you've installed activated the plugin, it's now time to create a basic contact form. Simply click into "All Forms" on the sidebar and then on "Add Form."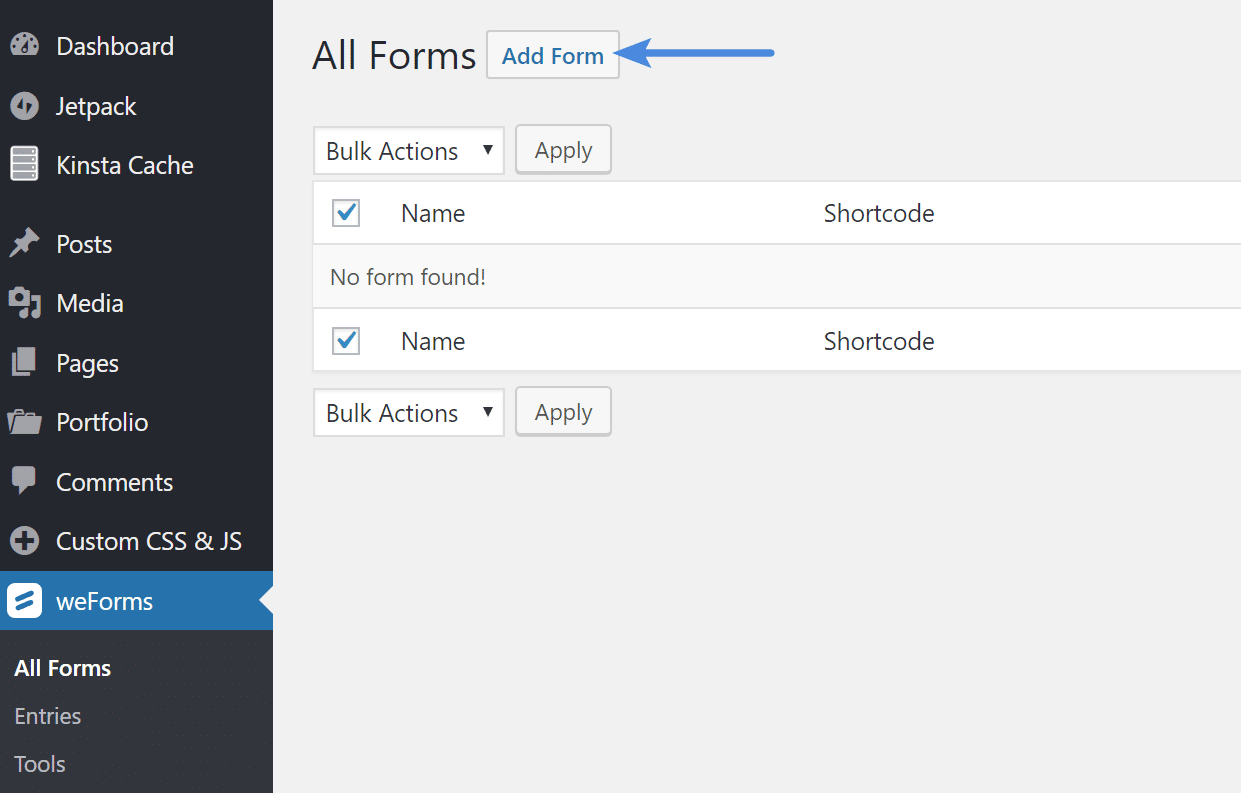 Step 3
You'll then be prompted to choose from one of the 20+ pre-defined templates. This makes things super easy. Some other contact form plugins require you start completely from scratch. So this definitely speeds up the process. In this example I am going to choose the basic "Contact Form." You can, of course, choose blank if you want to create something fresh.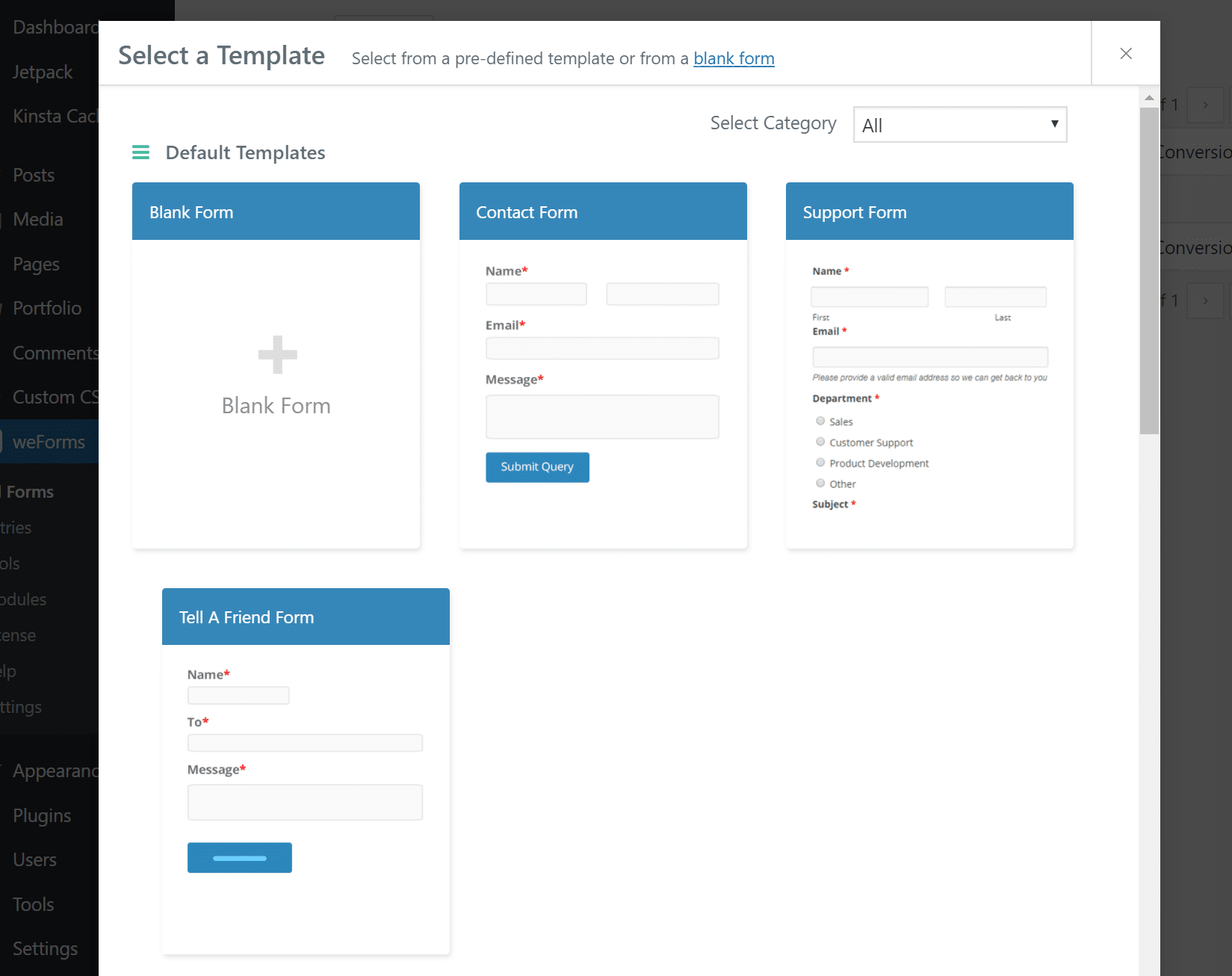 And boom! You have yourself a standard contact form with first and last name, email address, and message. You can quickly drag and drop fields from the right into the box on the left. Everything is AJAX so it happens instantly.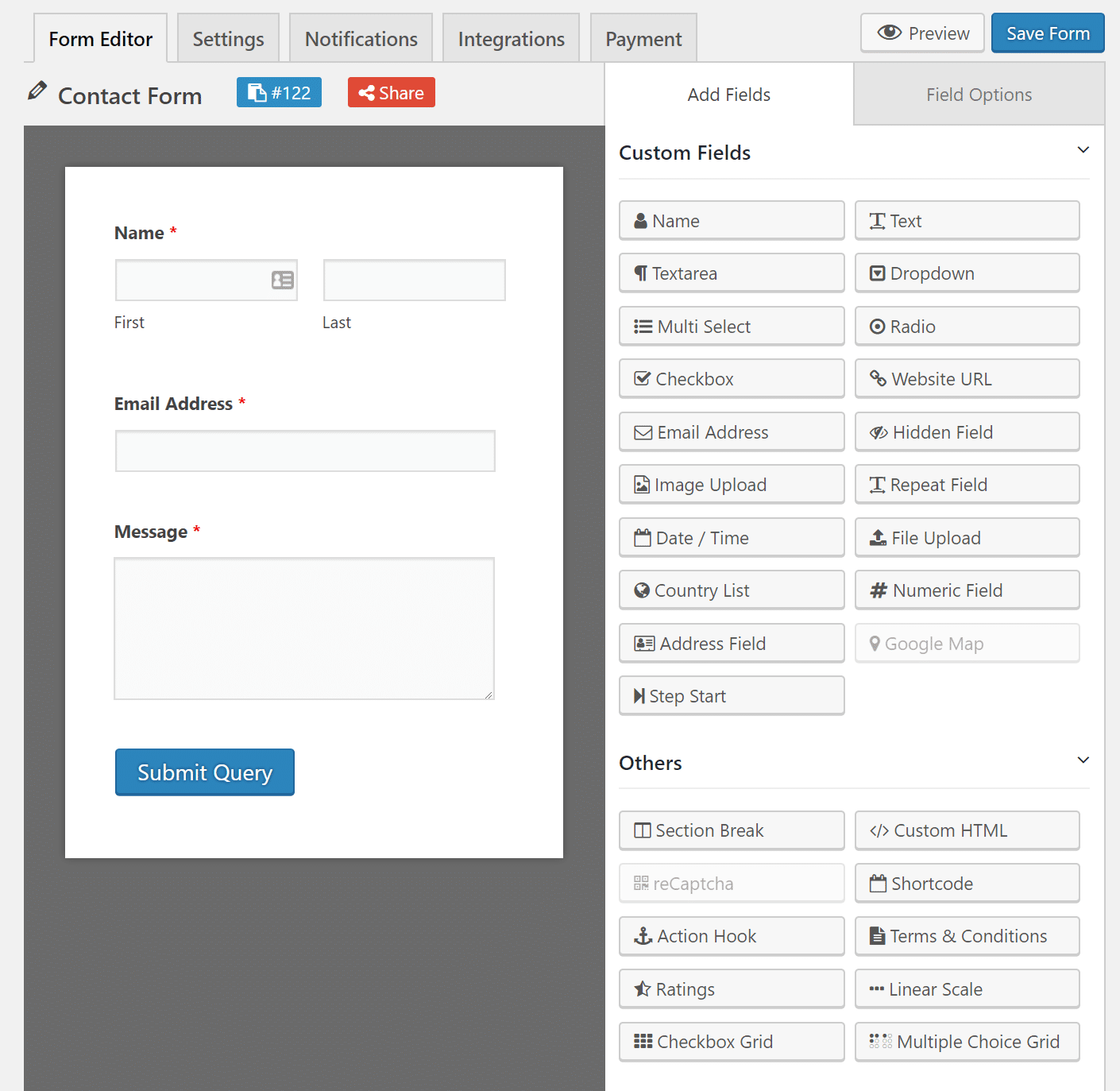 Step 4
I always like to have a thank you page. While it might seem a little old school, it's a great way to add some fun into the workflow and makes it easy to track with a Google Analytic's goal. Under the "Settings" tab of the form I select "To a custom URL" for the redirect to option. I then input the URL of my thank you page.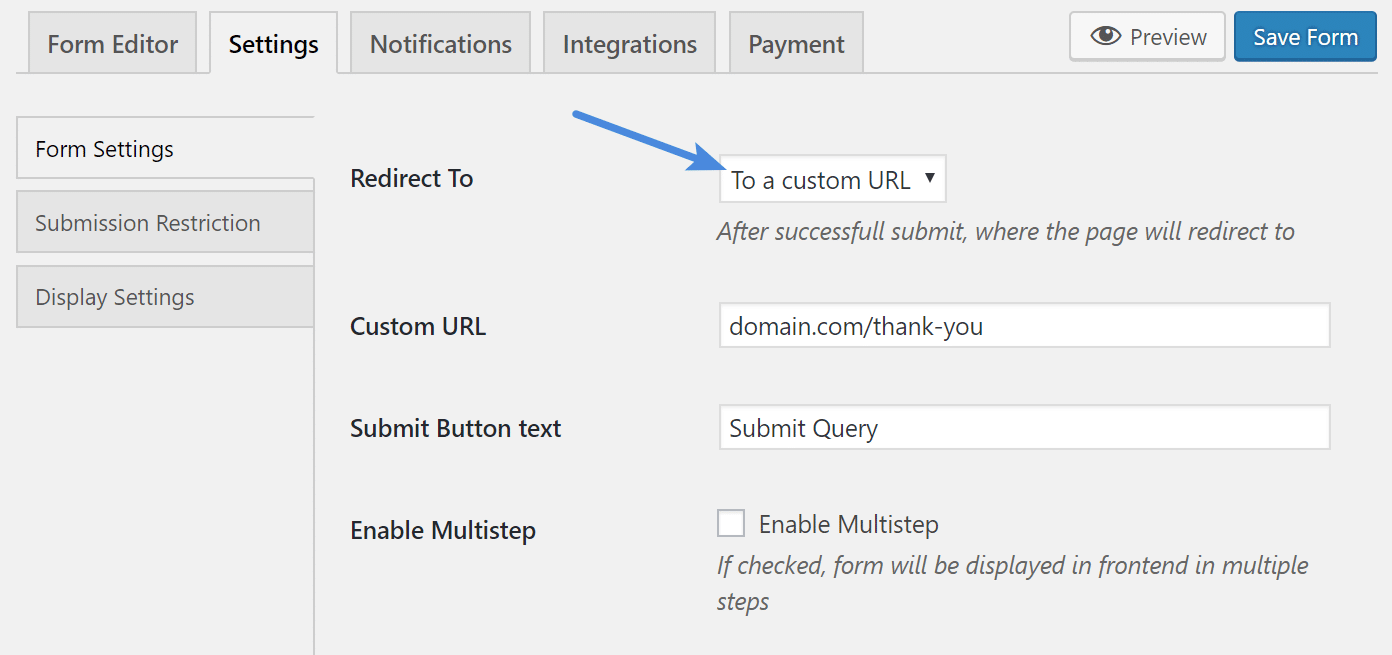 Don't be afraid to have a little fun with your thank you page. It makes it a lot more personal for your visitors. For example, I have an animated GIF on mine. You can then also include some other call to actions, such as following you on social, etc.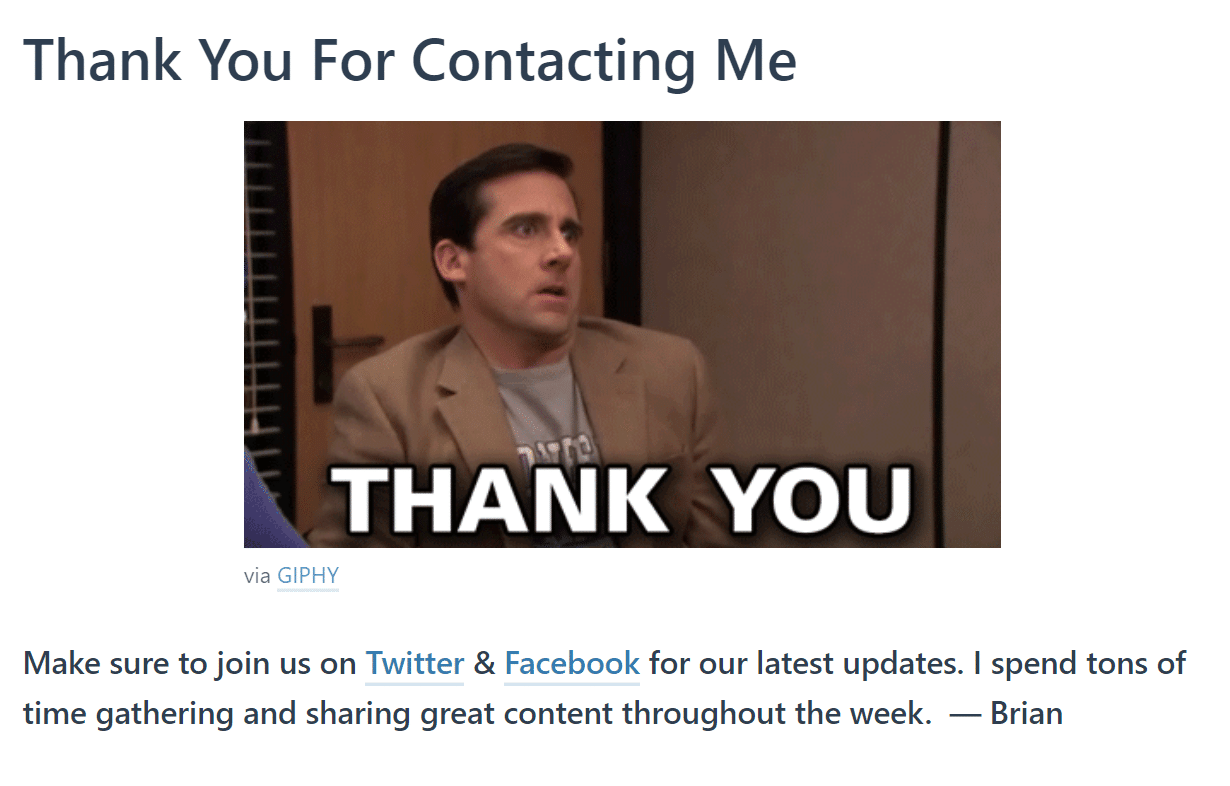 Step 5
I then typically change the admin notification email, as my default WordPress email is not where I always want things to go. This can easily be done under the "Notifications" tab.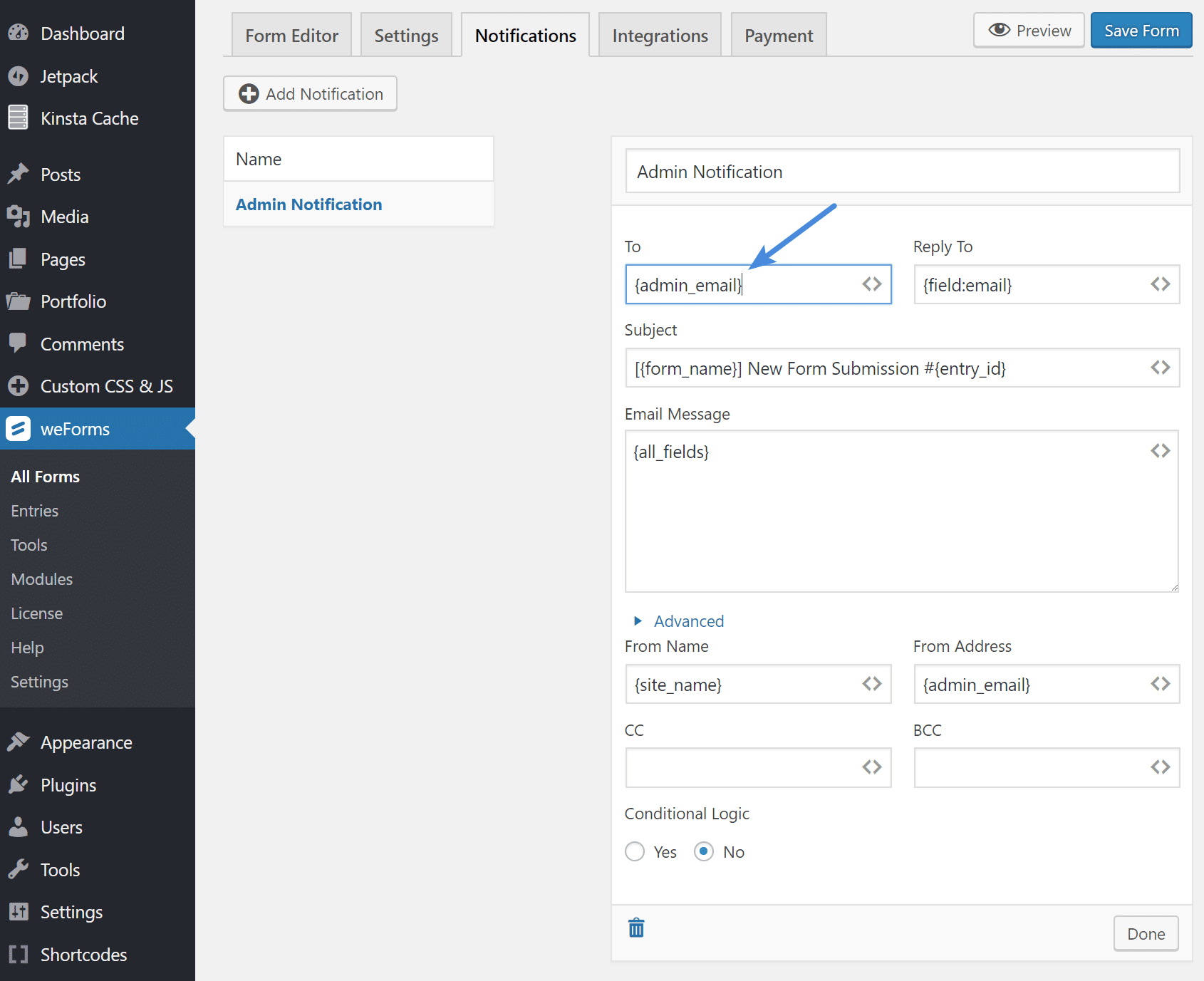 Step 6
To put your form on your contact page, simply click into "All Forms" in the plugin settings. Copy the shortcode for the form you created.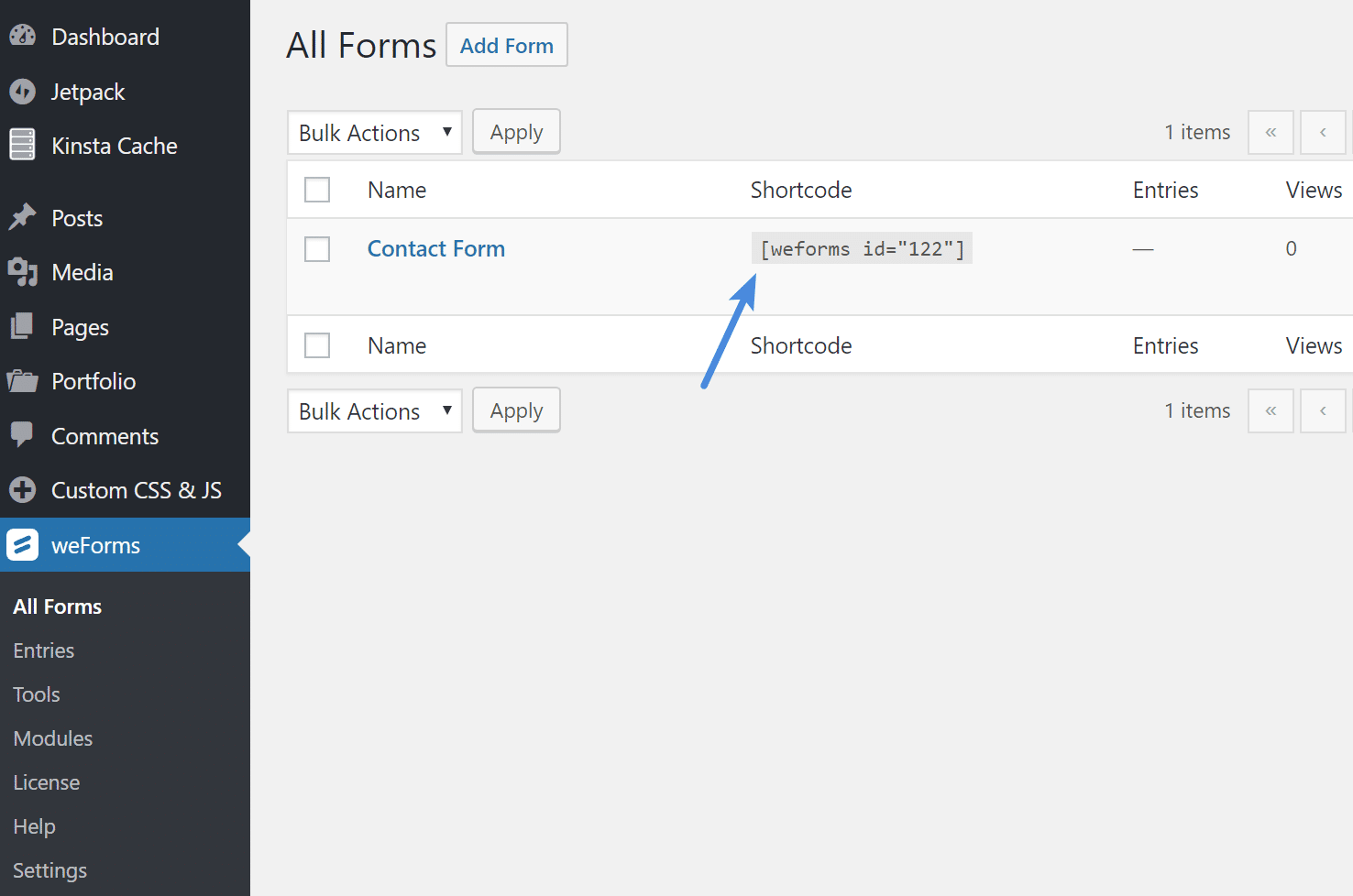 Then paste the shortcode into your page.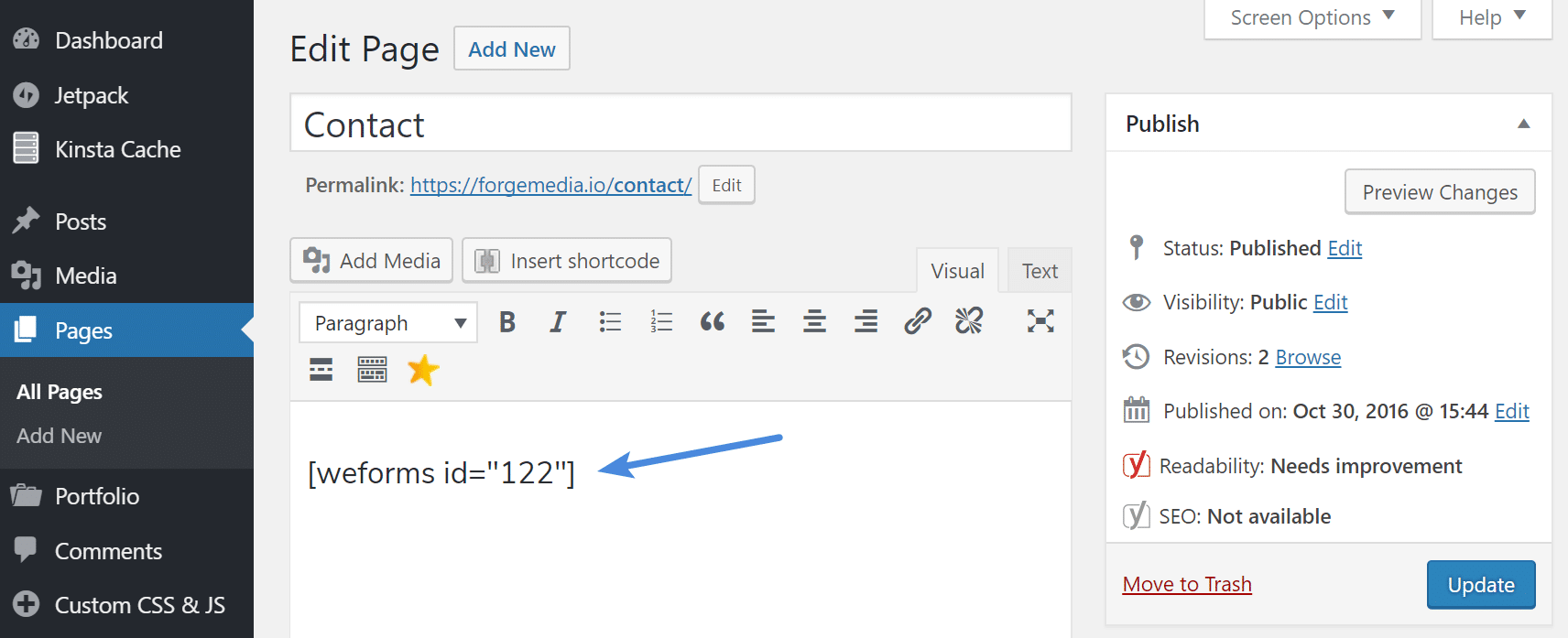 And that's it! Here is what the form looks like on my page. Performance wise, it's also important to note that it doesn't load any scripts sitewide. Only on the pages where you use the shortcode. So don't worry about it slowing down your site.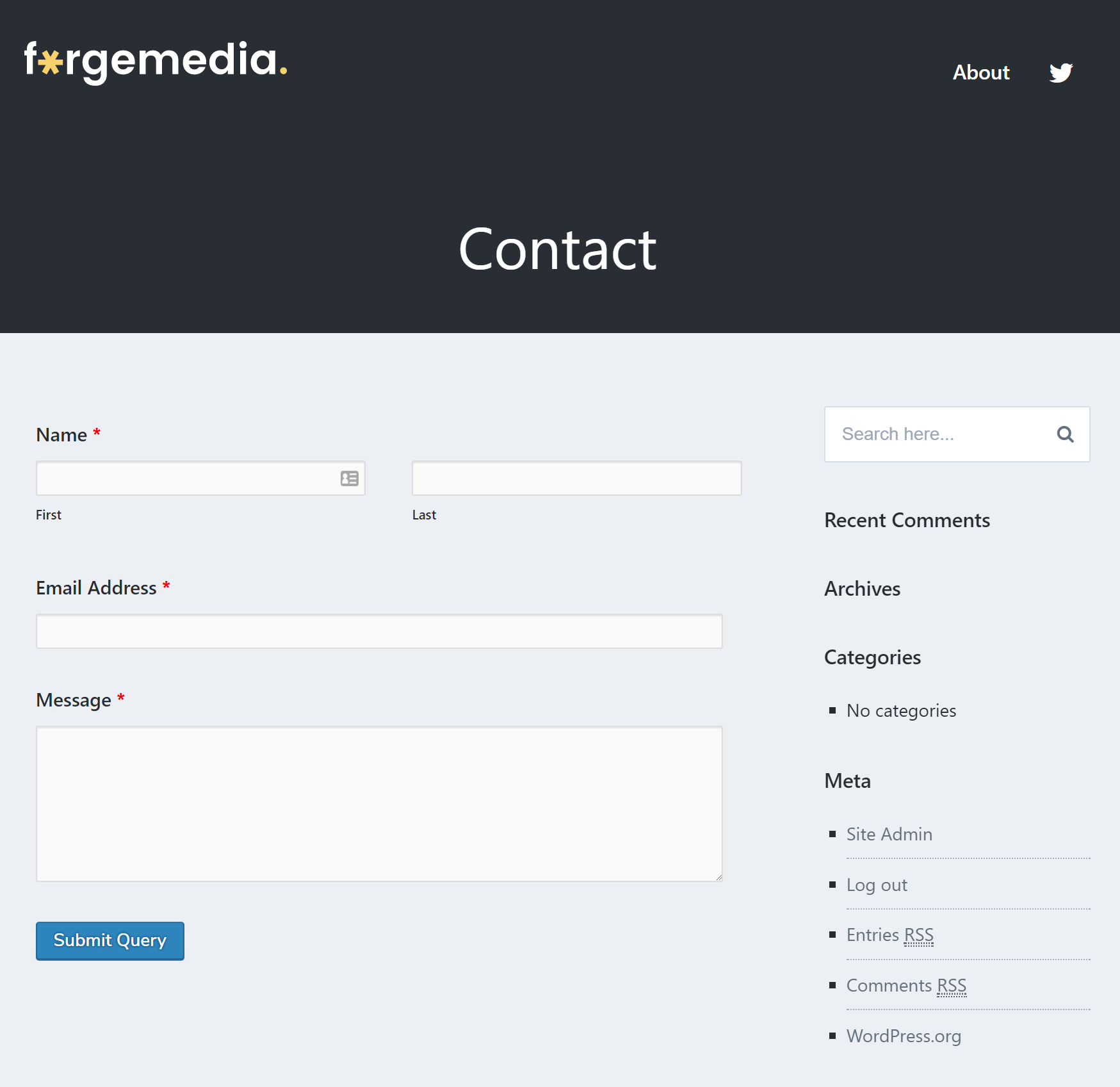 Let's see, I think we literally did that in 6 clicks! Pretty darn easy if you ask me. Not sure how you could simplify that anymore.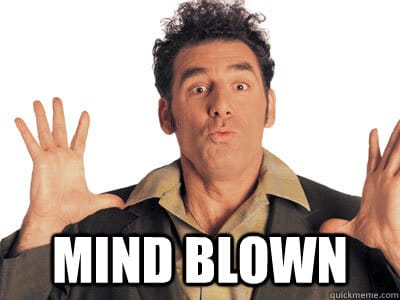 Additional weForms Settings and Features
Below are some additional settings.
Submission Restriction
Under the "Submission Restriction" tab you can schedule the form, require a login, and even limit the entries.

Display Settings
Under the "Display Settings" tab you can change the default label position from above element, left of element, right of element, or hidden.

Payment Options
Under the "Payment" tab you can enable PayPal or Stripe integration. This is pretty cool! That's right, you can even build your own payment forms with this plugin.

Modules and Integrations
Under the "weForms Modules" screen you can enable or disable different integrations. The integrations can then be configured within each form, based on how you want that module to function.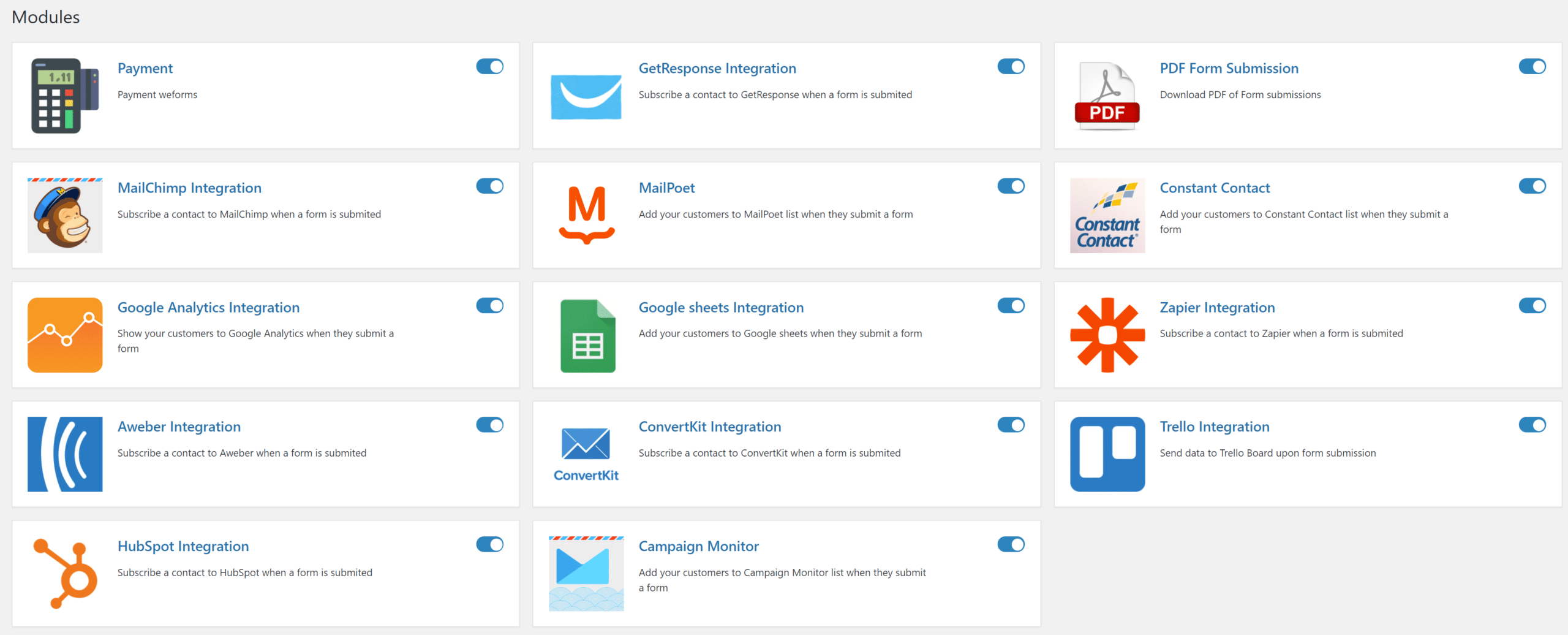 Form Entries
Under the "Entries" option you can see all the submissions that come in, and the associated drill-down details. Remember, this isavailablee even in the free version!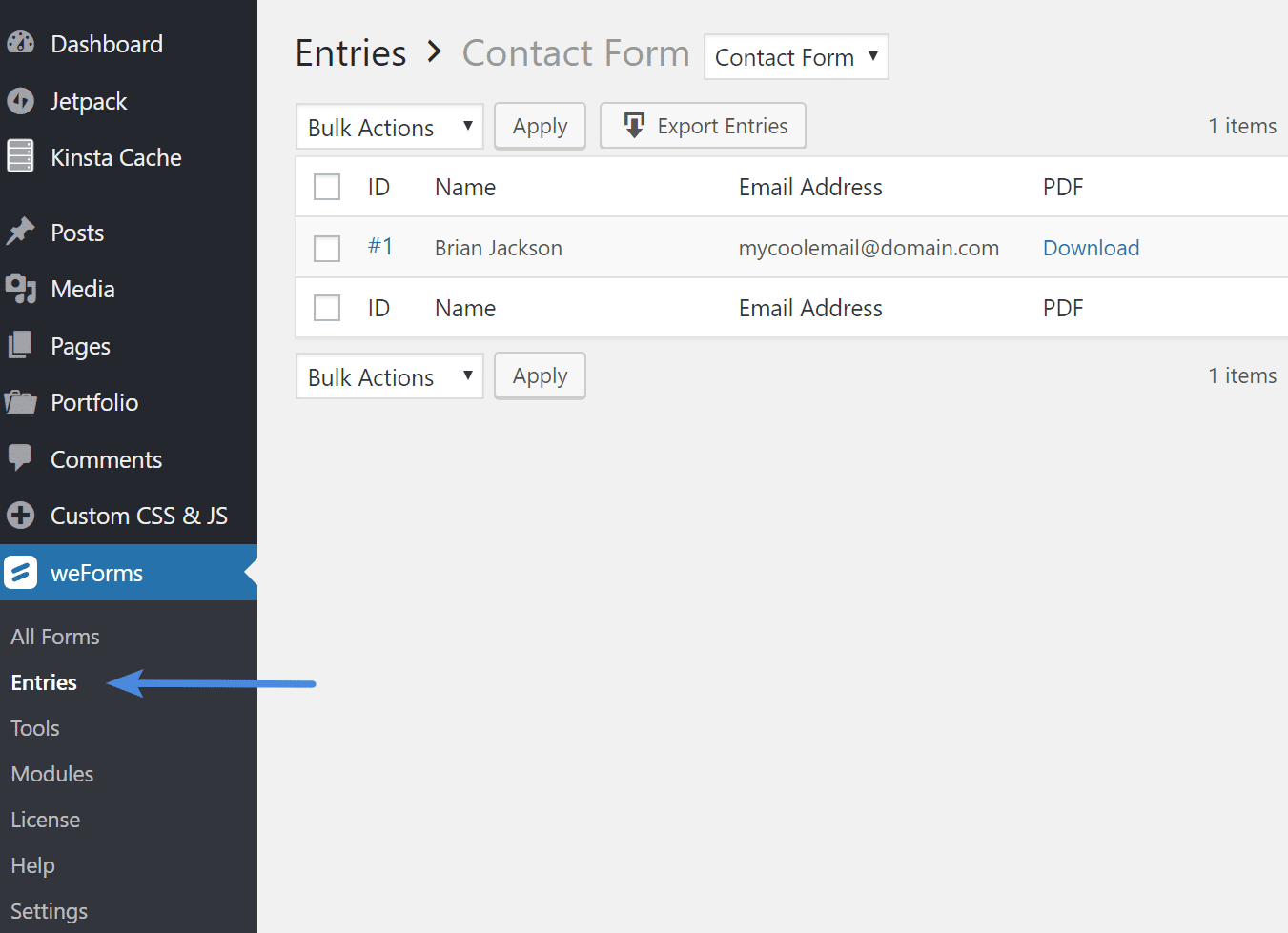 Tools
Under the "Tools" option you can import and export your forms and entries.
Summary
While many of you have probably used Contact Form 7, Gravity Forms, or WPForms over the years, weForms is definitely a new player on the market and one you should check out! It's surprisingly fast, the free plan includes submission data that is viewable inside the admin, and the drag and drop AJAX builder is pretty darn handy.
Do any of you already use weForms? If so, I would love to hear your thoughts below.