One thing that almost every website on the internet has is a form. This could be a contact form, a newsletter signup form, or even a payment form. Typically businesses rely on forms to generate conversions and leads. I have personally been a big fan of Gravity Forms for years, but today I want to introduce you to newer alternative, and that is the CaptainForm plugin. CaptainForm can help take building WordPress forms to the next level.
Guys Behind CaptainForm
So who exactly is behind the CaptainForm plugin? That would be the team from 123ContactForm. Nokia, Nikon, and Heineken are among the many large-scale enterprises that rely on 123ContactForm to collect and analyze data. Here are some other quick stats about the 123ContactForm:
More than 900k users login to our platform from 186 countries to build web forms
They are among the 5 top form builders in the world
They are hosted on one of the most reliable platforms in the world: Amazon Web Services

Headed up by Florin Cornianu and Tudor Bastea, they have been building forms and surveys for websites and businesses for over 8 years. They launched their CaptainForm plugin as a way to focus on solely building WordPress forms and connecting more with the WordPress community. When it comes to knowing how forms should work and what customers need, these guys are no newcomers.
CaptainForm Features
A lot of the features from CaptainForm are what you would expect from a form builder plugin for WordPress, but in fact they go above and beyond. Here is a quick summary:
Real-time form builder that is drag and drop. No coding is required.
Hundreds of different field types: name, email, radio buttons, file upload, phone numbers, google maps, digital signatures, checkboxes, etc.
30+ pre-built form templates for designing.
Custom themes
Reports, submission archives, and CSV exports
Autoresponders and notification emails
Fully responsive for all devices
Custom thank you pages
Google Analytics tracking
Smart CAPTCHA to prevent spam
Country filters and IP limitation
Pricing
The have both a free version available and premium options. For smaller WordPress sites and businesses the regular plan (free version) actually will work quite well! This is a great plan for those just starting out but needing some advanced custom form features. This is where I would say CaptainForm excels over that of say Contact Form 7. Below is a brief overview of some of the differences.
Regular Plan
Free
Unlimited activations
3 forms
15 fields
500 entries per month
Apprentice Plan
$35/year
1 site license
Unlimited forms and fields
Master Plan
$95/year
3 site license
Unlimited forms and fields
Hero Plan
$195/year
Unlimited site license
Unlimited forms and fields
You can see the full comparison here. If you are curious, Gravity Forms starts at $39 a year and doesn't have a free version.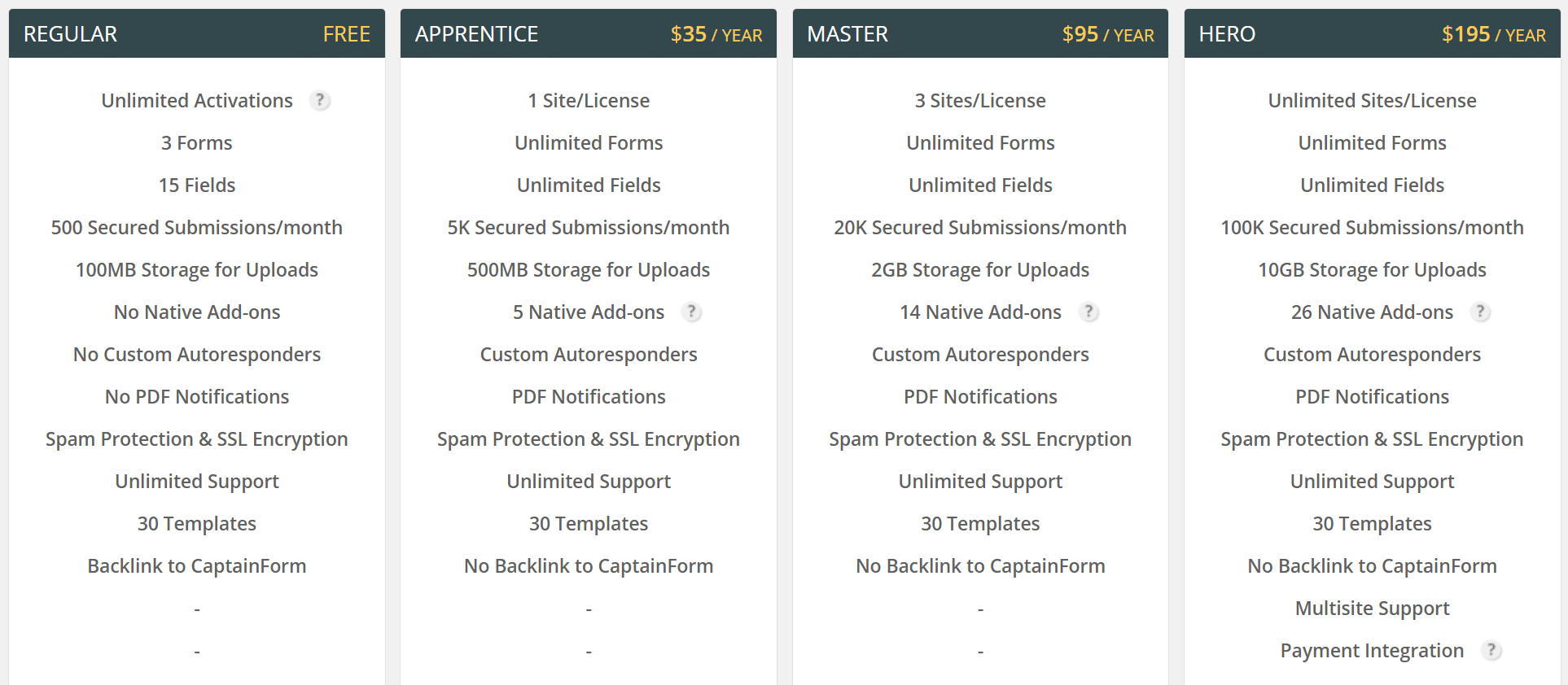 All of their plans, including their free one, include support via email and chat.
CaptainForm WordPress Forms Deep Dive
Now let's install CaptainForm and take a look at building some common forms you might want to use on your WordPress site. To install the CaptainForm plugin go to "Plugins" under your dashboard and click on "Add New." Search for CaptainForm and click on "Install Now."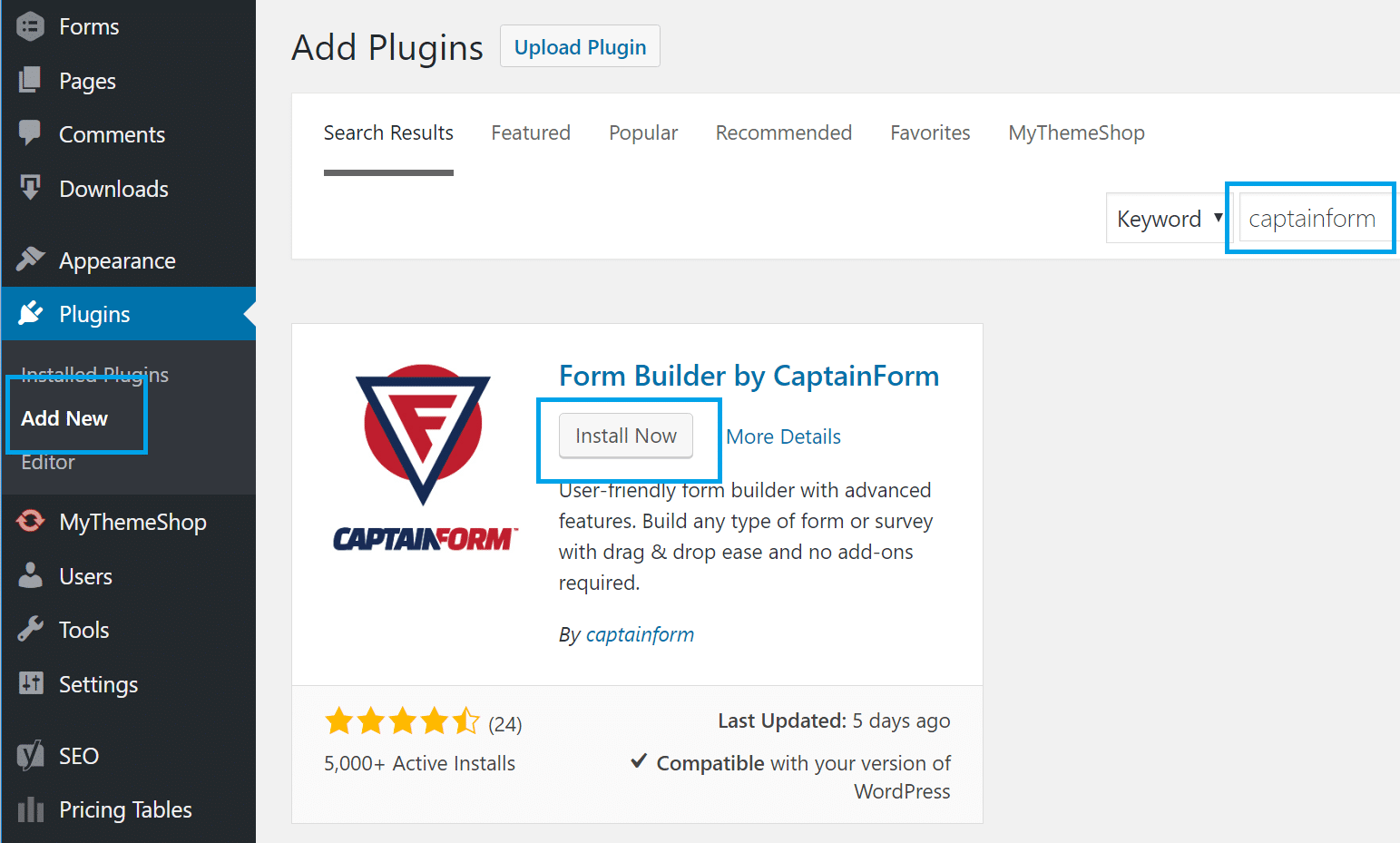 This plugin is pretty lightweight, only 277 KB to be exact. As of writing this, it currently has over 5,000 active installs with a 4.7 out of 5 star rating. You can also download it manually from the WordPress repository if you want to install it via FTP. They made over 8 updates to the plugin in September 2016, so it is great to see that the plugin has very active development. One of the first things you should do when choosing a WordPress plugin is ensure the developers spend time updating their plugin, and CaptainForm definitely does!
Once installed you will need to choose between a free account or paid license.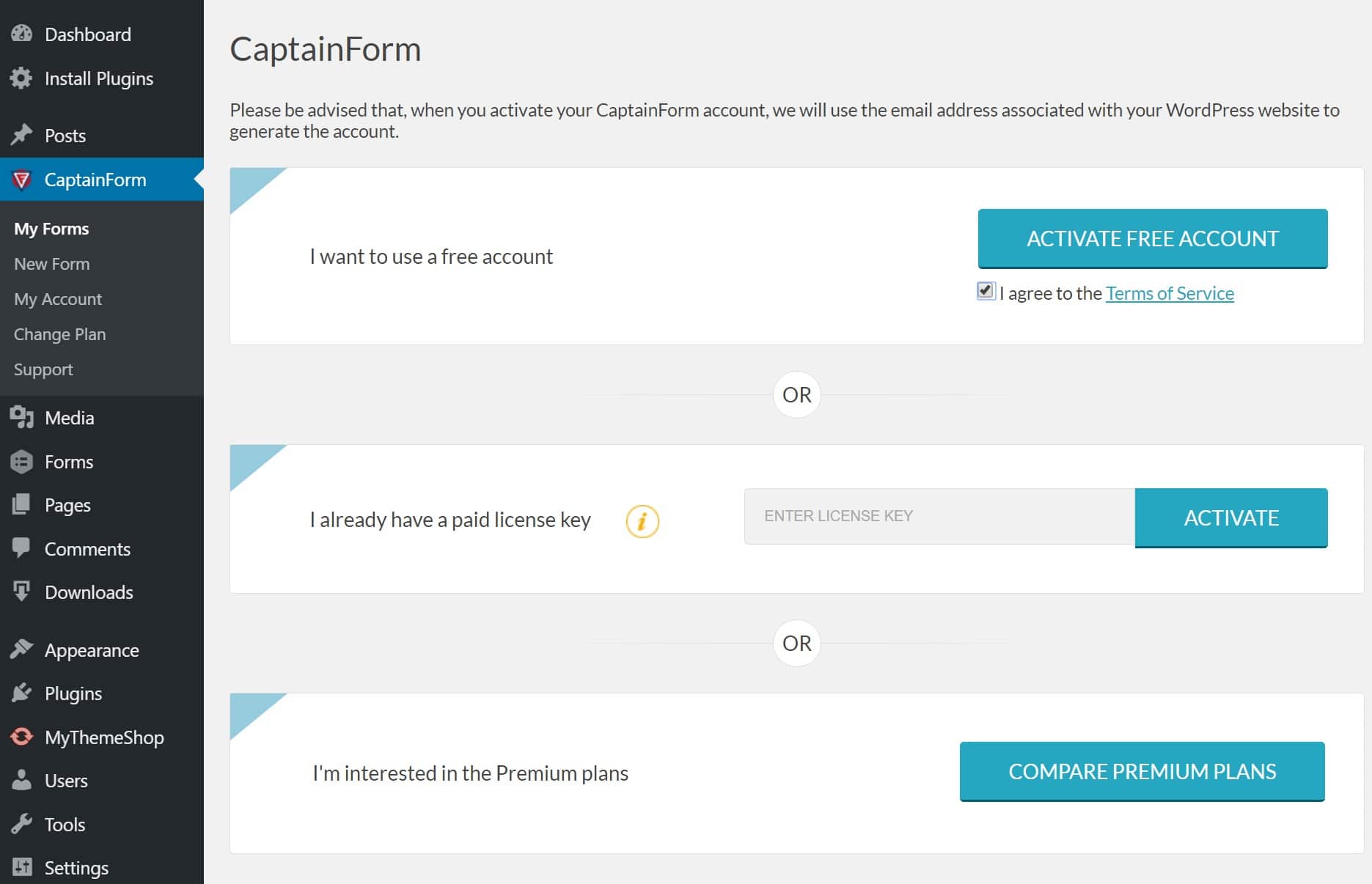 Once you select an option you will need to activate your website's URL as this is what they tie your license to.

It is important to note that under the "My Account" options you can enable the data encryption option. By using the form data encryption option, you can hide valuable information in the submissions section and the default report of your WordPress form. I recommend enabling this option and it is nice to see CaptainForm offer SSL on everything for those concerned with privacy. In my opinion no form data, no matter what it is, should ever be passed in plain text.

Then you can start building your WordPress forms. In our example we are going to build a new contact form. So we select "Contact & Lead Form" from their pre-built templates. This way we can get up and going super fast. And don't forget that this plugin allows you to also build surveys, registration forms, order forms, quizzes, and even polls!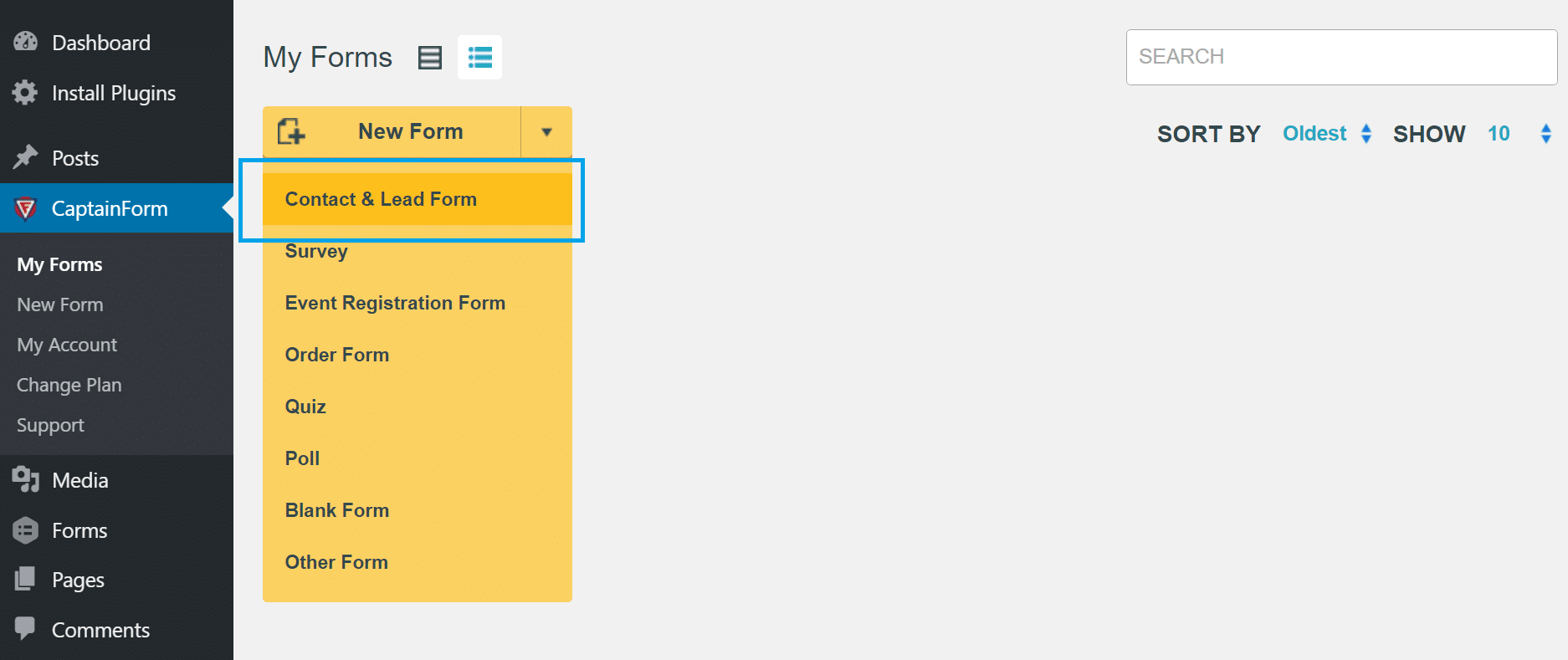 On the next screen you can customize your contact form. Everything is drag and drop and pretty much every option you need is in there. One thing I really liked about it is the "Layout Options." This allows you to change the alignment, columns, and form width.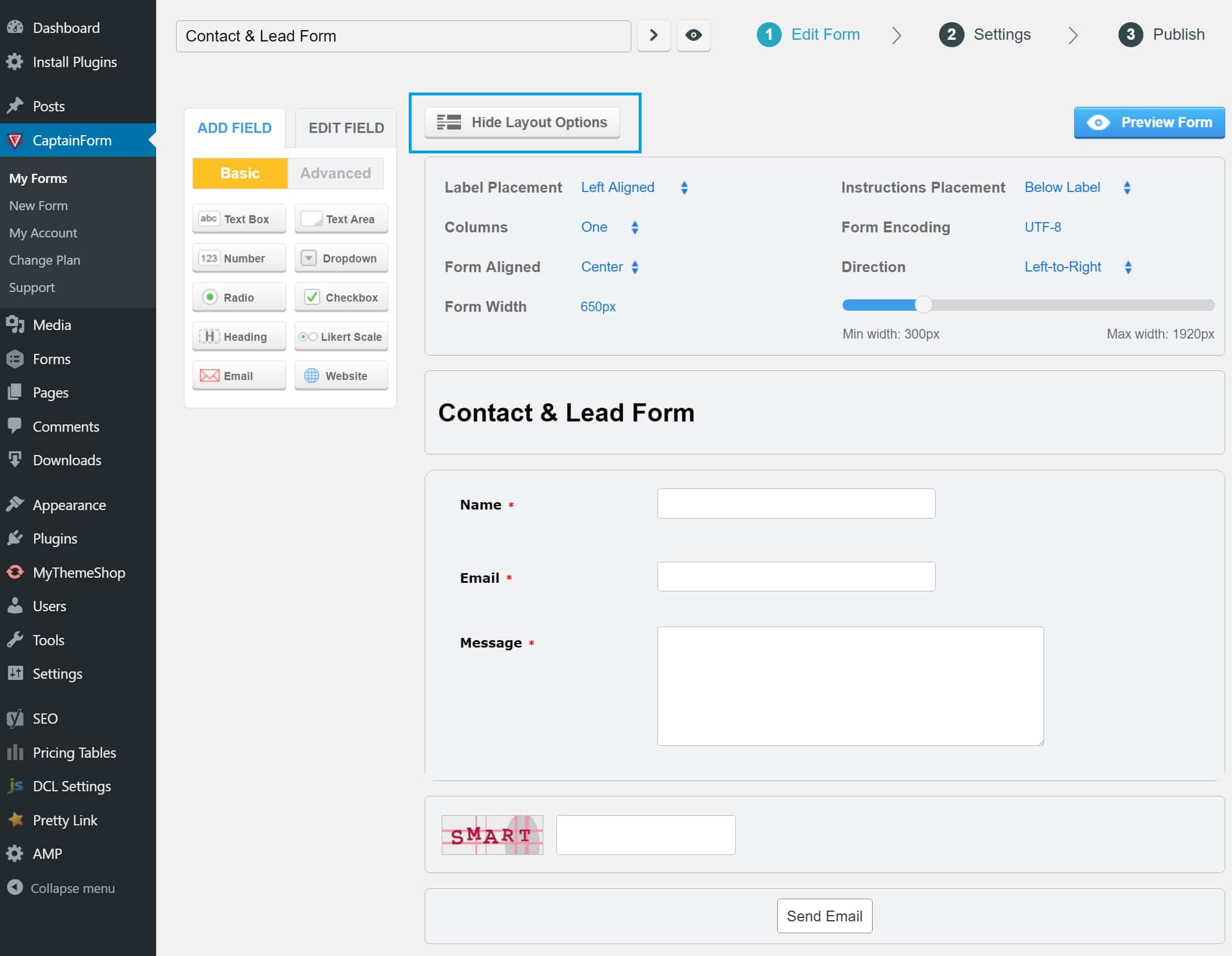 You can then easily preview your form by click on the big "Preview Button" form at the top right. I was quite impressed with the default options as seen below in the example preview.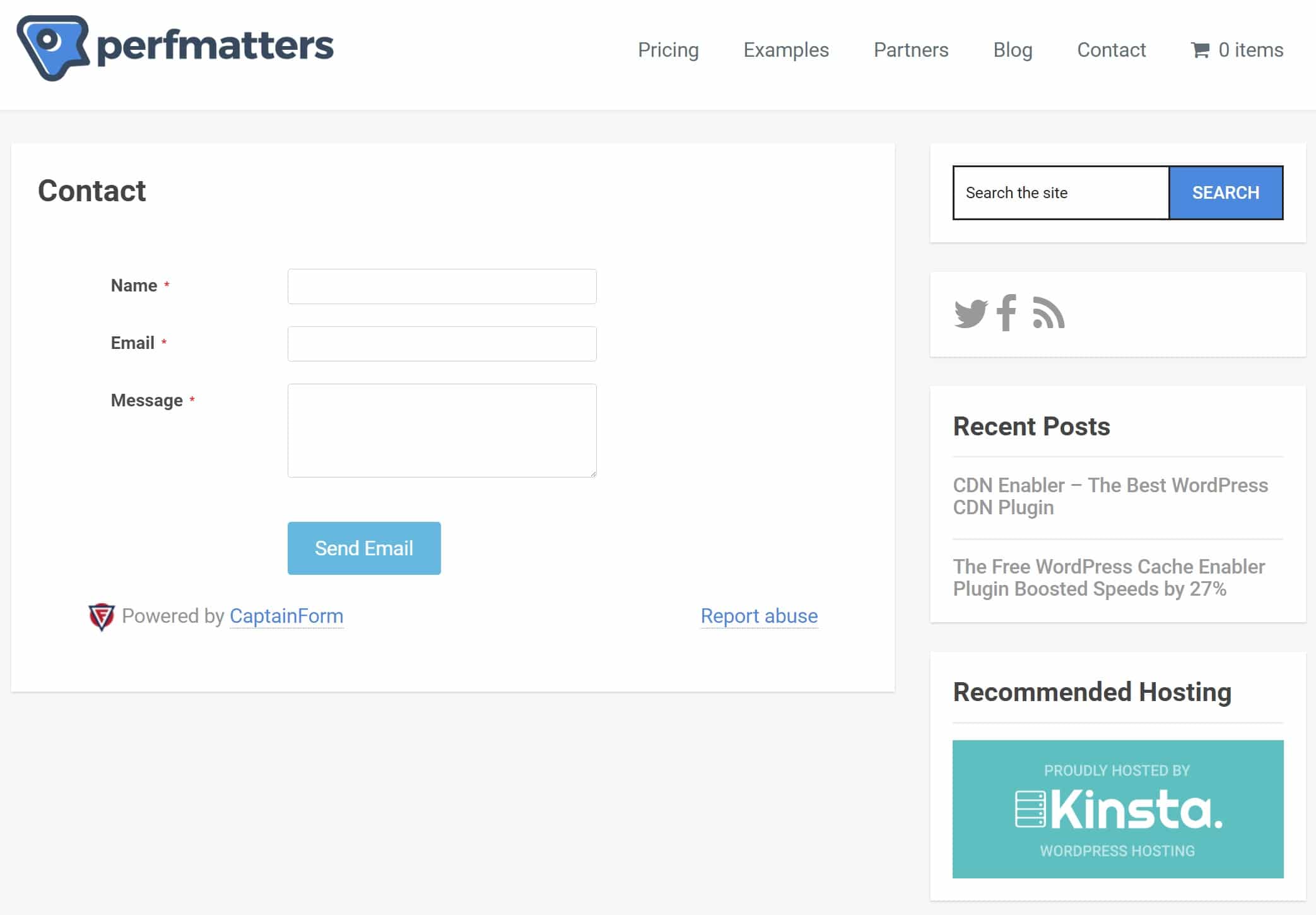 But let's take a look at some of the advanced options available because this is where the true power of the CaptainForm plugin comes into play.
Notifications
On the notifications screen you can easily add additional recipients. I appreciate them adding buttons for beginners. Some form builders just assume that people know that they must add additional users by separating them with commas. I have worked with a lot of WordPress beginners and trust me, options need to be as easy as possible. CaptainForm does a great job at this throughout their entire plugin. Additional options such as adding a PDF, submission copies, and using your own SMTP server are all super easy to setup with this plugin.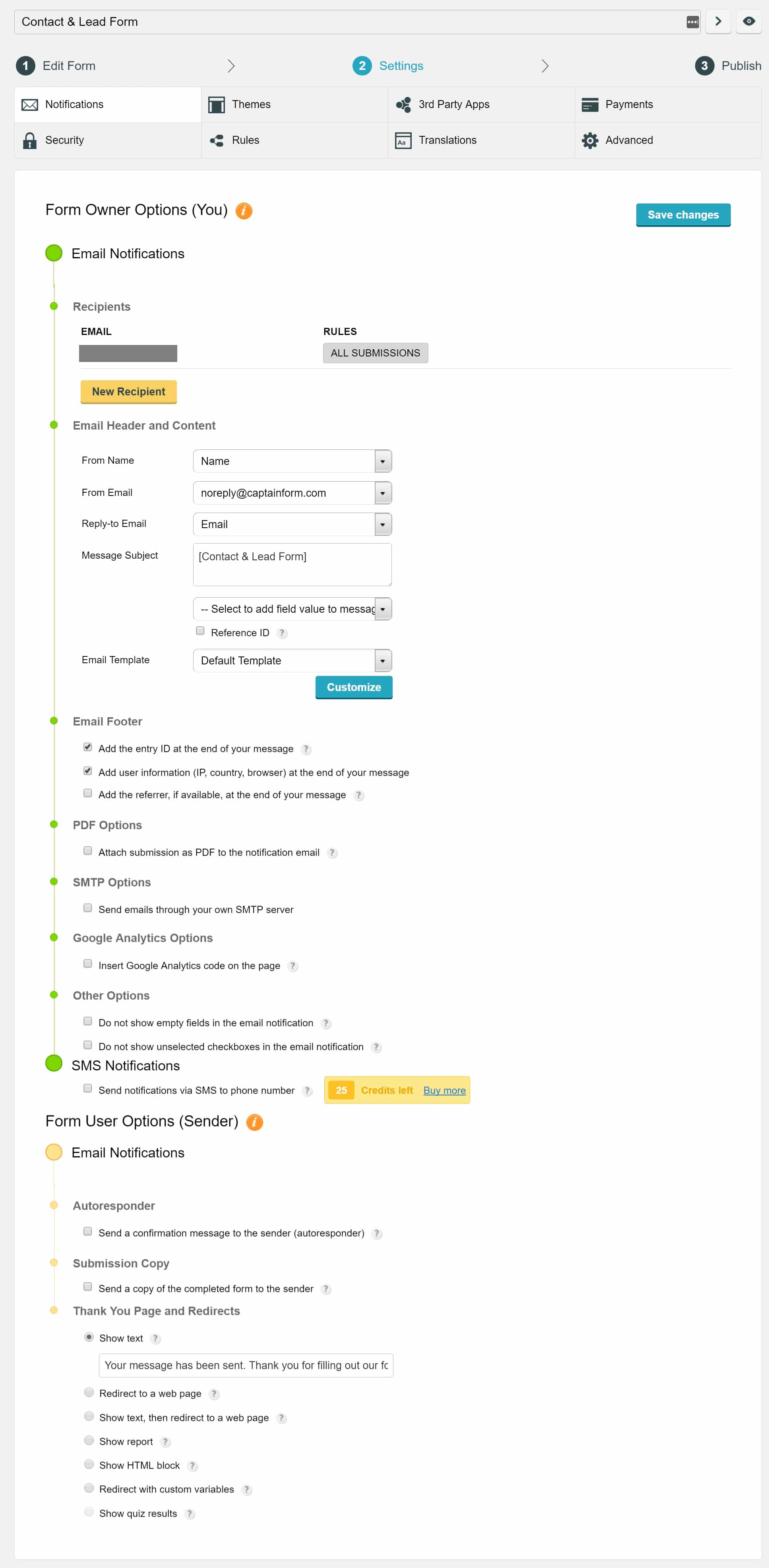 Themes
For customizing your WordPress forms CaptainForm also makes this super easy. I personally am a big fan of simplicity and prefer their default theme. But it is great to see easy options for those that don't know how to use CSS.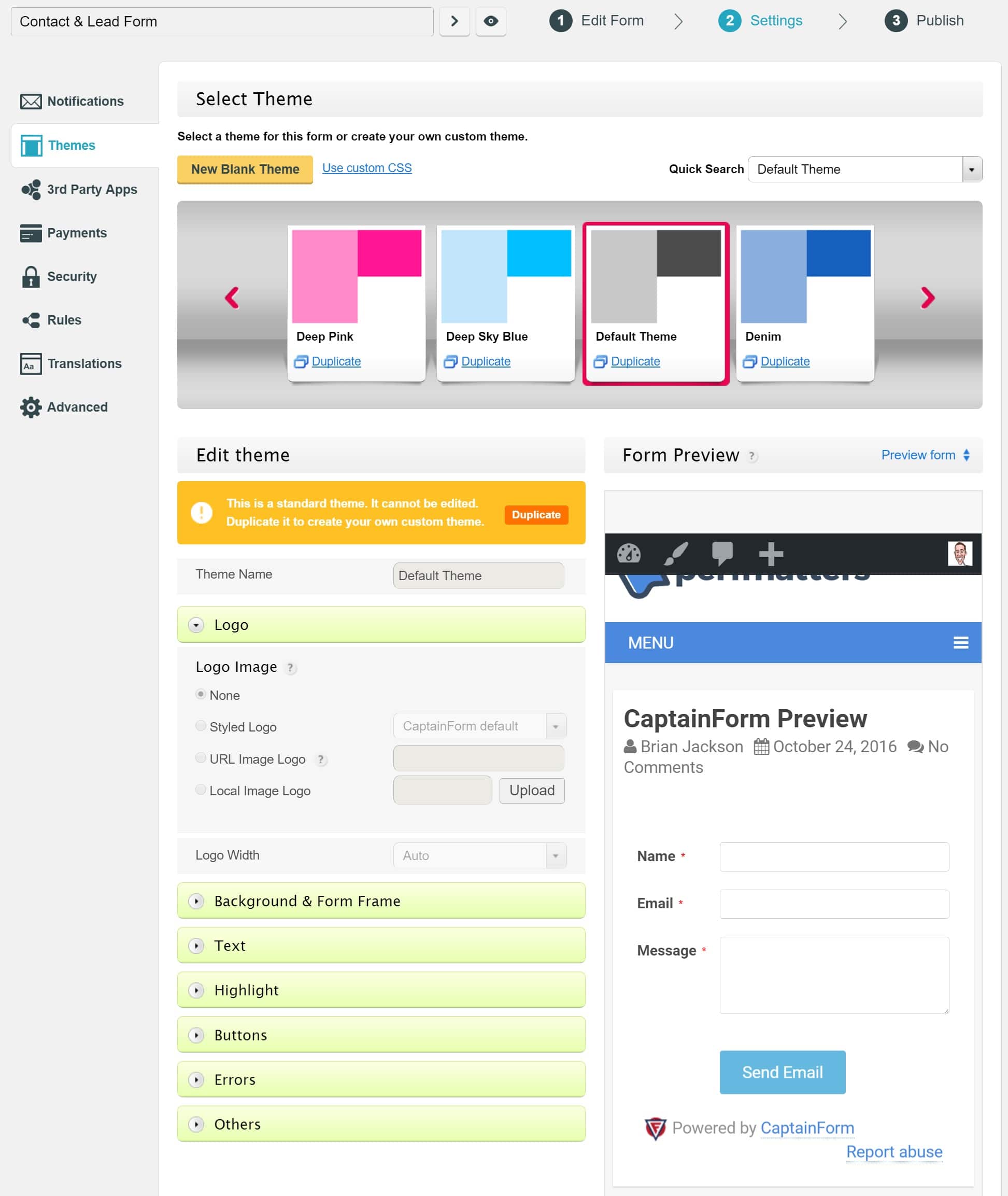 3rd Party Apps
CaptainForm has a ton of 3rd party app integrations, and all the typical ones you would expect to see such as MailChimp, GetResponse, ActiveCampaign, and Campaign Monitor.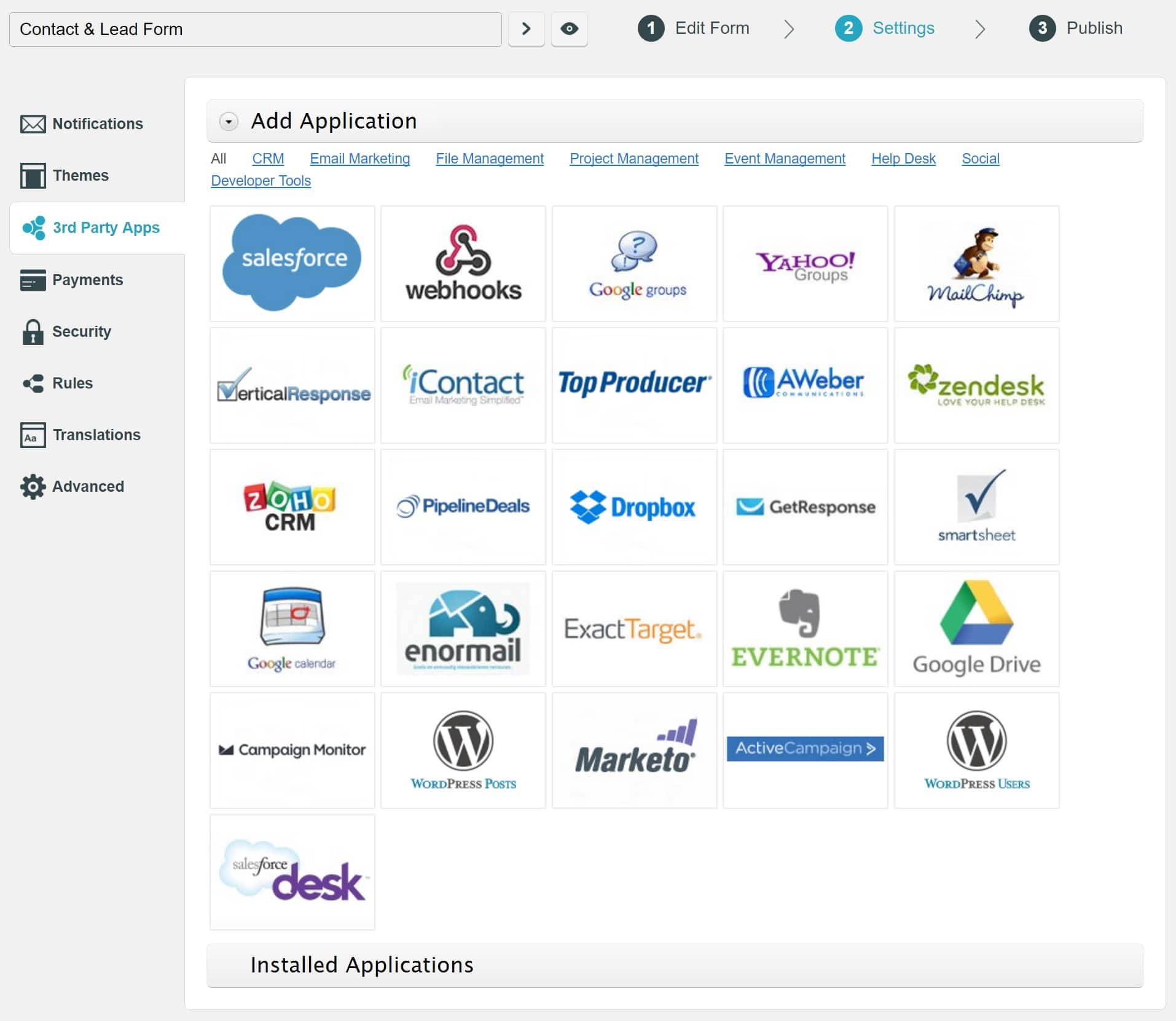 Payments
If you have a paid plan they make it easy to hook up with a 3rd party payment processor. Some of them include PayPal, PayPal Pro, Authorize.net, Stripe, Braintree, Sage Pay, PayFast, and even FreshBooks.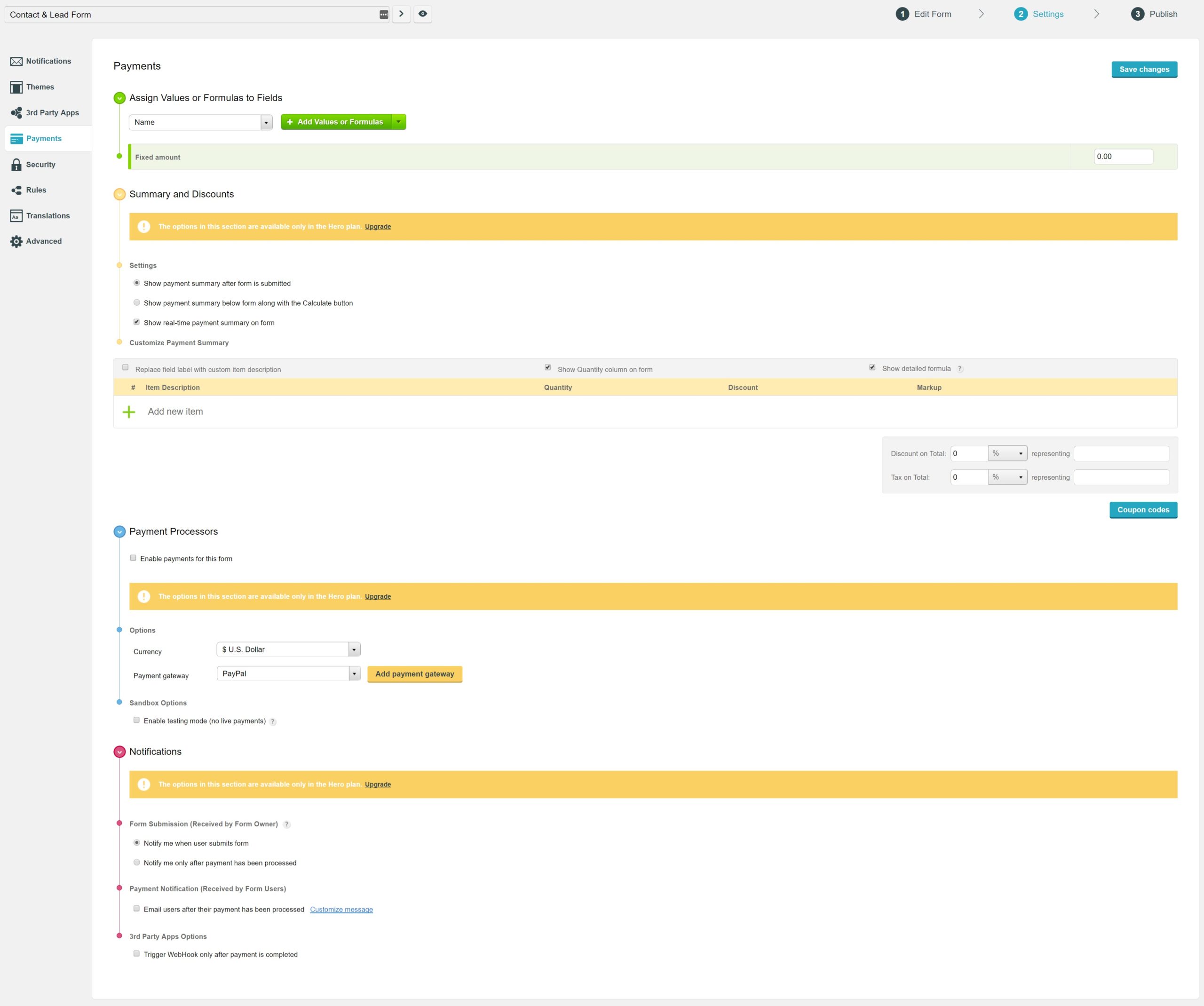 Security
Under security options you can turn on form password protection and enable some anti-spam protection rules such as IP limiting, total number of submissions, and smart captchas.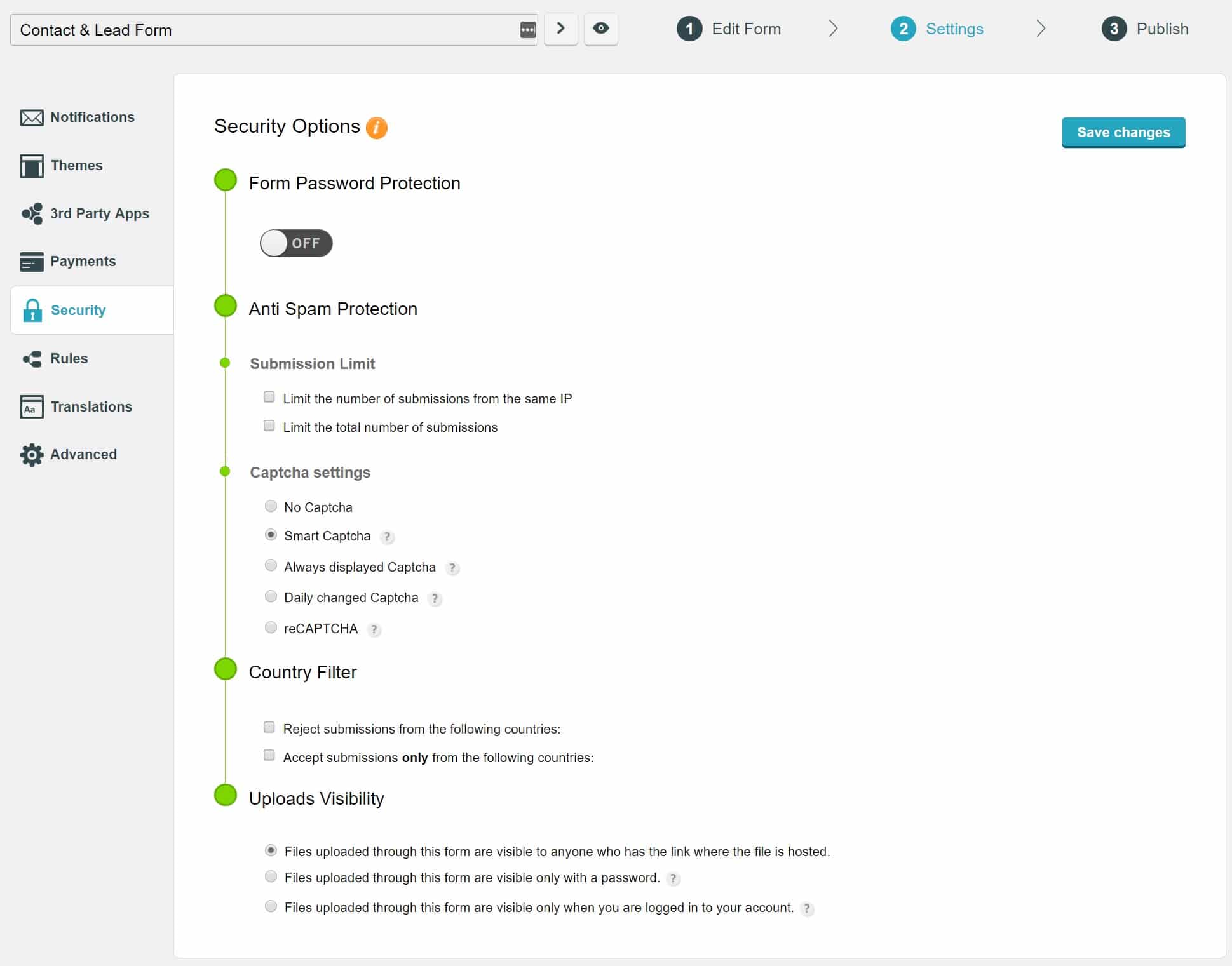 Rules
Another really cool thing is the conditional logic that CaptainForm allows you to setup and enhance the form experience for your users.
Field Rules affect the behavior of your form fields. You can hide or show certain fields based on the information provided by your submitters.
Autoresponder Rules trigger specific autoresponders when a condition is met.
Form Rules redirect submitters to a web page or report depending on the their input after submission.

Translations
Multilanguage forms are available for paid accounts.

Advanced
And then we have some awesome advanced options. You can allow respondents to save the submission and resume it later or even edit the delivered submissions at a later time.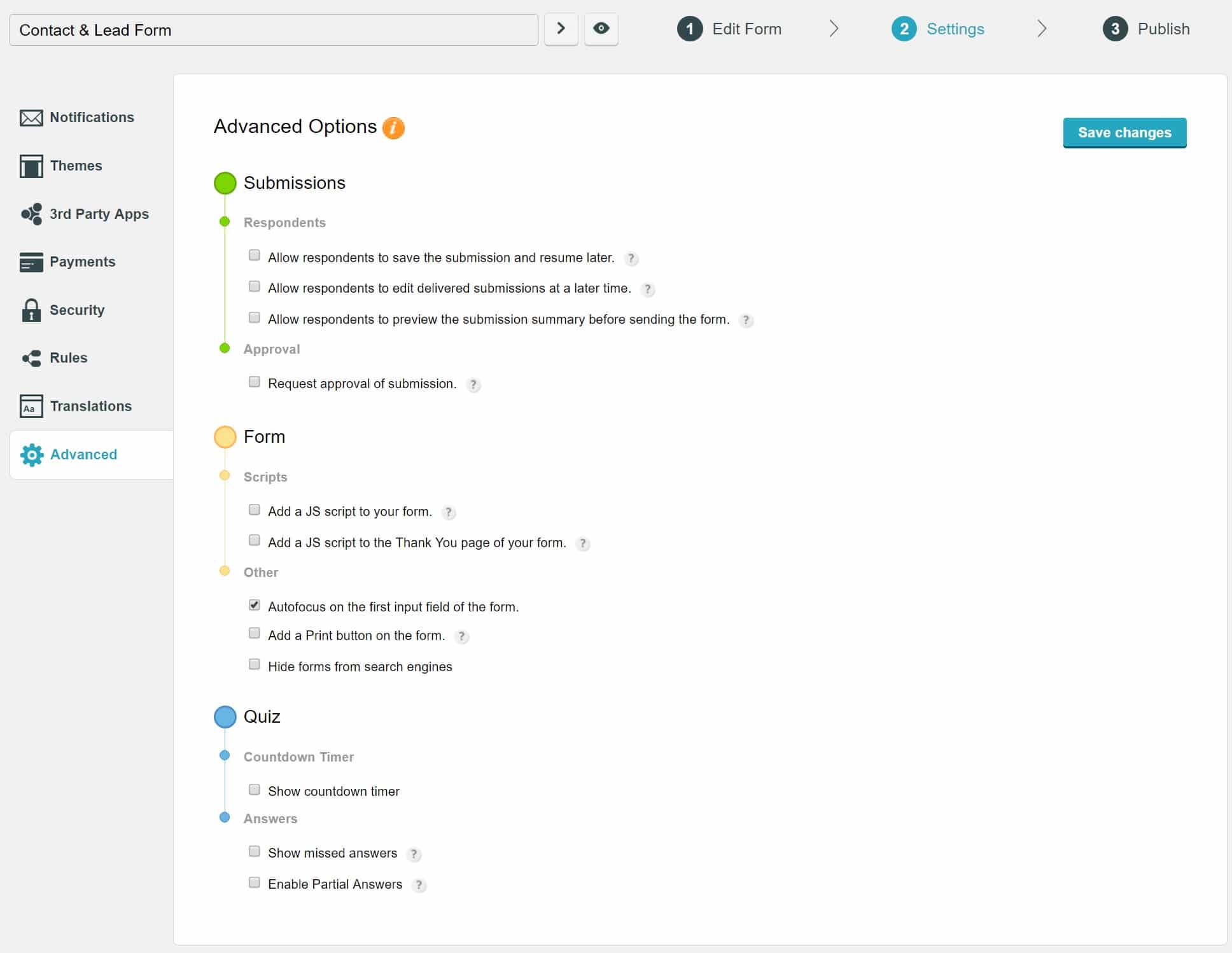 Once you are all done configuring the options on your WordPress form you can hit the "Publish" button. There are a couple different ways you can insert your form into your post. One way is to use the shortcode. This can be copied and pasted into any post or page. There is also a CaptainForm widget. Or if you are building it into a theme you can use PHP.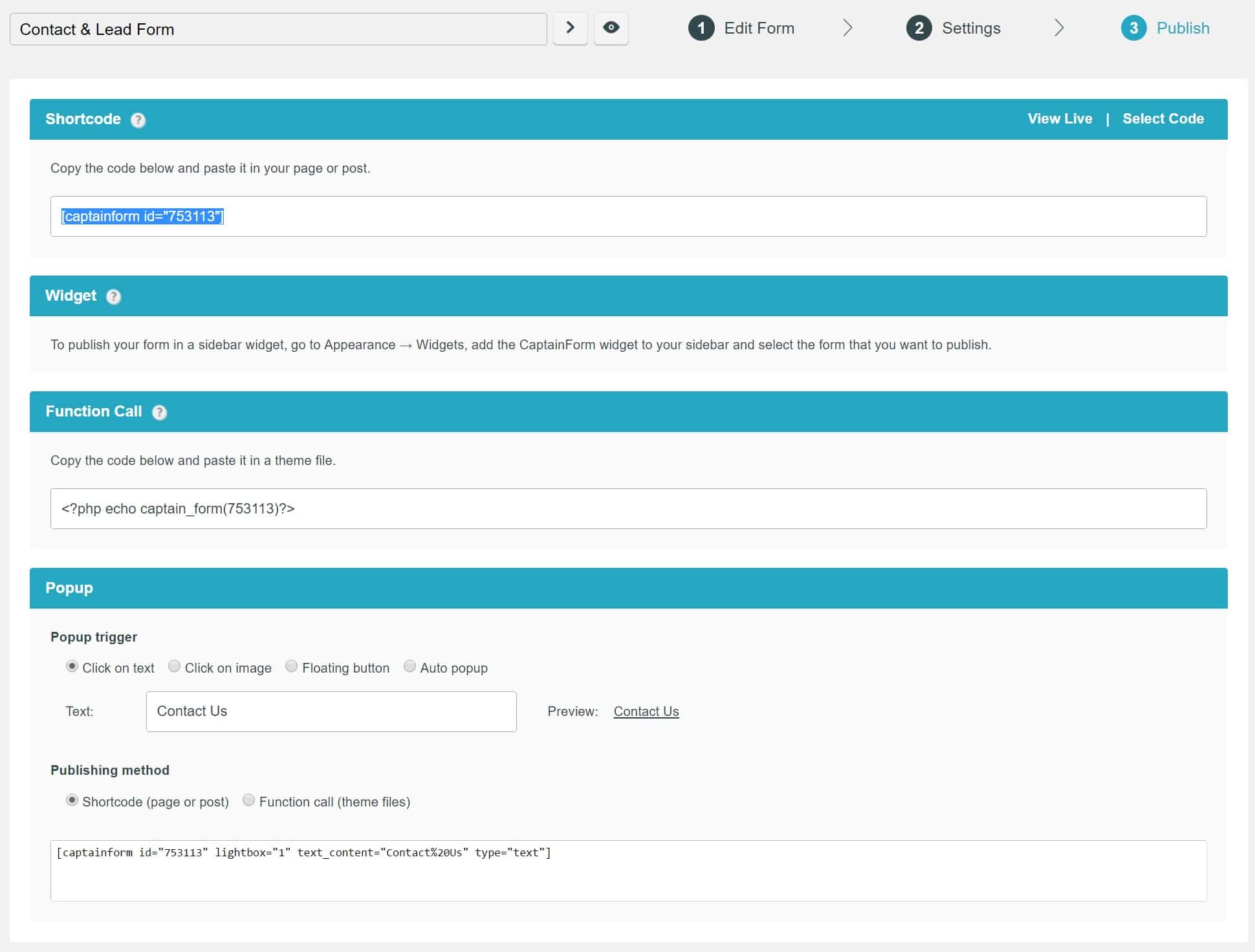 Adding a widget or newsletter signup to your blog is super easy. They have a prebuilt widget which you can simply drag over and then select the form you want.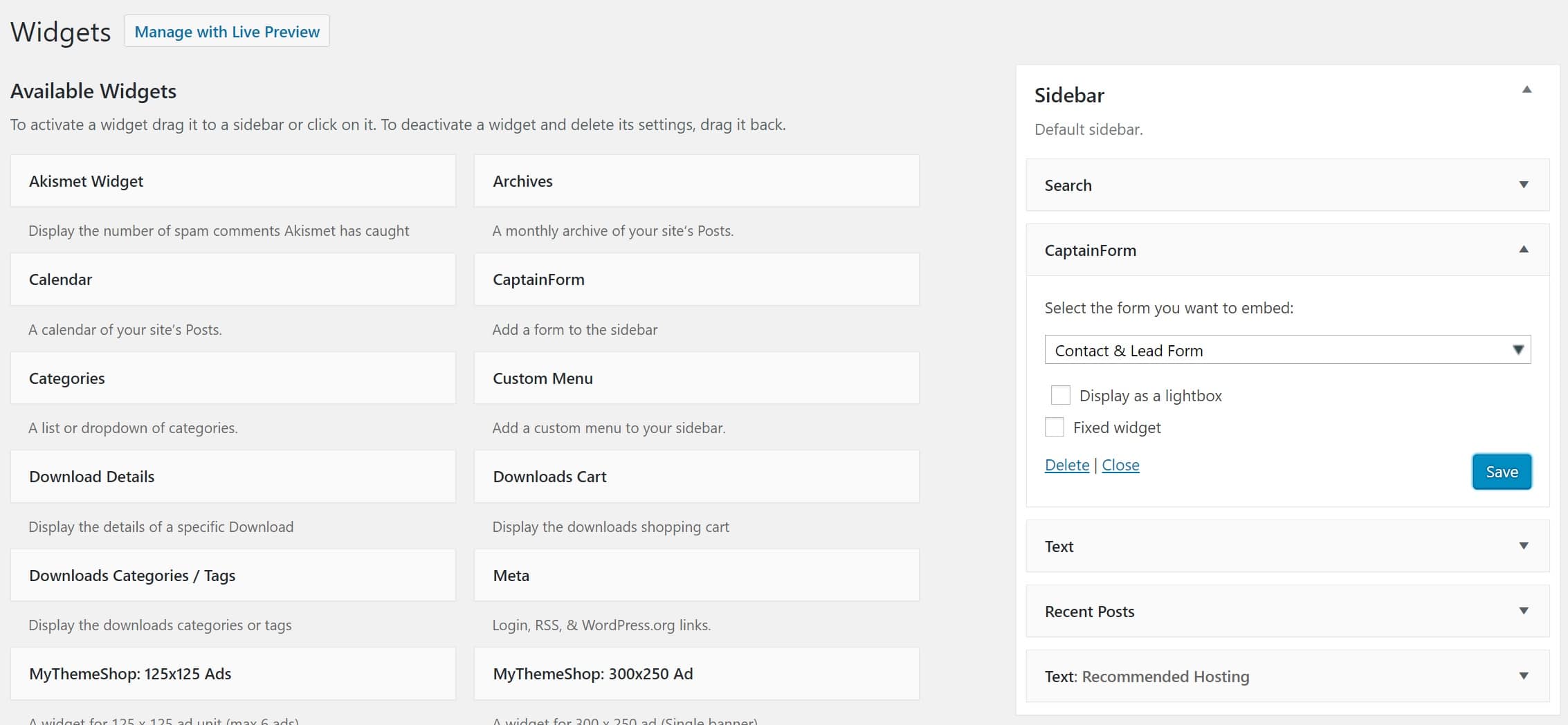 See below an example of the widget on our site's blog.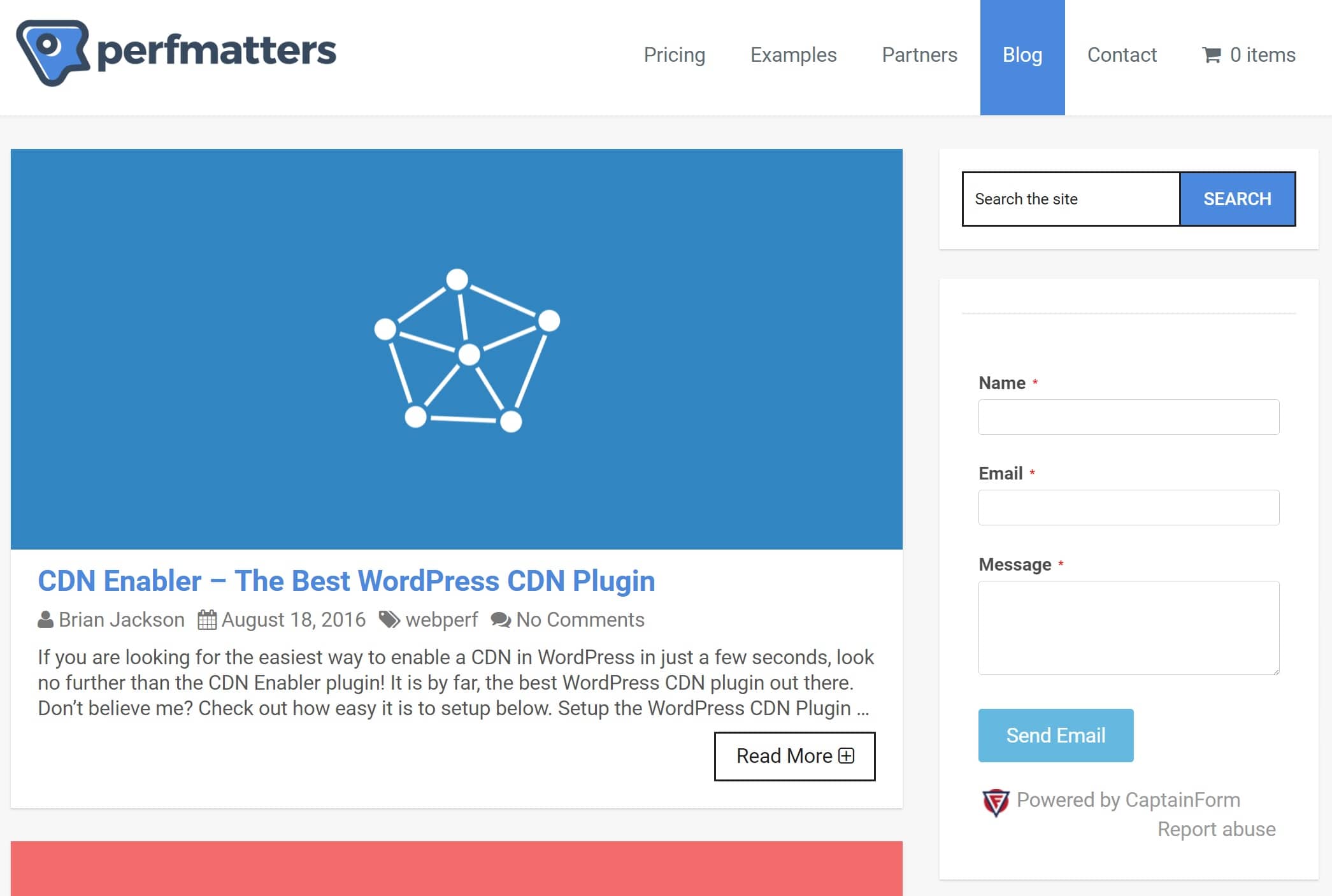 One of the easiest ways to insert a form is to simply do it from the WordPress editor. As you can see below there is a CaptainForm icon added to the editor which you can then use to insert the form you want into your post or page.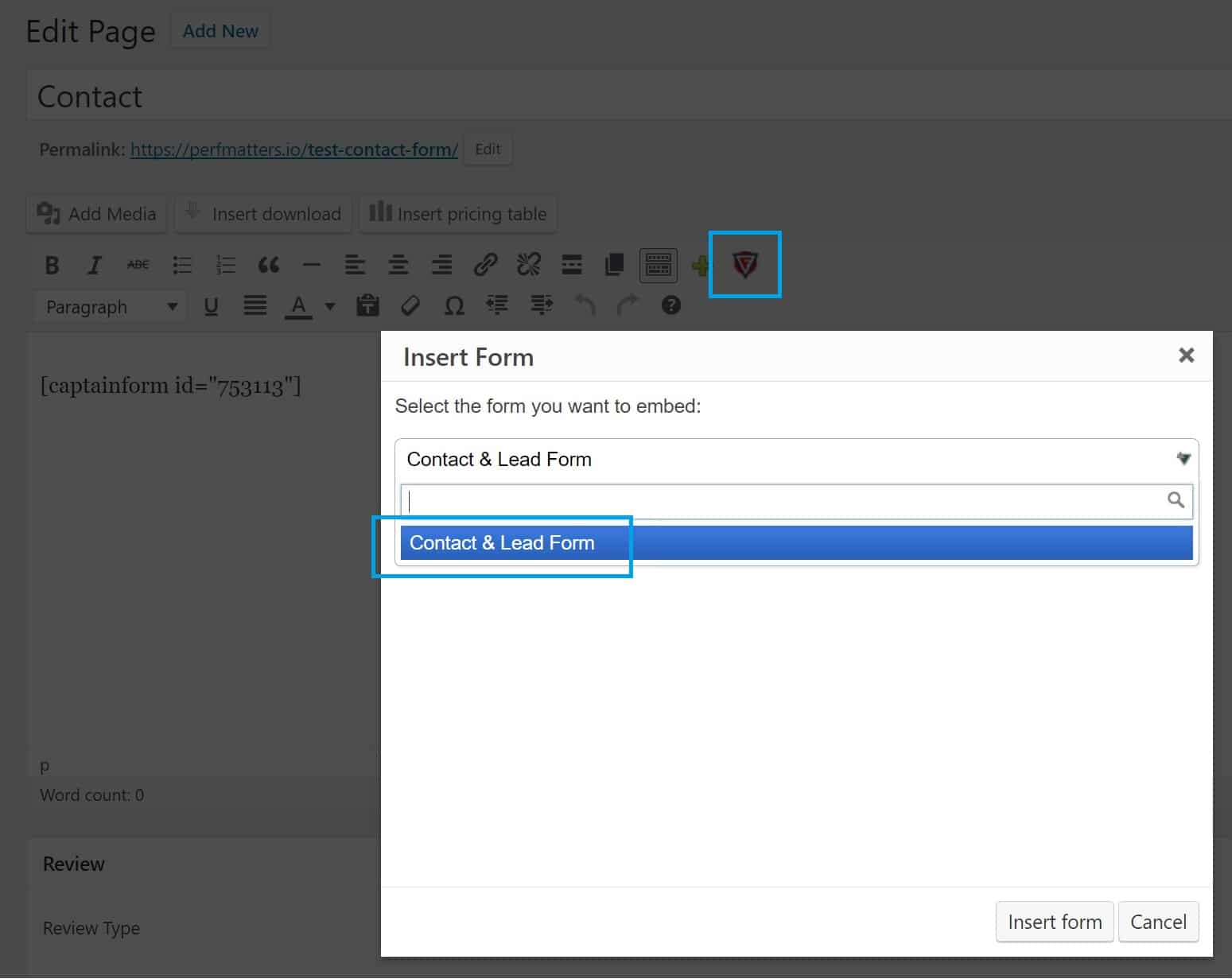 Summary
As a long-time Gravity Forms user I can honestly say I was very impressed with CaptainForm. They make building WordPress forms incredibly easy! You don't need to know any code and can get up and running in a matter of a few minutes. It is great to see a free plan with a lot of the advanced options that normally you have to pay for with other premium form builders. CaptainForm can be a great way to start accepting forms for your business and simply upgrade as you grow.
CaptainForm actually has a pretty awesome Demo on their website as well which you can use to give it a try before installing it yourself.
Was this deep-dive into the CaptainForm WordPress forms plugin helpful? Or perhaps you have tried it yourself? If so, I would love to hear about it below.