Manage all your WordPress Sites for Free
There are a lot of great paid services out there to manage your WordPress sites, such as CMS Commander, ManageWP, etc. Automatic even offers a free tool via Jetpack to do this. However I am not a big fan of Jetpack as it adds unnecessary bloat. Or you can go the self-hosting route with Infinite WP.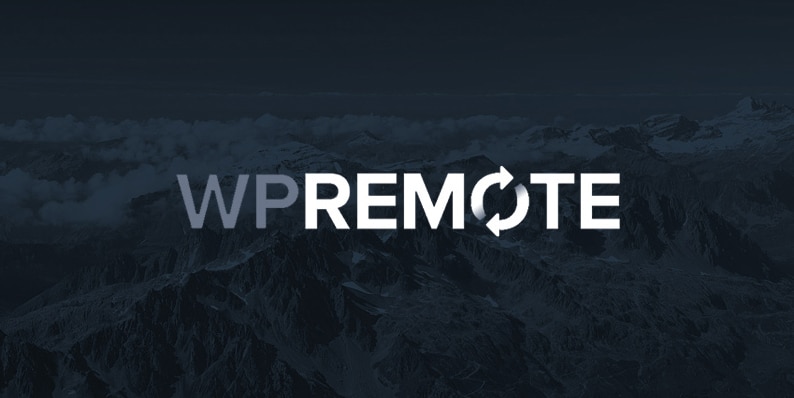 Many of the services above will let you manage up to 5 sites free in a limited capacity. But if you have more than that you are stuck with paying. I have around 8 personal sites that I manage and I could just never bring myself to pay, simply because I was slightly over the limit.
Introducing WP Remote
[alert-note]And no this isn't a self-hosted solution which requires your own server.[/alert-note]
WP Remote is a completely free way to manage all of your WordPress sites under one sleek, fast and minimal interface. A tool/service like this will definitely save you time.
Special thanks to Rhys from Winwar Media who actually was the one that mentioned this tool over on the Rise Forums.
Features
Monitor unlimited sites for Free
Easily update WordPress Core, Plugins and Themes with a single click
Download a snapshot of your site
They provide a JSON based RESTful API for developers so you can integrate all of the functionality of WP Remote into your existing proccesses.
Wordpress Host Compatibility
WP Remote is compatible with all the major WordPress hosting companies. Bluehost, Siteground, Pressable, etc. I am using WP Remote on Kinsta Hosting just fine and I have also tested it on InMotion Hosting as well.
Security
And for those worried about security, as I definitely had my hesitations and did some reading up before diving in, let me hopefully put you at ease.
Everything is behind an SSL login.
They only store your email address, no usernames or passwords.
Files are transferred between your site and their server using http or https file transfer depending on what your site is running. They use an Amazon EC2 server protecting against "Man in the Middle" attacks as files are transferred directly to Amazon S3.
Backups are stored on Amazon S3 using AES-256 Server Side Encryption. Amazon stores data over several large-scale data centers. According to Amazon, they use military grade perimeter control berms, video surveillance, and professional security staff to keep their data centers physically secure.
Inside WP Remote
Dashboard
Installing and setting up WP Remote is very easy, I won't go over that here. You can see instructions on how to setup and install WP Remote along with their WordPress plugin. When you have everything setup you will be shown a nice minimal dashboard in which you can see all of your sites, how many updates that are available for WordPress, plugin updates, and theme updates. Wow, looks like I have some updating to do!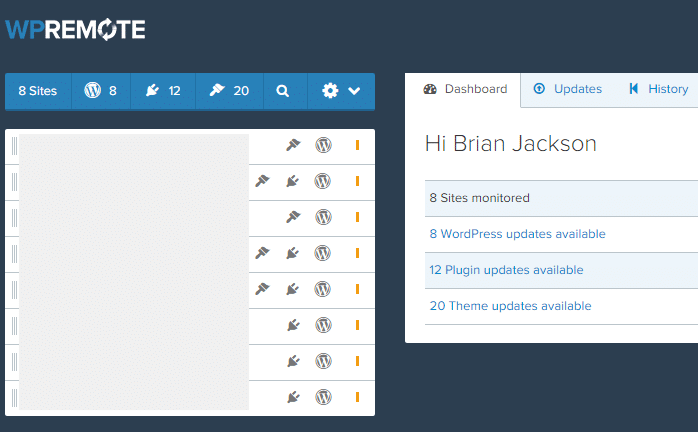 Updates
On the updates tab you get a nice summary of each individual update and the sites it needs updating on. You can individually click update on one, or click the "update all" button.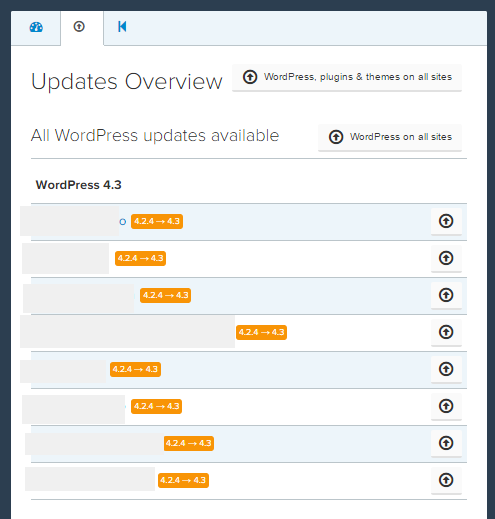 History
Under the history tab you get a nice log of everything that happens in your account.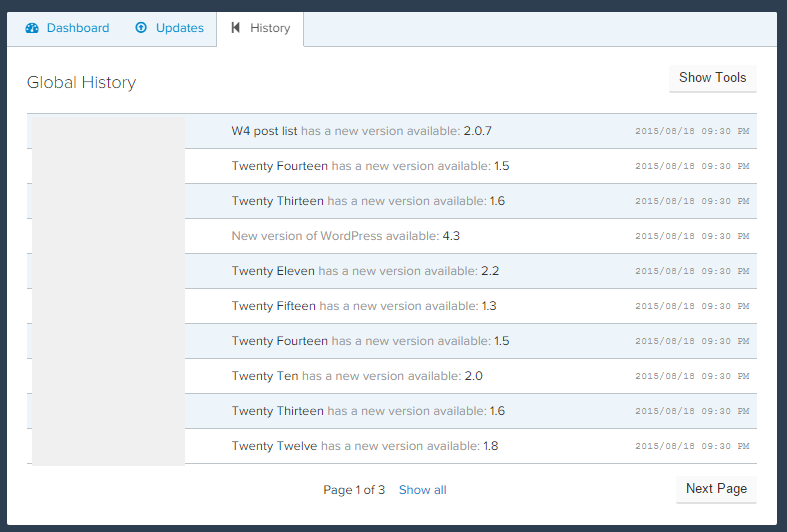 Backups
You can click into any individual site and download your entire site backup and also your .mysql database file. They also have a nice status table which allows you to see # of posts, pages, categories, themes, plugins, and users.
I highly recommend you check out WP Remote if you are looking for a tool and or service to manage your WordPress sites. It is quick, easy to use and gets the job done! And you can't really beat free. The developers also make a self-hosted tool called BackUpWordPress if that is how you roll.
If this review was helpful please let me know below in the comments!