I've used WordPress going on 14+ years now. It's awesome, and I couldn't imagine myself working with anything else. However, just like with every platform, there are ways to form what I call "good and safe" habits. Today I want to discuss a little bit about updating WordPress plugins and themes and why I typically recommend users to wait before updating to the shiny new version.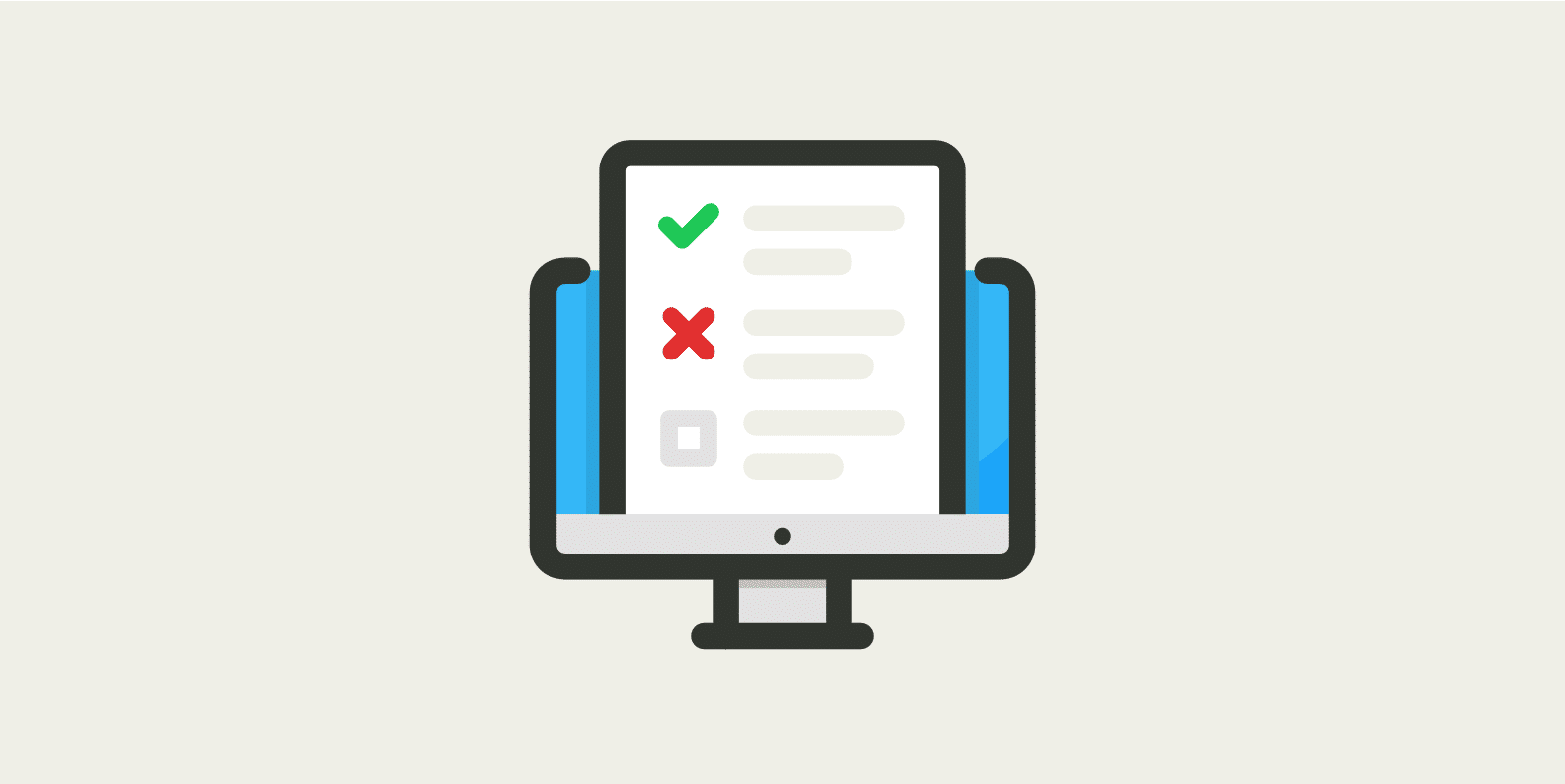 Trust me, this will cause you less stress in the long run. 😉
Wait to update WordPress plugins and themes
We all love new and shiny things, and updates to our favorite plugins and themes are always exciting as sometimes they mean new features and capabilities. It's very tempting when you log in to your WordPress dashboard and see pending updates to click "update all" and move on. However, this is what I urge you not to do! ✋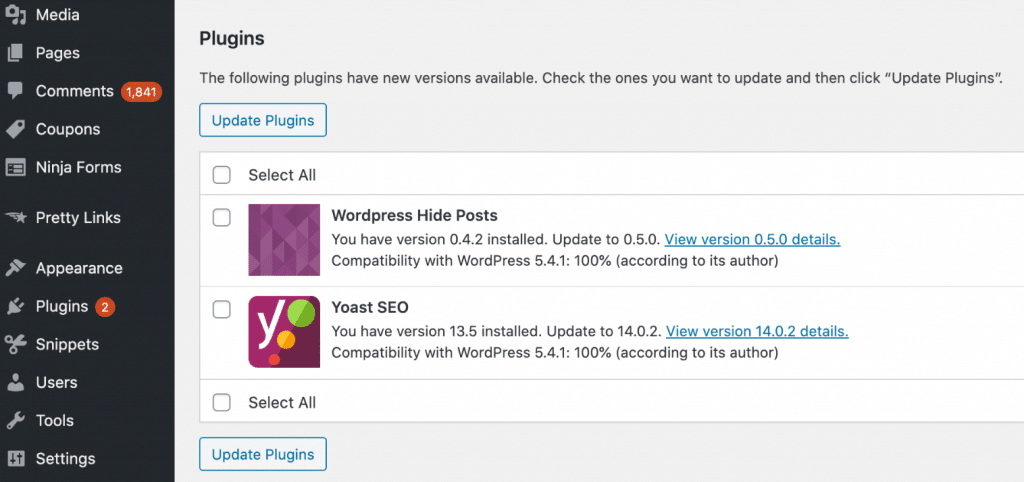 Why? Because developers are humans, just like the rest of us. They sometimes make mistakes. Trust me, my brother and I develop our premium WordPress plugins, and there has been a time or two where we have pushed out bad code by accident and then immediately had to push another update to fix it.

I don't care how big of a development team is behind a plugin or theme; they will always be prone to humans errors.
What happens when a developer accidentally pushes out bad code? Well, for one, it can take down your entire site. Or it can simply break other functionality that you might not even realize until later. Here are a couple of examples of plugins that I use that have had issues. I don't want to single anyone out here, as it happens throughout the entire WordPress marketplace.
Plugin 1
This first plugin introduced some bad code that would actually freeze the media library. 😦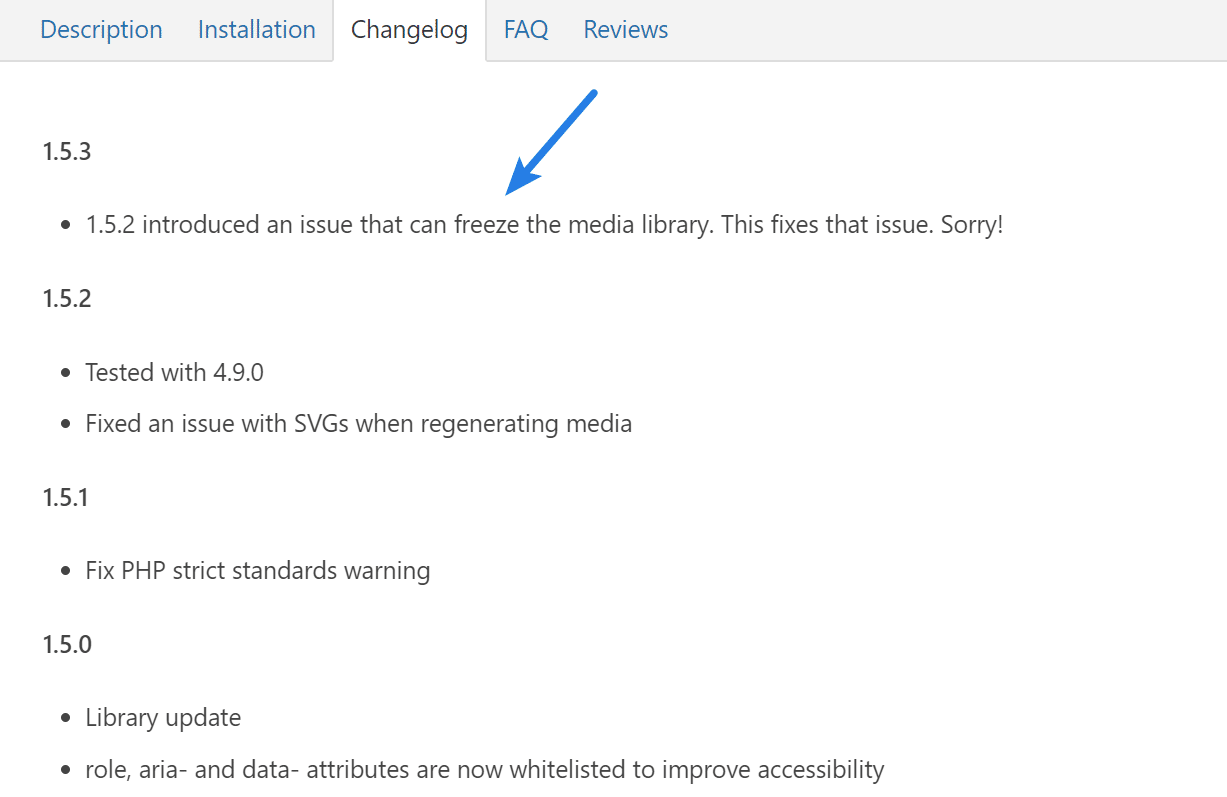 Plugin 2
This second plugin introduced some bad code that would actually cause a 500 error on your WordPress site. 😥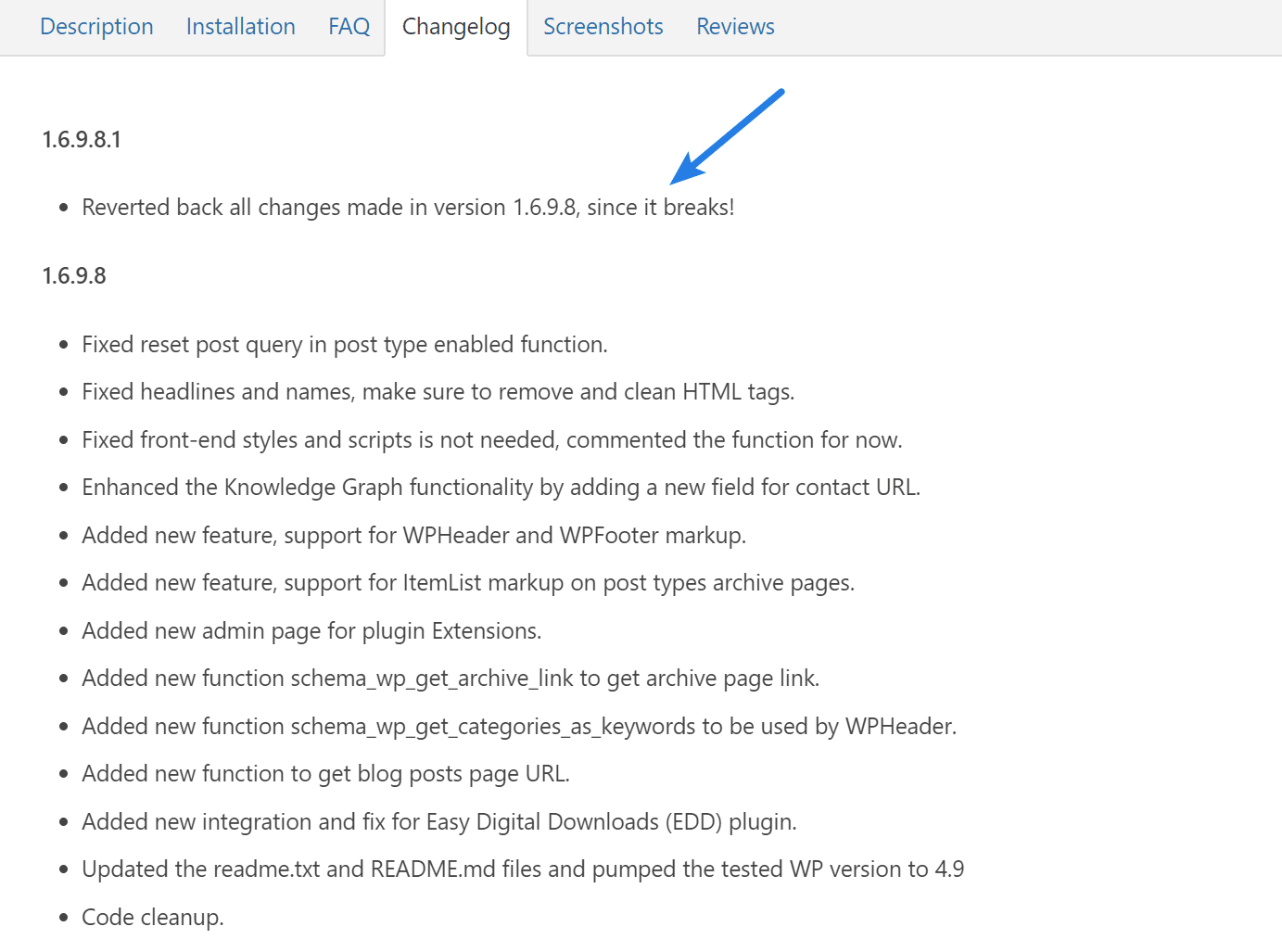 Plugin 3
This third plugin rolled out some big updates that were actually pretty great, but in the first go around it resulted in needing to patch a bunch of fatal errors.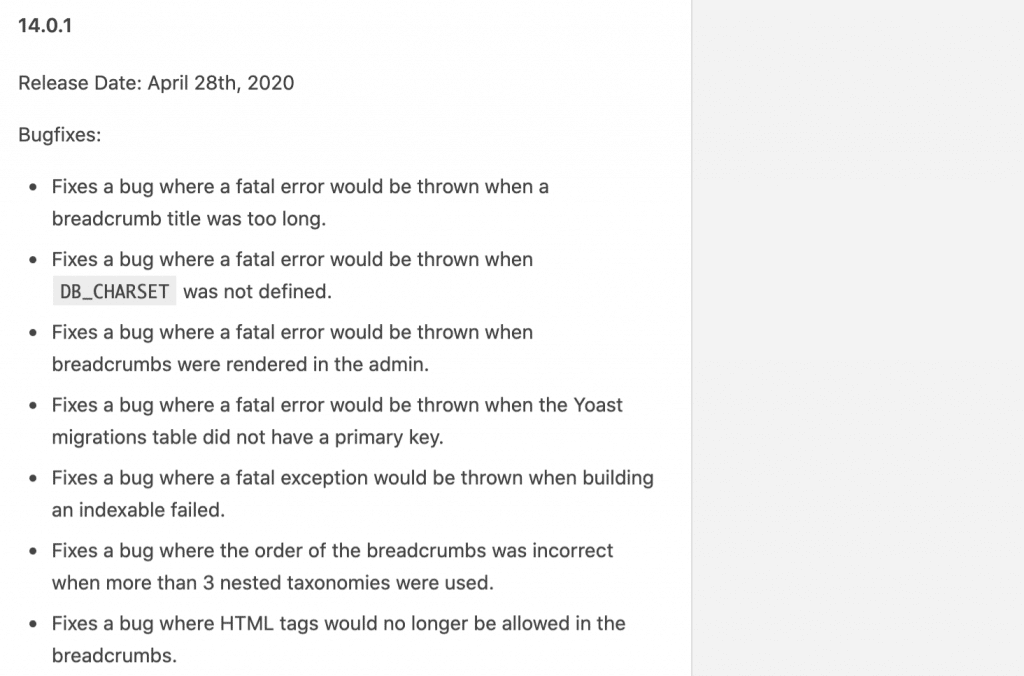 Plugin 4
This fourth plugin rolled out some updates which negatively impacted Schema and how Google was crawling them in SERPs. This then started throwing errors in Google Search Console.

These types of bad updates actually happen a lot! I see patches to fix a patch multiple times per week.
My recommendations for updating plugins and themes
So what is the safest route to go? Here are my recommendations when it comes to updating plugins and themes on your WordPress site.
1. Don't use automatic updates
First off, I never recommend using automatic updates for WordPress core, plugins, or themes. The one exception to this is when it pertains to maintenance and security releases. These are generally OK to let WordPress update on its own.
Some hosting providers have automated checks to try and automate plugin updates and then revert if they detect a problem. But I can't tell you how many times I've seen this go wrong. After all, you are relying on AI to confirm that everything is OK. This might get better over time, but it's not there yet.
Check out how to disable WordPress automatic updates.
2. Look at the plugin/theme changelog
The second thing you should do is always look at the plugin and or theme's changelog. This can be found within the "Plugin" update section in your WordPress dashboard. Developers typically also have a link to their changelog on their website.
If there is a critical security update, then, by all means, you should update it right away to ensure your WordPress site is safe. Things like Cross-Site Request Forgery (CSRF), Cross-Site Scripting (XSS), etc., are important security buzzwords to look out for. If there isn't, I recommend waiting a week or so before updating.
Why wait? Because in almost 99% of scenarios, if a developer pushes out bad code, if you wait a week or so, they will most likely have pushed out a fix, and in essence, you can bypass all the problems altogether. This is less of a headache for you, your clients, and saves you time.
In those four plugin examples I mentioned above, I didn't update either of them within that time period and, therefore, never experienced issues.
3. Use a staging environment or take a backup
If, for some reason, an update has a feature or fix that you do need right away, then I strongly suggest using a staging environment to test with first (even for the smallest of updates!). Many hosts have staging environments now, so make sure you take advantage of them. This is what they are meant to be used for: testing.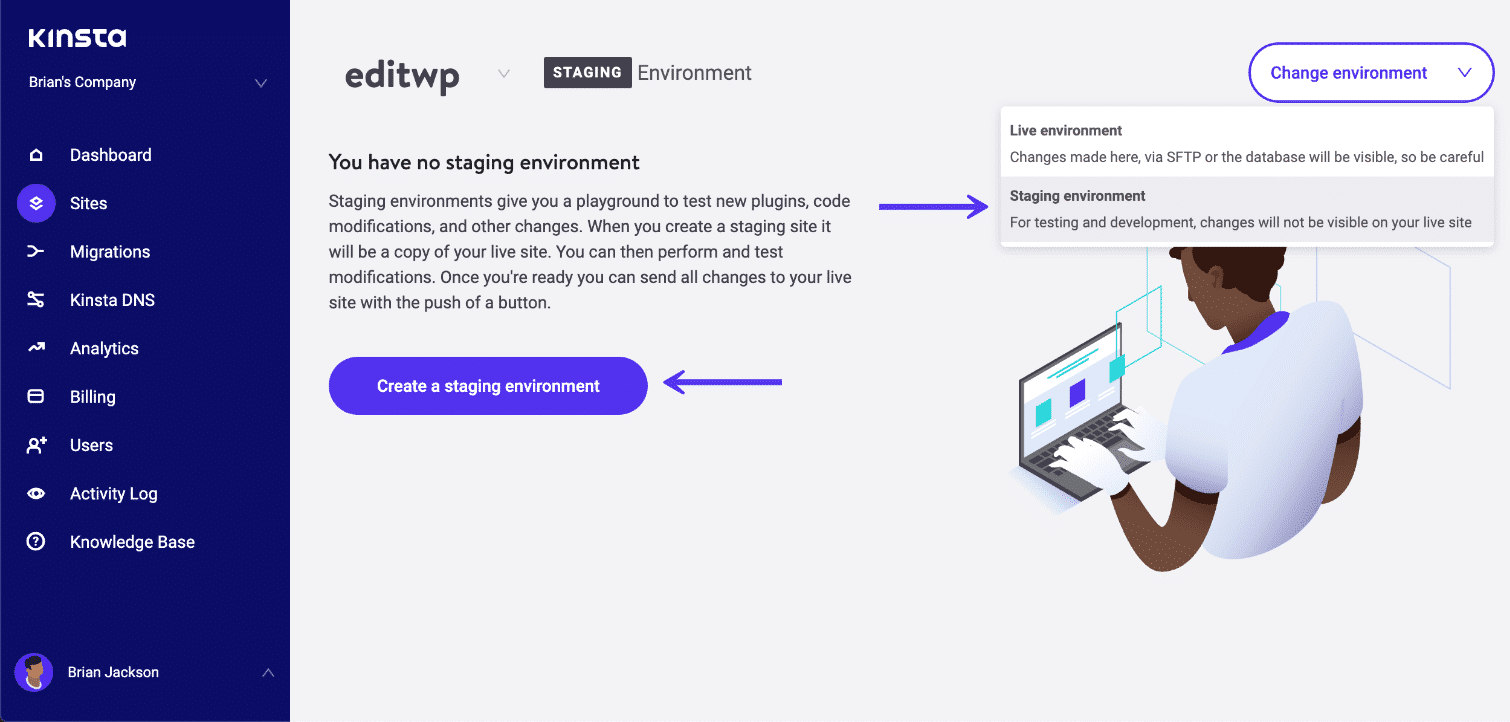 If you don't have time to test on a staging site, then at least take a snapshot (backup) of your site. With hosting providers like Kinsta, this literally takes 10 seconds, and then if you notice any problems later, you can instantly roll back.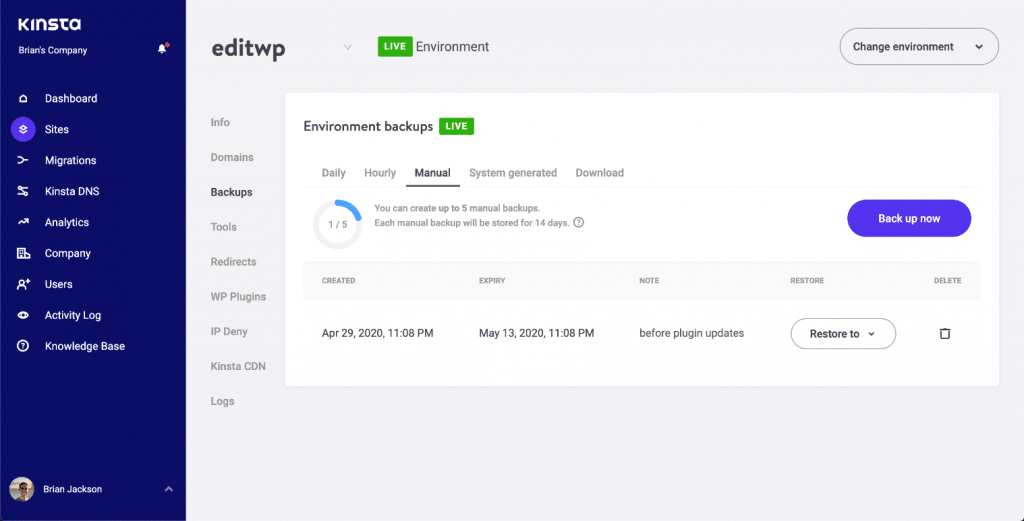 Here is a screenshot of my Trello card that I use for weekly backups. I go through this once a week before making any updates to plugins or themes on my sites.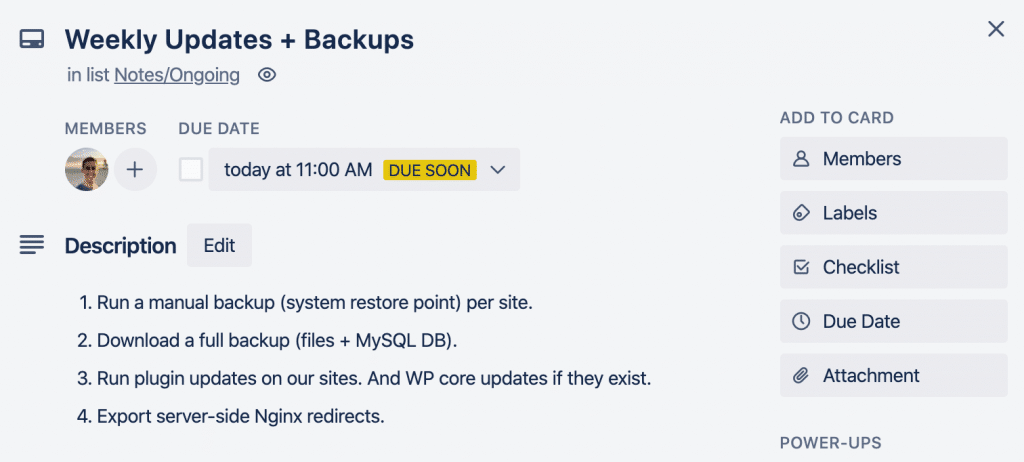 Summary
The next time that shiny new plugin update comes around ask yourself if you really need it today. If you don't, and it isn't security-related, wait a week or so. Trust me; you'll thank me in the long run. I have been doing updates this way for a long time and seldom experience anything breaking anymore.
Create an update schedule for your WordPress sites and stick to it (I recommend once a week). Otherwise, they will consume you. 🥘
Click to Post
I would love to hear your thoughts on updating plugins and themes. What is your workflow? Let me know below in the comments.