By now I am sure you have heard of the this term retargeting or remarketing.
Retargeting is a form of online targeted advertising by which online advertising is targeted to consumers based on their previous Internet actions, in situations where these actions did not result in a sale or conversion. (Src: Behavioral retargeting)
If you haven't read it yet, make sure to check out my post on "5 Reasons You Should Be Remarketing." Many people ask me which 3rd party retargeting company I recommend and so below I am going to show you a few differences between AdRoll and Perfect Audience (the two top players) and hopefully it will help you make a more informed decision. I will tell you right off the bat I have used both extensively and I personally prefer Perfect Audience. I have gotten better ROI with Perfect Audience and they offer some additional features that AdRoll doesn't.
AdRoll Vs Perfect Audience
Domain Blacklist
Perfect Audience has a global domain blacklist. AdRoll does not have this feature.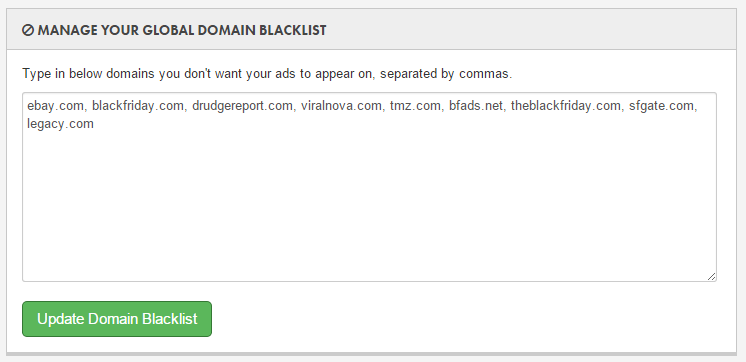 What this means is that you can analyze your placements on domains under their performance and blacklist sites that aren't converting. This can be very effective over time in weeding out sites that are simply wasting your spend.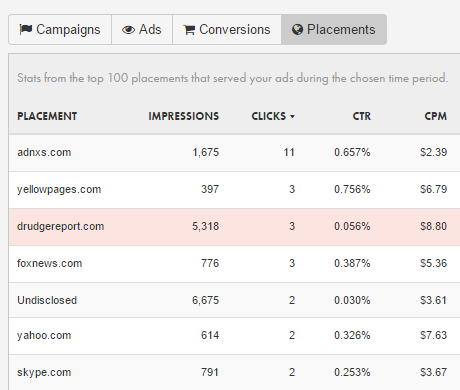 UTM Parameters
I hate spending time building UTM parameters using the Google URL Builder. In my opinion this should be a standard feature included in any PPC tool. If you want to track your campaigns effectively you want UTM parameters, so why not make it easy? Perfect Audience includes a great UTM parameter builder. AdRoll does not have anything to help you create UTM parameters.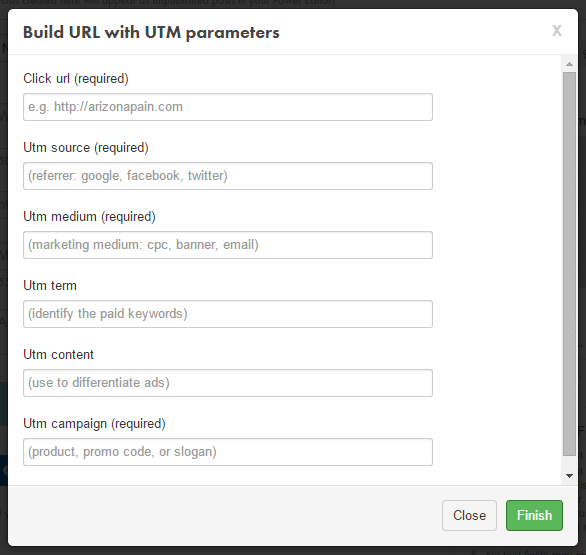 Dayparting
Dayparting can be a very important aspect of your PPC campaigns. Especially if you are a service business that may only operate during certain hours. Yes branding can be good in off hours, but if you are simply wanting to dedicate your spend towards conversions then dayparting can make sure your money is spent only on ads serving within your open business hours.
Perfect Audience is already setup for dayparting for both web campaigns and Facebook campaigns. Note: to use dayparting within Facebook retargeting advertising directly you have to specify an unlimited budget. With Perfect Audience you can get around this rule. AdRoll has dayparting but it is not setup within the dashboard. You have to reach out to support to enable this. Not an ideal setup.
Segmenting
If you are really serious about increasing your ROI when it comes to retargeting then you want to have as many options as possible for segmenting your visitors. Perfect Audience crushes AdRoll when it comes to various ways you can segment your lists and visitors.
With Perfect Audience you can segment by:
Page/URL path (Track based on what pages are visited)
Querystring (Track based on a word in the URL querystring)
Action (Track visitors who trigger a javascript event)
Email (Track visitors who open an e-mail)
Regular Expressions (Track based on URLs that match a regular expression (Advanced only)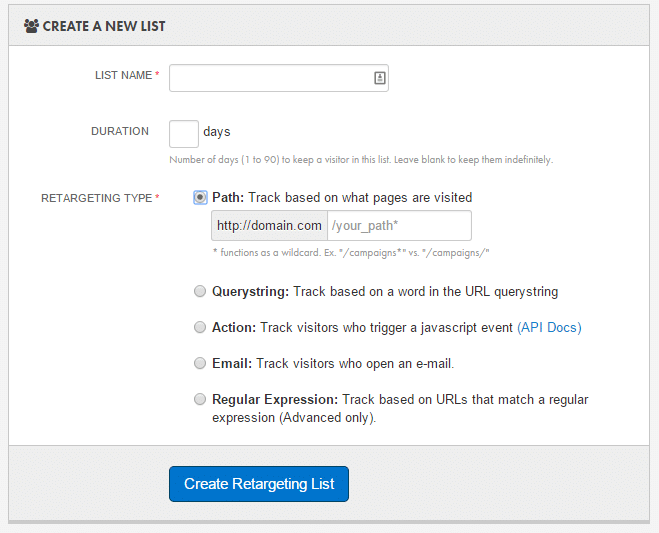 With AdRoll the options are a lot more limited.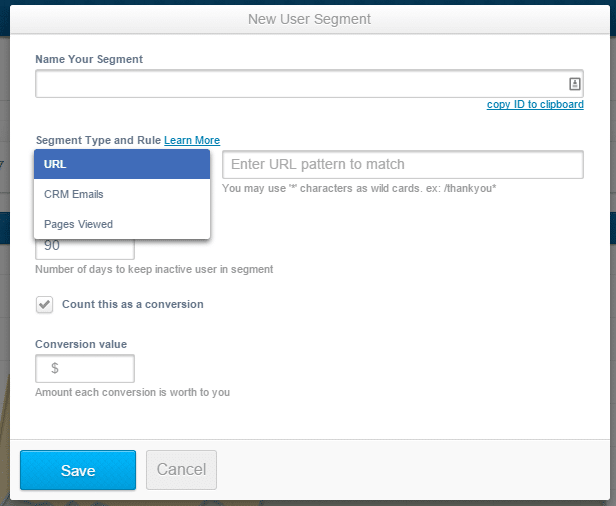 Editing Facebook Ads
AdRoll has this very annoying problem that whenever you edit one of your Facebook ads it won't actually update, it will simply remain "pending" forever. What you have to do is copy your FB ad, create a new one, edit it, and then submit for approval. With Perfect Audience you can actually edit your Facebook ads and the stats for your ad will continue to be updated after the edit.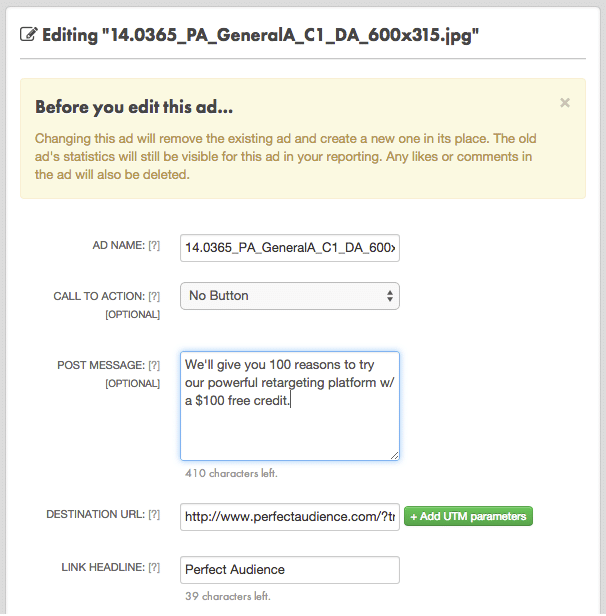 Comparing ROI in Perfect Audience Vs AdRoll
I ran both for a three month period and you can see my ROI below. Both campaigns had 3 exact same ads running in a Web Campaign. My average customer value is $2,700, so anything under a CPA of $100 I am pretty happy with.
In my Perfect Audience campaign my CPA came out at around $25.51. That is a 10,484% ROI.

In AdRoll my CPA came out at around $82.82. That is a 3,160.11% ROI. I spent more in AdRoll, that is why the impressions are larger with more conversions.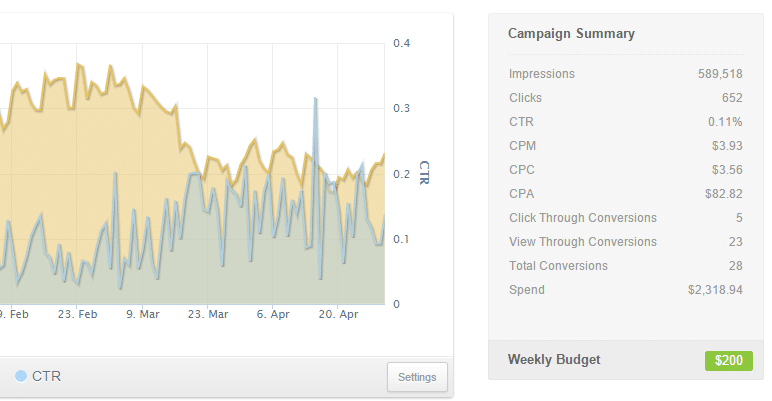 The clear winner here is Perfect Audience! And I attribute some of that success due to them having the domain blacklist which I have been fine tuning as data comes in.
Support
With AdRoll you get your own rep that you can talk to directly on the phone. I do admit this is very nice and I have enjoyed chatting with my rep over strategies. He has been very helpful. But is this something I have to have? Probably not. Perfect Audience also offers live chat and my support requests have always been answered within 24 hours.
I have had some issues with downtime with AdRoll and it happened to be on the first of the month. This definitely was frustrating.
@360vardi Hey there, happy March! We're actively working to resolve this issue. I will keep you updated; so sorry for the inconvenience!

— AdRoll (@AdRoll) March 2, 2015
@AdRoll @360vardi I agree the one day I need to download data… Not cool. Your holding up all my reports AdRoll. Both weekly and monthly.

— Brian Jackson (@brianleejackson) March 2, 2015
AdRoll does have some advantages over Perfect Audience. Currently they offer Facebook mobile exchange ads as well as CRM list retargeting. These are both things that Perfect Audience doesn't have yet.
But if you ask me which platform I think delivers better ROI? I would pick Perfect Audience no questions asked. Also some of the features in the Perfect Audience dashboard like dayparting, UTM builder, more advanced segmenting, and domain blacklisting, just make my job that much easier.
[alert-note]
Try Perfect Audience today and get a free $100 credit!
[/alert-note]
And if you are trying to improve the ROI on your AdRoll campaigns, make sure to check out my article: "Increase your ROI by Fine Tuning Your AdRoll Retargeting Campaigns."