Negative SEO Attack
Last week one of my sites got hacked and I got a huge negative SEO attack. The hack itself was primarily my fault as it was running an out of date WordPress theme from 2008. The theme developer no longer supports it and I haven't had the time to migrate the site to a new theme. The hacker managed to insert some PHP spamming "viagra" everywhere. They also managed to hack a network of other sites, 204 domains to be exact all with "viagra" terms in the anchor text against my domain (thousands of backlinks).
Good thing I use Web CEO and am constantly checking my backlink profile (they pull their backlink data straight from Majestic) otherwise I would have never caught it. With Penguin 3 about to hit, I need my sites to be as clean as possible. Follow my tutorial below using Web CEO to see how I cleaned up my negative SEO attack and backlink profile.
I am a huge fan of Web CEO as an all around SEO software suite. I highly suggest reading my Web CEO All-In-One SEO Software Suite Review if you aren't familiar with their product. I switched to it from Raven Tools and never looked back.
Step 1
First in Web CEO we are going to click into the backlink area (link sources distribution). As you can see my linking pages jumped up to a whopping 237k! Not good as over half was from the negative SEO attack. At first you might feel overwhelmed. But don't worry, this is where a tool like Web CEO really comes in handy. My linking domains also jumped way up, by an additional 204 (Please note I rescanned a couple times before taking these screenshots so the data might be a tad off).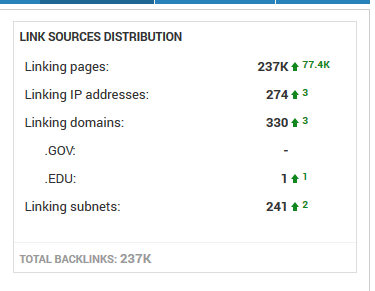 Step 2
Web CEO gives us a quick an easy way to see a variety of different aspects of our backlinks. The first is they allow us to see how the link text is distributed. As you can see my backlink profile was suddenly spammed with all sorts of viagra related terms (sorted by highest to lowest totals). By link text it means the text that is used in the hyperlink itself on the link from the other website.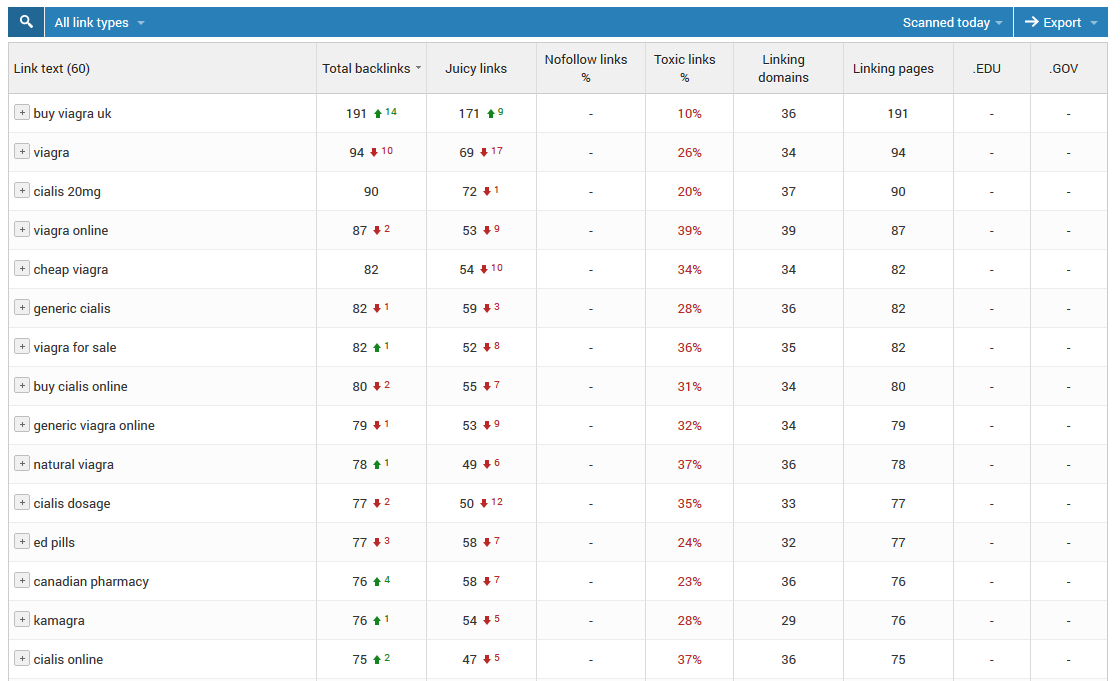 You can always expand the link text to see the domains in question.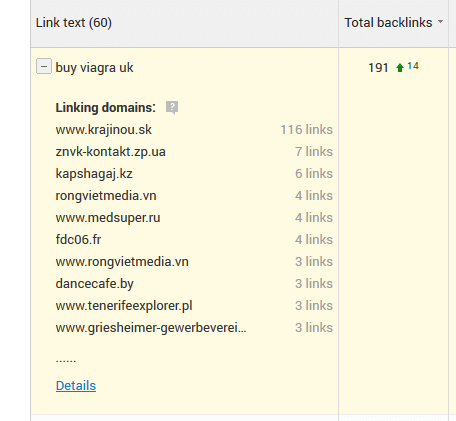 Web CEO also allows us to see all of the linking domains on a completely unique view. These are all the domains that contain backlinks to my site. My domain is located in the US and is targeting the US, so to have any backlinks from foreign domains is usually a red flag. You can always expand the domain itself and it will show you a list of the text link being used with a link to the actual backlink.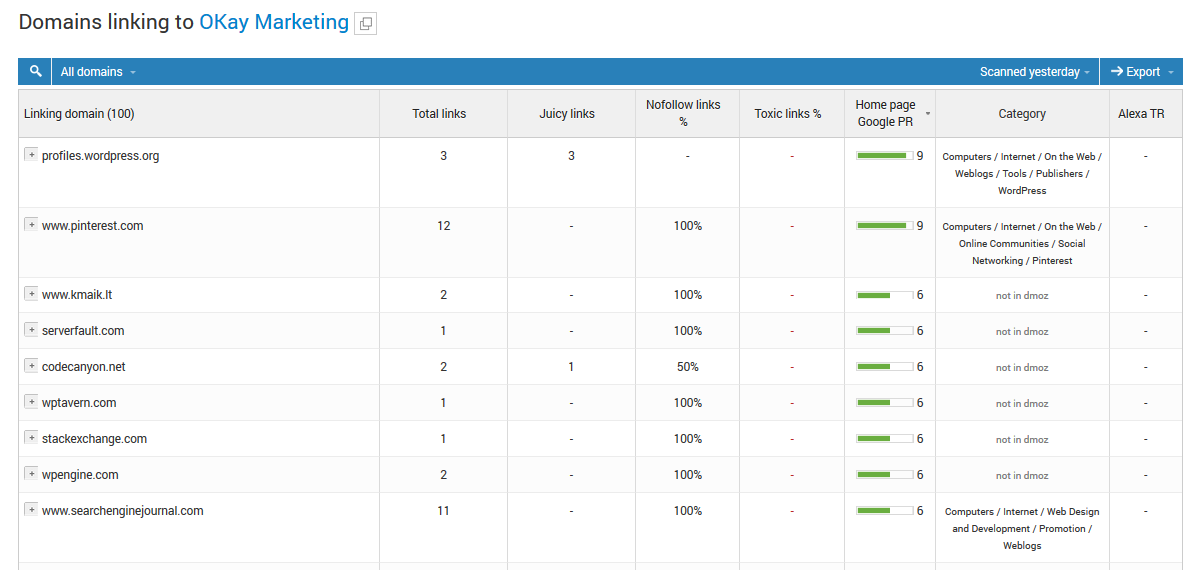 So for smaller or general cleanup I would normally use the "toxic link" feature in Web CEO paired with their linking pages view. It is awesome. You can go through your backlink profile and on the right hand side mark the link as toxic. You can see below the URL that the backlink resides, the link text, and the target page (which is the page on my website it is hitting). They also let you see the Google PR of the linking domain. Web CEO has an amazing setting where you can set the "toxicity settings" based upon number of internal links, external links, and a number of other factors. This allows it to automatically scan to detect "suspected toxic" links. It actually works very well. However in the end I always touch everything myself.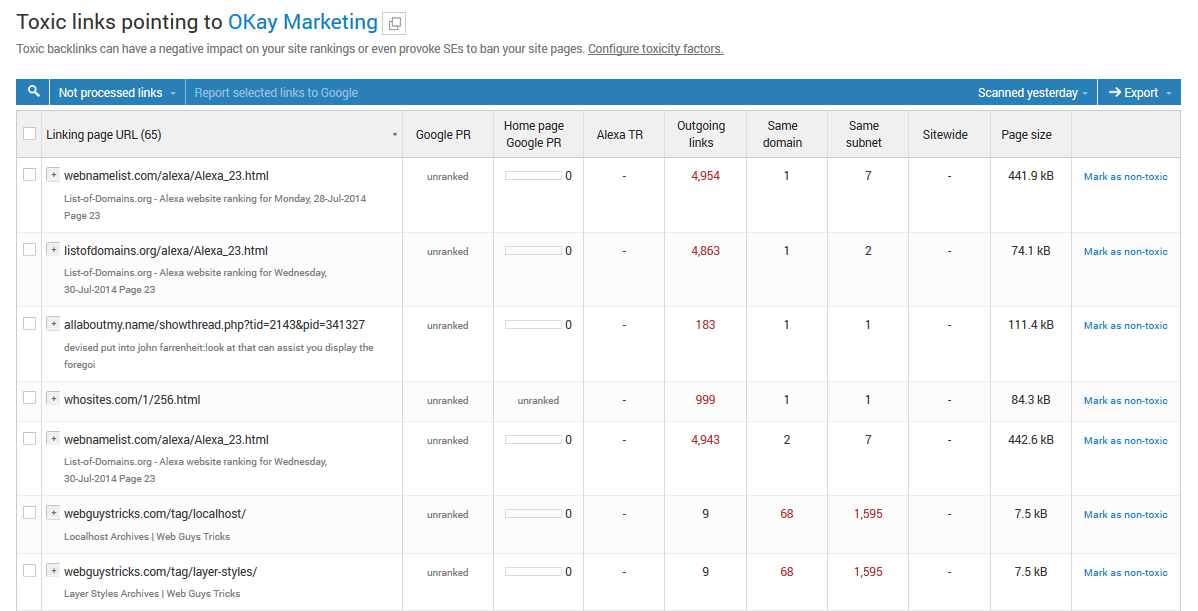 Step 3 – Option A (smaller cleanup)
So in a smaller cleanup I would normally mark each bad backlink as toxic and then in Web CEO use their "report toxic links" feature. This gives you a small popup window with instructions you must follow and then you click on "Done, I've followed the instructions."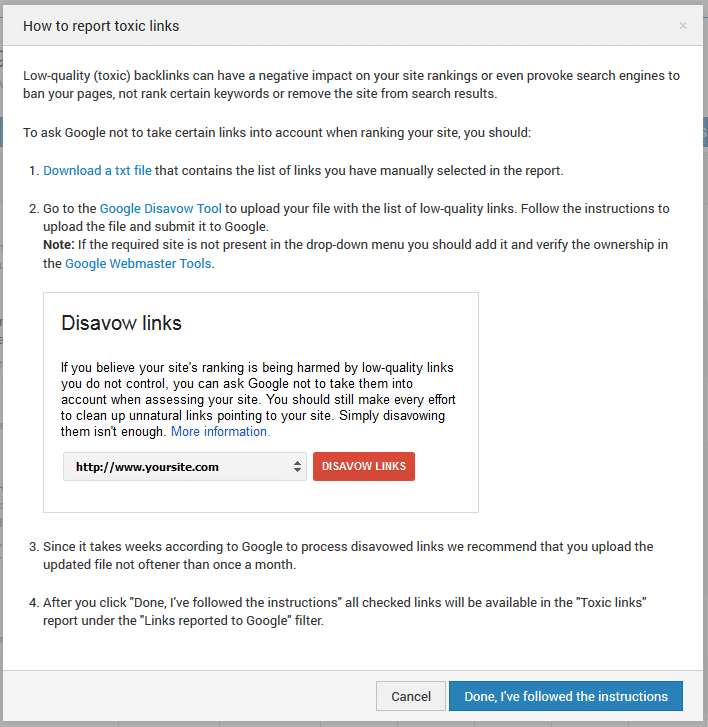 The reason I would mark each one individually is because Web CEO can then track the history of each backlink as reported to Google as disavowed. As you can see on the right hand side it timestamps it with a date. This is great for long term cleanup and tracking. However in this case because my negative SEO attack was so huge I had to go with the other option.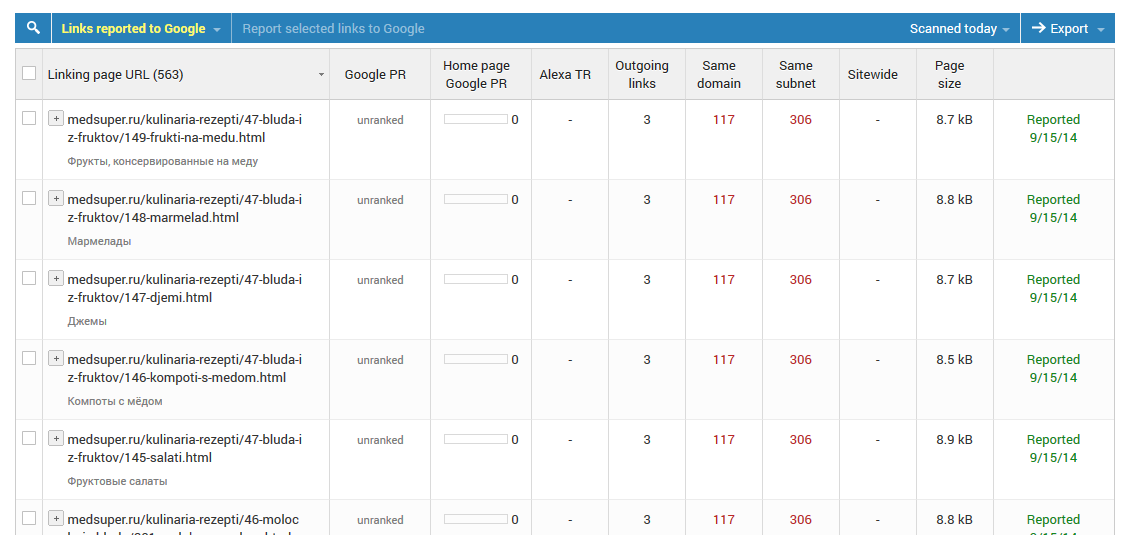 Step 3 – Option B (bulk cleanup against negative SEO attack)
In this case I had thousands of bad backlinks against me with 204 bad domains. So in this instance I don't have time to individually mark each bad backlink as toxic, so I actually chose to disavow the entire domain. So in the linking domain view I go to the top right and export all the domains as a CSV after sorting through it to leave the remaining good domains.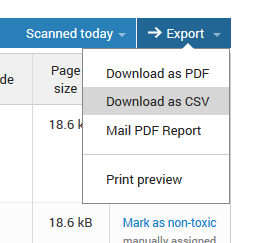 Step 4
Now that I have my CSV I actually need to append something on each line. To disavow an entire domain Google requires that you have "domain:" prefixed to each URL. So in Excel you can use the following formula to quickly add this to all the domains.
=CONCATENATE("domain:",A1)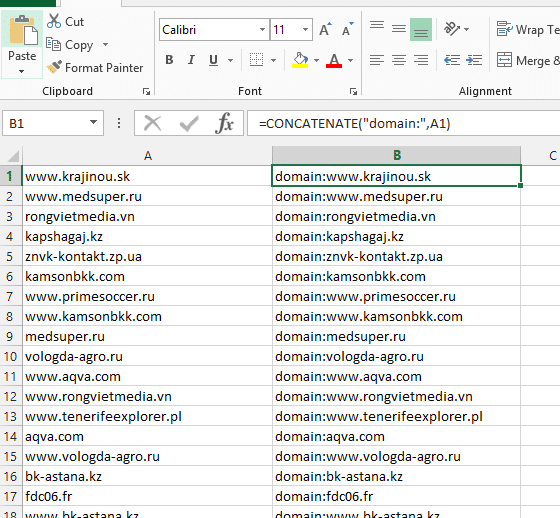 Step 5
I then head over to the Google Disavow tool. I quickly copy the domains from my CSV (just column B) into a text file and save it. I then upload it to the Google Disavow tool by choosing my domain and clicking on "Choose File."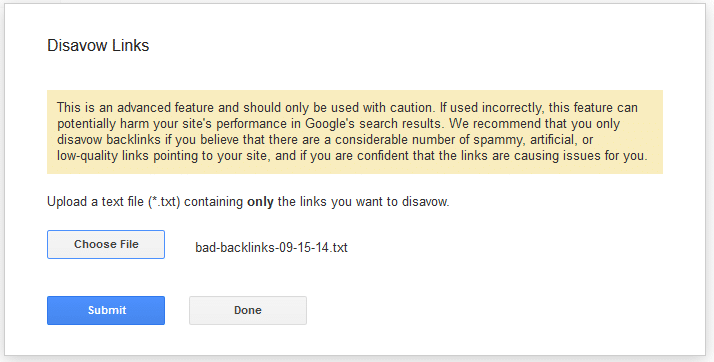 Step 6
You can then see that Google scanned my text file and picked up the 204 domains which it contained.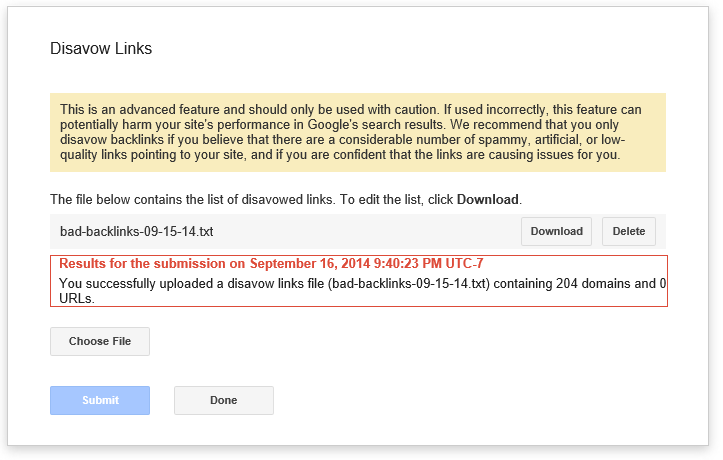 And your done!
Cleaning up a couple thousand bad backlinks with over 200 domains only took about 45 minutes! And now I can sleep at night.
The funny thing is, some of these domains were for actual legitimate businesses. I looked through a couple of them. They had actually been hacked as well and then the bad backlink targeted/pointed against my domain. Am I going to contact all of these business owners? Unfortunately I don't have time, but I urge anyone who reads this to check your backlink profiles! If you don't know how, hire someone who does. If you value your site, then you should protect your hard work.
Don't forget to check out my in-depth review on Web CEO.
As always feel free to leave your comments below!