Cleanup Negative SEO
A couple months ago I wrote about cleaning up a massive negative SEO attack with Web CEO. And while I still use that method you also want to contact the webmasters to get the links removed. Simply disavowing domains is simply letting Google know that they shouldn't count those links against you. While that is important the links will most likely keep showing up in your backlink profiles forever unless you get rid of them permanently. In a recent attack thousands of other websites were hacked and viagra terms were pointed against one of my websites. I don't have time to lookup thousands of whois records for site owner's contact information and so this is where Web CEO and the rmoov combination come into play.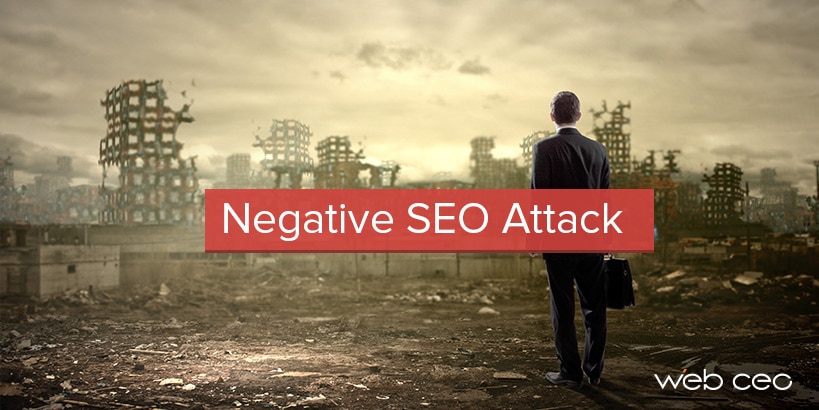 [alert-note]
People need to be taking Negative SEO more seriously as it can destroy you. 
Check out this article from Ryan Sullvian: 
Negative SEO: Destroying Businesses One Spammy Backlink at a Time
.[/alert-note]
Follow the steps below on how I easily handle my negative SEO cleanups. Also make sure to check out my review on Web CEO, they have a free account and I highly recommend it. It is the best SEO tool in my arsenal. Rmoov is also a great little tool that I have recently added to my toolbox. It handles the automation of contacting webmasters to remove links. Rmoov does what would take me hundreds of hours to do on my own.
Step 1
In Web CEO click into the "Backlink Quality Check" area and then click on "Linking Pages."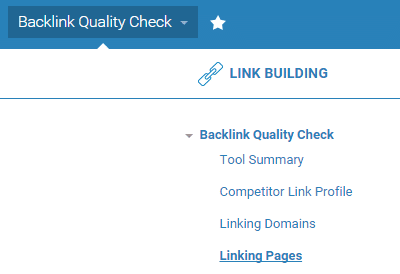 Step 2
Make sure to filter by "All except lost." You might have to wait for a moment for it to finish scanning, but this will give us all the external pages (URLs) linked to our site.

Step 3
Then on the right hand side click on "Export" and then "Download as CSV."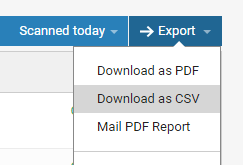 Step 4
Open your CSV in Microsoft Excel. Then select all your columns/rows and we are going to click on "Format as Table." This will allow us to easily filter the data.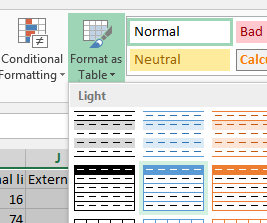 Step 5
Then click on the drop down area on the Link text / Link type header and we are now going to filter by simply the bad anchor text / link text. So as you can see there are a ton of pharmacy related terms against my site… so I am going to select all of these bad anchor texts and this will allow me to filter down to just the URLs/pages which I want to get rid of from my backlink profile.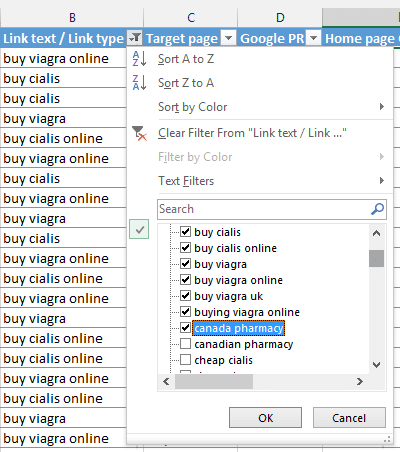 In my example this brought me down to 4,711 remaining URLs/pages on the left hand side column within a matter of a few minutes. Go ahead and select all of those and save them to a text file for now as we will need them later. Or copy them to your clipboard.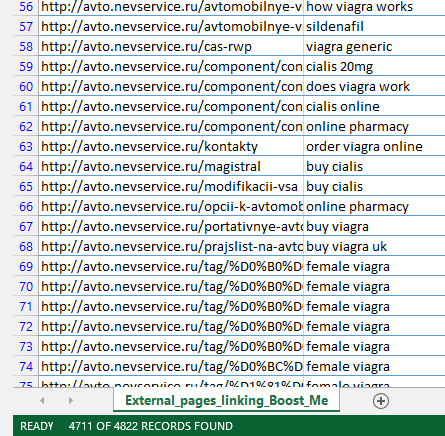 Step 6
Now we are going to create a new campaign in rmoov.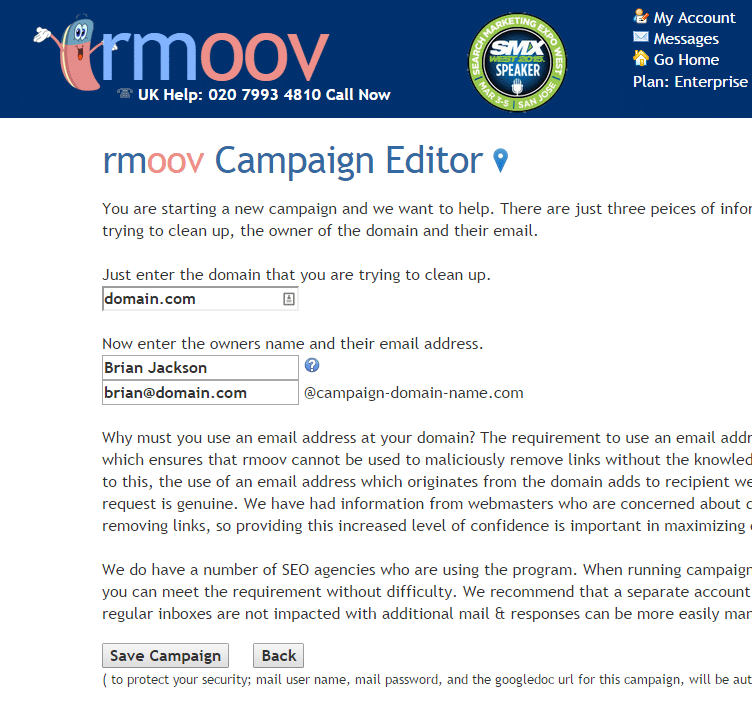 Step 7
In your campaign settings you will have to setup your outgoing mail server settings. Rmoov requires that the from address come from your domain name. I actually ended up using gmail.com as my outgoing servers as our IT has things locked down pretty well.
Gmail Outoing Mail Settings:
server: smtp.gmail.com
port: 465
user: youremail@gmail.com
password: your gmail password
If you get an error when trying to set this up you might need to enable the access by going here first: https://accounts.google.com/DisplayUnlockCaptcha and then saving the settings.
I also recommend enabling the "Do not end nofollowed URLs." This means your campaign will still crawl and monitor nofollow links. For me, most of them are nofollow but they were still skewing my backlink profile like crazy, so this was an important feature to enable.
Step 8
Now we are going to paste in the list of URLs/page which we got form our CSV. And click on "Save URLS."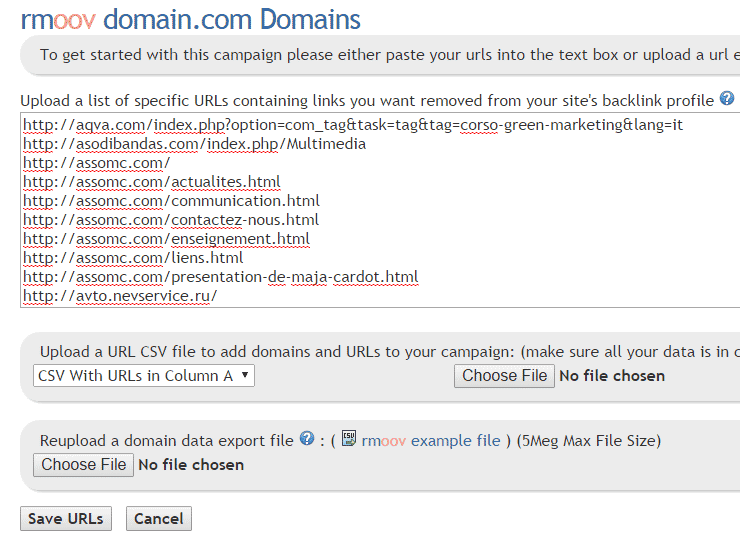 Rmoov will then go through and try to pull contact information for each domain. They pull from two separate sources: DomainTools whois records and their own private database that they have compiled over the years.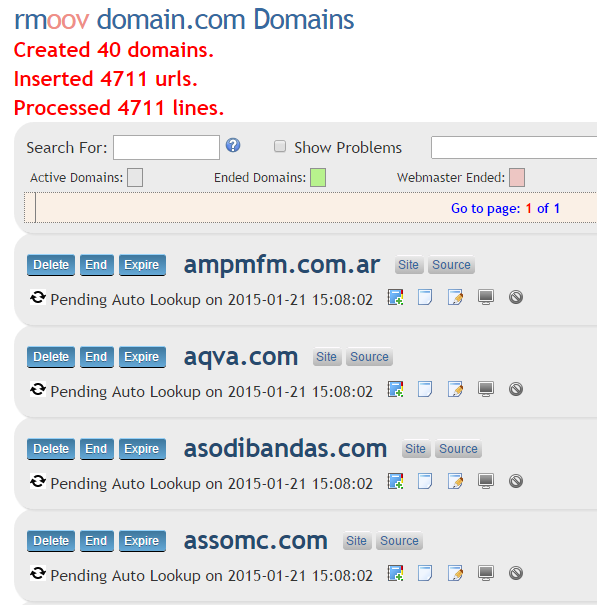 Step 9
After all the lookups have finished you will want to go through and click into the ones with the red "No Whois" button. This means it couldn't find a record or their whois is private. What I do is browse to their website and see if I can pull other information. You can click on the "No Whois" button and add information. Note: rmoov will not start sending emails until all of these have been fixed.
I would estimate throughout all my campaigns about 15% don't find contact information. So you can add it manually on the domain editor page.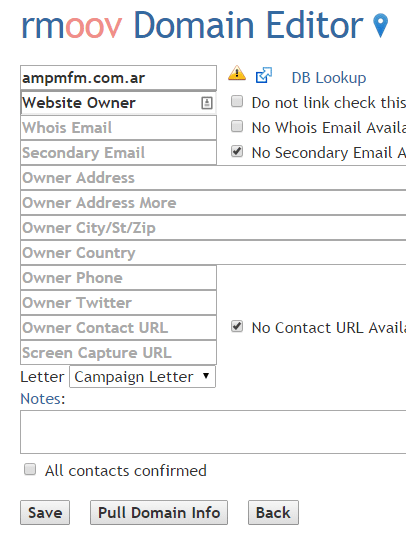 Step 10
Once you have fixed all the "No Whois" buttons you can launch your campaign. And after running it for a few weeks hopefully you should have cleaned up most of the bad backlinks. If not though you can always go to the dashboard and click on the "Disavow" button which will create a disavow report. I recommend waiting until your rmoov campaign has finished because it will automatically update the report with only the remaining domains that you weren't able to fix/contact.

Here are some responses I got within just a few hours of running rmoov!
1st Response
[alert-note]
You emailed me today to request that links to the xxxxxx site be removed from our site at xxxxxx. We verified the existence of the links; and are shocked to see that the site has been tampered with in this manner. So we will be removing the unwanted links.
[/alert-note]
2nd Response
[alert-note]
It has been deleted and marked as spam and the submitter has been suspended. Thanks for letting us know.
[/alert-note]
Most site owners didn't even realize they had been hacked. In most cases you will probably find that most people are pretty cooperative in helping take the links down.
Step 11
I then head over to the Google Disavow tool. I take the txt file from rmoov and upload it to the Google Disavow tool by choosing my domain and clicking on "Choose File."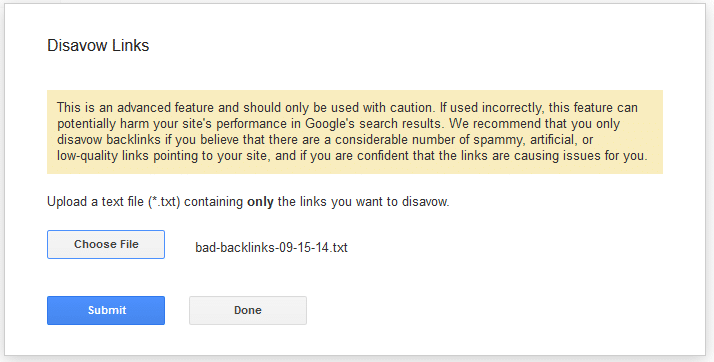 Step 12
You can then see that Google scanned my text file and picked up the 204 domains which it contained.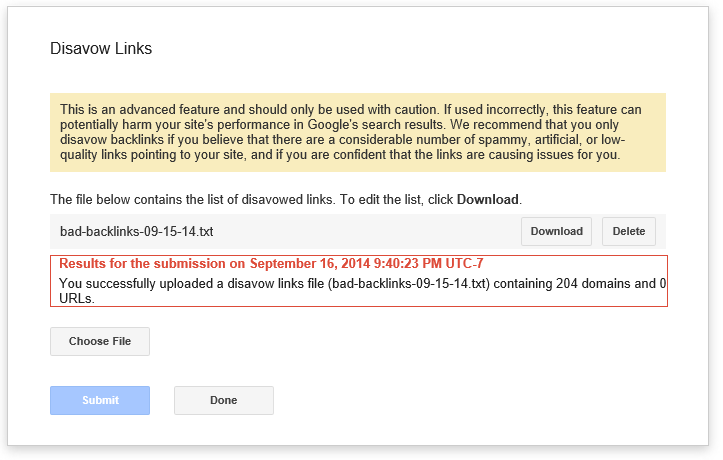 And your done.
Again I highly recommend small businesses to regularly check their backlink profiles otherwise they could lose everything they have worked so hard to build. Even if they are doing everything right, negative SEO could be a silent killer working against you if you aren't careful.
As always feel free to leave your comments below!