As you might know another Panda update is scheduled for end of this month. So I highly suggest you make sure your backlink profiles are clean! Below are the steps I used to cleanup a 30,000+ backlink profile in under 15 minutes. There are no excuses for you now.
Make a quick clean sweep of your backlink profile using the steps below.
I use a tool called Web CEO. If you have read my blog before you probably already know I love this tool. While it isn't the cheapest tool on the market it saves me so much time! The backlink tool in Web CEO is powered by Majestic so it means one less subscription you need to worry about per month. The startup plan with Web CEO costs less than a subscription from Majestic, and it does 100+ more things! If you do any kind of marketing, this is one tool you shouldn't be living without.
Web CEO (Majestic powered) Backlink Profile Beforehand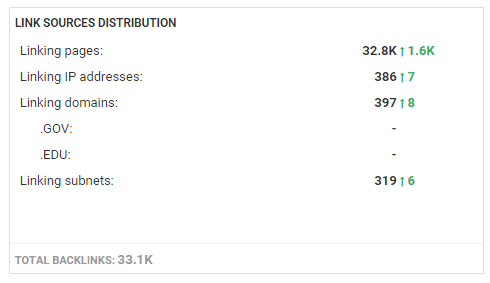 Now lets get down to the business.
Step 1
First in the Web CEO dashboard click into your domain and then into "Backlink Quality Check." Then click on "Linking Pages."

Step 2
Then from the drop-downs select "All except lost" and "Juicy Links." You can see that brought us down to 25,000 links.

John Mueller addresses that here:
You don't need to include any nofollow links…because essentially what happens with links that you submit as a disavow, when we recrawl them we treat them similarly to other nofollowed links. Including a nofollow link there wouldn't be necessary.
Step 3
Now on the right hand side click on "Export" and select "Download as CSV."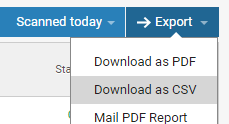 Step 4
Open up your CSV now and we are going to delete all the columns except for "Linking Page URL" and "Link text / Link type." Then select the two columns and click on "Format as Table" in Excel.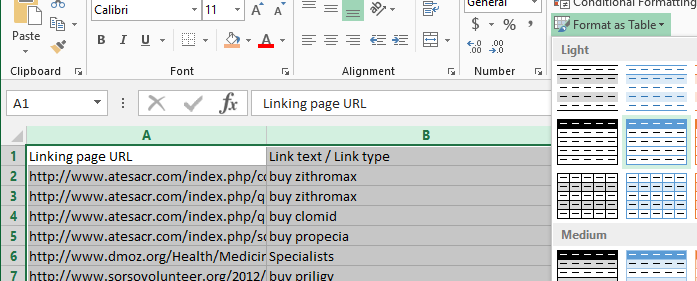 And select "My table has headers."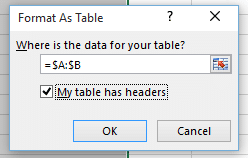 Step 5
Click the filter button for the column. Uncheck "Select All" and then you can browse through your alt text / link text and click the ones you know are spammy.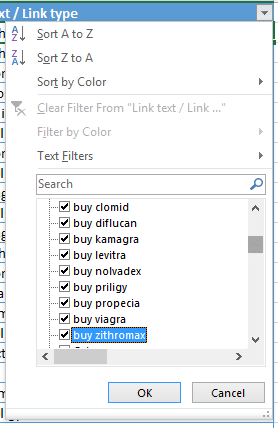 If you are unsure on a certain alt text simply make a note of it to check it at the end. The great thing about Excel filters is you can easily crunch the data quickly. Some common ones you might want to double check are "no link text" and "/" as there could be legitimate sites in there.
I was able to filter down to 1,947 bad backlinks within a matter of minutes.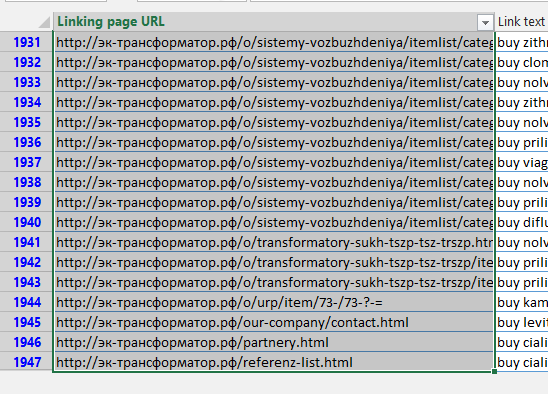 Step 6
Now we need to parse just the domains, so create a 3rd column and use this formula. (Props to Annie Cushing for the formula)
=LEFT(A5,SEARCH("/",A5,9))
Don't worry about the duplicate domains, as this will be taken care of later.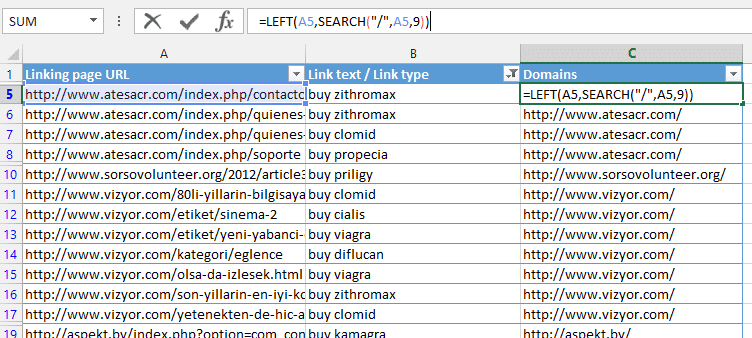 Step 7
Highlight the domain column to your clipboard. Now go back to Web CEO and click into "Toxic Links" and click into "Settings" on the top right.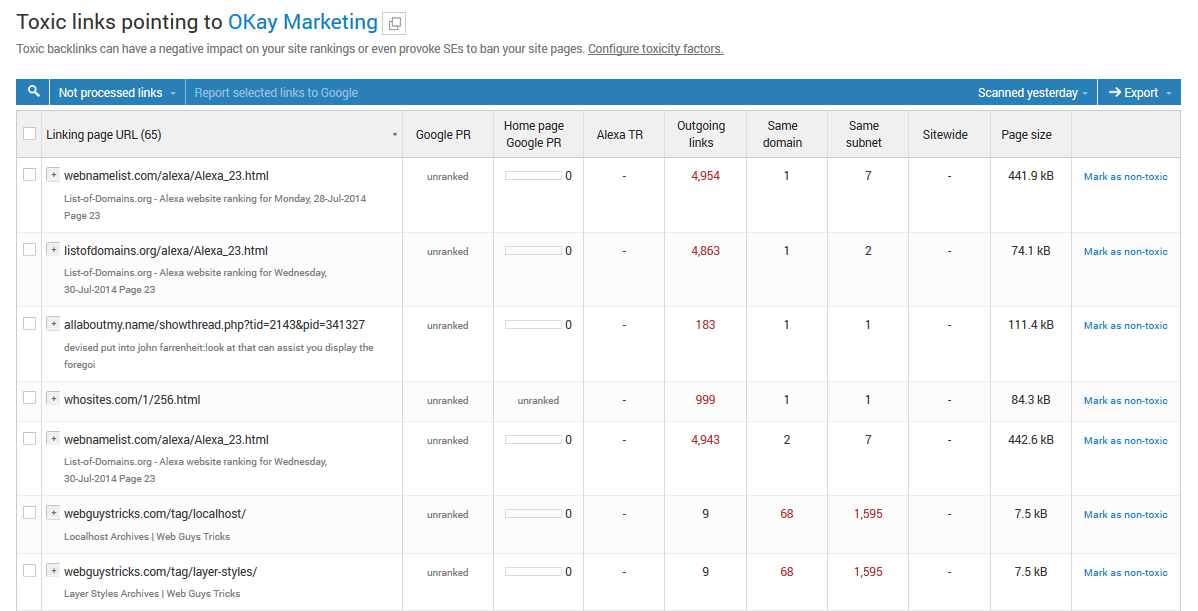 Step 8
Click into the "Whitelist & blacklist" section and paste your list of domains into the black list box. Then click save. Once you hit save it will automatically remove all the duplicates. It will then mark any links from those domains as toxic.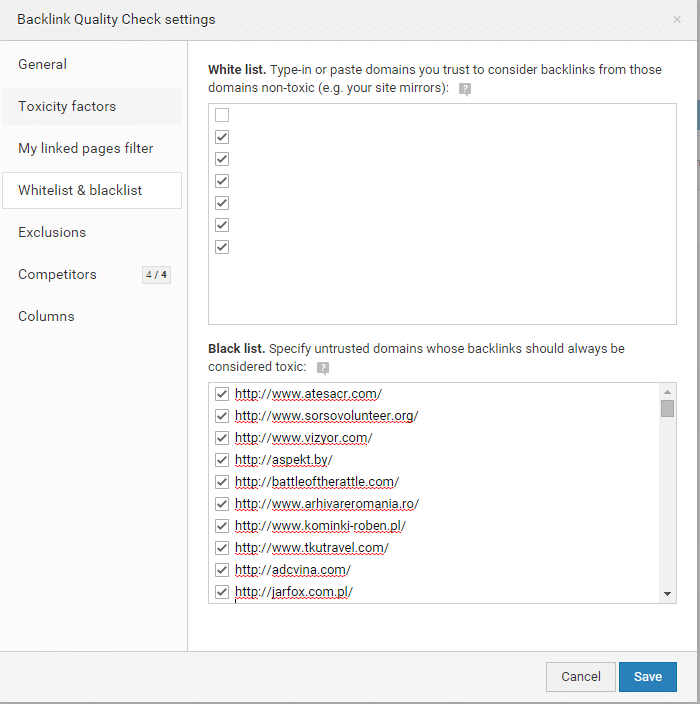 Step 9
Now we have a list of all of our toxic links. So I select them all and click on the "Report selected links to Google."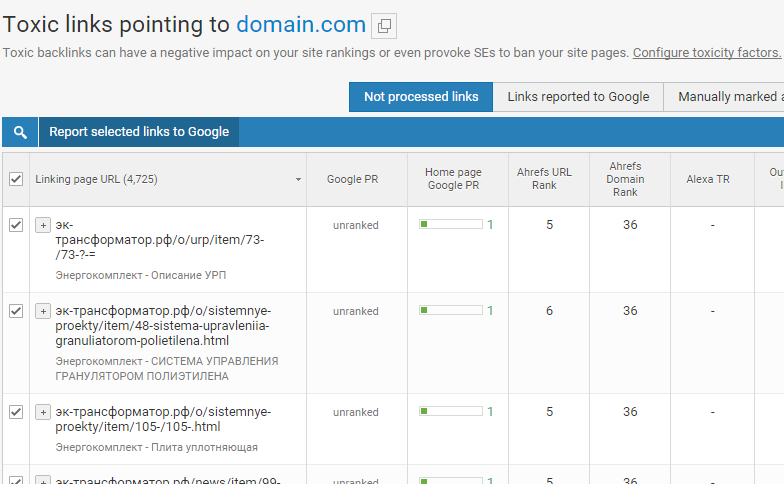 Step 10
I then click on the "Download a txt file." Web CEO has generated my disavow file for me. Follow the instructions in the window to submit your disavow file. Then click on "Done, I've followed the instructions."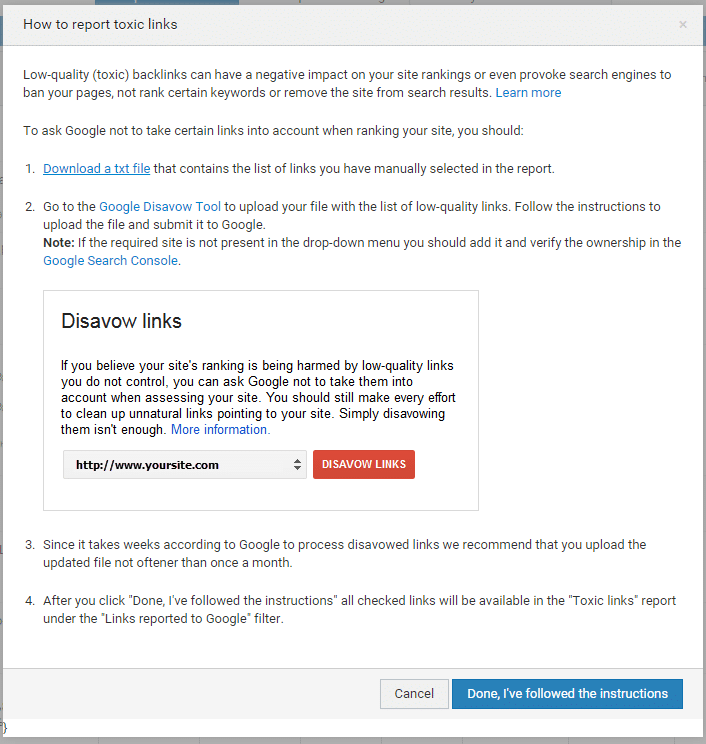 Then you will see you don't have any toxic backlinks found.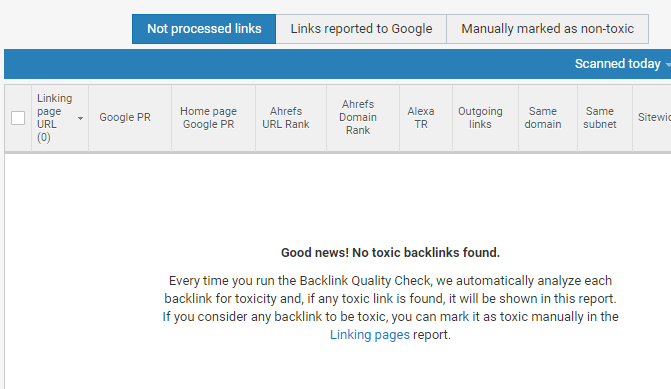 Web CEO keeps track of everything so you can always click into the "Links reported to Google" tab to see which links you have already disavowed. This is why I now choose to disavow links instead of entire domains, because Web CEO will keep track of everything for me.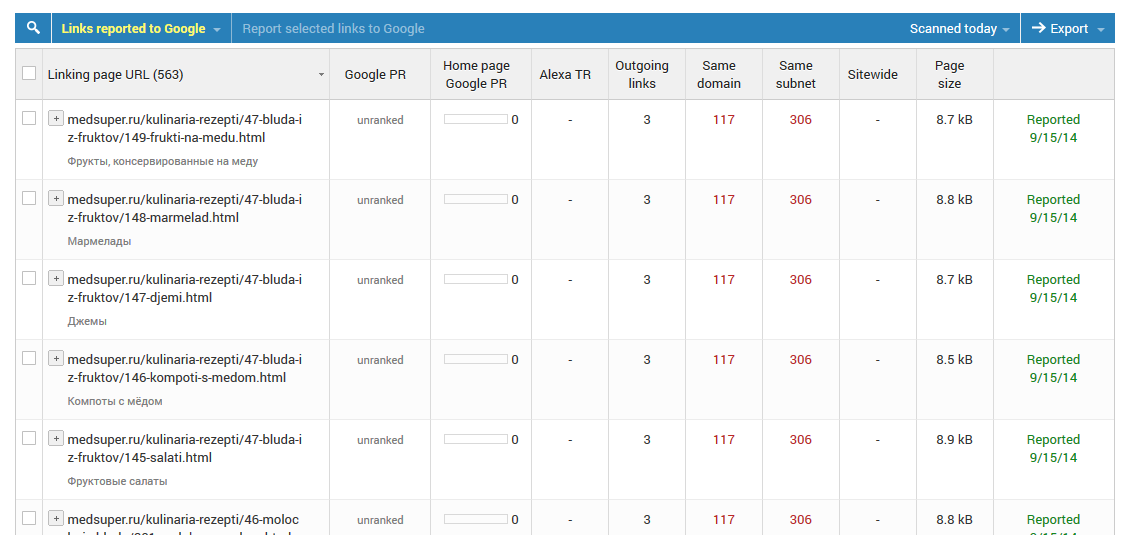 Step 11
Then you can set your Toxicity factors so going forward it is a lot less work. Simply click into the "Not processed links" tab every few weeks and monitor the new backlinks that trigger your toxic filter.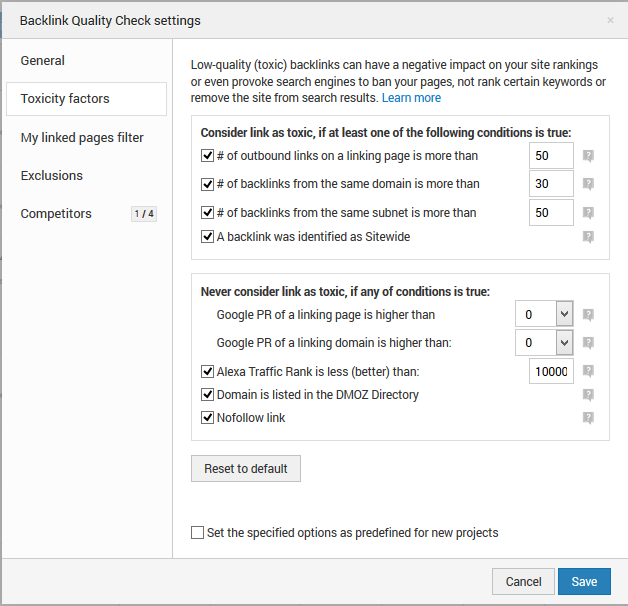 Also if you are interested in contacting the webmasters first to get them to remove the links, which I do recommend, check out my article on using rmoov to automate the process. And that's it! You now have a clean backlink profile and are ready for the next Google update.
As always I would love to hear your thoughts below!