My brother and I run a small two-person agency. We are chatting and video calling all day every day. Even though we live in different states, there's rarely a moment when we aren't within a few clicks of each other. Using a channel-based (live chat) messaging program is vital to our workflow.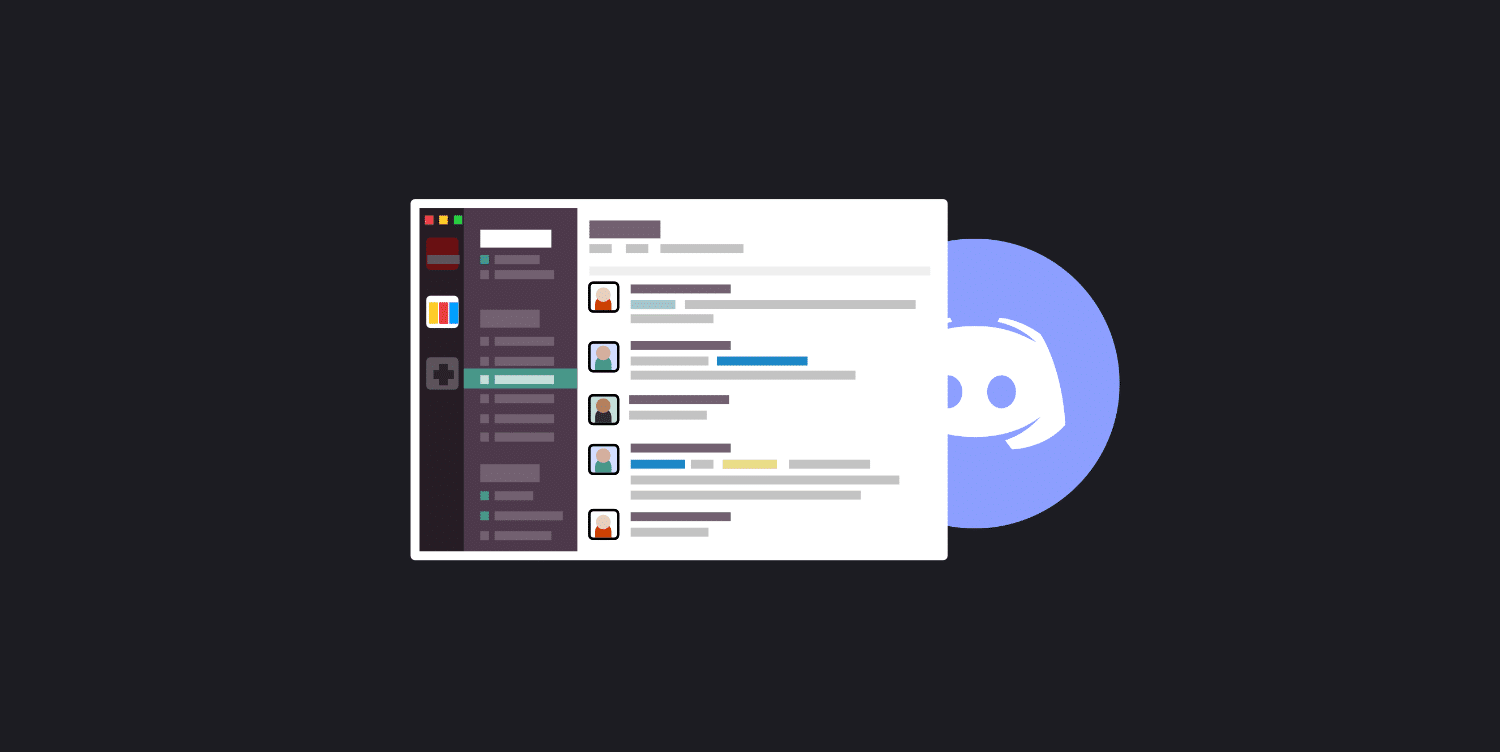 We've been using Slack for years and recently gave Discord a test run. We had used Discord for gaming in the past, but we wanted to see what it would be like to move to it permanently. After a few weeks, I can tell you we moved back to Slack without hesitation.
Here's the good and bad when it comes to Slack vs Discord.
Slack vs Discord
I'm not going to waste time going into detail about why you might use Slack or Discord. If you aren't familiar with them, I encourage you to check out their websites. Discord has been slowly changing its model from merely being about gaming to a new way to communicate. And we can see this in their marketing.
Discord's slogan in 2019:
It's time to ditch Skype and TeamSpeak. All-in-one voice and text chat for gamers that's free, secure, and works on both your desktop and phone. Stop paying for TeamSpeak servers and hassling with Skype. Simplify your life.
Discord's slogan in 2020:
Your place to talk. Whether you're part of a school club, gaming group, worldwide art community, or just a handful of friends that want to spend time together, Discord makes it easy to talk every day and hang out more often.
A few things to keep in mind:
I've used Slack at big companies, but this is written from the perspective of a smaller team.
Some of the things listed might be more personal preference than something that is straight-up good or bad.
We are on a paid Slack plan.
Regardless of opinions or preferences, if you're comparing Slack vs Discord at all, you should hopefully find something useful in here. I like to get into all the day-to-day stuff which others tend to leave out.
Slack vs Discord quick comparison
Slack
Discord
* Pricing
Free
Standard $6.67 user/month
Plus $12.50 user/month
Free
Nitro Classic $4.16 user/month
Nitro $8.25 user/month
Channels/servers
Unlimited channels, workspaces
500 channels, 100 servers
Integrations
10 in free plan
800+ in paid plan
Unlimited
Message history
10,000 in free plan
Unlimited in paid plan
Unlimited
Video
1:1 in free plan
15 in paid plan
8
Mobile video
Voice only
Included
Screen sharing
Requires paid plan
Included
Storage
5 GB in free plan
10 GB in standard plan
20 GB in plus plan
Unlimited
File upload limit
1 GB
5 MB in free plan
50 MB in Nitro plan
Conversation threads
Yes
No
Voice-only channels
No
Yes
Push to talk
No
Yes
End-to-end encryption
No
No
* Pricing when billed yearly
Pricing
When it comes to pricing, Discord is cheaper. You get way more bang for your buck in terms of features, especially if you compare the free plans.
The Nitro plans with Discord work a little different than Slack plans. They allow anyone to contribute, and users can do it multiple times. In other words, a single person could contribute more towards the server than someone else. It's very community-based. But this is also confusing.
Video
OK, so even though we moved back to Slack, we still have Discord installed. Why? One reason, video. The video in Discord is light years beyond Slack. Slack's video isn't anything to write home about in terms of quality, and neither is the audio. If you've ever used Discord's video, I'm sure you'd agree.
In Discord, you can snap the video on top, rearrange the video by dragging. Everything about it's just incredible. Slack also is lacking mobile video calls (voice only). Discord includes this for free.
Often, we'll hop on Discord for video if we know we're going to be in a lengthy call. I'm sure the team at Slack knows how far behind their video is, and I would assume they're working on something to improve it eventually. Fingers crossed.
Channels (workspaces and servers)
Slack lets you create an unlimited amount of channels. Although, for anyone that has been in a big workspace, you might say this is a negative. 😉 There is also no limit on the number of workspaces you can create or join.
Discord has a limit of 500 on channels and 100 on servers. Servers are essentially the same thing as workspaces in Slack.
The one advantage Discord does have they have voice-only channels and push to talk! Push to talk is pretty handy, especially if your eating. You can also assign a keybinding to mute yourself quickly. This is something I wish Slack had.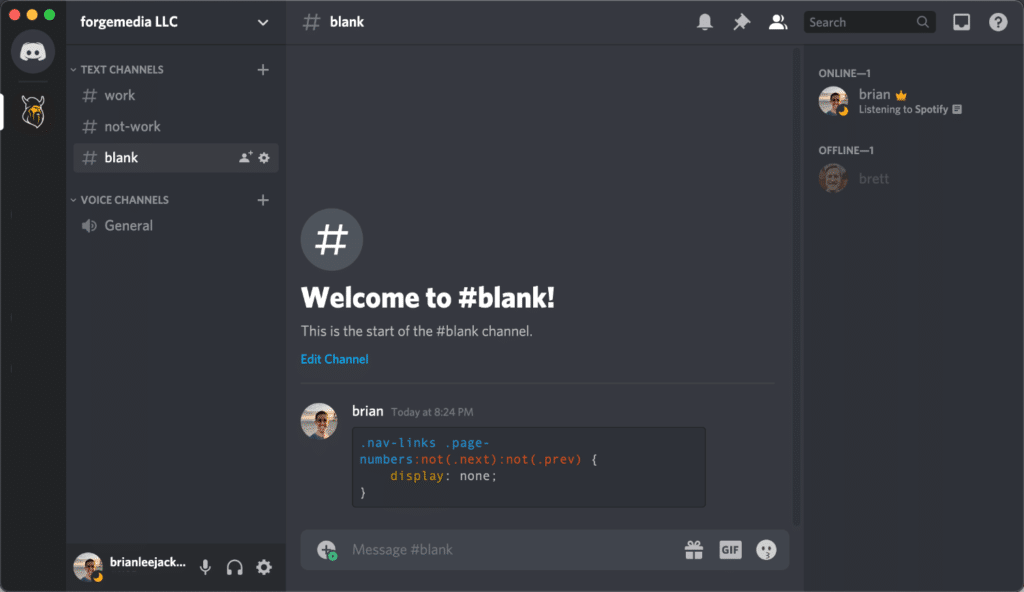 Emojis
The free Slack plan has no limit on the number of emojis you can create. You can also use animated emojis! While this shouldn't be the main selling point, I can't tell you how often an emoji has made a stressful day better. We have all sorts of emojis set up for different moods and emotions. Slackmojis is an incredible resource.

Who doesn't love mixing a little Mario Kart into your work routine for a job well done? The free version of Discord doesn't let you create animated emojis. The limits on upgraded servers start at 50 custom emojis and 50 animated emojis. You can pay to boost these even higher.
GIFs
Like emojis, I think GIFs are a great way to break up the monotony of daily work. Sharing GIFs in Slack is a lot better than Discord at the moment.
In Slack, you can type /giphy and shuffle through an almost unlimited number of GIFs (sourced from giphy.com). Sharing GIFs on Slack mobile is just as easy.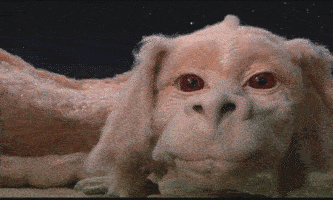 In the desktop version of Discord, you can also type /giphy, but you only have a selection of 10 different GIFs. Trust me; this is sometimes not enough when you're trying to find that perfect GIF after a long day. The scrollbar is also very hard to click because it's so skinny.
The odd thing is on the mobile version of Discord; they don't source their GIFs from giphy.com, but instead, use Tenor. This means you get a different selection of GIFs on mobile than desktop. And in my opinion, the selection from Tenor isn't as good.
Do not disturb (DND) hours
Everybody needs a break, especially when it comes to Slack and Discord. I didn't realize how amazing the DND feature in Slack was until I didn't have it. You can set the hours for which Slack allows notifications in your personal preferences. As a workspace admin, you can also set default DND hours on notifications for everyone.

Discord doesn't have DND hours yet (source). You could tweak your phone or OS settings to make this kind of work with Discord, but it's nice to do this in the app itself. I was shocked they didn't have this basic feature.
Idle settings
You go idle in Discord after 15 minutes, and there is no way to prevent this from happening (source). I don't like this, because if I'm making a sandwich, I don't necessarily want my coworker seeing I'm inactive. I'm still there if he messages me, I'm just away from my keyboard for a little bit.
Slack makes this a little longer and goes idle after 30 minutes. However, another advantage is that you can also use an app like Amphetamine to keep Slack awake. This doesn't work with Discord.
Maybe you're on a quick Starbucks run, but you don't want Slack to go inactive. We've all been there. If you have your phone with you, it's OK to move around a bit. After all, that's the beauty of remote work. This lets your coworkers know you're still available; you just aren't at your desk.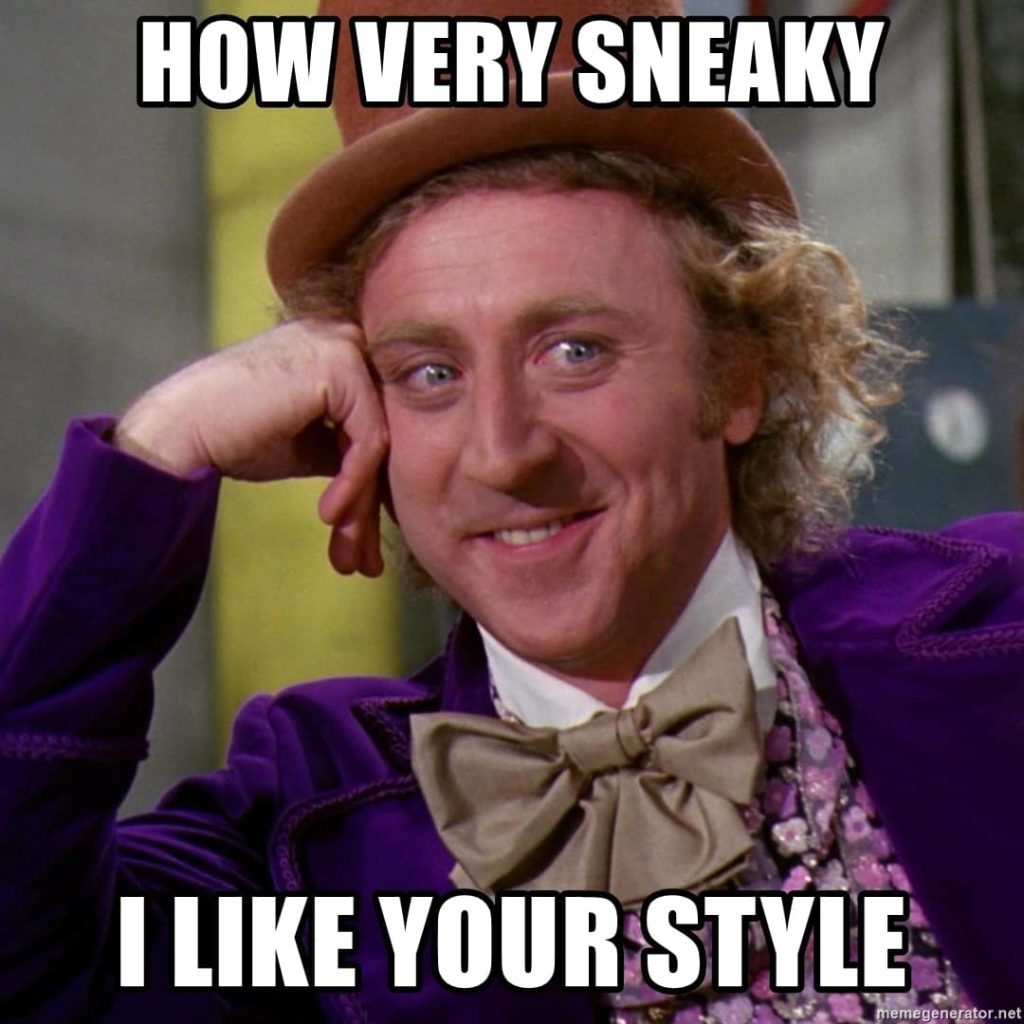 Sharing images and embeds
We share a lot of images and screenshots throughout the day for work. Slack has a nice zoom feature. Sometimes things are small, and you need to see it a little closer. This, unfortunately, doesn't exist in Discord. Someone asked about this two years ago, but it doesn't seem to be a priority for them (source).
When you share an image in Discord, you get this popup window, which allows you to add a comment. I'm not a fan of this.
When you share an image in Slack, you get a nice little thumbnail, and it doesn't interrupt your whole thought process. I'm continually pasting images, and this is simply a lot cleaner.
The preview for embeds like Spotify and links is nicer in Slack as well.
Typing and code syntax
We share a lot of code (typically CSS, JS, and PHP), so syntax highlighting is important to us. While both apps have this, we prefer the look and style of Slack over Discord.
Slack

Discord

Another notable feature that Slack has is conversation threads. If you're in a workspace with a lot of users, conversion threads will save your sanity! Discord doesn't have conversation threads.
And finally, a small little thing that I use every so often. That is the ability to send yourself a message. Sometimes you want to preview how it will look before sending it to your whole team. In Slack, you can message yourself; in Discord, you can't. However, someone has requested this feature (source).
App
The Discord app on Mac has some weird bugs. If you are on a video call and the chat app loses focus (you're doing other things), you have to right-click the app to bring it back into focus. This is extremely annoying and doesn't exist on Windows.
Discord on mobile is much harder to see everything at once. You can't see if someone is online and click into different servers at the same time. On Slack, you have channels and users all in the same sidebar.
Slack also lets you change your theme and colors of your app to match your personal preference. With Discord, it's light or dark.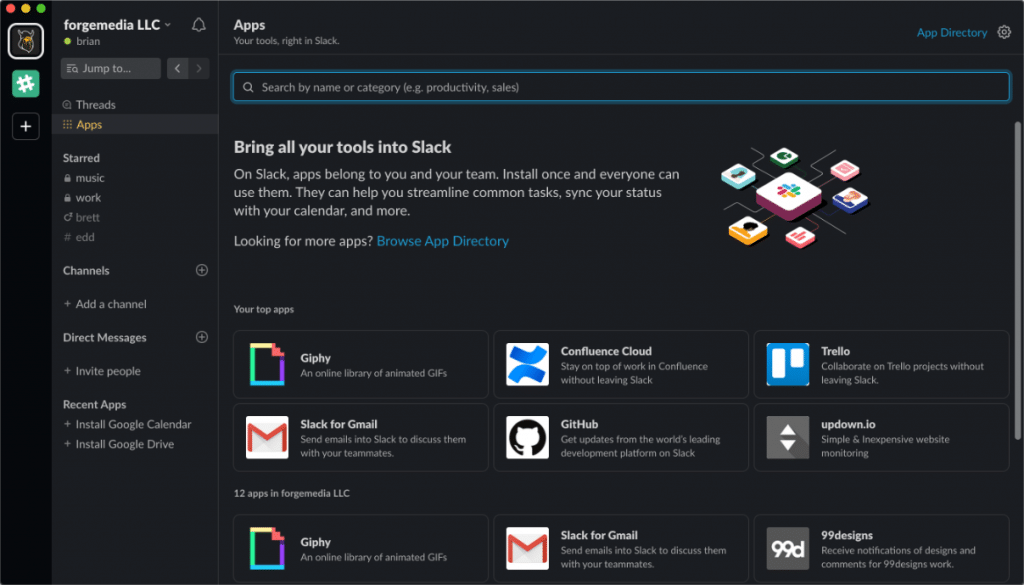 I'm a massive fan of the Monokai theme. I've created a few Slack themes you can use.
Monokai Octagon Light Slack theme
#1E1F2C,#191E2A,#282A3A,#FFCC66,#282A3A,#E8E8E8,#A9CC49,#FF964F
Monokai Octagon Dark Slack theme
#1B1D21,#23262B,#282B30,#FFCC66,#282B30,#E8E8E8,#A9CC49,#FF964F
Overall, the Slack app is a lot more polished and has all the quirks worked out.
Integrations, bots, webhooks
Discord allows unlimited integrations. Slack limits you to 10 integrations in the free plan and has 800+ integrations in their paid plans.
While Discord might seem better here, I've found the integrations and bots lean more towards entertainment and gaming than productivity. You can hook up both Discord and Slack to Zapier, but Slack's native integrations are better if you're focused on work.
Here are a couple of handy Slack apps/integrations:
With that being said, I do love the Spotify integration in Discord. If your friends or coworkers have Spotify premium, they can stream your music right along with you. Pretty cool!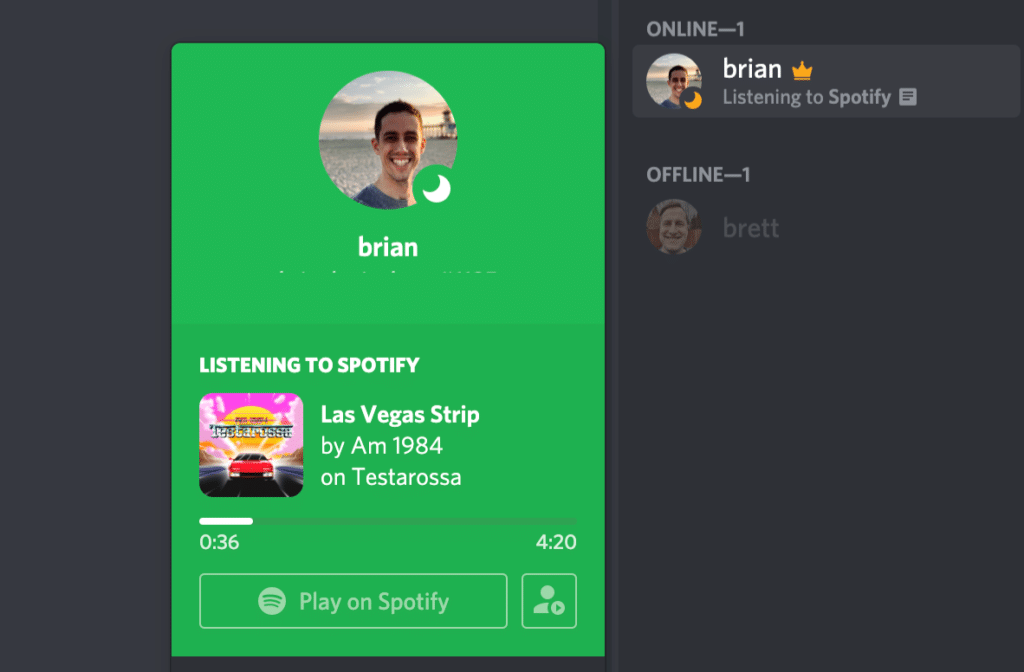 Summary
While there are things I love about Discord, like their video, I still think Slack is better for working teams. However, Discord has made leaps and bounds in the past couple of years, and honestly, it was pretty close.
Discord gives you a lot for free! If Slack doesn't improve its video, Discord does have a chance to do something extraordinary. Time will tell.
Want a $100 credit to start using Slack? Use this link.
What do you think about Slack vs Discord? I would love to hear your opinions down in the comments.