I've used many hosting providers over the past decade and was never completely satisfied. Thankfully, that's when Kinsta came along. Their managed WordPress hosting experience has been far above anything I've ever experienced. Not just from a speed aspect but also their top-notch customer support and reliability. And it's only gotten better over time.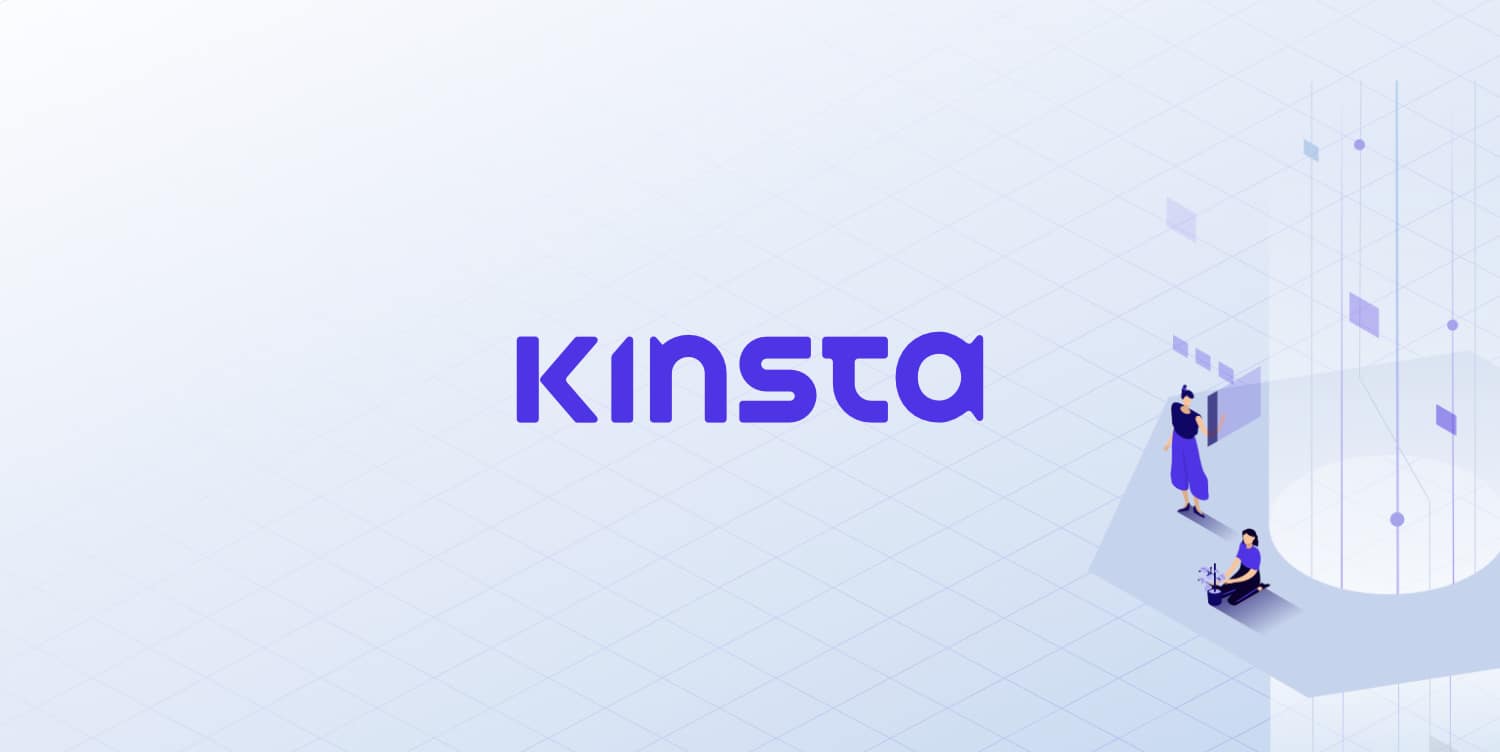 If you're looking for a high-performance WordPress host that actually delivers on its promise, Kinsta is the one you want to try. This is where I host woorkup and all of my sites. In my Kinsta review below, I'll take you on a deep dive into everything they have to offer. It's time to start building your business, and never worry about downtime or performance woes again.
Who is Kinsta?
Kinsta was founded by Mark Gavalda, a WordPress developer and sysadmin by trade. This is important because he understood the pain points that developers, agencies, and users experience on a day-to-day basis. He knew that to tackle the scaling issues that plague other hosting providers, he had to be strategic and do it differently. Also, customer support couldn't be a secondary thought. Everything had to be built from the ground up with a laser focus on putting the needs of users first.
Kinsta started offering hosting to the public in early 2014 (founded in December 2013) and grew to a team of now over 300 employees distributed around the globe (on six continents). Their vast feature set, high-end performance, and unparalleled support are what really set them apart from the other managed WordPress hosting companies. I'll dive into that below.
Kinsta is the kind of host you want if you go on Shark Tank. They now work with over 25,000 companies, including huge names like MariaDB, TripAdvisor, UNICEF, Buffer, Flippa, ClickUp, Drift, Mint.com, Ubisoft, GE, Intuit, Screaming Frog, and AdEspresso.

Features
Below are some of the primary features that make Kinsta not just a great WordPress hosting provider but one you can trust with your business for the long haul.
Hands down best architecture
Kinsta was the first managed WordPress host powered exclusively by Google Cloud. Since then, other hosts have followed suit, but you can rest easy knowing that their team knows this platform better than anyone else in the industry.
Their infrastructure features the latest C2 compute-optimized VMs (powered by 2nd Gen Intel® Xeon® Platinum processors), LXD containers, and of course, one of the most extensive networks on the planet. Because they use container technology, there are no shared resources. Each WordPress site is completely isolated in a container and has its own Nginx, PHP, MySQL, etc.
This is awesome for performance and security. It allows for auto-scaling as the VMs can automatically assign CPU and memory as needed. Got a surge of traffic? No problem. Also, each database is hosted locally, not remotely, as some other hosts do.
Kinsta also utilizes Google Cloud Platform's premium tier network (not standard) to ensure low network latency and connection speeds to your WordPress sites. Another benefit is that SFTP and your admin dashboard will be blazing fast. Have you ever tried working with a slow back-end? It's horrible.
To make it even better, they pair every hosting plan with their Cloudflare Enterprise integration for free. This includes game-changing performance features such as edge caching, resulting in low time-to-first-byte (TTFB) and automatic image optimization.
This is how hosting should be done!
35 global data center locations
You can choose from the following 35 strategically placed data center locations to host your WordPress sites. And you can pick a different location for each individual site. This is especially important if you're working with international clients. Choosing a location physically closer to your visitors will reduce network latency and TTFB.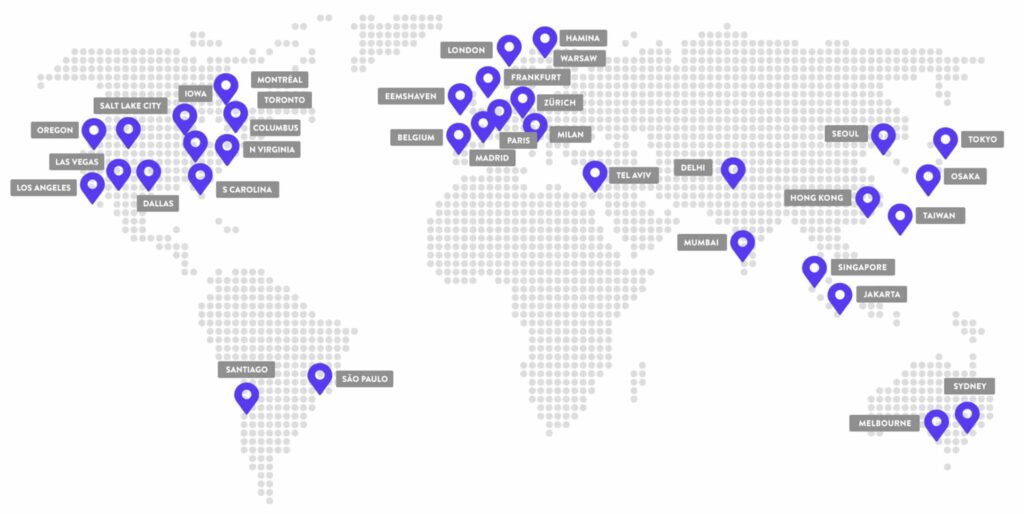 Council Bluffs, Iowa, USA (🇺🇸

us-central1

)
The Dalles, Oregon, USA (🇺🇸

us-west1

)
Los Angeles, California (🇺🇸

us-west2

)
Salt Lake City, Utah (🇺🇸

us-west3

)
Las Vegas, Nevada (🇺🇸

us-west4

)
Moncks Corner, South Carolina, USA (🇺🇸

us-east1

)
Ashburn, Virginia, USA (🇺🇸

us-east4

)
Columbus, Ohio, USA (🇺🇸

us-east5

)
Dallas, Texas, USA (🇺🇸

us-south1

)
Toronto, Canada (🇨🇦

northamerica-northeast2

)
Montréal (🇨🇦

northamerica-northeast1

)
Sydney, Australia (

australia-southeast1

) 🇦🇺
Melbourne, Australia (🇦🇺

australia-southeast2

)
São Paulo, Brazil (🇧🇷

southamerica-east1

)
Santiago, Chile (🇨🇱

southamerica-west1

)
Mumbai, India (🇮🇳

asia-south1

)
Delhi, India (🇮🇳

asia-south-2

)
London, UK (🇬🇧

europe-west2

)
St. Ghislain, Belgium (

europe-west1

) 🇧🇪
Frankfurt, Germany (🇩🇪

europe-west3

)
Paris, France (🇫🇷

europe-west9

)
Milan, Italy (🇮🇹

europe-west8

)
Eemshaven, Netherlands (🇳🇱

europe-west4

)
Hamina, Finland (🇫🇮

europe-north1

)
Zürich, Switzerland (🇨🇭

europe-west6

)
Warsaw, Poland (🇵🇱

europe-central2

)
Madrid, Spain (🇪🇸

europe-southwest1

)
Tel Aviv, Israel (🇮🇱

me-west1

)
Hong Kong (🇭🇰

asia-east2

)
Tokyo, Japan (🇯🇵

asia-northeast1

)
Osaka, Japan (🇯🇵

asia-northeast2

)
Changhua County, Taiwan (🇹🇼

asia-east1

)
Jurong West, Singapore (🇸🇬

asia-southeast1

)
Jakarta, Indonesia (🇮🇩

asia-southeast2

)
Seoul, South Korea (🇰🇷

asia-northeast3

)
New data center locations are added every quarter.
Another great thing about Google Cloud Platform is that they have zero net carbon. Google matches 100% of the energy consumed by its global operations with renewable energy and maintains a commitment to carbon neutrality.
Kinsta fully believes in only utilizing the best architecture for hosting your WordPress sites. This includes:
Nginx: An open-source reverse proxy server for HTTP, HTTPS, SMTP, as well as a load balancer, HTTP cache, and web server.
Ubuntu: Long-term supported Linux kernel and OpenSSH.
Latest PHP versions: PHP 8.1 is over three times faster than PHP 5.6. Choose between PHP 8.0, 8.1, and 8.2 in the MyKinsta dashboard.
MariaDB: An enhanced and faster drop-in replacement for MySQL. It's the best and most reliable choice for your WordPress database.
Cloudflare Enterprise: Your site is always protected with a robust firewall and DDoS protection. It's also turbocharged with a global content delivery network (CDN) across 275+ cities and Brotli compression.
Edge caching: Instantly cache your entire site (HTML) at all Cloudflare data centers across the globe. This results in very low TTFB.
Image optimization: Automatically compress your images (lossy or lossless) and convert them to WebP on the fly, all without a plugin.
HTTP/3: The latest and greatest protocol since HTTP/1.1 and HTTP/2. HTTP/3 features better multiplexing, parallelism, smaller headers, and more. It makes SSL faster and has 0-RTT support for faster subsequent connections.
Free DNS: Amazon Route 53 and management of DNS records in the MyKinsta dashboard.
Reserved IPs: All sites are provided with Cloudflare IP addresses that are unique to Kinsta.
Free SSL (+ wildcard SSL support): SSL certificates are provided via Cloudflare with automatic renewal. Take advantage of wildcard SSL support for all of your subdomains.
Dev tools: SSH, Git, and WP-CLI on all plans. They also have DevKinsta for developing locally.
All sites hosted with Kinsta include site monitoring along with the ability to use the Kinsta application performance monitoring (APM tool). You get 1,440 daily uptime checks. If your site goes down, you'll get an alert! This also includes DNS and SSL errors, as well as domain expiration. I don't know of any other host offering this.
Automatic server-level cache
The great thing about Kinsta is that they have automatic full-page cache implemented at the server-level for optimal performance. You don't have to worry about testing different WordPress caching plugins. This is all handled for you right out of the box and will save you a ton of time and money.
Need to dive even deeper? You can enable object caching with their premium Redis add-on.
They also offer edge caching via their Cloudflare integration (for free), meaning you can host and deliver your entire site from 275+ POPs around the globe.
24/7 customer support from WordPress veterans
The Kinsta support team is available 24/7, 365 days a year via the MyKinsta dashboard. So even if you break your site during the middle of the night, there is someone ready to help you. They also have more experience with scaling and performance issues than any other host on the market.
Support at Kinsta is handled a little differently than others, as they only hire WordPress developers and Linux engineers. There are no level 1 or level 2 support reps. So yes, you can instantly connect with one of their engineers at any time and shouldn't be bounced around (which is just a waste of everyone's time).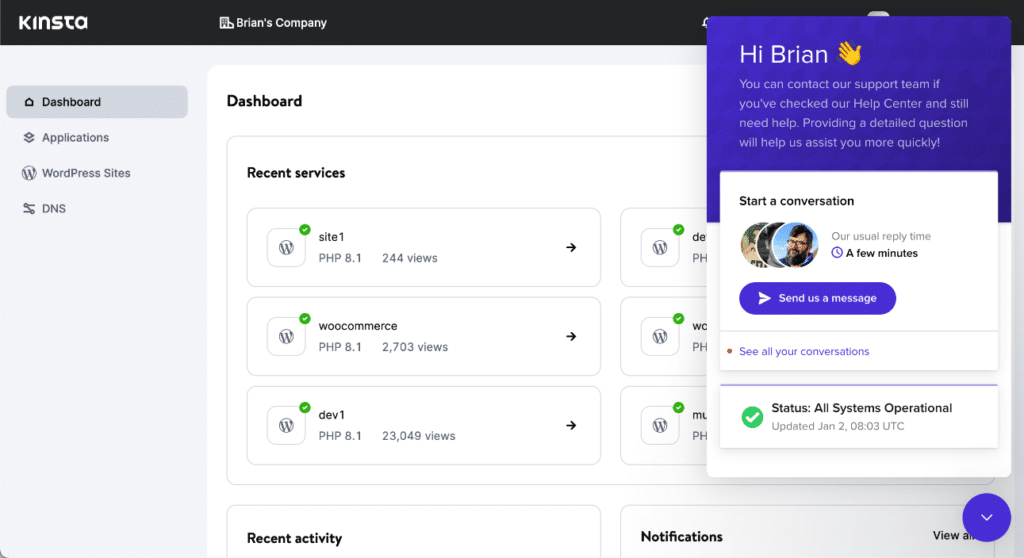 For example, the other day, I needed an exclusion added to my Nginx config. I reached out to Kinsta, and the ticket (chat) was resolved and closed within less than five minutes. I wish everything in life were that easy.
Don't just take my word for it. You'll discover for yourself that Kinsta's support is way above par and refreshing if you're coming from another host! The entire team goes out of its way to answer your questions. I appreciate talking with people who really understand performance and are knowledgeable about WordPress and their own platform.
Security
There's no need to worry about security when hosting with Kinsta. Here are a few of the many ways they protect you:
Your site is secured behind Google Cloud Platform's firewall. Second, all Kinsta plans utilize Cloudflare Enterprise ($200/month value by itself), which means the best DDoS (Distributed Denial of Service) protection and IP-based firewall.
Only secure SFTP/SSH connections are allowed.
They utilize the latest software versions, such as TLS 1.3, on all their servers.
All sites are provided with Cloudflare IP addresses that are unique to Kinsta. This means your site's DNS A record IP address will not be shared by adult or spam sites that are outside of Kinsta's infrastructure. This is safer than signing up with Cloudflare directly, where your site is shared on an IP with a bunch of other sites.
Encryption at rest is used to store customer data, and Kinsta is SOC 2 compliant.
The X-Powered-By header is removed to hide your PHP version.
They have authenticator-based 2FA, which is more secure than SMS. This means you can use Google Authenticator or a password manager like 1Password. They also have an activity log to ensure that nobody gets into your dashboard but you. You have a record of every change that happened on your account.
No site is ever 100% safe. And that's why they offer free malware fixes. If your site is infected while at Kinsta, they'll fix it for free.
And of course, you should still follow best security practices, such as keeping your plugins/themes up to date and using secure passwords.
Plugin and theme vulnerability notifications
One of the scariest security concerns when it comes to WordPress is plugin vulnerabilities. It seems like every week, a popular plugin with hundreds of thousands of installs is pushing out a critical security patch.
The great thing about Kinsta is they will automatically send you an email if a vulnerability is detected in a plugin or theme you're running on your site. This is powered by WPScan, the largest WordPress vulnerability database. You can then either temporarily disable it or update it to the latest version (where the issue has most likely been fixed by the developer).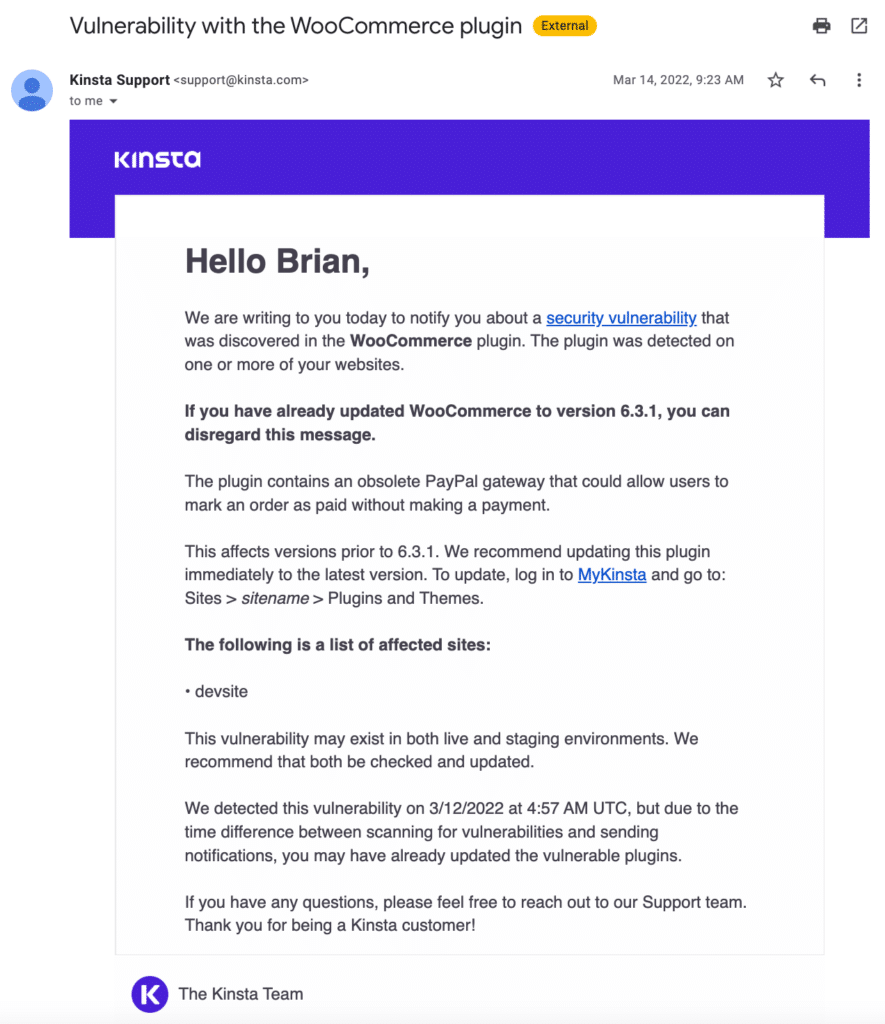 Additional features
They also offer all the same features you would expect from quality-managed WordPress hosts, such as a one-click cloning feature, staging environments, and multisite support. Got clients or developers? Kinsta has multi-user access permissions and roles to easily give devs, billing, etc., only what they need to see.
If you need more advanced features, they also support things like Bedrock/Trellis and GeoIP and add-ons for reverse proxy, Redis, and Elasticsearch.
Need to go beyond WordPress? They also have database and application hosting available.
MyKinsta custom dashboard walkthrough
You will love their custom MyKinsta dashboard; it's beautiful. It makes WordPress site management and hosting fun again. You can do almost anything in it. Everything from a quick search and replace in the database, adding server-level 301 redirects, blocking an IP address, and issuing free SSL certs. If you're coming from cPanel, get ready to be blown away! It's also available in 10 different languages.
Below I'll walk you through all of the different areas of the MyKinsta dashboard. This is a screenshot of the main dashboard when you first log into your Kinsta account. At a glance, you can see your site list, resource usage, notifications, data transfer, recent activity, and visits.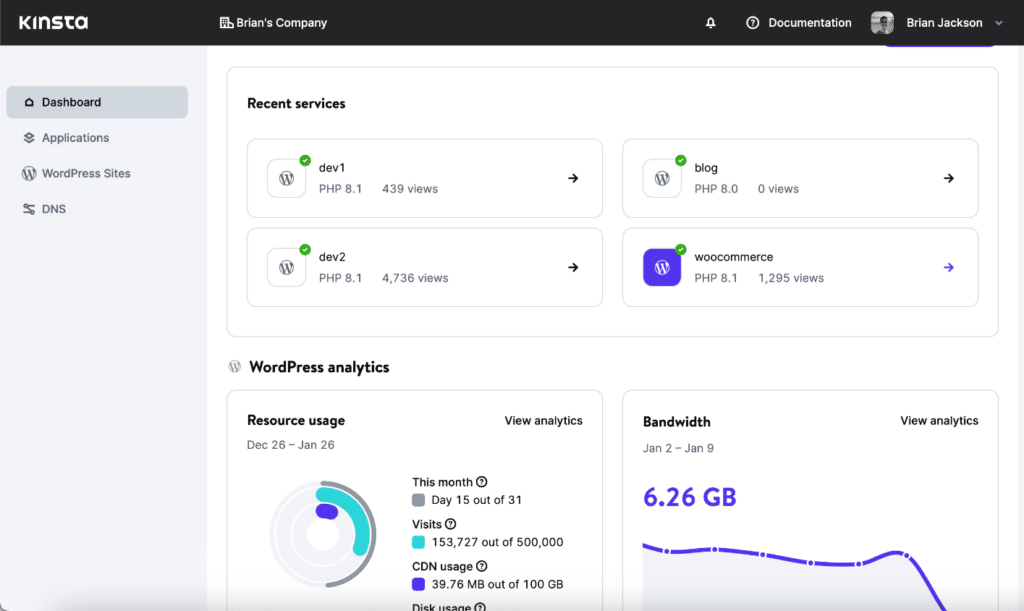 WordPress sites
On the "WordPress Sites" screen, you can see an overview of all your sites, their data center locations, visits, bandwidth usage, disk usage, PHP version, and quick access to the live/staging sites.
They have a search filter in case you have a lot of sites. You can also label sites and then quickly filter your site list by the label. For example, dev sites, ecommerce sites, etc. Or perhaps you have multiple sites per client; you could label them with the client name.
You can also rename the site at any time, label it, or transfer it to a different MyKinsta company. You can also send transfer requests to non-Kinsta users and even recommend a plan. If you're an agency, developer, or freelancer, this makes it an easy way to onboard your clients to Kinsta.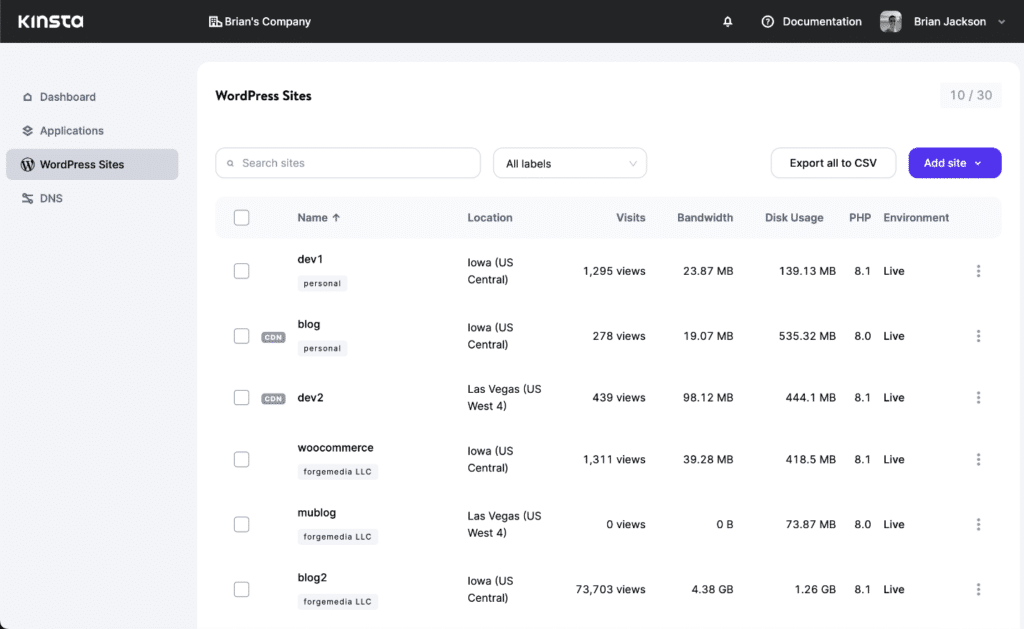 Once you click into manage your sites, you have quick and easy access to the site's IP address, SFTP/SSH information (I recommend ForkLift for an SFTP client), database access, etc. The "Open phpMyAdmin" link allows you to quickly jump in and manage your MySQL database if needed.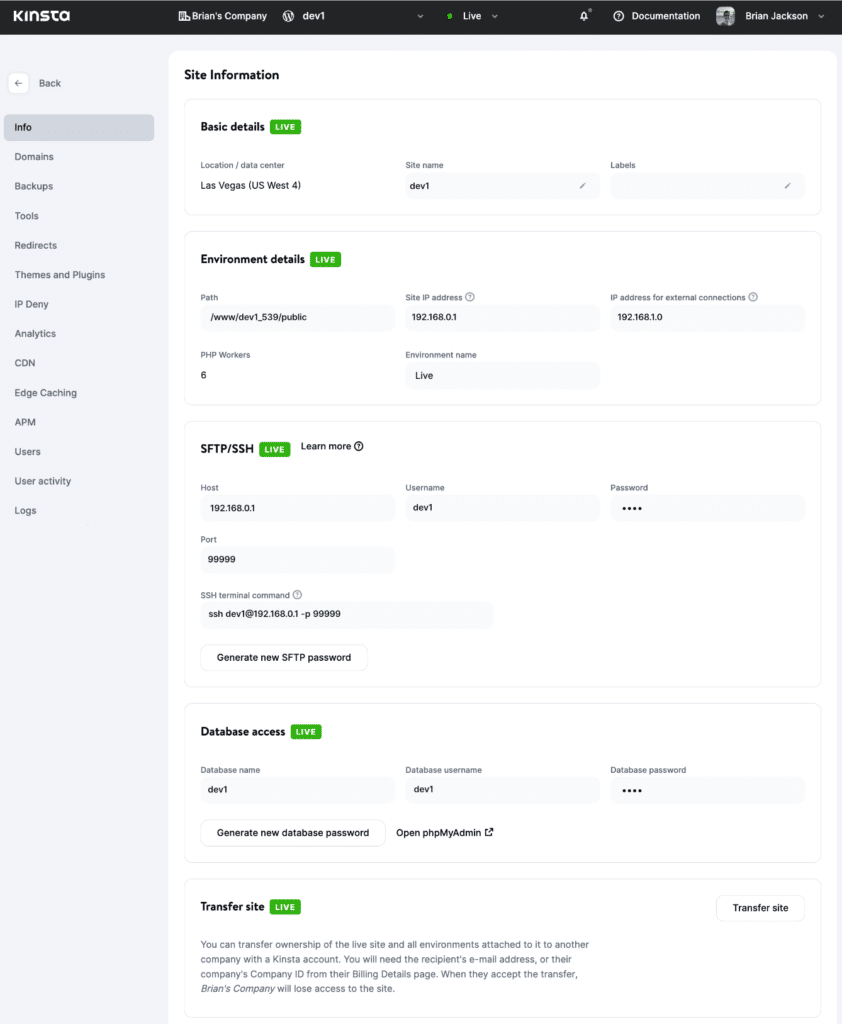 For developers: Git, Composer, and WP-CLI are installed on all Kinsta servers, so you can easily SSH to your site and start inputting commands in a matter of seconds. It's really handy!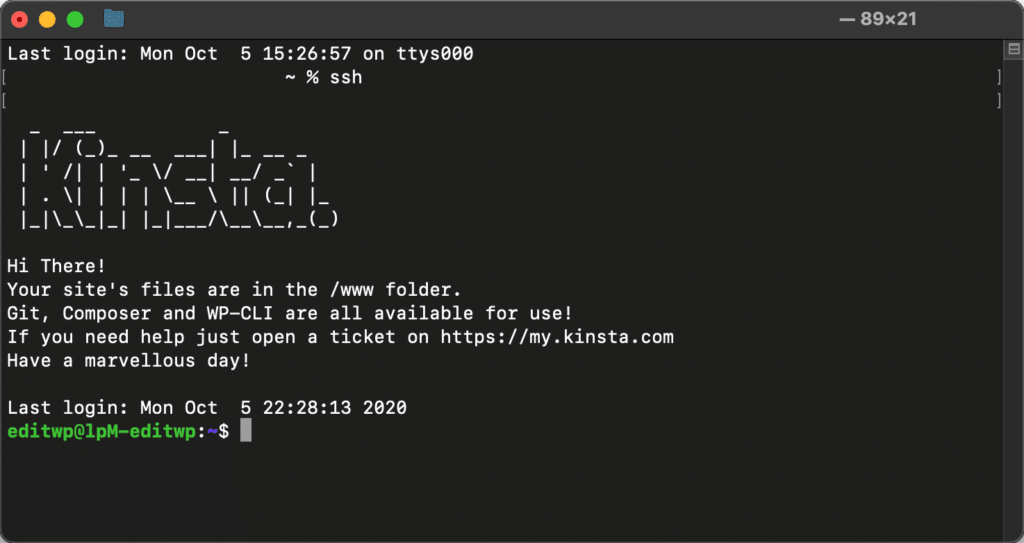 One-click staging environment
Kinsta has a one-click staging environment that allows you to instantly create a development site and test plugins, WordPress updates, code, etc. I use the staging feature all the time. Never touch your live site again when you don't have to. You can even restore staging back to live, and even backups to staging! Pretty much any scenario you can think of is possible.
You have two different options you can choose from:
Standard environment: Excellent for testing or development when you don't need resources equal to your live site. Completely free.
Premium environment: Matches the resources of your live site and is ideal for eCommerce or other resource-intensive site testing or development. Costs $20/month. You can add up to 5 premium staging environments to simplify workflows.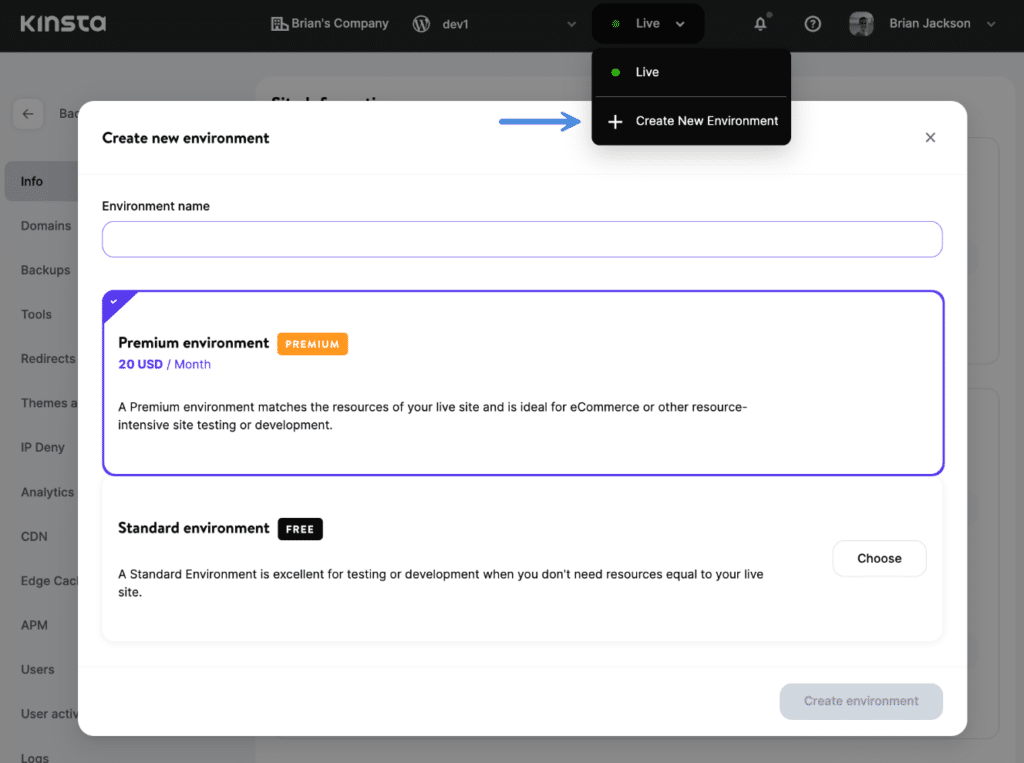 They also give you granular control of what you're pushing from your staging site to live or a backup. You can choose to:
Push files only
Push database only
Push everything
By default, caching is disabled on staging environments for development purposes (which is good). However, they have an easy toggle to enable caching on staging if you need to replicate your live site more closely.
Prefer a local environment instead of a staging site? Kinsta has its own tool for this, DevKinsta, to help make the whole process a little easier. You can quickly pull and push sites back and forth between your machine and MyKinsta.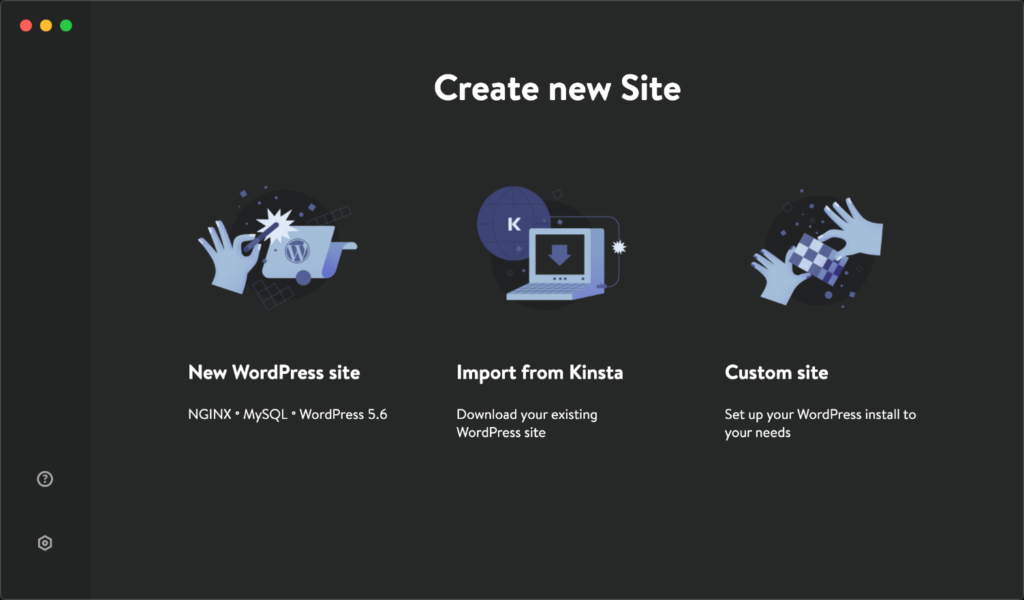 With DevKinsta, Nginx, PHP, and MySQL are all automatically configured. It's available for macOS, Windows, and Ubuntu/Linux. It's also free forever, so you don't have to worry about a pro version coming later down the road. Check out my full review of DevKinsta.
Below I'll dive into some of the other features and tools you'll see in the MyKinsta dashboard.
Domains
On the domains screen, you can set your primary domain, and there's a quick and handy link to your WordPress admin dashboard. Below it, you have a list of all the other domains attached to the site.
For example, whenever you create a site at Kinsta, you get assigned a temporary URL (sitename.kinsta.cloud). This can come in handy to quickly view your WordPress site, regardless of what your WordPress "Site Address (URL)" is set to. They also have a Site Preview tool that allows you to fully test your site during a migration without changing your DNS records or database.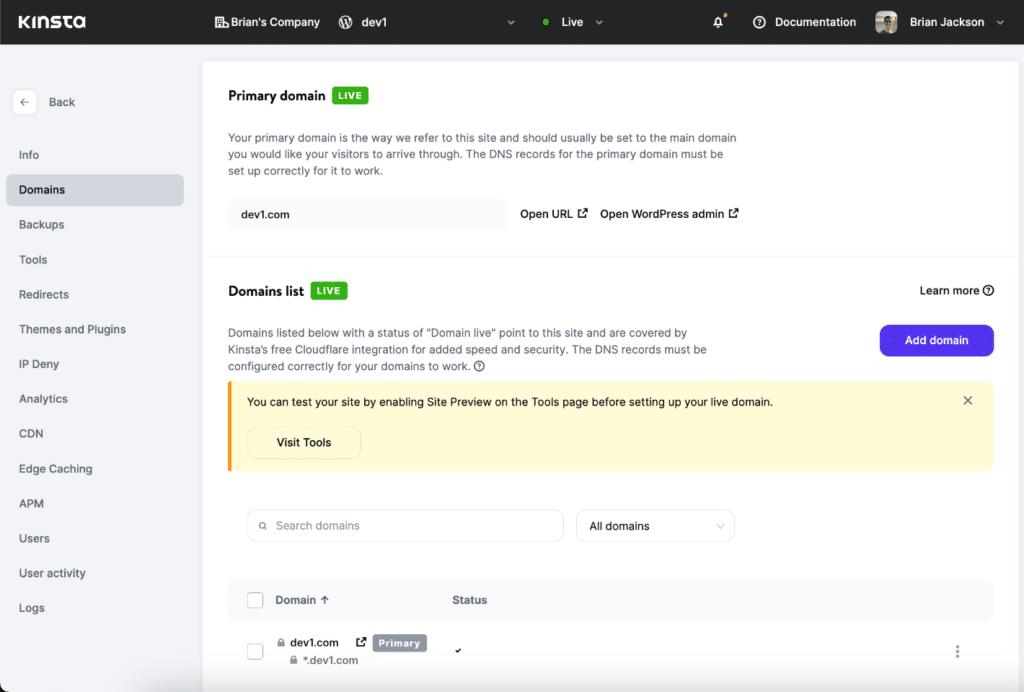 All domains include free SSL certificates via Cloudflare. These automatically renew, so you don't have to worry about anything. They also have wildcard support so that you can have SSL certificates on all of your subdomains.
And, of course, you can still use your own custom SSL certificates, which is especially important for those of you who need higher-end certs. Custom certificate keys can also be uploaded from right within the dashboard. No reaching out to support is necessary.
Automated WordPress site backups
Kinsta actually offers 7 different types of WordPress backups! This means you never have to worry about losing your data. Here are their backup types:
Automatic daily backups: These are kept for a minimum of 14 days and longer on larger plans.
2 hourly backup add-ons: You can add hourly backups or backups every 6 hours. These are great for ecommerce sites that have a lot of transactional data.
Manual backups: You can create up to 5 manual backups at any time. You can treat these as restore points. Perfect for right before you run your plugin updates each week. If anything goes wrong, simply one-click restore your site back to that point in time.
Environment backups: Kinsta automatically creates backups before specific actions. For example, when you use the search-replace tool, push a staging environment to live, restore a backup, etc.
Automatic external backup add-ons: Automatically back up your site to Amazon S3 or Google Cloud Storage. For those of you who require offsite backup, this is an easy way to save time.
Downloadable backup: Create a downloadable archive file containing your entire website (files and SQL database file).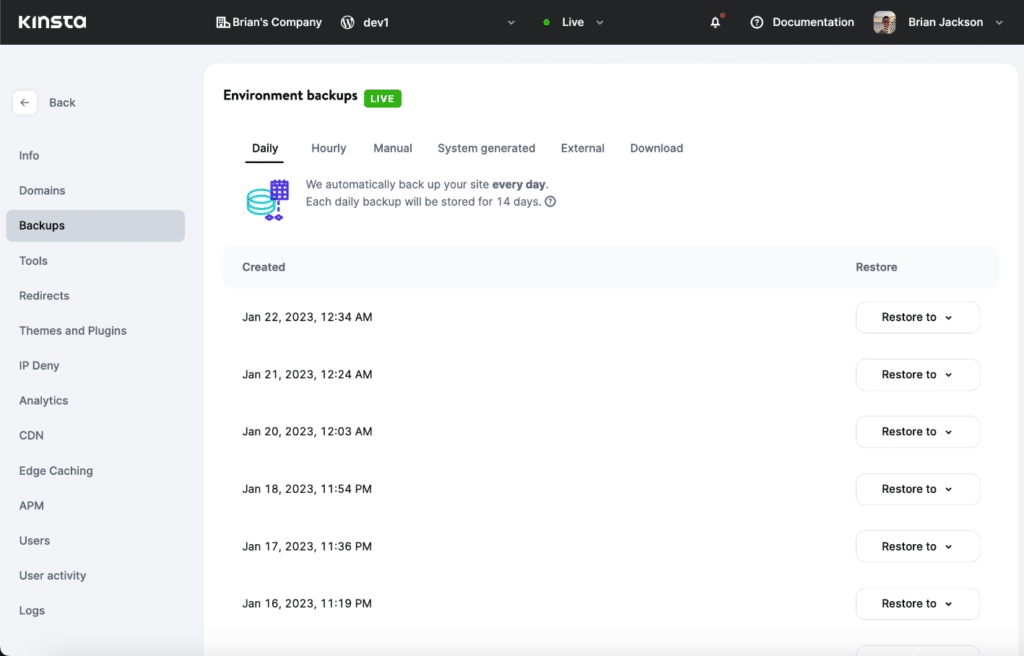 When you download a full backup of your site, you'll get a notification in MyKinsta, as well as a beautiful-looking email with a download link. The backups are stored on Google Cloud, so the download speeds are really fast.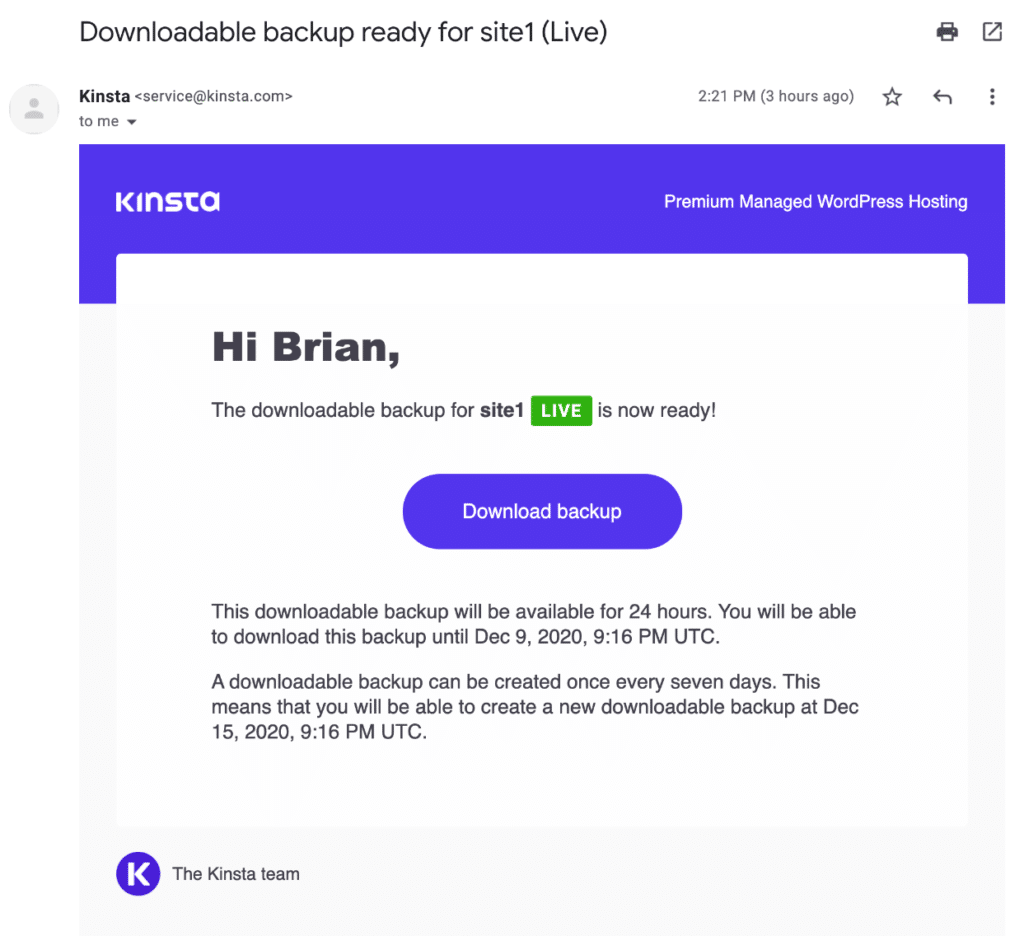 And that's not all Kinsta does when it comes to keeping your data safe.
Besides automatic backups, they also create and store disk snapshots of every machine in its infrastructure for a period of time. If anything were to ever happen to your MyKinsta backups, they could still help you restore your site.
Cache
Onto the tools screen. The first one we have is site cache. This is where you can quickly clear the Kinsta cache across your entire site. Note: You don't want to clear the cache on your whole site unless you have to. Performance-wise, it will have to rebuild the cache.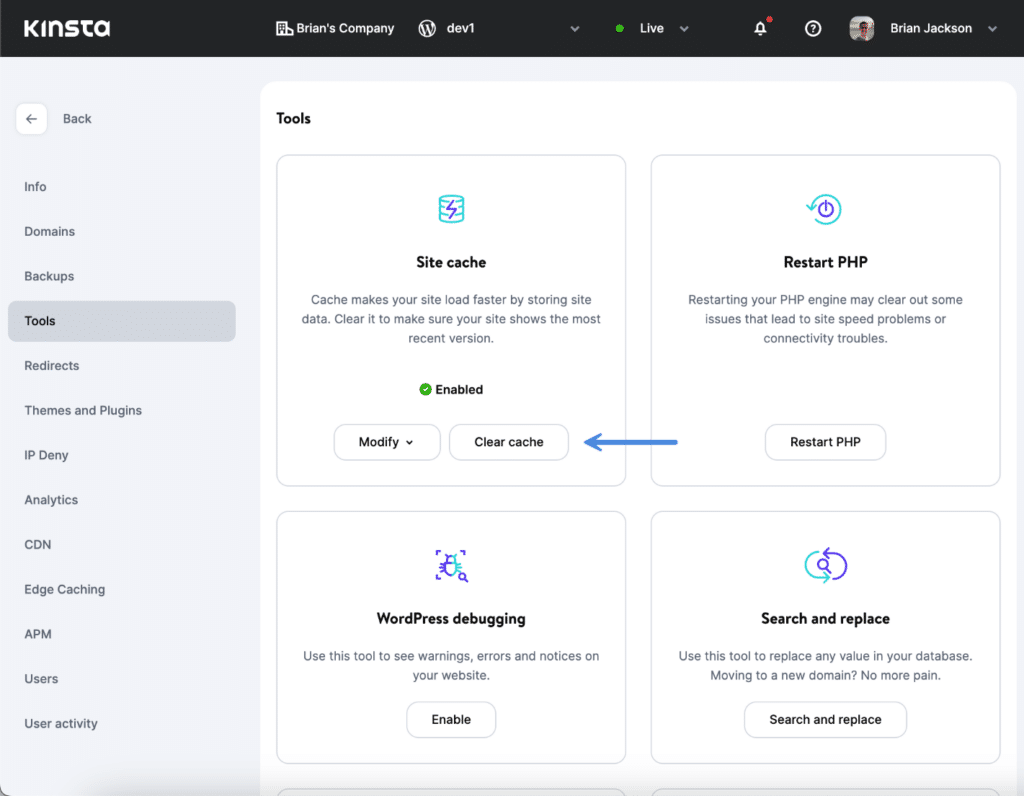 You can also modify the cache expiration time per site. Longer cache times lead to better site performance. The following cache length times are available right in the MyKinsta dashboard:
1 hour
2 hours
4 hours
8 hours
24 hours
7 days
30 days
1 year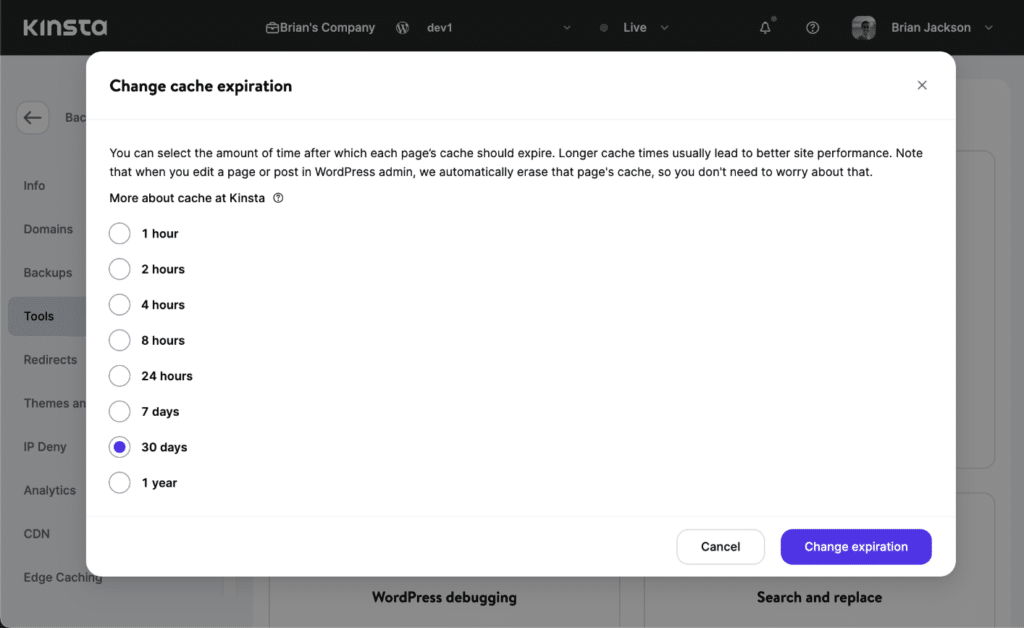 Kinsta has rules to automatically purge single pages and critical locations, such as the home page, immediately when you make updates. This ensures high availability at all times and also makes sure your visitors see your most recent updates. It can be disabled if you prefer.
On every site at Kinsta, an MU (Must Use) plugin is automatically installed. This does a couple of things. It gives you control over the server-level full-page cache. It also adds a "Clear Cache" link in your WordPress admin toolbar and a button in the plugin. You can also add rules for single and group paths that should be purged when content is updated.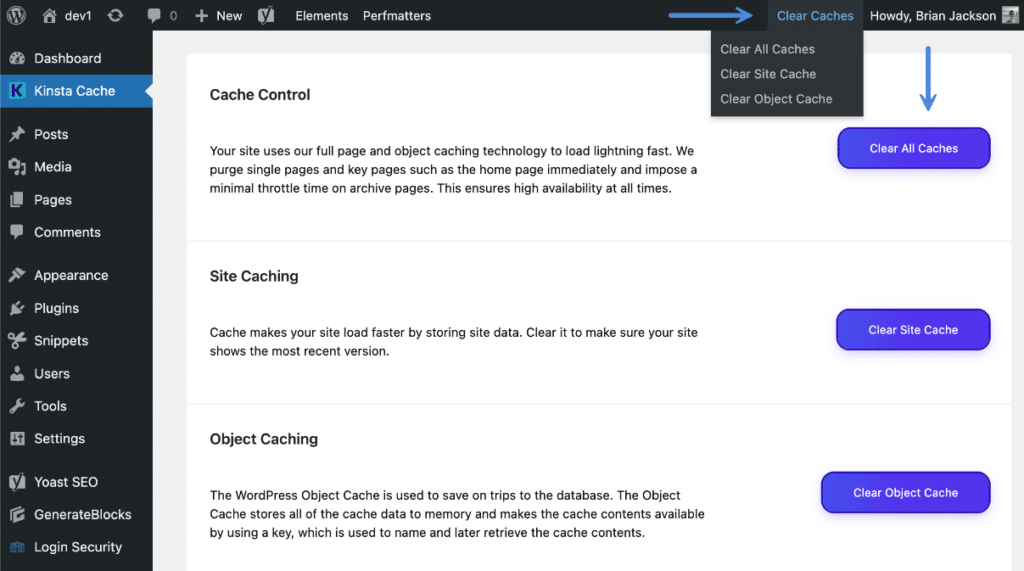 Restart PHP
Next, you have "Restart PHP." This allows you to restart the PHP engine on your site. This is helpful if you are troubleshooting issues with connectivity, performance, etc.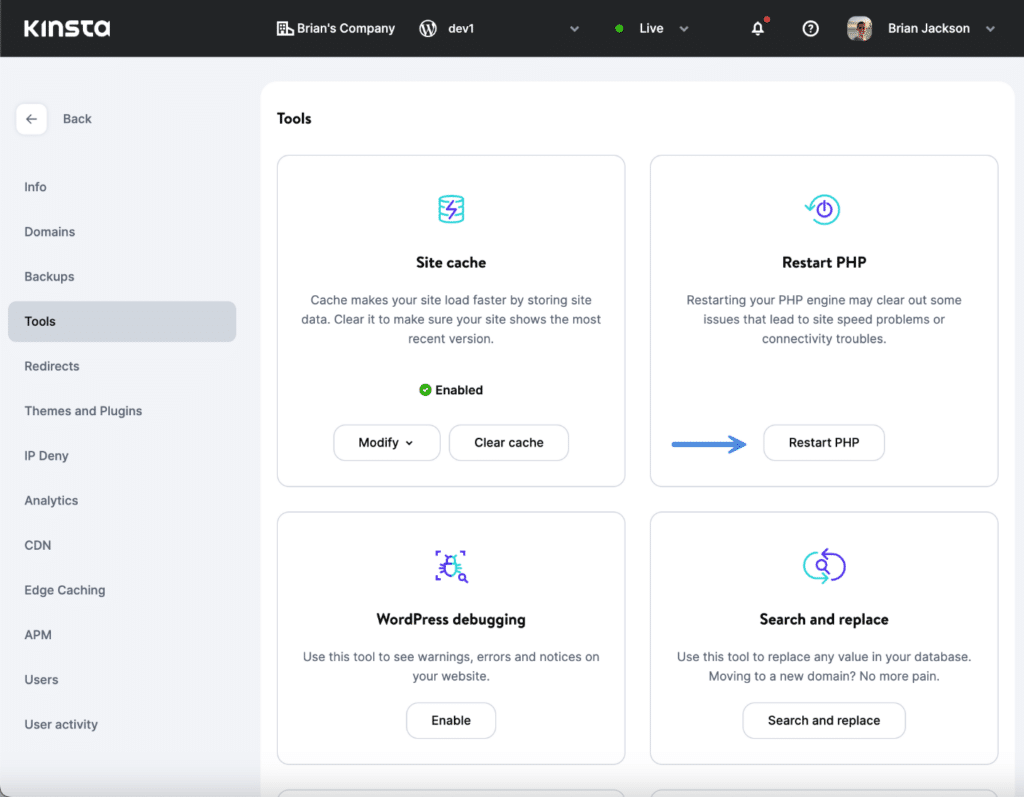 WordPress debugging
Next, you have "WordPress debugging." For troubleshooting issues with plugins or themes, or if you're a developer, this feature can come in really handy. It will let you see PHP warnings, errors, and notices on your website. It's an easy way to do it without enabling WP_DEBUG mode in your wp-config.php file.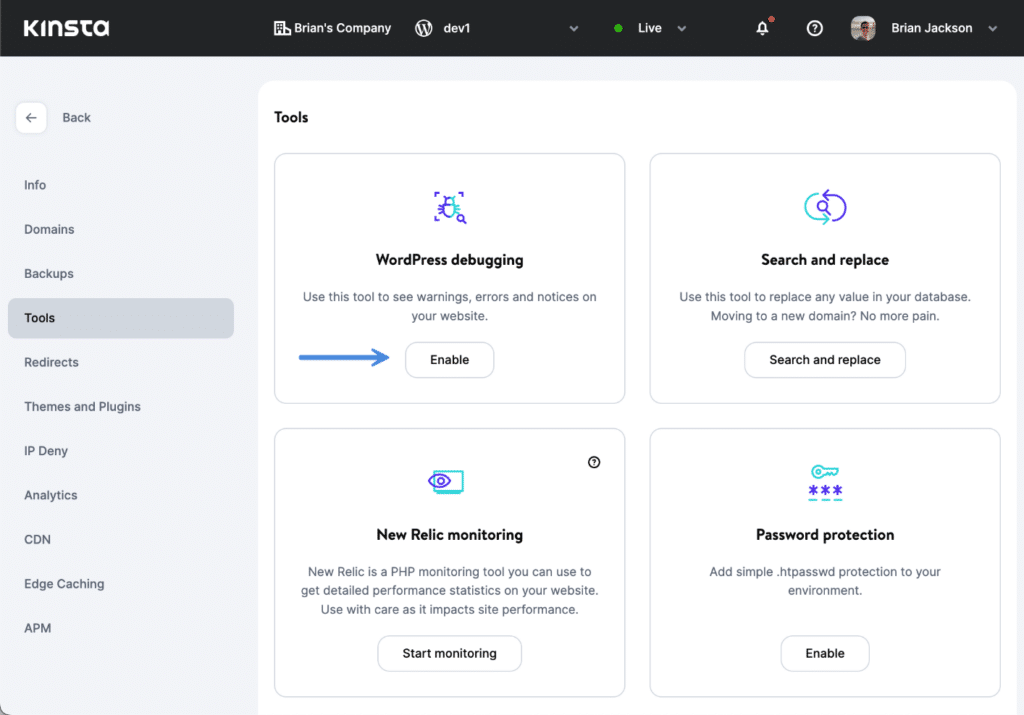 Search and replace
Next, you have Kinsta's awesome search and replace tool. This is a quick way to replace any value in your database.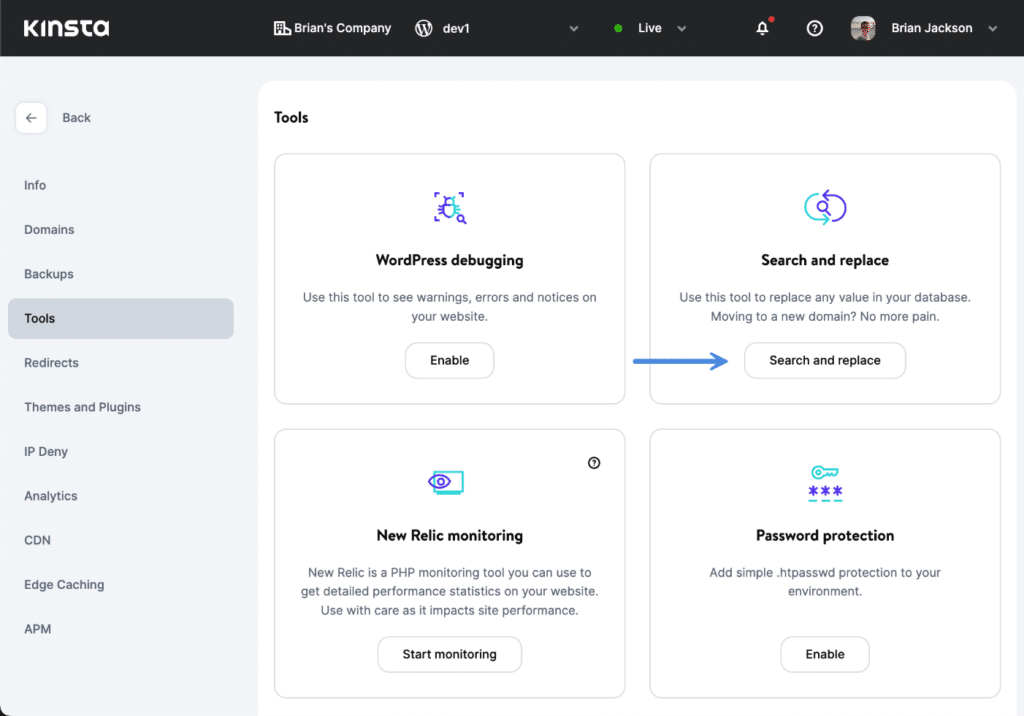 For example, let's say you were changing your domain name. In this case, you would need to run a search and replace in the database for your entire site. There are WordPress plugins that also do this, but there is no need to install one when you have this handy tool in the MyKinsta dashboard.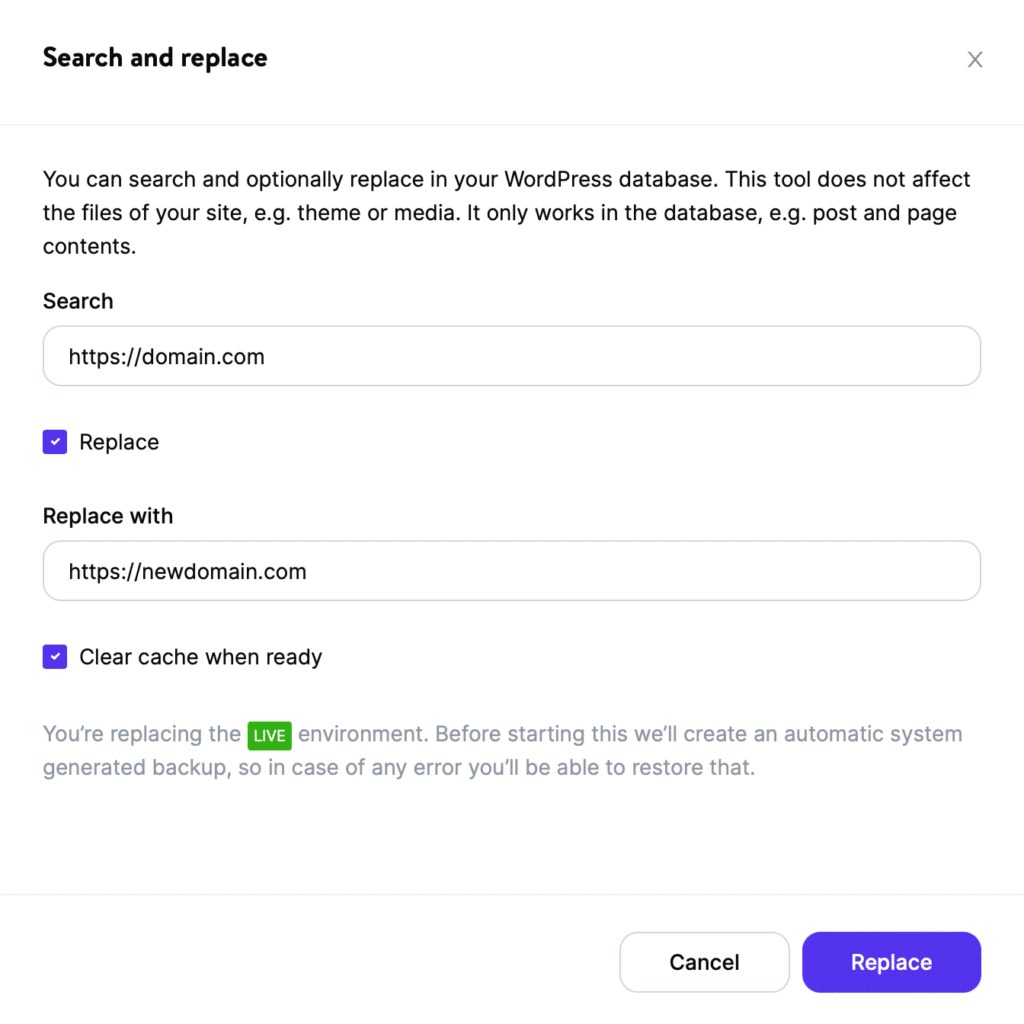 New Relic Monitoring
New Relic is a PHP monitoring tool you can use to get detailed performance statistics on your WordPress site. MyKinsta lets you easily hook up your New Relic account by inputting your license key. You can then deploy it on your site whenever you want. For performance reasons, you only want to enable this while testing things.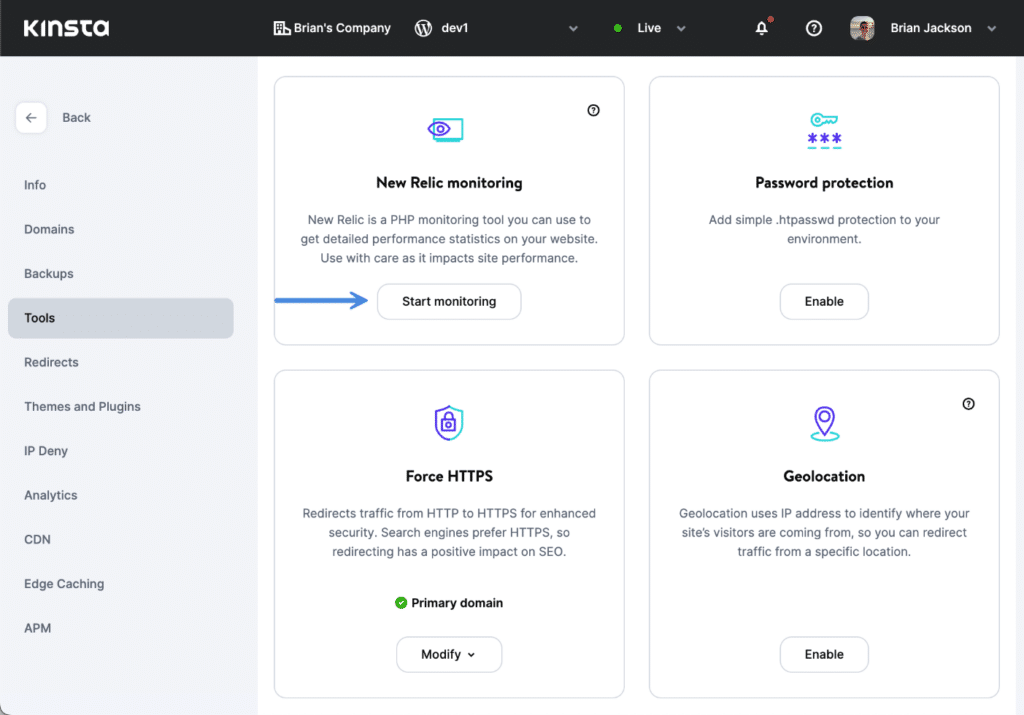 New Relic has a free version you can try, but the Pro version is where all the awesome features are. This includes distributed tracing and transaction breakdowns. You can instantly see what plugin is slowing your site down and filter it all the way down to the precise query causing it. Pretty awesome!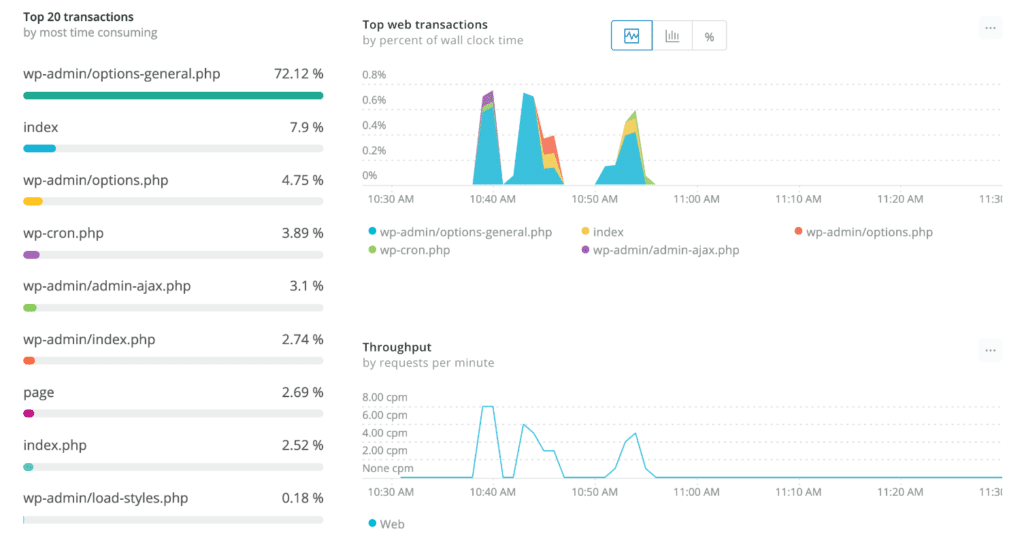 Don't have a New Relic account? No worries, Kinsta also has its own APM tool you can use for free.
Password protection
Next, you have "Password protection," also known as .htpasswd. This allows you to quickly block access to your site from the public internet. This is great for when you are developing sites for clients and don't want anyone else to see them yet. Or to keep the resources to a minimum until it goes live.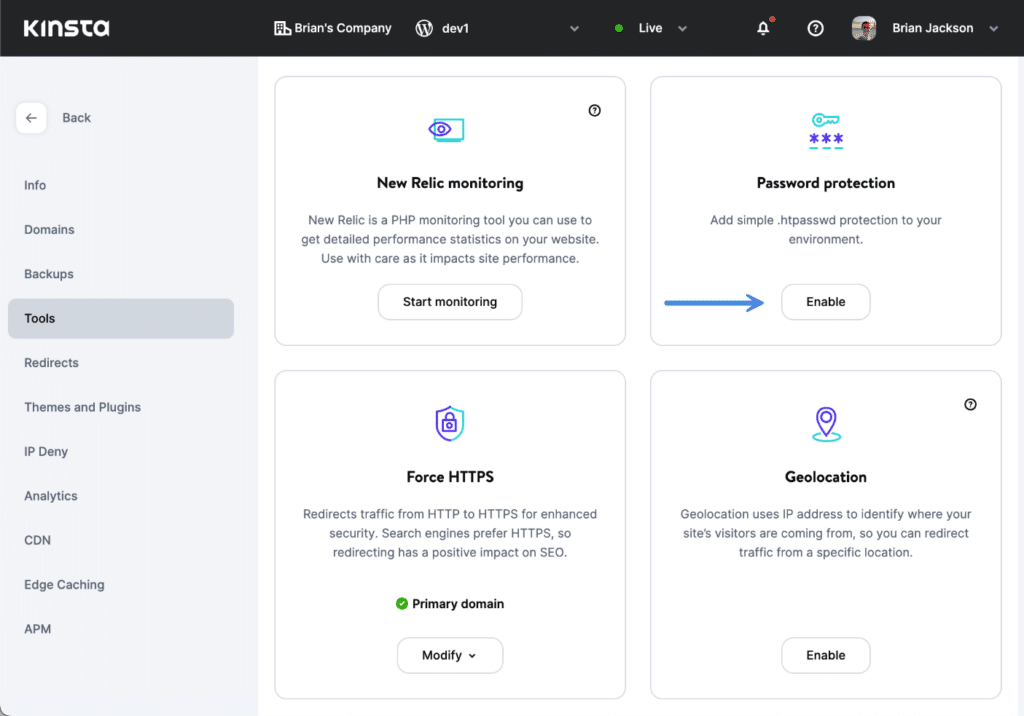 Below is what it looks like when password protection is enabled.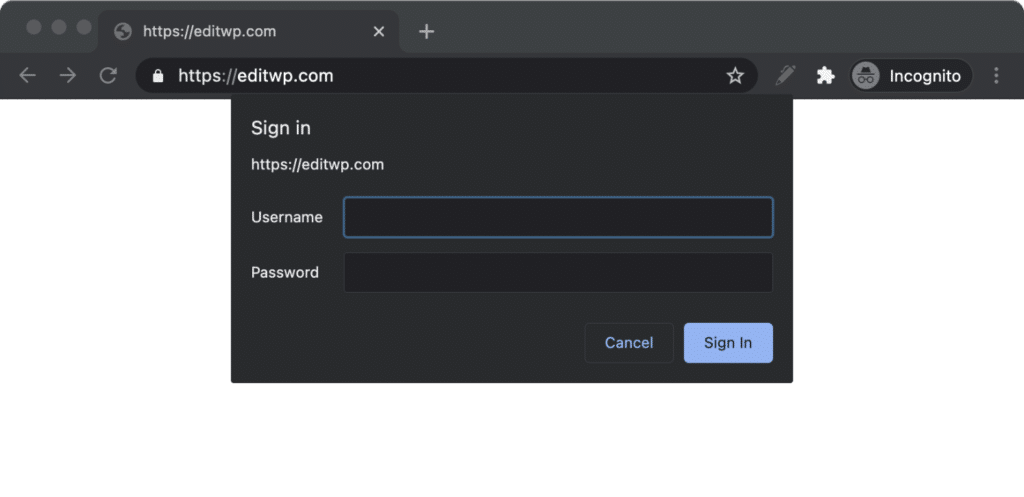 Force HTTPS
Next, you have "Force HTTPS." This goes hand in hand with your SSL certificate. Once you have SSL enabled, you'll want to make sure that everything is redirected to the HTTPS version.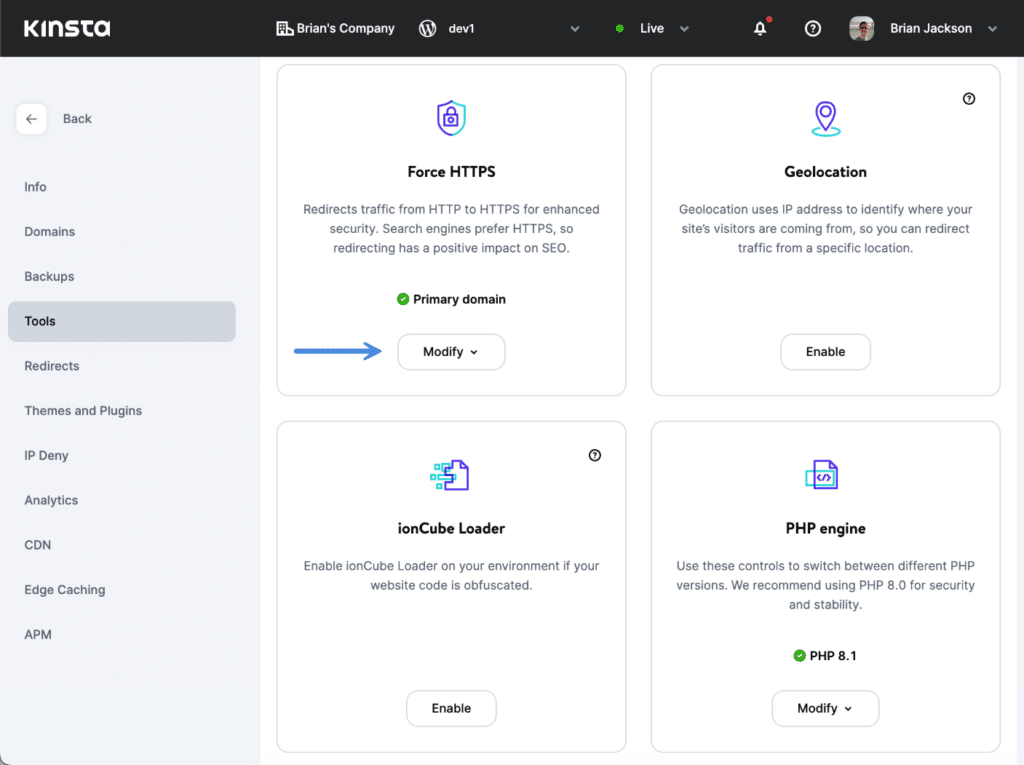 Geolocation
Geolocation uses IP addresses to identify where your site's visitors are coming from. You can enable this feature in MyKinsta so you can add country and city-specific redirect rules.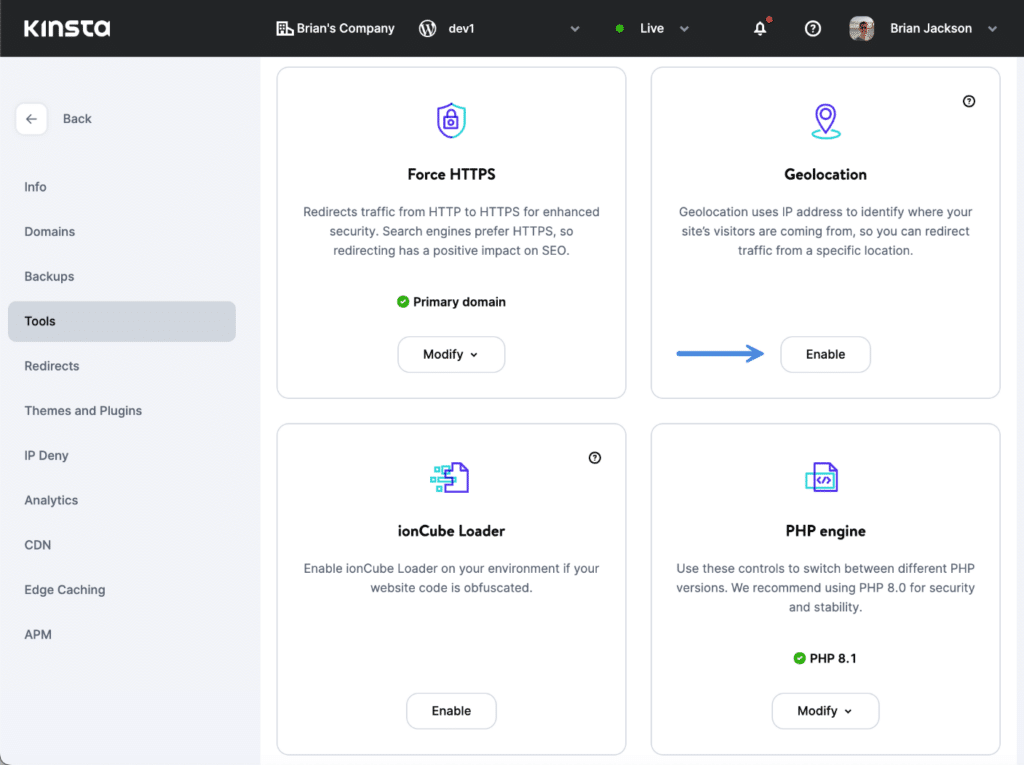 ionCube Loader
Next, you have ionCube Loader, which is free for all Kinsta customers. This is used when you need to encrypt PHP code in your application. This can be quite complex to set up manually. Kinsta makes this easy with a simple toggle. Note: This is only supported on PHP 8.1.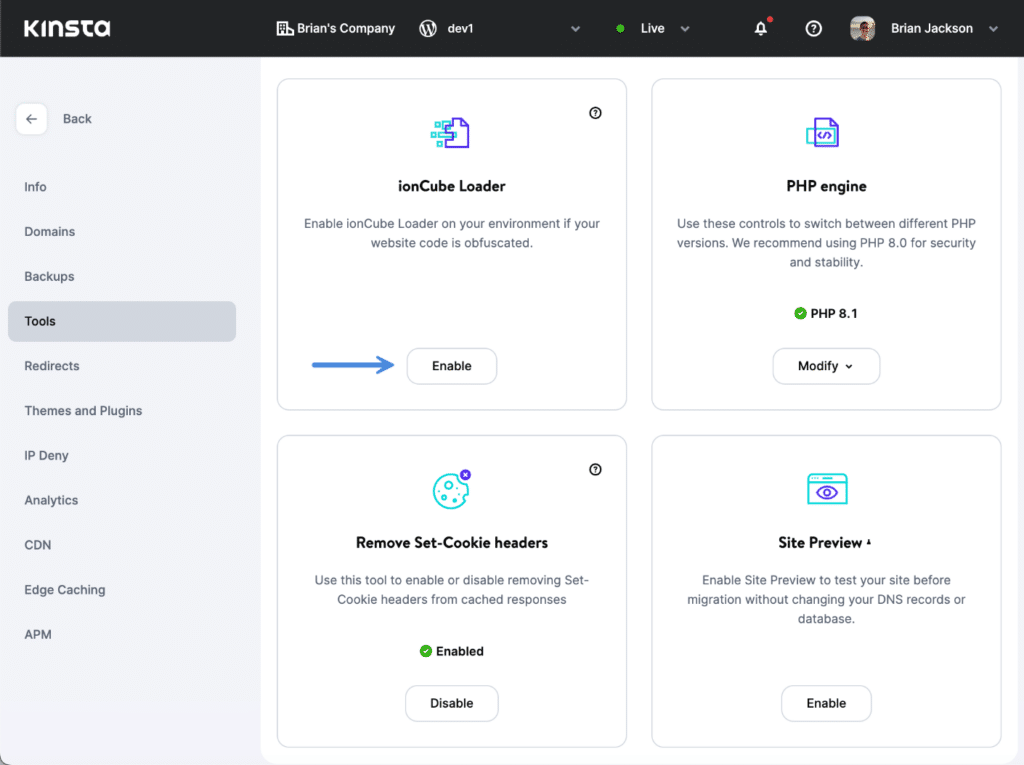 Latest PHP versions
Kinsta always supports the latest and greatest versions of PHP. Currently, they offer 8.0, 8.1, and 8.2. There is no waiting a year for these critical server software updates, and you can change it with a single click in the MyKinsta dashboard.
Why is it important? Because PHP 8.1 is 47.10% faster than PHP 8.0 (measured in requests per second), and 50% faster than PHP 7.2 (source).
That's the great thing about Kinsta's CEO. He has a developer/sysadmin background and is obsessed with performance.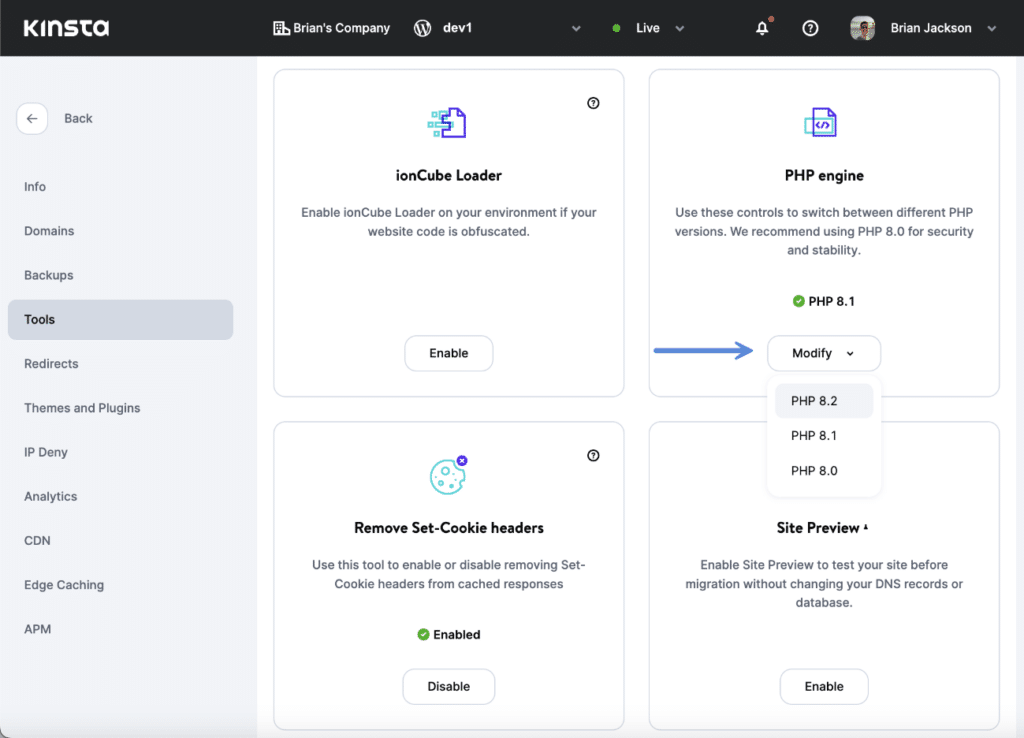 Remove Set-Cookie headers
If you're having trouble with a plugin that sets PHP cookies, you can use Kinsta's tool to remove "Set-Cookie" headers from cached responses. This is enabled by default on all newly created sites.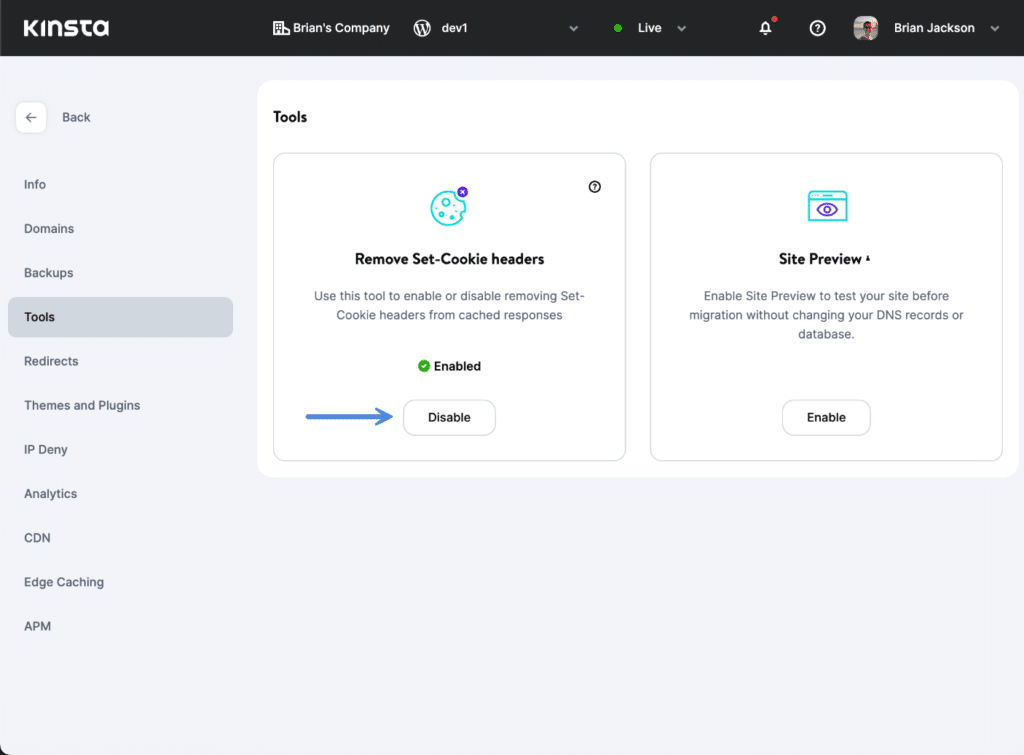 Site preview
Lastly, we have Kinsta's handy site preview tool. This allows you to test our site before migration without changing your DNS records or database.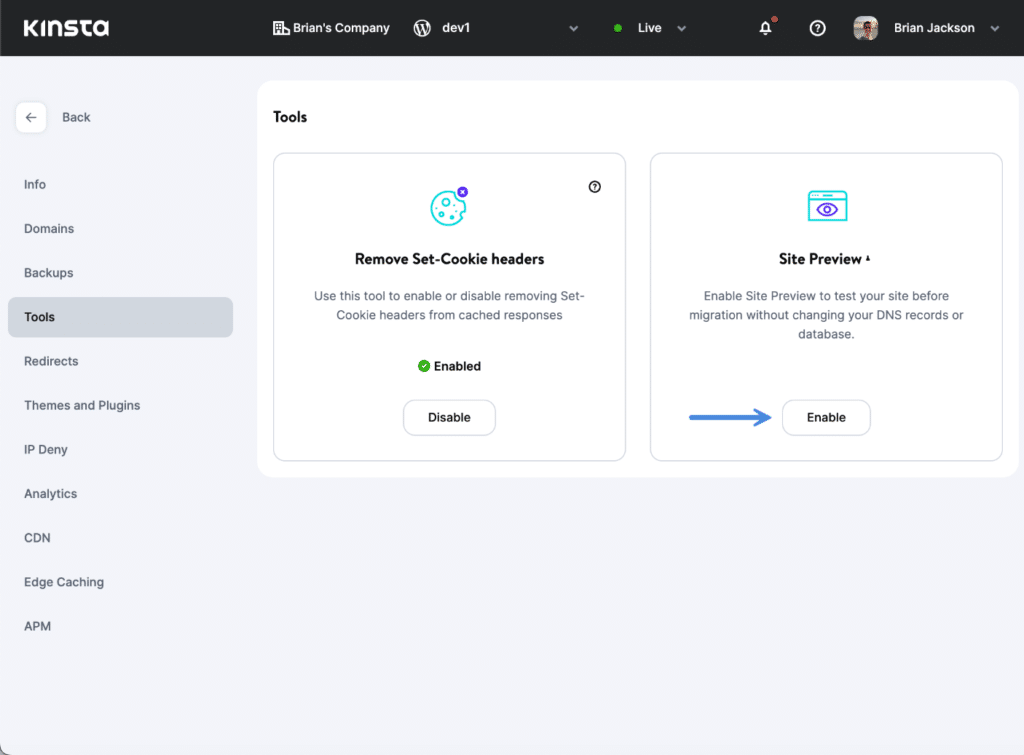 It's very easy to use. You simply set the domain of your site and choose how long you want the preview to last (between 1 hour and 24 hours).
Redirects
A big problem with many popular redirect WordPress plugins is that they use the wp_redirect function. This means every incoming redirect will have to execute PHP code on your server to process and forward the request. This is not fast in terms of performance.
MyKinsta lets you add redirects (301 and 302) at the server level. This is the best way to add redirects without hurting performance. I use this tool all the time! It's great if you're merging or moving content around, or changing slugs. They also have a bulk import tool.
Most redirect plugins have a CSV export option. So you can easily migrate all of your redirects into MyKinsta with just a few clicks.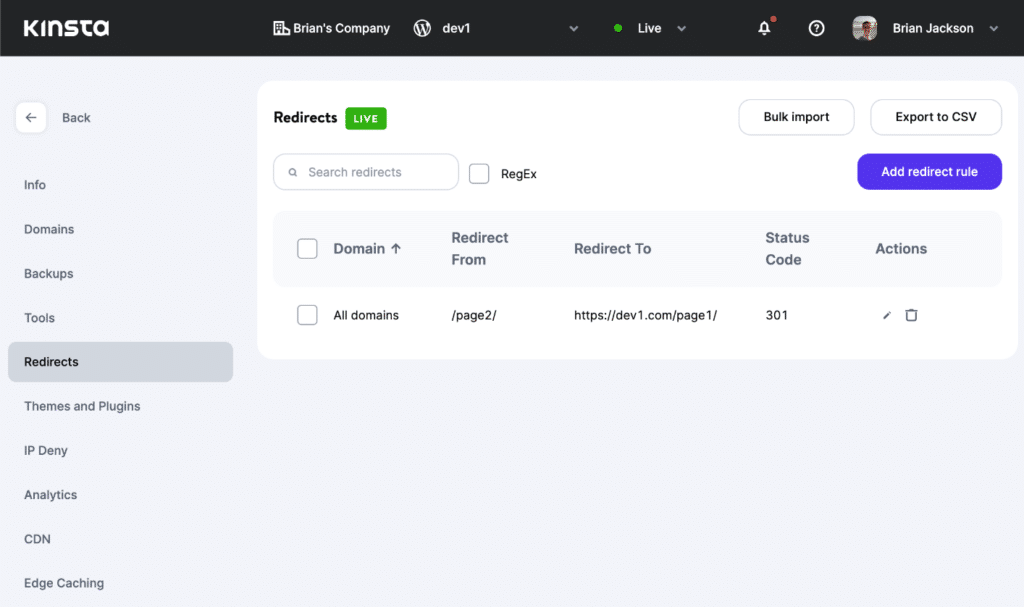 Another way the redirect tool comes in handy is when you have old domains that you need to redirect forever. For example, this website used to be on my brianjackson.io domain. But now, all that content resides on woorkup.com. So I have wildcard redirects set up at Kinsta to redirect the content appropriately. You can add as many domains as you want to a site and then set up redirects for them. It's pretty awesome!
Themes and plugins
You can update your themes and plugins right from the MyKinsta dashboard with a single click. It's also a great way to quickly see which versions are installed and if there are any updates available.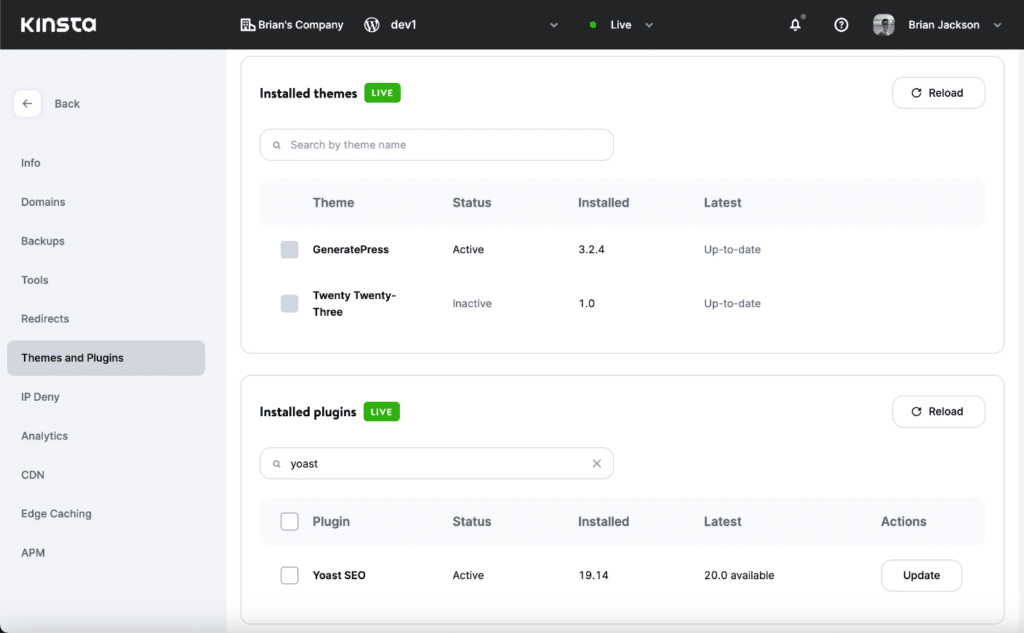 IP deny tool
Next up is the IP deny tool. This can be useful if you're dealing with a bot, spammer, or hacker constantly hitting your site. Sometimes you might need to block something. This tool makes it quick and easy. Just enter the IP address, and you're good to go.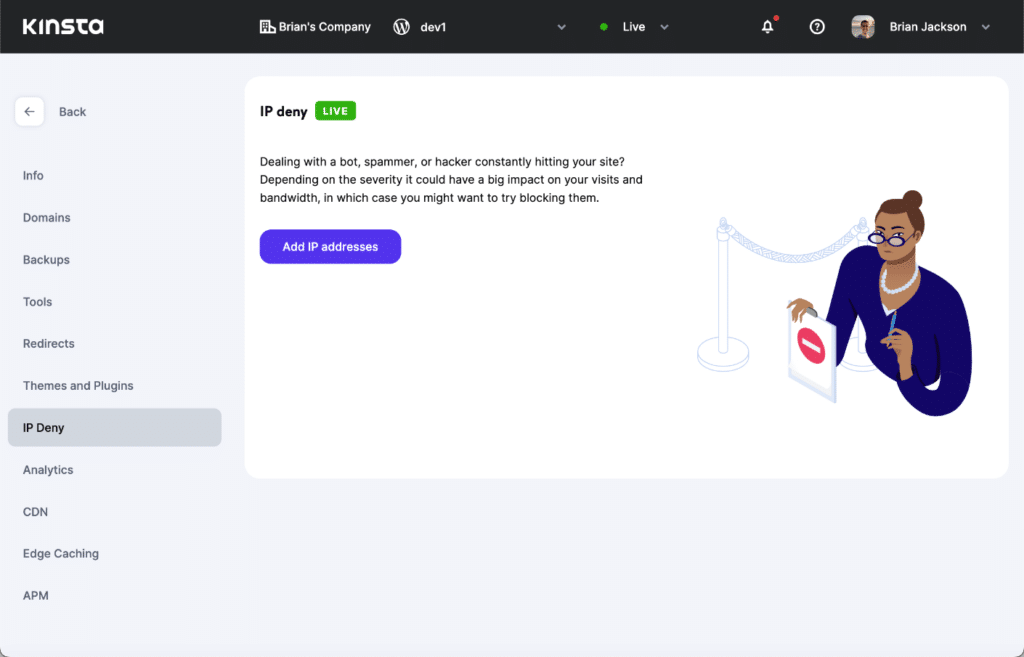 Analytics
MyKinsta Analytics is incredible! Not only are the charts and graphs beautiful, but there is a ton of data that provides a lot of insight into what is going on with your WordPress sites. It's helpful when troubleshooting resource usage and performance issues.
Resources
The first analytics section is resources. Here you can view visits, disk space, bandwidth, top requests by bytes, and top requests by views.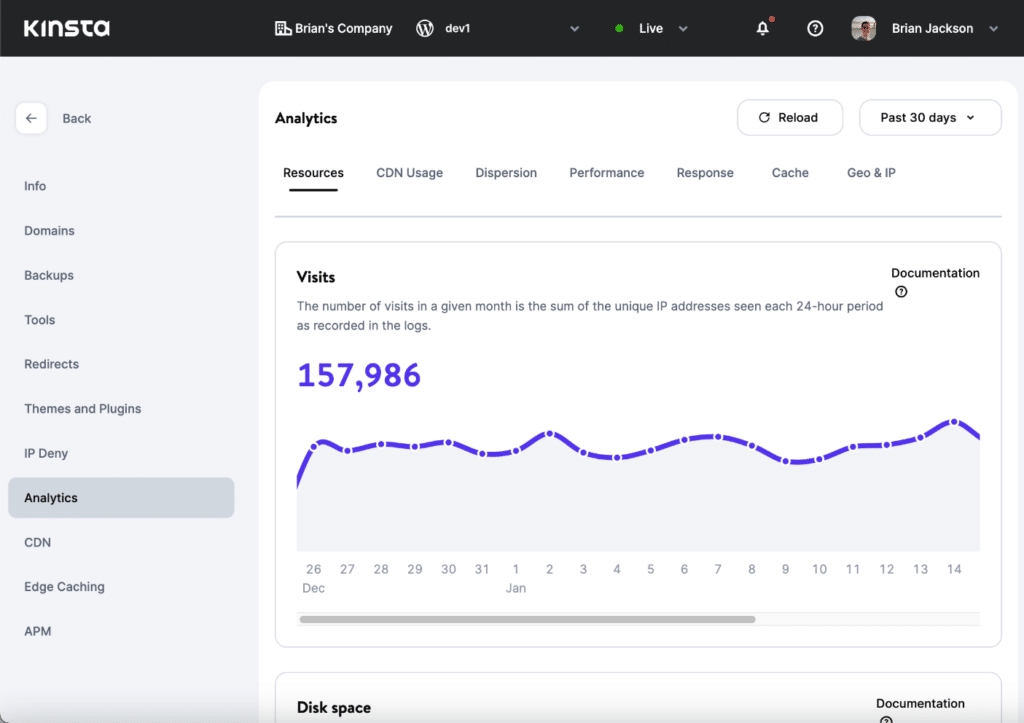 CDN usage
The next analytics section is CDN usage. Here you can view CDN bandwidth, top files by requests, top files by bytes, and top file extensions by bytes.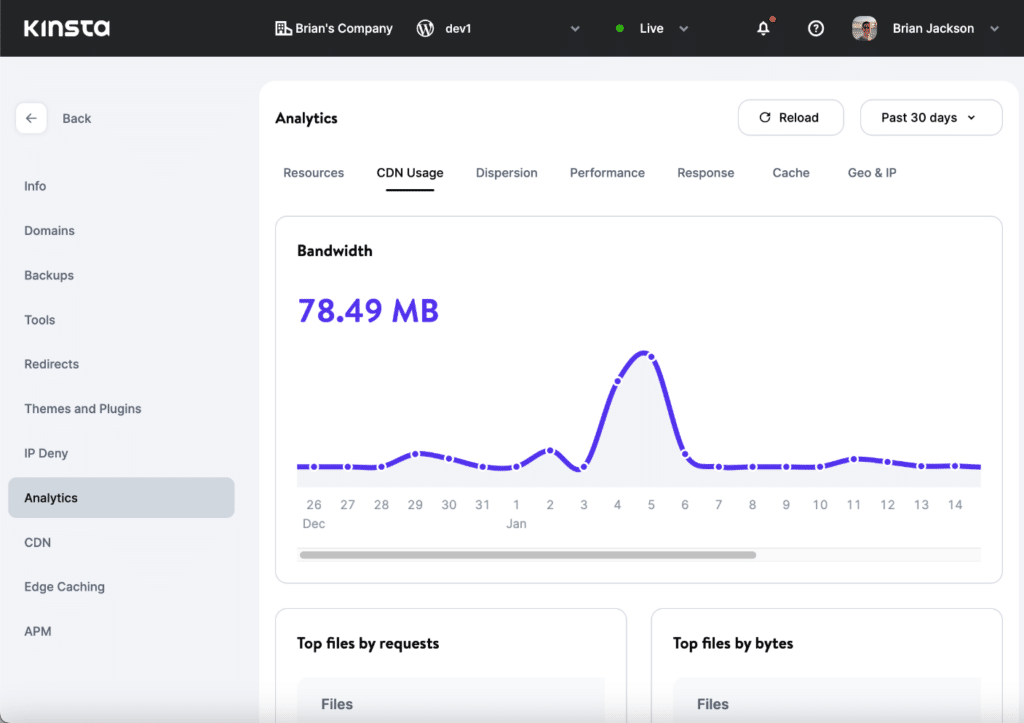 Dispersion
The next analytics section is Dispersion. This lets you see how much (%) of your site's traffic is coming from mobile/handheld devices versus desktop.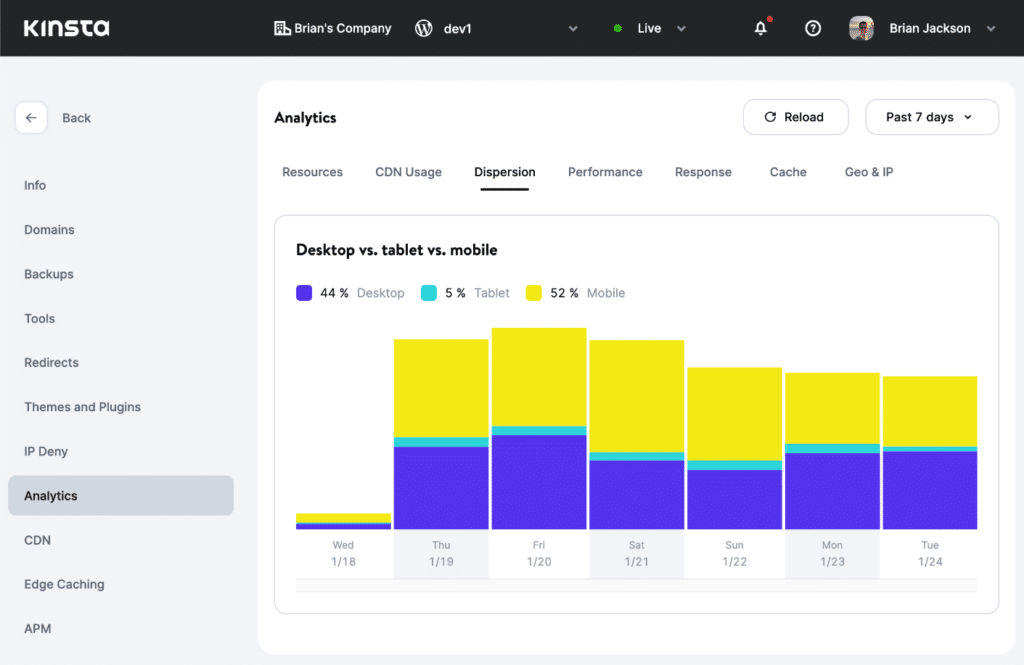 Performance
The next analytics section is Performance. Here you can see average PHP + MySQL response times, PHP throughput, PHP worker limits, AJAX usage, top average PHP + MySQL response times, and top average PHP + MySQL response times.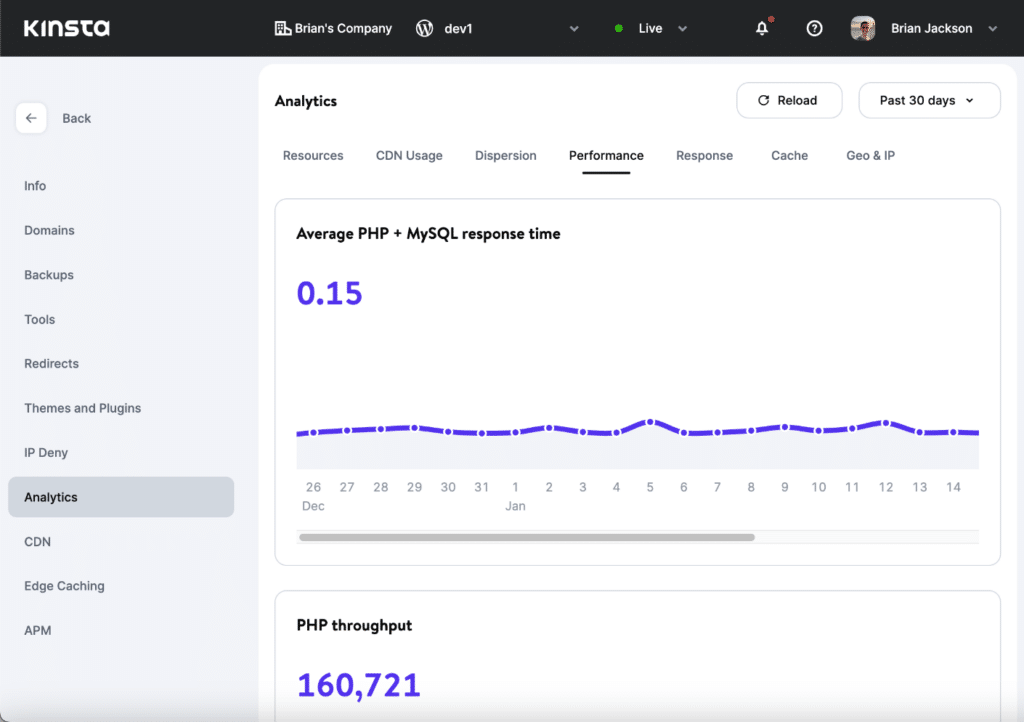 Response
The next analytics section is Response. Here you get a complete response code breakdown on your sites. This includes 200, 300, 400, and 500 HTTP status codes. You can also see how many redirects happened, errors, success rate %, and error ratio %. Another useful data point here is the list of the top 404 errors.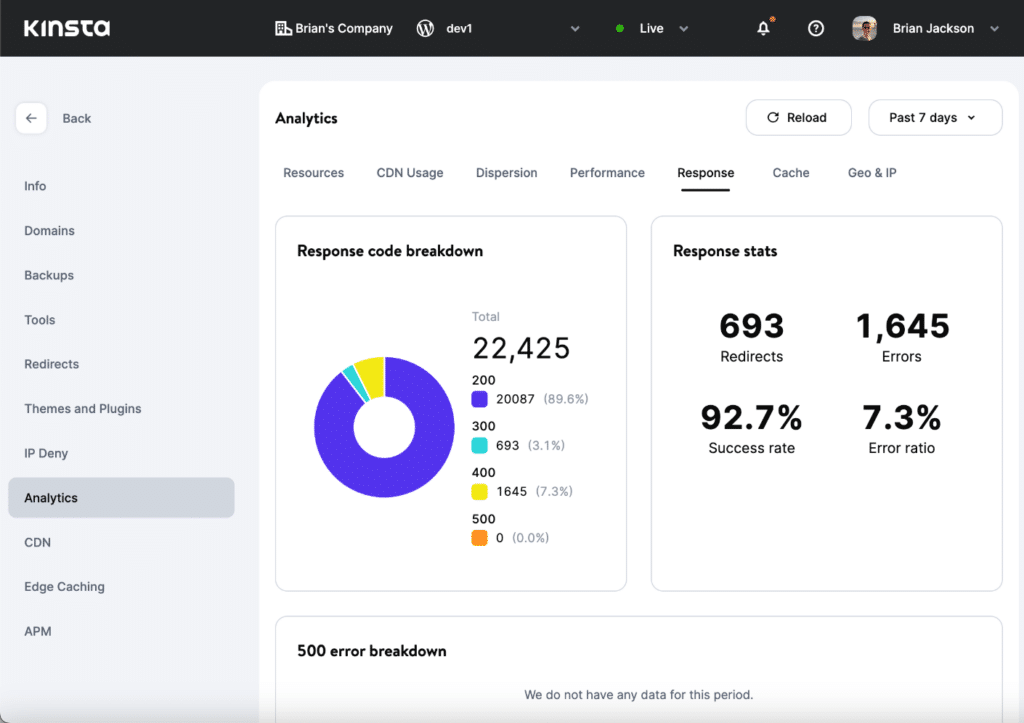 Cache
The next analytics section is Cache. Here you can see a cache component stack and chart, as well as top cache bypasses. The important data point to take away here is your HIT cache ratio. You want your HIT cache ratio to be as high as possible. 70% or higher is generally pretty good.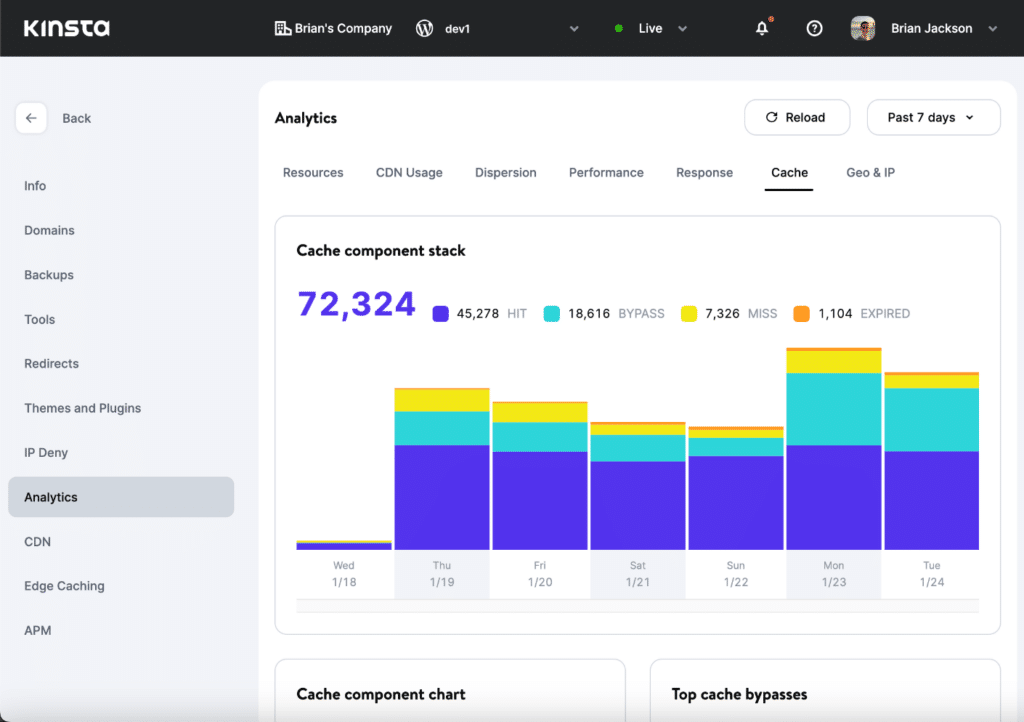 Remember, you will see EXPIRED whenever your Kinsta cache expires. And it will register a MISS until it has been re-cached. You can increase your site's default cache expiration time if you want to improve your cache HIT ratios.
Below is an example of what happened when we increased our Kinsta cache expiration time from 1 hour to 7 days. As you can see, the HIT cache ratio percentage jumped dramatically! That means more visitors are getting our website delivered using the lightning-fast cache and fewer PHP workers are required.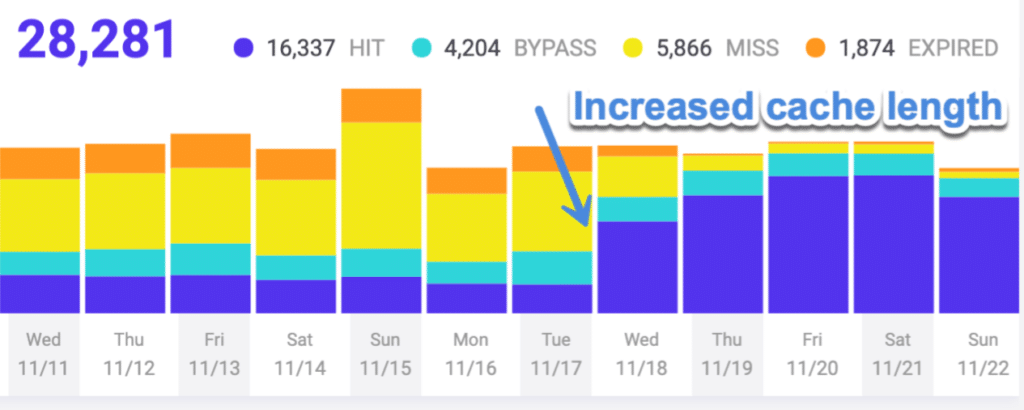 Ecommerce sites (WooCommerce and Easy Digital Downloads) will typically have a large percentage of BYPASS hits. This is pretty standard as dynamic sites have certain areas (checkout, cart, etc.) which should never be cached to ensure proper functionality.
Geo & IP
The final analytics section is Geo & IP. Here you can see the top countries, cities, and IPs that have visited your site.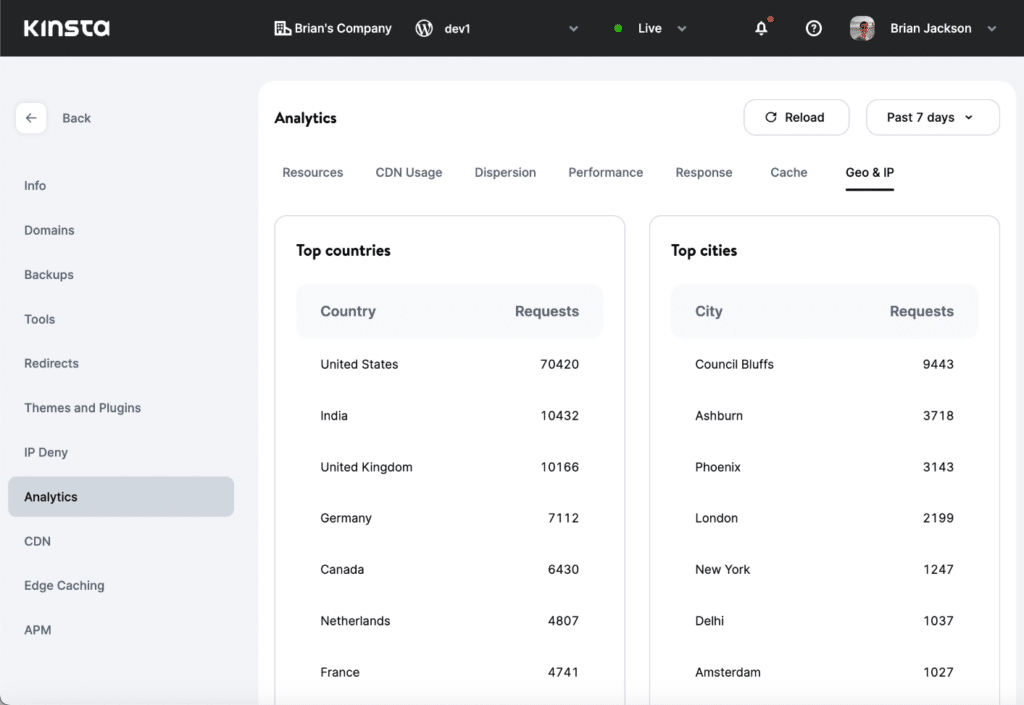 Content Delivery Network (CDN)
Kinsta offers a CDN integration with one of my favorite CDN providers, Cloudflare! If you want serious speed alongside Kinsta's powerful servers, you can easily enable this from the dashboard; no additional setup is required.
Every plan includes Cloudflare Enterprise ($200/month value) and a generous amount of free bandwidth. Sites are turbocharged with their global content delivery network (CDN) across 275+ cities.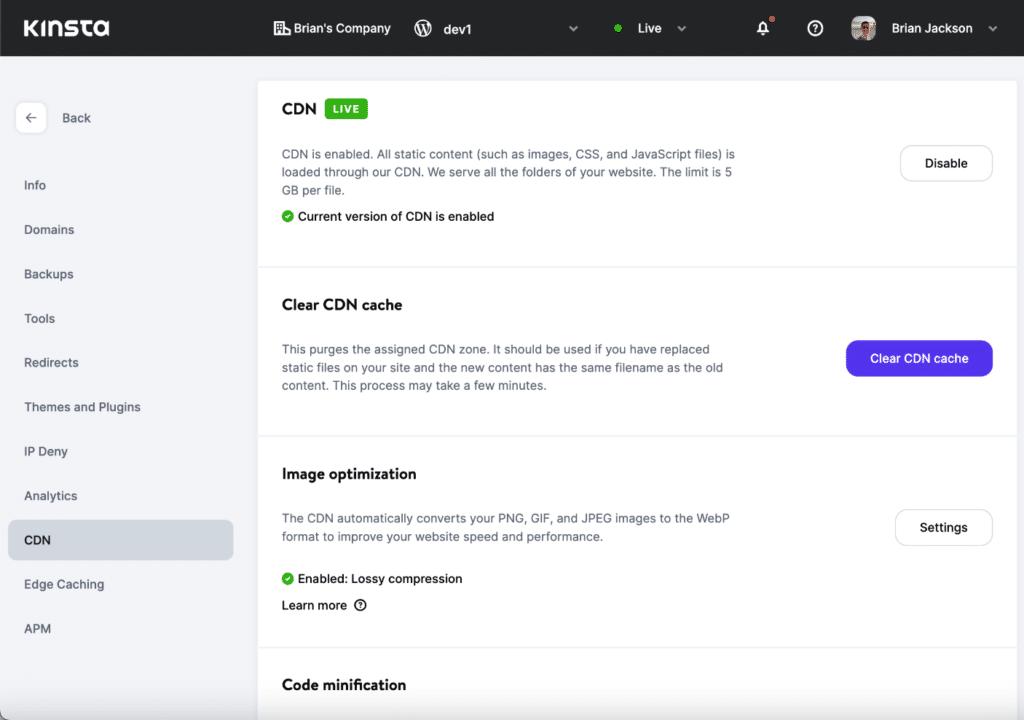 You also get a bunch of other incredible performance-focused features from Cloudflare:
DDoS protection

.
Brotli compression (better compression ratios than Gzip).
HTTP/3-enabled. Encrypted HTTPS connections only, faster SSL handshakes, and 0-RTT support for faster subsequent connections.
Wildcard SSLs.
Reserved IPs for Kinsta customers.

One-click code minification

(automatically minify CSS and JS). There are benefits to doing this with the Kinsta CDN over using a plugin. Your web server doesn't have to use resources; the minified files are served directly from the CDN, and they are minified in the background, so they don't slow down first-time requests.

Image optimization:

Automatically compress your images (lossy or lossless) and convert them to WebP on the fly, all without a plugin.

Edge caching

: Instantly cache your entire site (HTML) at all Cloudflare data centers across the globe. This results in very low TTFB.
Edge caching
Edge caching (similar to Cloudflare APO) is my favorite performance feature! It saves your site/page cache (normally only saved to your site's data center) to all of Cloudflare's global network of 275+ data centers. When a visitor hits your site, cached responses will be delivered from the location closest to them.
All resources (JS, CSS, images, and now also HTML) are served from edge cache, whereas before, HTML was left out of that equation. The end result is insanely fast server response time and low time-to-first-byte (TTFB).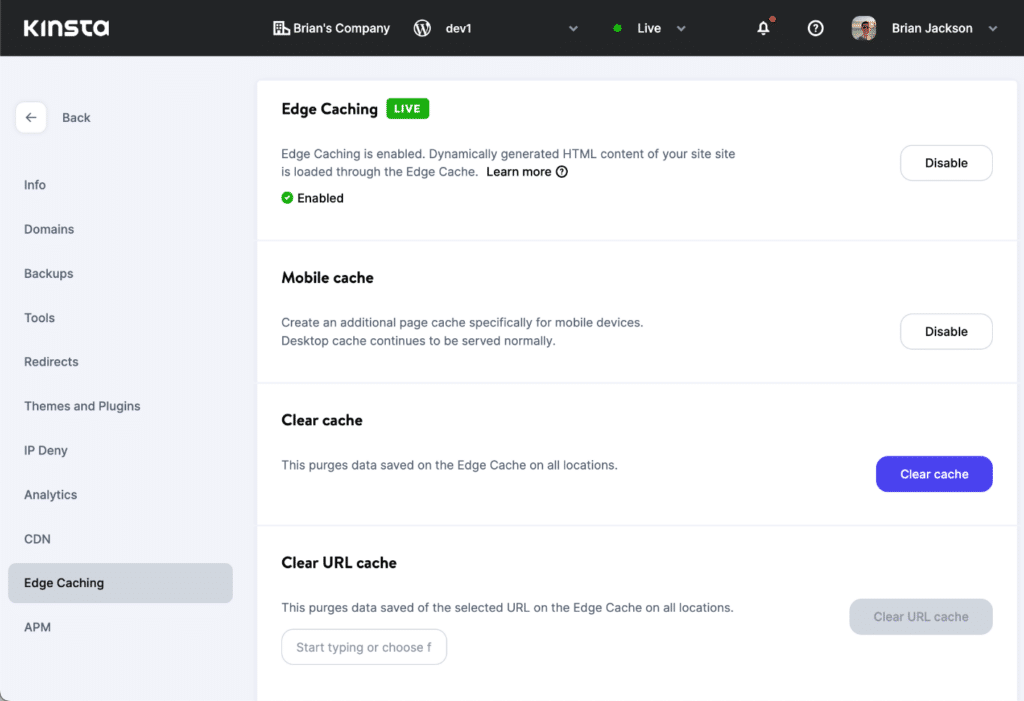 Edge caching is included for free on all plans, and there is no separate plugin required. Here are the impressive results from my own personal speed tests with the edge caching feature enabled:
Before edge caching TTFB: 616 ms
After edge caching TTFB: 56 ms
90.91% decrease in TTFB
Before edge caching LCP: 1.1 seconds
After edge caching LCP: 419 ms
61.91% decrease in LCP
Before edge caching total load time: 1.1 seconds
After edge caching total load time: 420 ms
61.82% decrease in total load time
The results will vary based on what you have running and will have a greater impact on users further away from your main Kinsta server location.
APM
You can use Kinsta's APM (Application Performance Monitoring) tool to identify the source of slow performance on your website. You can think of this as a New Relic alternative. It will track and analyze slow transactions, database queries, external requests, and WordPress plugins and hooks. Kinsta has a great blog post on how to fix WooCommerce performance issues using APM (along with real-world examples).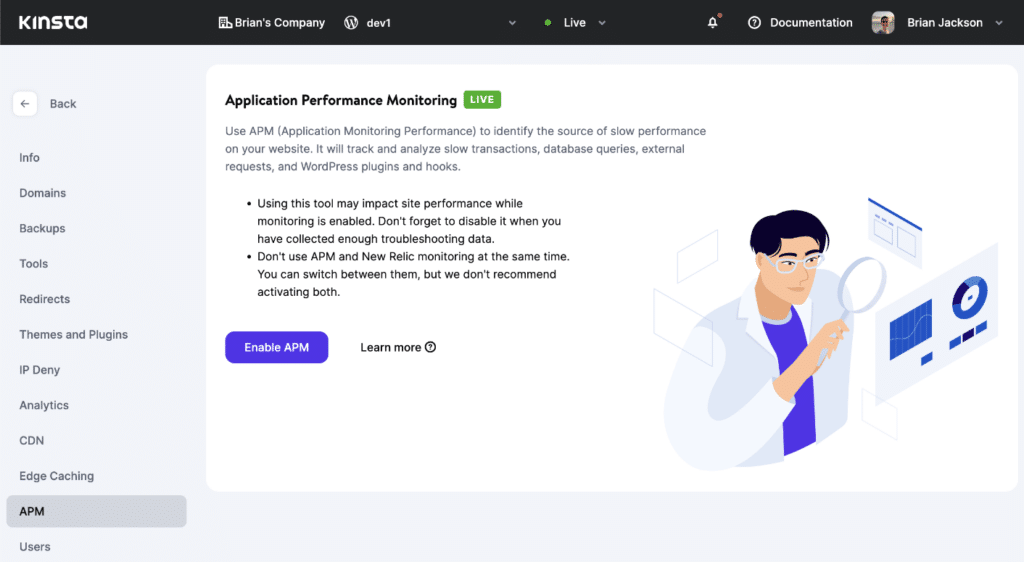 Users
Another great thing about Kinsta is its multi-user management permissions. You can add a user with company access or just site access. For company roles, you can choose from the following:
Company administrator: Access to everything, manage users, see billing.
Company developer: Access to all sites, manage site-level users, cannot see billing.
Company billing: Only see billing and company information.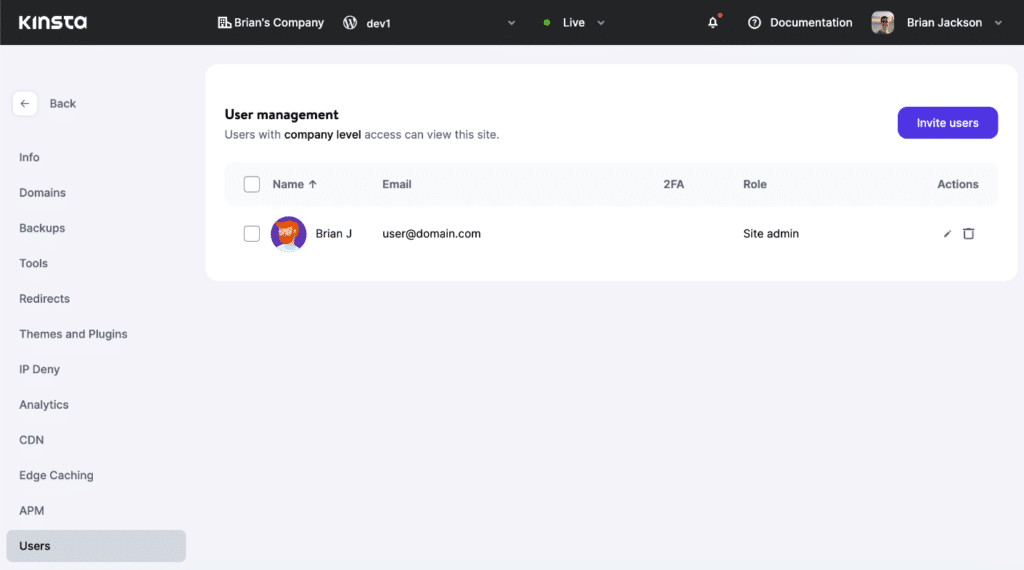 The different roles make it easy to work with third-party developers without worrying about them having too much access.
When you are added to multiple companies, you can easily toggle between them from the top of the MyKinsta dashboard.
User activity
The user activity screen lets you see everything that is happening in your MyKinsta dashboard. Adding DNS records, enabling/disabling New Relic, updating redirect rules, deleting domains, etc. Everything is recorded, including anything that is done by the Kinsta support team if you ask for assistance.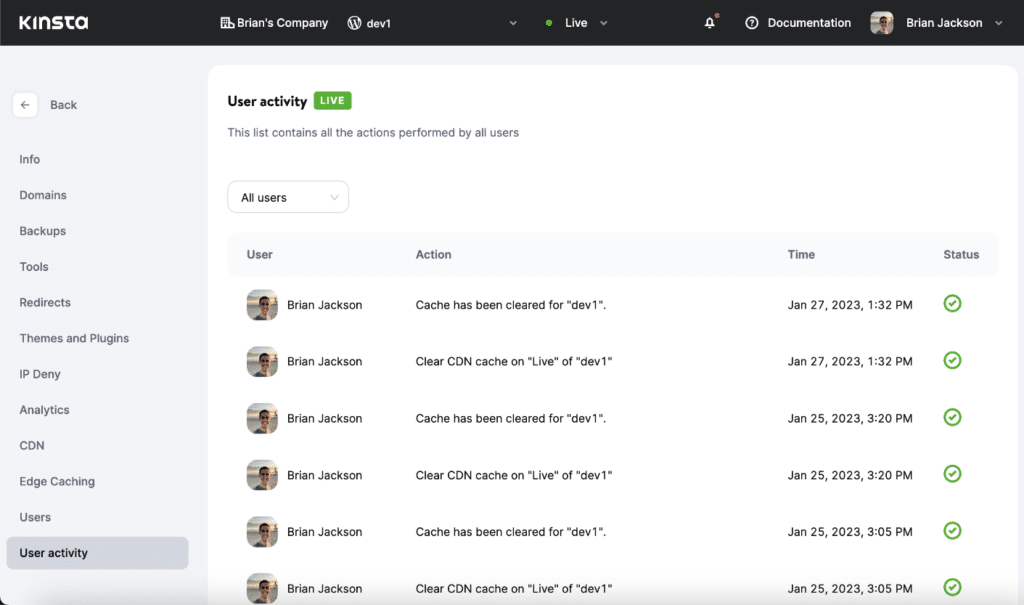 Logs
The logs screen in MyKinsta comes in very handy when debugging or troubleshooting an issue. I use this on a regular basis, as it saves time from having to use SFTP or SSH to check files on the server for errors. In the log viewer, you can see the error logs, cache logs, and access logs.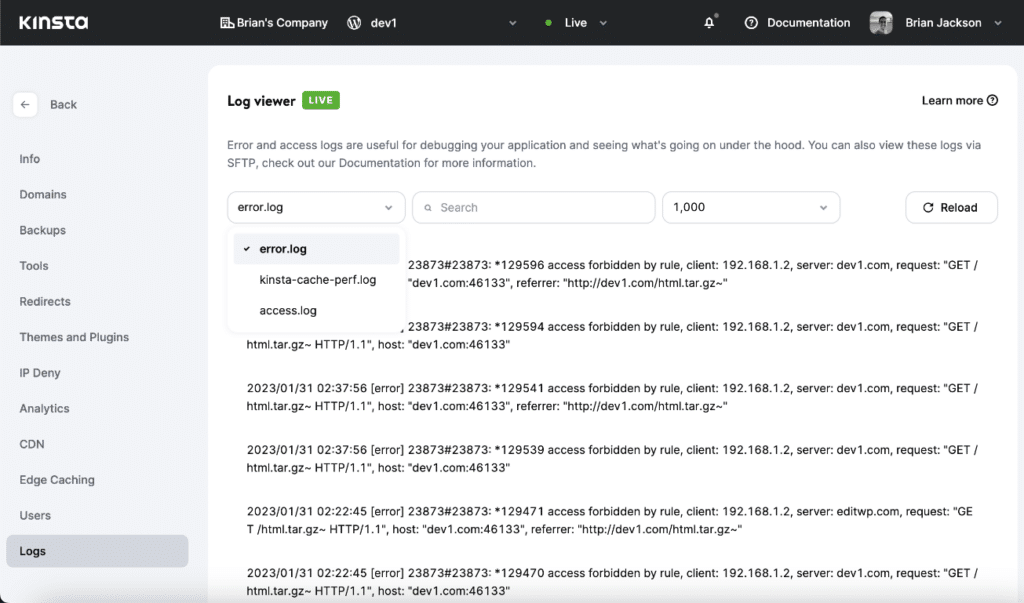 For example, during an update, I encountered an HTTP error 500 that took my site down. This means there is an internal error on the server. Many in WordPress also refer to this error as the white screen of death. Thankfully, I quickly debugged this in under 10 seconds using Kinsta's logging tool.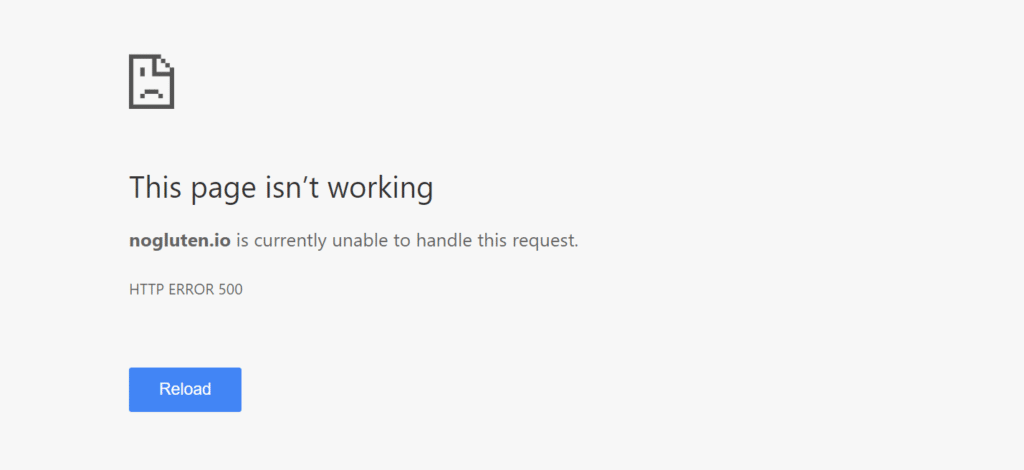 It turned out to be some custom code we had in a plugin on the site. It was a simple function that was now outdated, and the error was showing in the log. After updating it, we were good to go again. Error logs are your friend and can speed up troubleshooting!
Kinsta DNS
Kinsta DNS is a premium DNS service they provide for free. It allows you to manage your own zone records in the MyKinsta dashboard and use Amazon Route 53 for a faster domain name resolving experience. Many of you probably already use third-party DNS providers (Cloudflare, DNS Made Easy, etc.), but it's good to know Kinsta has this available if you need it.
Kinsta DNS lets you manage the following records: A, AAAA, CAA, CNAME, MX, SRV, and TXT. One really cool thing is they have a one-click setup of Gmail MX records. If you're using G Suite, this makes the whole process a breeze.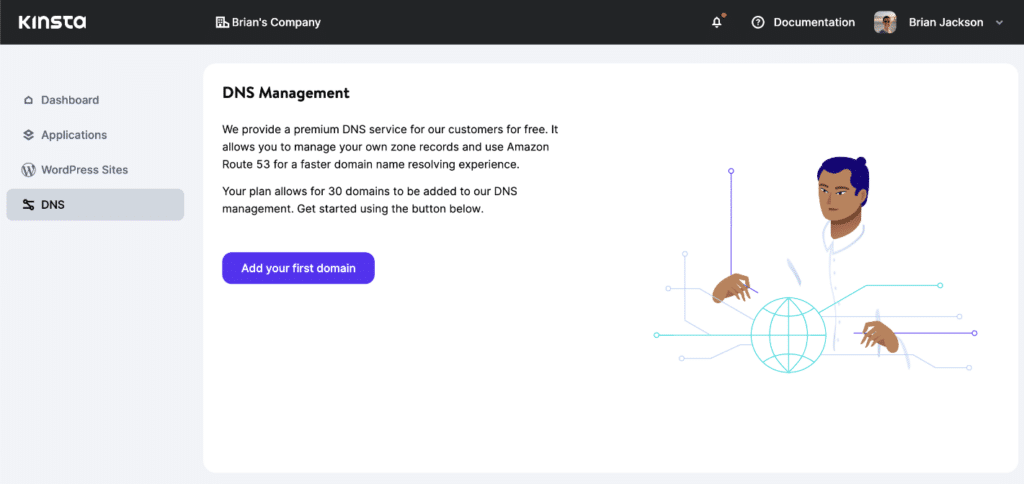 User settings
Under your user settings, you have your typical place to update your email, name, etc. There are a few things to take note of here:
Language: MyKinsta is available in 10 different languages. This is where you can change that.
Two-factor authentication: Secure your login with an authenticator app like 1Password, Bitwarden, or LastPass.
SSH keys: SSH access allows you to log into a command prompt, perform common sysadmin tasks, and execute commands just as if you were sitting at the server itself.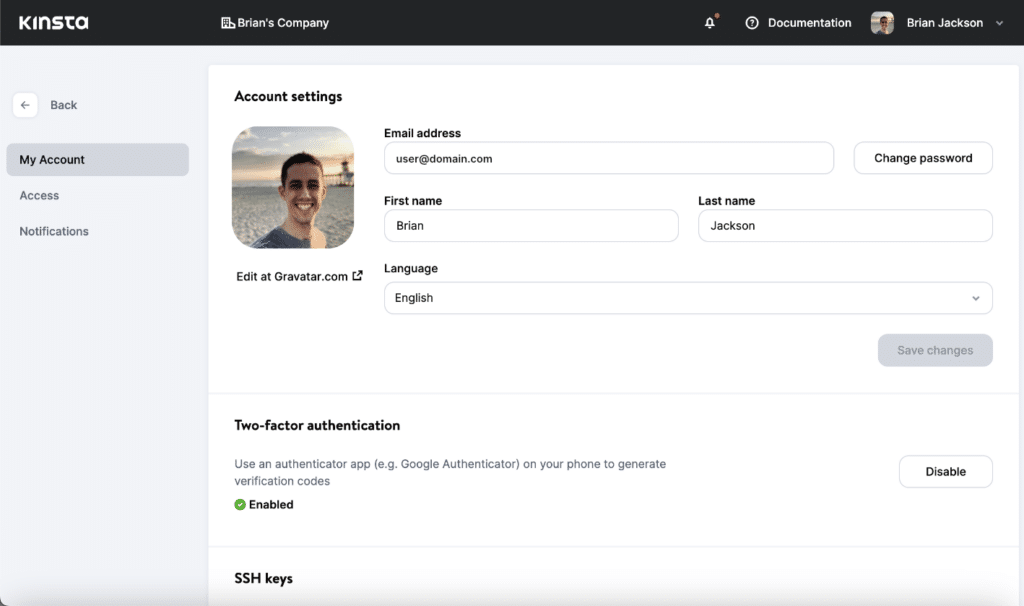 Under the "Notifications" tab you can enable what emails you want to get:
Overage notifications: If you reach your plan's limits, Kinsta will keep your sites running but charge you an overage fee. They send you a notification at 80% and 100% usage.
Newsletter: Kinsta's newsletter is delivered weekly. It's all about WordPress news, industry trends, and applicable tips on how to drive more traffic and revenue to your business.
Product updates: Receive monthly product news about Kinsta including new feature releases, data centers, add-ons, and more useful information to get the most out of your hosting.
Invoices: Receive your invoices in an email attached as a PDF.
Beta crew messages: This adds you to our list of Kinsta Beta testers.
Site monitoring:

Automatic monitoring alerts

in an email when your site needs critical attention. This includes downtime alerts, DNS and SSL errors, and domain expiry.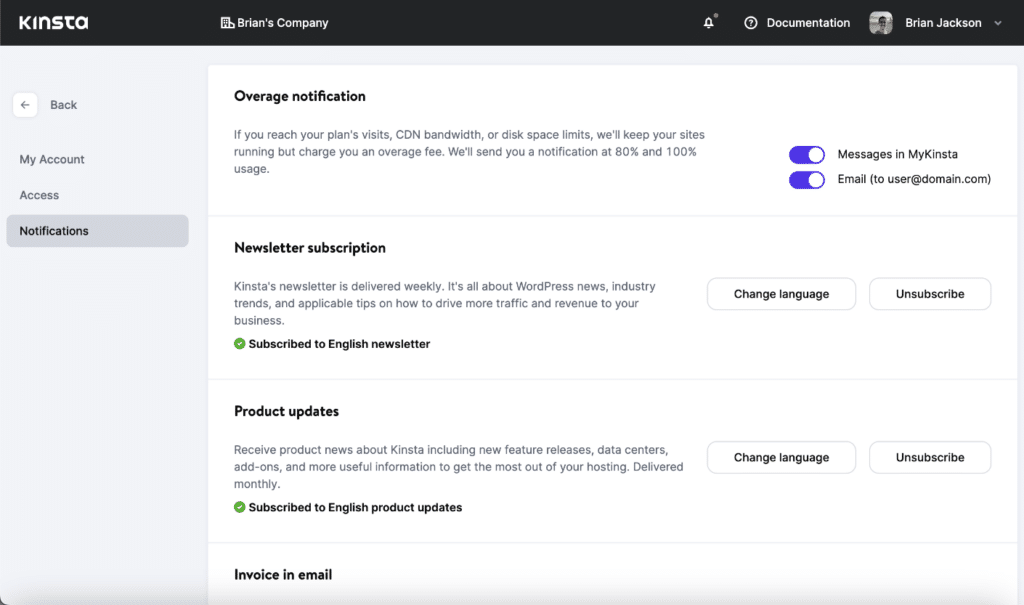 Pricing
Kinsta includes premium hosting plans for everyone! They are popular among larger businesses and enterprise customers; however, they also have entry-tier plans at $35/month for those of you just starting out. Remember, this is high-end performance hosting. They aren't trying to compete with WP Engine, Flywheel, or SiteGround. I would consider them a notch above the rest.
Oh, and did I mention they have a 30-day no questions asked money-back guarantee? That's right. You can try Kinsta risk-free for 30 days.
The main differences in their plans are the number of WordPress sites allowed, storage space, and visitors. You also get more PHP workers with every higher plan. PHP workers execute the code on your site, and additional ones allow for multiple requests to execute simultaneously.
Starter through Business plans
| | Starter | Pro | B1 | B2 | B3 | B4 |
| --- | --- | --- | --- | --- | --- | --- |
| Monthly price | $35 | $70 | $115 | $225 | $340 | $450 |
| WordPress installs | 1 | 2 | 5 | 10 | 20 | 40 |
| Monthly visits | 25,000 | 50,000 | 100,000 | 250,000 | 400,000 | 600,000 |
| SSD storage | 10 GB | 20 GB | 30 GB | 40 GB | 50 GB | 60 GB |
| CDN bandwidth | 100 GB | 200 GB | 400 GB | 600 GB | 800 GB | 1200 GB |
| Premium migrations | 1 | 2 | 3 | 3 | 3 | 4 |
| Backup retention | 14 days | 14 days | 14 days | 14 days | 20 days | 20 days |
| PHP workers (per site) | 2 | 2 | 4 | 4 | 6 | 6 |
| Cloning | x | ✓ | ✓ | ✓ | ✓ | ✓ |
| Multisite support | x | ✓ | ✓ | ✓ | ✓ | ✓ |
Need more resources? Kinsta's single-site plans are perfect for those who need hosting for one WordPress installation but with more resources than the average site. Plus, get up to 25% off the regular plan price.
If you pay yearly, you get two months free! That brings the Starter plan down to less than $30/month.
Agency plans
They also have Agency plans.
| | Agency 1 | Agency 2 | Agency 3 |
| --- | --- | --- | --- |
| Monthly price | $340 | $450 | $675 |
| WordPress installs | 20 | 40 | 60 |
| Monthly visits | 400,000 | 600,000 | 1,000,000 |
| SSD storage | 50 GB | 100 GB | 150 GB |
| CDN bandwidth | 800 GB | 1200 GB | 2000 GB |
| Free migrations | ✓ | ✓ | ✓ |
| Backup retention | 20 days | 20 days | 20 days |
| PHP workers (per site) | 6 | 6 | 8 |
| Cloning | ✓ | ✓ | ✓ |
| Multisite support | ✓ | ✓ | ✓ |
Enterprise plans
They also have Enterprise plans, as well as custom plans if you need something different or even more resources.
| | Enterprise 1 | Enterprise 2 | Enterprise 3 | Enterprise 4 |
| --- | --- | --- | --- | --- |
| Monthly price | $675 | $1,000 | $1,350 | $1,650 |
| WordPress installs | 60 | 80 | 120 | 150 |
| Monthly visits | 1,000,000 | 1,500,000 | 2,000,000 | 2,500,000 |
| SSD storage | 100 GB | 20 GB | 30 GB | 40 GB |
| CDN bandwidth | 2000 GB | 3000 GB | 4000 GB | 6000 GB |
| Premium migrations | 5 | 5 | 5 | 5 |
| Backup retention | 30 days | 30 days | 30 days | 30 days |
| PHP workers (per site) | 8 | 10 | 12 | 14 |
| Cloning | ✓ | ✓ | ✓ | ✓ |
| Multisite support | ✓ | ✓ | ✓ | ✓ |
Below is a list of features included with all hosting plans.
35 data centers: Choose between 35 strategically placed Google Cloud Platform locations for your WordPress sites.
Self-healing technology: Kinsta checks the status of your PHP service every minute. If PHP has gone down, their platform will automatically attempt to start it back up.
Automatic database optimization: Kinsta's platform automatically fine-tunes your MySQL database continuously, 24 hours a day (based on the needs of your site) for better performance.
Automatic daily backups and manual backup points.
24/7 support, 365 days a year.
Cloudflare Enterprise: Your site is always protected with a robust firewall and DDoS protection. It's also turbocharged with a global content delivery network (CDN) across 270+ cities and Brotli compression.
Edge caching: Instantly cache your entire site (HTML) at all Cloudflare data centers across the globe. This results in insanely low TTFB!
Image optimization: Automatically compress your images (lossy or lossless) and convert them to WebP on the fly, all without a plugin.
Hack and malware removal
Staging environment
Free SSL (+ wildcard SSL support): SSL certificates are provided via Cloudflare with automatic renewal. Take advantage of wildcard SSL support for all of your subdomains.
SSH, Git, and WP-CLI.
If you like their WordPress hosting, they also offer application hosting (PHP, Node.js, Ruby, Go, etc.) and database hosting (MariaDB, MySQL, Redis, etc.) if you need all your solutions managed in the same place.
Speed tests – Kinsta and Google Core Web Vitals
Kinsta is really in a league of its own when you compare it to other hosting providers. Other hosts like WP Engine, Flywheel, and Cloudways don't even come close. For example, I initially hosted with WP Engine and saw a 47% increase in speed simply by migrating to Kinsta. It's unbelievable.
Kinsta is a great choice if you're looking to boost your Google Core Web Vitals scores and take advantage of the ranking factor in search engine result pages (SERPs). Here is a recent speed test I took of woorkup.com running on Kinsta.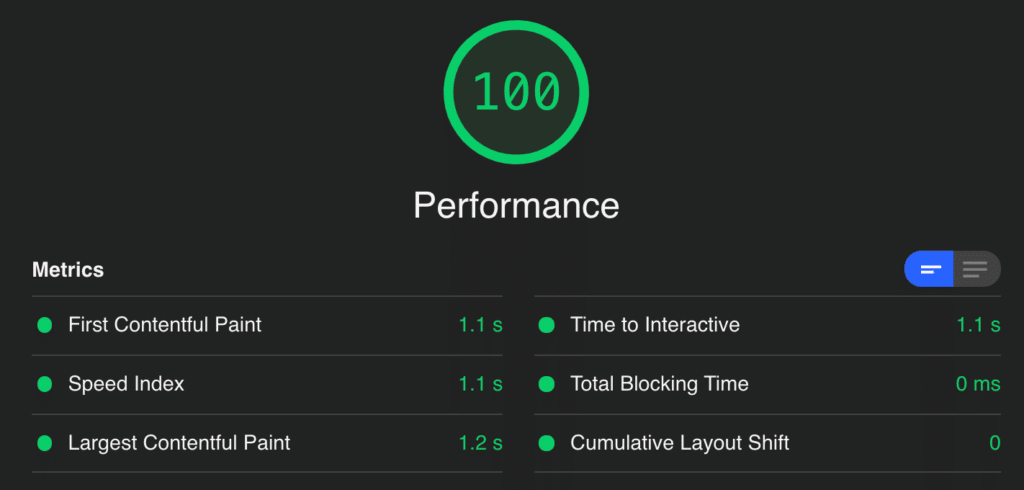 Remember, Kinsta also has server-level caching, which means I don't have to waste time messing with caching plugins. Once you go this route, you'll never want to go back.
Here is another speed test I took of our ecommerce WordPress site (perfmatters.io) running on Kinsta. As you can see, it also scores pretty great.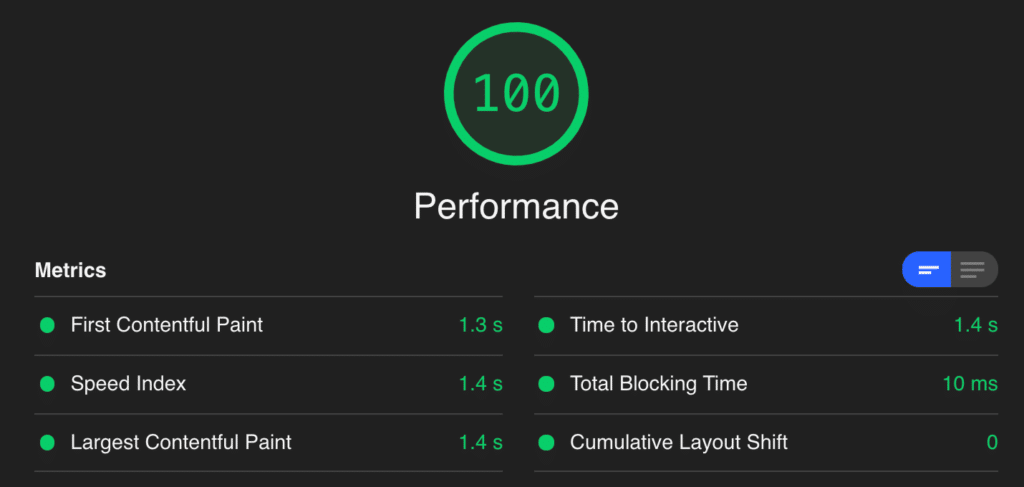 While a hosting provider has a massive impact on your site's performance, it isn't always a magic bullet. So make sure to check out all of my tips on how to speed up WordPress. It's all about choosing the right performance stack and following best practices.
Uptime
While Kinsta has its own uptime checks included in the service, I always like to keep track of it with my own monitoring tool. I use a neat little service called Better Uptime. This allows me to track uptime at any interval I want and immediately ping me in Slack if a site goes down.
The great news is, Kinsta never goes down. I have a monitor set up on this WordPress site that checks every 10 minutes. There has been no downtime for over two years! Stability and reliability are critical when it comes to running a business. The last thing you want is to worry about the downtime of your website.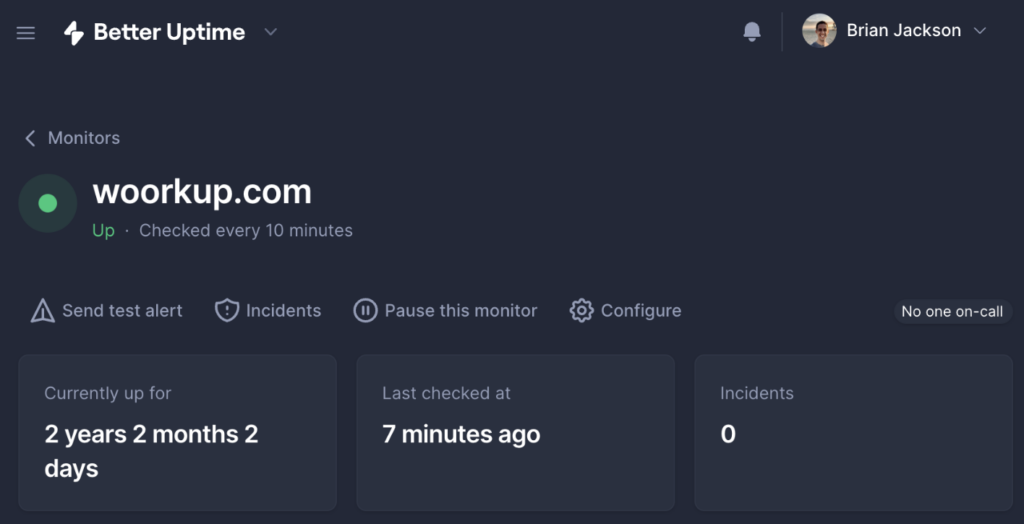 Free WordPress migrations
When you first sign up for Kinsta, you will get issued a temporary URL sitename.kinsta.cloud which you can use to test your site before you go live or change the DNS. You can also use their site preview tool.
Kinsta also offers free white-glove migrations. So there is no need to worry about losing data or downtime. These are handled by their dedicated migration team, which manages thousands of migrations each and every month. Let's just say they are really good at what they do.
Backup and migration plugins don't always catch everything. And migrating WordPress manually can quickly become a pain if, for example, the hosting provider has slow SFTP. Suddenly you're stuck waiting for hours for your files to download, just so you can re-upload them to the new host.

Go Kinsta mate. Currently in the middle of our second migration and it's night and day compared to the rest (GD, WPE, SG). – @greggtilston (source)
In fact, Kinsta offers unlimited free WordPress site migrations from any hosting provider. Some of the most popular ones they typically work with include:
WP Engine
Flywheel
SiteGround
Pagely
Pantheon
Cloudways
GoDaddy
DreamHost
Bluehost
HostGator
A2 Hosting
tsoHost
WPX Hosting
Savvii
It doesn't matter what hosting provider you're coming from. Kinsta is ready and willing to help. Duplicator, ManageWP, and cPanel backups are also supported.
You can easily start your site migration immediately after signing up. Click on "Add site" and then on "Request migration." Then click on the type of migration you want to initiate. It will have you fill out a short form with additional information.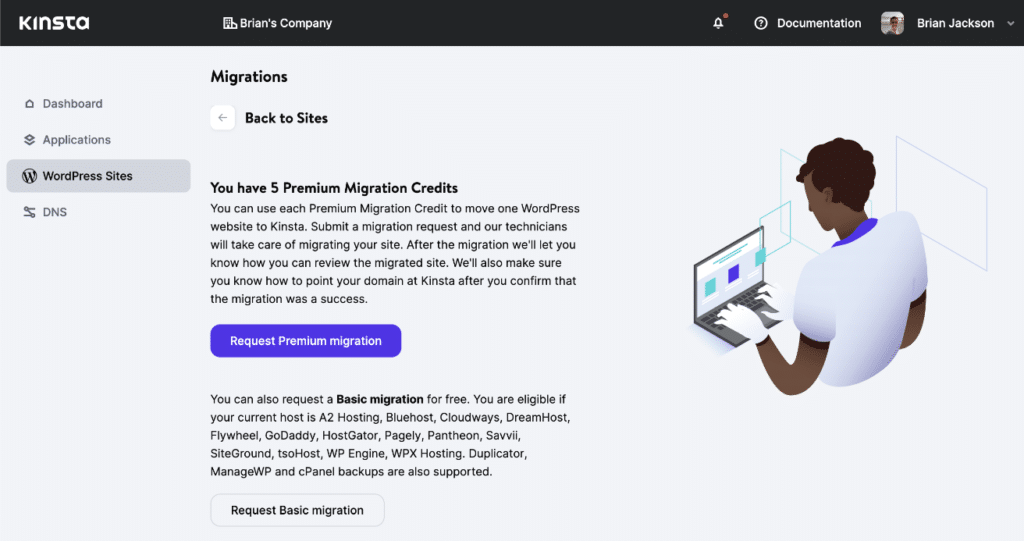 After submitting the migration form, one of the Kinsta team members will get in touch with you to schedule the migration (a time that works best for you). Your pending migrations will then show up under "Migrations" in which you can check the status anytime. You will also be continuously updated on the status by their team.
What other people are saying
Yes, it sounds like I'm just raving about Kinsta but don't just take my word for it! Check out the feedback they are getting on Twitter.

Quite impressed what @googlecloud and @kinsta can pull off for #WordPress hosting! – @neuralab (source)
Couldn't be happier with hosting my websites through @kinsta. I feel like their support team never sleep! Amazing service. – @matthewbarby (source)


@TheSportReview's new @Googlecloud based @kinsta environment handled the post-match @ManUtd v @ChelseaFC traffic spike in style 👌⚽ – @martincap (source)
Thanks @kinsta for all your flexibility helping @DARTdrones prepare for our @ABCSharkTank traffic. Also increased page load site-wide by 50%+ – @kevinpmcaloon (source)


Hosting provider updates: @KinstaHosting is 600% – 1600% faster than @bluehost + Total Cache. 50mb page loads in 1.68s vs 10s. Kinsta rocks! – @fldtrace (source)
Summary
All in all, I couldn't be happier Kinsta. I think WP Engine, and many other hosting providers have lost their focus when it comes down to speed, stability, and support.
One huge thing that nobody seems to talk about when it comes to hosting is reliability. For me, Kinsta is like a rock 24/7. I don't have to worry about hosting when I'm swamped or stressed with other parts of my business. The peace of mind of knowing that my sites will always be up and running fast is priceless.
I recommend giving them a try; you won't be disappointed. Being backed by the Google Cloud Platform ensures you have some massive architecture behind your sites. They offer free migrations to ensure the move is as seamless as possible and a 30-day money-back guarantee. There are no long-term contracts and no hidden fees on renewals.
As always, feel free to leave your comments below.
Full Disclosure: I used to work at Kinsta, but don't anymore. I do have a vested interest in the company, but also fully stand behind their product and services. I've used dozens of hosting providers over the years, and Kinsta is where I'm proud to host this website and all of my other projects.