Web CEO Review
If you are looking for a new SEO tool that does everything you have been dreaming of, well then you need to read this review on Web CEO. I used to use Raven Tools and am still a huge fan but I got to the point where it didn't have what I needed. First, I wanted a backlink tool that pulled its data from Ahrefs or Majestic because I prefer them over Moz. I also needed daily keyword tracking that I could run at a local level, not just national. Keywords can go anywhere from first page to third page depending on the geo-targeted location. So for my local clients I need to be able to show them where they rank if someone in their city put in that search term.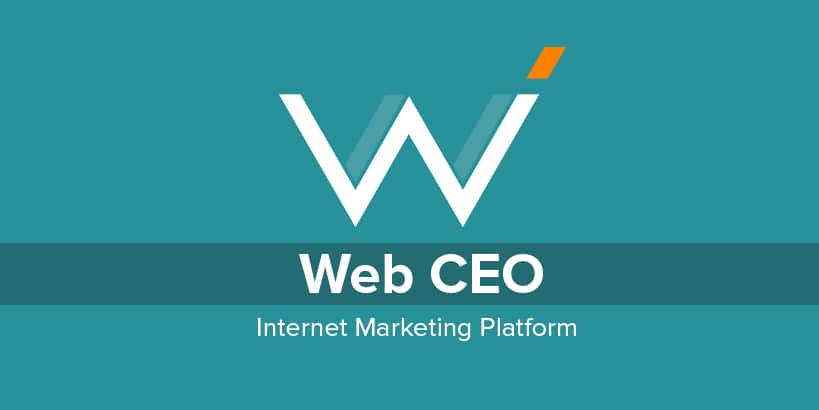 [alert-note]I have tried dozens of different tools when it comes to SEO and SERP tracking over the past 6 months. None of them seem to tick all of my boxes.[/alert-note]
Here is a list of other SEO services that were lacking:
They have some great tools, their Site Explorer is amazing, but overall it was lacking when it came to local keyword tracking and it is actually quite spendy for what you get.
These guys got the rank tracking down pretty good, but they are lacking when it comes to backlink reporting or keyword research. I did like their UI though, it is very fast and user friendly.
Didn't try this one because of price. They must be joking if they think I am going to pay $249 a month to track 20 keywords per site.
I didn't get to try this one due to higher price, but I can tell from chatting with one of their representatives it has everything I want and more. Their interface is beautiful. The problem is the pricing is more for enterprise level. Once I have enough clients I will definitely be thinking about making a switch over to GShift.
This company actually went out of business with their SEO tool. Now they only offer backlink reporting. Too bad because it looks like they had a great product.
This one probably came the closest to what I was looking for originally. They do have local keyword tracking as well. I actually almost signed up with them until I found Web CEO. One thing I didn't like about Positionly was a lack of keyword research tools and I wasn't satisfied with their backlink profile tool. However, I will definitely be keeping my eye on this company as their UI is superior in my opinion to Web CEO and I'm sure they will add features over time.
An awesome tool and you get a lot for the price, but seriously lacking in the backlinks department.
SEO profiler does a great job with SERP tracking and even with backlinks, however they were missing one crucial feature that I needed for a client, YouTube tracking.
Web CEO Review
Here is my in-depth review on why I am using Web CEO for all of my clients. Their software has saved me hundreds of hours and its well worth the money. This is not a paid review, I am simply writing this because I couldn't find a very good review of the software myself after doing my own research. Web CEO used to be a desktop product a few years ago but they have been transitioning everything to the cloud which is nice.
Web CEO Pricing
I am currently using on their Gold plan at $149 a month and running 10 websites. It isn't super cheap, but wait till I show you everything you get. The only thing I don't really get on the Gold plan is the branded reporting, but my clients don't really care whose logo is on the reports anyways. Also I use a PDF merge tool and so the reports my clients get actually has my logo on it for the first couple pages. If you are interested on my process for that you can always check out my tutorial on Combining Multiple PDFs in Your Analytics Reports.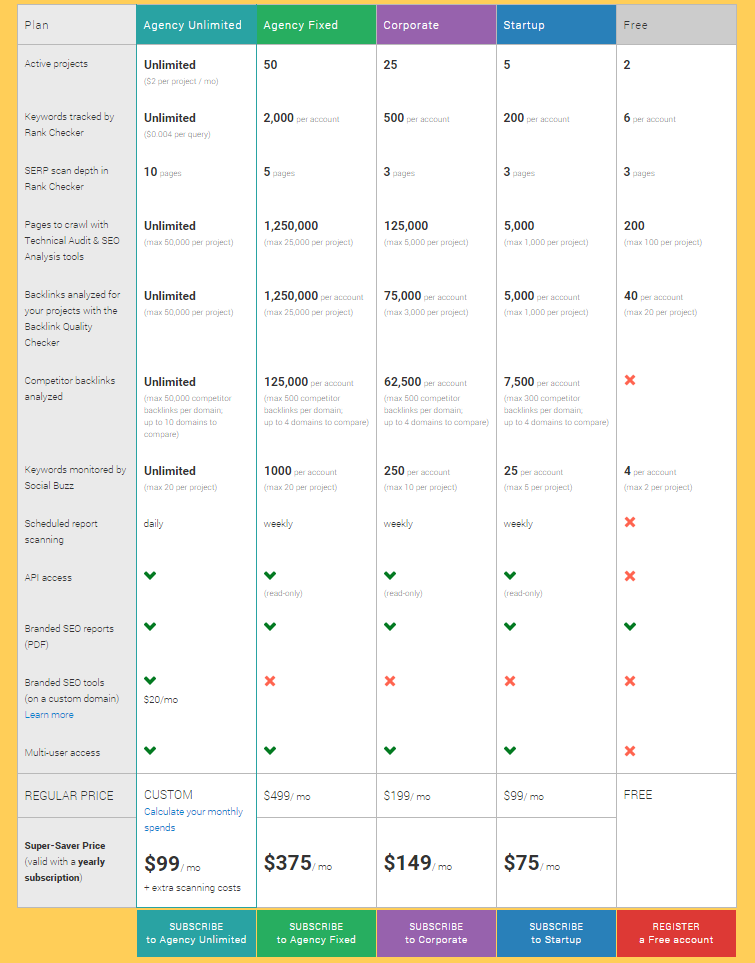 Web CEO Dashboard
When you first login to Web CEO you are presented with your dashboard and a list of all your sites. I will be using this site in my examples. You see you've got the following:
Social shares (they analyze how many shares from each pages)
Social buzz (monitoring preselected keywords)
Health of the website (based on broken links)
SEO (based on the website auditor)
Visits (coming from Google Analytics, showing the last day… I get around 10,000 visits a month right now)
Average rankings (based on the keywords you are tracking, and backlinks (pulling from the Majestic database).
Keyword Research
The first thing we will dive into is their keyword research section where you have the four following options:
Get Suggestions
Spy on Competitors
Keywords from Webmaster Tools
Keyword Basket
Get Suggestions
In this area we can search for possible keyword suggestions and the volume of traffic they are getting. I searched for on-page SEO. It returned with about 200+ results. You can see the global searches, bid competition from AdWords, search trends, and KEI.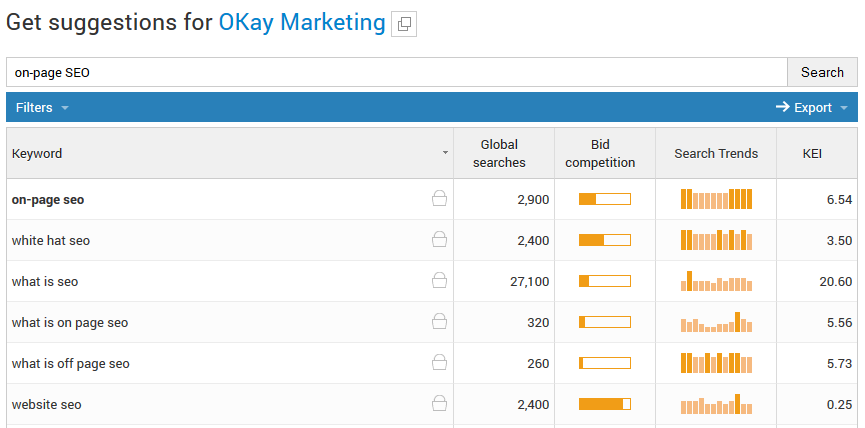 Spy on Competitors
I chose Kevin's (owner over at the Rise Forums) site just for fun to run a competitor analysis against. This will allow you to see which keywords they are receiving traffic on. This tool has come in very handy when I do keyword research for a new client. Sometimes I actually analyze my competition first, before building out my own keyword list.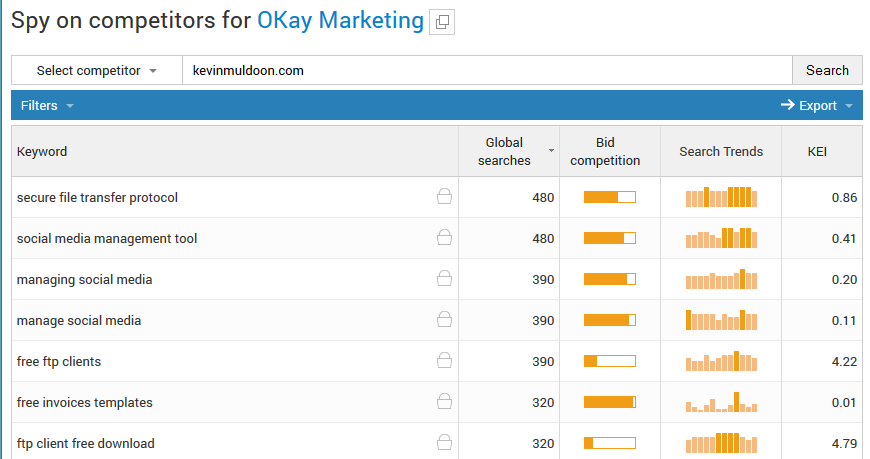 Keywords from Webmaster Tools
This just simply shows you what GWT pulls for keyword rankings. It is nice to have access to it now in Web CEO so I don't have to bounce around as much.
Keyword Basket
This lets you organize keywords and tag them into groups so it is easier for reporting purposes later down the road.
Internal Links Optimization
The next section is internal links optimization. In here we have three options:
Link Text Analysis
Page Authority Analysis
Landing Page Analysis
Link Text Analysis
In here we can see how my link text is distributed across my site. How many total links, the text juice, blocked pages, nofollow links, etc… You can even expand the link text and see every single one.

Page Authority Analysis
In the page authority analysis we can see each page/post and how many inbound and outbound links are on each page. You can also mark them as a "landing page" which later on you can run on-page SEO reports for a specific page and also see which keywords that page itself is ranking for.

Landing Page Analysis
In the landing page analysis you can select which page you want and see which pages are linking to it. You can filter it by inbound, outbound, and not linking. So as you can see in the above one we saw the overall pages, and now this lets us analyze each page individually to see the links. I love the detail of their information. I could spend hours in their reporting data to be honest.

Broken Links
In the next section we have broken links. I am very OCD so I don't have any broken links, simply some broken anchors, but these are things that can be ignored. Also you can add exclusion settings so that they don't show up again if you want. Again, everything in Web CEO can be expanded. They never leave you guessing!
Content Optimization
The next section is content optimization which has two options:
On-Site SEO
Landing Page Keyword Placement
On-Site SEO
The on-site SEO section is your website auditor. I spent a lot of time on this page fine tuning my websites and fixing things. As you can see I have got some work to do still :). Again each of these can be expanded to see the actual list reported.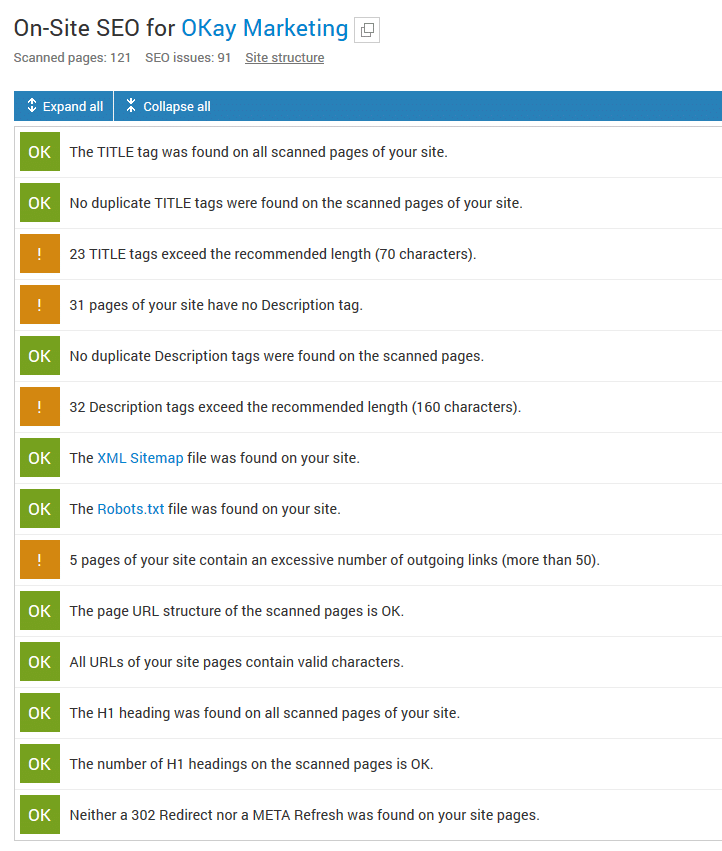 Keyword Placement on Landing Pages
In this option you can see each of your landing pages which you have specified and the keywords they are ranking for. You can see how well they are optimized. This has come in very handy for myself as I fine tune my pages to make sure they aren't just ranking for one keyword, but maybe a keyword + a long tail keyword.
Sitemap Generation
I don't really use this section as I have Yoast generate my sitemap automatically and I have my sites hooked up to GWT and BWT. However you can have Web CEO create your sitemap file for you and also submit it to the search engines.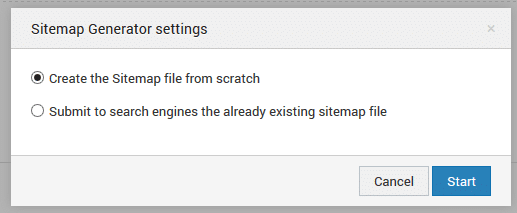 Backlink Quality Check
In the backlink quality check section we have 7 options to choose from:
Tool Summary
Competitor Link Profile
Linking Domains
Linking Pages
Link Texts
My Most Linked Pages
Toxic Links
I think by now you are seeing how much detail you can really pull with Web CEO. The developers have definitely put a lot of thought into this software and I no longer have to use multiple tools. For the most part I can stay within Web CEO for most of my SEO work. Also, remember the backlink data is all coming from Majestic which is awesome!
Tool Summary
In the tool summary we have a nice overview of our link source distribution, total backlinks, top linking TLDs, linking domains, top 5 link texts, competitors, etc.
Competitor Link Profile
In the competitor link profile you can compare up to 4 different competitors and see their total number of backlinks, linking domains, pages, etc… You can see I have some work to do, Kevin is destroying me lol. However, I haven't even had this site up for a full year yet.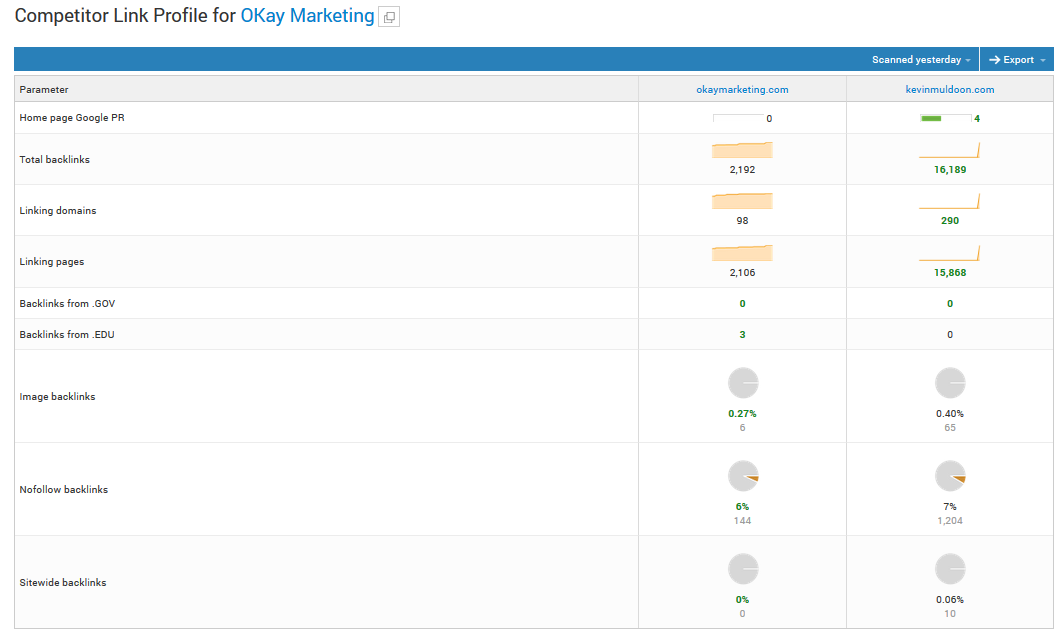 Linking Domains
Under linking domains you can see all of the domains that link to you. You can expand each option and click into the URL of each link. It also lets you know if they are nofollow or juicy links and the PR of the domain.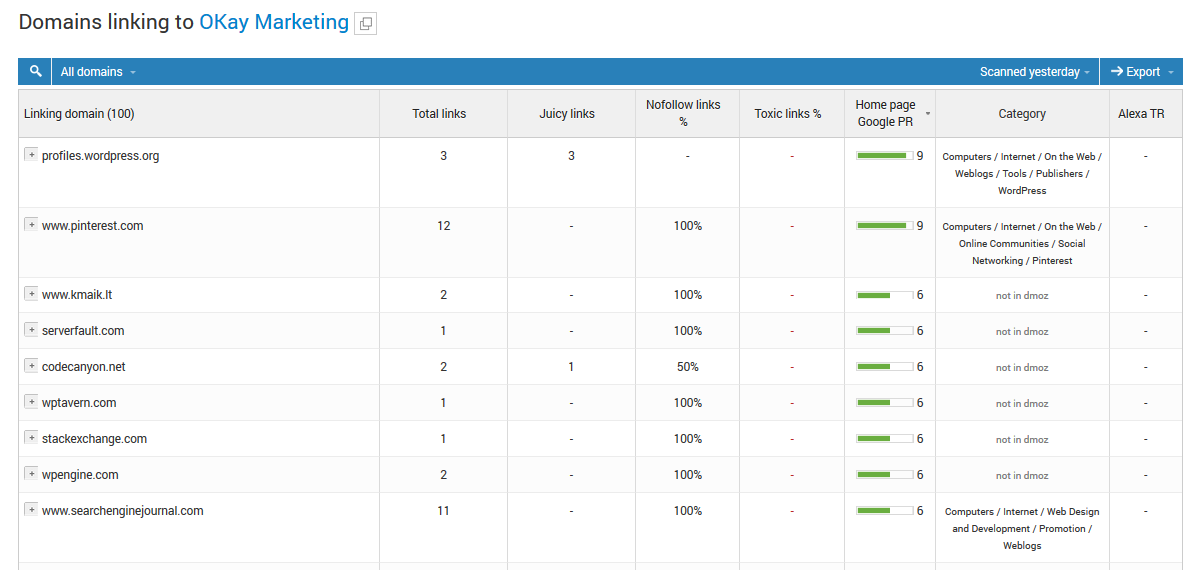 Linking Pages
Under linking pages you can see all the pages that link to you, what link text they are using, the target URL, their PR, and whether they are active or lost.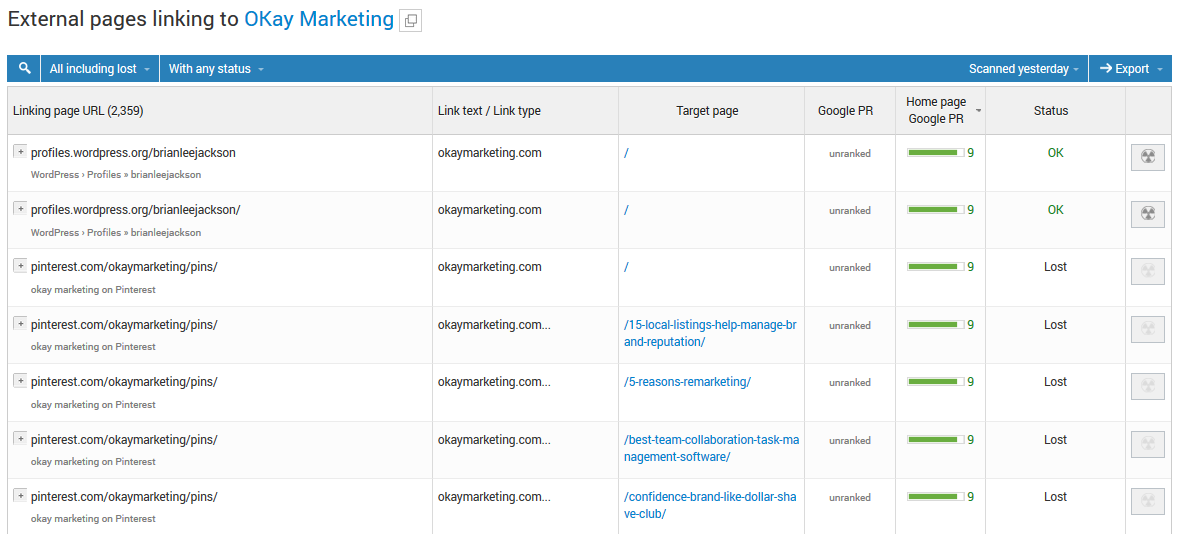 Link Texts
Under link texts you can see all the link text or rather anchor text to your site. You can see the total backlinks, juicy links, whether they are toxic, etc…

My Most Linked Pages
My most linked pages is another one that I used a lot. You can quickly see which pages are getting backlinks and which ones aren't. This is a great way to judge how good your post is and whether people are sharing/linking to it.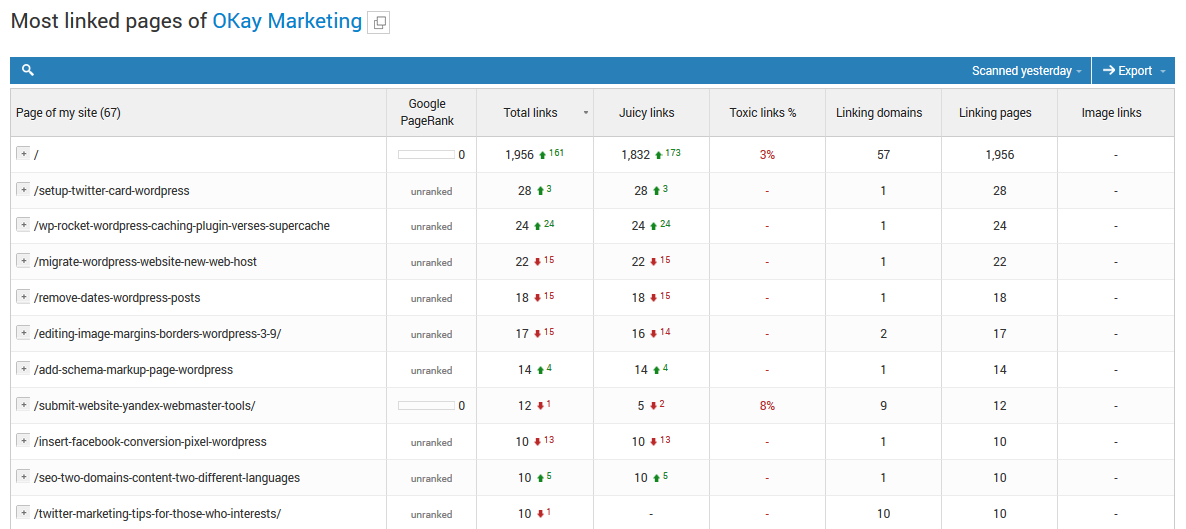 Toxic Links
Under toxic links you can see which links might be potentially harming you.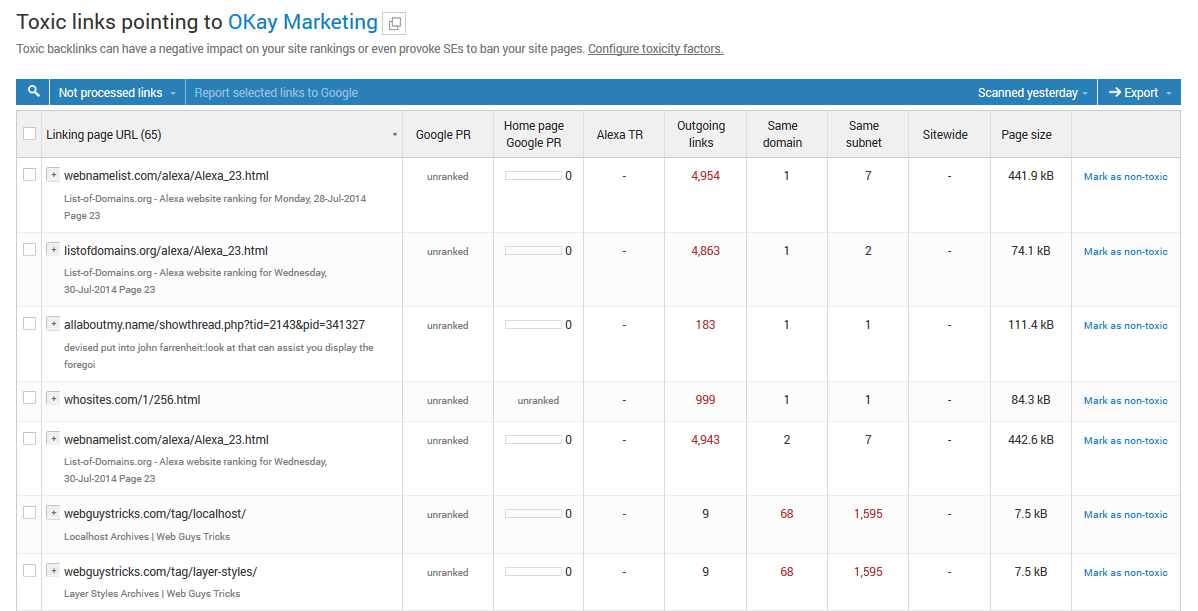 You can also configure the toxicity factors because it isn't always perfect and some of them might actually be fine.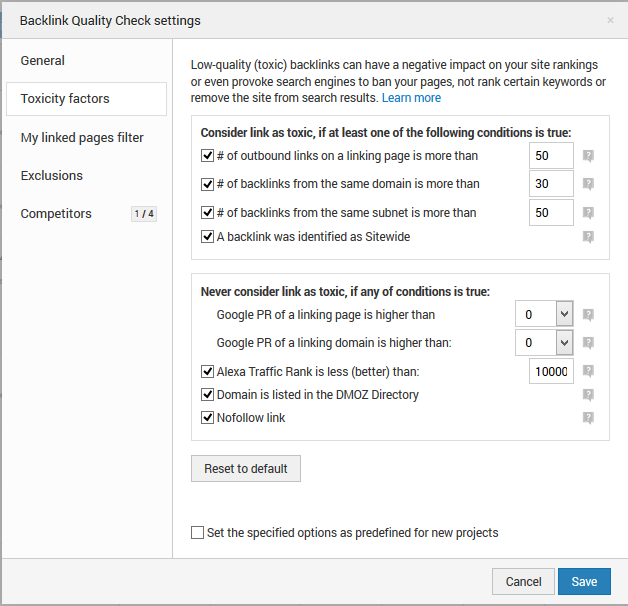 Competitor Backlink Spy
This is another great tool! It will do a comparison of your backlinks with another site side by side. So you can see there is one domain that links to both my site and Kevin's site. This can also be a great way to possibly find backlinks as you could reach out to those sites if you have a post or page they might be interested in linking to.

Backlink Integrity Tracking
In the backlink integrity tracking section we have 3 options to choose from:
Tool Summary
Tracked Links
Tracked Link Effectiveness
I haven't gotten a chance to set this part up yet, but basically you can add manual links and track how effective they are.
Content Submission
In the content submission section we have 9 options to choose from:
Tool Summary
Automatic
Standard
Local
eCommerce
Content
Blog
PPC
Submission Results
Basically this section allows you to manually submit to places, or have Web CEO do it automatically for you. You can setup your listing, description, etc. Sometimes the automatic submission will fail, but you can always just click into the link they provide and do it yourself. They have a great list for every different niche site, from eCommerce to Blogs. From what I have seen these are all safe and they periodically update this section if the link would no longer provide value.
Tool Summary
So basically the tool summary shows you the progress of everything. You can manually mark things off as well which will update your summary dashboard.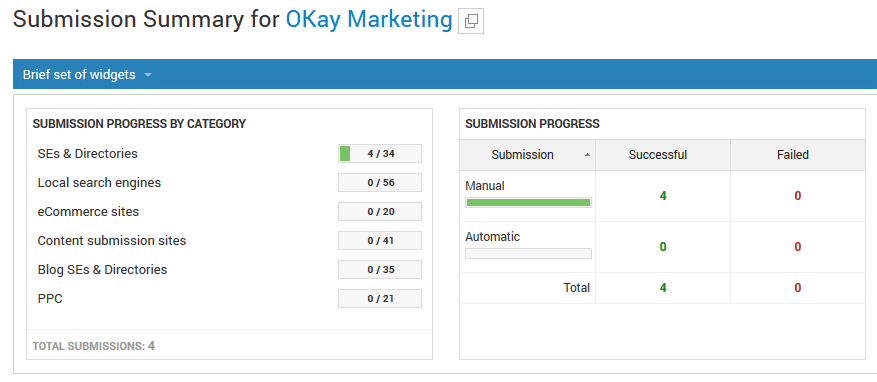 I am not going to go through each of these sections but here is an example of the blog section.
Web Buzz Monitoring
Under the web buzz monitoring section you can enter what keywords you want to monitor and this will show you when they pop up around the internet. Very similar to Google alerts. Looks like I need to generate more web buzz lol!
Social Engagement
Under the social engagement section we have 4 options to choose from:
Tool Summary
Social Citations
Competitor Social Citations
Social Traffic
Tool Summary
Under tool summary we can see an awesome overview of which social networks we are performing the best on. You can see for me I am getting the most referral traffic from Twitter. You can see social trends and your Facebook engagement.
Social Citations
Under social citations we can actually see each individual page/post and how many shares they are getting. Again I love having this information! In ten seconds you can instantly see which one of my posts has the most retweets or the most Facebook shares. Awesome!
Competitor Social Citations
Under competitor social citations you can see how your homepage compares to someone else.
Social Traffic
Under social traffic we can see every social network, how many sessions they are generating and even the bounce rate from these networks.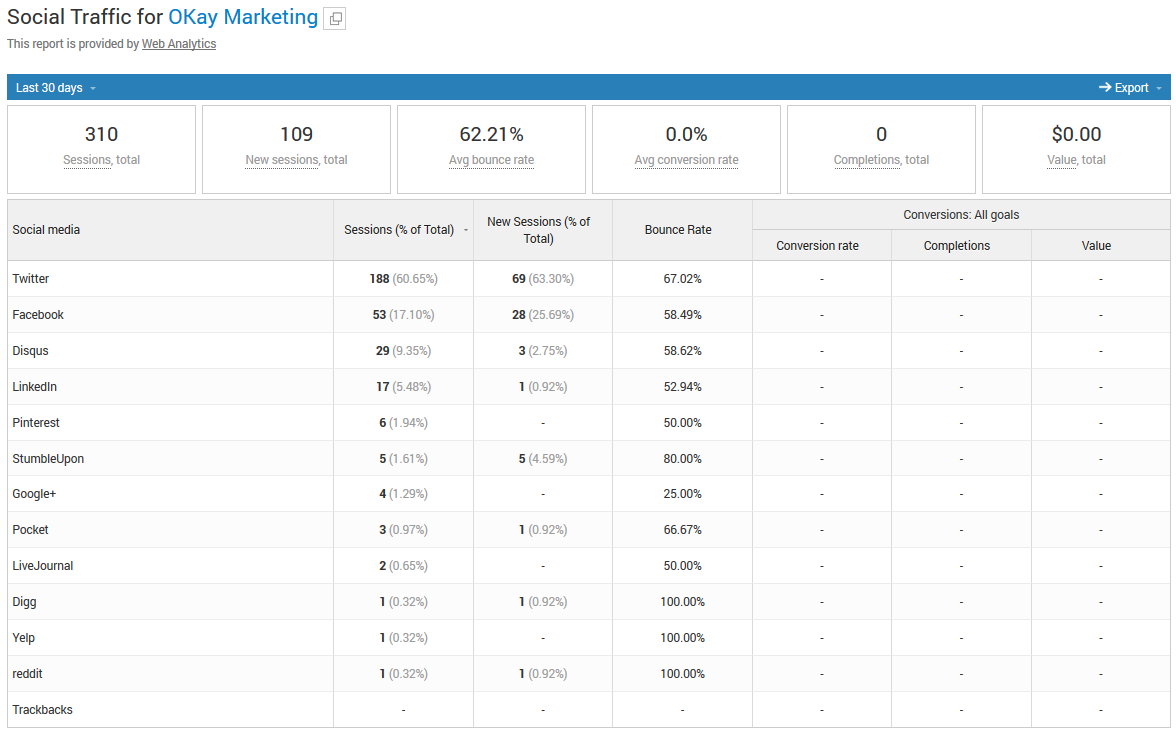 Rank Tracking
In the rank tracking section we have 9 following options:
Tool Summary
Brief
Detailed
By Page
By Tag
Historical Data
Competitor Overview
Competitor Rankings by Keyword
Competitor Rankings by SE
Tool Summary
Under the tool summary we can see our average ranking position trends, ranking distribution, ranking position changes, top 5 keywords, newly listed keywords, and much more!
Brief
Under brief we can quickly see which keywords we are ranking for on Google, Bing, and Yahoo. We can see whether they have moved up positions or gone down. Now in the settings you can actually set the city for Google for local keyword tracking. I use that for almost all of my clients. My own blog, I actually am tracking everything nationally since I don't have a physical location. Their local tracking works amazing and it is accurate to the tee!
Detailed
Under the detailed view we can see where it ranks and which pages is ranking for the keyword. This is very useful information.
Page and Tag
These two are simply another two ways to filter your views so I won't go over these.
Historical Data
Under historical data you can see your average listing position history. Mine is kind of skewed a little bit because I added a bunch of keywords purposely for this review that I knew I ranked for.
Under Competitor Overview, Competitor Rankings by Keyword, and Competitor Rankings by SE it gives you a side by side again of your rankings and your competitors. I will skip this part as Kevin and I don't have a lot of the same keywords. I tend to write posts that aren't ranking at all yet online.
YouTube Rank Tracking
You can now also track your YouTube rankings. This was one thing that I needed for a client in the creative niche. All you have to do is add an additional search engine and input your YouTube channel URL.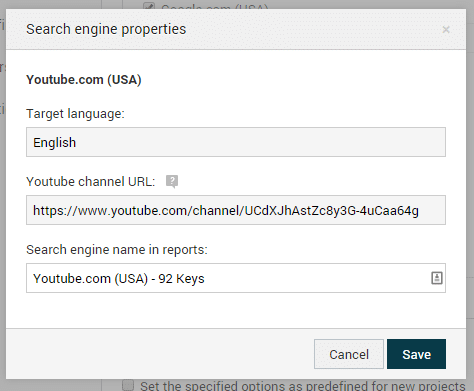 Now you can track all of your keywords alongside your videos.
Web Analytics
Under the web analytics section we have 6 options:
Tool Summary
Traffic Overview
Social Traffic
Efficiency
Geo
Competitors
Tool Summary
Under the tool summary we have a nice overview of our traffic. This pulls data from Google Analytics after you hook it up. We can see our traffic sources, sessions by country, alexa traffic with competitors, etc…
Traffic Overview
Under traffic overview I can you can see your traffic from Google Analytics and a nice view of your referring sites and pages. You can see my last review I did on the WordPress WP-Rocket plugin got me some nice referral traffic.
Efficiency, Geo, and Competitors are all similar reports you can see in Google Analytics so I won't be going over those.
Web CEO Reporting
Every single page you just saw above has an export option where you can email a PDF, or download to a PDF. Their reporting you can customize the look, feel, etc… Here are a couple snapshots of my Rank Tracking report. I really like the look of their reports. My clients love to see how they stack up against their competitors on keywords :)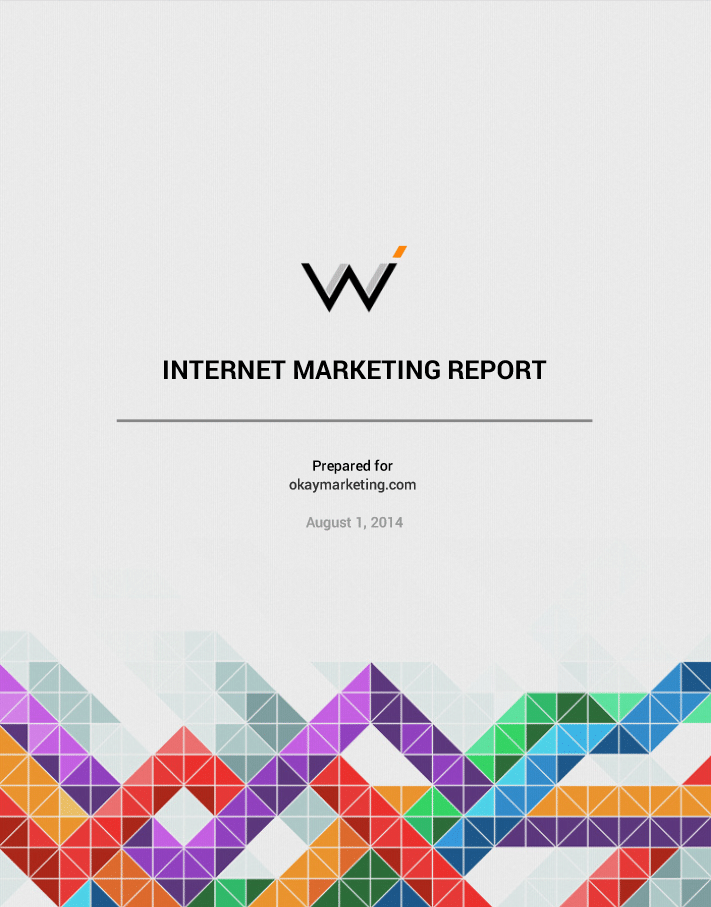 Web CEO Conclusion
There is so much more to Web CEO that I just don't have time to show you. I hope you see though how much data crunching you really get for the amount of money. It really is an all-in-one SEO software suite! Show me any cloud service out there that can beat this. You can't. I highly recommend you take a whirl on their free trial. You will never look back. Make sure to also check out my Web CEO review over on G2 Crowd, TrustRadius, and check out how I cleaned up a negative SEO attack using Web CEO.
As always let me know what you think below in the comments!
[wp-review]