When you do internet marketing on a daily basis, you have to learn little tricks to speed things up. Nobody is patient anymore, and frankly, neither am I lol. I can't wait around for things to update, I am already multitasking non-stop. I recently updated an older post with some fresh content and went to share it on LinkedIn. Not to my surprise the old information and thumbnail showed up.

Check out these quick instructions below on how to clear LinkedIn cache and refresh your link preview (thumbnail, title and description).
I have previously written how to clear Facebook cache, as well as Twitter cache. The same kind of thing happens with LinkedIn. If you share an older post or page it will grab the Open Graph tags to display the image and meta information. The problem is LinkedIn probably has your old tags cached on its system. So you need a way to refresh it.
New and Easier Method to Clear LinkedIn Cache
The new and easy way to clear LinkedIn cache is to use their Post Inspector tool. They launched this in July 2018 and it now makes the process a breeze! This is very similar to Facebook's debugger tool and Twitter's card validator. It can help you do the following:
See how your post will look if you share it on LinkedIn.
Re-scrape the data, including the thumbnail and description.
Debut bad metadata information on your WordPress site.
Simply head over to the LinkedIn Post Inspector, input the URL of the post or page you are needing to check, and hit "Inspect."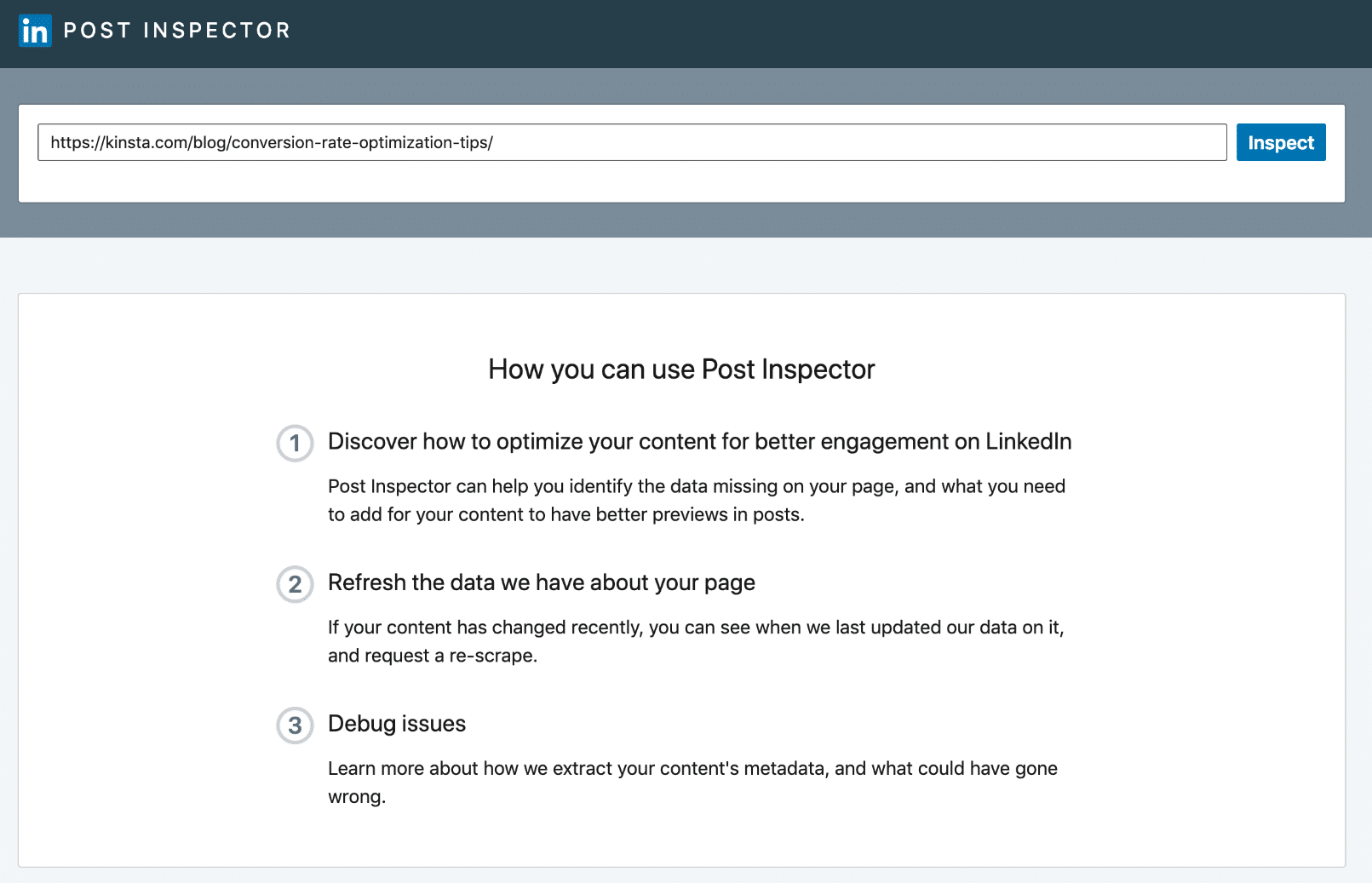 It will automatically fetch all new information about that post, clearing the cache on the LinkedIn site. Remember to clear the cache on your WordPress site first if you haven't already.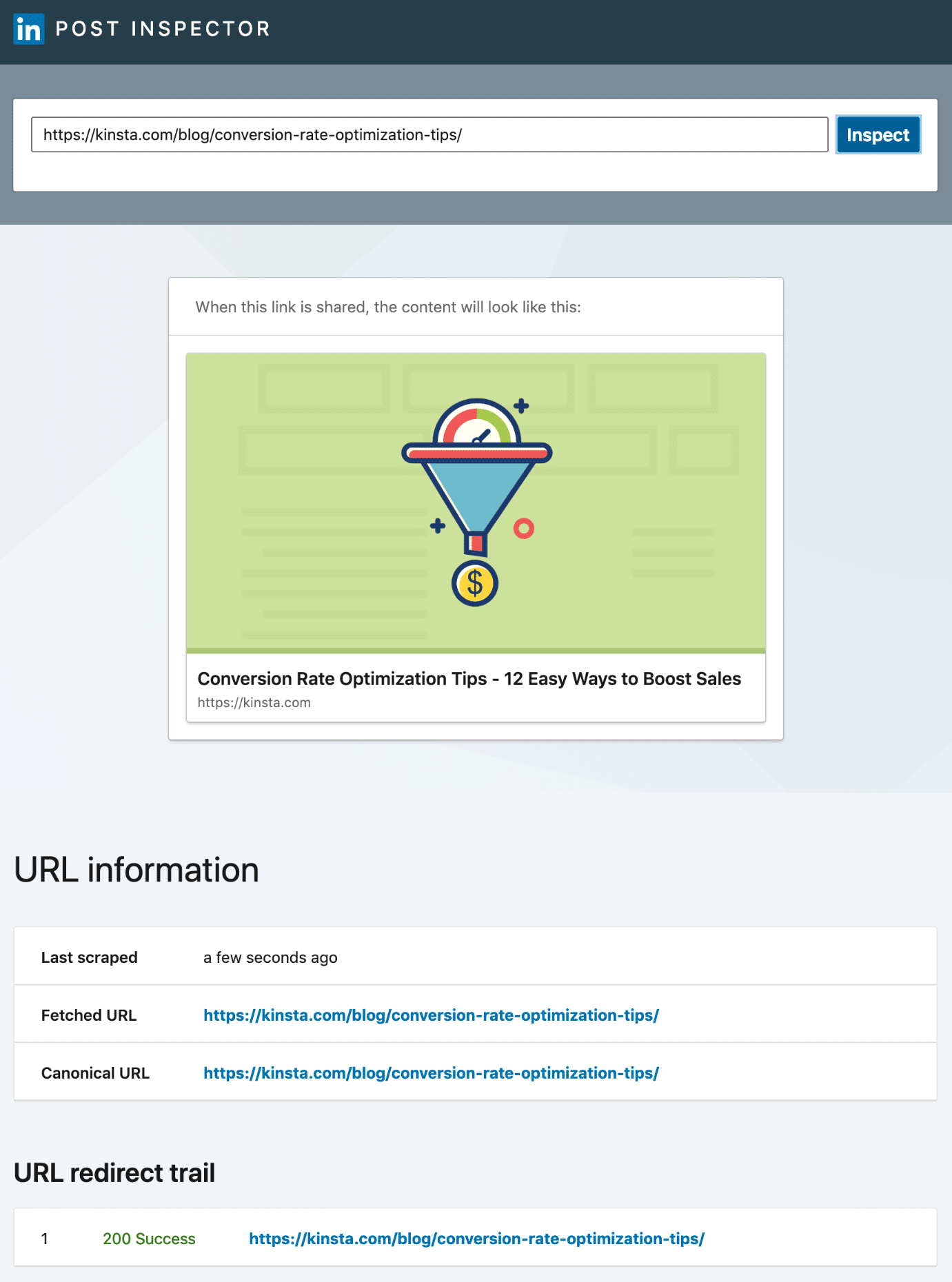 Not sure how to clear your site's cache? Here are a few recommendations:
Clear Cache with Plugin
If you are using a free caching plugin like Cache Enabler, most likely you'll have a clear cache button in your WordPress admin toolbar.
Clear Cache with Hosting Provider
If you are using a hosting provider like Kinsta (which is what I use on all my sites), they actually automatically purge the cache on a URL when the post or page is updated. This means you don't need to worry about purging the URL, just enter it into the LinkedIn Post Inspector tool to recrawl the updated open graph meta tags.
Clear Cache with Cloudflare
If you are using Cloudflare, you can purge an individual URL's cache. Go to the Cloudflare dashboard, click on the "Cache" icon at the top. Then enter in the URL of the post you want to refresh, and click "Purge."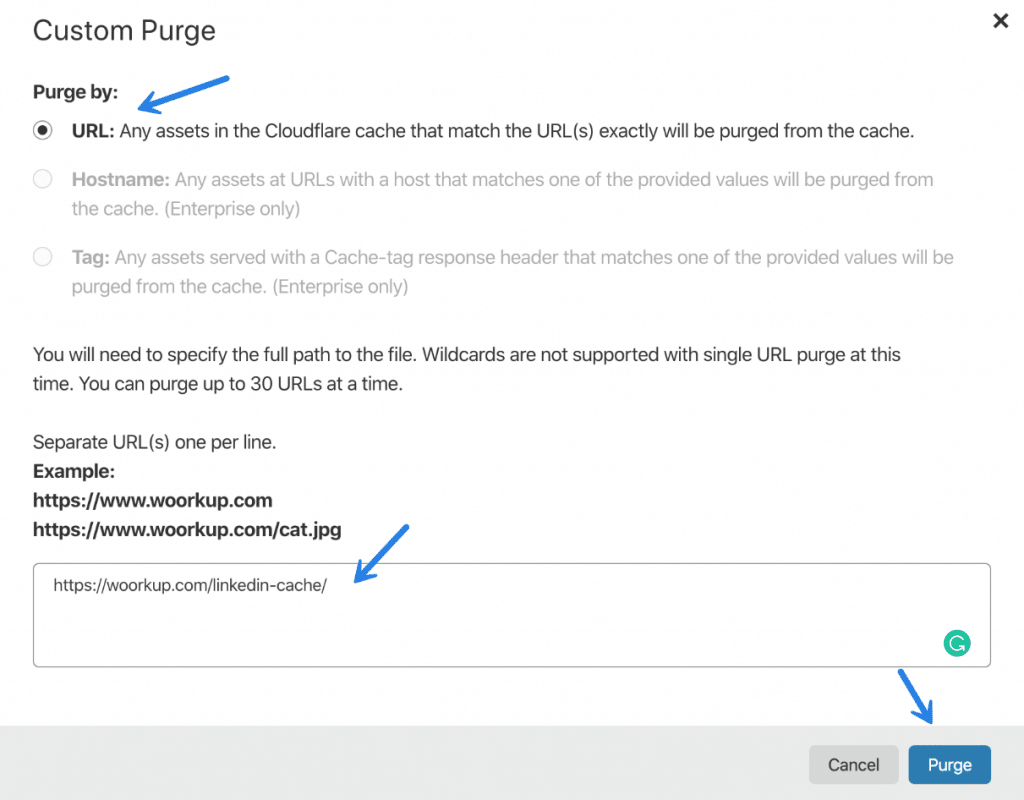 Old Method to Clear LinkedIn Cache
Below is an example of a post I recently shared on LinkedIn. You can see it pulled the thumbnail and description, but this was the old information.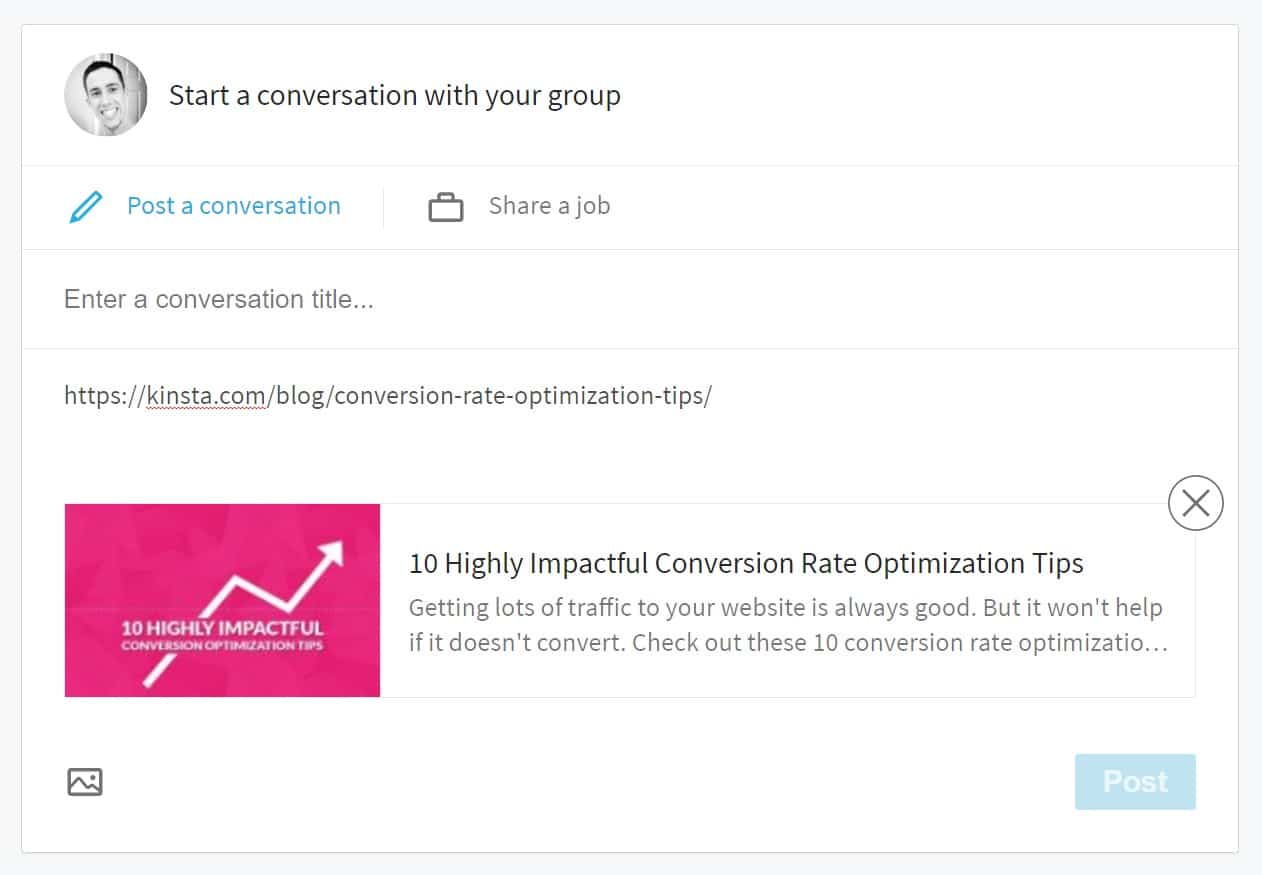 To fix this you simply need to add a query string to the end of the URL. For example, I changed the following:
https://kinsta.com/blog/conversion-rate-optimization-tips/
to
https://kinsta.com/blog/conversion-rate-optimization-tips/?1
It doesn't matter what it is, and in fact the URL above will still work. This will then update the post information as LinkedIn can't cache query strings. You can in fact then actually remove the query string, leaving your original URL, as LinkedIn will then have the up to date Open Graph tags. You can see below the new information that was now pulled from the same URL.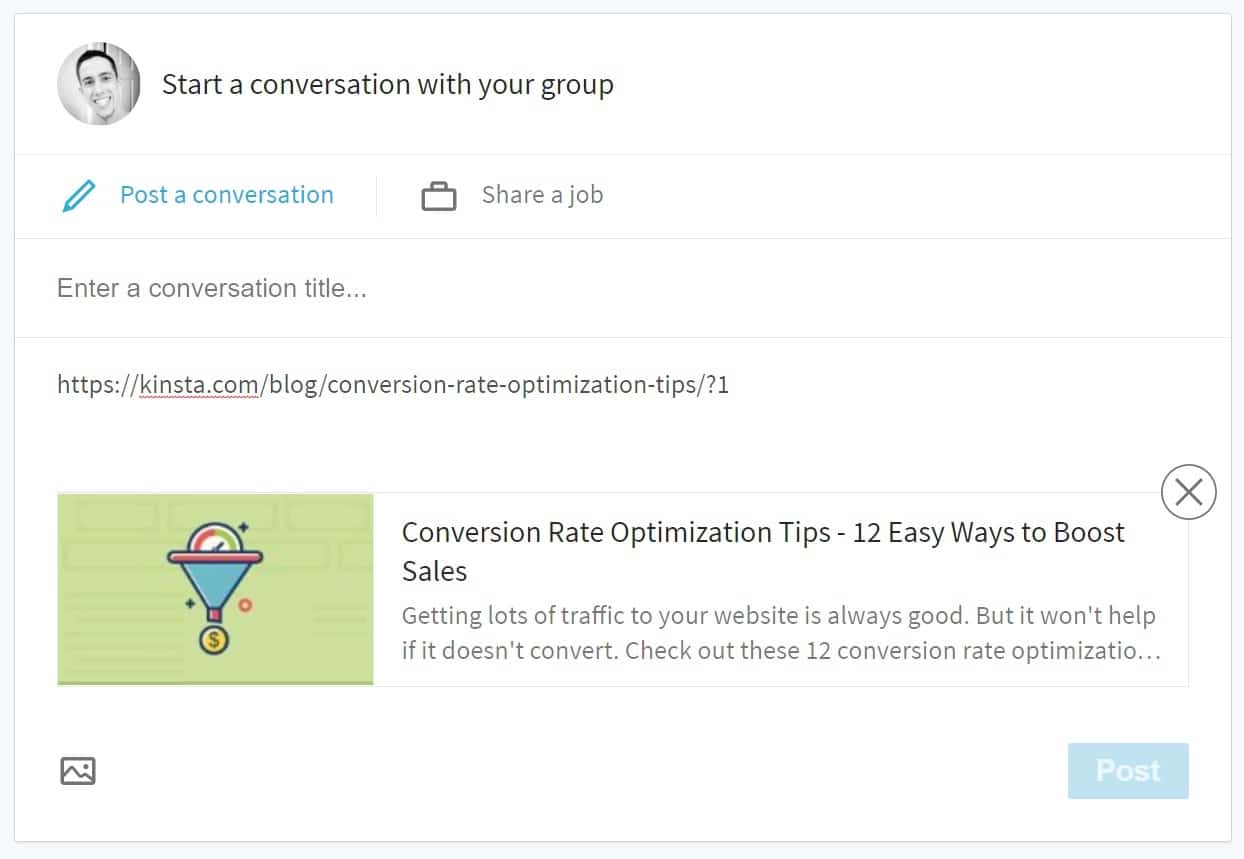 And that's it! You have now cleared LinkedIn cache and your link preview should now be grabbing your most recent information. Note, it will not clear the cache for an image that has already been posted on a feed. It will, however, clear it for any new shares of a post.
Cannot display preview error
Another problem I've seen occur recently is when trying to paste longer messages into LinkedIn. I will get the following error: "Cannot display preview. You can post as is, or try another link." From what I can tell, this has something to do with the amount of content being pasted.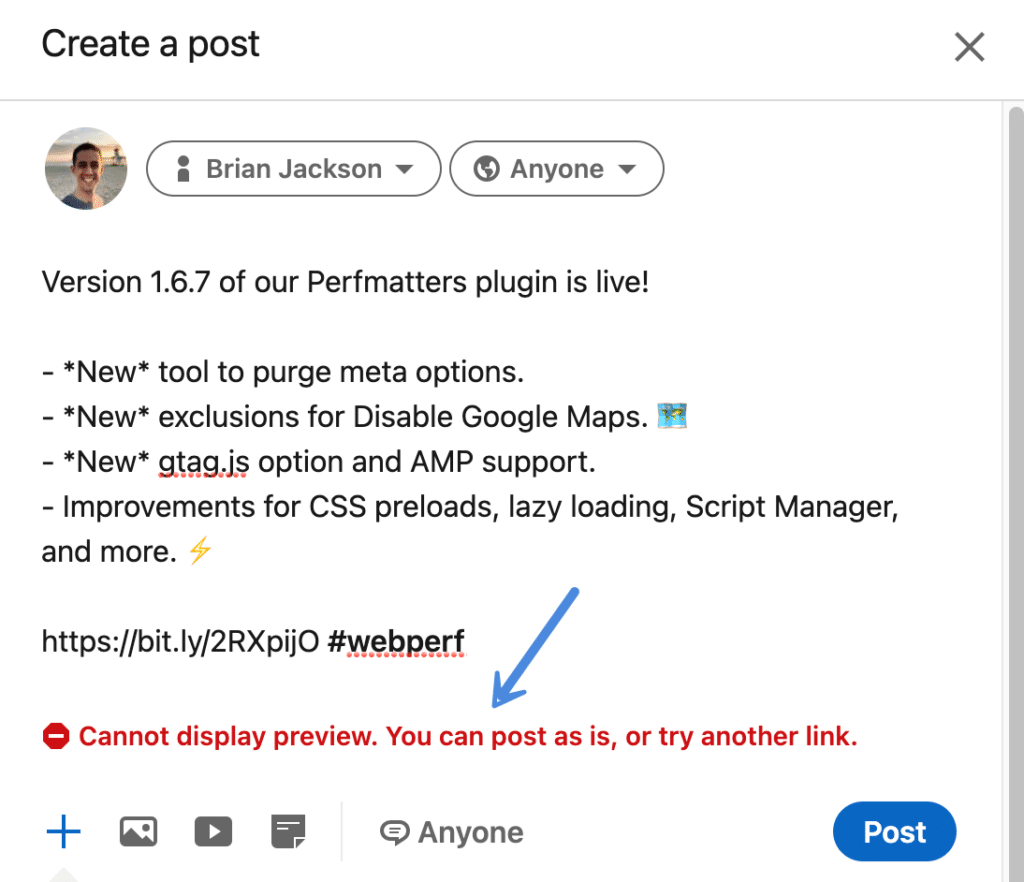 The solution is easy, simply try entering a little text first and then paste your URL. The URL should then work and you can then paste the rest of the content.
Summary
Those are just a few little LinkedIn tricks to add to your internet marketing toolbox. If this post was helpful, let me know below and shares are always appreciated.