There is a new free lightweight WordPress plugin on the block from the developers at KeyCDN, called Cache Enabler! It has some unique features never before seen in the WordPress community, specifically focused on increasing the speed of your WordPress site faster than ever before. See the full review of cache enabler below.
The Team Behind WordPress Cache Enabler
KeyCDN is a content delivery network which focuses on speeding up the delivery of your website's assets (images, CSS, javascript) around the globe. Because WordPress powers over 24% of the entire internet, KeyCDN realizes the importance of the WP community and helping to make it stronger.
KeyCDN already has a WordPress image optimization plugin called Optimus and a CDN Enabler plugin. And even though there are other caching plugins on the market such as W3 Total Cache, WP Super Cache, and even the premium WP Rocket plugin, they decided to make their own.
[alert-note]
Why should WordPress caching have to be complicated or cost money? It shouldn't.
[/alert-note]
And so they developed the free WordPress caching plugin called cache enabler.
Features
The WordPress Cache Enabler plugin creates static HTML files and stores them on your servers disk. The web server will deliver the static HTML file and avoids the resource intensive backend processes (core, plugins and database). This will improve the performance of your WordPress installation. I have personally tested it with WPHostingspot and it works amazing.
Efficient and fast disk cache engine
Automated and/or manual clearing of the cache
Manually purging of specific pages
Display of the actual cache size
Expiry directive
Minification of HTML + Inline Javascript
WordPress multisite support
Custom Post Type support
Translation ready
1st ever WebP Support for WordPress (Utilize the power of Optimus – more information below)
Supports responsive images via srcset in WordPress 4.4
100% Free
HTTP/2 Focused
Works perfectly with Autoptimize
WebP Support
A very exciting part of this plugin is that it enables WebP support for images.
WebP is a new image format that provides lossless and lossy compression for images on the web. WebP lossless images are 26% smaller in size compared to PNGs.
The WebP format is supported in Google Chrome, Opera, Opera Mini, Android Browser and Chrome for Android. The caching plugin then serves up the PNG/JPG file in Firefox and IE. I recommend using Optimus to convert your images as you can compress them and also convert a WebP version all at the same time.
[alert-note]
Cache Enabler is the 1st ever WP plugin to allow you to serve WebP images without javascript!
[/alert-note]
Smashing Magazine has a great case study on why they switched to using WebP.
I ran a small test on one of my sites, in which I uploaded 3 large images on a page. And the results were astonishing.
GTMetrix Test – Using Firefox (Serving PNG Images)

GTMetrix Test – Using Chrome (Serving WebP Images)

[alert-note]
Simply by serving WebP files in Chrome I was able to decrease my total page size by 59.02%!
[/alert-note]
Here is a screenshot of the file size comparison between the converted WebP files and the JPG files.

Photo-144382 – WebP version is 52% smaller than JPG version
Photo-144090 – WebP version is 73% smaller than JPG version
Photo-144525 – WebP version is 71% smaller than JPG version.
I am also running WordPress Cache Enabler on my blog and here is a speed test with it running.

You can't really get much better than that.
HTTP/2 Focused
The team at KeyCDN is very focused on the future and HTTP/2 is a big part of that. Load Impact and Mozilla reported that internet users can expect websites optimized for and delivered over HTTP/2 to perform 50-70 percent better than sites over HTTP/1.1. Note: you must be running HTTPS because browsers only support HTTP/2 over TLS.
What changes with HTTP/2? Well, concatenation is no longer necessary because of the new improvements to parallelism. Developers and website owners will need to shift their old habits as there will be no more combining javascript/CSS files and obsessing over HTTP requests. Trust me, even I will have a hard time transitioning to this one. But HTTPs everywhere will happen, its just a matter of time.
Free
The cache enabler plugin is 100% free as KeyCDN doesn't believe the WordPress community should have to pay for a good caching plugin.
Web Performance Team
The great thing about having a team who runs a content delivery network develop a caching plugin is that they know what people want. They live and breathe web performance every day and the speed of your website is their #1 priority.
Install + Setup Cache Enabler
Follow the steps below to install and setup cache enabler. This plugin is super lightweight and will be the easiest caching plugin you have ever used!
https://www.youtube.com/watch?v=eDFMcnOqqe8
Step 1
In your WordPress dashboard click into "Plugins" and then into "Add New."
Step 2
Search for "Cache Enabler" on click on "Install Now" and activate the plugin. You can also download it from the WordPress repository.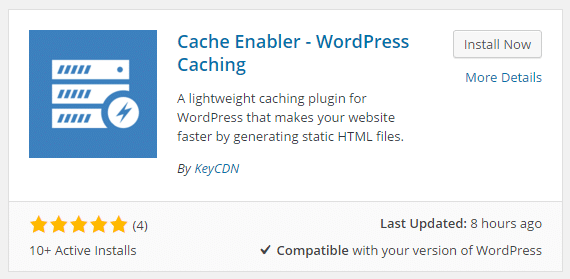 Step 3
On the left hand side of your dashboard click into "Settings" and into "Cache Enabler."
Step 4
You now have the following options. My blog uses the settings in the screenshot below.
Cache Expiry: Cache expiry in hours. An expiry time of 0 means that the cache never expires.
Cache Behavior: Disable caching if logged in.

Clear the complete cache if a new post has been published (instead of only the home page cache)
Clear the complete cache if a new comment has been posted (instead of only the page specific cache)
Create an additional cache version for WebP image support. Convert your image to WebP with Optimus.

Cache Exclusions: Post or Pages IDs separated by a , that should not be cached.
Cache Minification: You have the option to minify HTML and HTML + Inline JS.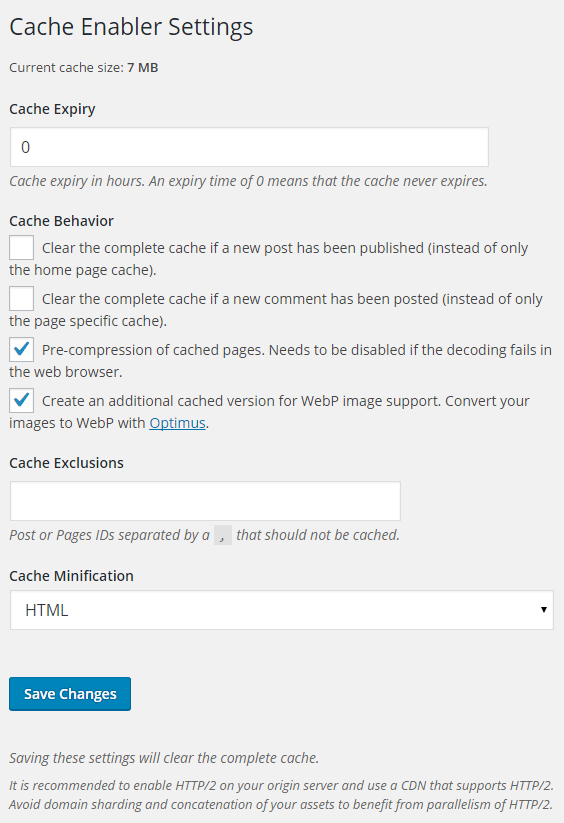 Click on "Save Changes" once you have the settings as you like.
Note: Make sure to also check out the advanced configuration for even faster speeds!
Verifying Caching
It will take a few minutes to build up the cache. You can confirm it is working by viewing the source code. Make sure to test in incognito mode. In your footer you will see a comment: "Cache Enabler by KeyCDN @ Timestamp."

Cache Size
You can see the total cache size by clicking into the settings or it also displays on your WordPress dashboard.

Clearing the Cache
You can clear the cache one of two ways. You can click into the settings of the plugin and click on "Save Settings" again. This will purge the cache. Or you can also click the "Clear Cache" up on the WordPress admin bar. You can see there is also a "Clear URL Cache" in case you only want to clear a specific page, and not the entire site.

Unity of KeyCDN Plugins

KeyCDN's plugins have all been developed (and tested) to work together beautifully. You don't have to use all of them, but when you do you will benefit from the most speed. Deploy your CDN in minutes with CDN enabler, optimize your images with Optimus, and cache your WordPress site with Cache Enabler, while also deploying the fast WebP images.
I would love to hear what your thoughts are! Cache Enabler, CDN Enabler and Optimus all running together is simply a winning combination.