If you build your sites on WordPress, managed WordPress hosting is one of the best investments you can make. Not only will your site perform better, you'll also get access to tools and features that just flat out save you time. Better performance with less wasted time is a win-win for you and your WordPress site.
While pretty much any host can run WordPress nowadays, managed WordPress hosting tacks on WordPress-specific features like:
Improved performance (your hosting environment is tuned specifically for WordPress)
Automatic updates (keeps your site safer while saving you time)
Automatic backups (protects your data while saving you even more time)
Expert WordPress support (support agents aren't just generalists – they all know WordPress)
Improved security (firewalls, scanning, intrusion detection, free SSL, and more)
WordPress specific tools (e.g. pre-installed WP-CLI)
One-click WordPress installs (launch new sites in seconds)
You know you've found a quality hosting provider when you rarely have to reach out for help, because everything just works, all the time.
Best managed WordPress hosting providers
Because this is the list of the best managed WordPress hosts, not every managed WordPress host, I'm going to keep it short. Just two hosts. The best of the best. No matter what your budget and performance needs are, one of these two hosts should work for you. I work in the web performance industry and have used hundreds of hosts over the past 12 years. I fully stand behind these two.
SiteGround
SiteGround has been around since 2004 and offers an amazing blend of performance and affordability. With SiteGround, you get managed WordPress hosting functionality with shared hosting prices.

While they aren't the best choice for high traffic websites with similarly high-performance needs (read the next section if that sounds like you), SiteGround is usually the best managed WordPress host for anyone who hasn't crossed the barrier into thousands of visitors per day.
Excellent architecture for the price
As far as shared hosts go, SiteGround offers some incredible tech specs. They incorporate the latest technologies to ensure your site performs as well as possible. That means you get…
Multiple PHP versions (5.6, 7.0, 7.1, 7.2, 7.3, 7.4, and 8.0)
HTTP/2 (improved performance over HTTP/1)
SSD storage (all your data is stored on SSD instead of physical drives)
Pre-installed WP-CLI (command line WordPress automation)
Isolated accounts (if another account has an issue, it can't spill over and affect your sites)
Automatic and free SSL (all new sites have free Let's Encrypt SSL certificates pre-installed)
Most budget hosts are nowhere near that tech stack. A2 Hosting is close, but even they lock HTTP/2 support away behind their highest pricing tier. In addition to those tech specs, SiteGround also lets you choose from five different data centers on three different continents (North America, Europe, Asia-Pacific).
Transparent hosting limits – A rarity for shared hosts
If you take a peek at SiteGround's pricing list, you'll see two things:
Suitable Number of Monthly Visits
Unmetered Data Transfer

These two are actually SiteGround's attempt to be more transparent than other shared hosts that throw around the term "unlimited" willy-nilly. Because you know what the brutal truth is? No host can truly afford to offer "unlimited everything".
Here's what those numbers mean: Unmetered traffic means that SiteGround doesn't limit the bandwidth used by your site. Ok, so that must mean they limit you based on the number of monthly visits, right?
Well, no. That number is an estimate, not an actual limit. Hosts should never limit you based on visitor numbers, and SiteGround doesn't do that.
So what is that estimated visitor count based on? CPU Seconds. CPU seconds are the number of process execution seconds that your site consumes. For example, every time someone loads your page, that's going to consume a certain number of CPU seconds. But because the exact number depends on how optimized your site is, you can actually exceed the Suitable Number of Monthly Visits estimate if your site is optimized.
I know, this might seem a little confusing if you're a beginner. All this really means is that SiteGround is honest and transparent about how much hosting you get with each plan. And that's a major plus of choosing them over other budget shared hosts who will nickel and dime you if you use too many resources.
Managed hosting features at shared hosting prices
Even though SiteGround has shared hosting prices, they offer managed hosting features on all their plans (though some of the better features aren't available on the cheapest plans). Across their plans, you can get:
Automatic WordPress core updates (all plans)
One-click staging sites (only on GoGeek plan)
Built-in caching (all plans, though not all plans get all caching methods)
Automatic backup and restore (basic on GrowBig plan, premium on GoGeek plan)
It's worth noting that SiteGround's basic automatic backup feature is, unfortunately, not nearly as user-friendly as more expensive managed WordPress hosts.
Automatic Let's Encrypt SSL certificates
Again, SiteGround is leading the pack when it comes to shared hosts and SSL adoption. Not only has SiteGround long-supported free SSL certificates through Let's Encrypt, they actually recently made the jump to automatically issue free SSL certificates to all new sites. That means if you sign up for SiteGround today, you'll get a pre-installed SSL certificate for free without needing to do anything.
Built-in caching
SiteGround includes built-in caching through its Super Cacher system. And while this is a big improvement for people who wouldn't otherwise use a caching plugin, I actually recommend using the free Cache Enabler plugin over SiteGround's built-in system. Still, it's nice that this system is there for people who might not otherwise know about caching. And if you do prefer to handle caching yourself, it's easy to disable SiteGround's built-in caching through cPanel.

Amazing support
Again, SiteGround offers a level of support that belies its price tag. You can get help via:
And with near-instant chat response times and 10-minute ticket response times, you don't need to wait around for help. Additionally, SiteGround's support agents are just plain friendly. While not a deciding factor, when a website issue is stressing you out, it's nice to be able to deal with someone who genuinely wants to help you fix the problem.
Pricing
Despite offering significantly better architecture and features than your average shared host, SiteGround's prices are quite competitive in the shared hosting industry. Plans start at as little as $3.95 per month for the StartUp plan. GoGeek, the highest tier plan with all the managed hosting features, still only starts at $11.95 per month.

It is worth pointing out that, like most shared hosts, those prices are promotional. What's that mean? After your first billing cycle, the plan will jump back to regular pricing which is $9.95 per month for StartUp and $29.95 per month for GoGeek. If you're willing to pay annually, you can lock in the promotional period for a year or more, though.
If you're looking for even more thoughts on SiteGround, you can check out my SiteGround Review. Or, if you're ready to get started…
Kinsta
SiteGround is great for walking the tightrope between performance and affordability. But when the time comes to hop off the tightrope and truly focus on performance, Kinsta is where it's at.
While it's not as cheap as SiteGround, Kinsta is the best option for high traffic sites that need rockstar performance. Kinsta does great in benchmark tests and has some of the most satisfied customers out there. So what makes Kinsta such a good choice?
Architecture powered by Google Cloud Platform
Kinsta has been around since 2013 and is unique in that they were the first host to be exclusively powered by Google Cloud Platform. Yes, the same Google that handles trillions of searches per year (that is, Google knows a thing or two about building a reliable network). So what does that mean for your website? Between Google Cloud Platform and Kinsta, you get all kinds of cutting-edge technology like:
Multiregional data centers (29+ data centers strategically placed to optimize performance)
Automatic scaling (to meet demand spikes)
LXD containers (isolation and easy backups)
PHP 8.1 (the latest and greatest version of PHP. You can also choose PHP 7.4, 8.0, or 8.1)
HTTP/2 (offers performance improvements over the earlier version of HTTP/1)
CDN (powered by KeyCDN with 40 POPs around the globe)
NGINX (plus a free tool to be able to still easily add redirect rules)
Built-in caching (never fiddle with caching plugins again)
Free SSL (via Let's Encrypt)
SSH, Git, WP-CLI on all plans (for easy automation)
MyKinsta custom hosting dashboard
If you go with Kinsta, you can wave goodbye to cPanel. While cPanel might make you feel young with its sleek 1990s styling, Kinsta's dashboard is a major upgrade. Aesthetics aren't the only thing you should care about, but let's start with a screenshot showing how Kinsta's dashboard is just generally more pleasant to look at than cPanel: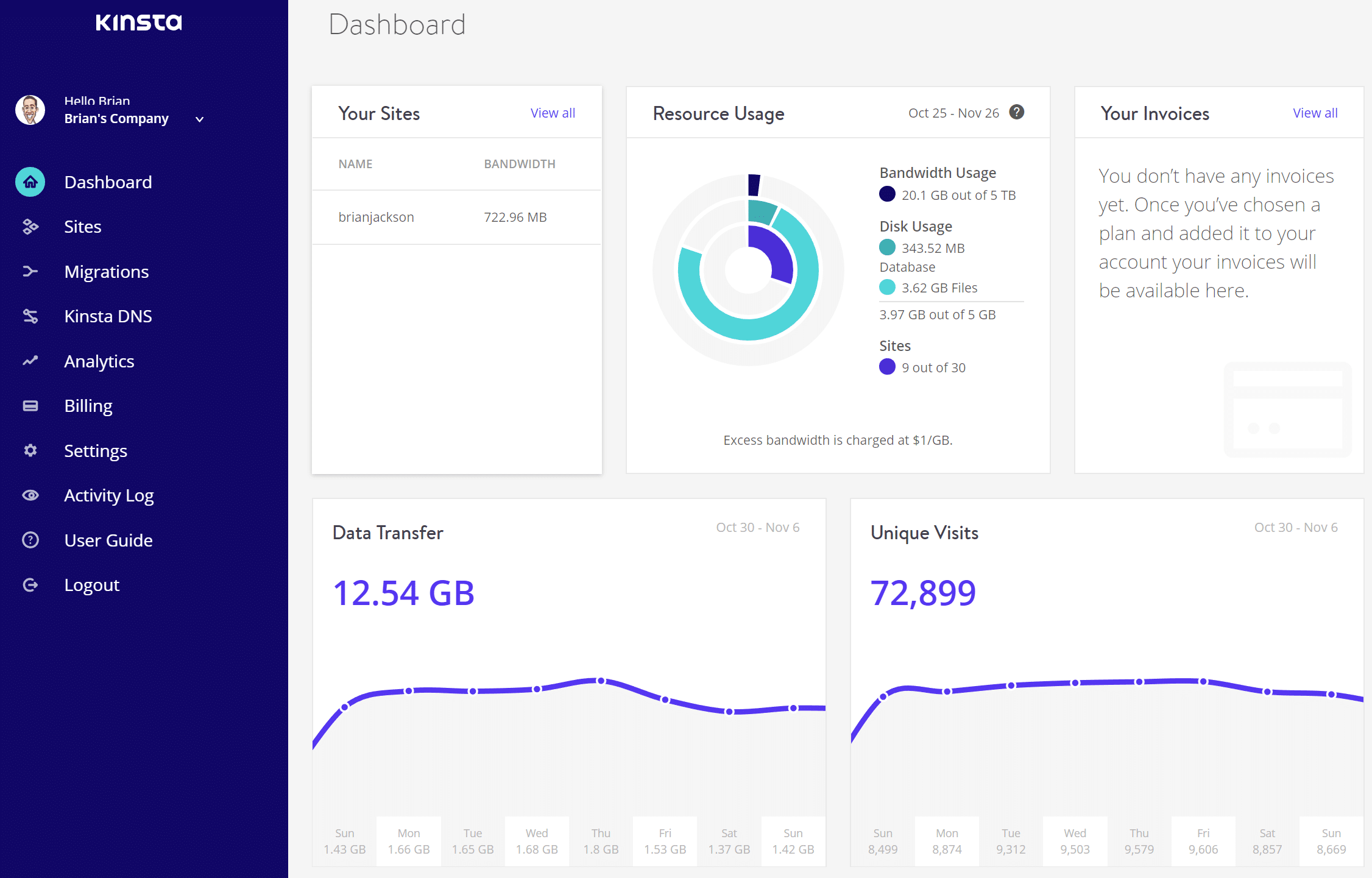 The dashboard gives you a quick snapshot of:
Your usage
Your latest invoices
From there, if you pop over to the sites tab, you'll get an overview of all your sites, as well as their respective data center location and usage.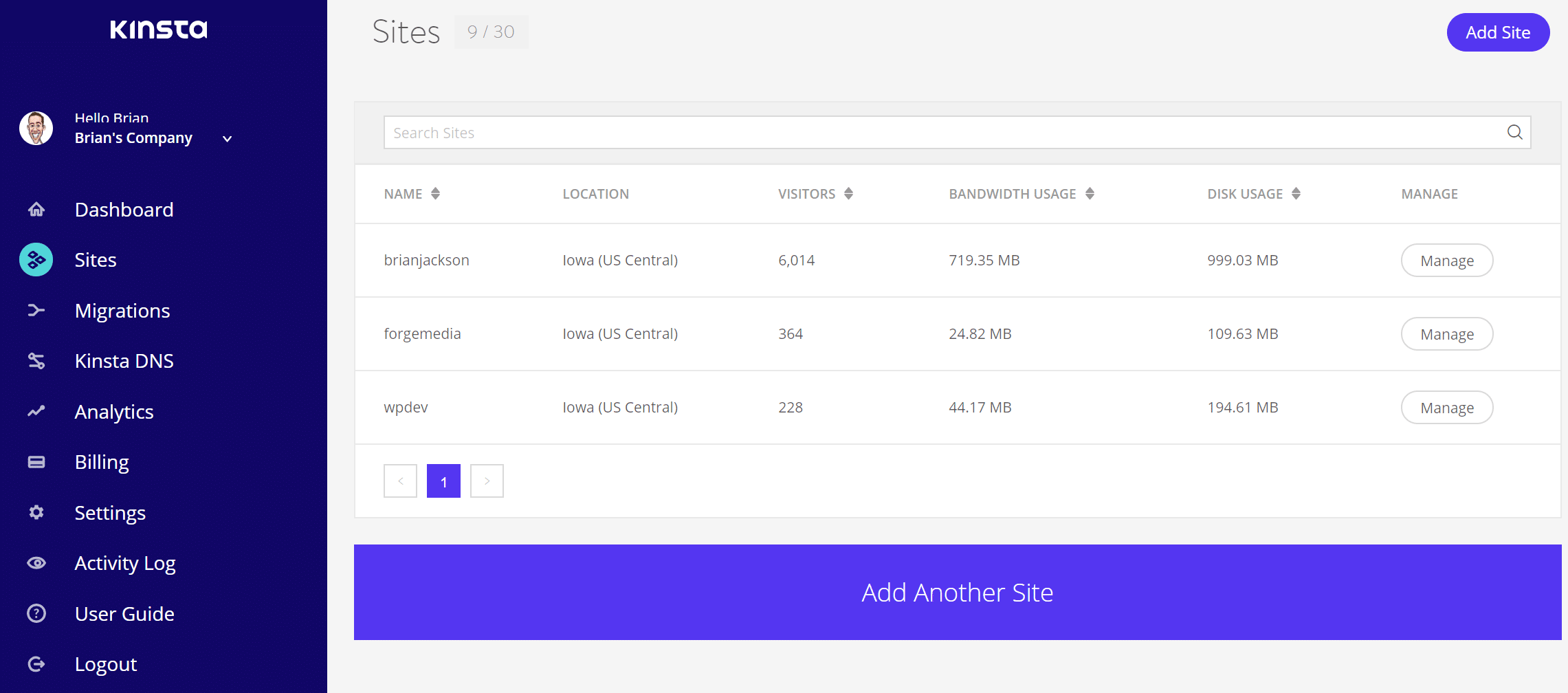 Drilling down into an individual site, you can manage all of its basic details like:
Domains (assign primary domains)
Database / FTP details (quickly grab your connection information)
Backups (scheduled or manual backups)
Tools (clear cache, enable HTTPS, change PHP Engine, etc.)
Plugins (manage plugins from Kinsta's dashboard)
Logs (view cache logs, error logs, and access logs)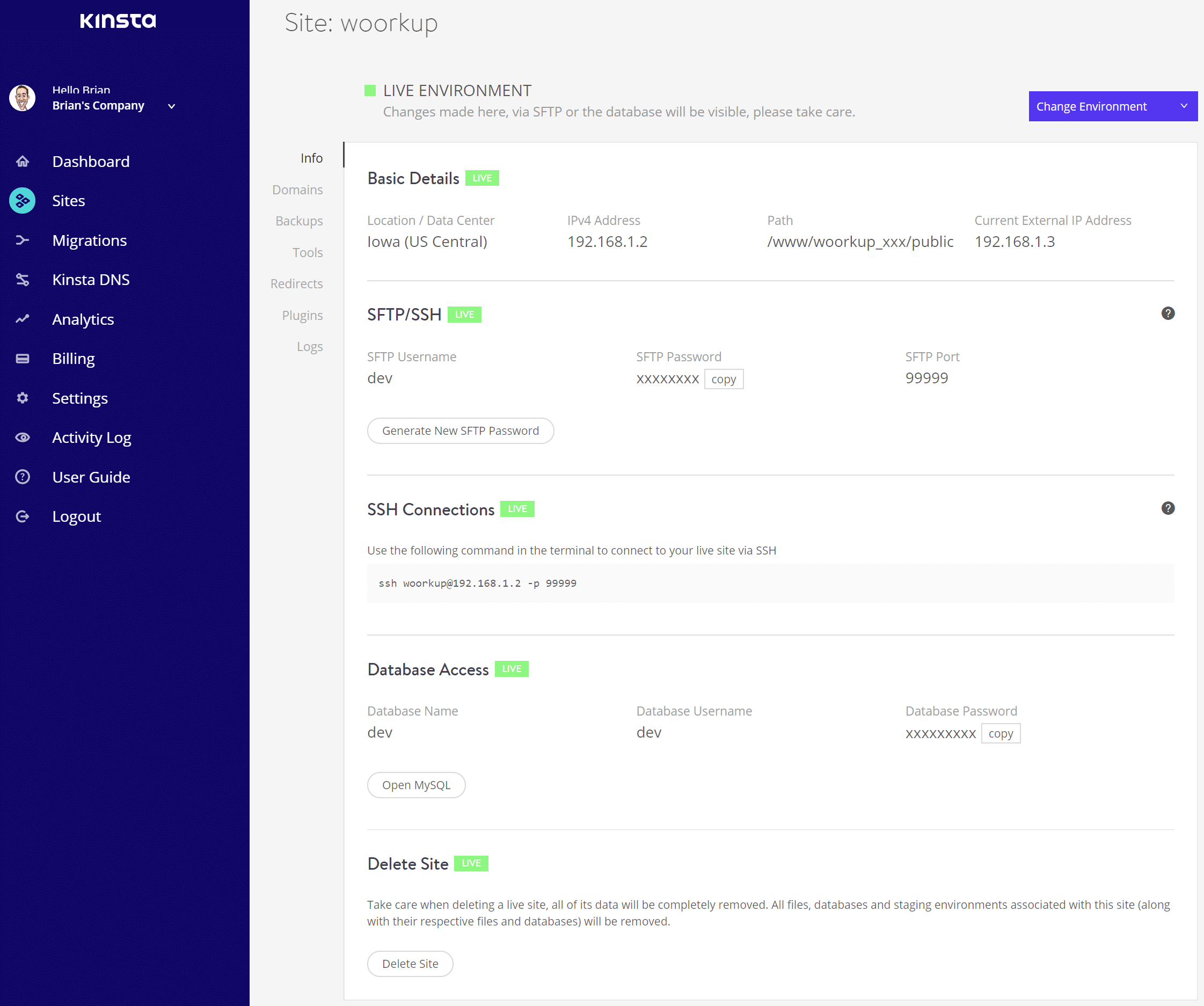 Your Kinsta dashboard also includes two-factor authentication and activity logging for added security.
Automatic backups – Up to 14 copies
Kinsta lets you store up to 14 different backups at one time. By default, Kinsta automatically backs up your site once per day. But you can always run a manual backup if you need an instantaneous snapshot. You can even add your own name to the backup to remember important backup versions. And if you need to restore a backup, Kinsta actually gives you two different options:
Restore (instantly restores your backup to your live site)
Restore to Staging (restores your backup to the staging version of your site so you can test it before pushing it live)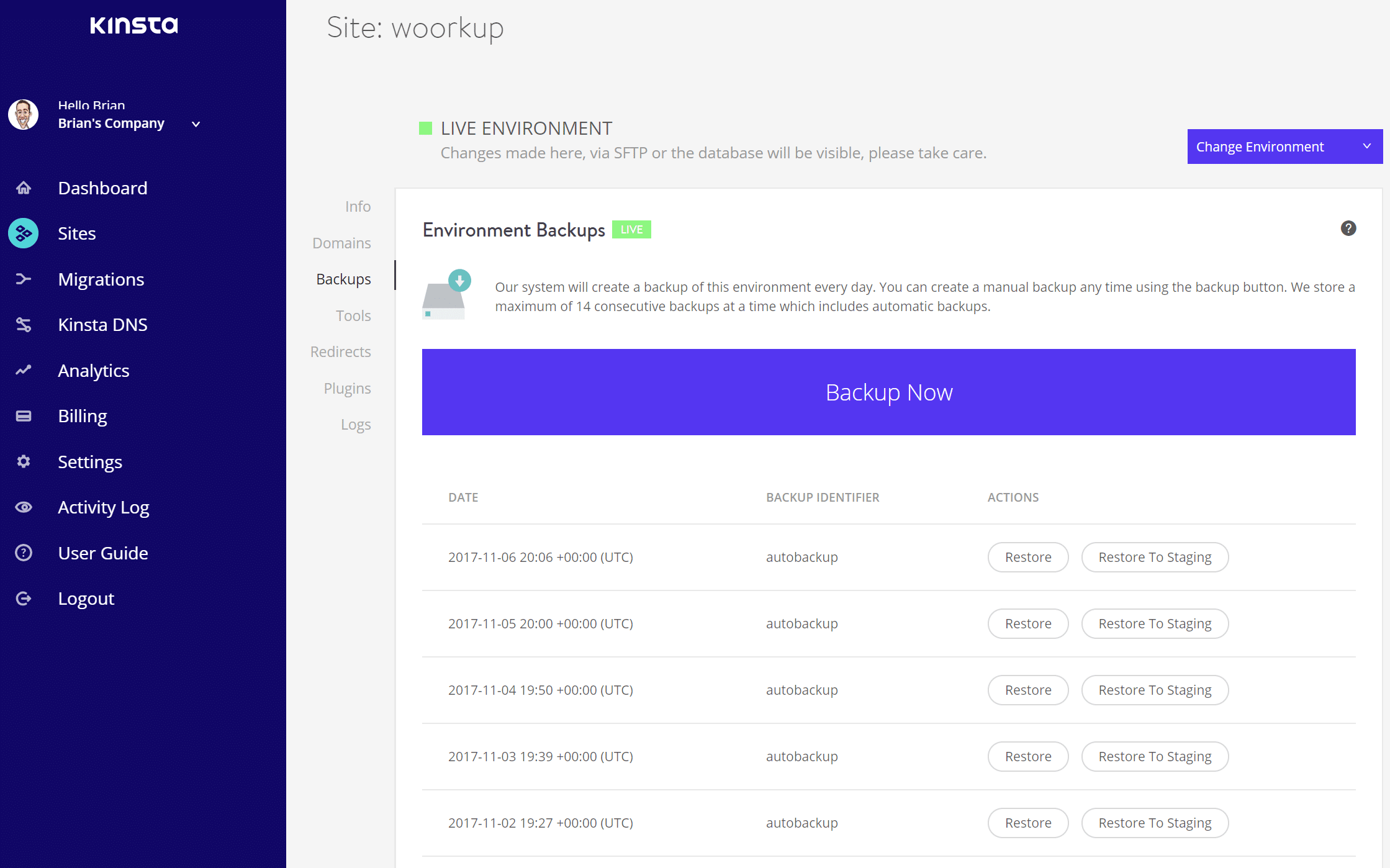 Additionally, Kinsta automatically backs up your live site before restoring any backup. All that to say…it's pretty much impossible to accidentally break your site when you host with Kinsta. You'll always have a recent backup laying around somewhere.
Free SSL with Let's Encrypt
Like SiteGround, Kinsta sets you up with a free SSL certificate through Let's Encrypt. To enable SSL, all it takes is a couple clicks in your Kinsta dashboard: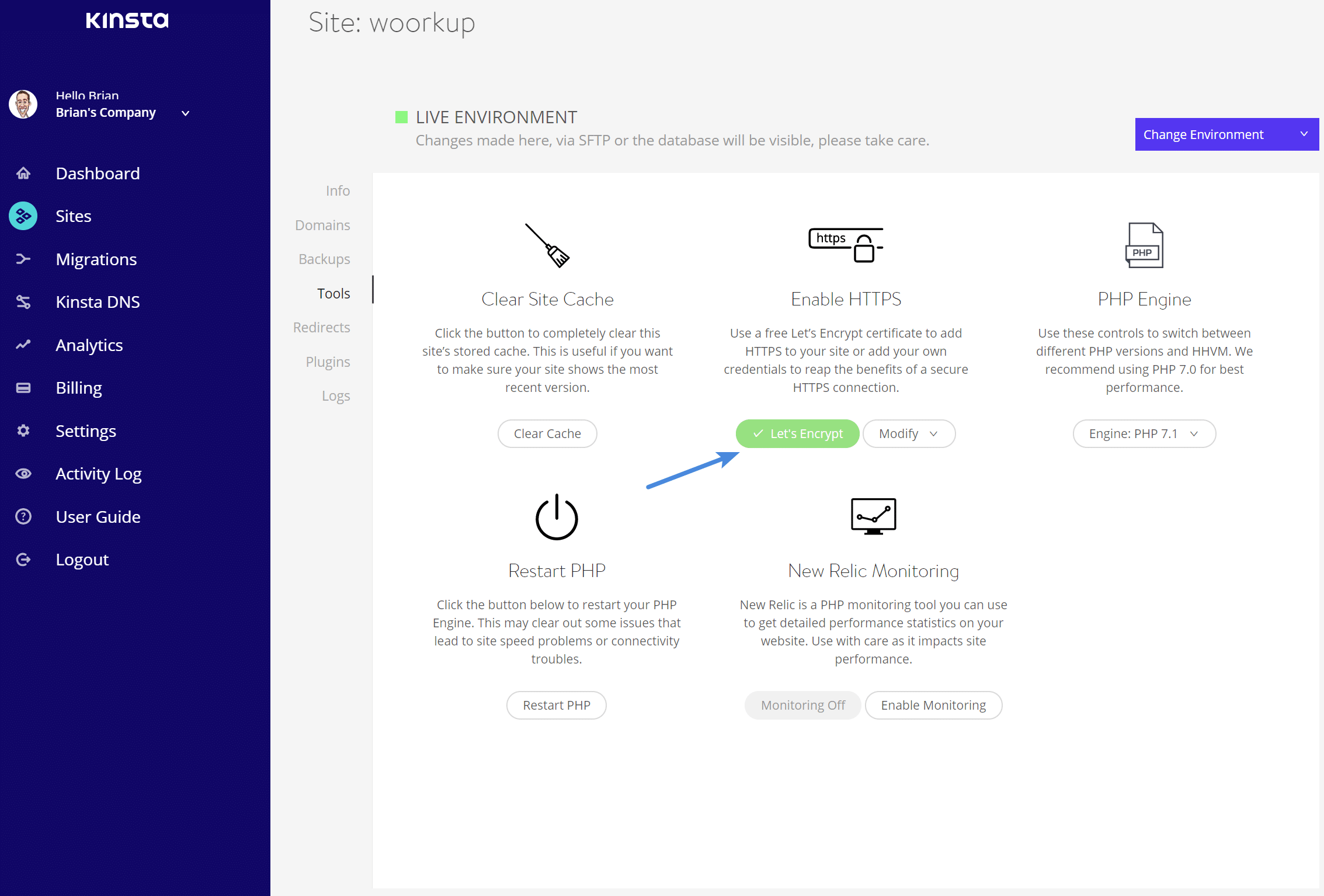 One-click staging site
With Kinsta's staging site feature, you can easily test out changes to your site before pushing them onto your production site. With staging, you make changes on a replica of your live site. Then, when you're ready to push those changes live, all you need to do is hit a button.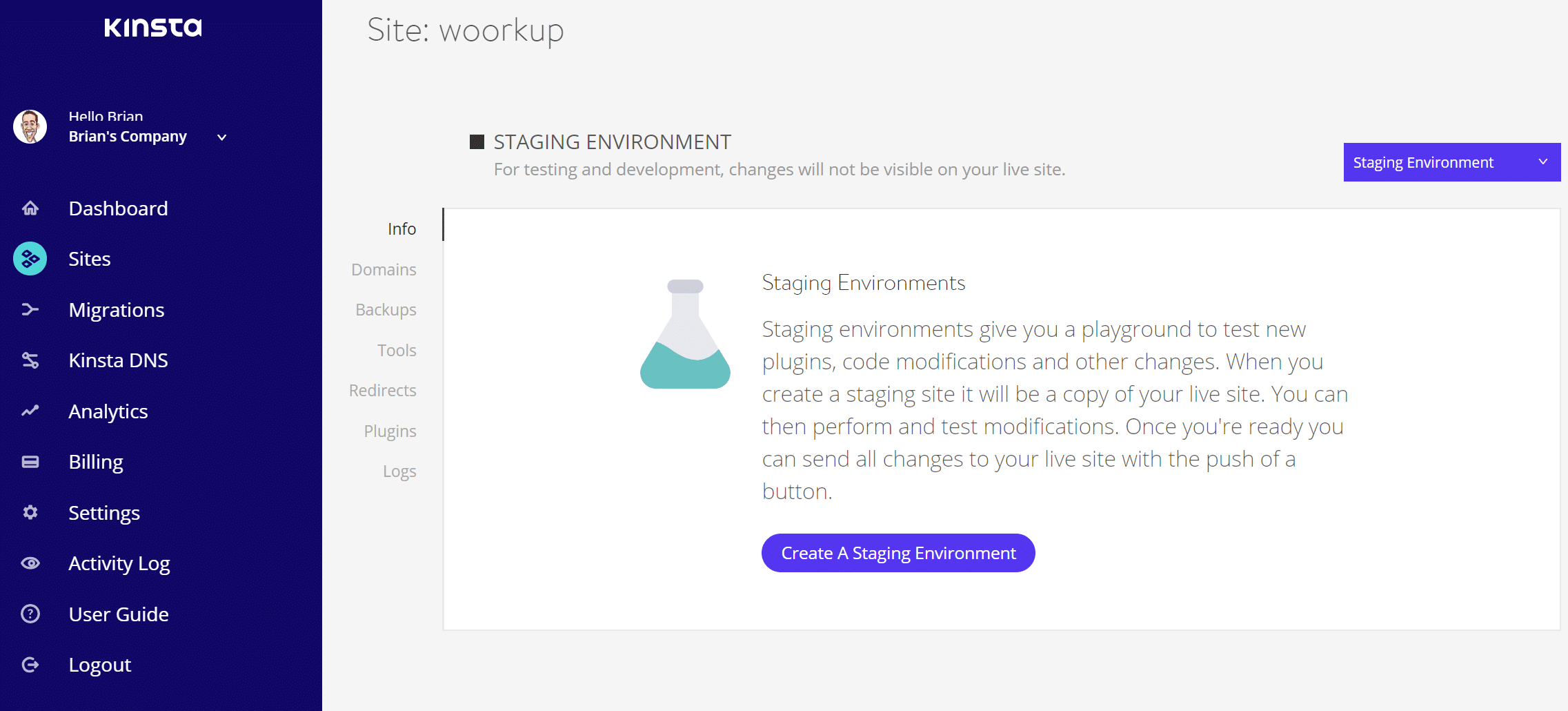 Kinsta will automatically back up your site before pushing staging live, so you'll always have a safe copy in case something goes wrong.
Tons of extra security features
All the performance in the world doesn't matter if malicious actors get their hands on your site. Thankfully, Kinsta sets you up with all kinds of added security features like:
Site is secured behind Google Cloud Platform's firewall.
Free malware fixes.
Automatic updates.
Site monitoring.
X-Powered-By header is removed to hide your PHP version.
Additionally, you'll always have those backups, too. And because Kinsta uses LXD containers, each one of your sites is completely isolated from the others.
Excellent support
Kinsta offers 24/7 expert support with a median ticket response time of just 3 minutes. But don't just take my word for it. You can find all kinds of positive comments on Twitter about Kinsta's support.

Quite impressed what @googlecloud and @kinsta can pull off for #WordPress hosting! – @neuralab (source)
Couldn't be happier with hosting my websites through @kinsta. I feel like their support team never sleep! Amazing service. – @matthewbarby (source)


@TheSportReview's new @Googlecloud based @kinsta environment handled the post-match @ManUtd v @ChelseaFC traffic spike in style 👌⚽ – @martincap (source)
Thanks @kinsta for all your flexibility helping @DARTdrones prepare for our @ABCSharkTank traffic. Also increased page load site-wide by 50%+ – @kevinpmcaloon (source)

And you can find plenty more by searching around. Just be aware – all Kinsta support is handled through ticket and chat. That is, they don't offer phone support. According to Kinsta, that choice actually allows them to offer more effective support. You can read this post if you're curious why that is.
Pricing
Unfortunately, for all those features, you're not going to be able to pay the same amount as you'd shell out for Bluehost (or SiteGround). Nor should you expect to. But if you're serious about your website, investing in its performance is one of the best ROIs you can get. 99% of business owners and webmasters don't want to spend their valuable time managing servers and figuring out upcoming issues with the infrastructure. So how much does Kinsta cost?
Their cheapest plan, Start, starts at $30 and goes up from there. No misleading promotional periods. It's just $30 per month. The main difference between each tier is increased storage limits, number of visitors, and more hosted sites. But when you get to Business 4 and above, you'll also get more PHP workers which allow for more simultaneous requests.
Kinsta also offers Enterprise plans starting at $600. And if those mammoth plans can't handle your site, you can always contact Kinsta for a custom solution. If you're interested in learning even more about Kinsta, you can check out my detailed Kinsta review. Otherwise…
Summary
Between these two managed WordPress hosting companies, you can find a plan suitable for you no matter what your traffic and budget are. If you're just getting started, go with SiteGround. It will keep your costs low while still giving you the best performance possible for your budget. Once your site starts getting high traffic (or if it already gets high traffic), make the shift to Kinsta for the absolute best performance possible.
And guess what? Both of these hosts offer free migrations. So if you're already hosting your site somewhere else, both SiteGround and Kinsta will help move your site over for free. Any other good managed WordPress hosting providers that we missed? Feel free to mention them below.
Full Disclosure: I used to work at Kinsta. I do have a vested interest in the company, but also fully stand behind their product and services. It's where I host this website and all of my other projects.