TeamPassword – Password Sharing for Collaborative Teams
In my last post about Glip (a team collaboration and task management tool) you can guess that I am all about tools that deliver great UI's and are fast and responsive. I have used Passpack and LastPass for years and they work great, but they are very clunky and require a lot of clicks. If you are managing lots of client sites every day, clunky tools just aren't acceptable. Read my review below on TeamPassword, a great new alternative to Passpack and LastPass.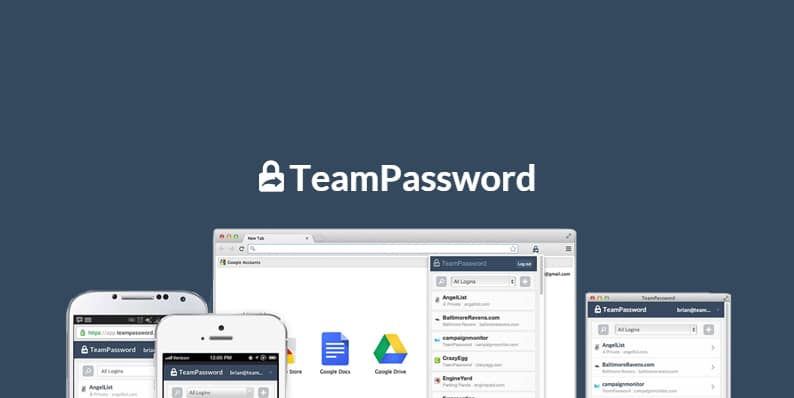 [alert-note]
This is not just another PassPack vs LastPass review. This is something better!
[/alert-note]
TeamPassword was started by Brian Sierakowski, who is the director @ Smart Logic. It emerged as the weekend winner at the Baltimore Lean Startup Weekend.
TeamPassword Features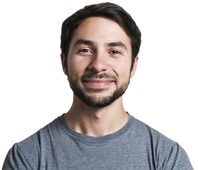 Much of its features are similar to Passpack and LastPass, but it's the way it delivers them is what really sold me on it. Features include:
Master Login
User Groups and Sharing
Search and Filtering
Chrome and Firefox Extensions
Top-notch Security + 2-Step Verification
Admin Permissions
Single Sign-on
Free Personal Account
No Installation
Click to Fill
Responsive (works great on mobile)
They recently gave TeamPassword a performance update, which is awesome. It is by far the fastest online password manager on the market. It just feels butter smooth. Here is a message about it from Brian, the founder.
These kinds of improvements are important to us, and we want you to know why we put so much time and effort into making our product faster for you. Most TeamPassword customers use the product around 10-15 times a day. They're busy. They just login, get the information they need, and get to working on whatever it is that they're doing. They don't have the time to be slowed down by any delay. As delays add up, they wipe away the gain of productivity that TeamPassword was meant to provide in the first place.
Those are the kinds of updates I like seeing!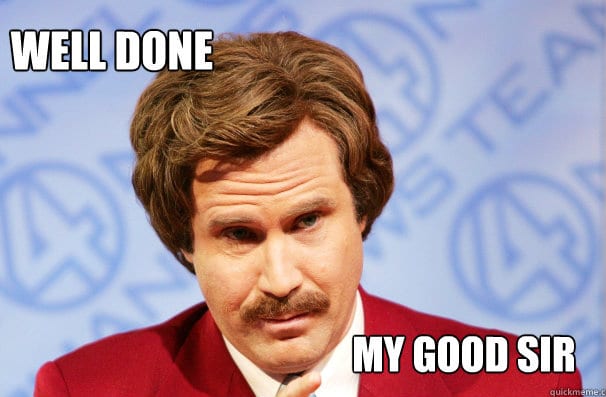 TeamPassword Responsive Login Screen
Sometimes simplicity is better. And with the TeamPassword what you get is simplicity packed with powerful features. When you first login, you are met with a great responsive login screen. They don't bother with a separate mobile site and this looks great on any device you can throw at it. I am on a Windows phone and actually prefer this over an app.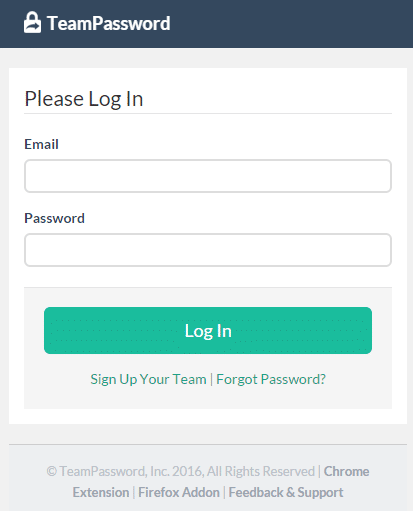 TeamPassword Settings
Under the settings you have the ability to invite people, change and add your groups (unlimited), see who is a member of each group, and then also see which passwords are shared under each group.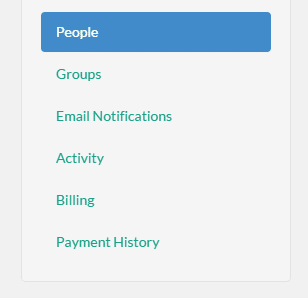 TeamPassword Roles
A great feature under the People menu is that you can change the roles that people have. In example, maybe you have two people that manage a lot of the password information and so you make them administrators. And then you have a social media person who simply needs to access them, you can make them simply a member.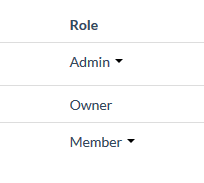 TeamPassword Notifications
You can change notifications based on the following options.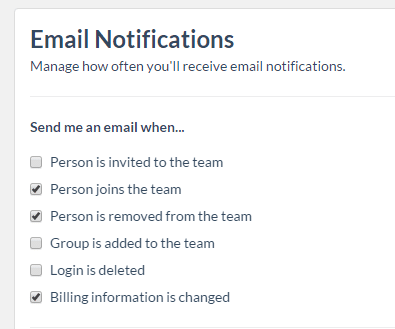 TeamPassword Dashboard
The dashboard for TeamPassword again is very simple but is fast, responsive, and lets you spend time on getting your work done. You choose the title for your password, it auto generates a password for you if you want, you can input the URL, and then your notes. You then have the option of choosing who to share your password with. In the dropdown on the left hand side is where you can select your groups. In my example below, I have shared this test password with "Private" meaning only I can see it.
Here is a screenshot of how it looks on a mobile device, it scales beautifully.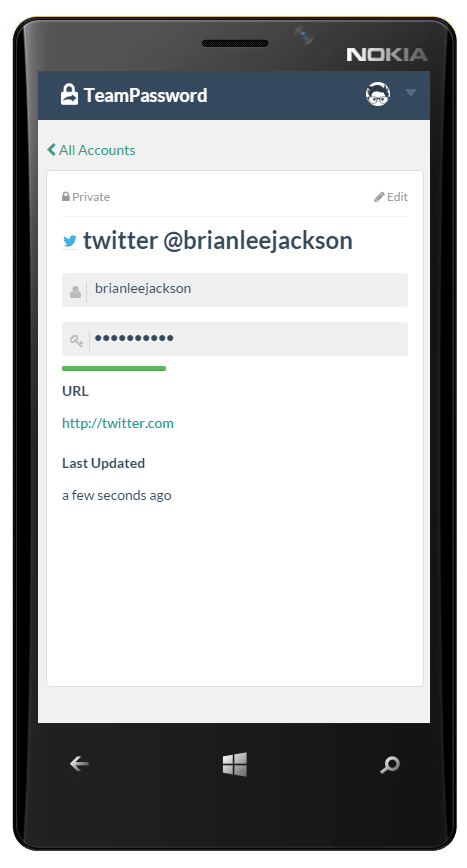 TeamPassword Security
TeamPassword uses an RSA/AES 256 bit encryption-scheme, which is the same encryption method used by PassPack and LastPass. And they now have two-factor authentication as well.
Browser Extensions
They also have both Chrome and Firefox extensions which can be used within your browser to quick fill in form fields to log in.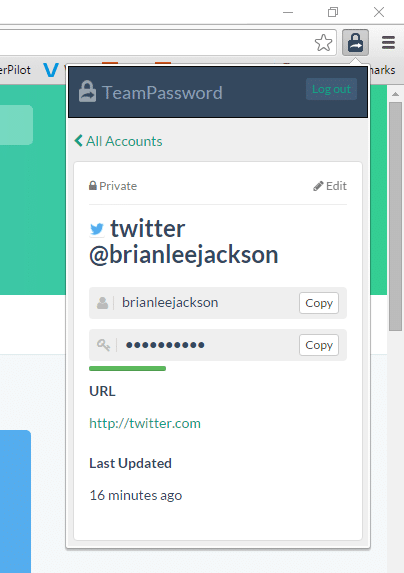 TeamPassword Pricing
TeamPassword has 5 plans right now. They are a little higher than PassPack and LastPass, but in my opinion it pays for itself with the time I save. Remember this tool is designed for teams.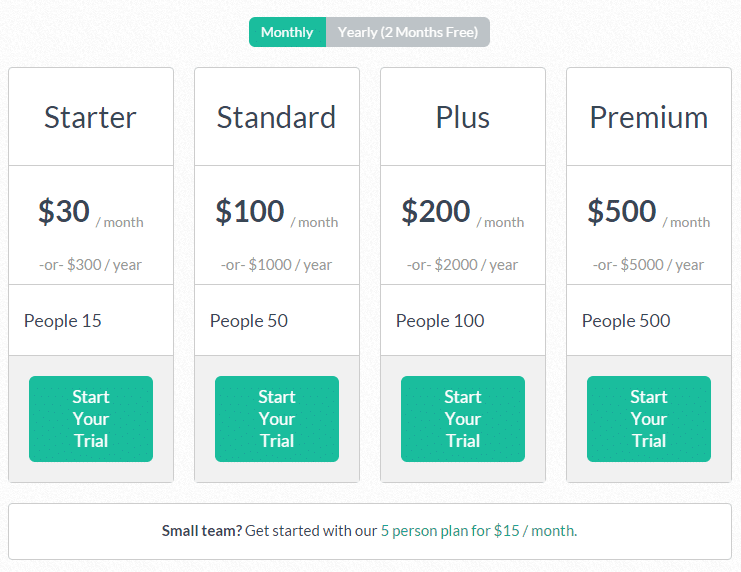 If you are tired of PassPack and LastPass, I recommend giving TeamPassword a try! In my opinion it is the best online password manager out there. They have a free 14-day trial and you have nothing to lose.
Let us know what you think of it!